Family: Dioscoreaceae
Synonyms: Dioscorea crispata, Dioscorea pulchella, Dioscorea latifolia. Helmia bulbifera
English names: Air potato, air yam, bitter yam, cheeky yam, potato yam.
Local name: Pahadi Tardi (पहाड़ी तरडी)
Pahadi Tardi is a common plant found growing all over lower to mid-hills of Western Himalayas. Tardi plant is represented by two different species in Western Himalayas and both are used as a vegetable. At some places people in villages also cultivate this species in their home gardens.
ThoughPahadi Tardi is basically a tuberous plant, it also bears bulbils in leaf axils. These bulbils look like potatoes, so that is why it is also called air potato. It is the tuber which is mostly cooked and eaten though the bulbils are also edible.
It appears that there is a large variation in this plant. Therefore, there is also confusion in its botanical nomenclature and popular nomenclature. In books too, several synonyms are listed for this species. The Pahadi Tardi which we are talking about here, is the one which is found growing wild in Mandi area of Himachal Pradesh which represents the lower to mid Himalayan region falling between 700 to 1400 metres above sea level.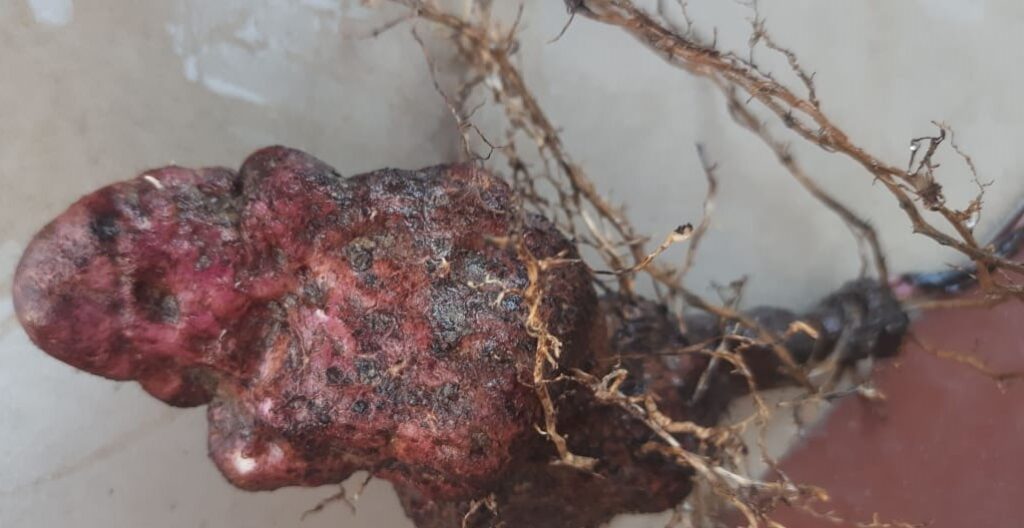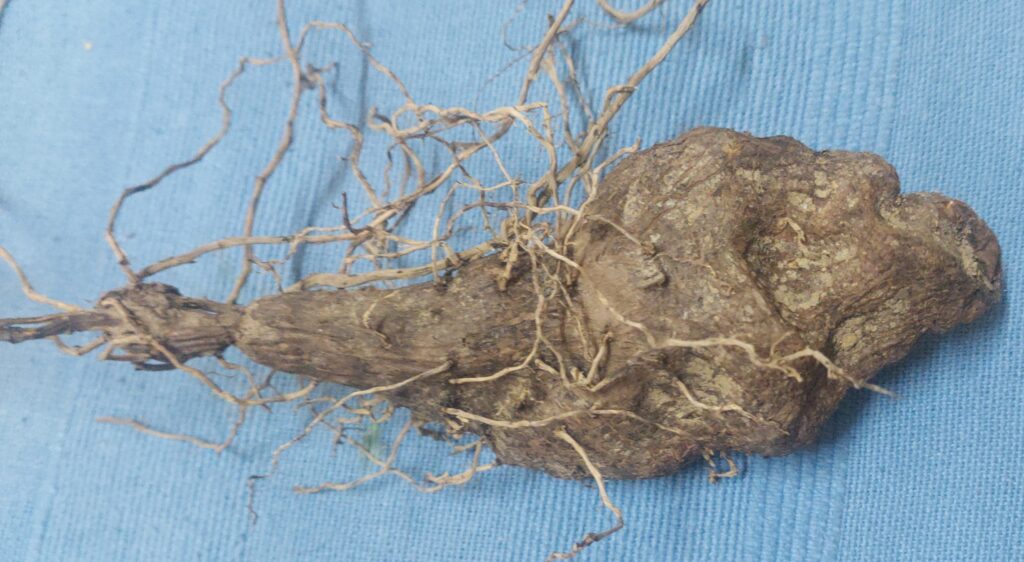 Pahadi Tardi is said be a native of Tropical Asia but it is so well naturalized in this area having sub-temperate climate that it appears to be a local plant.
Pahadi Tardiplant:
A large unarmed climber with stems twining to the left, growing upto 15 m.
Leaves alternate, simple broadly ovate cordate.
Bulbils abundant and of different sizes and shapes; in certain cultigens the tuber is suppressed in favour of rather large bulbils, which contain all the reserve food; small bulbils as a rule, warted, but they may be smooth when large.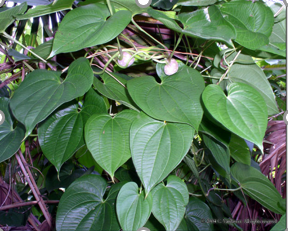 Tuber solitary, very variable, globose to pyriform, usually small and round, but large under cultivation and weighing up to 1 kg.; skin purplish black or earth-coloured, usually coated with , small feeding roots, but smooth in some cultivated varieties; flesh white to lemon yellow, sometimes marked with purple flecks and very mucilaginous.
Edible uses:
Pahadi Tardi tubers are cooked as a vegetable. Like most wild growing food plants,Pahadi Tardi also used to be a popular food during the times of scarcity, though that does not happen any more in India. But people still use it as a seasonal delicacy. It is often sold in markets too.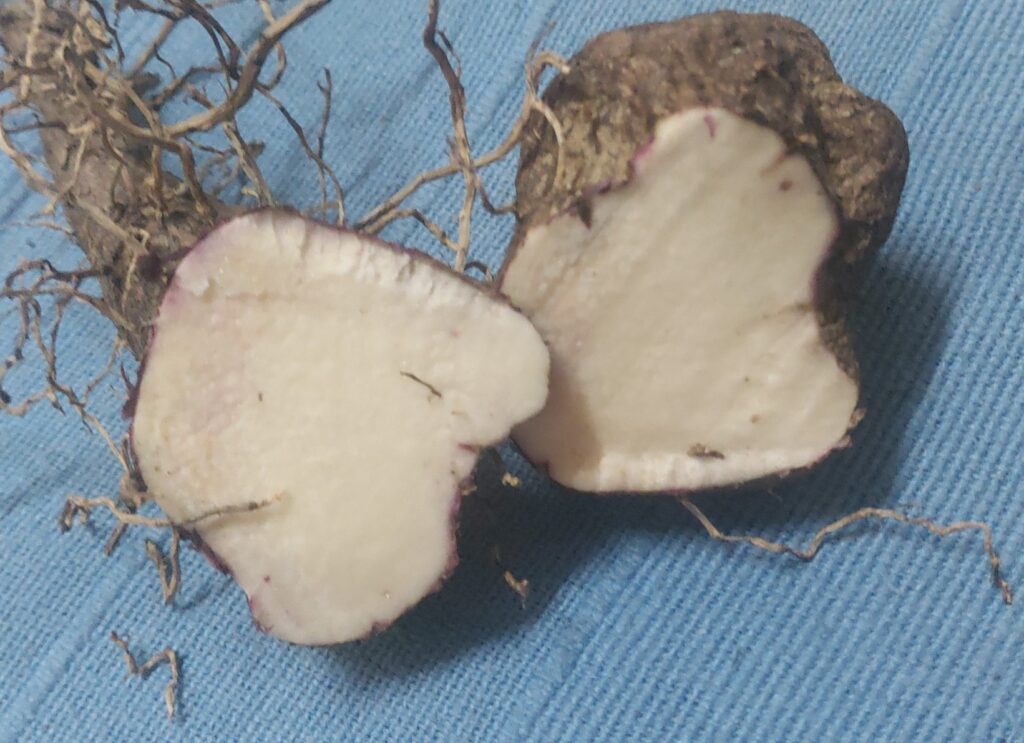 Pahadi Tardi vegetable can be prepared like this:
Ingredients:
Tubers, 1 kg; mustard oil, 3-4 table spoons; coriander powder, 1 table spoon; fenugreek powder, 1/2 table spoon; cumin seed , 1 tea spoon.; turmeric powder, 1 table spoon; red chillies, 2-3; medium sized chopped onion, 1; garlic cloves, 4-5; ginger paste, 1 table spoon; garam masala, 1 table spoon; chopped coriander leaves, ½ cup; and salt according to taste.
Method:
Wash tubers properly then cut into small pieces of cubical shape. Then in hot mustard oil add coriander powder, fenugreek powder, red chillies and cumin seed in sequence, Mix it well then add paste of onion, garlic and ginger, add turmeric powder and then sauté this mixture in slow flame till it turn brown. Add chopped dareghal tuber pieces and mix properly for 20 to 30 minutes till become soft. now recipe is ready to serve as such or add 4 cups of water and cook for another 5 to 10 minutes till they boil. Add garam masala powder and mix properly. Garnish with chopped green coriander leaves. Now dareghal vegetable is ready to serve with chapatti or rice.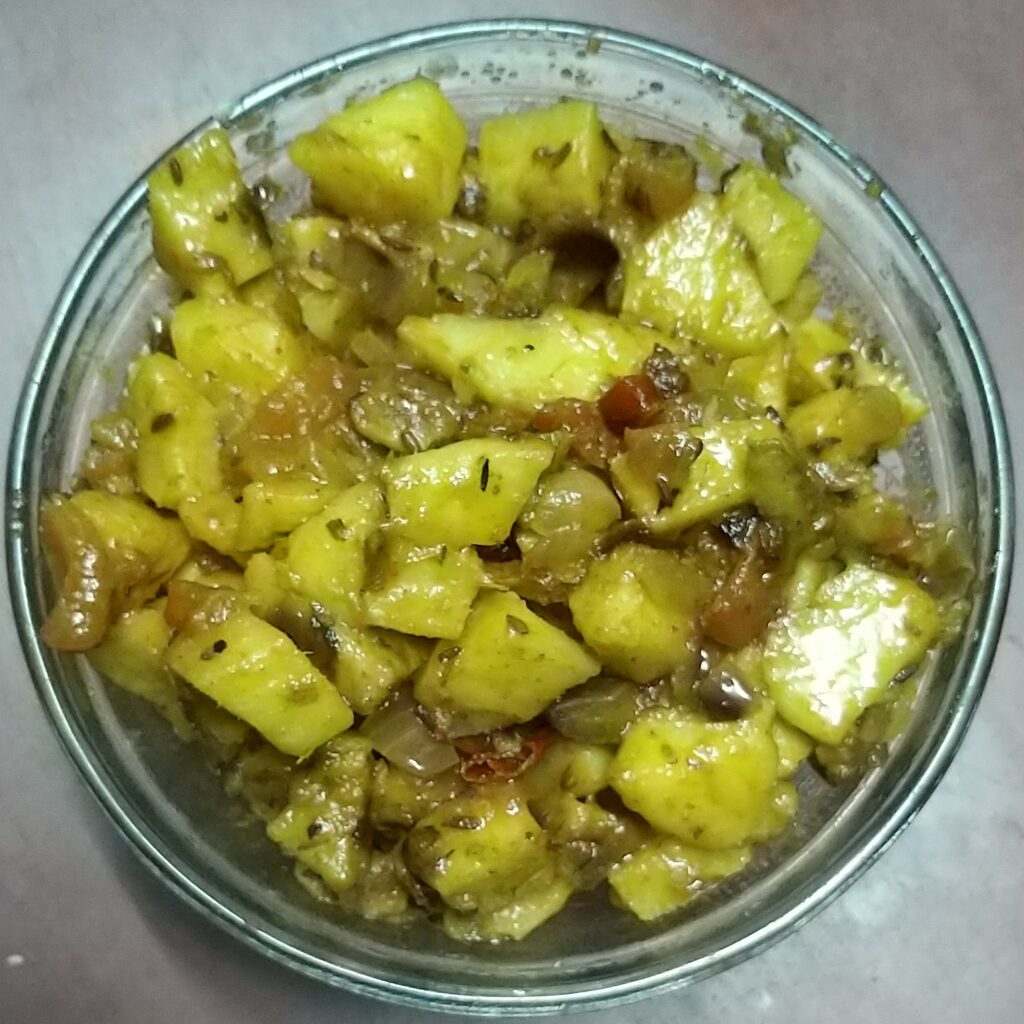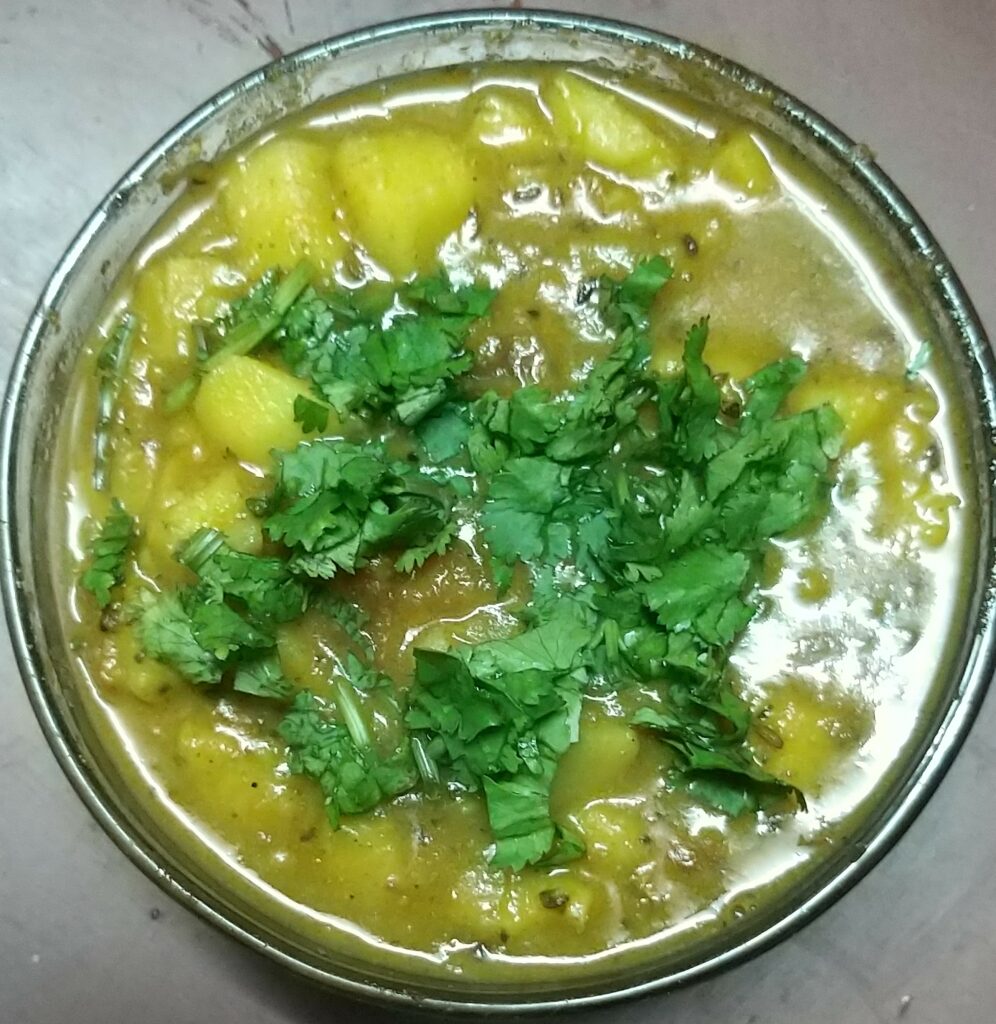 Bulbils can also be cooked in the same way. But they vary in their edible quality. The good ones have a taste and flavour like potato.
Food Value:
Underground tubers of Pahadi Tardi contain moisture, 68.7%; carbohydrates, 77.4 %; total minerals, 2.4%; crude protein, 4.4%; crude fibre, 4.4%; crude fats, 3.5%; energy value, 1521 KJ/100 g 1.
Medicinal uses:
Both tubers and bulbils of wild races have medicinal value they are used externally to treat wounds, sores, boils and inflammations. These are applied as dressings for treating dermal parasitic and fungal infections. These are crushed and mixed with palm oil, and massaged onto areas of rheumatism, and for troubles of the breasts. Dried and pounded tubers are used as an application for ulcers and they are used in piles, dysentery and syphilis
Pahadi Tardi as a source of income :
Pahadi Tardi is a seasonal delicacy. The bulbils are also used in medicine. So there is good demand for these. Villagers bring these for sale in towns where these easily get buyers ready to pay a price of 100 to 300 rupees a kg, depending upon the quality.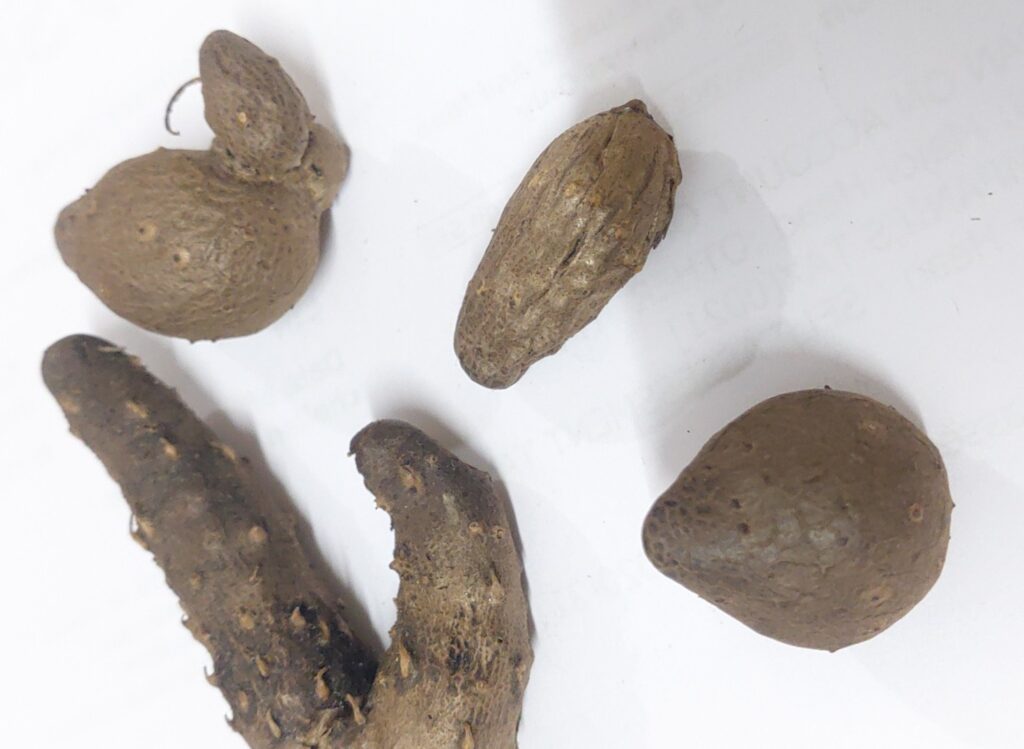 References:
Anonymous, (1952), The Wealth of India:Raw Materials, Vol. III, CSIR, New Delhi.