Family: Fabaceae
Synonyms: Cassia caroliniana, Cassia ciliate, Cassia laevigata, Cassia occidentalis
Common name: Coffee senna, coffee weed.
Local name: Badi yelo (बड़ी येलो)

Badi yelo is a annual under shrub or a short lived perennial plant of Western Himalayas. It can be seen growing upto an altitude of 1500 metres. Plant is a weed of roadsides, waste areas, disturbed sites, pastures, grasslands and open woodlands.
Badi yelo is sometimes gathered from the wild for food as well as local medicinal use. The seeds are dried, roasted then ground into a powder and used as a coffee substitute. The plant is also sometimes cultivated for medicinal p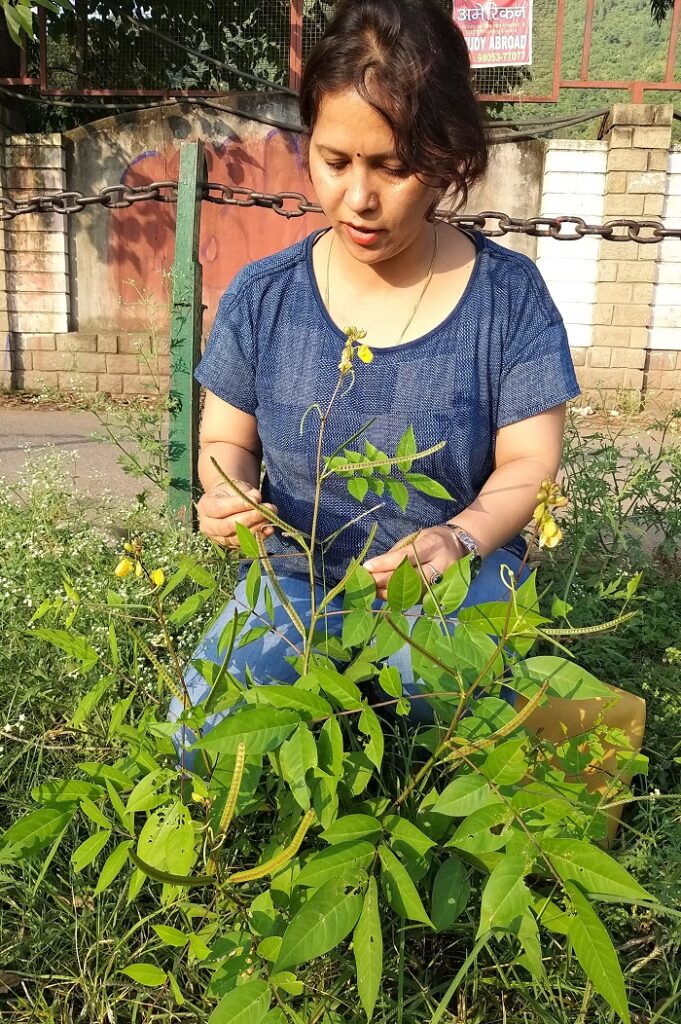 Badi yelo plant:
A smooth annual up to 2 m.
Leaves are compound, leaflets, in 4-6 pairs, have a sharp tip; 2-9 cm long and 2-3 cm wide with a distinct gland 3-5 mm from the base of the stalk.
Flowers axillary, in short racemes; sepals green, 6-9 mm long; petals, yellow, 1-2 cm long.; stamens 6-7, of two different lengths.
Seed pods dark brown, 8 to 12 cm long, 7-10 mm wide glabrous and recurved.
Seeds dull brown, 4-5 mm long and flattened on both ends, compressed, hard, smooth and shining.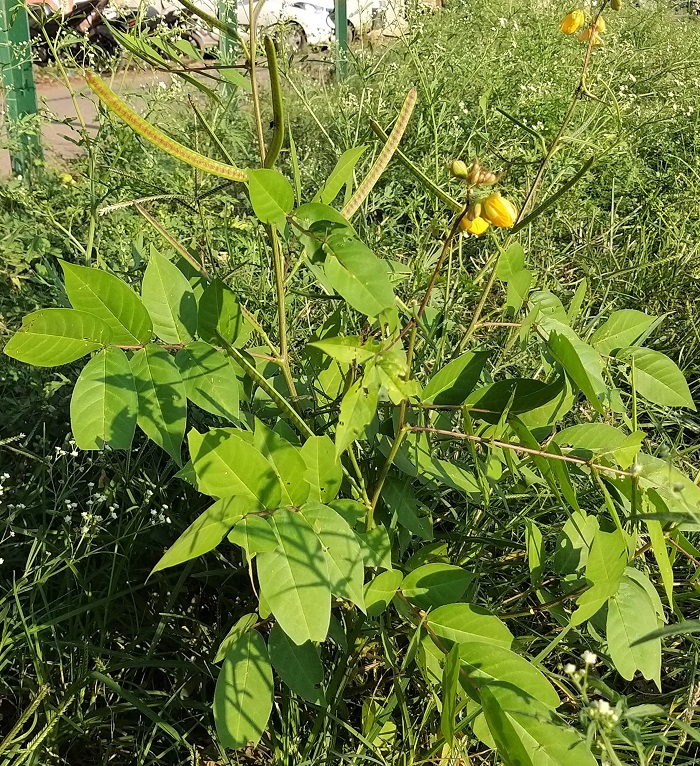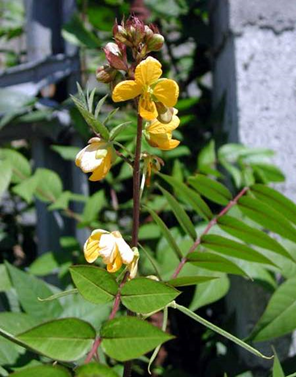 Young pods and leaves of Badi yelo can be harvested from mid September to October end. To ensure sustainable harvesting pods should be collected from different habitat on rotational bases and some pod should be left as such for regeneration.

Edible uses:
Young immature pods when the seeds are soft, along with leaves are made into a vegetable. This can be done as below: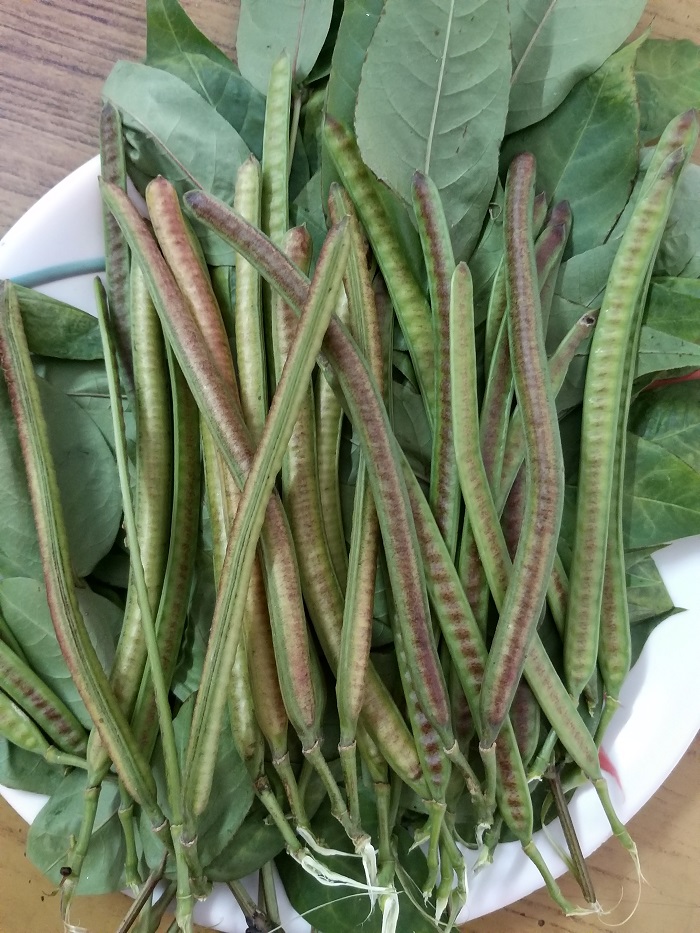 Ingredients:
Chopped pods and young leaves, 1 kg; medium sized potatoes, 1-2; mustard oil, 3-4 table spoons; coriander powder, 1 table spoon; fenugreek powder, ½ table spoon; cumin seed 1 tea spoon; turmeric powder, 1 table spoon; red chillies, 2-3; chopped medium sized onions, 2-4; garlic, 4-5 cloves; ginger paste, ½ table spoon; chopped medium sized tomato, 1-2; branded garam masala powder, 1 tea spoon; salt, according to taste.
Method:
Sauté chopped pods and young leaves alone or along with chopped potato in hot mustard oil along with spices listed above in the same sequence. Cook for 20 to 25 minutes till pods and potatoes become soft. Add garam masala and mix thoroughly. Serve with chapatis.
Seek advice from a professional before using this plant medicinally.
Medicinal Uses:
Badi yelo is reported to be used as condiments and in perfumery. The seeds are dried, roasted and then ground into a powder which is used as a coffee substitute1 .
All parts of badi yelo plant are said to posses almost similar tonic, diuretic, stomachic and febrifuge properties and are especially used for dropsy, rheumatism, fevers and venereal diseases. The plant is also used to cure sore eyes, haematuria, rheumatism, typhoid, asthma and disorders of haemoglobin, and also reported to cure leprosy. A decoction of the plant is used in hysteria, in dysentery and other stomach troubles, as well as an application to sores, itch and inflammation of the rectum1 .
The seed is bitter and considered to be a blood tonic and excellent diuretic. Seeds are useful in cough, whooping cough, convulsions and in heart1 diseases.
Other uses:
Tender plant parts are used as green manure. The plants can also be fed to cattle but only till pre flowering stage as the seeds are poisonous for cattle.
Badi yelo plant is also used as an ornamental plant in gardens, though it is also invasive.
References:
1 Kirtikar K.R. and B.D. Basu, (1935), Indian Medicinal Plants, Vols. I, II III and IV, Bishan Singh Mahendra Pal Singh, Dehradun.