Family: Amaranthaceae
Synonyms: Amaranthus acutilobus, Amaranthus gracilis
Common name: Wild amaranth, slender amaranth, green amaranthus
Local name: Chaulayee (चौलाई), Jangali Chaulai
Chaulayee is a cosmopolitan herb. It is commonly present in all warmer regions of India. Plant is a vigorous herb that grows wild during summer season in Western Himalayas It is present usually in wastelands, degraded forests, roadside as well as in cultivated field upto an altitude of 1200m. Due to its vigorous growth and wide occurrence it is considered a weed in many parts of the country.
Chaulayee is eaten as a leafy vegetable. Its seeds are also edible and considered highly nutritious. These are cooked with milk or butter milk and eaten in morning breakfast. It is harvested from wild habitat as a source of food,fodder and medicine by the local people of Western Himalaya. Chaulayee plants collected from wild are also offered for sale in local markets.
An annual herbaceous plant with erect growth habit, can grow up to 1 m, stem green or sometimes reddish, glabrous, sparingly branched.
Leaves glabrous, green, petiolate; blade ovate, rhomboid or ovate-elliptic shaped; measuring 3 – 9 cm in length and 3 – 6 cm in width; base obtuse, apex emarginate; margin entire to sinuate.
Flowers unisexual, mixed, densely arranged; bracts and bracteoles similar, ovate, acuminate; petals 3, 1.5 mm long, obovate, obtuse; stamens 3, free; ovary obovoid, styles 2, free.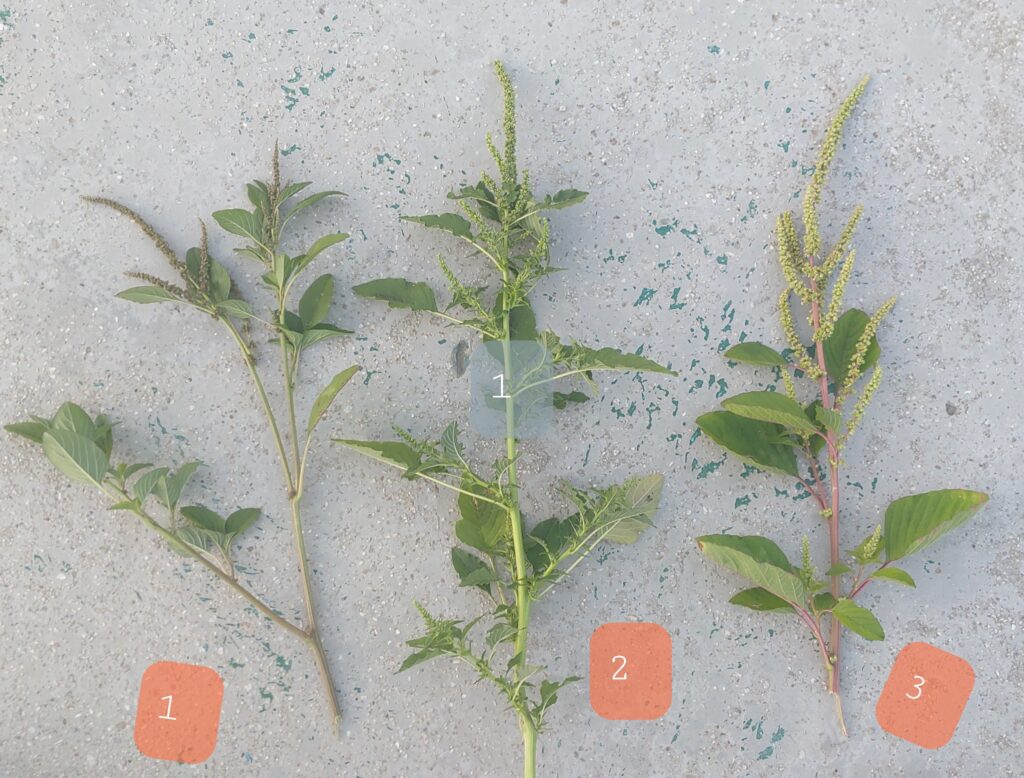 Achenes 2 x 1 mm, ovoid, acute, membranous.
Seeds biconvex, dark brown, shining with hexagonal epidermal cells.
Chaulayee leaves are best harvested from early summer to rainy season of the year. While edible seeds can be collected from late summer to autumn season of the year.
Edible uses:
Chaulayee is used as a leafy vegetable. Young leaves and tender terminals are the most suitable for this purpose. Most common preparation from Chaulayee is saag. Sometimes kachru is also prepared from the leaves.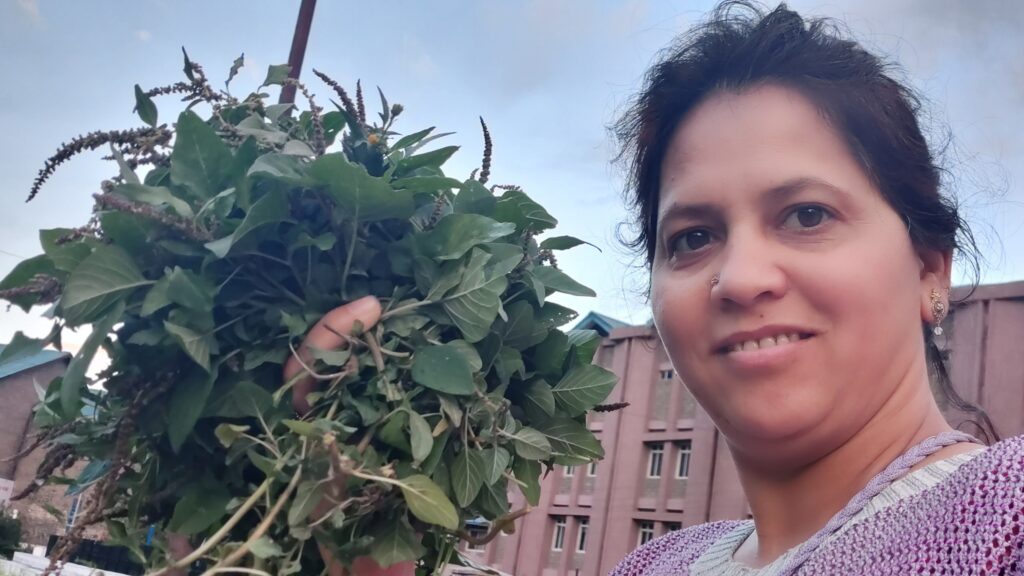 Chaulayee saag:
Ingredients:
Chopped leaves and tender tips, 1 kg; mustard oil, 3-4 table spoons; coriander powder, 1 table spoon; fenugreek powder, ½ table spoon; cumin seed, 1 tea spoon; turmeric powder, 1 table spoon; red chillies, 2-3; chopped medium sized onions 2-4; garlic, 4-5 cloves; ginger paste ½ table spoon; boiled potatoes and salt, according to taste.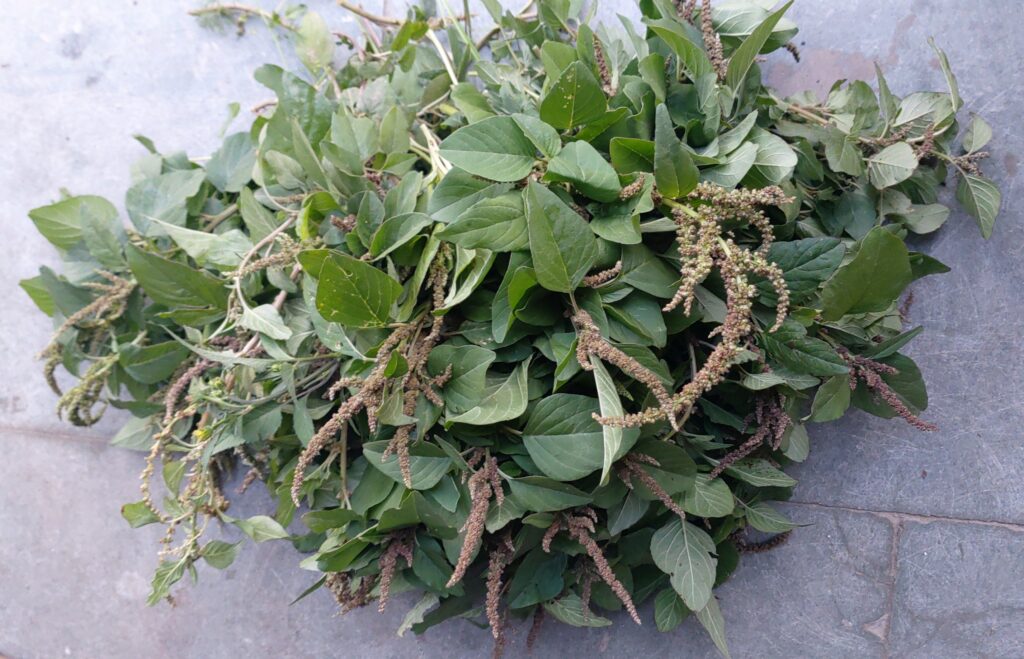 Method:
Boil chopped leaves and tender tips till they become soft. Then mesh manually or in a mixer. Then sauté with hot mustard oil and the spices listed before in sequence. This sauted sag is then ready and can be served as such or can be mixed with 2 or 3 chopped onion or boiled potato and cooked for another 5 to 10 minutes before serving.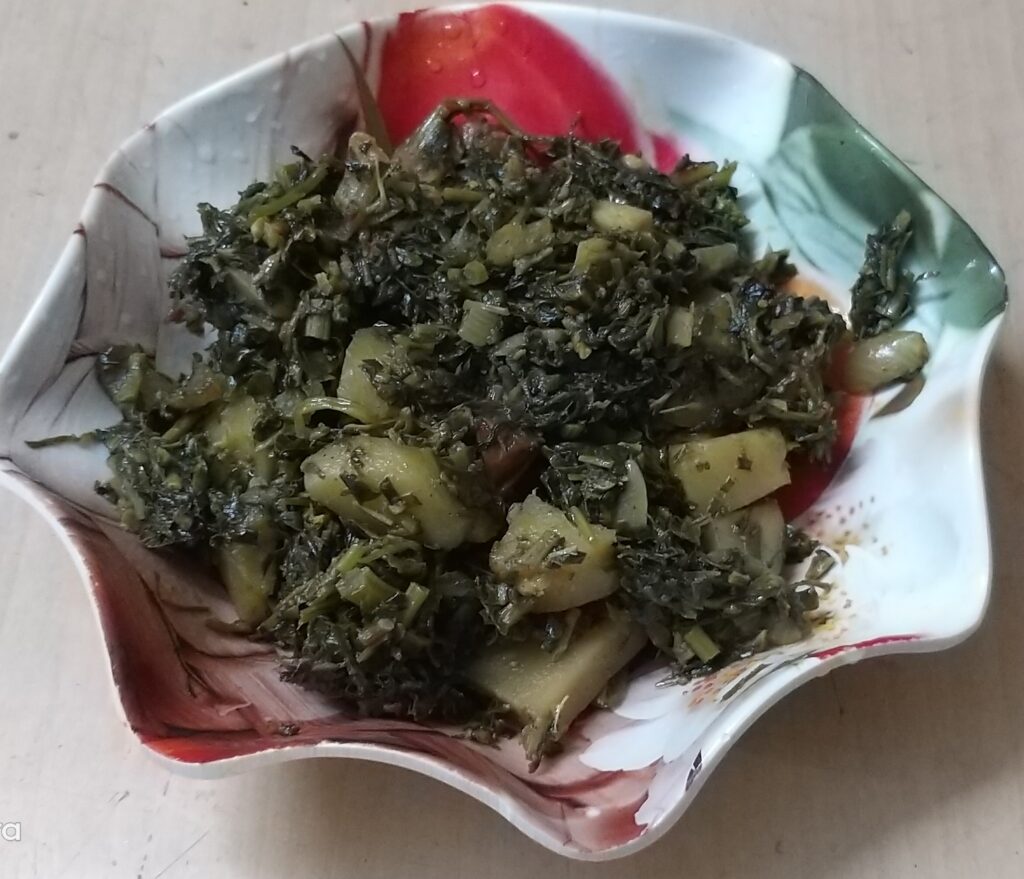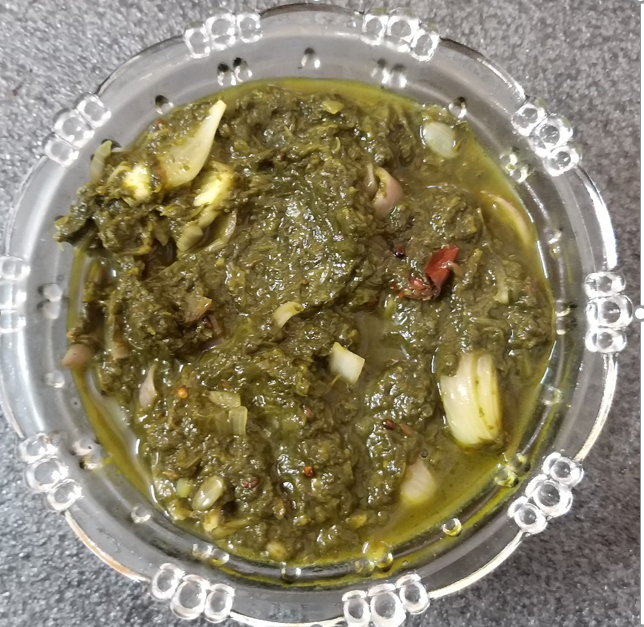 Kachru :
For preparing a kachru, ingredients required are 1/2 kg besan (black gram powder) or corn flour. chaulayee leaves, 1/2 kg; 1 cup amount fresh coriander leaves,1/2 table spoon ajwain, 3-5 green chillies, ½ table spoon turmeric powder, 2-3 chopped onions and salt according to taste.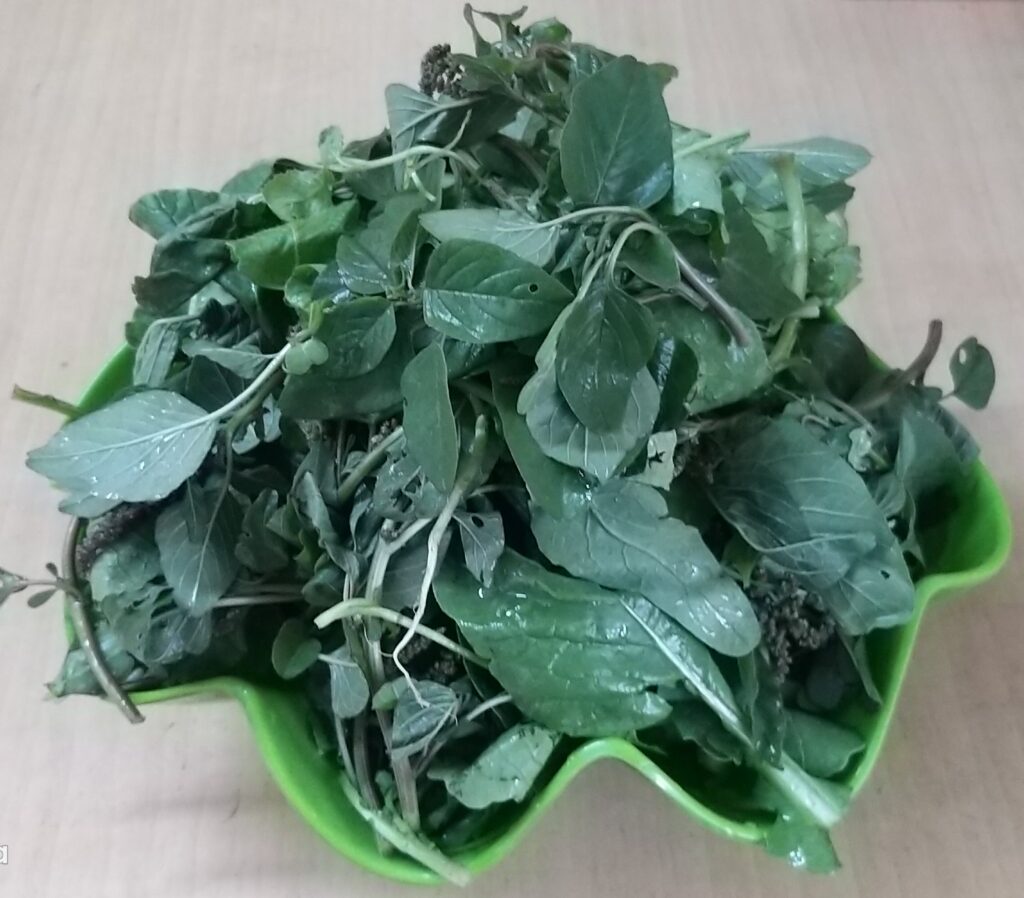 Method:
Make a paste of chopped leaves, besan or corn flour and spices. Heat some oil on a flat heating pan. Put this paste over a pan and cook for 15 to 20 minutes then kachru will be ready to serve.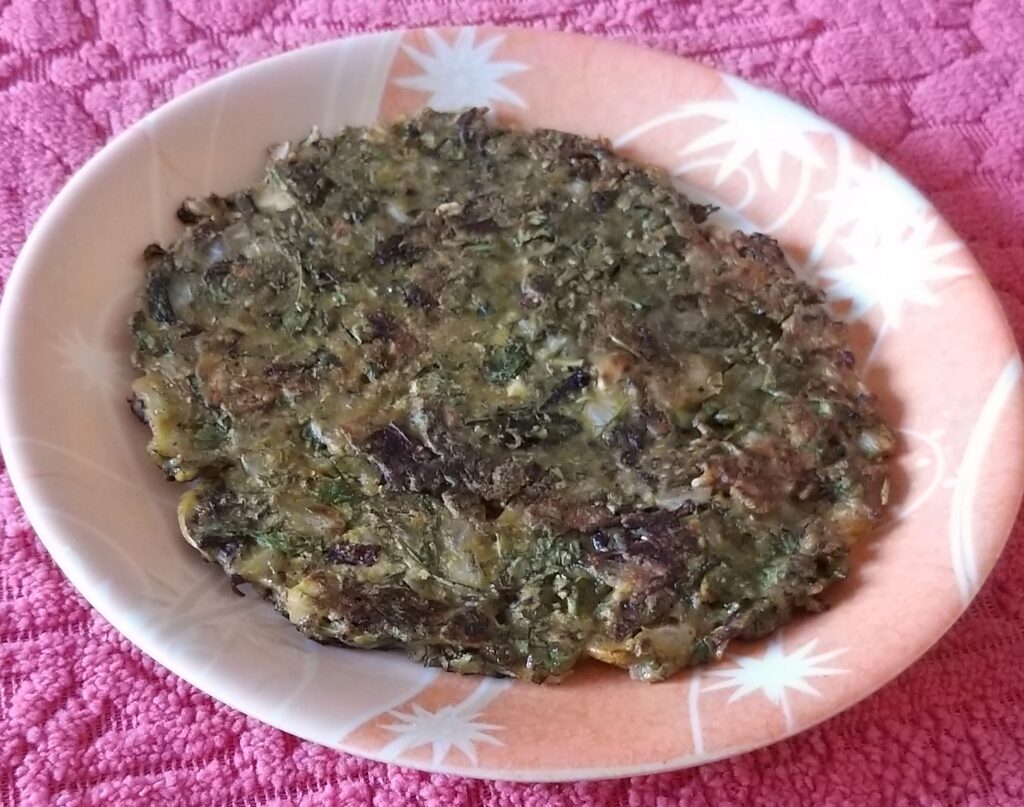 Food value:
According to CSIR's Wealth of India, 100 grams fresh leaves of chulayee 87.9 per cent moisture; 2.11 g crude protein, 1.93 g crude fibre, 7.76 g carbohydrates, 0.47 g fat and1.85 g of total minerals. The calorific value has been found to be 43.35 kcal.
Seek advice from a professional before using this plant medicinally.
Medicinal Uses
Plant is cooling; digestible, alexiteric, laxative, diuretic, stomachic, improve the appetite; antipyretic; useful in " Kapha" and biliousness, blood diseases, burning sensation, hallucination, leprosy, bronchitis, rat-bite, piles, leucorrhoea, The root is heating, expectorant; lessens the menstrual flow; useful in leucorrhoea and leprosy.
These, fresh or as a dried powder, are used in poultices to treat inflammations, boils and abscesses, gonorrhoea, orchitis and haemorrhoids.
Seeds considered as an anthelmintic and in powdered form used to cure eye diseases, vision problem and eyesight weakness.
The leaves are used as an emollient in Brazil.
Other uses:
Chaulayee plants grow as weed. These are also fed to cattle and used as fodder.
Chulayee as a source of income:
Chulayee is a good source of earning in dry season when green fresh vegetable are in scarcity during summer season. Moreover, people now have also started looking for chemical free vegetables. As chulayee is collected from the wild, so naturally no chemical has been used on it. Thus it is hundred per cent organic. So now there is a demand for chulayee and its 250-300 gram bunches easily sell for 10-15 rupees. It is therefore a good source of earning for villagers.