Family: Ploypodiaceae
Synonym: Eupteris aquiline, Pteridium latiusculum, Pteridium pinetorum, Pteris aquiline, Pteris capensis, Pteris decomposita, Pteris lanuginose,Pteris latiuscula.
Common name: No name in English but an edible fern quite similar to lingadu in appearance and taste growing in America is called fiddlehead fern and bracken fern in other parts of world.
Local name: Lingdu (लिंगडू).
Lingdu is a fern growing along the streams, water channels and other moist shady locations in forests as well as farm lands at elevations from 1450 to 1850 m. It is used as vegetable and is a popular seasonal delicacy of this region.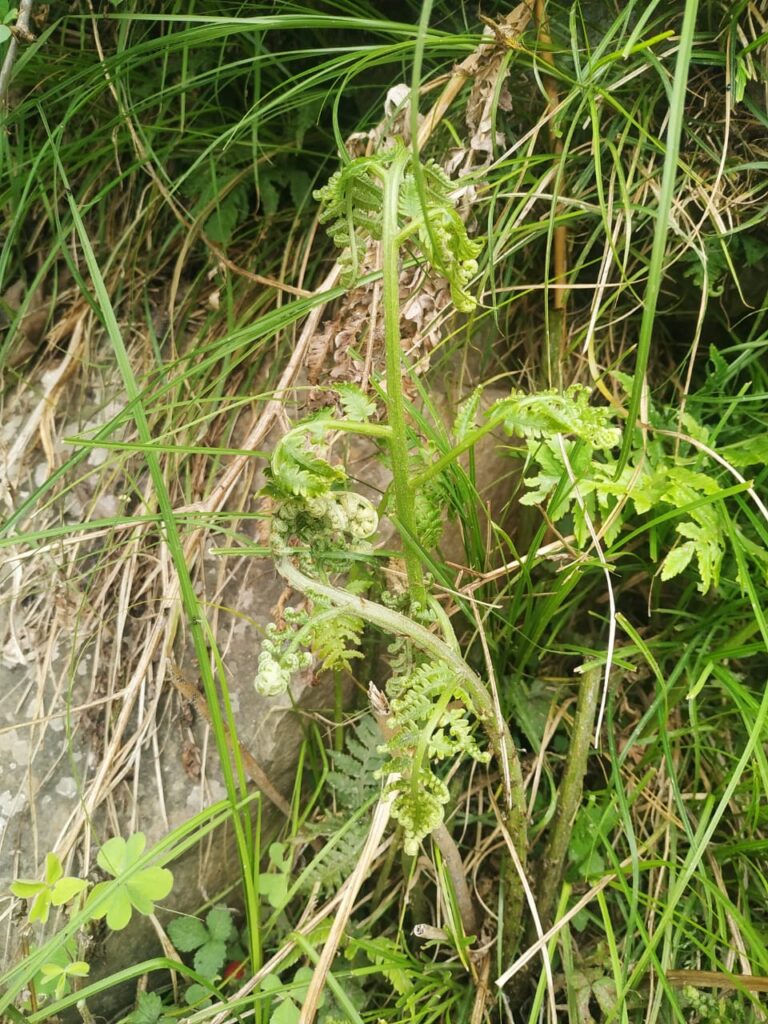 Only tender fronds of this plant, which start emerging from mid-April are suitable for cooking. Its season continues for about ten weeks. Villagers collect the fronds and bring them for sale to towns where these are readily sold.
According to various books on economic plants, this fern occurs in many parts of the world. Even in India, it is reported to be common through out India. But it is not so. This plant, called lingdoo, in local dialect, does not grow everywhere. Even in Himachal Pradesh, it occurs in a special climatic zone falling between 1450 to 1850 m.
Lingdu frond need to be boiled thoroughly before cooking as a vegetable because uncooked frond supposed to be poisonous and recommended not to be eaten in large quantity,.
Lingdoo plant:
Terrestrial herb with erect rhizome, 5-10 x 2-4 cm; scales 5-7 x 1-1.2 mm, lanceolate, acuminate, entire or rarely fimbriate, dark brown, membranous.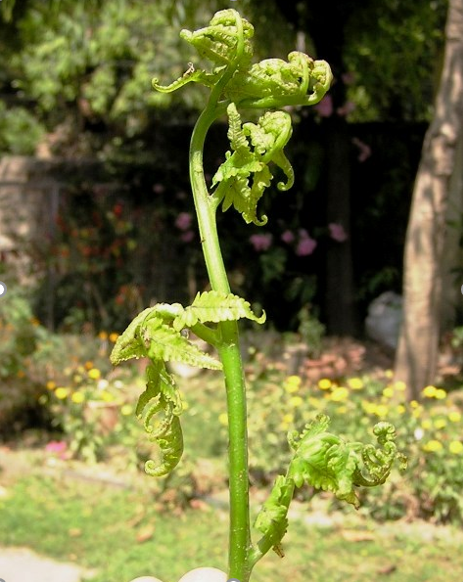 Fronds 1.5-2 x 0.6-0.8 m, bipinnate; stipe 0.8-1 m long, polished above, grooved; lamina rhomboid in outline, rachis grooved; pinnae 22-30 x 10-15 cm, elliptic-lanceolate, acuminate in outline, pinnae towards distal part lanceolate-acuminate, lobed to serrate; costa grooved above, raised below; pinnules 5-8 x 1-2 cm, lanceolate, acuminate, lobed to serrate, lobes oblong, retuse, serrulate, base of pinnules truncate, basal pinnules stipitate, upper sessile, progressively reduced towards apex, terminal pinnae exceptionally larger; costules grooved above, raised below, veins pinnate, indistinct above, raised below, anastomosing.
Sori 3.5 mm long, dark brown, linear, along veins, indusia brownish.
Sporangial capsule 312.5 x 250 µm, subglobose, stalk 375 µm long.
Spores 37.5 x 30 µm, yellowish, ellipsoid, monolete, granulose.
Edible fronds are available from late spring season to early rainy season of the year.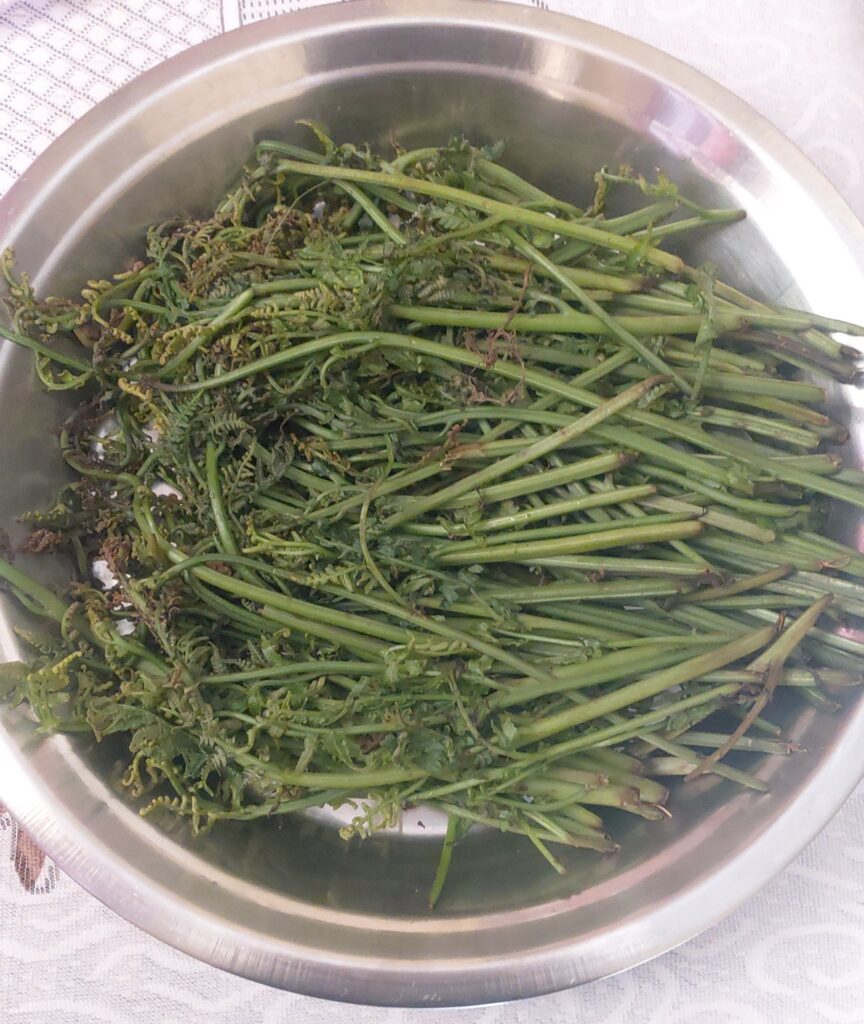 Edible use:
The fronds are made into a vegetable which is eaten alongwith chapataies during the main course withapaties or even rice..
Lingdu vegetable can be made in the following way:
Ingredients required:
Lingdu fronds, 1 kg; mustard oil, 3-4 table spoons; coriander powder, ½ table spoon; fenugreek powder, 1 tea spoon; cumin seeds, 1 table spoon turmeric powder, 1 table spoon; red chillies, 2-4, medium sized chopped onion, 1; chopped garlic cloves, 4-5; salt according to taste; curd, 4 cups; chopped green coriander leaves,1 table spoon amount; garam masala,1/2; table spoon.
Method:
The fronds are cut into pieces and boiled. These are then stir fried after adding salt and spices in a sequence as listed above. The vegetable is now ready if to be eaten with chapaties.
If it is to be eaten with rice, then add curd and cook for another 10 to 15 minutes. Garnish it with chopped coriander leaves and garam masala and serve with rice.
Lingdu vegetable has a characteristic pleasant flavour which is liked by people. In fact, this is the USP of this vegetable.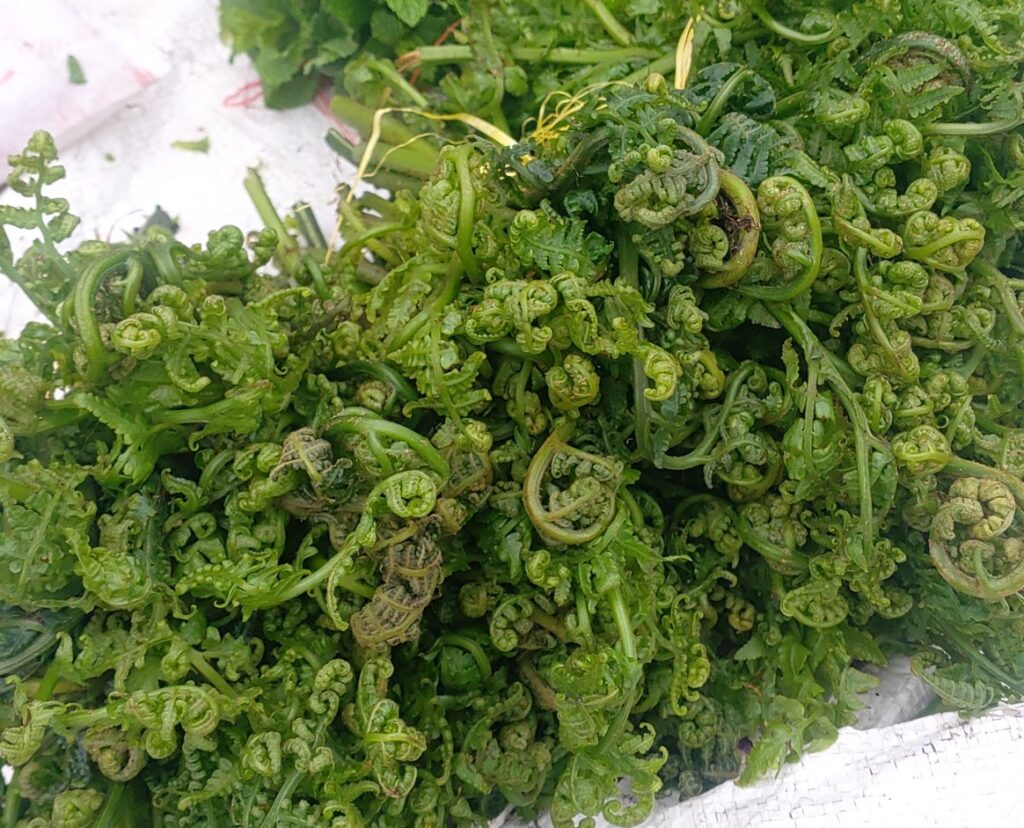 Food value:
Lingdu fronds, both fresh as well as boiled, are said to have antioxidative activities higher than alphatocopherol. These are low in beta-carotene, medium in Vitamin E, low in riboflavin, ascorbic acid, calcium and iron. The protein content is 3.2 per cent1 .
Seek professional advice before treating this plant medicinally.
Medicinal uses:
The young shoots are diuretic, refrigerant and vermiform 2. They have been eaten as a treatment for cancer 3. The leaves have been used in a steam bath as a treatment for arthritis3 [257]. A poultice of the pounded fronds and leaves has been used to treat sores of any type and also to bind broken bones in place 3. A decoction of the plant as been used in the treatment of tuberculosis3. The root is antiemetic, antiseptic, appetizer and tonic3. A tea made from the roots is used in the treatment of stomach cramps, chest pains, internal bleeding, diarrhoea, colds and also to expel worms2,3. The poulticed root is applied to sores, burns and caked breasts 3.
Other Uses
A glue can be made from the rootstock 4.A brown dye is obtained from the fronds 5. The fibrous remnants from edible roots make a good tinder 6. The rhizome lathers readily in water and can be used as a soap 4. A decocation of the root has been used as a hair wash 3. The roots have been rubbed into the scalp in order to promote hair growth3. The roots have been pounded to remove the bark, then split into flat bands and used as the black strands of cheap baskets 3 . The ashes of the plant are rich in potassium and could be used as a fertilizer 2 . They are also used in the manufacture of glass (when mixed with sand) and in making soap (when mixed with vegetable oil) 2,4 . The dried ferns produce a very durable thatch 2. The leaves are used as a packing material for fruit, keeping it fresh and cool without imparting any colour or flavor 2, 6. They are also used as a lining for baskets, fruit drying racks etc and as a bedding6. The leaves repel insects and can help to prevent rot in the fruits etc 6. Dried bracken fronds are very useful in the garden as mulch for somewhat tender plants. This will keep the soil warmer, protect from wind damage and also keep off some of the rain 2.
Lingdu as a source of income:
Tender fronds of lingdu are collected by villagers from the forest and made into small bunches. These are then sold in nearby town upto 150 rupees a kg. Lingdu can also sold on roadsides to visiting tourists.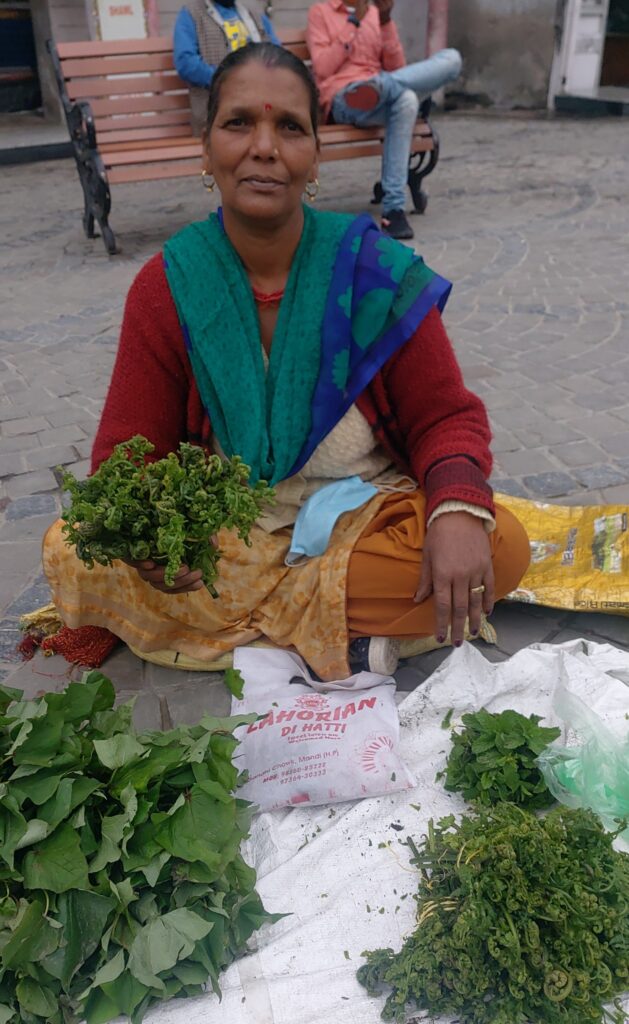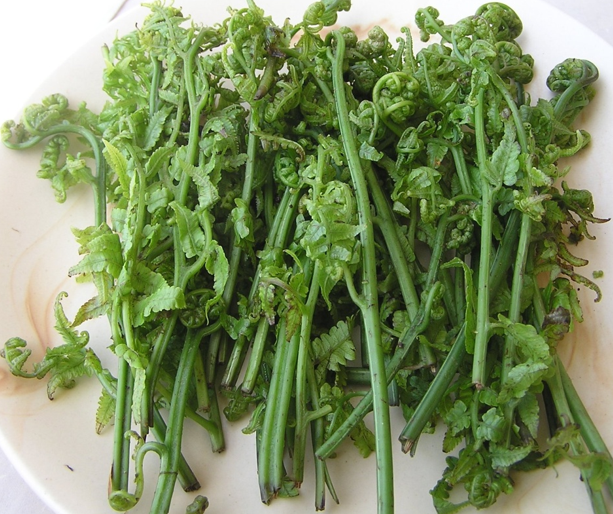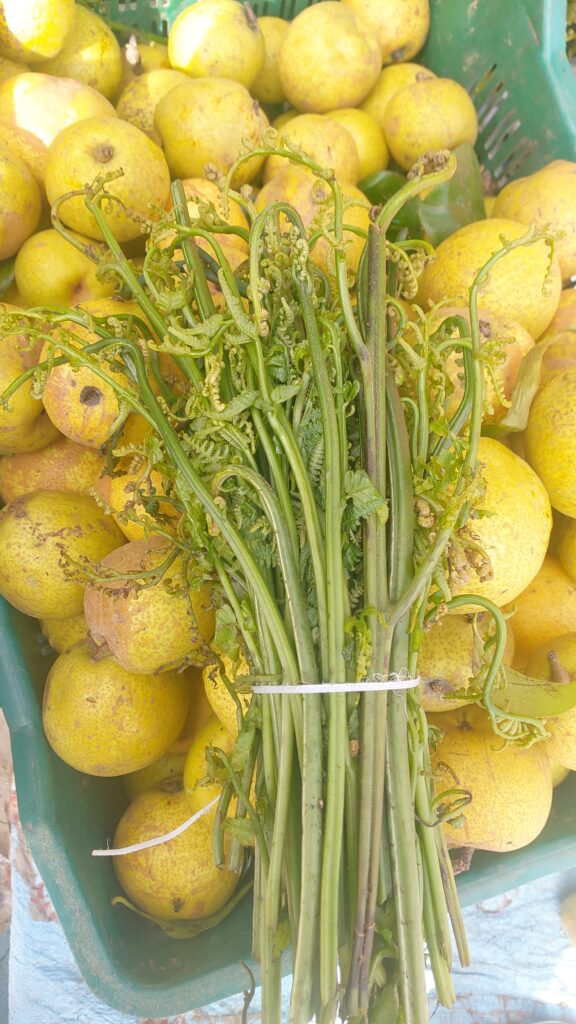 References:

Anonymous, (1969), Wealth of India:Raw Materials, Vol VIII, CSIR, New Delhi.
Grieve (1984). Penguin. A Modern Herbal.
Moerman, D. E. (1998). Native american ethnobotany. Timber press.
Komarov. V. L. (1968). Israel Program for Scientific Translation. Flora of the USSR.
Ahrendt. (1961). Journal of the Linnean Society, 57. Berberis and Mahonia.
Turner, N. J. (1979). Plants in British Columbia Indian Technology. British Columbia Provincial Museum.