Family: Asteraceae/Compositae (Aster)
Synonym: Leontodon taraxacum L. araxacum dens-leonis Desf.
Common Name(s): Dandelion,lion's tooth, Pissenlit, Priest's crown, Puffball.
Local Name: Laung (लौंग), snowball (स्नौबौल), Dudhali, Kaadavi Sunaehari. Sihanparni. Ghadi phool.
Laung plant is a perennial scapigerous, milky herb commonly found in temperate regions of Western Himalayas from 300m to 5500m. It can be seen growing along roadsides, grassy meadows, lawns, shady and damp corners of gardens, banks of water ways, and other areas with moist soils. Plant shows luxuriant growth in well-drained humus-rich neutral to alkaline soils in full sun or light shade and look like an ornamental plant.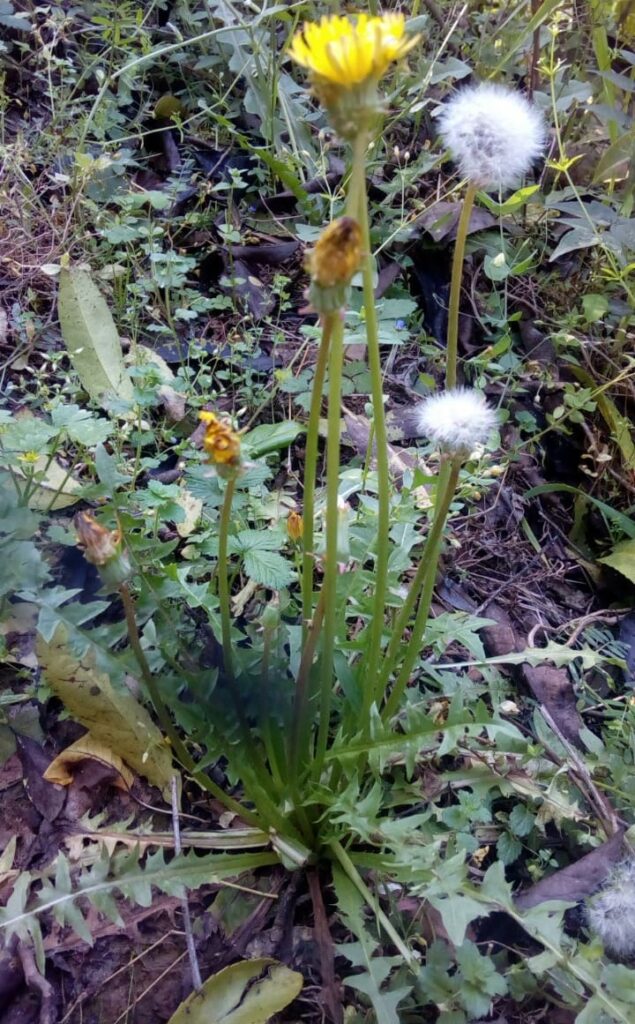 Laung plant is very famous among children and known for its silky pappus which form the parachutes for seed dispersal. This silky white pappus is flown by children during their play in air and is a great source of fun and entertainment for them. They also divide unbranded stem bearing flower into two parts upto apex and bear it like wrist watch therefore laung plant is also famous among kids with the name ghadi phool.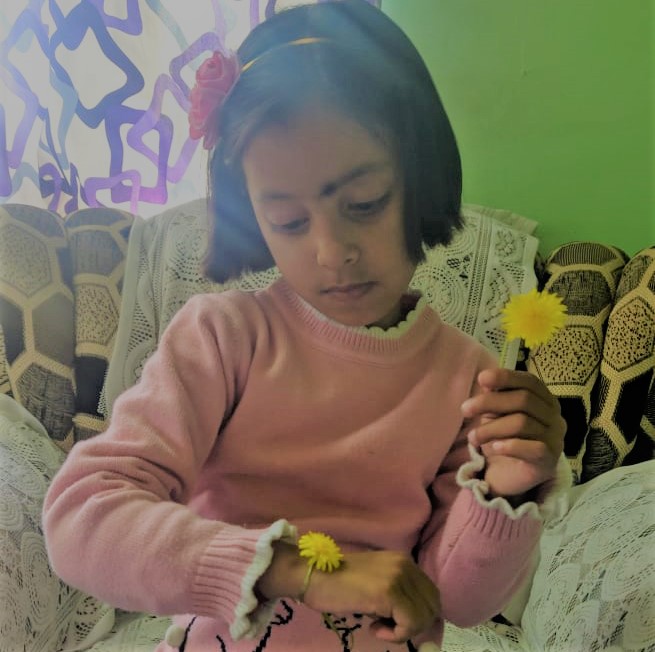 Silky white pappus appear as a snow ball after flowering period so the plant is also known as snowball locally.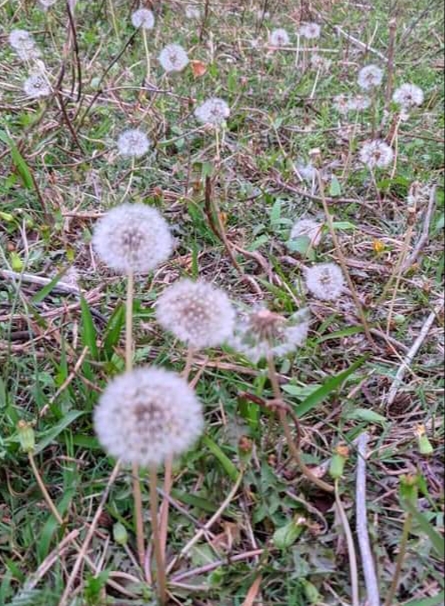 Old women used to wear an gold nose pin called as laung in their nose which resemble with laung flower so the plant is given the local name laung in many parts of Himachal Pradesh. Local name of laung plant varies from place to place and many other names are also given to the plant like, dudhali, kaadavi sunaehari and sihanparni.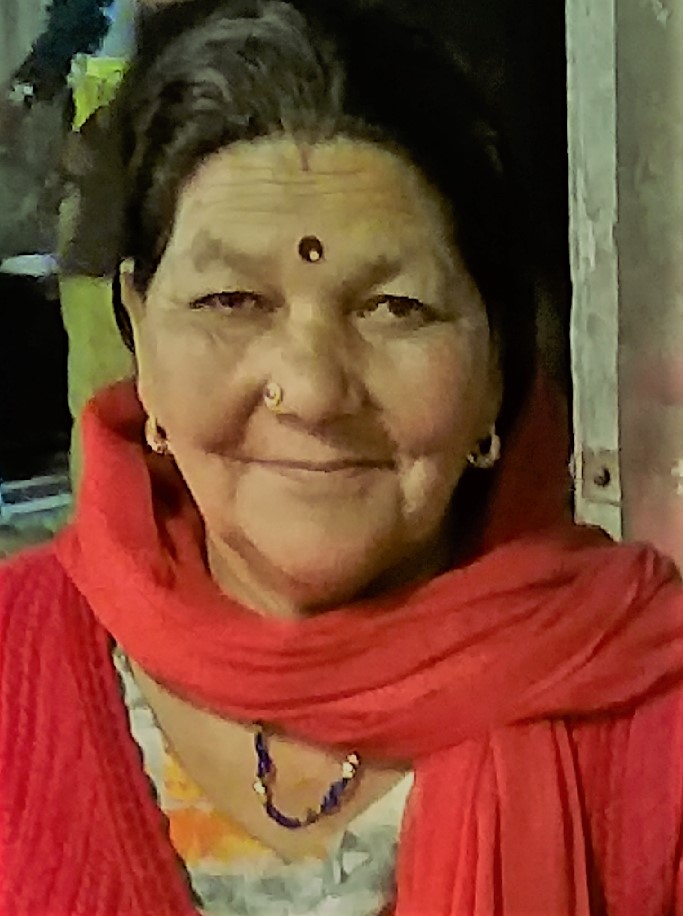 Laung plant is considered a weed in Himachal Pradesh. Though it has a bitter flavour but still serves as an abundant natural food source, as all parts of the plant can be eaten. This plant is also cultivated in many countries including America. It is native of Europe and Asia, but naturalized in North America and now grows widely as a weed in nearly all the temperate climates. Plant is used as a herbal remedy for many ailments. Laung plant root extract is also sold as a dietary supplement in many parts of India. Whole plant is available in various supplemental forms, such as capsules, extracts and tinctures.
Laung plant:
A perennial herb 5–70 cm tall; latex milky; unbranched taproot;
Stem, 1-10, glabrous, hairy, tinted purplish. flowering stem lacks bracts having single flower head.
Leaves basal, radical sessile; 5–45 cm long, 1–10 cm wide, oblanceolate, oblong, or obovate, narrowing to the base. margins shallowly lobed to deeply lobed. lacerate or toothed.
Heads ligulate,1-2in.diam., glabrous, solitary ona hollow; leafless stalk 2-3 in.long; florets, 40 -100 per head, ligulate and bisexual. pappus copious, white not leathery, soft; corollas yellow or orange-yellow. Calyculi,12 to 18 segmented: Involucres,14–25 mm wide, green to dark green or brownish-green, tips dark grey or purplish.
Fruits, cypselae, olive-green or olive-brown to straw-coloured to greyish, 2–3 mm long. 4 to 12 ribs, Silky pappus white to silver-white. 6 mm wide.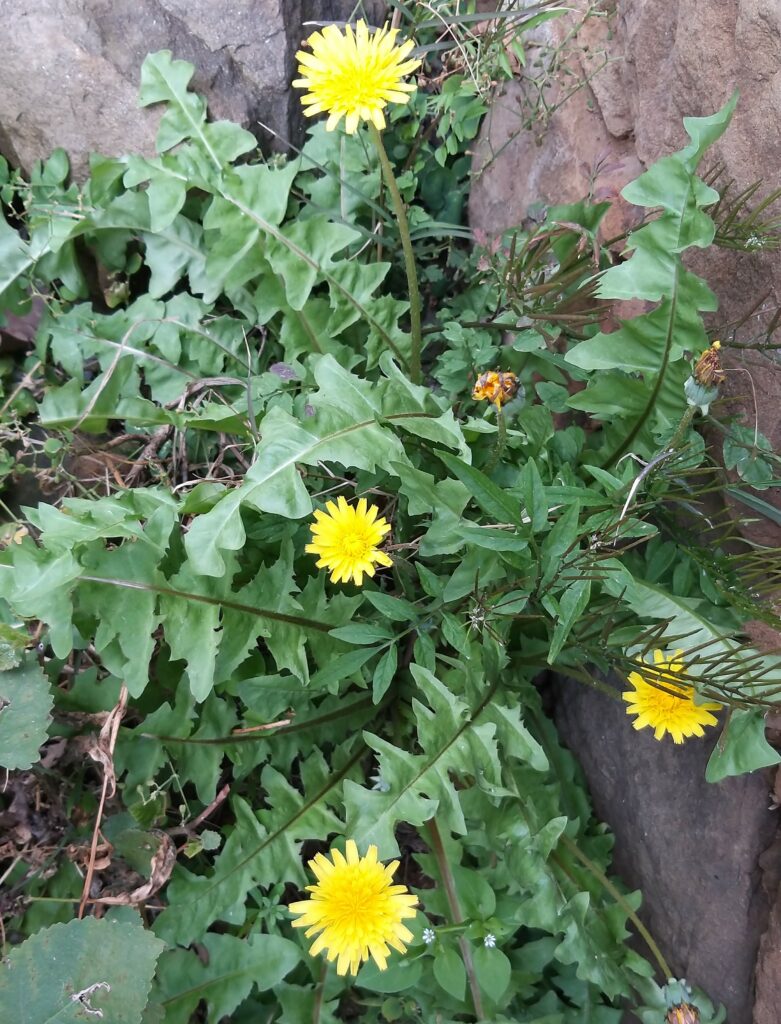 Edible uses:
Leaves, stems and flowers of laung plant are consumed in their natural state and can be eaten cooked or raw. Its tender and young leaves can be eaten raw as a salad or can be used in other dishes requiring greens. Leaves can be cooked as spinach. The root can be roasted and used in teas or consumed whole as a great beverage . The stem, leaves, and seeds can be used to prepare coffee which is caffeine free. The flowers can be eaten raw, cooked or even made into wine.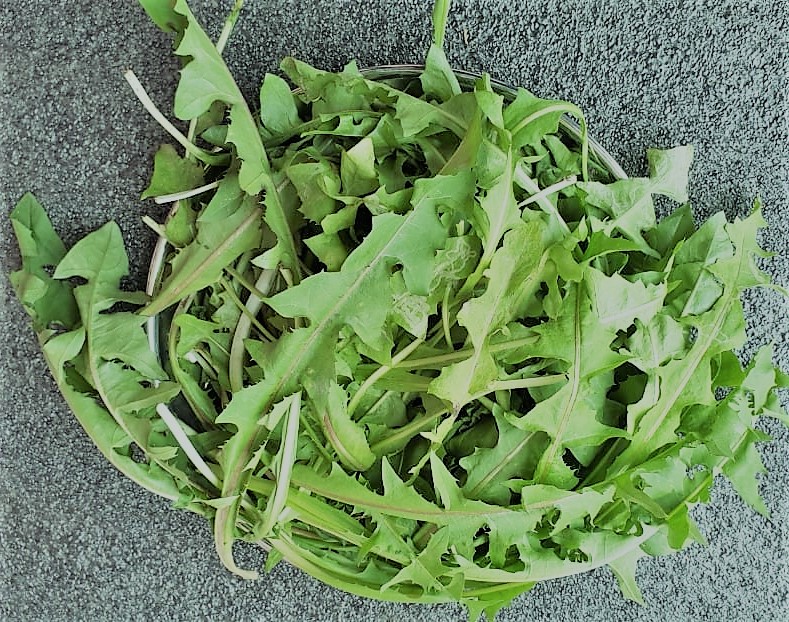 Laung plant is not much known for its edible uses in Himachal Pradesh and considered as a weed to be removed from lawn, gardens or cultivated field. Although people use plant as a herbal remedy to treat many disease. Very few people know that from root to flower, long are highly nutritious plants, loaded with vitamins, minerals and fiber.
It is bitter in taste comparable to Karela so its better to mix it with other potherb.
Laung plant can provide edible leaves, roots all year round and flowers during spring season.
Laung sabji;
Leaves are cooked like spinach with potato. or as a saag
Chopped leaves of Laung plant and other available potherbs (Medicago polymorphia , Rumex hastatus Chenopodiun album, Vicia sativa,vicia hirsuta), 1 kg; chopped medium sized potatoes,3-4 mustard oil, 3-4 table spoons; coriander powder, 1 table spoon; fenugreek powder, ½ table spoon; cumin seed, 1 tea spoon; turmeric powder, 1 table spoon; red chillies, 2-3; chopped medium sized onions 2-4; garlic, 4-5 cloves; ginger paste ½ table spoon, chopped tomato, 2-3; and salt, according to taste.
Method:
Put oil in a pan and deep fry chopped potatoes, then saute these with spices listed above in sequence along with green long leaves. Cook for 10 to 15 minutes and serve with chappatis.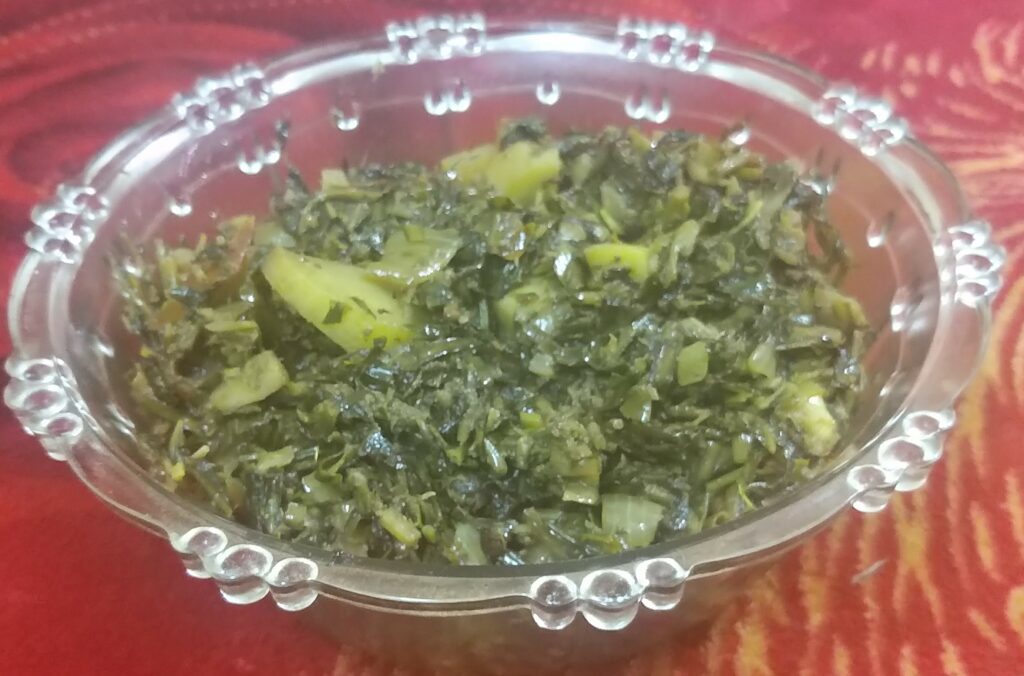 Ingredients:
Chopped leaves and tender shoot tips of laung and other
available wild potherbs (Medicago polymorphia , Rumex hastatus Chenopodiun album, Vicia sativa,vicia hirsuta), 1 kg; mustard oil, 2 table spoons; coriander powder 1 table spoon; fenugreek powder, ½ table spoon; cumin seed ¼ table spoon; turmeric powder, 1/4 table spoon; red chillies, 2-3; chopped onions 2-4; garlic, 4-5 cloves; ginger paste ½ table spoon and salt according to taste.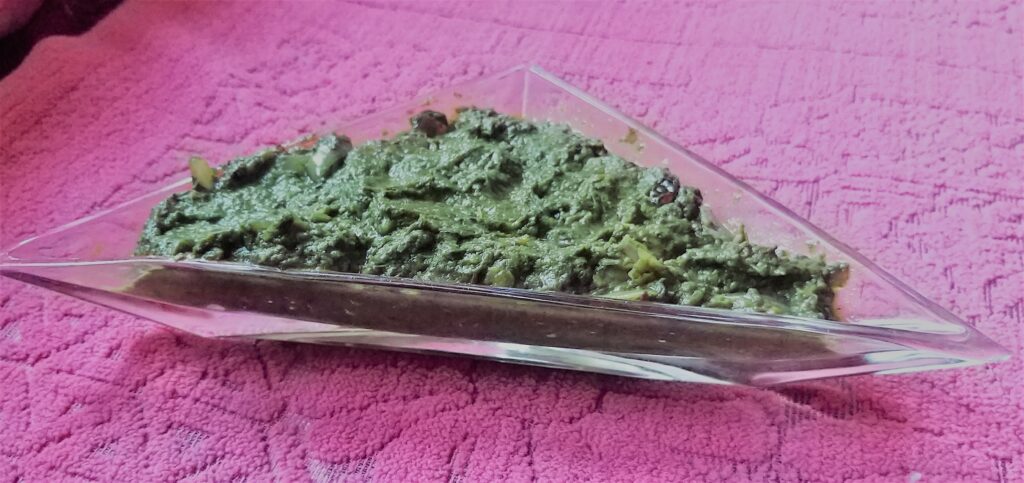 Method:
Boil chopped leaves they become soft. Then mesh manually or in a mixer. Then sauté with hot mustard oil and the spices listed before in sequence. This sauted sag is then ready and can be served as such or can be mixed with 2 or 3 chopped onion or boiled potato and cooked for another 5 to 10 minutes before serving.
Flowers Kachru:
Ingredients:
for preparing a kachru, ingredients required are fresh flowers and leaves of long plant, 1kg;
1/2 kg besan (black gram powder) or corn flour. 1 cup amount fresh coriander leaves,1/2 table spoon ajwain, 3-5 green chillies, ½ table spoon turmeric powder, 2-3 chopped onions and salt according to taste.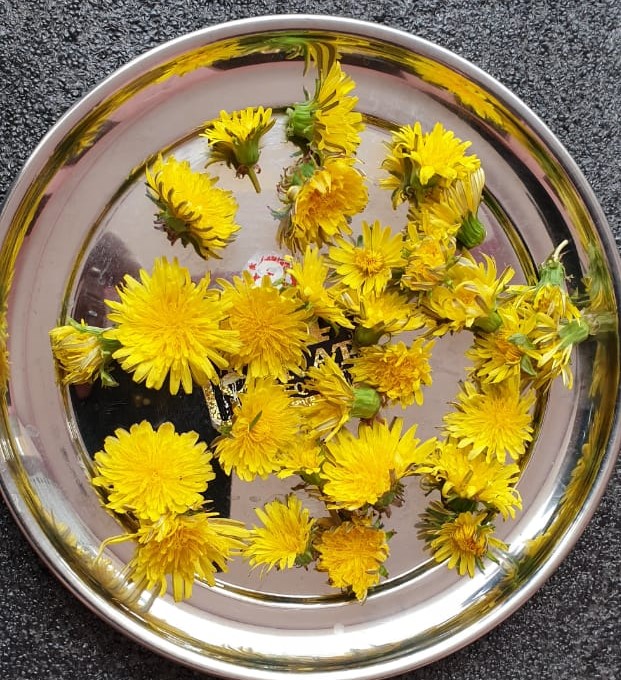 Method:
Make a paste of chopped flowers and green leaves, besan or corn flour and spices. Heat some oil on a flat heating pan. Put this paste over a pan and cook for 15 to 20 minutes then kachru will be ready to serve.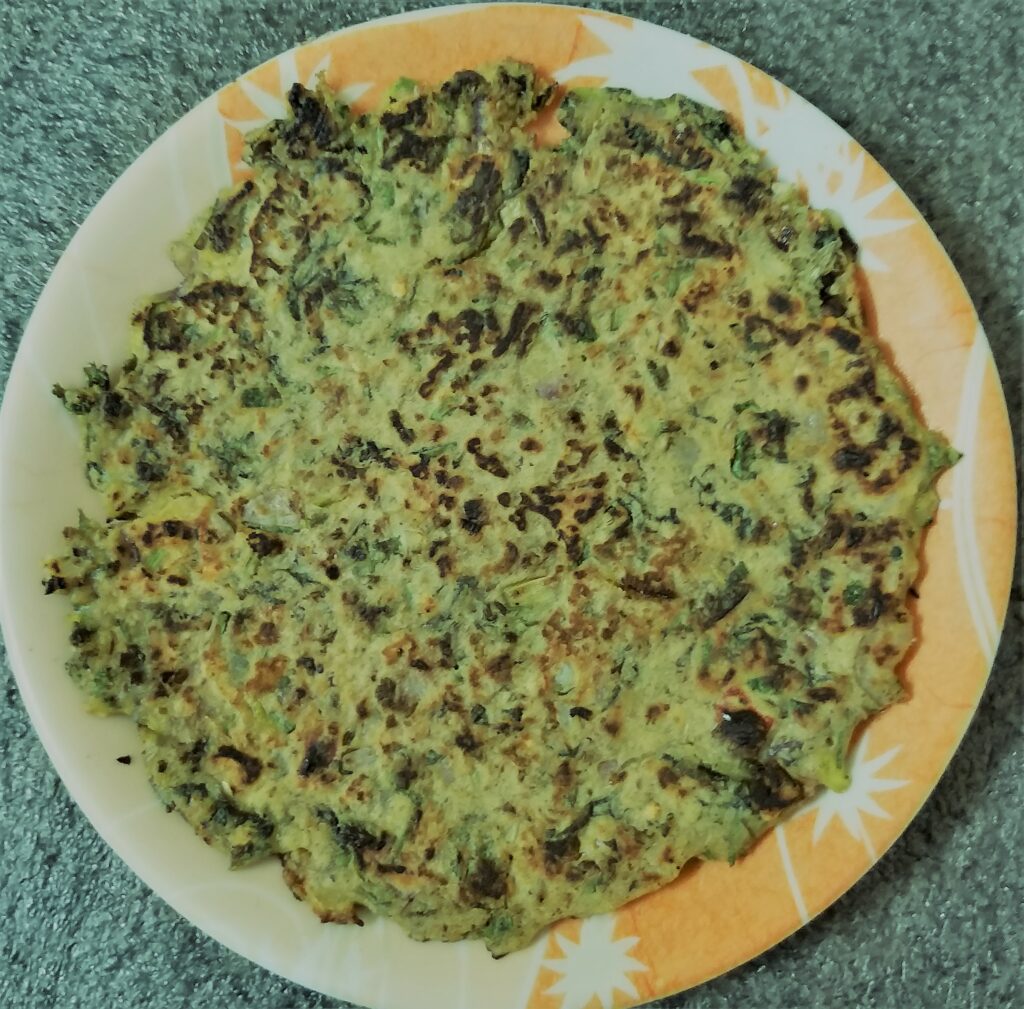 Laung Root Tea:
Roots are dried and used to prepare tea for a different flavour and for its medicinal uses.
Food Value:
100g of the raw fresh leaves contain about 2.7g. protein; 9.2g, carbohydrate, 187mg Calcium; 66mg, phosphorus;3.1mg, iron;76mg, sodium;397mg, potassium; 36mg, magnesium; Thiamine,0.19mg; Riboflavin,0.26mg; Niacin, 0.81 mg; vitamin B1, 0.26 mg; vitamin B2, 35mg, vitamin C; Vitamin E, 3.44 mg; Vitamin K, 778.4 µg; 14000 µg vitamin A.
Seek advice from a professional before using this plant medicinally.
Medicinal Uses:
Laung plant vegetable is considered tonic, blood purifier, laxative with strong antioxidant capabilities that can prevent aging and certain diseases, help to reduce weight and boost immune system.
Roots and leaves used to treat liver problems. kidney disease, swelling, skin problems, heartburn, and upset stomach. Plant extract Treat stomach problems, appendicitis, and breast problems, such as inflammation or lack of milk flow. Plant is remedies for fever, boils, eye problems, diabetes, cancer and diarrhoea.
Other Uses:
The flowers are dried and mixed with powdered mixture of several other herbs that can be added to a compost heap in order to speed up bacterial activity and thus shorten the time needed to make the compost.
A low-quality latex, can be obtained from the roots of this plant which can be used for making rubber. A magenta-brown dye is also obtained from the root of this plant.
Laung plant is a good source of ethylene gas, which stunts the growth of nearby plants and causes premature ripening of fruits. A distilled water made from the ligules is used to clear the skin and is particularly effective in fading freckles cosmetically.
Laung plant is harvested as a fodder in villages to milch cattle to enhance milk yield.
Laung plant as a source of income:
Laung plant root extract is sold in many parts of India as a dietary supplement. Whole plant is available in various supplemental forms, such as capsules, extracts and tinctures. So like dudhi (Euphorbia hirta) plant, long plant also has huge potential to act as a source of income for poor people of Himachal Pradesh where it is considered a weed.