family: Fabaceae (Leguminosae)
Synonyms: Vicia bacla. Vicia communis. Vicia glabra. Vicia nemoralis
Common name: Tare, Garden Vetch, Spring Vetch, Narrw-leaved Vetch
Local name: Roadi (रोड़ी), Bada Kaer, Roothi
Roadi plant is an annual short-lived herbaceous vine of late winter or early spring season. It is a common weed of crops, wetlands, watercourses, open woodlands, grasslands, roadsides, disturbed sites, waste areas, gardens and pastures. It grows up to an altitude of 1900m in temperate and sub-tropical regions of Western Himalayas.
Roadi grows best in semi-shade and well-drained soil. Roadi is edible and is a pretty good potherb. All the Ariel parts of the plant viz leaves, young shoots and young pods are cooked. Like other legume Roadi is eaten for its rich protein content.
Roadi is valuable green manure also, it grows in symbiotic relationship with certain soil bacteria, which help to fix atmospheric nitrogen. So, roadi is a good source of nitrogen to the plant itself and plants growing nearby. Roadi is also fed to livestock as a fodder.
Roadi Plant: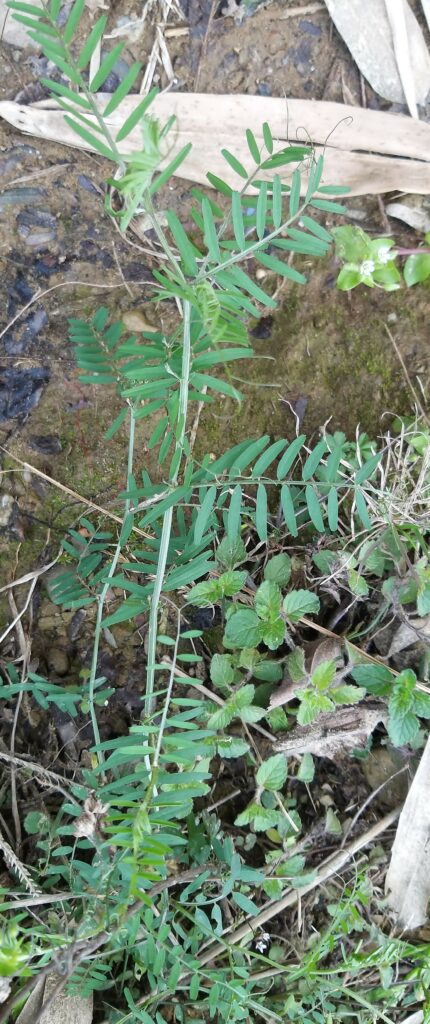 Plant is an annual herb, 0.3-1.2 m tall.
Roots, fibrous, pea-type, branching near the base and continues towards the tip.
Stems, slender creeping, scrambling or climbing.
Branches prostrate or climbing, angular, finely hairy or glabrous.
Leaves, 2-10 cm long; apical, 1-2 tendrils; Leaflets, 3-6 pairs, 0.5-3 x 0.2-1.0 cm,
lanceolate-oblong, obtuse and round.
Flowers, 1-1.5 cm long; reddish-violet, turning bluish after anthesis, solitary or paired, sub-sessile.
Pods, 2.5-4 x 0.5 cm, hairy or glabrescent, 8-10 seeded or truncate at apex; Stipules acuminate with segmented auricles.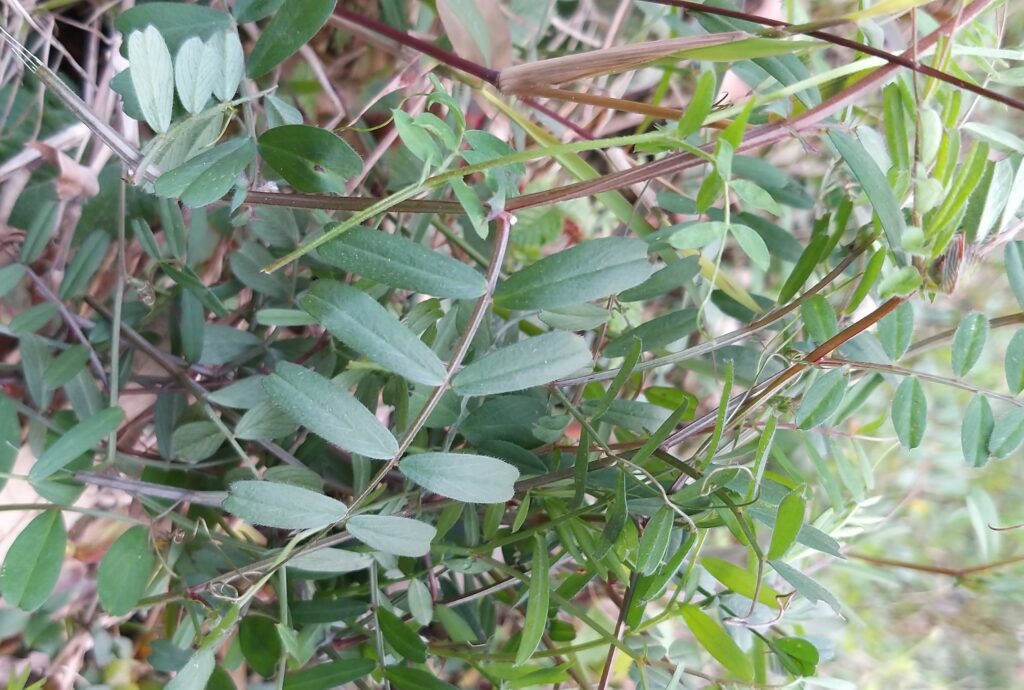 Edible uses:
The young shoots and leaves of roadi are edible and consumed raw as a salad or cooked as a vegetable along with potatoes or saag along with other potherbs. Its leaves are tea substitute also. Leaves have a mild, grassy flavour comparable to spinach, collards, or turnips. The unique seed pods are also edible when they're young. They look like green beans also taste like them and cooked along with potatoes to form vegetable.
Like other legumes, roadi seeds are rich in protein, fats, fibre, and various vitamins and minerals. These are eaten fresh or dried, ground into a powder and mixed with cereal flour in small quantity to bake bread, biscuits, cakes etc as a protein addition, this powder is also used in thickening soup.
Seeds have a whopping 25% protein, which is one of the highest vegetable sources around. However, their nutritional composition changes over time, they are higher in protein in early season when their colour is green to greenish-yellow, but later in the season when they begin to dry, their protein content decreases and turns to carbohydrates.
Roadi can provide edible leaves from late winter to rainy season and pod and seed from late spring to end of rainy season.
Roadi Plant sabji :
Leaves, young shoots and pods are cooked with potato. or as a saag.
Chopped leave, young shoots and pods, 1 kg; chopped medium sized potatoes,3-4 mustard oil, 3-4 table spoons; coriander powder, 1 table spoon; fenugreek powder, ½ table spoon; cumin seed, 1 tea spoon; turmeric powder, 1 table spoon; red chillies, 2-3; chopped medium sized onions 2-4; garlic, 4-5 cloves; ginger paste ½ table spoon, chopped tomato, 2-3; and salt, according to taste.
Method:
Put oil in a pan and sauté chopped rodi leaves and pods with potatoes and spices listed above in sequence. Cook for 15 to 20 minutes and serve with chappatis.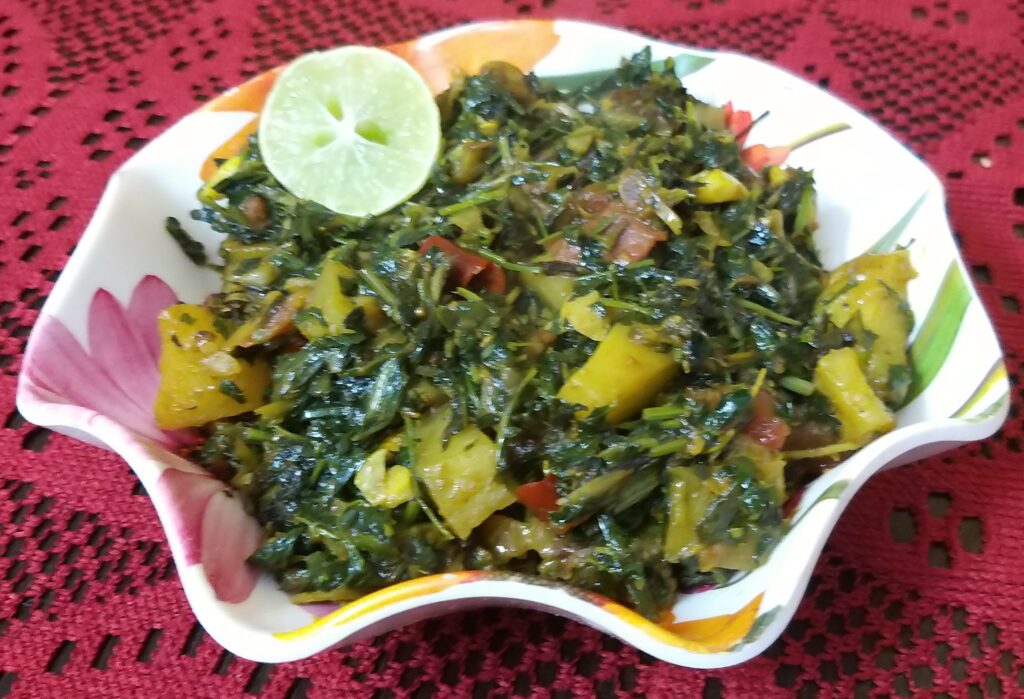 Ingredients:
Chopped leaves and tender shoot tips of roadi and other potherbs, . (Medicago polymorphia ,Rumex hastatus Chenopodiun album, Taraxacum officinale) 1 kg; mustard oil, 2 table spoons; coriander powder 1 table spoon; fenugreek powder, ½ table spoon; cumin seed ¼ table spoon; turmeric powder, 1/4 table spoon; red chillies, 2-3; chopped onions 2-4; garlic, 4-5 cloves; ginger paste ½ table spoon and salt according to taste.
Method:
Boil chopped leaves they become soft. Then mesh manually or in a mixer. Then sauté with hot mustard oil and the spices listed before in sequence. This sauted saag is then ready and can be served as such or can be mixed with 2 or 3 chopped onion or boiled potato and cooked for another 5 to 10 minutes before serving.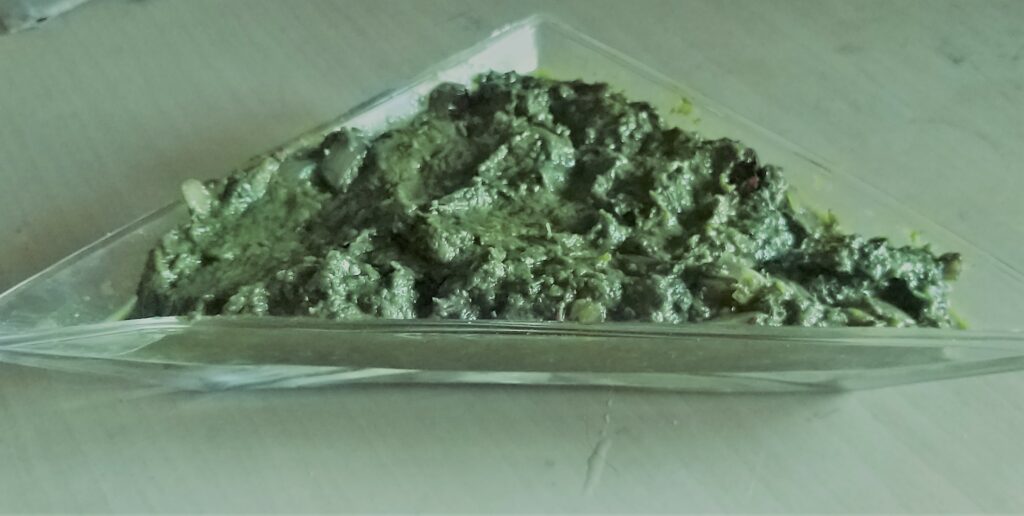 Roadi Leaves Kachru
Ingredients:
For preparing a kachru, ingredients required are leaves of roadi plant alone or add leaves of other potherbs, 1kg; 1/2 kg besan (black gram powder) or corn flour. 1 cup amount fresh coriander leaves,1/2 table spoon ajwain, 3-5 green chillies, ½ table spoon turmeric powder, 2-3 chopped onions and salt according to taste.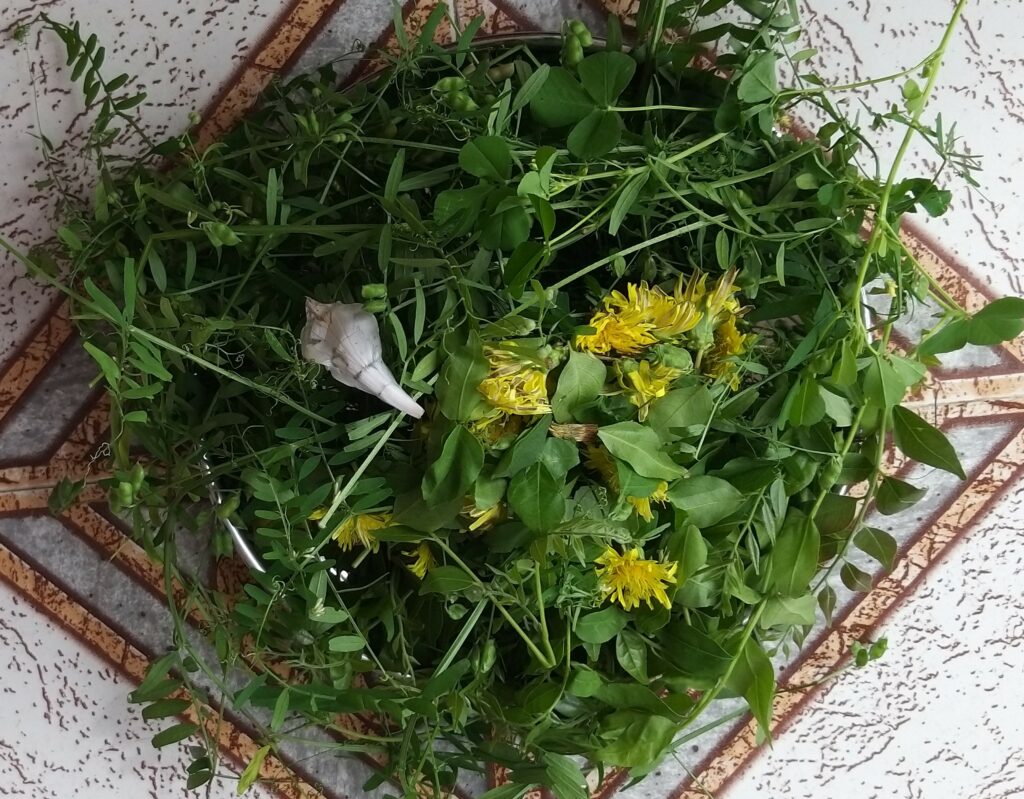 Method:
Make a paste of chopped green leaves, besan or corn flour and spices. Heat some oil on a flat heating pan. Put this paste over a pan and cook for 15 to 20 minutes then kachru will be ready to serve.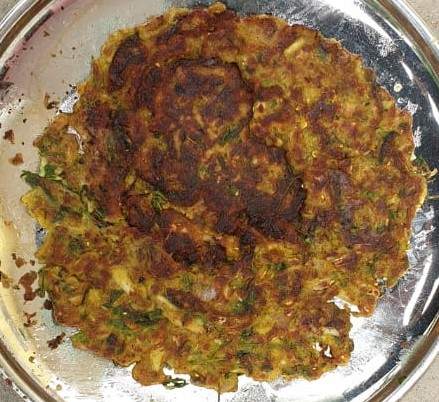 Other Uses:
Roadi fixes a large amount of nitrogen, so known as a excellent green manure crop. It is also a protein rich fodder for livestock.