Family: Asparagaeae
Synonyms: Asparagopsis adscendens, Protasparagus adscendens.
Common Name: Shatawari,Safed musli.
Local Name: Sansarpali (सनसरपाली), Sansarbuti.
Sansarpali is an evergreen perennial shrub, which remain green throughout the year. Plant generally prefers well-drained moist soil and can grow in semi-shade also. Sansarpali is usually found throughout India and naturally occurs in forests of Western Himalaya upto an altitude of 1800 m.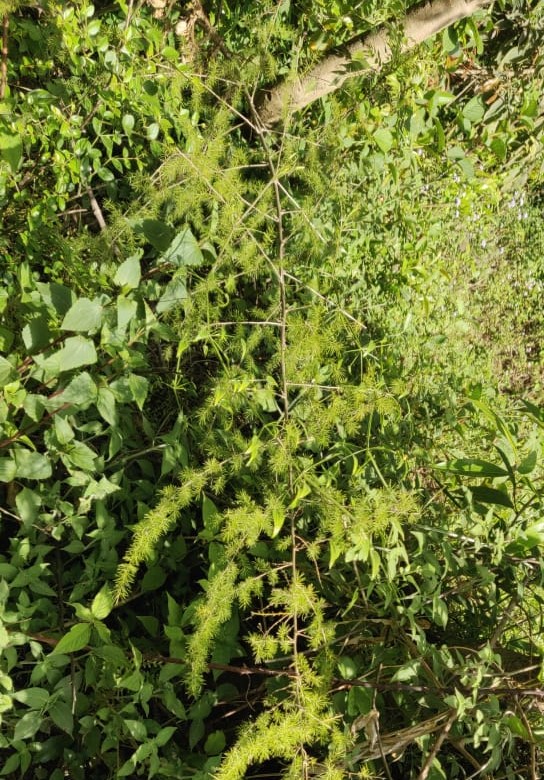 Sansarpali is considered a multipurpose plant in Western Himalayas due to its multifarious uses for the local peoples All the parts of the plant viz shoot, root, whole plant and flowers are useful for them. Whole plant is considered a sacred and is worshiped in many religious rites. Plant is well known for its medicinal, ornamental and edible uses.
The young shoots of sansarpali plant are edible. These are prepared and served in number of ways for its medicinal and nutritive values, typically as an appetizer. Plant is in huge demand especially for its religious uses and becoming increasingly threatened, so people now have started planting this plant in pots for ensuring its availability for religious ceremonies.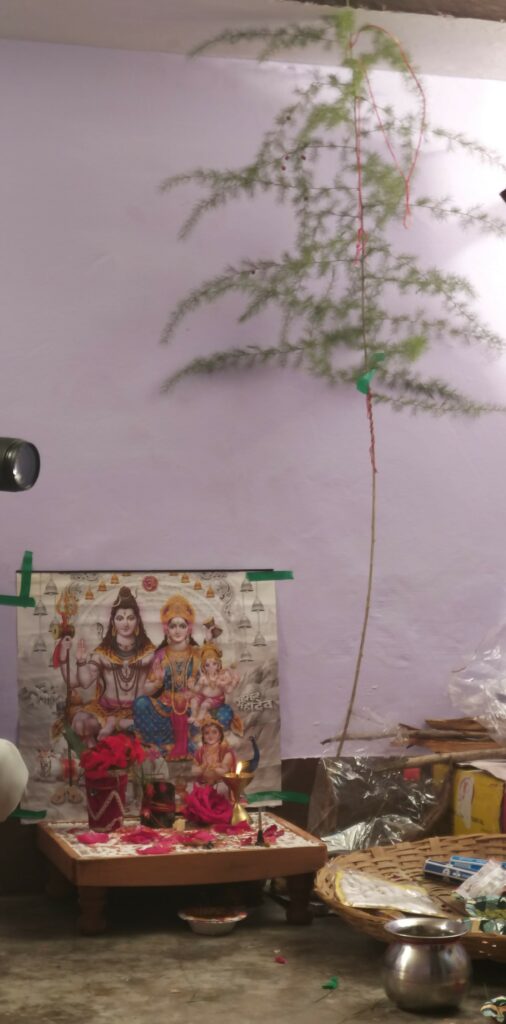 Sansarpali plant:
Plant is an evergreen suberect, shrub or subshrub,1- 3 m tall.
Roots are numerous and fusiform, succulent and tuberous with a diameter of about 0.5 to 1.5 cm and it arises as a cluster from the basal end of the stem.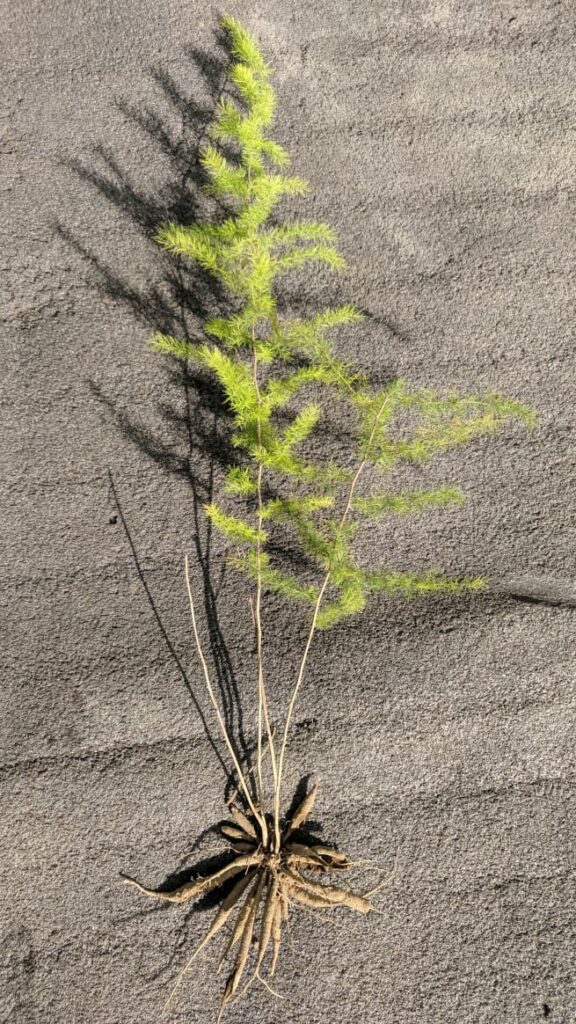 Stem woody, sparsely covered with recurve spines.
Branches many, young branches ash grey to white, branchlets grooved. Spine c. 8-12(-15) mm long, woody.
Leaves reduced to small scales, as cladode; Cladodes densely crowded, frequently 5-20, filiform, terete, ascending or erect or recurved, 10-25 mm long.
Inflorescence 4-6 cm long raceme. Pedicel up to 6 mm long, articulated below or in the middle.
Flowers bisexual. Perianth 3 x 2 mm, obtuse. Filaments up to 2 mm, attached to the base of perianth. Ovary 2 x 1 mm, narrow towards the base, style upto 0.6 mm, stigma trilobed, lobes up to 1 mm.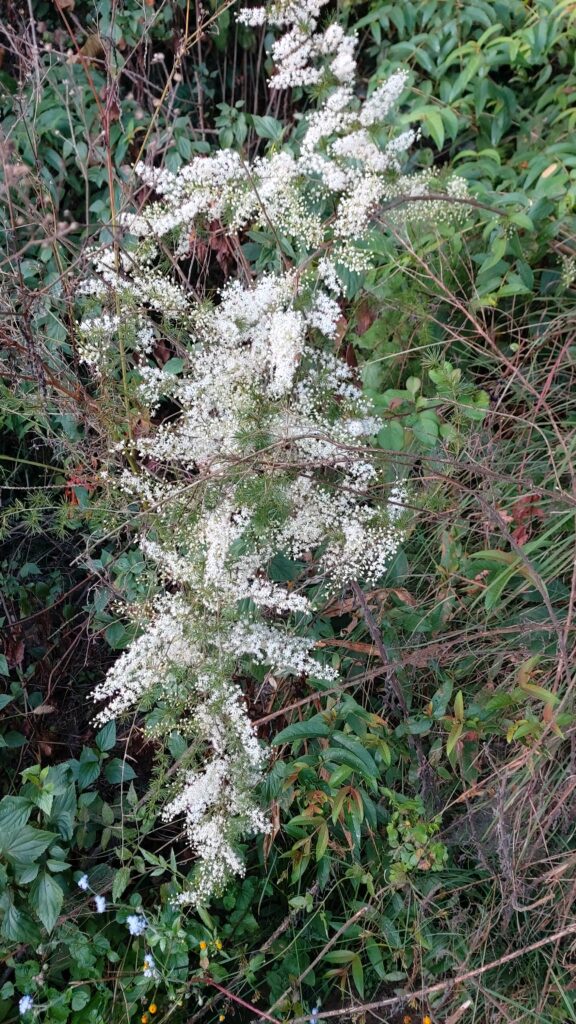 Berry dark red, 4-5 mm in diameter, globose,1seeded.
Sansarpali plant can provide edible leaves and root throughout the year.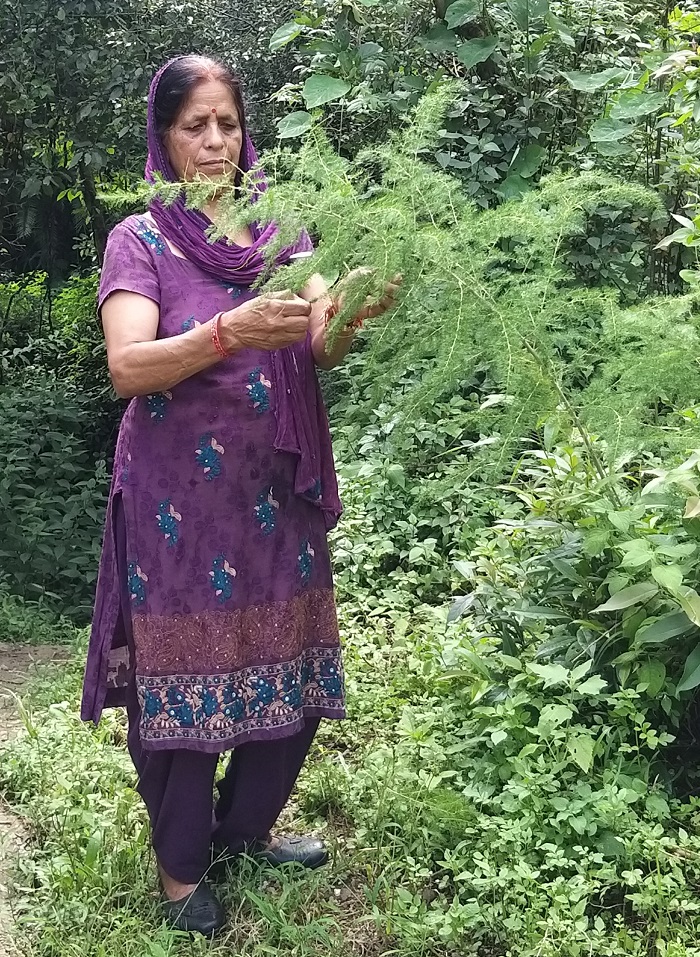 Edible Uses:
Tender shoot buds, tips and cladodes of sansarpali plant are edible. These are prepared as Kachru, sabji and can be mixed in chutney. Roots are known to produce very nutritious starch that is used like salep for soup preparation.
For salep preparation the root is dried and ground into a powder.To get maximum health benefits of sansarpali plant this powder mixed with dried leaf powder that can be used to garnish dishes or butter milk in very small quantity like spices.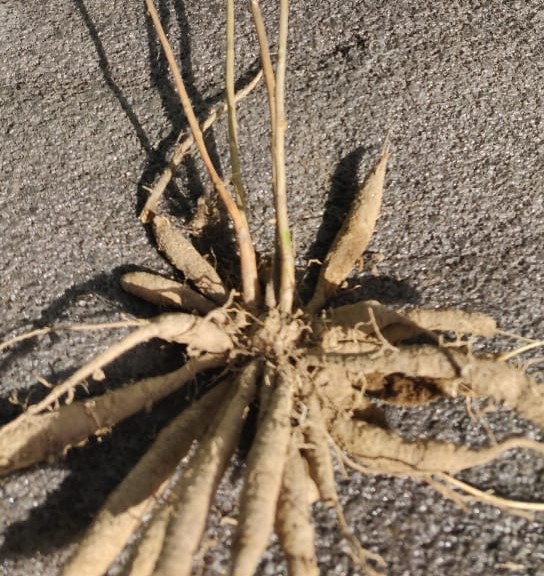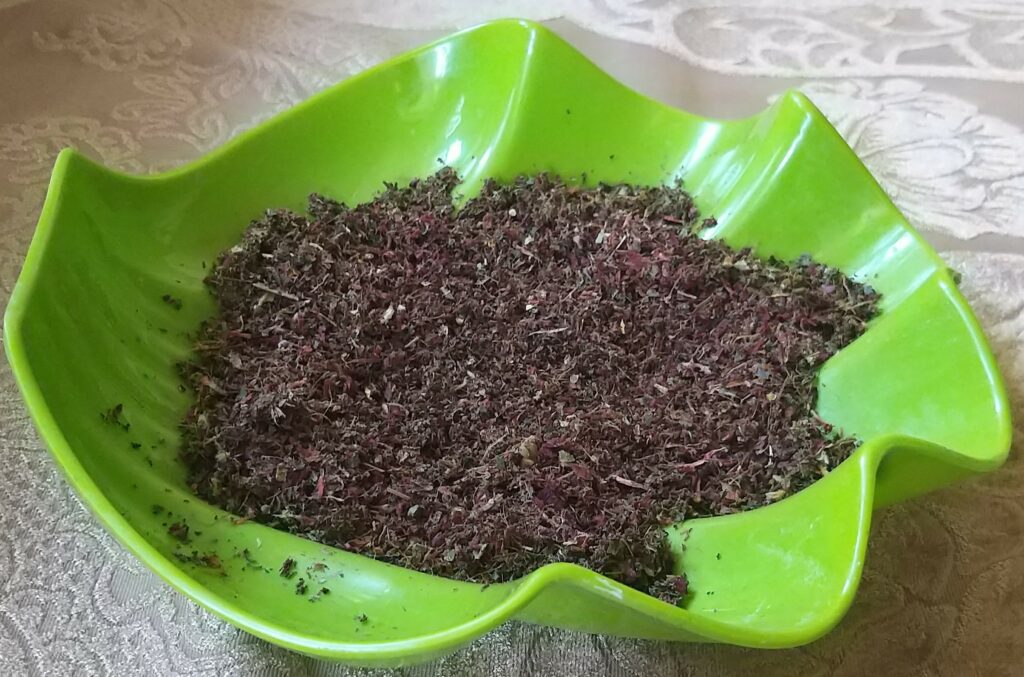 Kachru of Sansarpali cladodes:
for preparing a kachru, ingredients required are fresh greens of sansarpali plant, 1/2kg; 250g besan (black gram powder) or corn flour. 1 cup amount fresh coriander leaves,1/2 table spoon ajwain, 3-5 green chillies, ½ table spoon turmeric powder, 2-3 chopped onions and salt according to taste.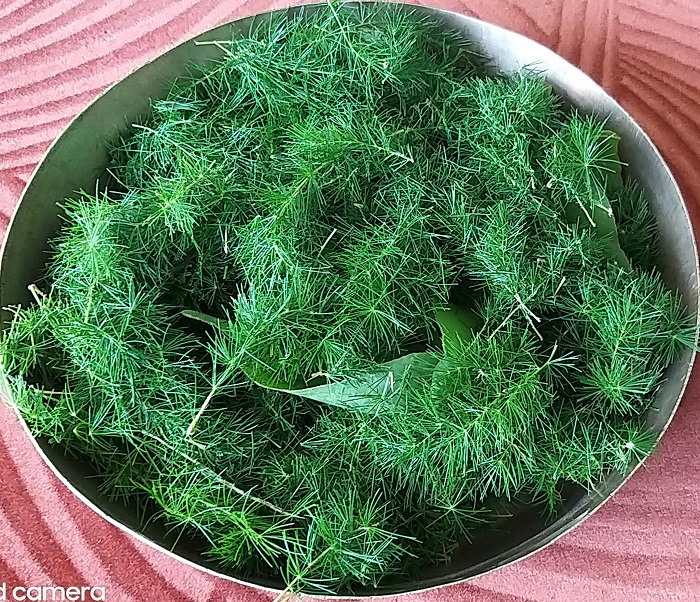 Method:
Make a paste of green cladodes, besan or corn flour and spices. Heat some oil on a flat heating pan. Put this paste over a pan and cook for 15 to 20 minutes then kachru will be ready to serve.
Sansarpali shoot vegetable:
Ingredient:
Ground cladodes and tender tips of sansarpali plant, 300g -500g; chopped potatoes in cubical shape, 1 kg: mustard oil, 3-4 table spoons; coriander powder, 1 table spoon; fenugreek powder, ½ table spoon; cumin seed, 1 tea spoon; turmeric powder, 1 table spoon; red chilies , 2-3; chopped medium sized onions 2-4; garlic, 4-5 cloves; ginger paste ½ table spoon; meshed tomatoes, 3-4; milk cream, 2-3 spoon, and salt, according to taste.
Method:
In hot mustard oil shallow fry spices listed above in a sequence. Add meshed tomatoes, ground sansarpali cladodes and saute for one minute, Now add chopped potato pieces and again saute for 2-3 minutes in slow flame. Then add 3-4 medium sized glass of water and cook till potato pieces are soft enough to eat. Add 1/4 spoon of garam masala to it and serve with rice or chapatis.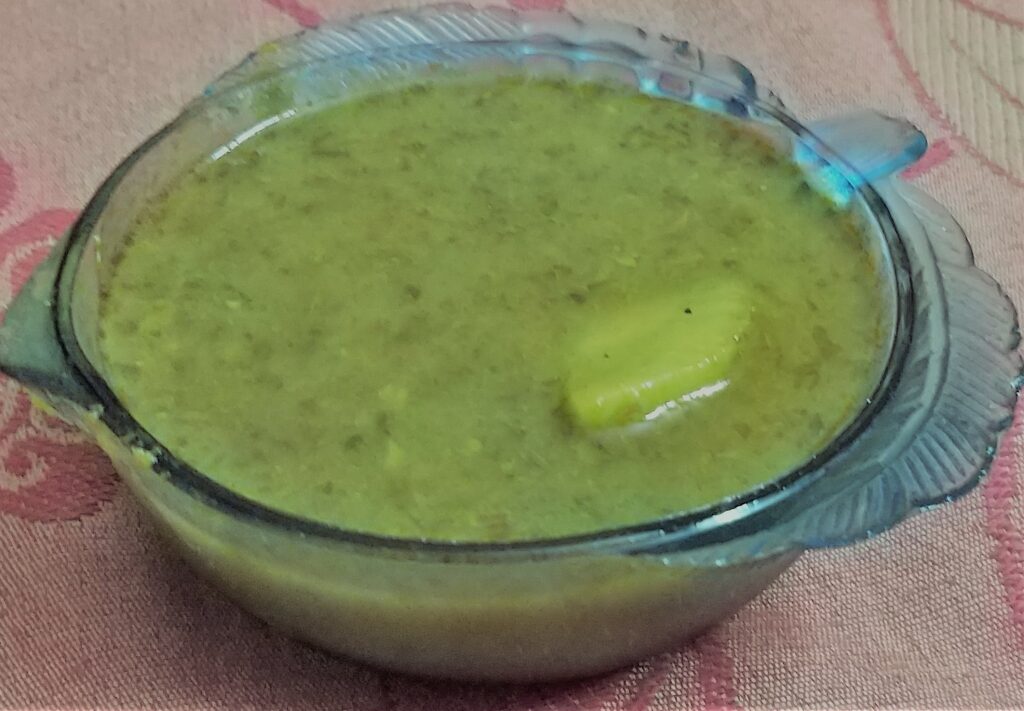 Shoot bud Pickle:
Ingredients:
Chopped shoot buds, 1 kg; mustard oil, 7-9 table spoons; fenugreek powder, 2 table spoon; cumin seed, 2 table spoon; turmeric powder, 1; table spoon. red chillies, 8-12. mustard (rai ) powder, 4 table spoon and salt, according to taste. .
Method:
For preparing pickle, peel off skin of shoot bud and cut into small rectangular pieces. Boil them for 5 to 10 minutes and dry in full sunlight for 5-6 hours. In hot mustered oil saute dried pieces of desi ramban with roasted seed powder of fenugreek, cumin. and red chillies, then add to this turmeric powder, mustard (rai ) powder and salt, according to taste. Keep this mixture in a ceramic jar. After 15-20 days the shoot bud pieces will develop a sour taste and will be ready to eat.
Nutritional Value of sansarpali root (Roots used for salep preparation and medicinal uses)
Energy 20kcal; carbohydrates 3.38gm; protein 2.20 gm; total fat 0.12gm; dietary fibre 2.1gm; vitamin E 1.13mg; vitamin C 5.6mg; niacin 0.97mg; sodium 2mg; potassium 202 mg; calcium 24 mg;, magnesium 14 mg; phosphorus 52mg; zinc 0.54mg & small amounts of alpha-carotene and beta-carotene, per 100gm (Komor & Devi, 2016)
Seek advice from a professional before using this plant medicinally.
Medicinal Uses:
Sansarpali plant root is demulcent and used as tonic. Roots are also useful in diarrhoea, galactagogue, dysentery, and general debility. These are Antispasmodic, appetizer and have cooling effect on body. Roots known to increase sperm count and maintaining hormonal balance, thus increase fertility both in man and women. Plant also possess antioxidant properties and is a perfect rejuvenative tonic for those people suffering from fatigue problems. Magnesium present in asparagus energizes cells and helps in relieving health disorders like fatigue, depression anxiety and headache. Detoxification property of sansarpali plant cleanses blood cells, regulate blood pressure, blood sugar and improving immune system.
Other Uses:
Sansarpali plant is a sacred plant in Western Himalayas and whole plant is worshiped in almost every religious ceremonies. Plant is also planted as a ornamental shrub to beautify surrounding.
References:
Komor, P. & Devi, O.S. 2016. Edible bioresources & livelihoods. Assam State Biodiversity Board, Guwahat.