Family: Fabaceae
Synonyms: Cracca hirsuta, C. minor, Endiusa hirsuta, Ervilia hirsuta, Ervilia vulgaris, Ervum filiforme, Ervum hirsutum, Ervum sardoum, Ervum terronii, Vicia coreana, V. meyeri, V. mitchellii, V. parviflora, V. taquetii, V. terronii, and Vicioides hirsuta
Common Names: Tiny vetch, hairy vetch, hairy tare
Local Name: Chhoti Roadi(छोटी रोड़ी), Chhoti Kaer.
Chhoti Roadi is an annual, herbaceous trailing or climbing vine with branching stems. Its leaves end in tendrils and remain green upon drying. Chhoti Roadi plant uses its tendrils for support and to climb. Plant is found in the Western Himalayas, unto an altitudes of 2700 m. It is commonly seen in open sites, mostly in cultivated fields, grassy meadows, damp places and by the sides of roads. Plant successfully grows in any well-drained soil in a sunny position,if the soil is reliably moist throughout the growing season. Otherwise plant grows best in semi-shaded places.
Chhoti Roadi is normally considered a weed in Western Himalayas. It is native to Europe and Western Asia.
Chhoti Roadi plant is eaten as a famine food by inhabitants three to five times during its growing season. All the ariel parts of plant seeds, leaves, and stem are cooked and consumed. Chhoti Roadi is a multipurpose plant for the inhabitants of Western Himalayas and well known source of fodder, food, pulse, medicine and a cover crop to add nitrogen to the soil.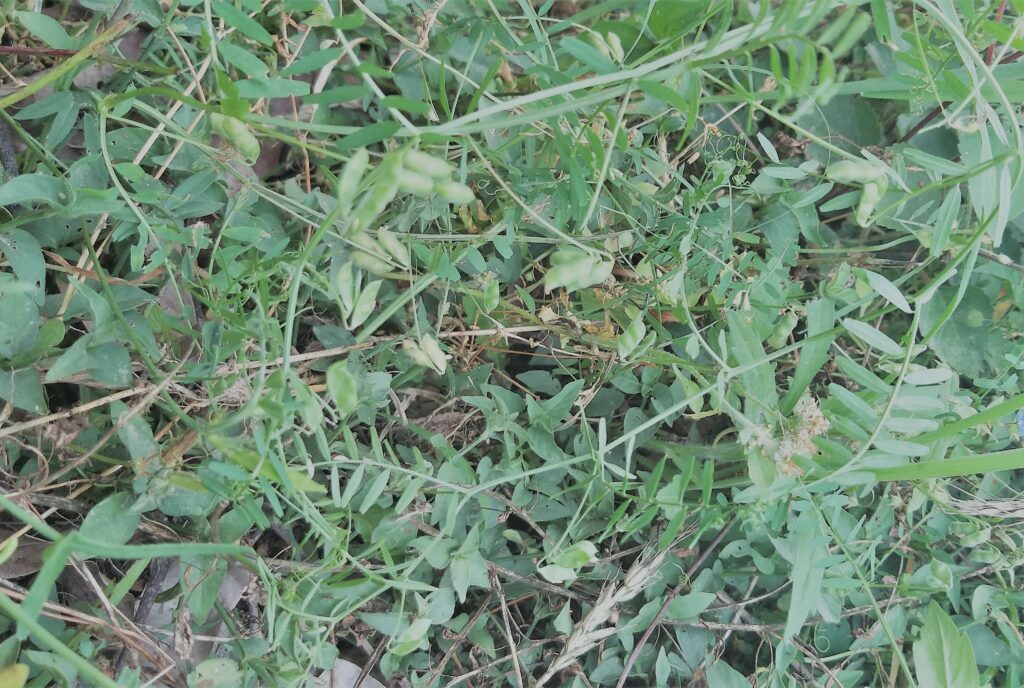 Plant is an annual, herbaceous trailing or climbing, 50-90m tall vine with branching stems.
Stems, lightly strigose to glabrescent with white trichomes.
Leaves arranged alternately the stem, pinnately compound; bears 4-16 leaflets; Leaflets narrowly elliptical; 0.5-2cm long; terminal leaflet modified into a forking tendril.
Flower are perfect; zygomorphic; 3-4mm long: borne in leaf axils as racemes of 2 to 6 flowers; Peduncles 1-3cm long; pedicels 1-2mm long; Calyx tube (0.8-1mm long) is pubescent and slightly shorter or equal in length to the uniform, linear lobes (5) that are 1-1.5mm long. The petals (5) are whitish-blue; the keel petals rarely apically violet; The standard is 2-5mm long. The wing and keel petals are adnate. The stamens are 10 (fused as 9+1). The pubescent ovary is sessile or nearly so; the style is filiform and glabrate, the stigma globular (5,6,7,10).
Fruit is flat; pubescent legume; 6-11mm long; 2.5-4mm wide;turns green to dark brown-black at maturity.
Seeds 2; orbicular;1.5-2.8m; greenish to reddish with dark spots in varying density.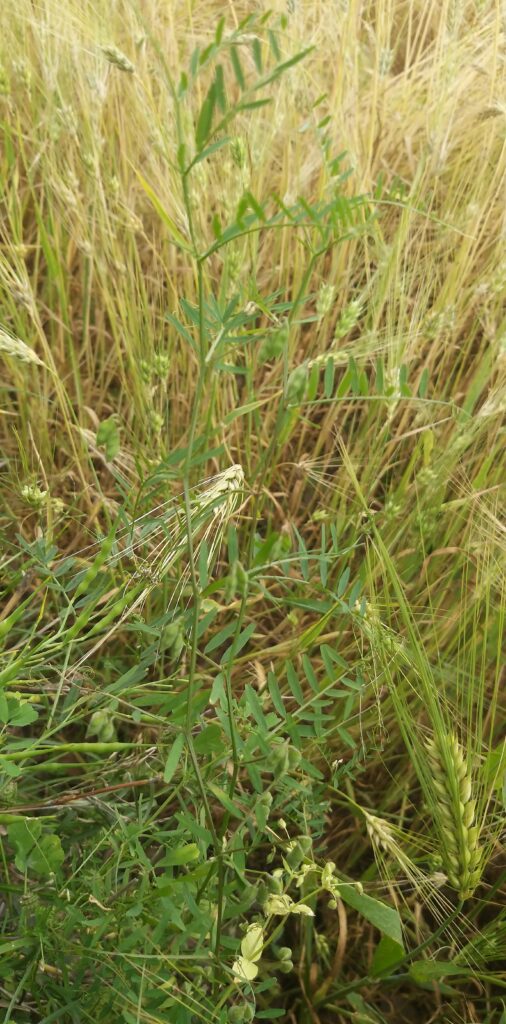 Edible Uses:
All the apical parts of Chhoti Roadi plant are edible and can be cooked in variety of ways like, sabji, Kachru, and saag but most common preparation is saag along with laves of other wild potherbs (Lathyrus aphaca, Taraxaccum officinale,Rumex hastatus, Chenopodium album, Medicago polymorpha etc). Its ground tender shoot can be used in many culinary preparations as spinach. Plant is eaten for its rich protein content.
Chhotpi Roadi plant can provide edible leaves from late winter to rainy season and pod and seed from late spring to end of rainy season.
Chhoti Roadi plant saag:
Ingredients:
Tender shoot tips of chhoti roadi plant and other wild potherbs, 1 kg; mustard oil, 2 table spoons; coriander powder 1 table spoon; fenugreek powder, ½ table spoon; cumin seed ¼ table spoon; turmeric powder, 1/4 table spoon; red chillies, 2-3; chopped onions 2-4; garlic, 4-5 cloves; ginger paste ½ table spoon and salt according to taste.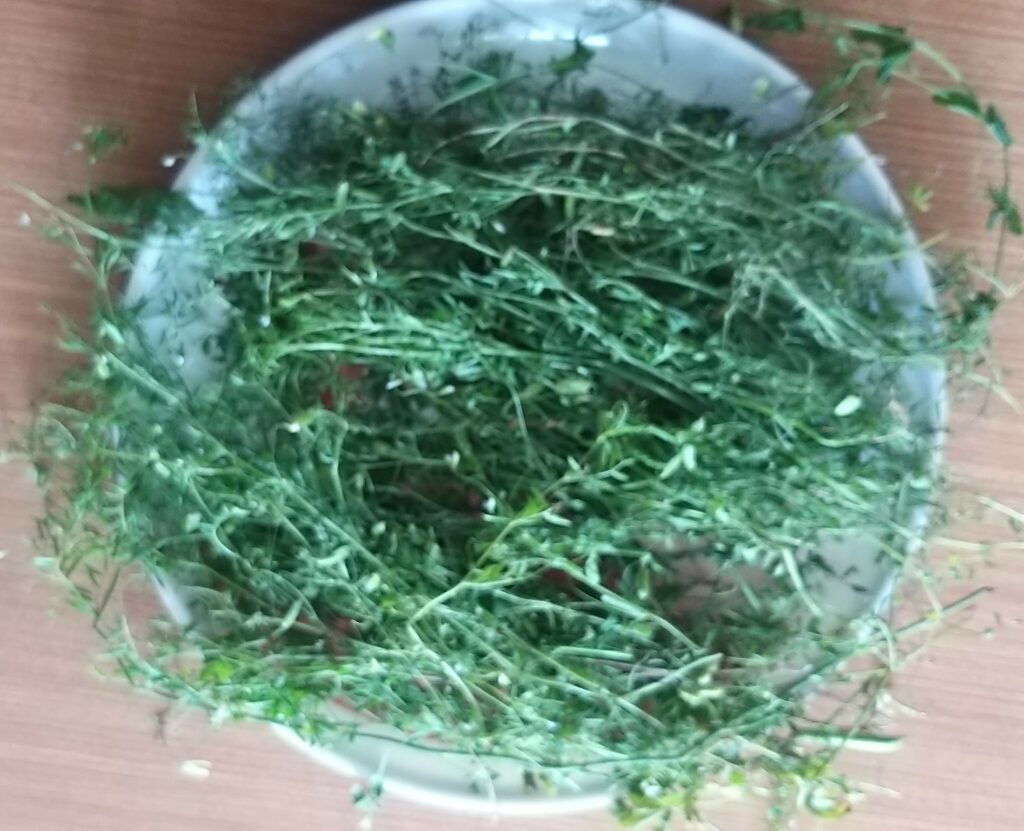 Method:
Boil chopped leaves they become soft. Then mesh manually or in a mixer. Then sauté with hot mustard oil and the spices listed before in sequence. This sauted saag is then ready and can be served as such or can be mixed with 2 or 3 chopped onion and cooked for another 5 to 10 minutes before serving.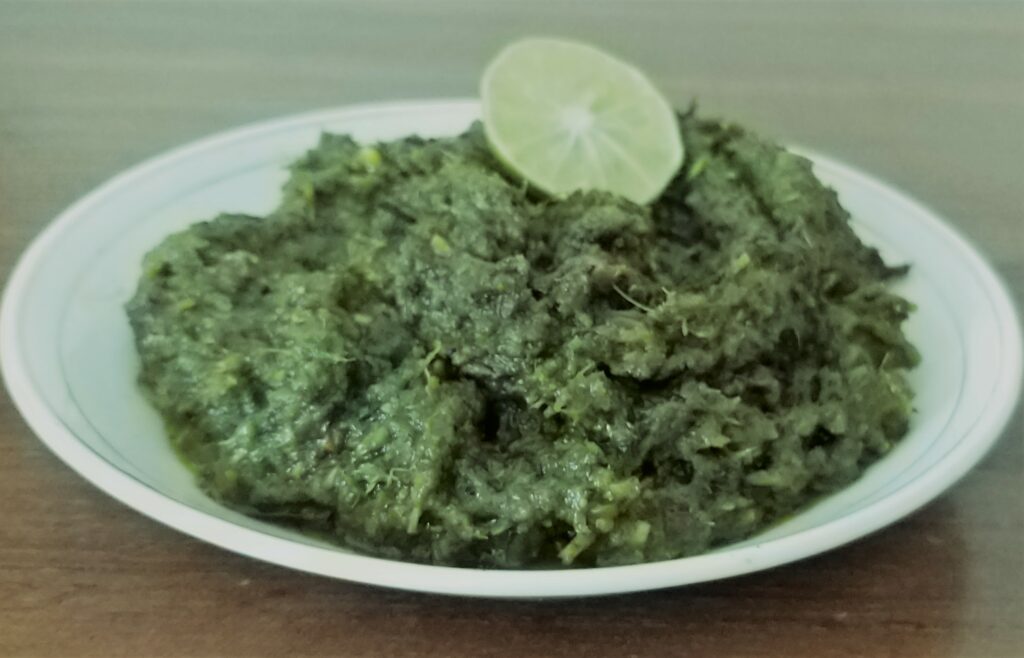 Seek advice from a professional before using this plant medicinally.
Medicinal Uses:
3-4g powdered plant given twice a day with milk for 20 days to stabilize diabetes (Sood & Smriti.2004).
Other Uses:
Chhoti Roadi plant is used as a fodder and its edible seed are used as a lentil substitute. It is also known to have symbiotic relationship with certain soil bacteria, for fixing atmospheric nitrogen, which is utilized by plant itself and other plants growing nearby. When removing plant as a weed or at the end of growing season, it is best to only remove the aerial parts of the plant, leaving the roots in the ground to decay and release their nitrogen.
References:
Sood S.k. & Thakur Smriti (2004): Ethnobotany of Rewalsar Himalayas, ISBN:81-85622-10-8. Deep Publications.