Family: Asteraceae (Sunflower family)
Synonyms: Bidens orientalis, Bidens minor, Bidens leucantha Bidens leucanthemus
Common name: black-jack, beggar-ticks, cobbler's pegs, sticky beaks,farmer's friendsand Spanish needle
Local Name: Goomaru (गूमरु), Badi gambari.
Goomaru is a easy to grow cosmopolitan annual or perennial herb of Western Himalayas. It is commonly seen growing upto an altitude of 2500 meter. Plant is an aggressive weed. that can grow in a variety of habitats ranging from moist soil, sand, lime rock, or dry, infertile soil, but quite normal at damp lowland fields and wasteland.
Hardly you will find anyone who is not jumbled with the prickers present in its fruits. Fruits of goomaru are with typically two to three stiff, heavily barbed awns at their distal ends, which allow them to adhere to clothing, animal fur etc, and can injure flesh.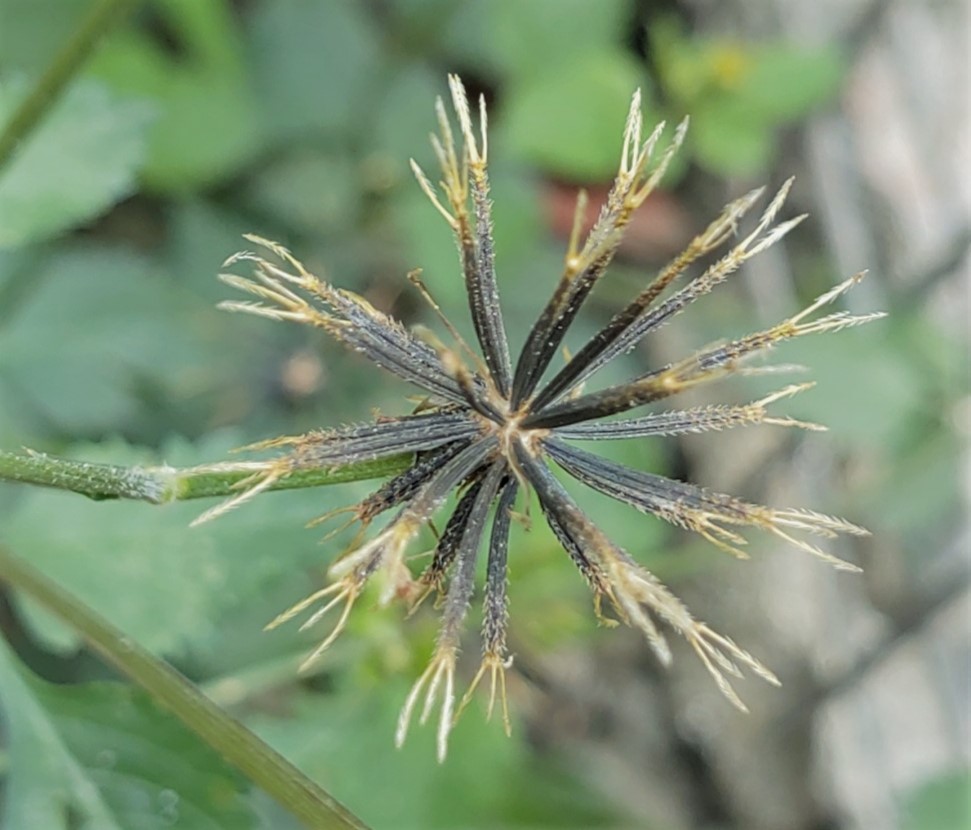 Young leaves and tender shoots of this plant are edible and eaten both as raw or cooked. Plant is used as a potherb to prepare leafy vegetable along with other available wild pot herbs. Leaves can also be harvested and stemmed to add in soups. Many people also dry leaves for later use. Raw leaves are added to salad.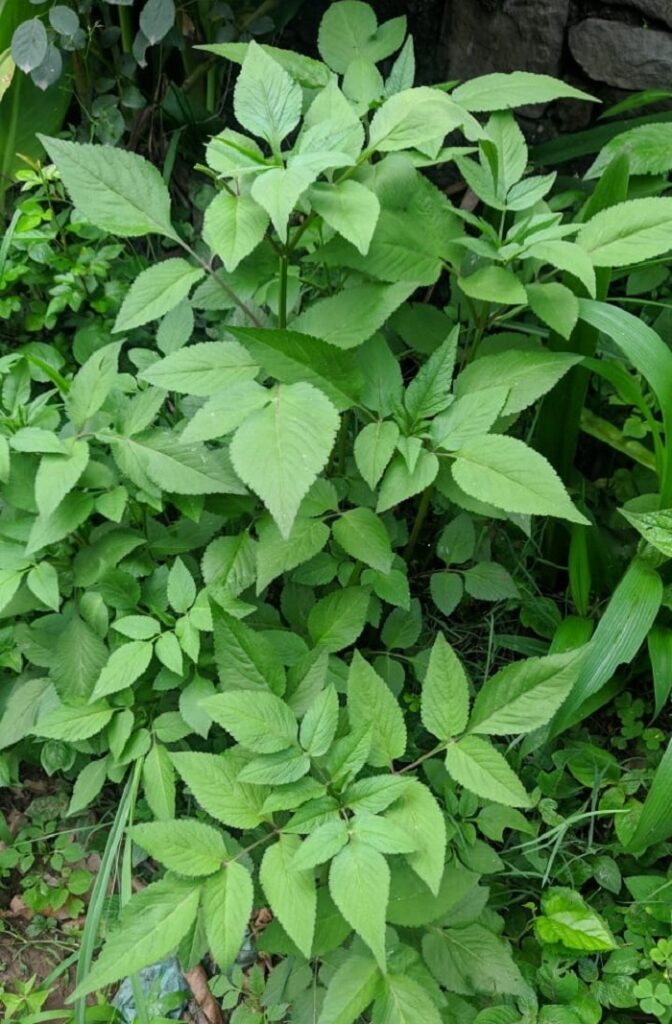 Inhabitants of different parts of Western Himalayas, harvest goomaru from wild habitat for local use as a food and medicine.
Goomaru Plant:
Plant is erect, annul or perennial herb, 30-100cm tall.
Stems angled, sparsely pubescent when young.
Leaves opposite (upper alternate, pinnate or bipinnate, 9-15cm long, leaflets 5-9; terminal leaflets ovate, deeply denate, shortly acuminate, soft pubescent on both surfaces; lateral leaflets ovate or sometimes lower one pinnatifid; upper leaves gradually smaller, bipinnately parted; petiles 3-5 cm long.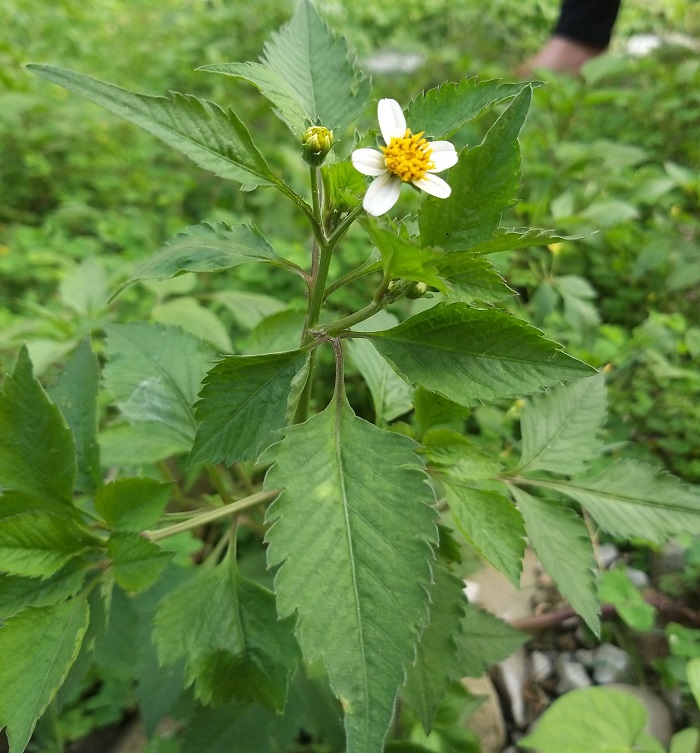 Heads radiate or discoid, 7-10mm across, yellow, corymbosely panicled, on 1.5-5.5 cm long peduncles. Outer involucral bracts narrowly linear- oblanceolate , 5 mm long, ciliate at the margins; inner ovate- lanceolate, 6 mm long, glabrous, membranous at margins. Ray florets 0-5, sterile; disc florets many, tubular, bisexual, and fertile.
Achenes black, linear, quadrangular, shortly strigose, 7-16mm long, with 3-4 pappus awns at the apex.
Edible leaves of Goomaru can be harvested throughout the year but best harvested during rainy season.
Edible Uses:
Leaves and tender shoots are with resinous flavour are cooked as a saag along with other available pot herbs of rainy season. Leaves are also eaten as asalad or stemmed to prepare soup. Plant is known to have rich amount of iodine.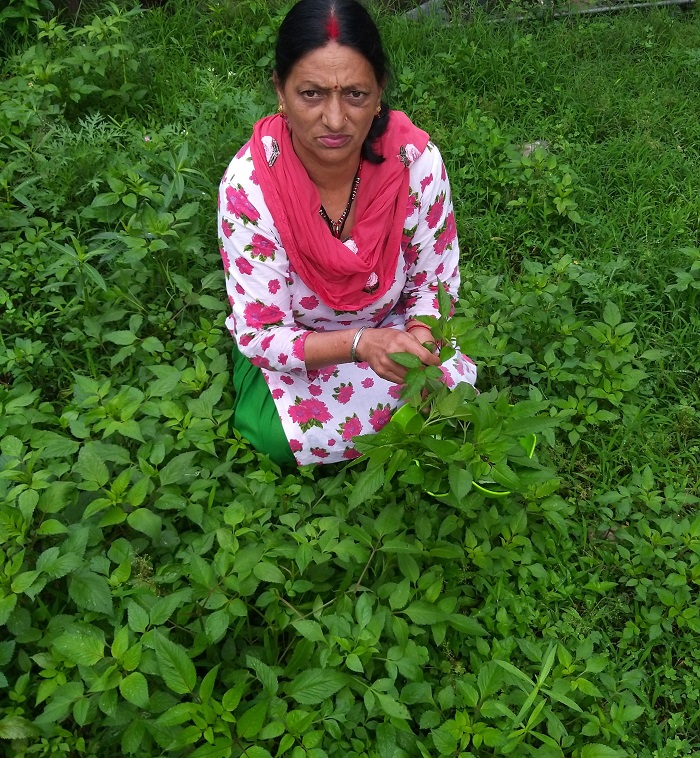 Saag:
Ingredients:
Chopped leave and young shoots of peepali and other wild potherbs (Solanum nigrum, celosia argentia, Amaranthus viridis, Euphorbia heterophylla, Euphorbia hirta)1 kg; chopped medium sized potatoes,3-4 mustard oil, 3-4 table spoons; coriander powder, 1 table spoon; fenugreek powder, ½ table spoon; cumin seed, 1 tea spoon; turmeric powder, 1 table spoon; red chillies, 2-3; chopped medium sized onions 2-4; garlic, 4-5 cloves; ginger paste ½ table spoon, chopped tomato, 2-3; and salt, according to taste.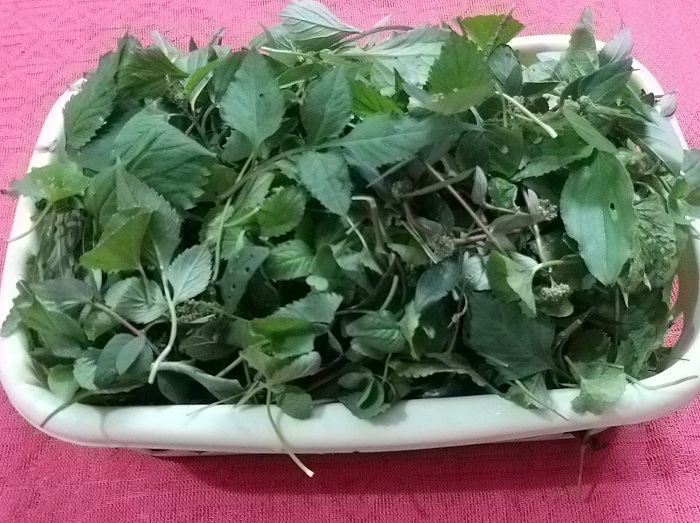 Method:
Put oil in a pan and sauté chopped leaves with spices listed above in sequence with potatoes. Cook for 15 to 20 minutes and serve with chappatis.To prepare saag boil leaves till they are soft, mess well and saute with spices listed above in a sequences, Cook for 5 to 10 minutes and serve.
Seek advice from a professional before using this plant medicinally
Medicinal Uses:
Powered leaves (5g) mixed with white pepper (4:1) prescribed for tonsils sore- throat and cough; thrice a day for 5 days. Paste of aerial plants parts in combinations with Taraxacum officinale and a pinch of Alum used for mouth ulcers ( Sood & Smriti; 2004 ). Whole plant is also effective against coughs, conjunctivitis, dysentry, haematuria, urethritis, cystitis, cloudy urine, hypertrophy, kidney stones. peptic ulcers, colitis, mucoid colitis, haemorrhoids, sinusitis, Sinus headaches especially from allergies, infections and pollution. Elevated uric acid blood levels in gout.
Other Uses:
Plant is used as fodder when young.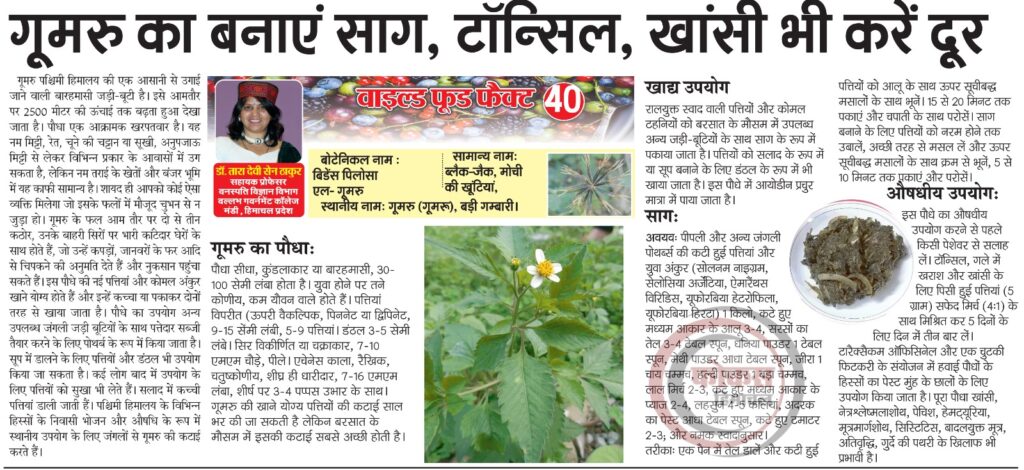 References:
Sood S.k. & Thakur Smriti (2004): Ethnobotany of Rewalsar Himalayas, ISBN:81-85622-10-8. Deep Publication