Family: Aracea
Synonym: Colocasia antiquorum
Common name: Taro
Local name: Jangli kachalu (जंगली कचालू) Ubad Kachalu.
Jangli kachalu is an evergreen, perennial plant, usually grows in wet fields, near the banks of ponds, streams and rivers in wild habitat. It is a very important, staple food crop in many parts of the world including Himalayas, so widely cultivated for local and commercial uses. Plant prefers a fertile and moisture-retentive habitat that is rich in organic matter, but should be in sunny position. Jangli kachalu is seen growing naturally up to an altitude of 3000 metres.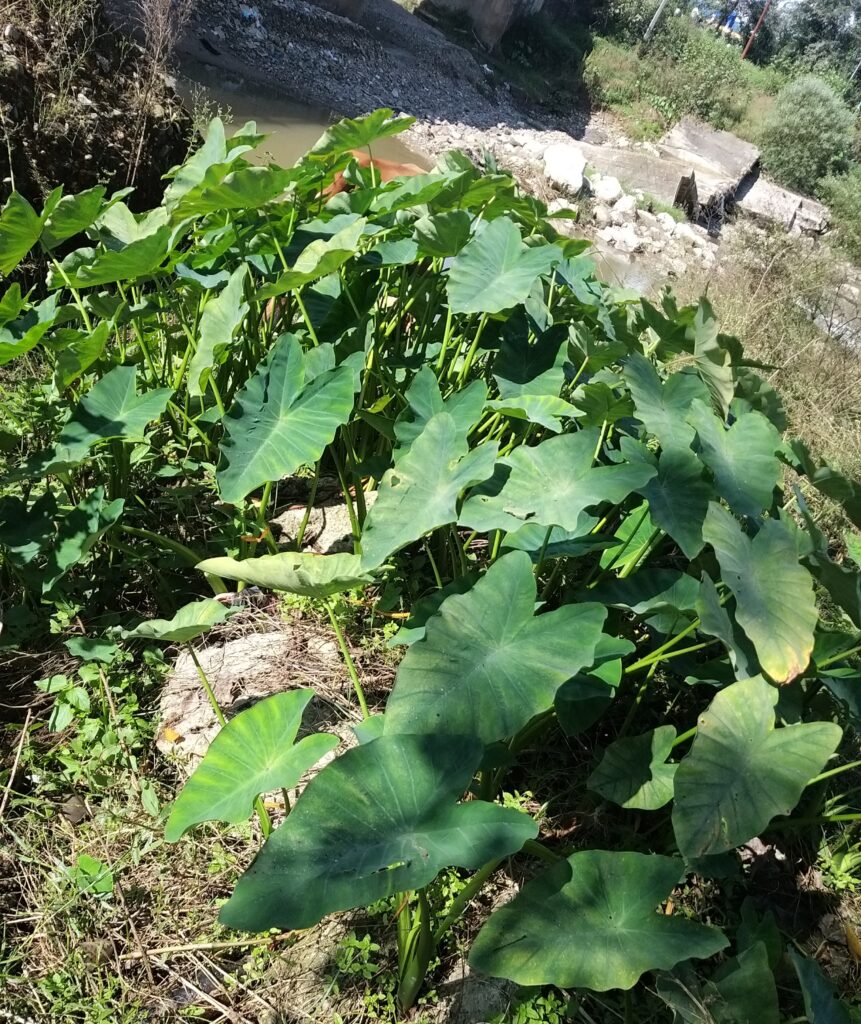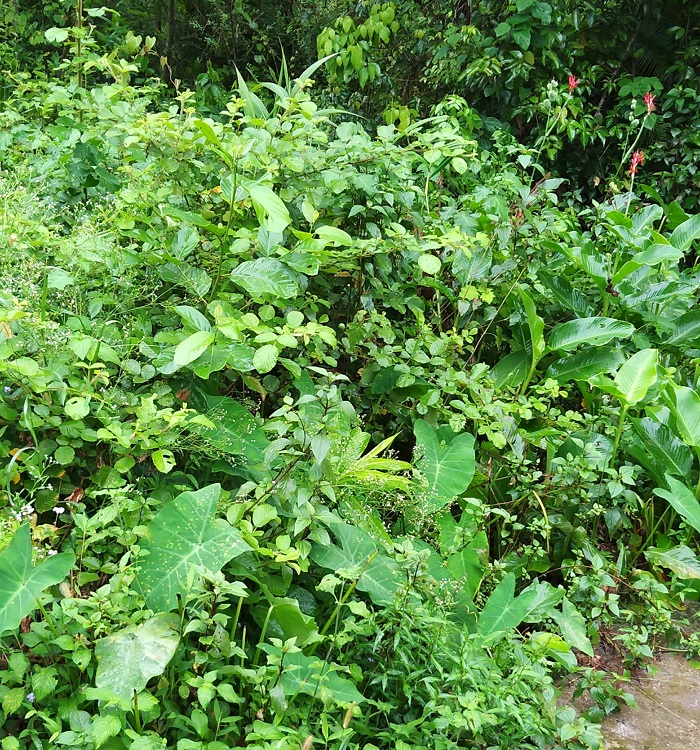 Most marked specialty of jangli kachalu is that all the parts of plant are heavily utilized by the people of Western Himalayas. Its leaves, stem and corm are in great demand and are also marketed. Edible corm of jangli kachalu are also preserved for later use. That's the reason probably all the people having cultivated land cultivate this plant for their personal and commercial uses. Another best reason to cultivate this plant is that raw apical parts of this plant are bitter, so crop generally remain safe from monkey's menace, which is otherwise a big reason to avoid agriculture in many parts of Western Himalayas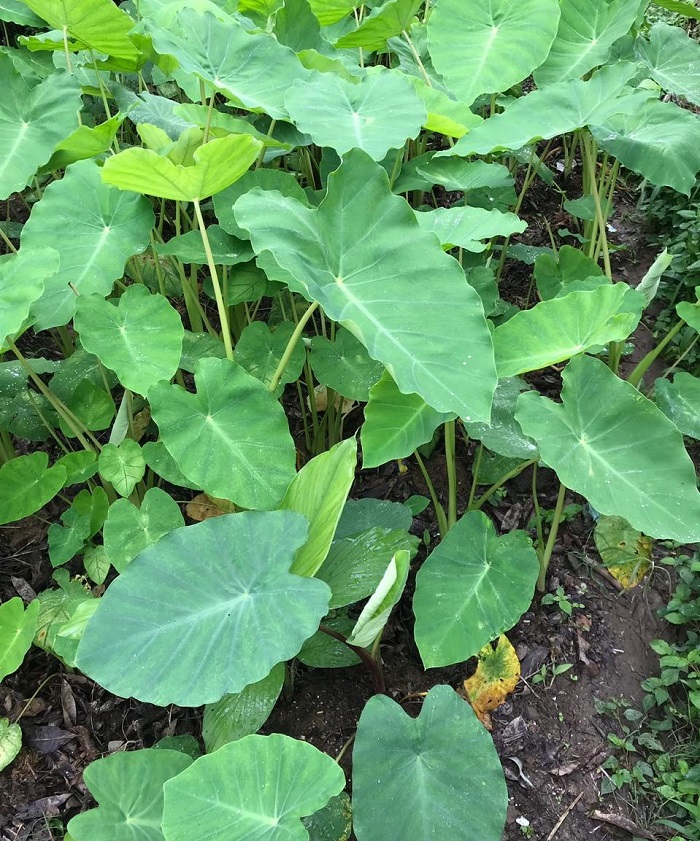 Poor people without agriculture land in villages harvest jangli kachalu from wild for commercial purposes and enhance their earning by selling its leaves in surrounding market.
Jangli kachalu Plant:
Plant is perennial herbs, with tuberous rootstock.
Leaves ovate- rounded- orbicular, 15-60cm long, with broad triangular basal sinus; petioles stout, 30-80 cm long. Peduncle solitary, rarely clustered, much shorter than petiole.
Spathe 15-60cm, caudate- acuminate, pale- yellow. Spadix shorter than the spathe: female flowers at base, neuter flowers in the middle, and male flowers at top.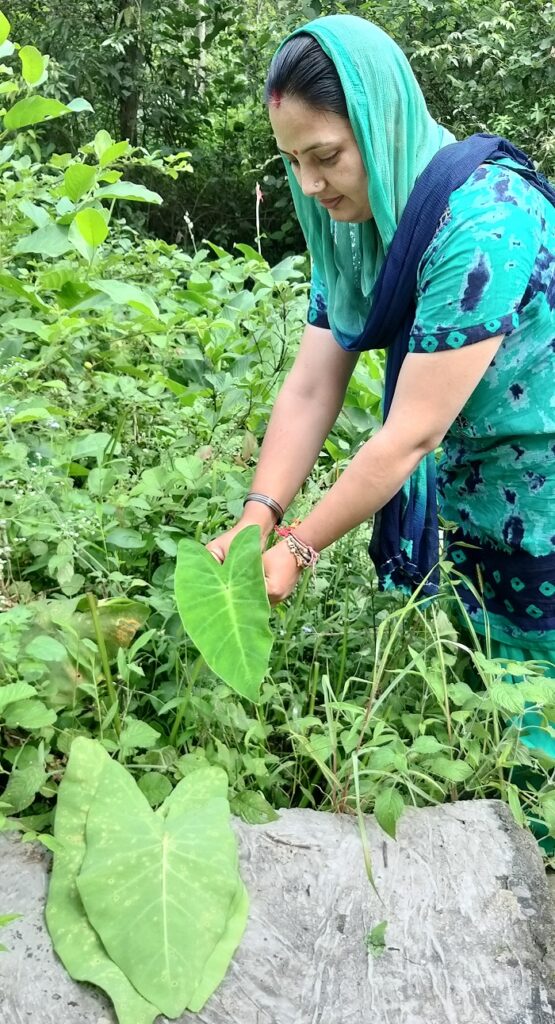 Jangli Kachalu can provide edible leaves from rainy season to autum and edible stem and corm upto winter season
Edible Uses:
Corm, stem and leaves of jangli kachalu are very popular and cooked in variety of ways by locals. Corm is consumed like potato and vegetable curry, KACHURI or PARANTHA are some of common recipes cooked out of them. Stems are covered with ground paste of gram pulse and dried to make KHADI BADIYAN a special traditional dish. Stems are also peeled off, chopped and cooked with buttermilk or curd to prepare vegetable curry. Young leaves are steamed and sautéd to prepare BHUJI which is eaten along with chapatis or rice and is greatly admired by people in rainy season.
Recipe for delicious Jangali kachalu dum & patrodu
These are also steamed to prepare PATRODU a very famous traditional dish of Himachal Pradesh, generally eaten as a snacks or mixed with buttermilk to prepared a vegetable curry known as DUM.
CORM RECIPES:
Vegetable:
Ingredients:
Corm raw or boiled, 1kg; mustard oil, 3-4 table spoons; coriander powder, 1 table spoon; fenugreek powder, 1/2 table spoon; cumin seed , 1 tea spoon.; turmeric powder, 1 table spoon; red chillies, 2-3; medium sized chopped onion, 1; garlic cloves, 4-5; ginger paste, 1 table spoon; garam masala, 1 table spoon; chopped coriander leaves, ½ cup; and salt according to taste
Method:
Wash corm properly, cut into small cubical pieces and sauté in hot mustard oil along with spices listed before in sequence. Add some water and cook till these are soft. Garnish the recipe with chopped coriander leaves and serve with chapatis.
Boiled tuber can also be cooked by simply sautéing corm pieces in hot mustard oil with spices like coriander powder, fenugreek powder, red chillies, turmeric powder and cumin seed in sequence. Cook for 5 to 10 minutes then garnish with green coriander leaves and serve.
KACHURI:
Make a paste of spices and boiled jangli corm by blending them together. This paste is used to stuff dough of wheat, maize, rice and ragi flour to prepare PARANTH or stuffed ROTI. For preparing KACHURI prepare dough by mixingyeast with wheat flour and keep this as such for 3-4 hour. Roll this dough into small disc and stuff it with paste prepared out of jangli kachalu and spices. Give a deep fry to the stuffed disc in hot mustered oil and take them out. Now KACHURI is ready to serve
STEM RECIPES
Stem of jangli kachalu is harvested to prepare KHADI BADIYAN.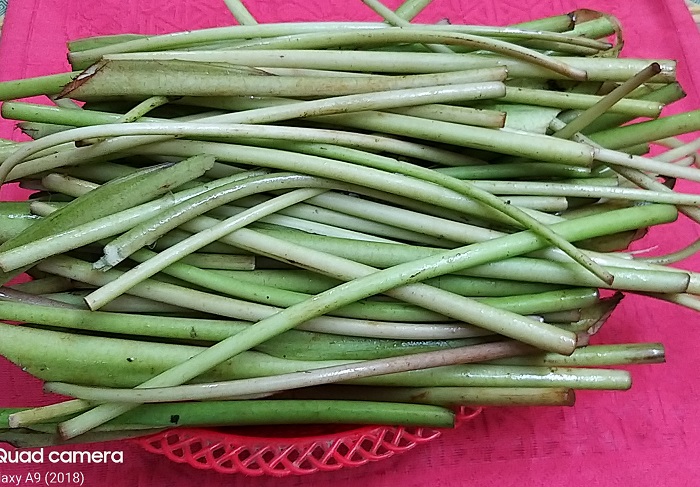 For preparing these dip gram pulse in water overnight and after removing their covering ground them to make fine paste and add salt and species to it. Take stems of jangli kachalu and cover them with paste one by one. Put it in sun to half dry. Now, cut the stems along with paste into small pieces carefully and again put the pieces called KHADI BADIYANin sun to dry completely. Dried KHADI BADIYAN can be stored for future use in an air tight container specially for famine period when vegetable supply is low like in extreme winter or summer.
Another method of preparing KHADI BADIYAN is to chop stem of jangli kachalu and by mixing it with paste of gram pulse and spices as mentioned above mint leaves can be added to this paste. Small rounded tablets are prepared from this mixed paste and dried in full sunlight.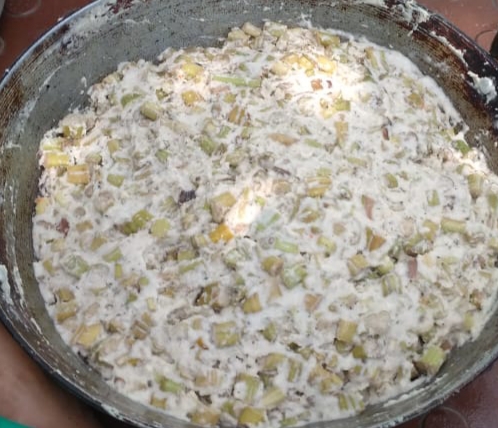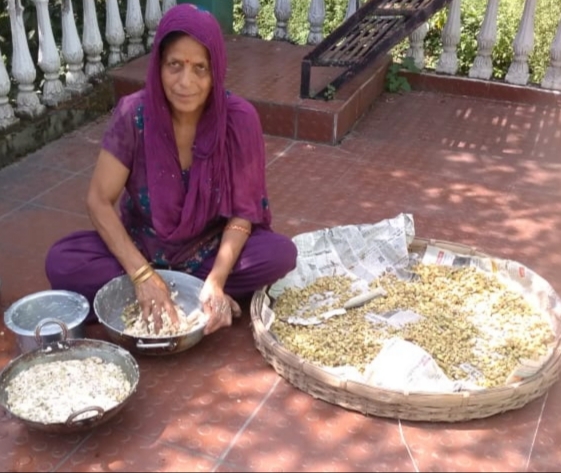 KHADI BADIYAN vegetable:
Ingredients:
KHADI BADIYAN, 1kg; chopped medium size potato,4-5, mustard oil, 5-8 table spoons; coriander powder, 1 table spoon; fenugreek powder, 1/2 table spoon; cumin seed , 1 tea spoon.; turmeric powder, 1 table spoon; red chillies, 2-3; medium sized chopped onion, 1; garlic cloves, 4-5; ginger paste, 1 table spoon; chopped tomato.2-3; garam masala, 1 table spoon; chopped coriander leaves, ½ cup; and salt according to taste.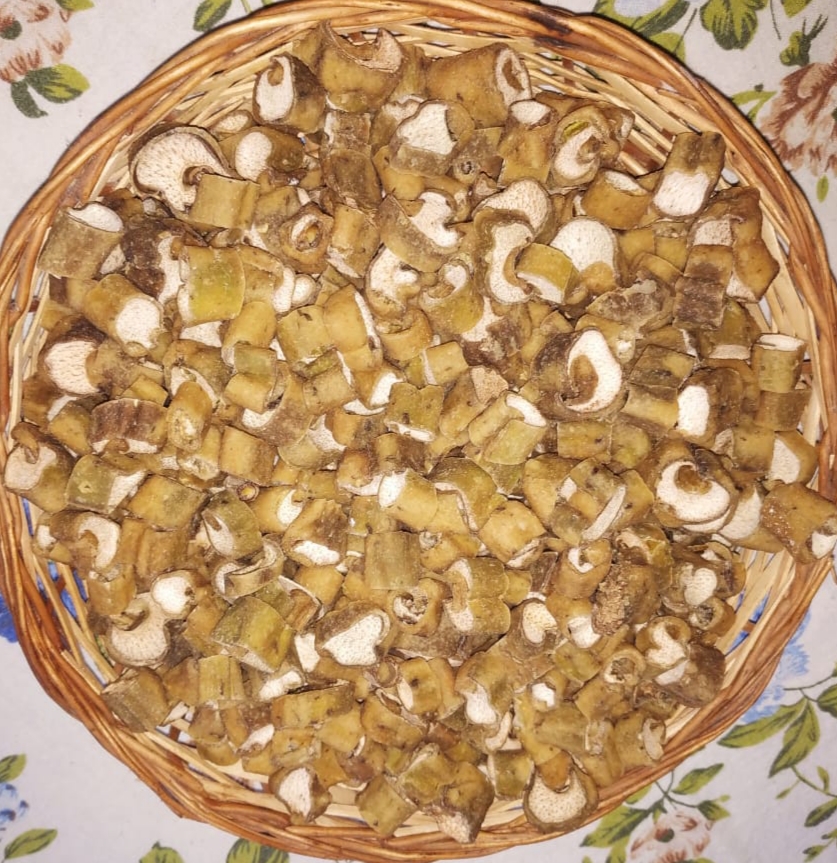 Method:
Put mustard oil in a pan and give shallow fry to the KHADI BADIYAN and take out. Now heat oil in a pressure cooker and saute fried KHADI BADIYAN and chopped potato along with spices listed above in a sequence. Recipe will be ready after one whistle add to it garam masala, chopped coriander leaves and serve with rice or chapattis
Stem vegetable curry:
For preparing vegetable curry take 1kg jangli kachalu stem peel off skin and chop in small cubical pieces. Saute these in hot mustered oil along with spices and cook till they are soft then add to it butter milk or curd. Cook for another 5-10 minutes .Add garam masala,chopped coriander leaves and serve with chapattis and rice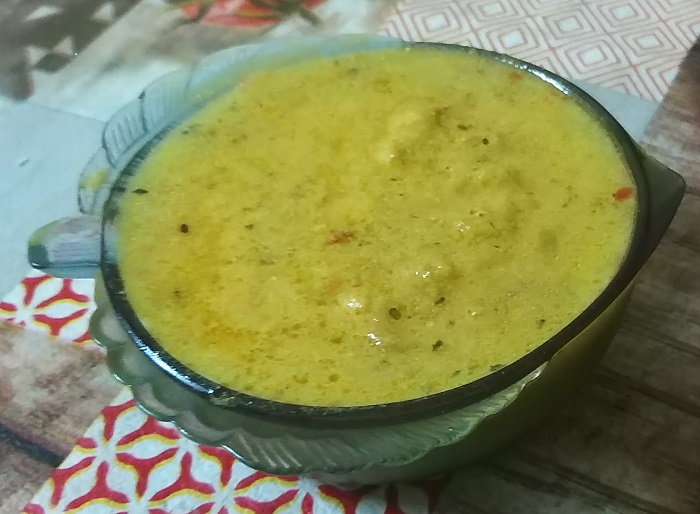 LEAVES RECIPES
The tender leaves of jangli kachalu are made into a roll called PATRODU in local dialect. Patrodu is used as snack or vegetable. PATRODU can be made like this: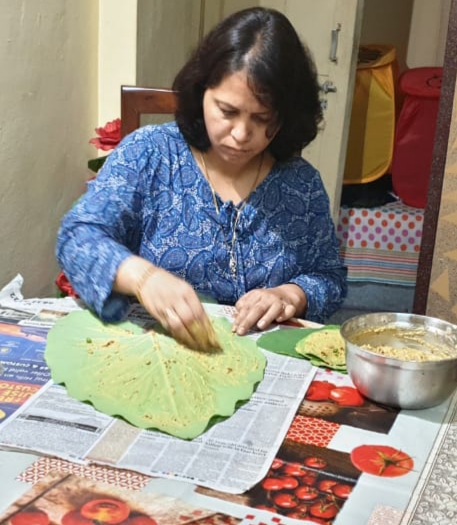 Putting besan mixture on leaves for patrodu making
15-20 newly emerged tender of jangli kachalu, 250 gm besan (black gram flour) or corn flour, 1 cup; fresh coriander leaves (chopped), 3-5 green chillies, ½; table spoon turmeric powder, 2-3 chopped onions, 1cup amount chopped leaves of herbbhavri(Ocimum bacillus) and salt according to taste.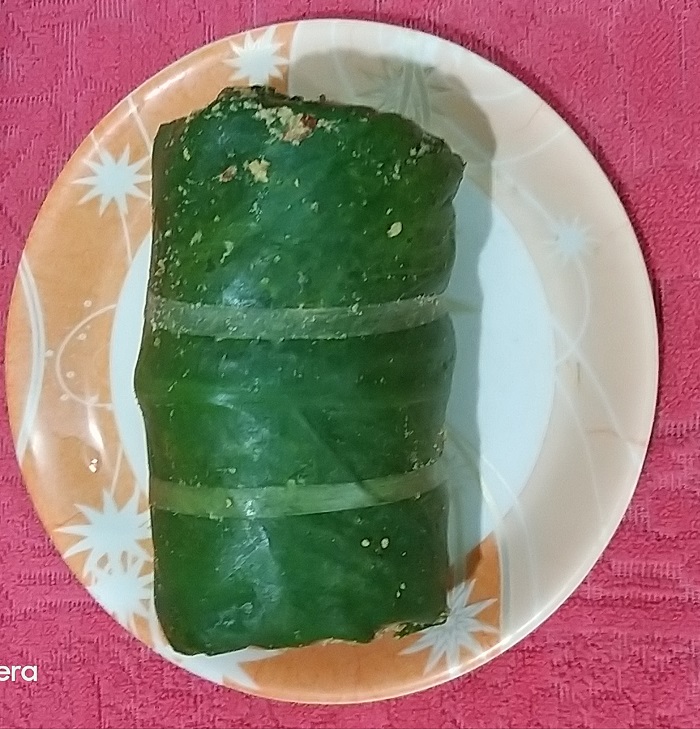 Method:
Make a paste of spices and besan (or corn flour) by blending them together. Now take one jangli kachalu leaf and keeping its lower side upward apply this paste over it then cover this leaf with another leaf in reverse order and again put paste over it. Repeat this process for 4-6 leaves and fold side of the leaves inside and roll like bedding. Tie it with thread or wrap inside by large turmeric leaf to make it one piece. Take a big pan and add some water then put small sticks to make rack over the water. Place the folded leaves on rack and let it be steam cooked for 15 to 20 minutes. Take out the rolls and let it cool down. Then cut into small pieces. These pieces can be shallow fried or deep fried according to taste.
Serve as a snack with tea or use as vegetable. ­­­­­­­­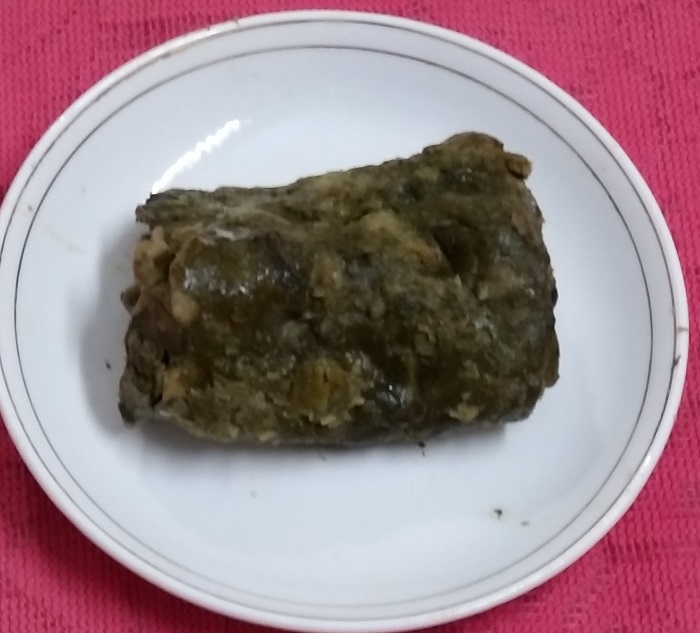 DUM:
PATRODU are further cooked to prepare DUM. For this chop steamed PATRODU roll into small cube and sauté with spices. Add to it curd and then cook for 5-10 minutes. Garnish with garam masala and chopped coriander leaves and serve with rice.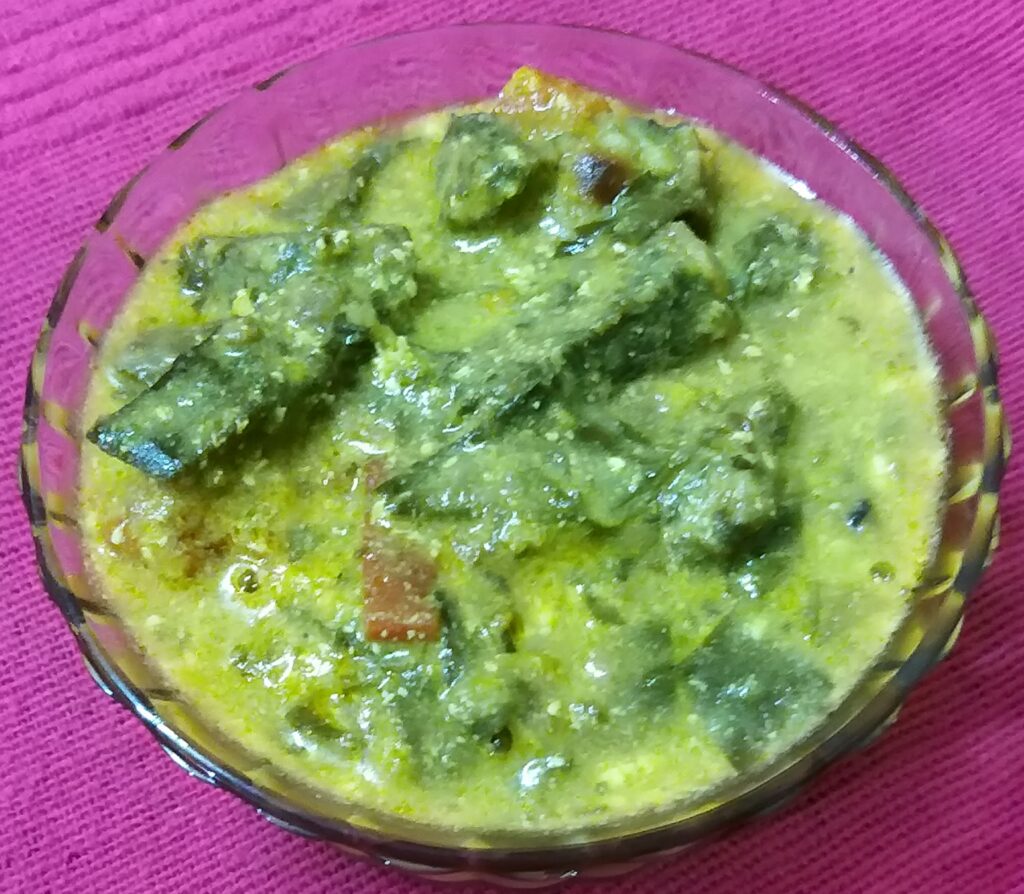 BHUJI of leaves:
For preparing BHUJI, boil chopped leaves till they are soft. Mesh boiled leaves manually and sauté with spices in hot mustard oil. Cook for 5-10 minutes now BHUJI is ready and can be served with chapattis or rice.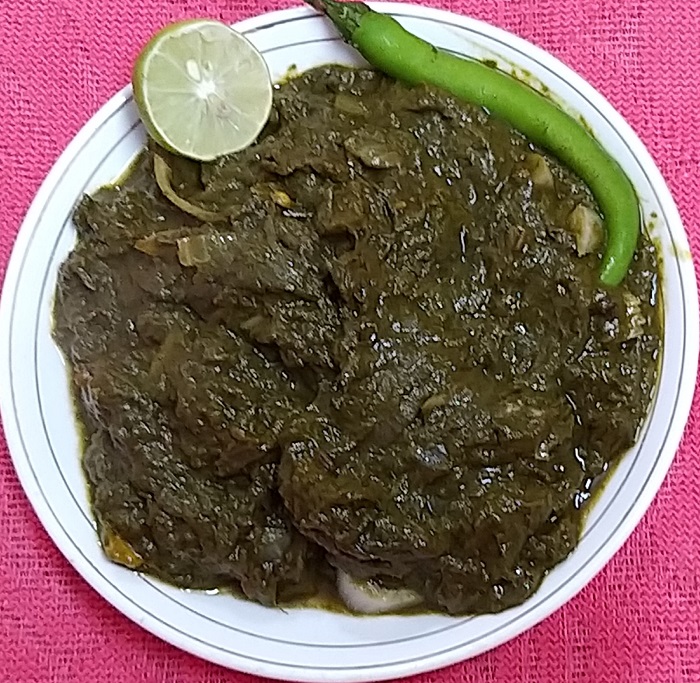 Nutrient Value:
The nutritional composition of jangli kachalu corms per 100 g edible portion (66% of product as harvested) is: water 68.3 g, energy 444 kJ (106 kcal), protein 1.4 g, fat 0.2 g, carbohydrate 26.2 g, dietary fibre 3.5 g, Ca 25 mg, Mg 33 mg, P 58 mg, Fe 0.8 mg, carotene 37 μg, thiamin 0.08 mg, riboflavin 0.03 mg, niacin 0.7 mg, ascorbic acid 13 mg. Fresh taro leaves contain per 100 g edible portion (70% of product as harvested): water 85.7 g, energy 147 kJ (35 kcal), protein 4.4 g, fat 0.9 g, carbohydrate 2.6 g, dietary fibre 4.0 g, Ca 110 mg, Mg 45 mg, P 60 mg, Fe 2.3 mg, carotene 6980 μg, thiamin 0.2 mg, riboflavin 0.45 mg, niacin 1.5 mg, folate 39 μg, ascorbic acid 52 mg (1).
Seek advice from a professional before using this plant medicinally.
Medicinal Uses:
The leaf juice is styptic, stimulant and rubefacient, and is useful in internal haemorrhages. The juice of the corm is laxative, demulcent and anodyne, and useful in somatalgia, alopecia, areata, haemorrhodes and congestion of the portal system (3) . The plant is antibacterial and hypotensive. A decoction of the leaves is drunk to promote menstruation. A decoction, together with some parts of other plants, is taken to relieve stomach problems and to treat cysts. In New Guinea, the leaves are heated over a fire and are applied as a poultice to boils. The sap of the leaf stalk is used in treating conjunctivitis. The plant is used to treat wounds (2) .
Spiritual Value:
Jangli kachalu is among one of important sacred plants ( Citrus sp, Juglans nigra, Leucas aspera, Achyranthes aspera etc.) which are worshiped in famous SER festival of Mandi town of Himachal Pradesh, This festival is celebrated after rainy season.in September.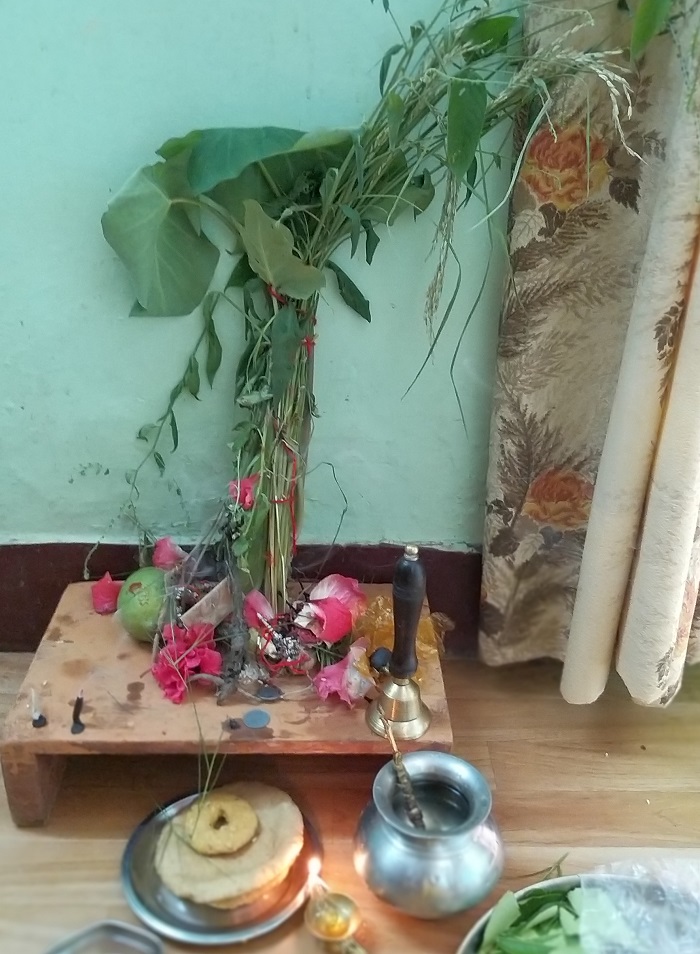 Other Uses:
Jangli kachalu is a sacred plant for the people of Himachal Pradesh in Western Himalayas.They worship this plant along with some other plants in SEER festival a famous festival of rainy season.
Source of earning:
Jangli kachalu is an excellent source of income for local people as every part of plant is edible and have market value. They can sell different plant parts raw and processed round the year. That is the reason provably plant is cultivated widely in Western Himalaya.
Many poor people collect jangli kachalu leaves from wild habitat and sale them in surrounding market. They sale 10 leaves at the cost of Rs 20. People also sale whole plant of jangli kachalu along with other plants for worship in SEER festival at the cost of 20 to 50 Rs.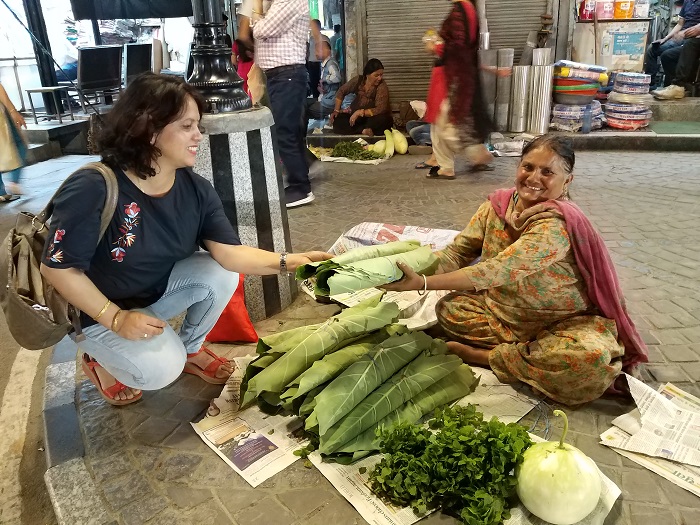 Stem of jangli kachalu is also sold in bundle of 10 stem in each bundle at the cost of Rs 20 to 25. These are mainly utilized for Khadi badiyan preparation. Khadi badiyan prepared from stem are in great demand and sold by members of Self- Help Groups throughout the year at the cost of Rs 80 to 100 per 250 g.Corm of jangli kachalu are sold at the cost of Rs 30 to 50 par kg.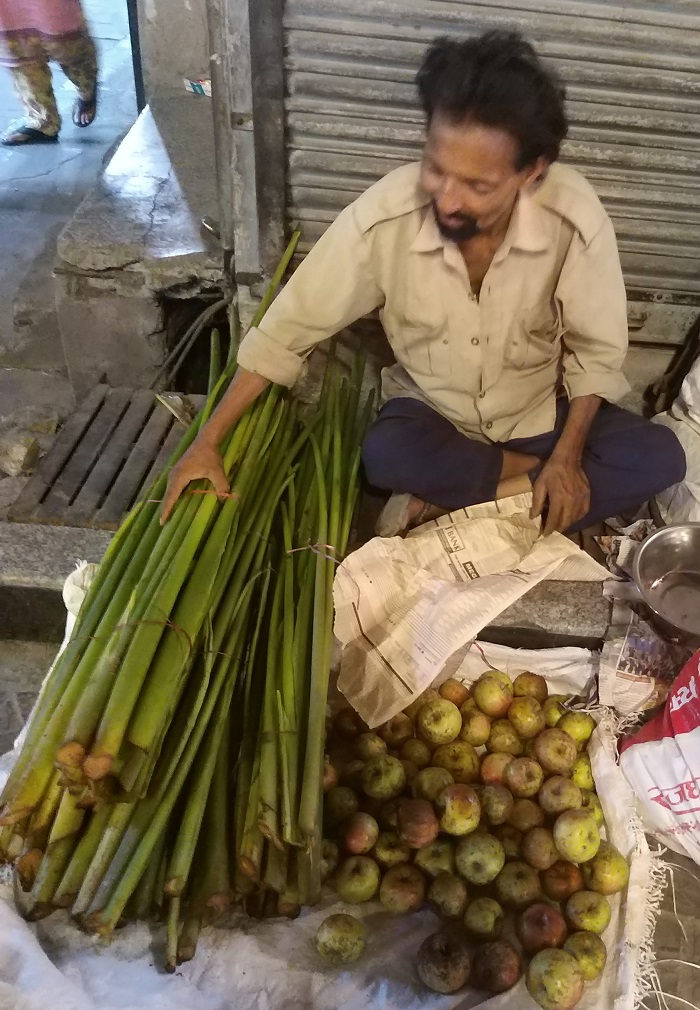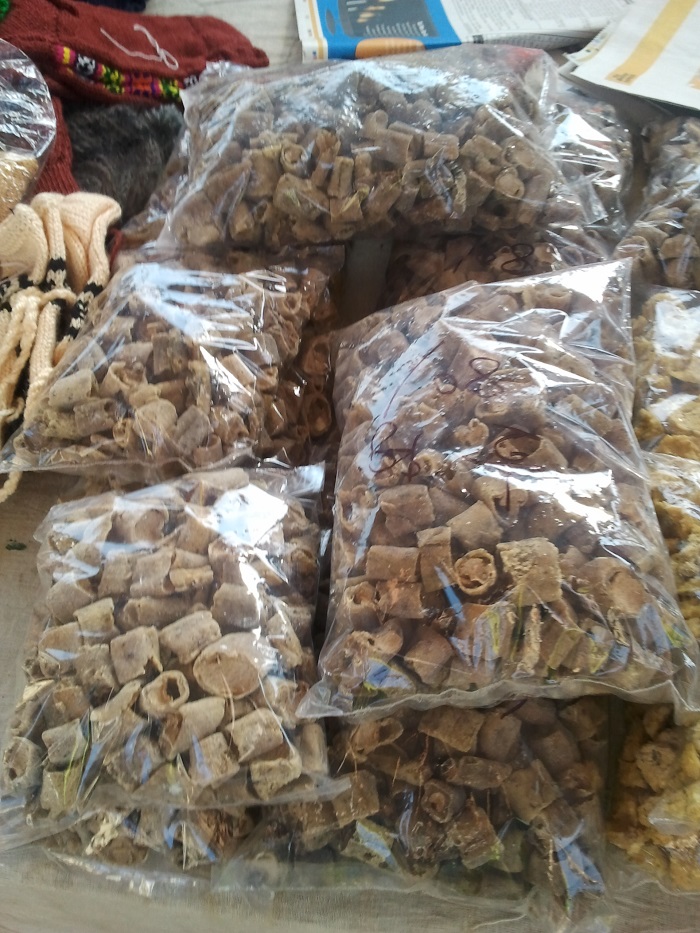 References:
1.Holland, B., Unwin, I.D. & Buss, D.H., (1991): Vegetables, Herbs and Spices. The Fifth Supplement to McCance & Widdowson's The Composition of Foods (4th Edition). 163 Seiten. Royal Society of Chemistry, Cambridge.
2.WHO. (1998); Medicinal Plants in the South Pacific WHO Regional Publications, Manilla.ISBN,92-9061-118-9.
3. Purohit SS, Sharma AK, Prajapati ND, Kumar T. A handbook of medicinal plants: a complete source book. Edition. 2009;2:352-3.