Family:  Asteraceae
Synonyms: Galinsoga hirsute, Galinsoga laciniate, Adventina parviflora
Common Name: Gallant Soldier
Local name(s); Peepali (पीपली). Padini-gha.
Peepali is a slender, annual herb commonly seen growing in wastelands, cultivated land, waste places, disturbed soils, orchards, gardens, lawns, and roadsides, up to an altitude of 2000 m in Western Himalayas. It grows best in most soils and prefer well-drained, full sun or partial shade. Peepali is usually considered a weed of cultivated land and when grow vigorously, then indicate high fertile soil conditions.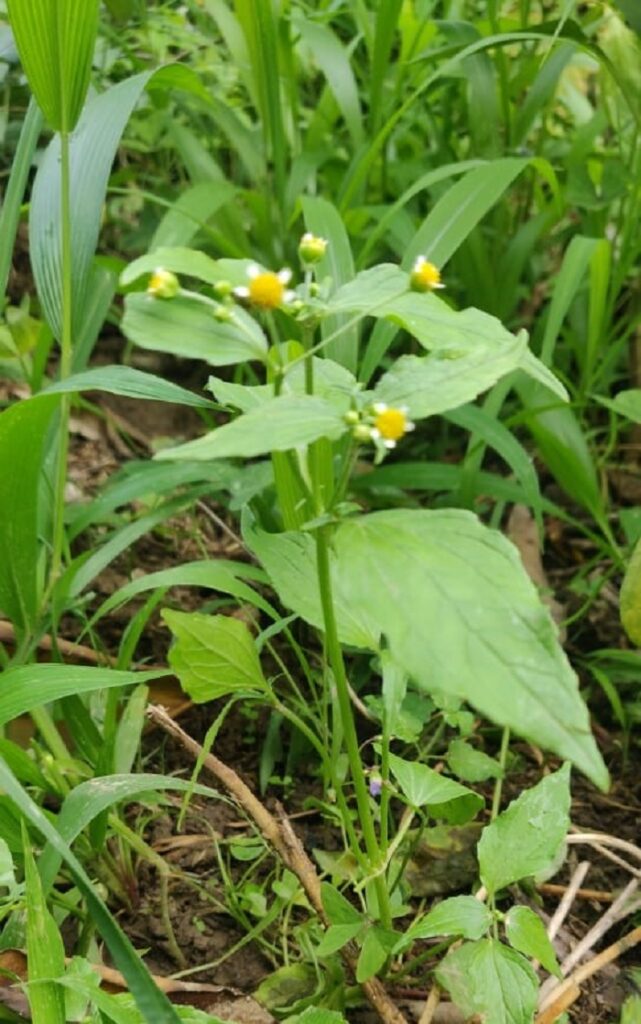 Plant is edible and its leaves and tender shoots are harvested from wild or cultivated field where it grows as a weed for local use as a food and medicine. Plant is also fed to livestock as a fodder.
Peepali is native plant of tropical America.
Peepali Plant:
Plant is erect, simple or branched, annul herbs 15-90 cm high.
Stems often decumbent below, glabrescent or nearly so, often thinly hairy in the upper part, sometimes glandular- hairy.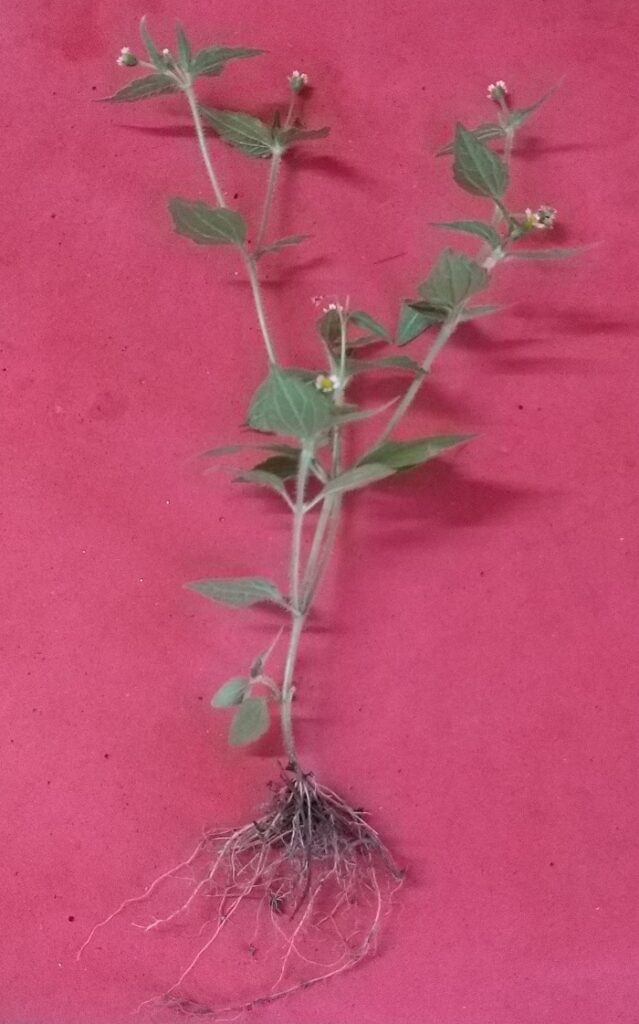 Leaves petioled, ovate or ovate- oblong to lanceolate, base cuneate, apex acute, and margins undulate- serrate to entire.
Heads radiate, 4-6 mm across, on long peduncles, combined into terminal panicle. Involucrae bracts 2-seriate, ovate,obtuse, subglabrous. Ray florets 4-5, white; disc florets many, yellow.
Achenes black, hairy. Pappus-scales ciliate.
Edible leaves of peepali can be best harvested during rainy seaso.
Edible Uses:
Tender shoots and leaves are eaten both raw or cooked. Usually these are mixed with other pot herbs of rainy season and used to prepare leafy vegetable saag. Leaves can also be steamed and its extract is added to soup or juices. Leaves can also be dried, powdered and used as a flavoring agent.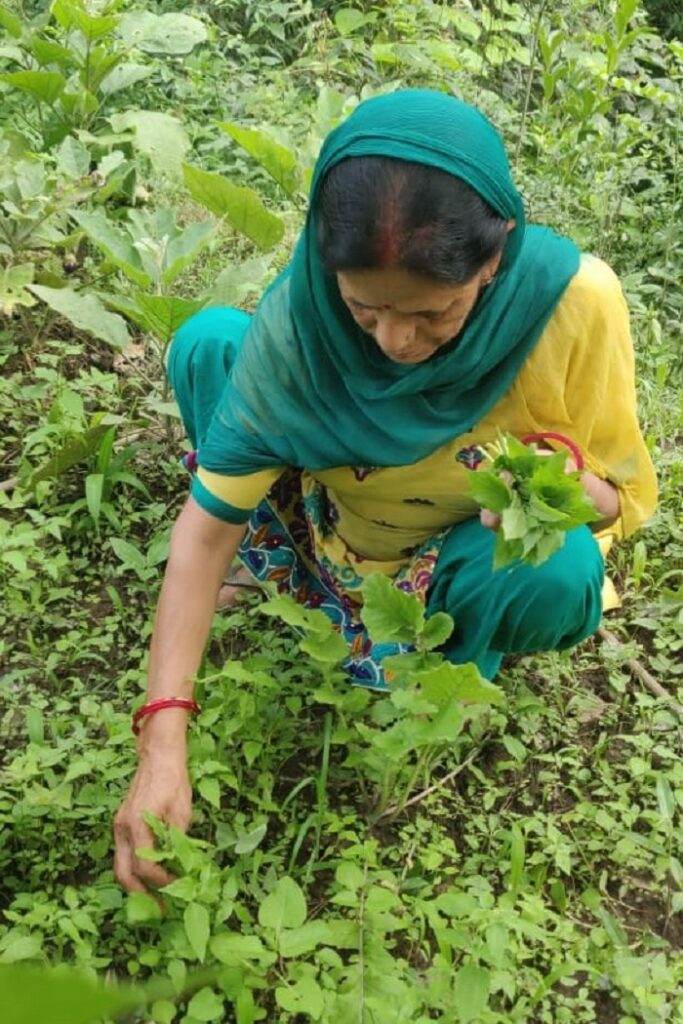 Leafy Vegetable Saag;
Chopped leave and young shoots of peepali and other wild potherbs (Solanum nigrum, celosia argentia, Amaranthus viridis, Euphorbia heterophylla, Euphorbia hirta)1 kg; chopped medium sized potatoes,3-4 mustard oil, 3-4 table spoons; coriander powder, 1 table spoon; fenugreek powder, ½ table spoon; cumin seed, 1 tea spoon; turmeric powder, 1 table spoon; red chillies, 2-3; chopped medium sized onions 2-4; garlic, 4-5 cloves; ginger paste ½ table spoon, chopped tomato, 2-3; and salt, according to taste.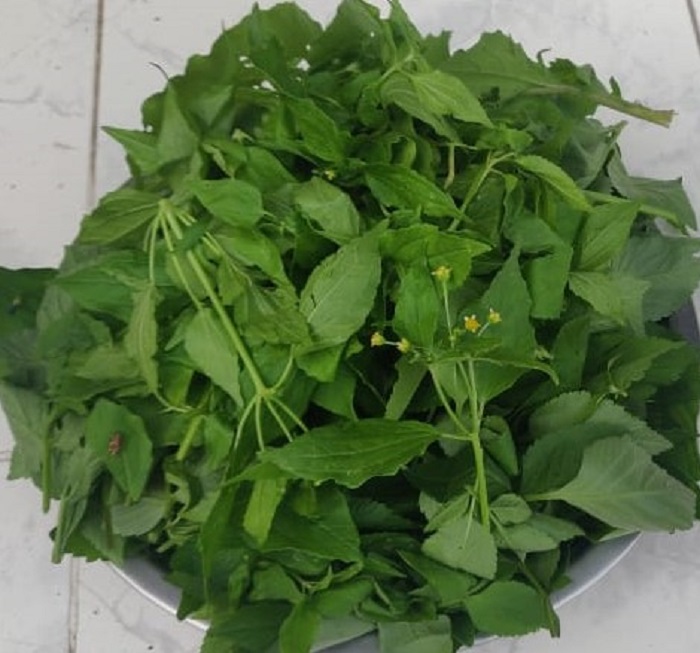 Method:
Put oil in a pan and sauté chopped leaves with spices listed above in sequence with potatoes. Cook for 15 to 20 minutes and serve with chappatis.To prepare saag boil leaves till they are soft, mess well and saute with spices listed above in a sequences, Cook for 5 to 10 minutes and serve.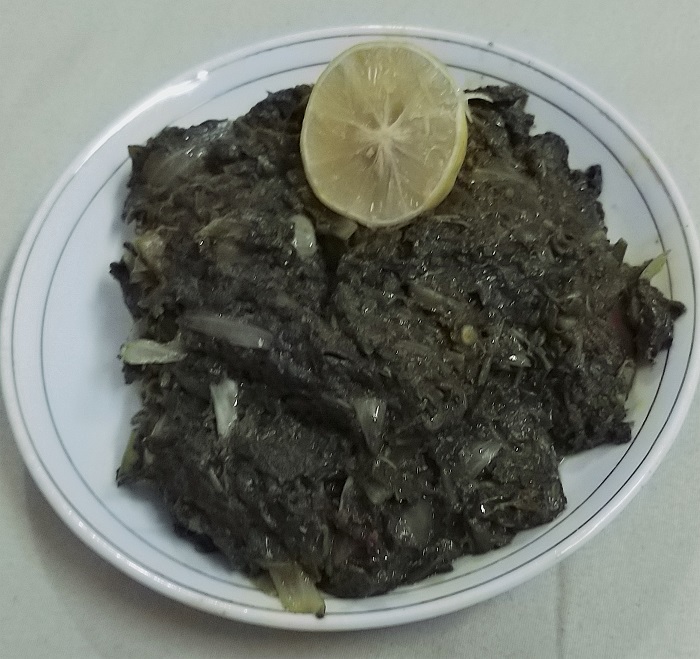 Soup:
Ingredients:
Peepali leaves and locally available vegetable(chopped) of rainy season,1/2 kg; mint leaves,10-15 (chopped); corn flour, 1 spoon; black pepper powder,1/4 tea spoon, salt acc.to taste.
Method:
Boil leaves of peepali and vegetable in one litre water till they are soft, mesh them manually and sieve the extract in a container. Add to it mint leaves, corn flour, black pepper and salt, then boil for 5-10 minutes. Now soup is ready to serve.
Seek advice from a professional before using this plant medicinally
Medicinal:
Plant is effective against snake-bite other skin inflammations when rubbed into body. Apical parts fresh juice is used to stop bleeding.
Other Uses:
Peepali is used as a fodder for milch cattle and its vigorous growth is indicator of high soil fertility.