Family: Portulacaceae
Synonym: Portulaca consanguinea
Common name(s): Common purslane, verdolaga, red root, or parsley
Local name: Kulpha (कुलफा)
Kulpha is a annual succulent potherb of waste ground, garden, roadside, cultivated fields and wall margins It is grown as a common weed and found upto an altitude of 1700 in Western Himalaya.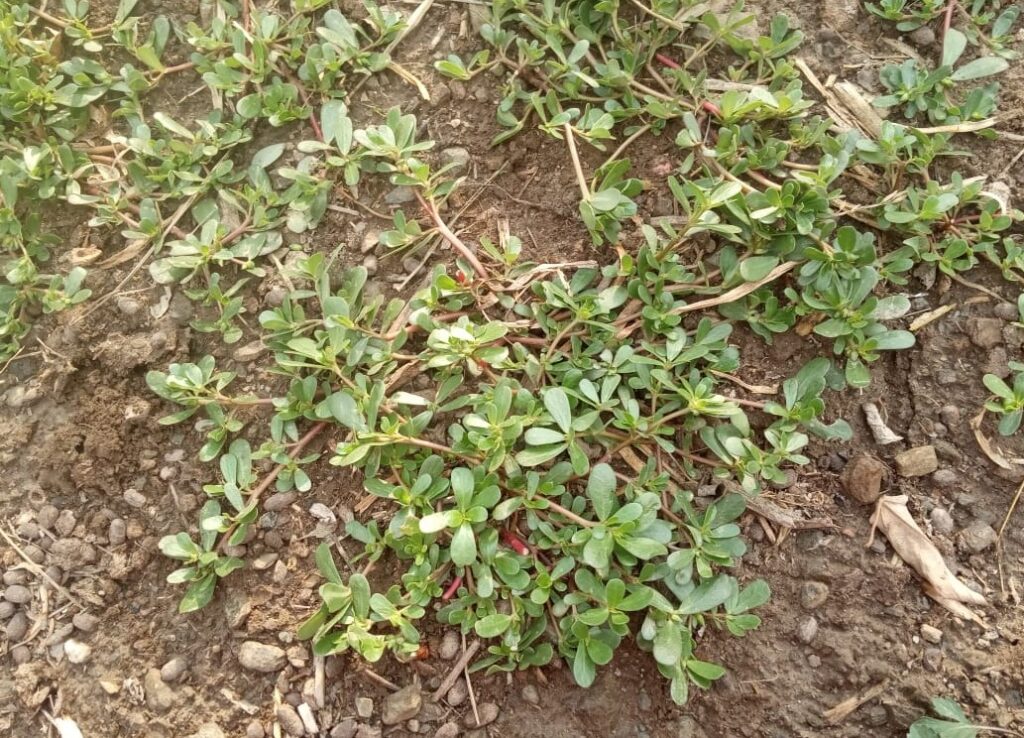 Kulpha grows well in sunny moist soil. Plant is a widespread succulent  that is used not only as a wild edible pot herb, but also as a traditional medicine for alleviating a wide spectrum of diseases.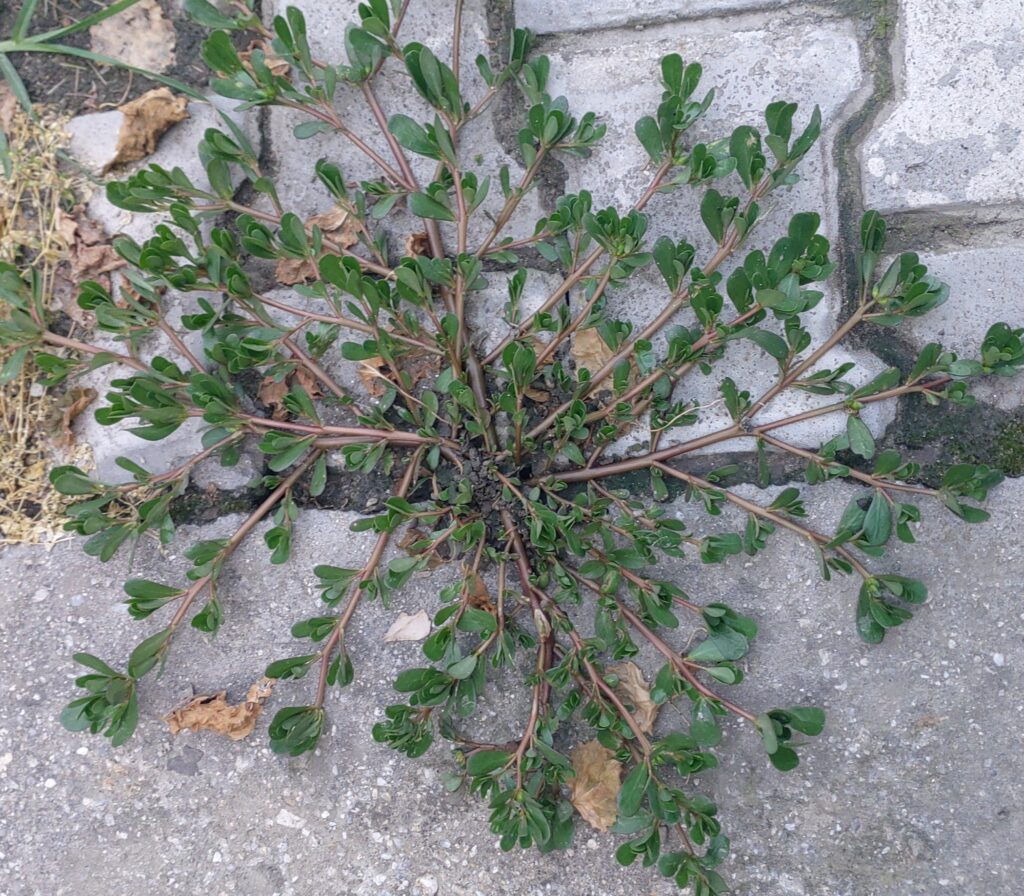 Leaves, stem and seeds of Kulpha are edible and often harvested by inhabitants from the wild for their local use as a food and medicine. People cultivate it for their personal use also and as a commercial crop.
Sometime it is also grown as an ornamental plant. Kulpha is known for its rich nutrient value. Its young leaves are eaten raw as a salad and also used as a thickener in soups. It is greatly admired for its salty and spicy taste.   Older leaves and stem are stemmed and saluted into leafy vegetable saag.
Kulpha Plant:
Plant is an erect or prostrate or ascending, glabrous, more or less succulent, annul herbs. about 5-40 cm tall.
Stem decumbent or prostrate, usually woody at the base, branched, sometimes slightly reddish green or purplish green, main root tuberous, fibrous, fleshy.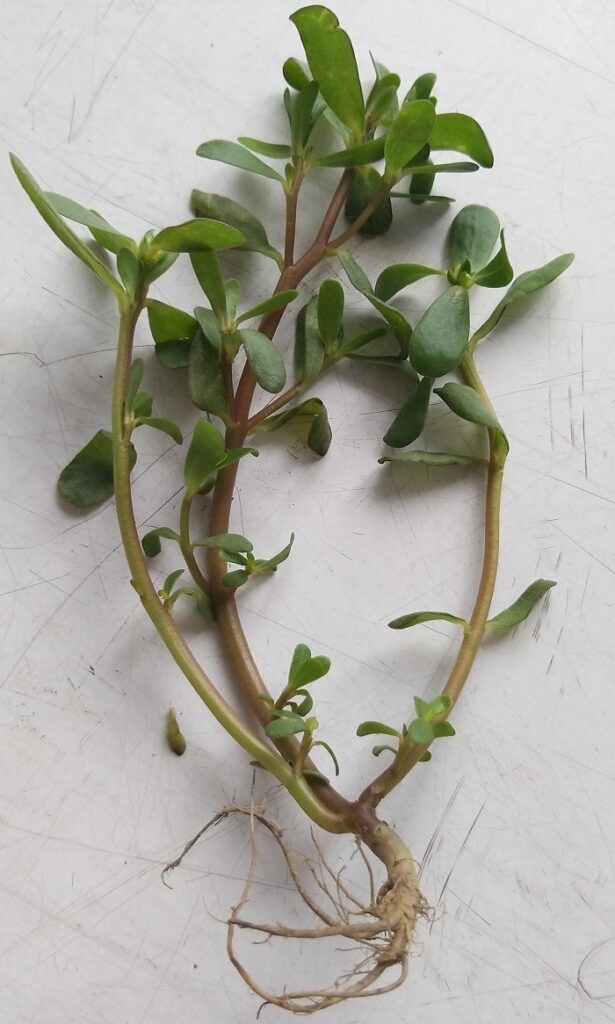 Leaves simple, subopposite or alternate, or uppermost usually clustered, spathulate-obovate to oblong, about 5-30 x 3-15 mm across, base slightly connate, margin entire, apex obtuse, terete, axillary hairs, inconspicuous about 1 mm long, green above and paler beneath, fleshy thick, petiole subsessile to sessile.
Inflorescence axillary or terminal clusters or capituli, flowering successively, about 2-30 flowered, subtented by 2 involucre-like bracts.
Flowers bisexual, about 2.5 cm across, pedicel subsessile or sessile, open only during sunshine, bracts foliaceous, bracteoles deltoid, with inconspicuous hairs, sepals 2, ovate-deltoid, distinctly carinate, base clasping, margins scarious, deciduous, about 8 x 8 mm across, petals 4-5, red, pink, yellow, free or subconnate at the base, broadly obovate, margins entire, apex obtuse, about 3-10 x 7-8 mm across. Stamens 7-15, adnate to petals inserted on calyx, filaments basally connate, about 4 mm long, anthers 2-4 locular, dorsifixed. Ovary semi inferior, unilocular, ovules 4-many on free central placentation, style 3-5 fid, about 5 mm long.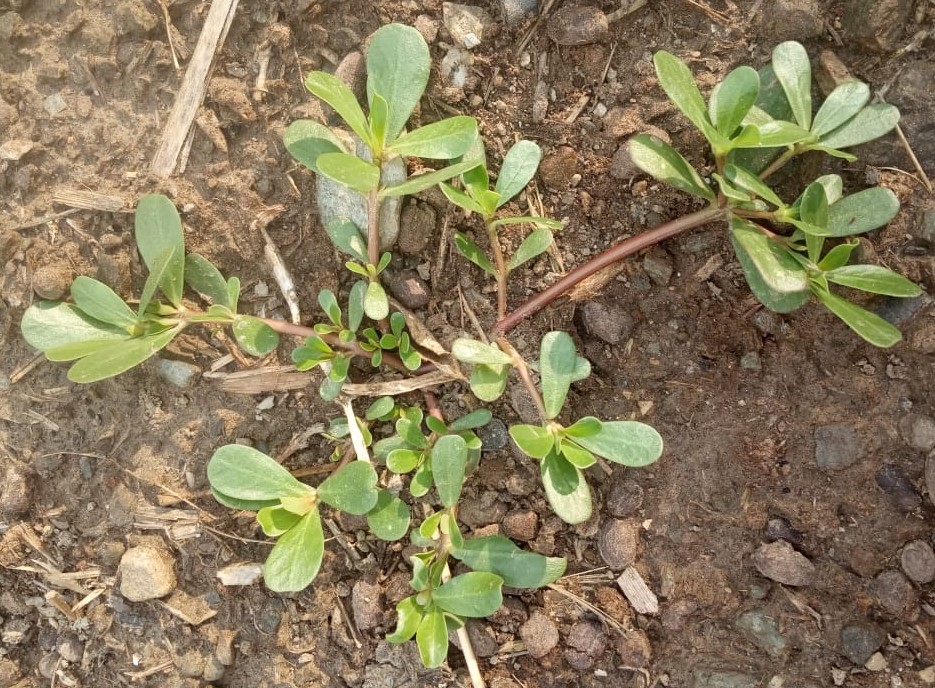 Fruit capsule, globose-ovoid, about 4 x 3 mm across, papery, dehiscing circumscissile at the middle or at 2/3rd.
Seeds 20-25, reniform-globose, about 6-7 mm across, laterally compressed, shining black, tuberculate. small, prostrate herb, upto 30cm.
Edible plant parts of Kulpha can be harvested from rainy to autumn season. To ensure sustainable harvesting rotational collection of edible plant parts should be done,
Edible Uses:
Leaves, stem and seeds of kulpha are edible and greatly admired by people due to its salty and spicy taste. Young leaves are ingredients of soup. Leaves and stem are cooked as a potherb while seeds are ground and mixed with other cereals to trap maximum nutrients.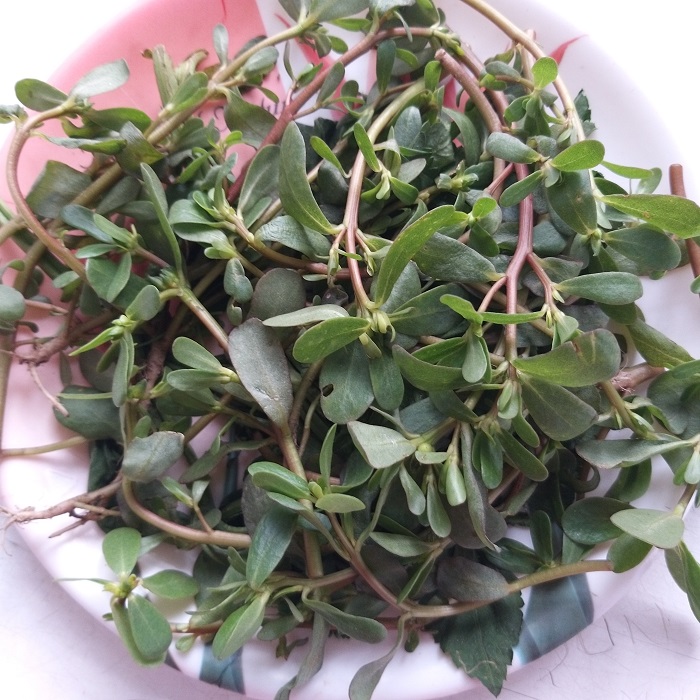 Kulpha a potherb (Saag):
Ingredients:
Tender shoot tips and leaves of Kulpha, 1 kg; mustard oil, 2 table spoons; coriander powder 1 table spoon; fenugreek powder, ½ table spoon; cumin seed ¼ table spoon; turmeric powder, 1/4 table spoon; red chillies, 2-3; chopped onions 2-4; garlic, 4-5 cloves; ginger paste ½ table spoon and salt according to taste.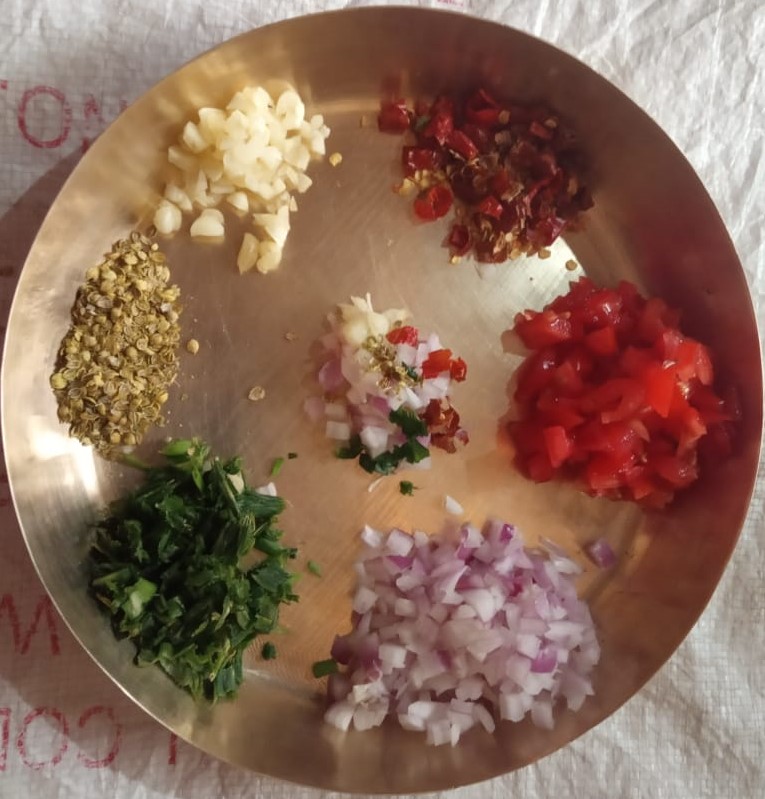 Method:
Boil chopped leaves they become soft. Then mesh manually or in a mixer. Then sauté with hot mustard oil and the spices listed before in sequence. This sauted saag is then ready and can be served as such or can be mixed with 2 or 3 chopped onion and cooked for another 5 to 10 minutes before serving.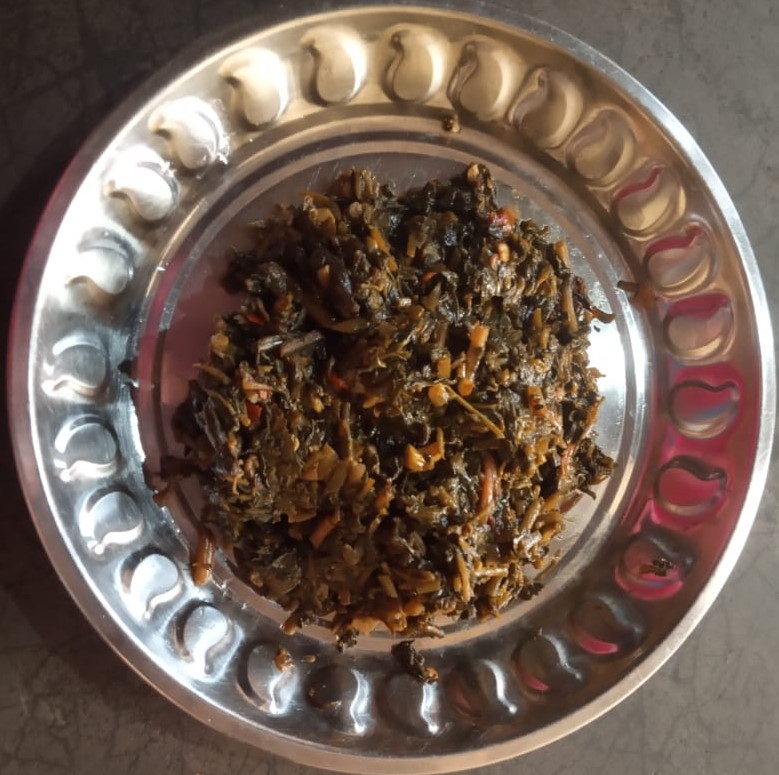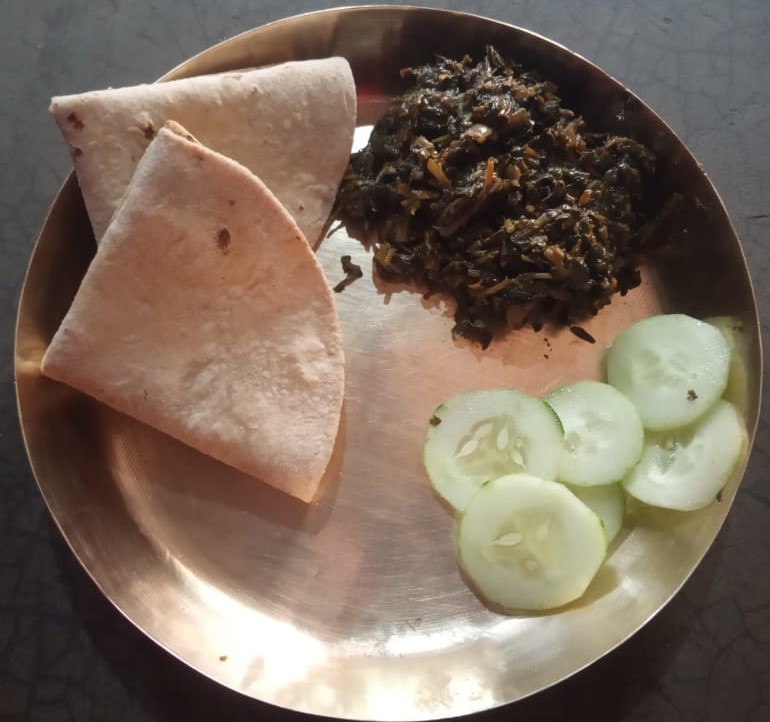 Food Value:
Leaves (Dry weight):
Raw kupha contain 93% water, 3% carbohydrates, 2% protein, and negligible fat (table). In a 100 gram kulpha supplies 20 calories, and rich amount of vitamin,A,1320 IU E, 12.2 mg; vitamin C, 21 mg and wide range of Vitamin B complex with moderate content of several dietary minerals such as Ca, 65 mg; Fe, 1.99 mg; Mg, 68 mg; Mn, 0.303 mg; P44 mg; K. 494 mg, Zn.0;17mg5.
The seed (per 100g ZMB):
Contains 21g protein, 18.9g fat 3.4g ash Fatty acids of the seeds are 10.9% palmitic, 3.7% stearic, 1.3% behenic, 28.7% oleic, 38.9% linoleic and 9.9% linolenic2
Leaves (Dry weight per 100g):
Contains Calories,270; Protein: 26g; Fat: 4g; Carbohydrate: 50g; Fibre: 11.5g; Ash: 20g;Minerals – Calcium: 1500mg; Phosphorus: 550mg; Iron: 29mg; Magnesium: 0mg; Sodium: 55mg; Potassium: 1800mg; Zinc: 0mg;Vitamins – A: 15000mg; Thiamine (B1): 0.35mg; Riboflavin (B2): 1.4mg; Niacin: 6mg; B6: 0mg; C: 250mg 2

Seek advice from a professional before using this plant medicinally.
Medicinal Uses:
Except for the roots, the entire plant is used as antibacterial, anti- inflammatory and anthelminthic. It is used in treating bacillary dysentery and dysuria. A combination with equal parts of Euphorbia heterophylla is also used. The juice extracted from 100g of pounded fresh plant and diluted with water serves as anthelminthic against oxyuriasis and ascariasis. It is administered in the morning, for 3-5 days. Poultices of fresh leaves are used to treat mastitis, boils and impetigo. The plant is antibacterial, antiscorbutic, depurative, diuretic and febrifuge 4. The leaves are a rich source of omega-3 fatty acids, which is thought to be important in preventing heart attacks and strengthening the immune system The leaves can be harvested at any time before the plant flowers, they are used fresh or dried 3. This remedy is not given to pregnant women or to patients with digestive problems 3. The seeds are tonic and vermifuge 1,3. They are prescribed for dyspepsia and opacities of the cornea 2.
Source of Income:
Kulpha leaves are sold by local people of hills in surrounding local market at the cost of Rs 30 to 40 per kg.
References:
1.Chopra, R.N., Nayar, S.L. & Chopra, I.C (1956). Glossary of Indian Medicinal Plants. CSIR, New Delhi.
2.Duke. J. A. and Ayensu. E. S. (1985); Medicinal Plants of China reference Publications, Inc. ISBN 0-917256-20-4
3. Bown. D.(1995): Encyclopaedia of Herbs and their Uses. Dorling Kindersley, London. ISBN 0-7513-020-31!
4.Purohit SS, Sharma AK, Prajapati ND, Kumar T. (2009): A handbook of medicinal plants: a complete source book. Edition.;2:352-3.
5. USDA Food Composition Databases.