Family: Rosaceae
Synonym: Ficus pyrifolia, Pyrus arakiana ,Pyrus asakeensis,Pyrus autumnalis,, Pyrus babauttiagi, Pyrus higoensis, Pyrus incubacea, Pyrus kiushiana,Pyrus kleinhofiana,  Pyrus lakuhokuensis,  Pyrus lasiogyna,  Pyrus lindleyi, Pyrus nehiyamadonis,  Pyrus pseudocalleryana, Pyrus pseudouipongensis, Pyrus pyrifolia var. talyschensis, Pyrus saidaeana,  Pyrus serotina, Pyrus sinensis,  Pyrus sohayakiensis, Pyrus tajimaensis,Pyrus tambana,  Pyrus tobisimensis,  Pyrus togashiana, Pyrus tsuchiyana,Pyrus tungusiana,  Pyrus uipongensis, Pyrus umemurana,.Pyrus uyematsuana,Pyrus yohrohensis.
Common name: Asian pear, Japanese pear, Chinese pear, Korean pear, Taiwanese pear, apple pear, zodiac pear, three-halves pear, papple and sand pear
Local Name: Nashpati (नाशपती)
Nashpati is a is a deciduous tree found growing naturally upto an altitude of 1700 m in hills, hedges, woodland, sunny edges and dappled shady habitat. It is also cultivated in garden, around homewards and margins of cultivated land for its edible fruits. Tree of nashpati prefers well-drained soil, but can grow in heavy clay soil also. It can tolerate very low temperature upto -15 degree Celsius.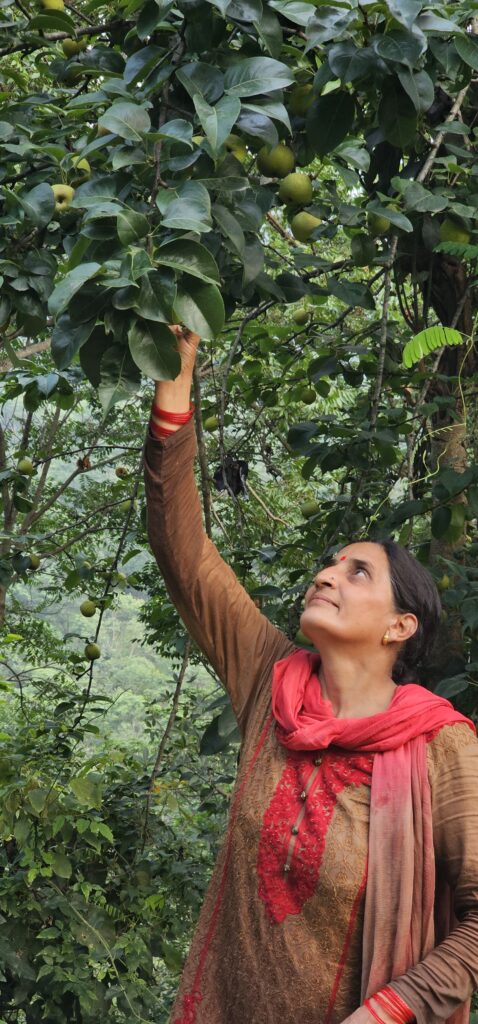 Nashpati tree is known for its edible fruits in Western Himalayas, which can be eaten raw or cooked. Fruits when are near to ripens are cooked to prepare vegetable. Nashpati vegetable is quite unique and different in taste from others, as it offer both sweet and sour flavour simultaneously, without addition of sugar and acidulent. It is considered as a seasonal delicacy in Western Himalayas, A very famous dish KHATTA of naspati fruits is prepared and sometime also served in DHAMM ( food served in a social gathering or rituals) depending upon its availability. Fruits are also eaten for their medicinal values.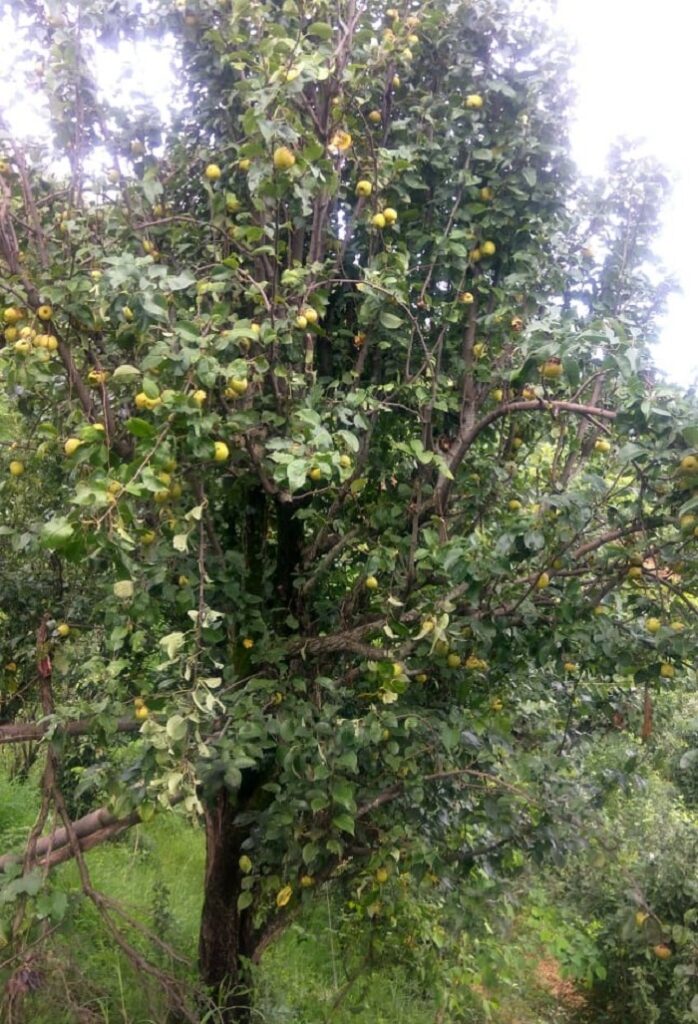 Naspati Tree:
Plant is medium sized trees.
Leaves oblong or ovate, acute, entire or slightly crenulate.
Flowers white, 2.5 cm across, in corymbs, on dwarf side shoots.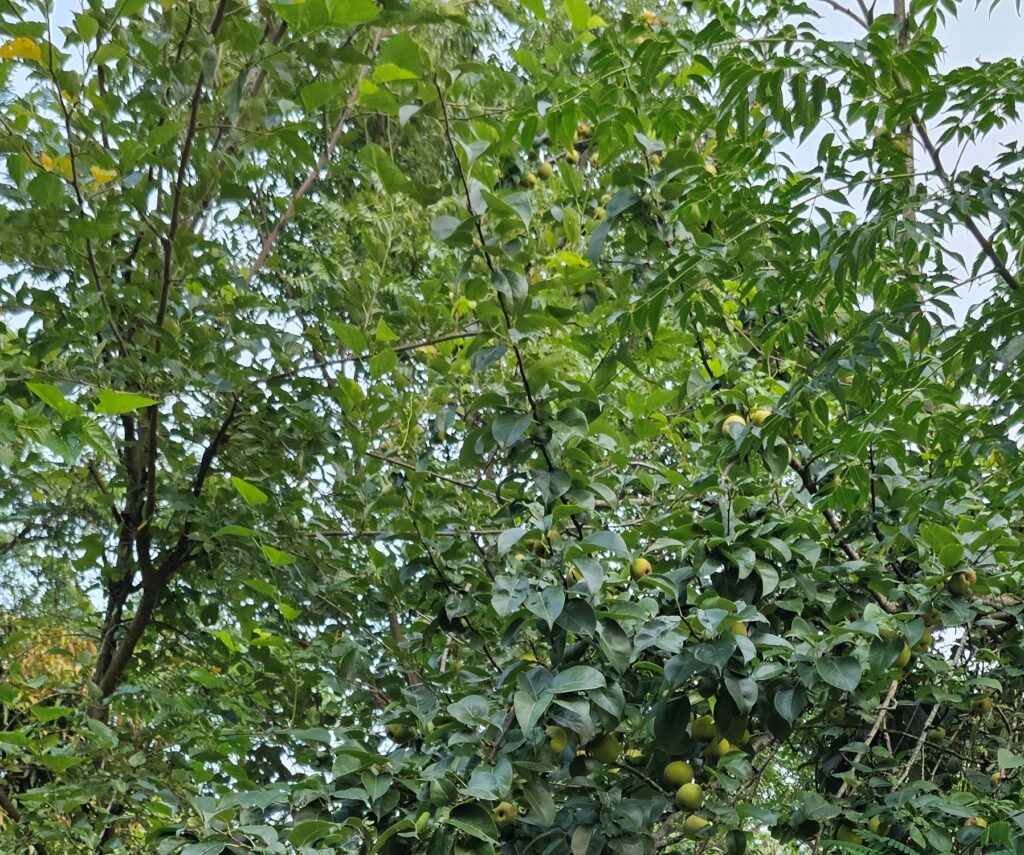 Fruits 2.5-5 cm in daim. pyriform or subglobose, yellow with rough brown specks
Nashpati fruits are available in rainy season.
Edible Uses:
Partialripe fruits of nashpati are cooked into vegetable or KHATTA (sour vegetable curry)
Naspati ki SabjI (Vegetable)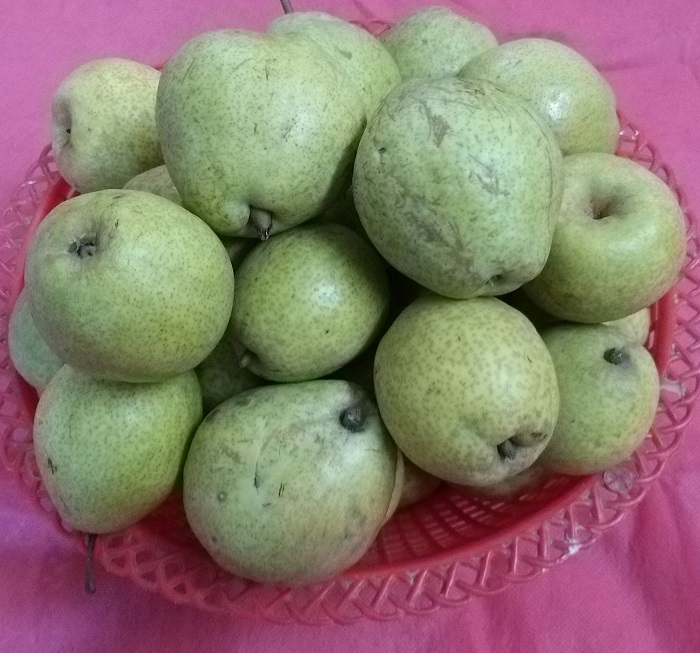 Ingredients:
Chopped nashpati half ripe fruits in cubical shape, 1 kg; mustard oil, 3-4 table spoons; coriander powder, 1 table spoon; fenugreek powder, ½ table spoon; cumin seed, 1 tea spoon; turmeric powder, 1 table spoon; red chillies, 2-3; chopped medium sized onions 2-4; garlic, 4-5 cloves; ginger paste ½ table spoon, chopped tomato, 1-2; and salt, according to taste.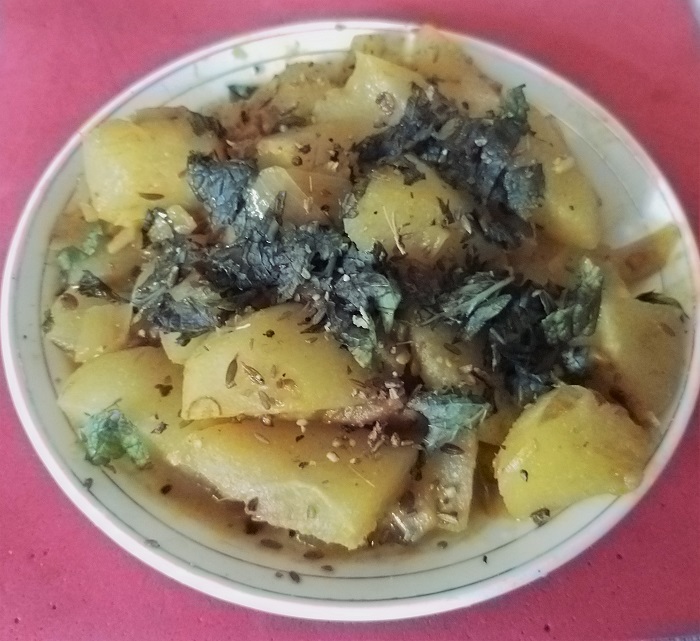 Method:
Put oil in a pan and sauté chopped tender fruits and spices listed above in sequence. Cook for 15 to 20 minutes and serve with chappatis.For preparing KHATTA a sour vegetable curry add 5-6 glass of water, stir well then serve after adding GARAM MASALA and garnishing with coriander leaves.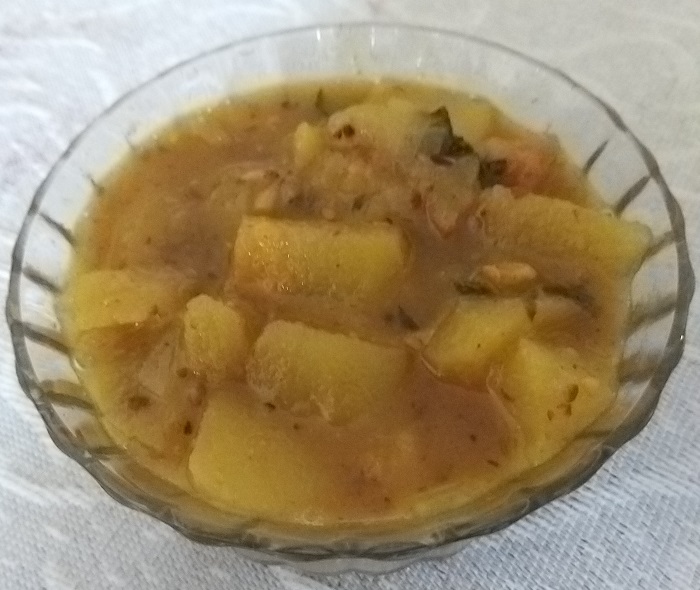 Nutrient Value:
Nutritional value per 100 g of fresh fruit is energy, 176 kJ (42 kcal); carbohydrates, 10.65 g; sugars, 7.05 g; dietary ffber, 3.6 g; Fat, 0.23 g; protein, 0.5 g; thiamine (B1), 0.009 mg; riboflavin (B2), 0.01 mg; niacin (B3), 0.219 mg; pantothenic acid (B5), 0.07 mg; vitamin B6, 0.022 mg; folate (B9), 8 μg; choline, 5.1 mg; vitamin C, 3.8 mg; vitamin E, 0.12 mg; vitamin K, 4.5 μg; calcium, 4 mg; magnesium, 0.06 mg; manganese, 0.06 mg; phosphorus, 11 mg; potassium, 121 mg 4.
Seek advice from a professional before using this plant medicinally
Medicinal Uses:
The fruit of nashpati are considered astringent, febrifuge and sedative. They are good source of pectin and help in maintaining desirable acid balance in the body, also recommended to patients suffering with diabetes because of their low sucrose content. Leaves and bark of nashpati can be used in wound healing and thus also acts as anti-inflammatory1,2,3.
Naspati Source of Income:
Naspati is an easy good source of income for local people. People can easily earn Rs 50 to 80/kg for semi ripened or ripened fruits by selling in local market.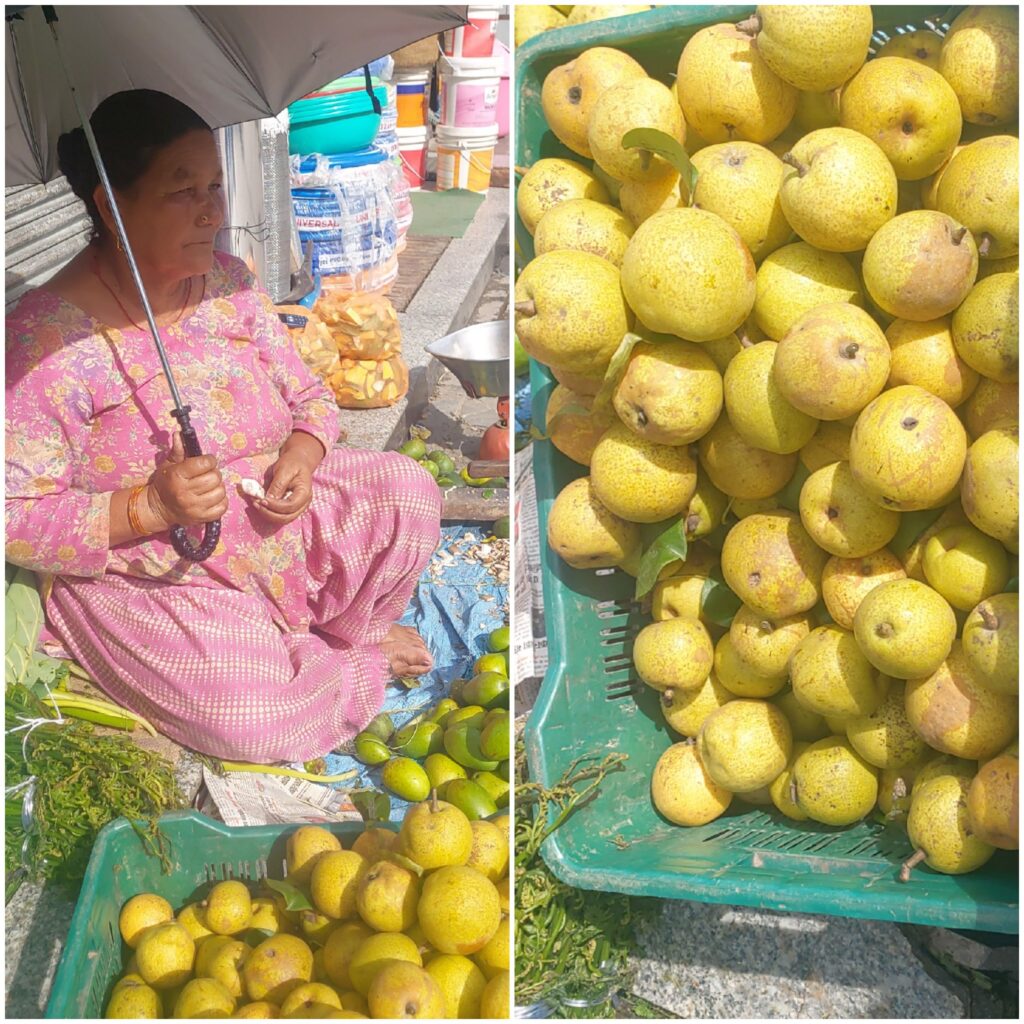 References:
1. Ambasta, S.P. (ed.) (1986). The useful Plants of India. CSIR, New Delhi.
2.Chopra, R.N., Nayar, S.L. & Chopra, I.C (1956). Glossary of Indian Medicinal Plants. CSIR, New Delhi.
3. Sood S.k. & Thakur S. (2004): Ethnobotany of Rewalsar Himalayas, ISBN:81-85622-10-8. Deep Publication