Family: Solanaceae
Common Name: Black Nightshade, Common Nightshade, Poisonberry.
Synonym: Solanum dilleniid, Solanum vulgare, Solanum decipiens.
Local Name: Patkayai (पटकाई), Kakmachi, Makoi, Ghayanii.
Patkayai commonly seen growing as a weed along edges of cultivated areas, roadside, garden and in waste lands all across Western Himalayas. It succeeds well in most soils but is also tolerant of dry conditions It is found upto an altitude of 2000 meter.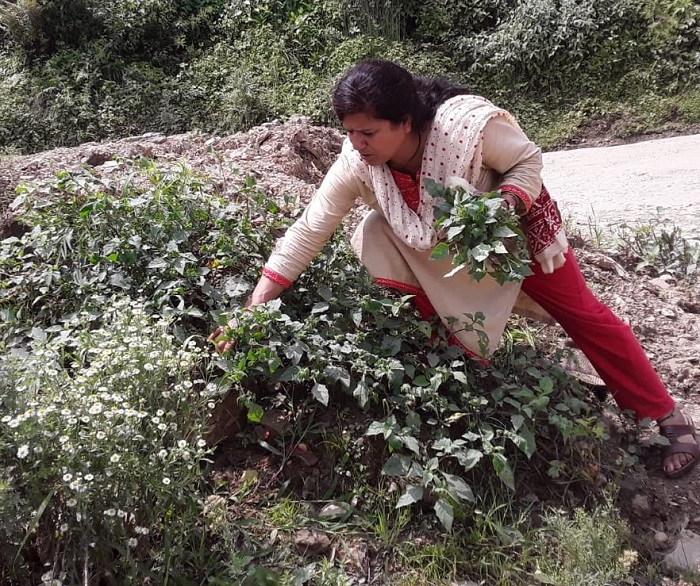 Patkayai is harvested from wild habitat for local use as a food and medicine. All the parts of patkayai are useful for the local people. Whole plant is exploited for medicinal uses. Leaves and fruits are edible and cooked as vegetable and soup. Roots are boiled and given to women to boost fertility while root juice is used to cure asthma and whooping cough. Ripe fruits of patkayai are sweet and salty and used to prepare jam and soup. Unripe fruits contain the toxin solanine, so only the fully ripe fruits should be used,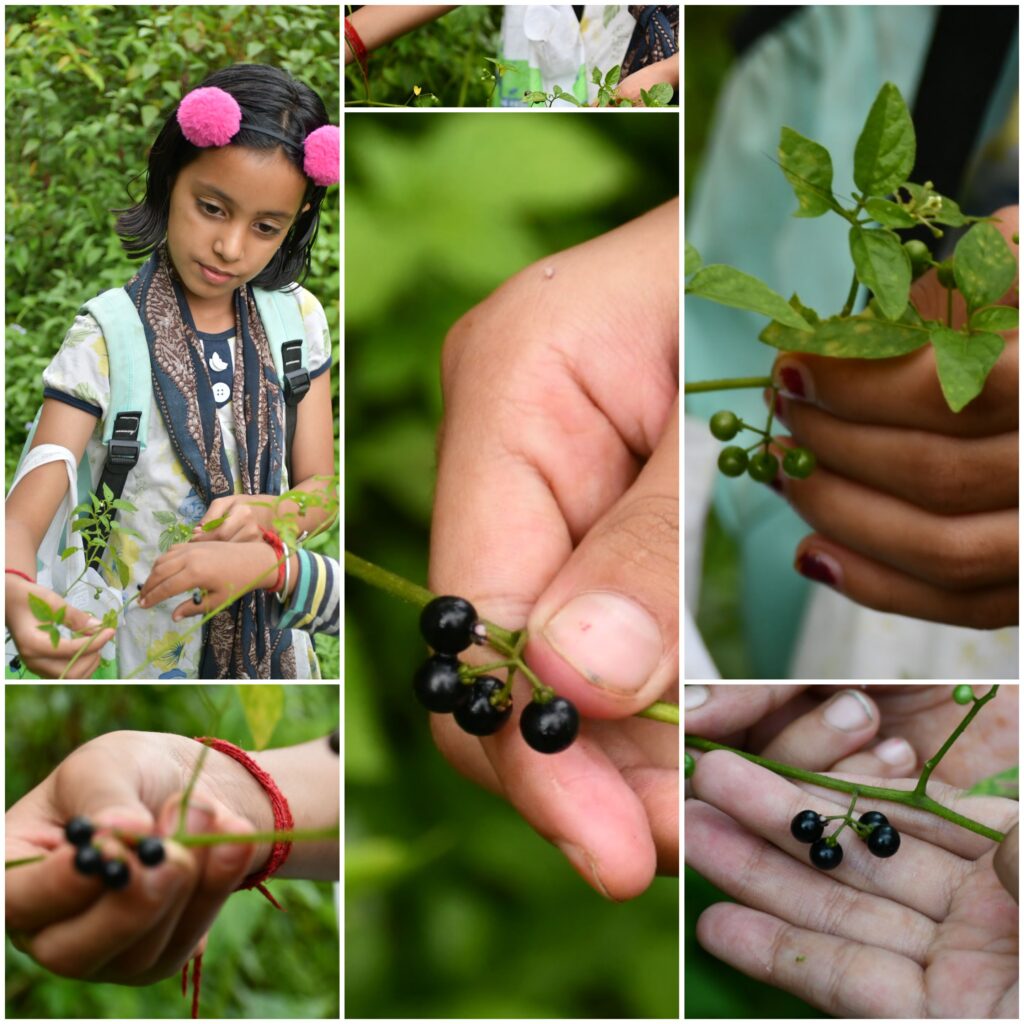 Patkayai is also cultivated as a food plant for its edible fruits and leaves, in some parts of the India. It is grown for local uses only and not cultivated for commercial use. It is native of north-western Africa.
Patkayai Plant:
Plant is erect, much branched, nearly glabrous, annual herb, 30-90cm high.
Leaves petioled, ovate or ovate-oblong to oblong lanceolate, 3-10cm long, with a cuneate, often decurrent base, margins entire to sinuate-toothed.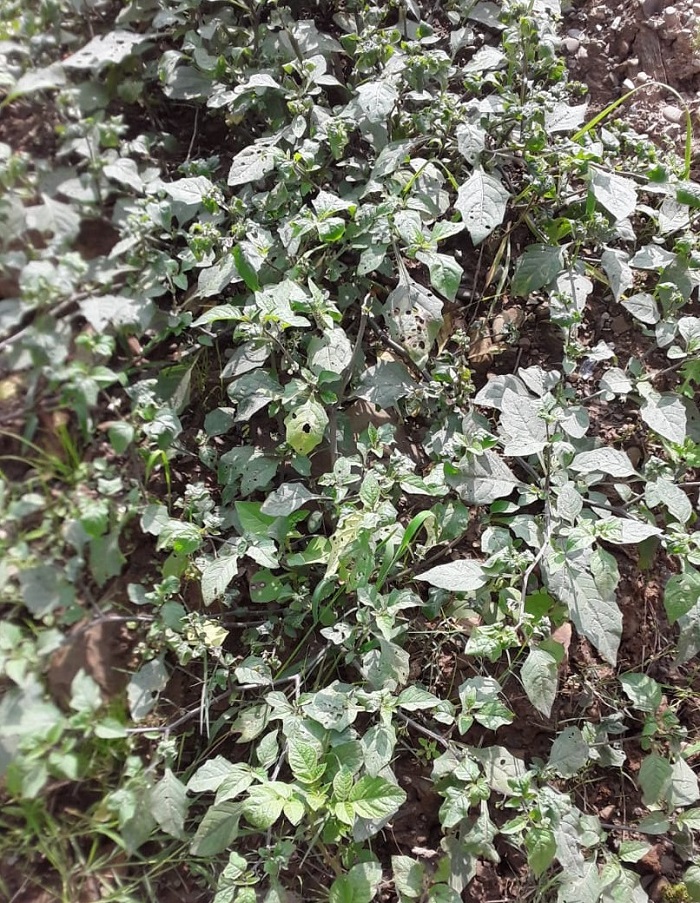 Flowers white, 6-10mm across, in extra axillary umbelliform cymes.
Berries globose, 5-6mm across, purplish-black, red or yellow when ripe.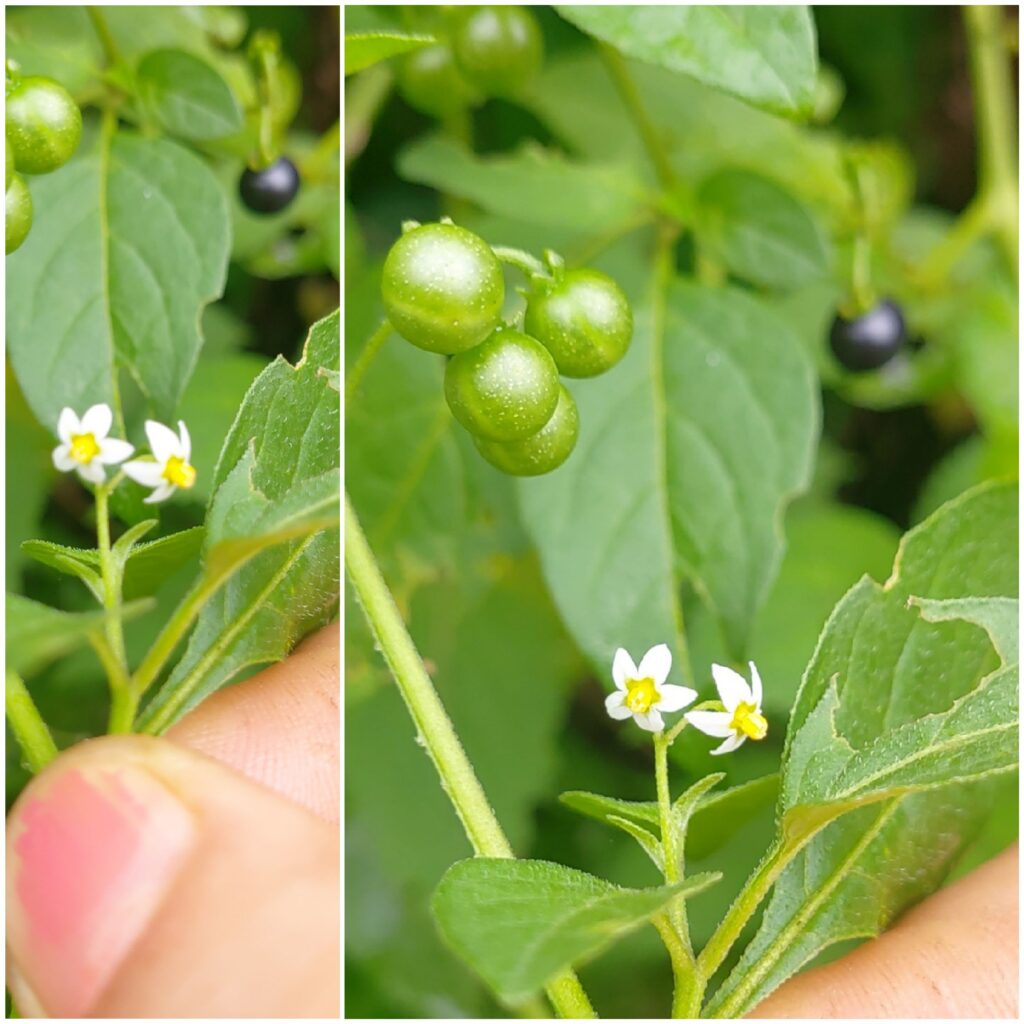 Leaves of Patkayai can be best harvested during rainy season and fruits from late autumn to mid – winter season. Fruits need to be sustainably harvested by habitat rotation for ensuring sustainable development.
Edible Uses:
Patkayai is used as a potherb and its tender leaves along with other wild potherb is cooked as vegetable. Ripe fruits are edible and used to prepare jam.
Leaves Vegetable:
Leaves, young shoots and tender inflorescence are cooked with potato. as a leafy vegetable.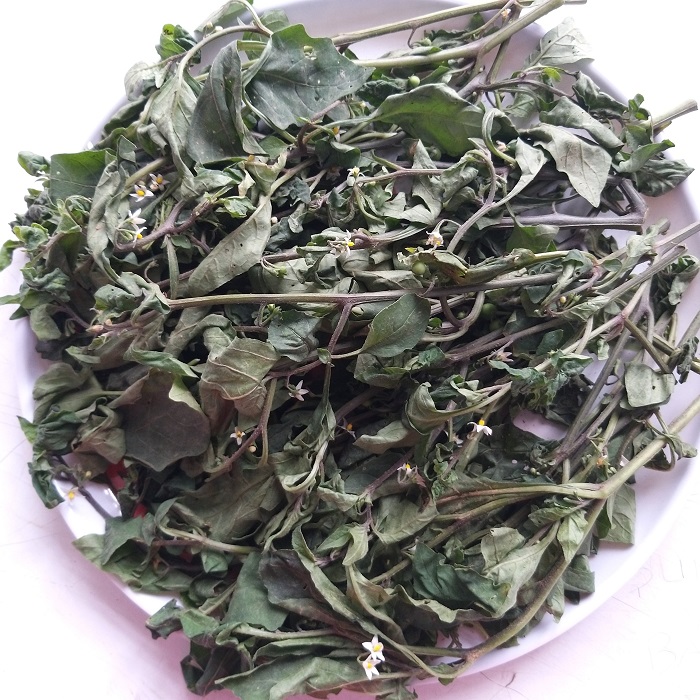 Chopped leave and young shoots of Patkayai and other wild potherbs (celosia argentia, Amaranthus viridis, Euphorbia heterophylla, Euphorbia hirta)1 kg; chopped medium sized potatoes,3-4 mustard oil, 3-4 table spoons; coriander powder, 1 table spoon; fenugreek powder, ½ table spoon; cumin seed, 1 tea spoon; turmeric powder, 1 table spoon; red chillies, 2-3; chopped medium sized onions 2-4; garlic, 4-5 cloves; ginger paste ½ table spoon, chopped tomato, 2-3; and salt, according to taste.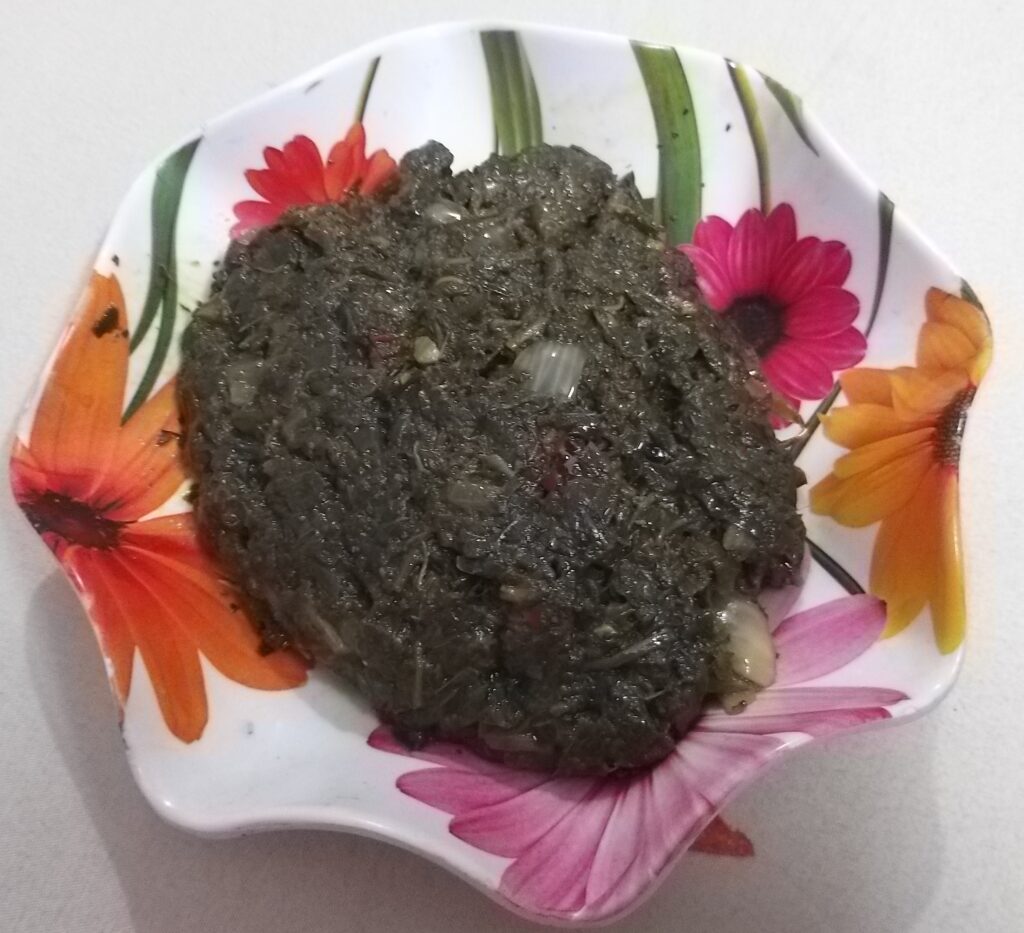 Method:
Put oil in a pan and sauté chopped leaves, stem or inflorescence with spices listed above in sequence with potatoes. Cook for 15 to 20 minutes and serve with chappatis.To prepare saag bove \boil leaves till they are soft, mess well and saute with spices listed above in a sequences, Cook for 5 to 10 minutes and serve.
Jam:
For preparing jam put fresh ripe fruits 1kg in a pan and add to it 250g sugar, one cup water and pinch of salt. Cook for 10 minutes and let it cool down, now grind this paste in grinder and again cook till water completely absorbed. Jam is now ready and can be preserved upto six month.
Nutrient Value:
The fruit of Patkayai contains about 2.5% protein, 0.6% fat, 5.6% carbohydrate, 1.2% ash. 2.3
Fresh leaves contain 42 Calories per 100g, Water : 86.4%, Protein: 4g; Fat: 0.7g; Carbohydrate: 7.6g; Fibre: 1.6g; Ash: 1.7g;Minerals – Calcium: 210mg; Phosphorus: 70mg; Iron: 5mg; Magnesium: 0mg; Sodium: 0mg; Potassium: 0mg; Zinc: 0mg;Vitamins – A: 2000mg; Thiamine (B1): 0.15mg; Riboflavin (B2): 0.15mg; Niacin: 1.2mg; B6: 0mg; C: 43mg. . 2.3
Seek advice from a professional before using this plant medicinally.
Medicinal Uses:
The fresh leaves juice is taken orally in the form of fresh juice or decoction for treating disease. The whole plant is alterative, antiperiodic, antiphlogistic, aphrodisiac, diaphoretic, diuretic, emollient, febrifuge, laxative, narcotic, purgative, sedative, stimulant and tonic. 1.2.3 The whole plant is used for medicinal purpose. In many parts of Western Himalayas the roots are boiled and given to women to boost fertility. The root juice is used as medicine for asthma and whooping cough.
Other Uses:
Plant is grazed by cattle and is a good source of forage for them.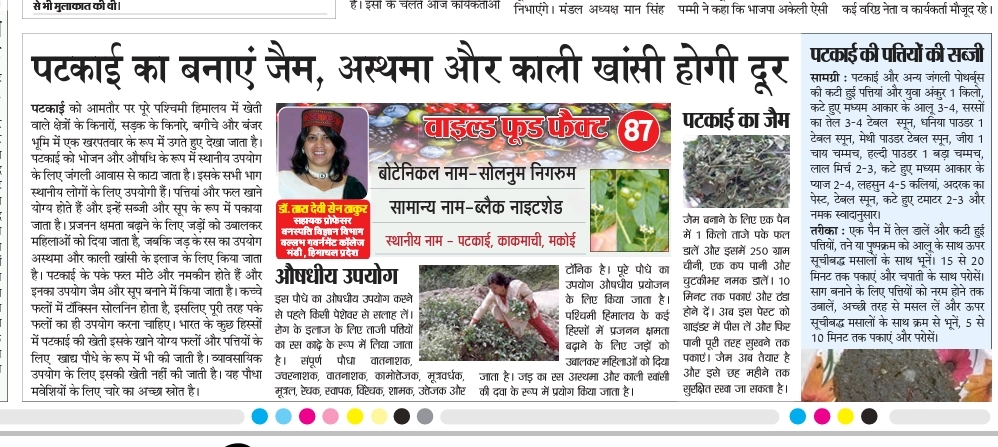 References:
1. Reid. B. E. (1977: Famine Foods listed in the Chiu-Huang Pen-ts'ao.
2.Singh et al., (1976); Forest Flora of Srinagar. Bishen Singh Mahendra Pal Singh
3. Tropical Plants Database, Ken Fern. tropical.theferns.info. 2019-07-29. <tropical.theferns.info/viewtropical.php?id=Solanum+nigrum>