Family: Araceae (Arum Family)
Synonym: Arisaema curvatum, Arum tortuosum
Common Name: Cobra flower
Local Name: Kadae ki chhali (कीड़े की छली), Ban chhali
Kedae ki chhali is a perennial herb found growing in a wide range of climatic zones ranging from the warm foothills right up to cold, winter frost areas. It is commonly seen in shady moist places of forests, shrubberies, roadsides, path sides, streamside, on open or rocky slopes as well as in disturbed areas up to an altitude of 800 – 3000 m in Western Himalayas.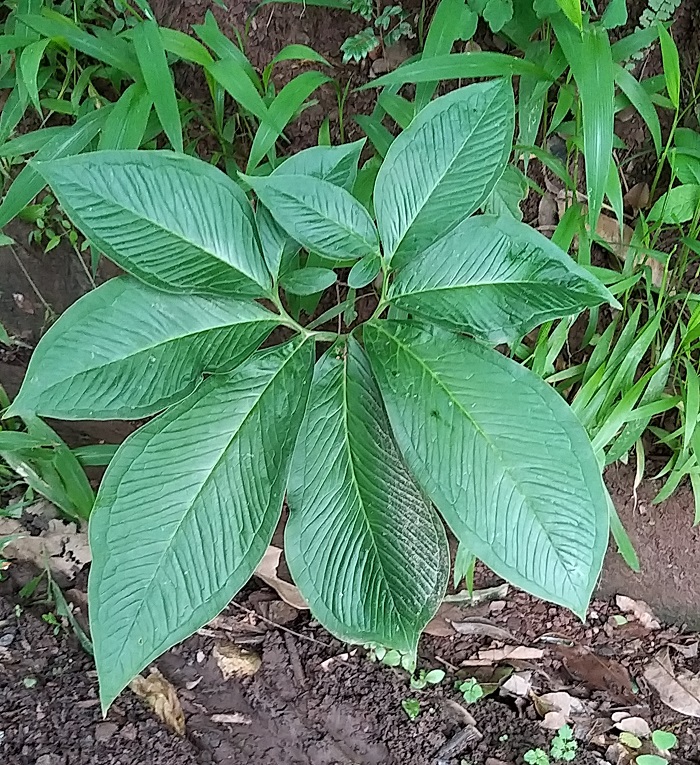 Kedae ki chhali grows from a tuber that is usually renewed seasonally. It produces 2 – 3 pedately compound leaves with 7-15 leaflets and spathe with green to purple, finely ribbed; limb ending in a long-pointed tip which gives a unique attractive appearance to the plant. That's the reason provably kedae ki chhali is frequently grown as a ornamental plant in garden. In the bog garden, woodland garden or a sheltered border it prefers a cool peaty soil in semi-shade.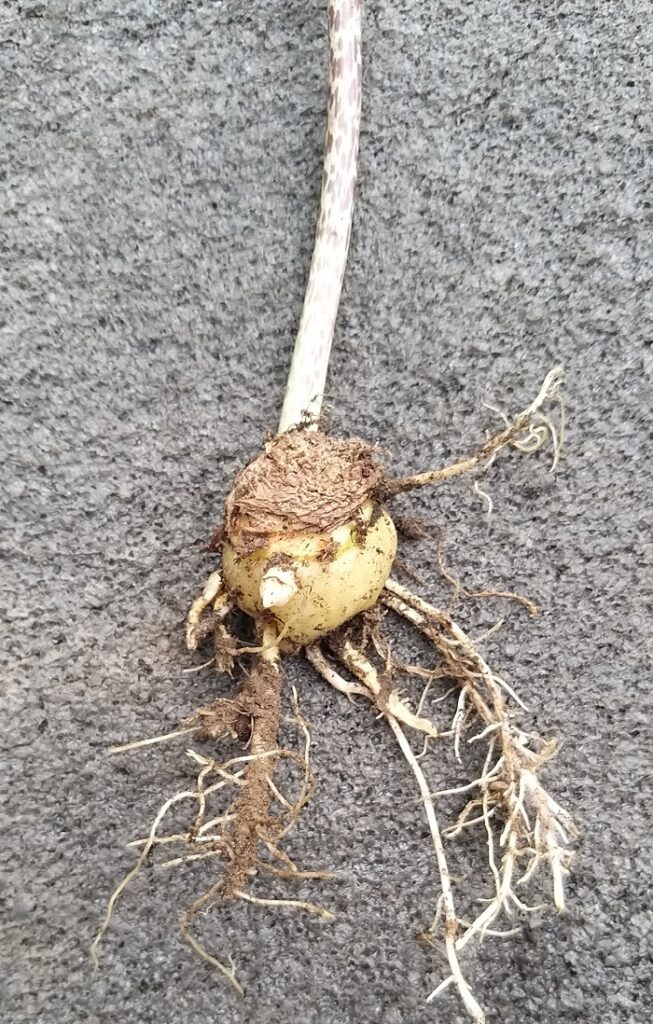 Herb is paradioecious and change its sex from year to year. changes in gender of plant expression are directly depends on nutrition, size of plant and also influenced by the environment in which the plant is growing. Small kedae ki chhali produce only staminate flowers, whilst larger plants produce either staminate and pistillate flowers simultaneously or pistillate flowers only.
Kedae ki chhali is known in India as a pot herb and veterinary medicine 1 . Locals in hills of Western Himalayas harvest whole herb or tubers for food and medicine from wild. Kedae ki chhali is considered poisonous by inhabitants of low altitude due to presence of calcium oxalate crystals in it. but people residing in hills eat plant tuber without any fear to harness its medicinal properties. According to resident of hills this herb must be eaten once in a year for good health. Extremely unpleasant sensation appears if it is eaten raw but this effect is neutralized by thoroughly drying or cooking the plant or by steeping it in water, but so,e sensation still remains.
Kedae ki chhali Plant: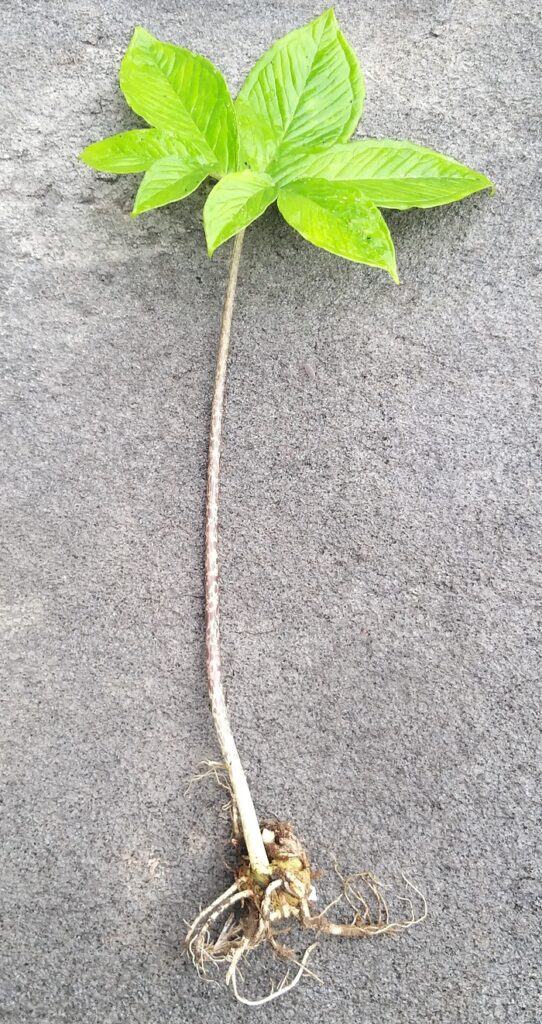 Plant is tall, erect herbs, up to 1.5 m long.
Root tuberous
Stem mottled with purple. Leaves 1- 2, pedately compound; leaflets 7-15, unequal, sessile or stalked, variable, ovate- to- linear- lanceolate, abruptly pointed; petioles 5-20cm long.
Spathe green, rarely purple, finely ribbed; limb ending in a long pointed tip.
Spadix bisexual or male, protruding in a long tail- like up curved appendages, purple with green tip. Anthers white pale yellow or blue. Ovary ovoid, style short, stigma discoid, papillate.
Berries 6-7 mm broad, red.
Kadae ki chhali can provide edible plant parts round the year but people prefer to eat it during rainy season.
As tubers are most favorite plant part used in cooking and new plant usually comes from a renewed tuber, so sustainable harvesting should be done or promoted.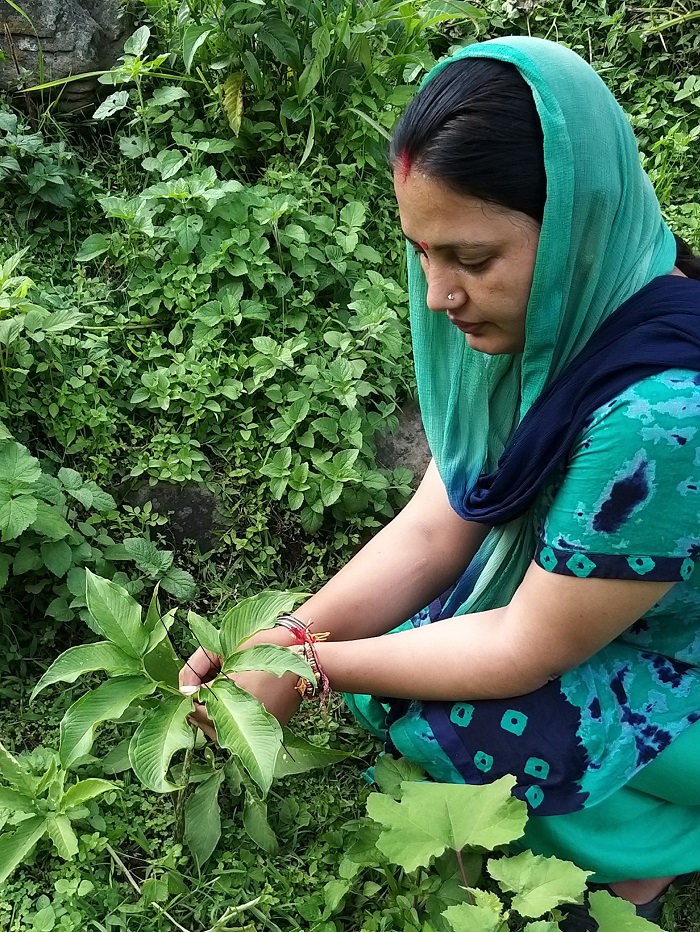 Edible Uses:
Leaves and tuber of Kedae ki chhali are edible but they can be toxic, so must be thoroughly washed dried and boiled before eating even then some irritation is caused. Tubers are cooked like potato and mixed with souring agent to neutralize unpleasant sensation. Tubers are also u fermented to make local alcoholic drink for personal use.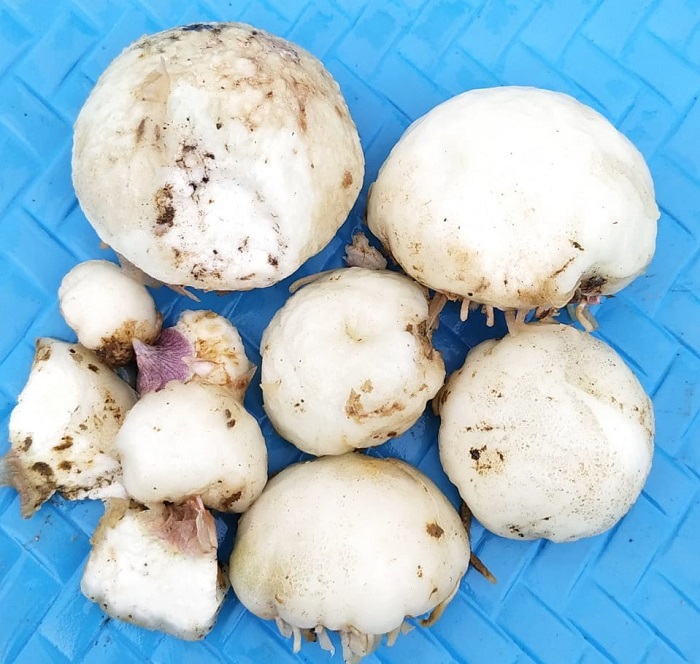 Tubers are dried completely and ground into flour that can be preserved and cooked in a variety of ways. It can be mixed with greens and spices to prepare KACHRU a local dish or roti by mixing in wheat flour. It is most common practice of cooking and consuming this toxic herb in Western Himalayas.
Even after drying and mixing with wheat flour or meshed potato tubers i felt some irritation in throat but no other side effects.except irritation caused to hand while cooking so better to apply mustard oil before dealing with tubers.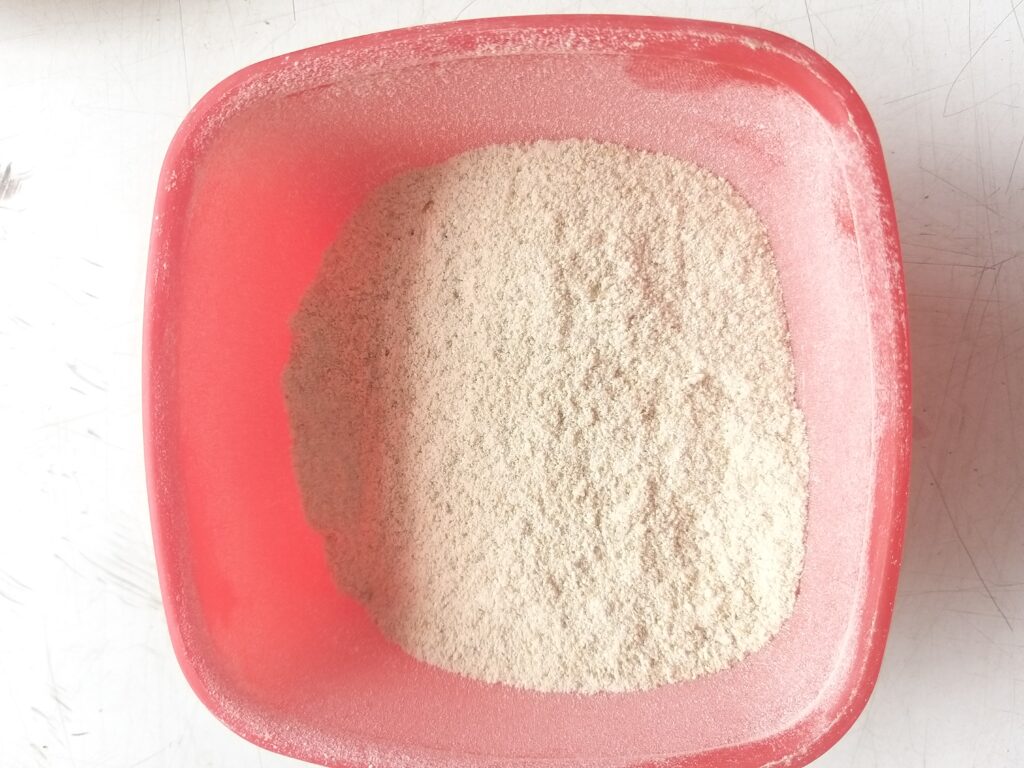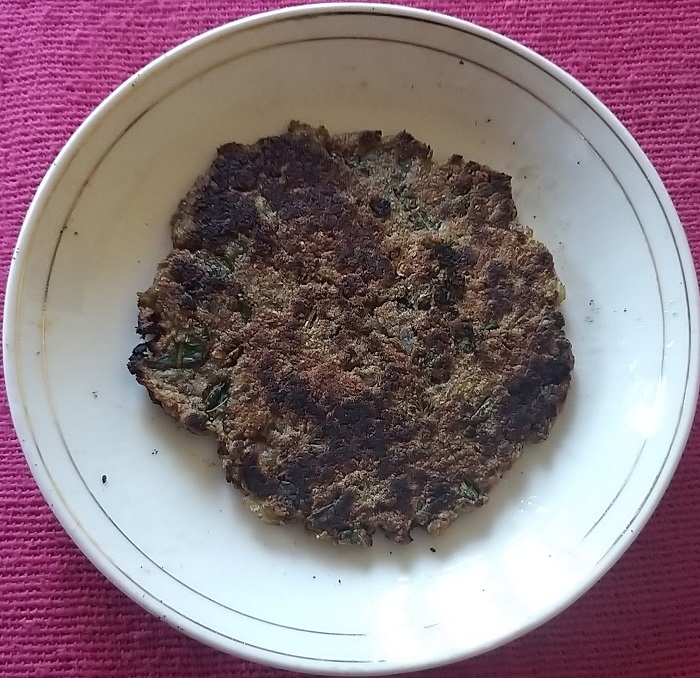 Sometimes kedae ki chhali tubers are boiled with potato tubers and then meshed and made into KACHRU or roti. Leaves are cooked as PATRODU by mixing with basen (Corm flour), anardana (Dried seeds of sour pomegranate) and spices.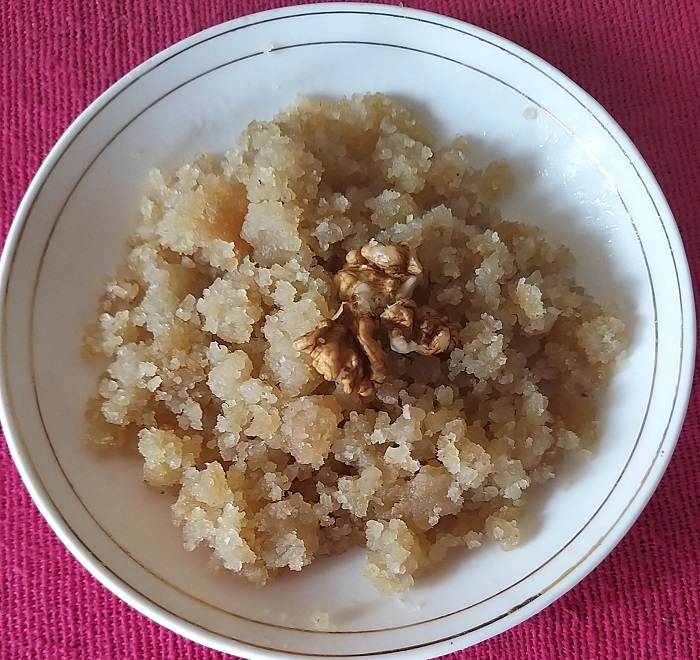 Tuber Vegetable:
ki chhali tubers and potato tubers are boiled thoroughly and then some souring agent is added to neutralize effect of calcium oxalate crystals while preparing vegetable.
Ingredients required:
Kedae ki chhali and potato tubers, 1 kg; mustard oil, 2 table spoons; coriander powder, ½ table spoon; fenugreek powder,1/4 table spoon; cumin seed, 1 table spoon turmeric powder, 1 table spoon; red chillies, 2-4, chopped onion, 1; chopped garlic cloves, 4-5; tomato puree half cup, salt according to taste; 1 big table spoon anardana (Dried seeds of sour pomegranate); curd, 4 cup amount and salt acc, to taste.
Method:
Boiled tuber of kedae ki chhali and potato are sauted in hot oil along with whole spices like coriander, cumin seeds, chillies, turmeric, onion, garlic and tomato puree etc in sequence. Add anardana then cook for another 5-10 minutes. As the tuber may cause sensation so addition of some souring agent improves the taste. Now it is ready to serve as such or add curd to it cook for another 5-10 minutes and serve.
The tender leaves of new growth are made into a roll called PATRODU in local dialect. Patrodu is used as snack or vegetable Patrodus can be made like this: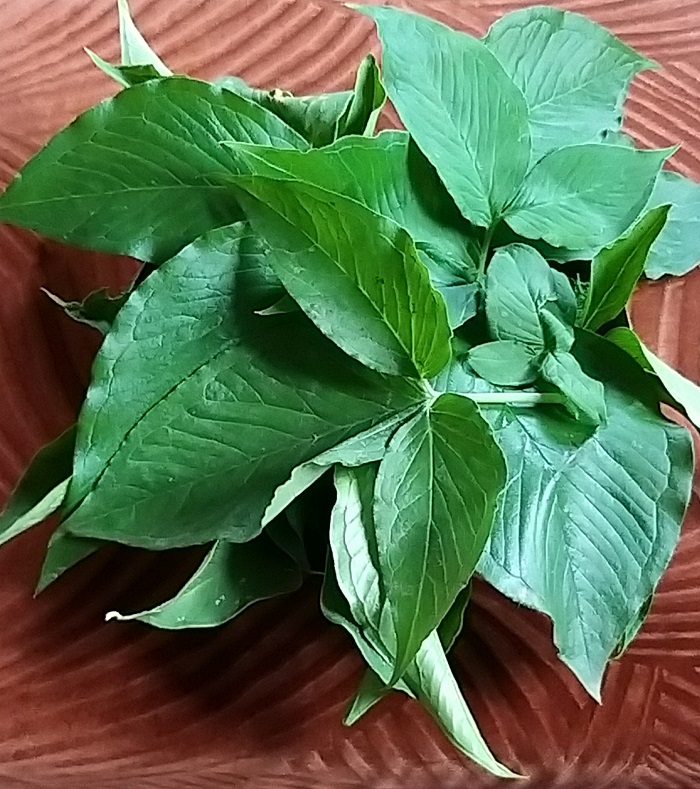 Ingedients:
3-5 finely chopped newly emerged tender leaves of Kedae ki chhali , 250 gm besan (black gram flour) or corn flour, 1 cup; fresh coriander leaves (chopped), 3-5 green chillies, ½; table spoon turmeric powder, 2-3 chopped onions, 1 big table spoon anardana (Dried seeds of sour pomegranate). 1cup amount chopped leaves of herb bhavri(Ocimum bacillus) and salt according to taste.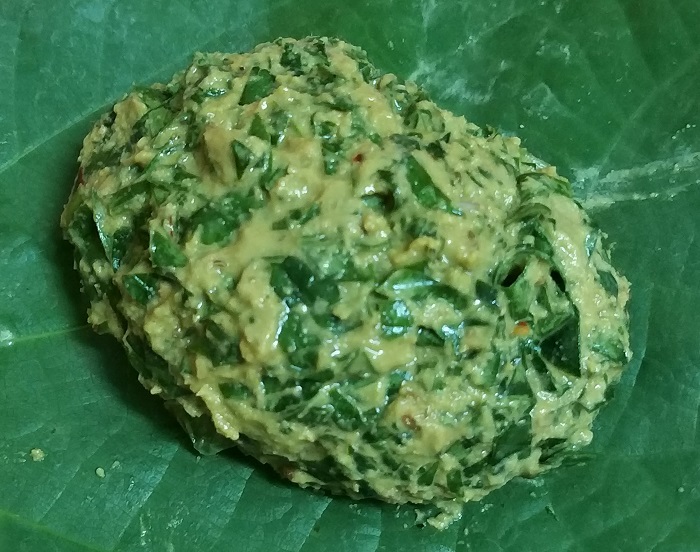 Method:
Make a mixture of chopped leaves,spices and besan (or corn flour) by blending them together. Roll this mixture like bedding. Take a big pan and add some water then put small sticks to make rack over the water. Place the folded leaves on rack and let it be steam cooked for 15 to 20 minutes. Take out the rolls and let it cool down. Then cut into small pieces. These pieces can be shallow fried or deep fried according to taste.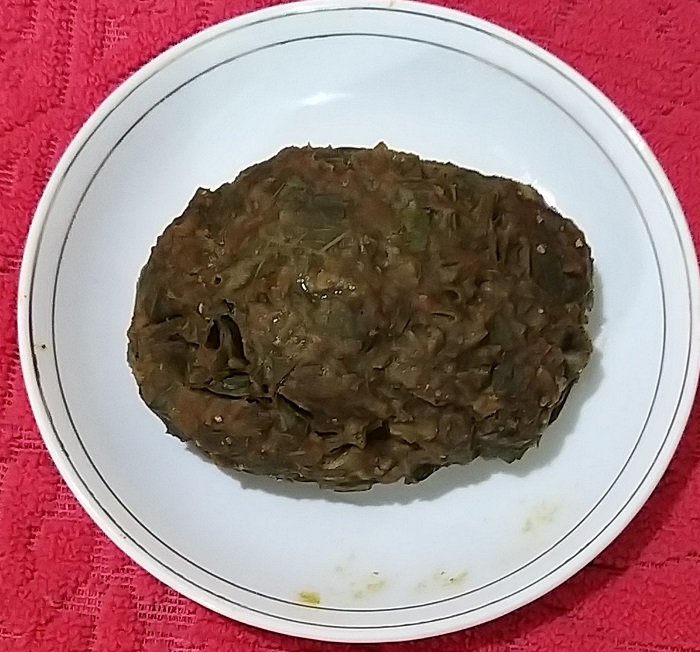 Serve as a snack with tea or use as vegetable. ­­­­­­­­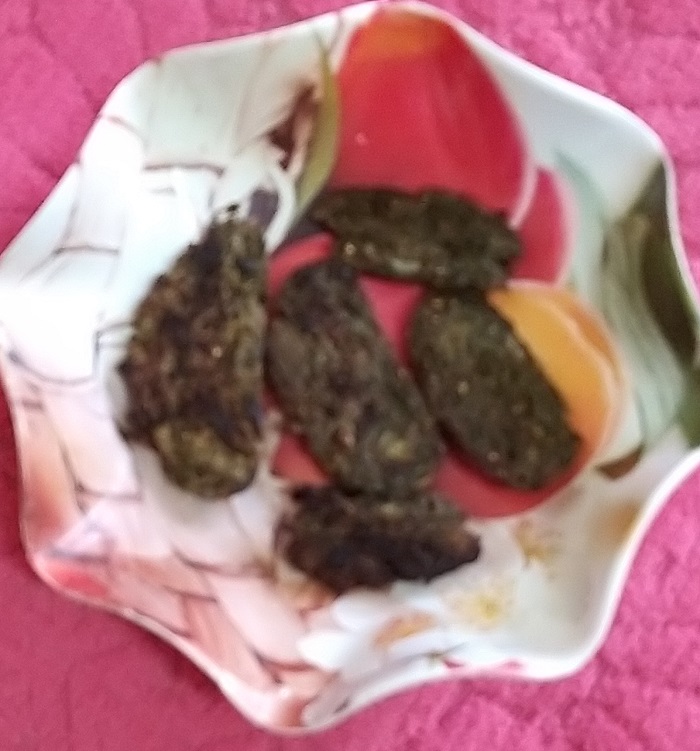 Local alcoholic drink:
Take 10-12 kg barley flour (Hordeum vulgare) and mix to it kedae ki chhali tubers, finally chopped whole singali – mingli plant (Dioscorea deltoidea) and some other medicinal herbs of rainy season like Arisaema jacquemontii tubers, Angelica glauca, Selinum vaginatum etc. Mix all well and prepare dough. Now make small bread spread from this dough and place inside wooden blocks. Collect Cannabis sativa  green foliage and spread on floor of a dark room as a mat. Put all the wooden blocks containing bread spread over the Cannabis mat and also cover the bread spread   with cannabis leaves. Keep this setup for 12-15 days. Take out dry bread spread for further fermentation. Bread spread prepared like this can be used as small fragments for further fermentation and kept or preserved for rest of the year.
Now for fermentation take a large piece of bread spread, mix it with koda millet flour (Paspalum scrobiculatum) and water then place in a clay vessel. Air tight this setup and again place in dark room. After 30-45 days alcoholic beverage is ready to drink it can be used upto next six to eight months.
Seek advice from a professional before using this plant medicinally.
Medicinal
Kedae ki chhali is used to cure various ailments related to digestive tract like constipation, indigestion, abdominal pain and dysentery. It showed antinematodal activities and also used treat bone fracture 2. For piles 50 gm tuber boiled and taken with rice, twice daily for a month3. Corm boiled with tamarind taken internally to cure piles4.Fruit paste is prepared for application for piles .1gm four times a day for seven days 5 . Extract of half tuber is taken orally by the tribals as antidote in dog bite. Powder of one tuber is divided in three parts and each part is taken orally daily for three days to cure liver complaints and stomachache6. The roots have been used as a vermifuge in cattle7. The seeds have been mixed with salt and used to treat colic in sheep 7. Tuber used in preparation of massage oil for Rheumatism 8. Paste of the tuber in applied over the wound caused by snake – bite to check poisonous effect. In case of abscess in the neck, dried powder of tuber is applied over the neck. It helps in early healing. The decoction of tuber is given to animals for early recovery of fractured bone. Also act as antinematodal ethanomedico practice4 .
Chemical Analysis:
The tubers contains n-alkanes, n-alkanols, stigmasterols, sitosterols, campesterol, cholesterol, choline chloride, staychydrine hydrochloride 9.
Other Uses
Plant is grown as a ornamental herb in gardens.
References:
1. Jain, S. K. (1991). Dictionary of Indian folk medicine and ethnobotany. Deep publications.
2. Gangwar, K. K., Deepali, G. R., & Gangwar, R. S. (2010). Ethnomedicinal plant diversity in Kumaun himalaya of Uttarakhand, India. Nature and Science, 8(5), 66-78.
3. Balami, N. P. (2004). Ethnomedicinal uses of plants among the Newar community of Pharping village of Kathmandu District, Nepal. Tribhuvan University Journal, 24(1), 13-19.
4. Verma, H., Lal, V., Pant, K., & Soni, N. (2012). A ethnomedicinal review on Arisaema tortuosum. Int J Adv Pharm Biol Chem, 1, 176-9.
5. Phondani, P. C., Maikhuri, R. K., Rawat, L. S., Farooquee, N. A., Kala, C. P., Vishvakarma, S. R & Saxena, K. G. (2010). Ethnobotanical uses of plants among the Bhotiya tribal communities of Niti Valley in Central Himalaya, India.
6. Jain, A., Katewa, S. S., Chaudhary, B. L., & Galav, P. (2004). Folk herbal medicines used in birth control and sexual diseases by tribals of southern Rajasthan, India. Journal of ethnopharmacology, 90(1), 171-177.
7. Chopra, R.N., Nayar, S.L. & Chopra, I.C (1956). Glossary of Indian Medicinal Plants. CSIR, New Delhi
8. Das, S., Dash, S. K., & Padhy, S. N. (2003). Ethno-medicinal informations from Orissa State, India, A review. Journal of Human Ecology, 14(3), 165-227.
9. Pullaiah, T. ( 2006); Encyclopaedia of world medicinal plants, Volume1, published by Regency T. Publication New Delhi, India, 204