Family: Phyllanthaceae
Synonym: Cicca emblica, Diasperus emblica, Emblica officinalis, Phyllanthus taxifolius, Emblica arborea, Phyllanthus mimosifolius
Common Name: Indian Gooseberry
Local Name: Ambla (अम्बला)
Ambla is a popular, slow-growing, small or large deciduous tree of Western Himalayas known for its edible fruits. It is commonly seen growing wild in slopes of hills, roadsides, borders of agriculture land and along the exposed slopes of deciduous forests. Plant requires well drained sunny or partial shady habitat and equally seen growing well under arid and humid conditions upto an altitude of 1500 meter. It is also sometimes cultivated in village grooves or private land for its religious, medicinal and edible uses.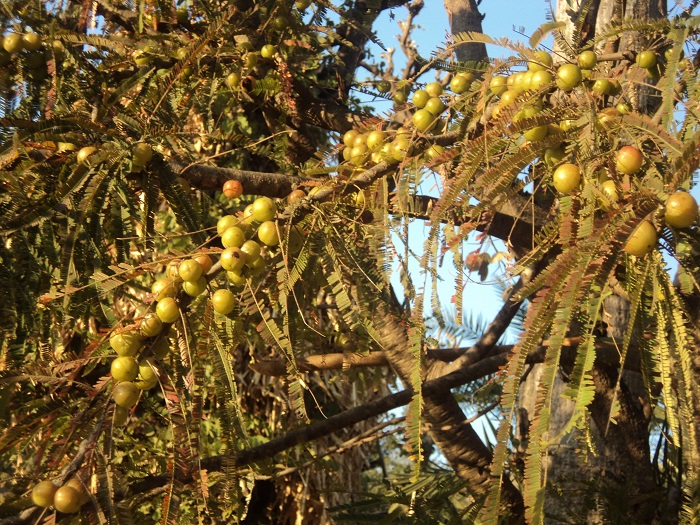 Fruits of ambla are edible both raw or cooked. They are considered appetizer, refringent, immune system booster and are highly valued for vitamin C content in them. Fruits are cooked in the form of pickles, jams, jellies, chutneys, murabba, BHALE and BADIYAN or simply dried and powdered for off season. Fruits of ambla along with Baheda (Terminalia bellirica) and Harde (Terminalia chebula) are dried, powdered and used to prepare triphala powder, an rejuvenating and laxative tonic. Fruits are considered strong immunity booster so also taken as herbal tea exclusively or with other herbs.  Local people harvest ambla fruits from wild habitat for commercial purpose as well as for their local use as a food and medicine.
Leaves and young branches of plant are sometime also lopped for fodder at the time of fodder scarcity especially in winter season when fruiting period is over. Fruits are considered good hair-restorer and used along with henna for coloring hairs in the form of decocction, dried powder or crushed raw fruit parts. They are also preserved for off season for this purpose.
Whole tree, fruits and wood of ambla are considered sacred and worshipped. Fruits are worshipped during Kartik Poornima fasting. In old days Dal khichdi is prepared under the ambla tree or some branches of tree with fruits are brought and kept as a symbol of tree for this purpose, this Dal khichdi is known as amble thale ri khichdi (khichdi below ambla tree) in local dialect
Ambla fruits are good source of earning for local people especially women. They sell fruits raw as well as in the form of pickle. jams, murabba and chutneys.
Ambla Plant: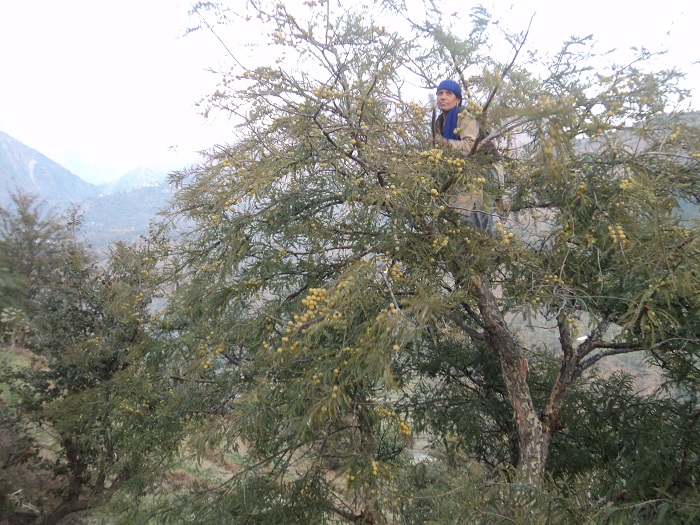 Small or large, deciduous trees, usually 7.5 – 18 metres tall but occasionally can reach up to 30 metres.
Leaves distichous, resembling pinnate leaves, sub sessile, narrowly oblong, 10-12mm long, entire, obtuse, glabrous; stipules minute.
Flowers minute, apetalous, monoecious, greenish- yellow, in axillary clusters; both male and female on the same branch. Perianth 5-6-lobed. Stamens 3.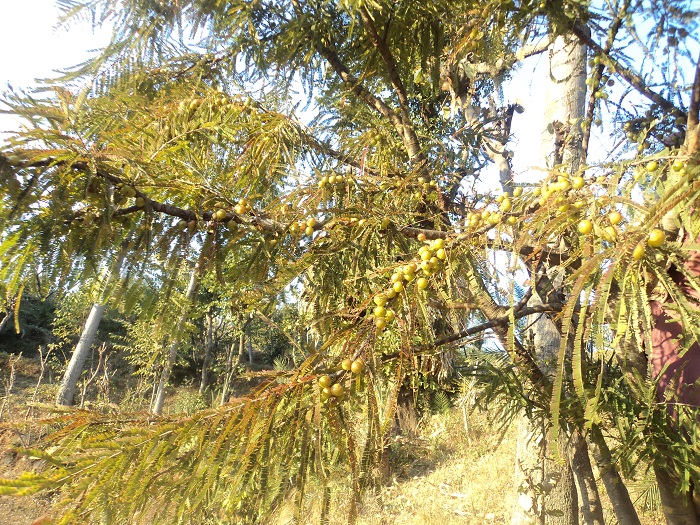 Fruits of three, 2- valved cocci, obscurely 6- lobed, globose, fleshy, pale yellow.
Ambla plant can provide edible fruits from pre winter to end of winter season . For ensuring sustainable development and harness maximum edible, medicinal and economic potential of ambla, its tree plantation should be encouraged vigorously in forests surrounding community land and private land.
Edible Uses:
Local people eat fruits of ambla with salt in full sunlight during winter season. Fruits are cooked as a pickle, jams, murabba, chutneys, BHALE and BADIYAN.
Except pickle, murabba and jams, BHALE and BADIYAN are most favorite preparation for locals of Western Himalayas. Dried fruits are also powdered for ensuring their availability throughout the year.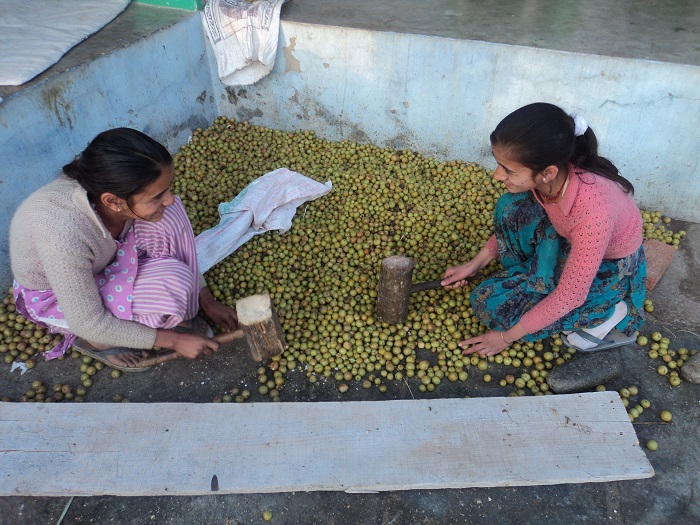 Ambla Fruit Pickle:
Ingredients:
Ambla fruits,1 kg; mustard oil,1/2 litre; coriander powder, ½ table spoon; fenugreek powder,4-6 table spoon; cumin seed, 3-5 table spoon; turmeric powder, 1-3 table spoon; red chilies powder, 4-5 table spoon; salt, according to taste.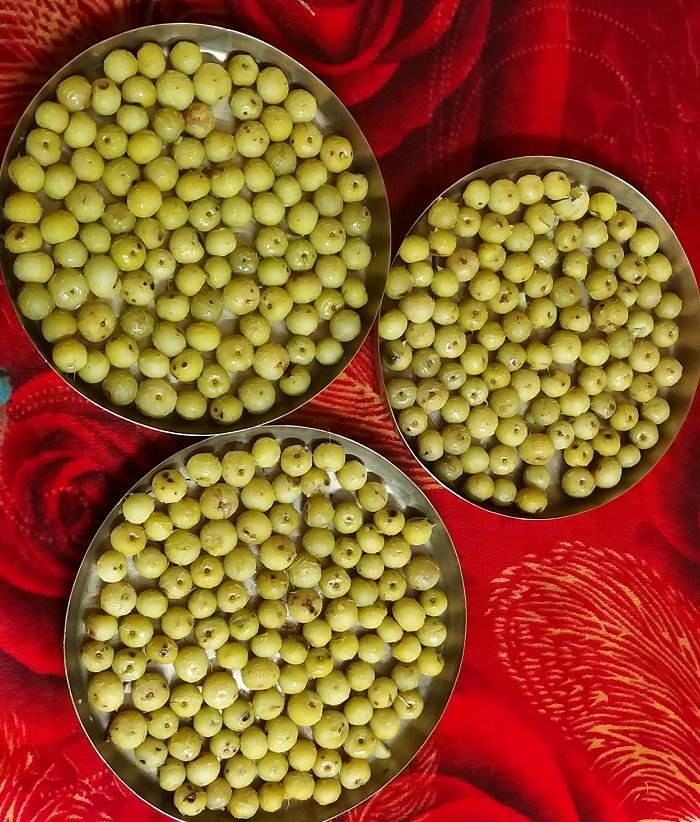 Method:
Pickle is also prepared from unripe fruits. For preparing pickle, raw fruits are boiled and dried in sun before sauting in hot mustered oil with spices like fenugreek seed powder, turmeric powder, red chillies powder and salt acc.to taste. Pickle is ready to eat after 25-30 days.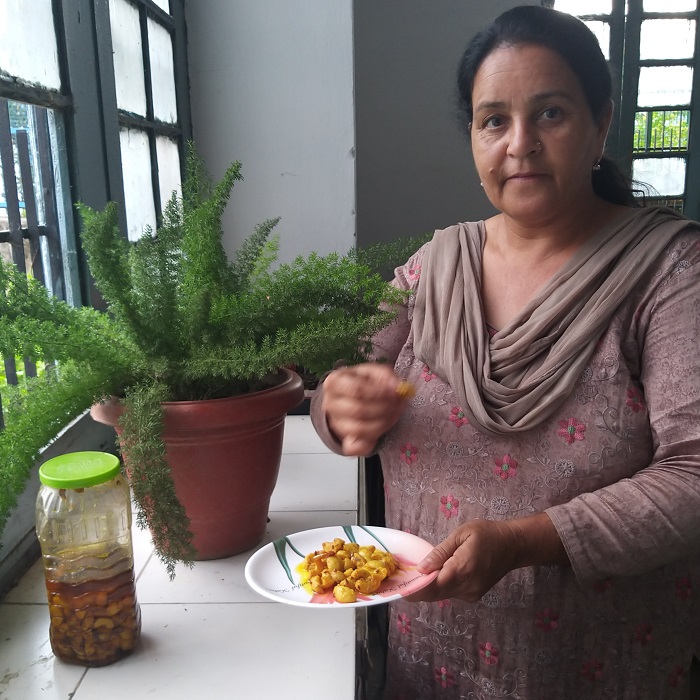 Ambla Fruits Murabba:
Ingredients:
Ambla fruits ripe,1 kg; sugar, 1 kg; black pepper, 1/ tea spoon black salt, cardamom powder ¼ tea spoon; ½ tea spoon.
In addition Alum water (Fitkari)/ soda lime is required for preparation.
Method:
Prick ripe ambla fruits with fork and dip them inalum water (Fitkari)/ soda lime for one week. Separate dipped fruits from alum water and place inside a glass container. Add to it sugar, black pepper, salt and cardamom powder and place in full sunlight after 25 to 30 days murabba is ready to eat.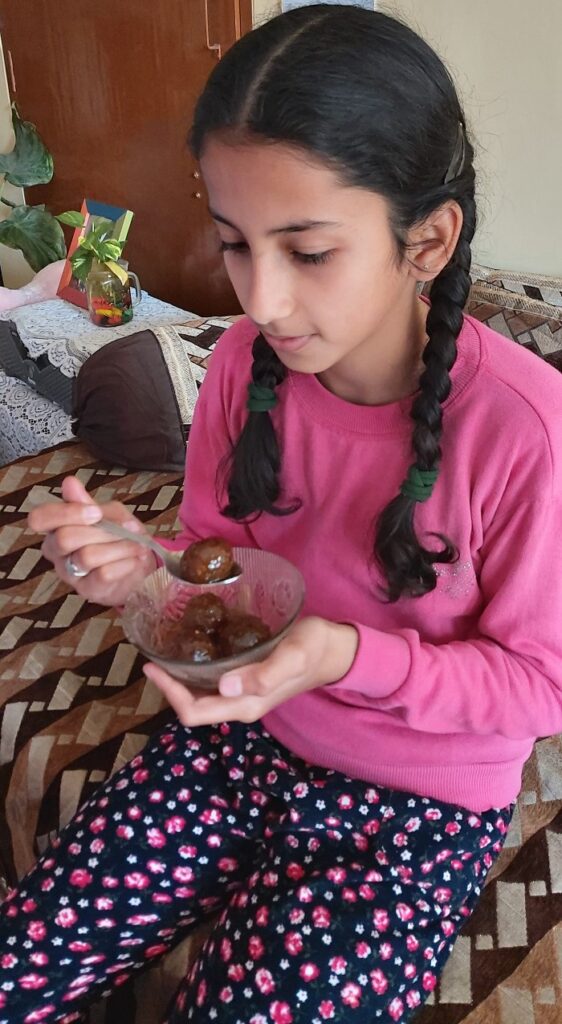 Ambla Fruits Jam:
Ingredients:
Ambla fruits,1 kg; sugar, 1 kg; cardamom powder, 1/4 tea spoon; Cinnamomum tamala bark powder, ½ tea spoon.
Method:
Boil fruits till they are soft and let them cool. Deseed boiled fruits and mash pulp into paste. Heat this paste and sugar with constant stirring till it dense completely. Now add to it cardamom and Cinnamomum tamala bark powder and place this in glass container. After 20 to 25 days it is ready to eat or serve.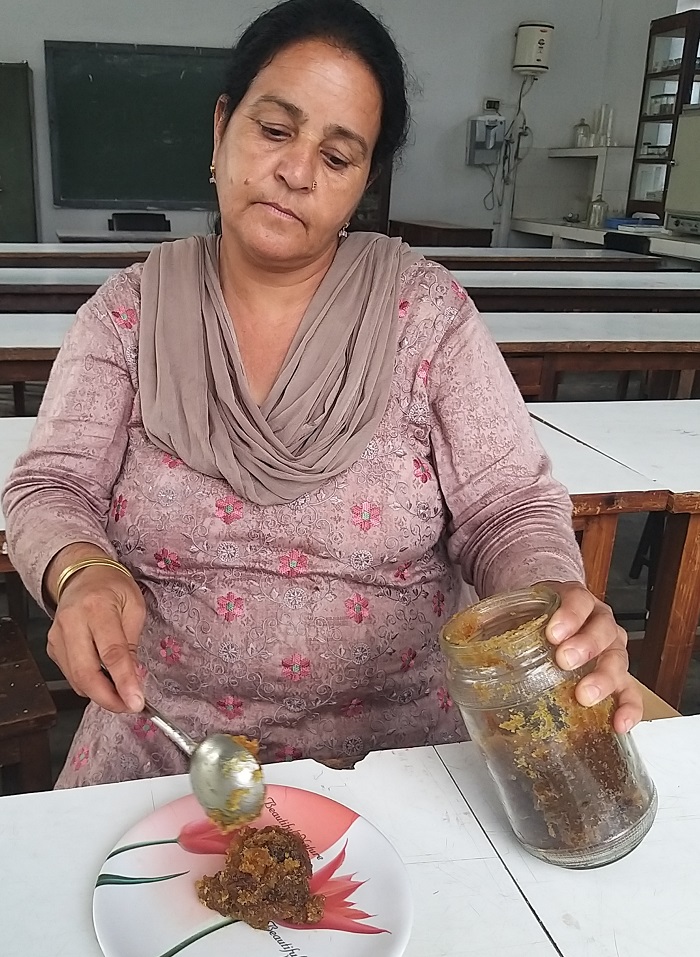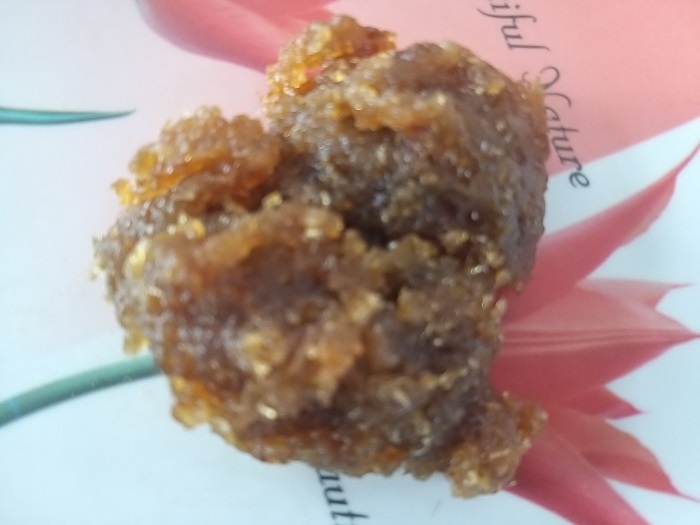 Ambla fruit BHALE and BADIYAN:
Ingredients:
Ambla fruits,1 kg; cumin seed, 3-5 table spoon; ajowan caraway seeds, 6-8 table spoon; red chilies powder, 4-5 table spoon; mint leaves (Mentha piperita), 1 cup amount; curry (Murraya koeingii) leaves, 1 cup amount, salt, according to taste.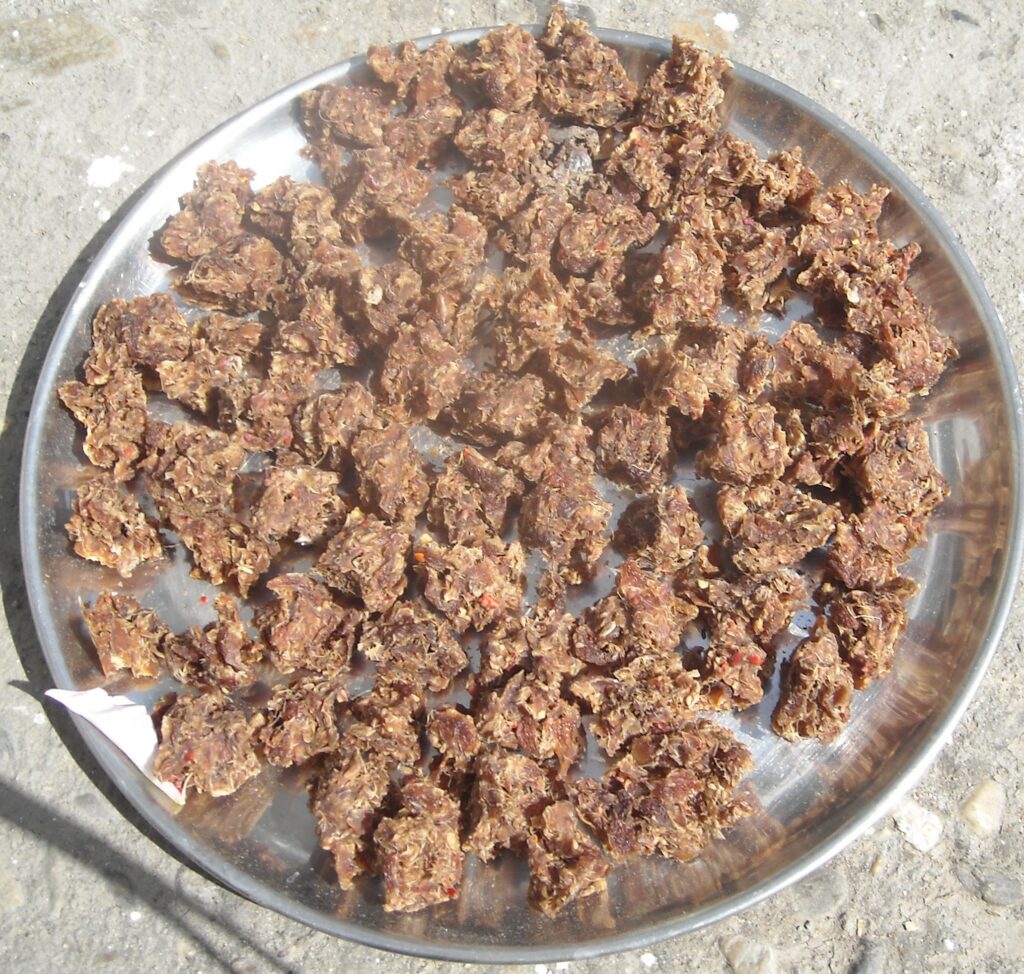 Method:
Boil fruits till they are soft. Mesh them manually and make paste of mashed fruits and spices. Mix mint and curry leaves to this paste. Now either prepare BHALE or BADIYAN (small rounded tablets) and dry in full sunlight. BHALE or BADIYAN prepared in this way are stored for off season.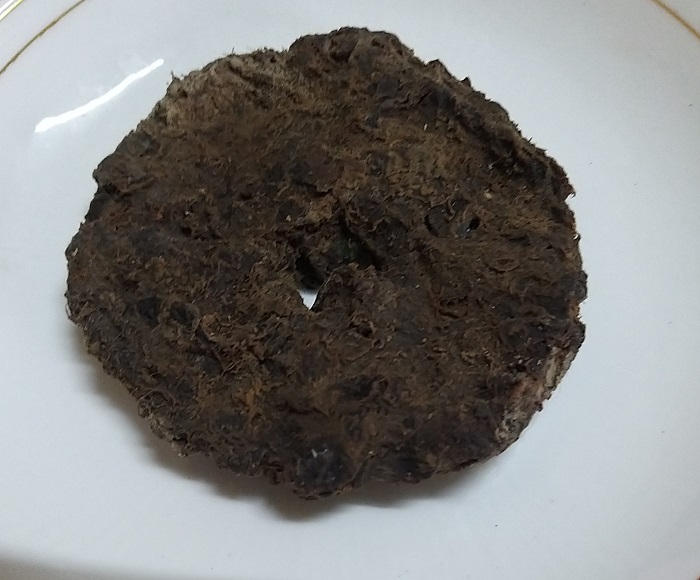 Ambla Juice and Ambla Candy:
Ingredients:
Ambla fruits, 1 kg; sugar, 1kg; cumin seed, 3-5 table spoon; ajowan (carom seeds), 6-8 table spoon; black pepper powder, 1/2 tea spoon, black salt, 1/2 tea spoon.
Method:
Steam cook ambla fruits till they are soft to be deseeded manually. Now mix equal amount of sugar to deseeded boiled ambla and keep in shade for next two days. Juice start draining out. Collect and stain this juice in a ceramic jar or bottle and serve.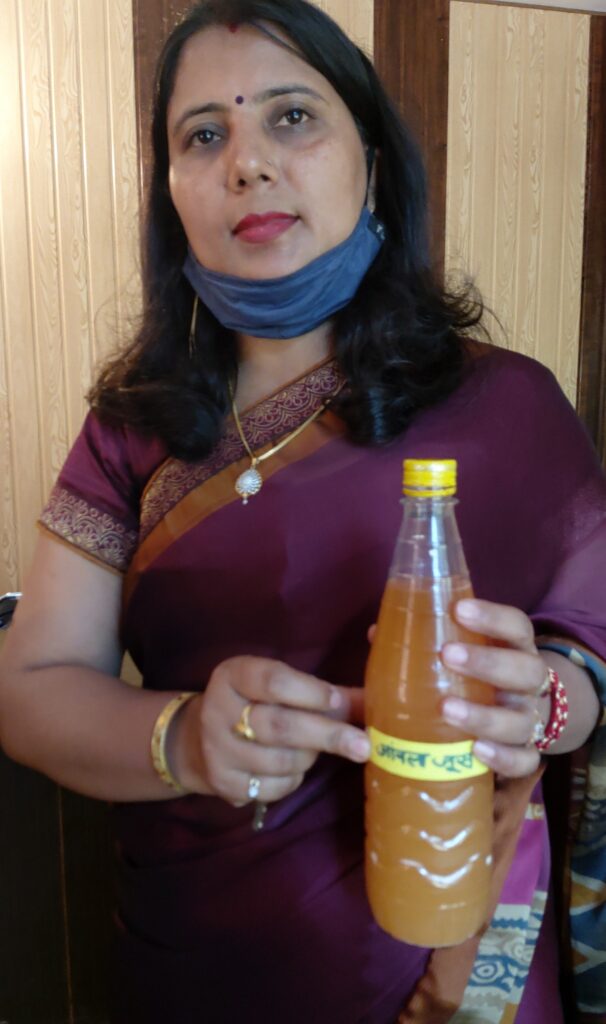 Mesh manually left deseeded ambla. Mix well with spices listed above to make a fine paste. Prepare candy in the form of tablet from this paste and sundry for 1-2 days. Candy prepared like this can be preserved and used round the year.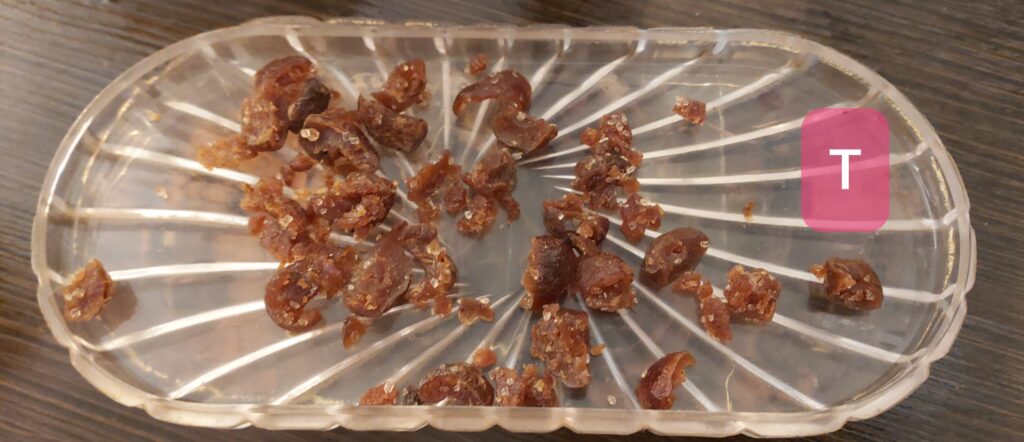 Nutrient Value:
100 g of raw fruits contains carbohydrates,10g; moisture, 86g; fats, 0.5g; protein,1g; gallic acid, 3012.5mg; Vitamin C, 478 mg; E, 0.16mg; Ca, 25 mg; Fe, 0.9 mg; Mg,10 mg; P, 21 mg; K ,198mg; Na,13 mg; Zn, 0.12 mg; Cl, 25.6mg1.
Seek advice from a professional before using this plant medicinally.
Medicinal Uses:
The root bark is astringent, and is useful in ulcerative stomatitis and gastrohelcosis. The bark is useful in gonorrhoea, diarrhoea and myalgia. The leaves are useful in conjunctivitis, inflammation, dyspepsia, diarrhoea and dysentery. The fruits are sour, astringent, bitter, acrid, sweet, cooling, anodyne, ophthalmic, carminative, digestive, stomachic, laxative, adulterant, alexiteric, aphrodisiac, diuretic, antipyretic, tonic. They are useful in vitiated conditions of tridosa; diabetes, cough, asthma, bronchitis, ulcer, skin diseases, leprosy, inflammations, anaemia, jaundice 2. Local people use dried and powdered ambla fruits to check baldness and hair fall along with mustered oil heated in slow flame. Amla inhibit the growth and spread of different types of cancer like, breast, pancreases, liver, uterus,stomach and malignant as cites. It also reduces the side effect induced by chemotherapy and radiotherapy, which generally used for the treatment of cancer 3 .
Chemical constituents:
The major amino acids present are; alanine, aspartic acid, glutamic acid, lysine, and proline, analysis of fresh fruit pulp gave moisture, protein, fat carbohydrates fibre, minerals, iron, niacin, and vitamins fruit ash contain; chromium and copper 2.
Spiritual Uses:
Fruits, wood and whole tree of ambla is considered sacred and worshipped by local people in different parts of Western Himalayas. Fruits are worshiped during Kartik Poornima fasting. On this day ambla fruits are floated during evening hours in water bodies like ponds, streams and rivers along with walnuts, droove grass (Cynodon dactylon), flowers and lightened earthen lamp (Diya) in leaf container bowl of tour (Bauhinia vahlii) or taryambal (Ficus auriculata) called as Doonu in local language.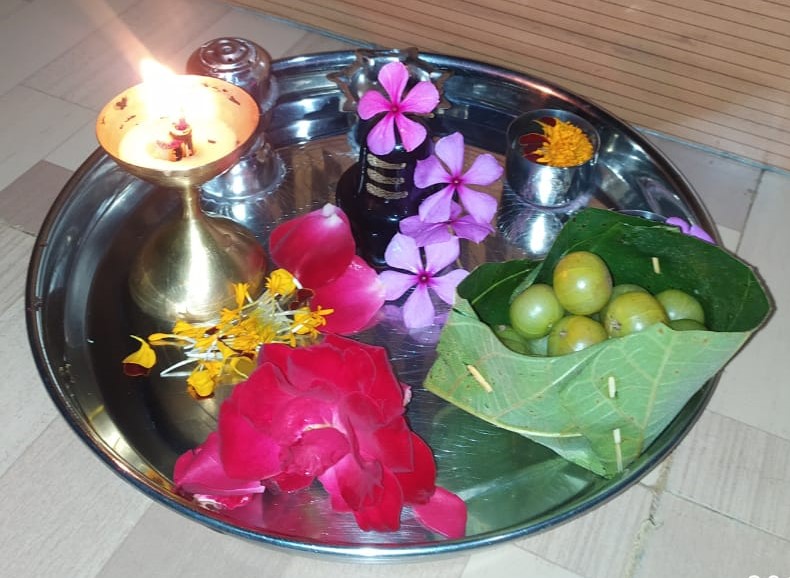 In old days Dal khichdi is prepared under the ambla tree, but later on people used to bring fruits laden branches and kept them some distance above cooking container as a symbol of ambla tree, this Dal khichdi is known as amble thale rikhichdi in local dialect . kids were also used to prepare this Dal khichdi during their play under the tree, but now days this practice seems to be extinct. Wood of ambla tree is also considered sacred by locals and they use it along with wood of Plakhre (Butea monosperma) and Chandan (Santalum album) in HAWAN and in cremation ceremony.
Amble fruits are also used for worshiping Tulasi along with Sugarcane stem during Tulasi Vivaha .
Tulasi Vivaha is the marriage of the holy basil (Ocimum sanctum a sacred plant for local people) to the Hindu god Shaligram or Vishnu.The Tulsi wedding signifies the end of the monsoon season and the beginning of the wedding season. This marriage ceremony of Tulasi is performed in Kartik Poornima.
Other Uses:
Young branches of ambla tree are lopped as a fodder at the time of fodder scarcity after fruiting period in winter season. Branches left after cattle feed are dried and used as fuel. The bark, as well as the roots, leaves and immature fruits, are highly valued as a source of tannins 4 . the leaves are used for dyeing matting, bamboo wickerwork, silk and wool into brown colors. Grey and black colors are obtained when iron salts are used as mordants 4 .Matting can be dyed dark colors with a decocction of the bark 4. The fruits are used to prepare a black ink and a hair dye 4 .Branches and chips of the wood are thrown into muddy streams to clear the water and to impart a pleasant flavour4.A fixed oil derived from the fruit allegedly acts as a hair-restorer and is used in shampoos in India 5 . A most curious custom is the making of simulated pottery jars from a paste of the boiled fruit, the surface being decorated with impressed coloured seeds 5 .The red wood is close-grained, fairly heavy, hard but flexible, though highly subject to warping and splitting. It is used for minor construction, furniture, implements, gunstocks, hookahs and ordinary pipes 4 . Very durable when submerged and believed to clarify water, it is utilized for making crude aqueducts and inner braces for wells 4. .
Ambla source of Income: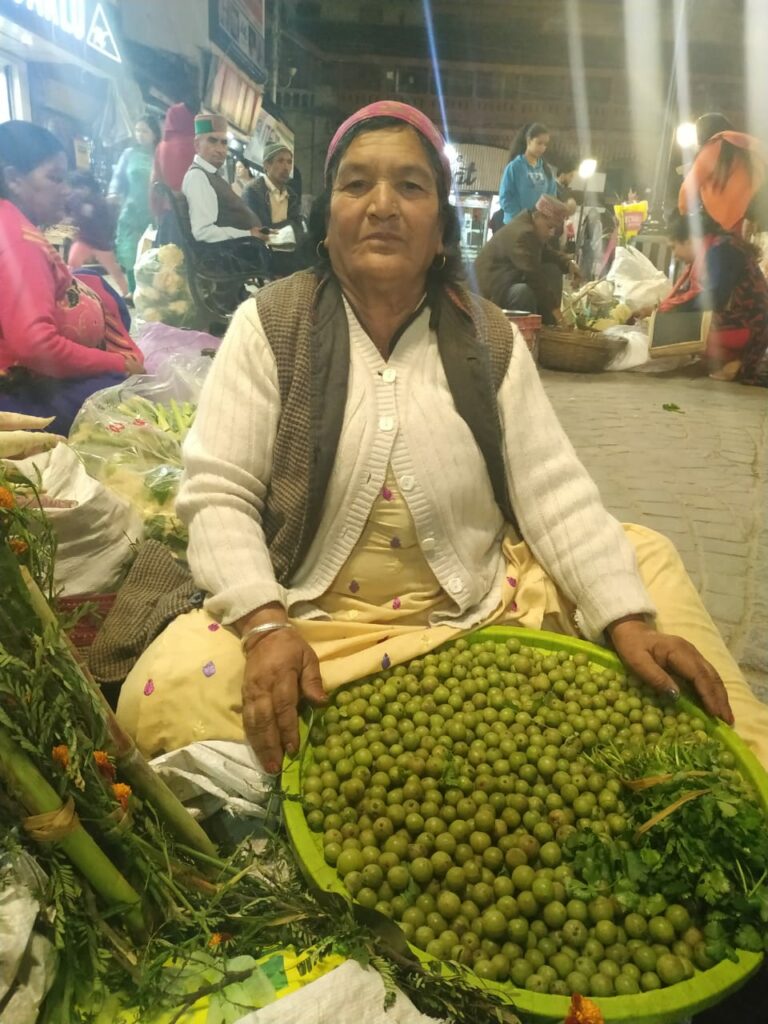 Raw and processed ambla fruits are good source of earning for local people. Raw fruits are sold at the cost of Rs 80 to 150 par kg depending upon fruits quality. Ambla fruits pickle, jams and mooraba are also sold by members of various Self-help groups at the cost of 200 to 300 Rs par kg.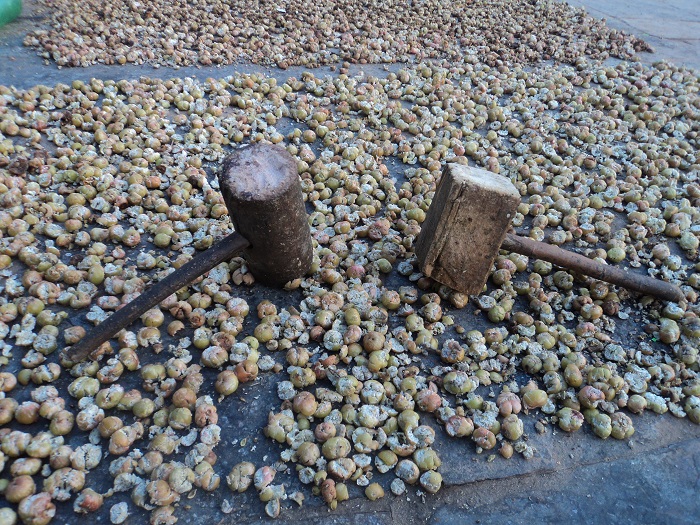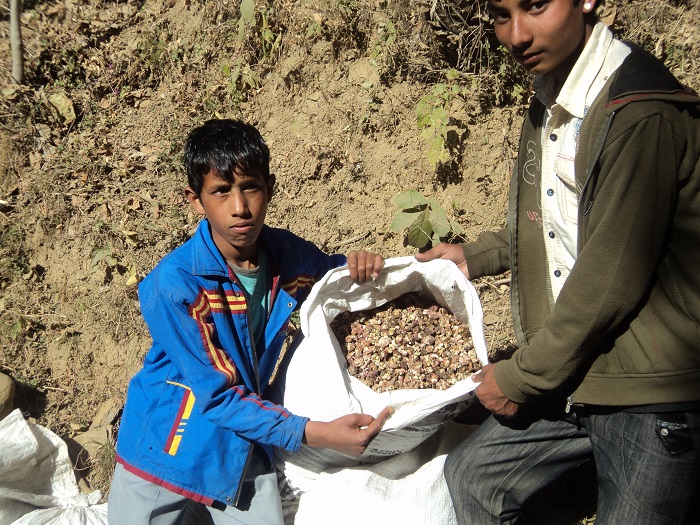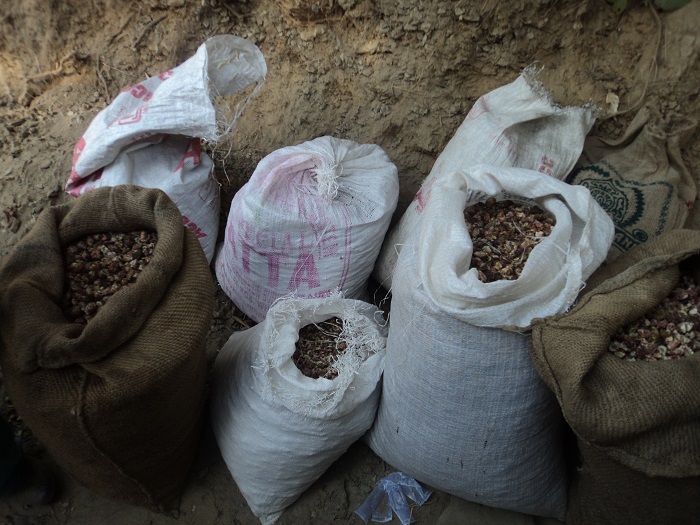 References:
1.Santhi Sri, K. V., Rajamani, S. and Simhadri, S (2017):Amla, a Marvelous Fruit for Type -2 Diabetics-A Review. International Journal of Current Microbiology and Applied Sciences ISSN: 2319-7706 Special Issue-5 pp. 116-123.
2. Purohit SS, Sharma AK, Prajapati ND, Kumar T. A handbook of medicinal plants: a complete source book. Edition. 2009;2:352-3.
3. Jeena KJ, Kuttan G, Kuttan R. Antitumour activity of Emblicaofficinalis. J Ethnopharmacol. 2001; 73(2-3):65-9.
5.http://www.worldagroforestry.org/