Family: Lamiaceae or Labiatae
Synonyms: M.spicata, M.sylvestris M. royleana.
Common Name: Lamb mint. Horsemint
Local Name: Jangli Pudina (जंगली पुदीना). Pahari Pudina.
Jangli- Pudina is a fast-growing, perennial herb, commonly seen growing along water bodies, nallahs, stream, around irrigation channels and waste wet places up to an altitude of 1200-3000 m in Western Himalaya.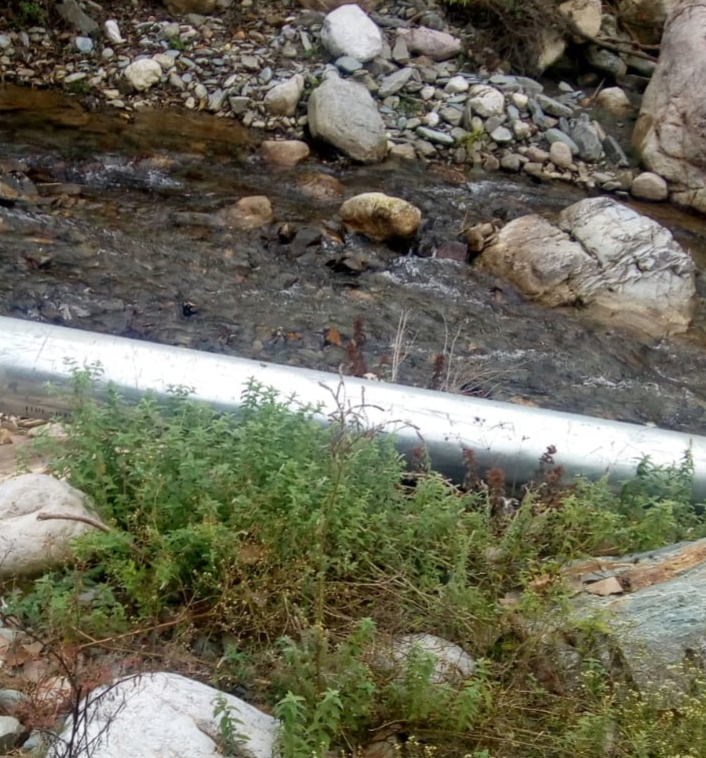 It can also grow in woodland garden, sunny edges; dappled shady places; shady edges and cultivated beds;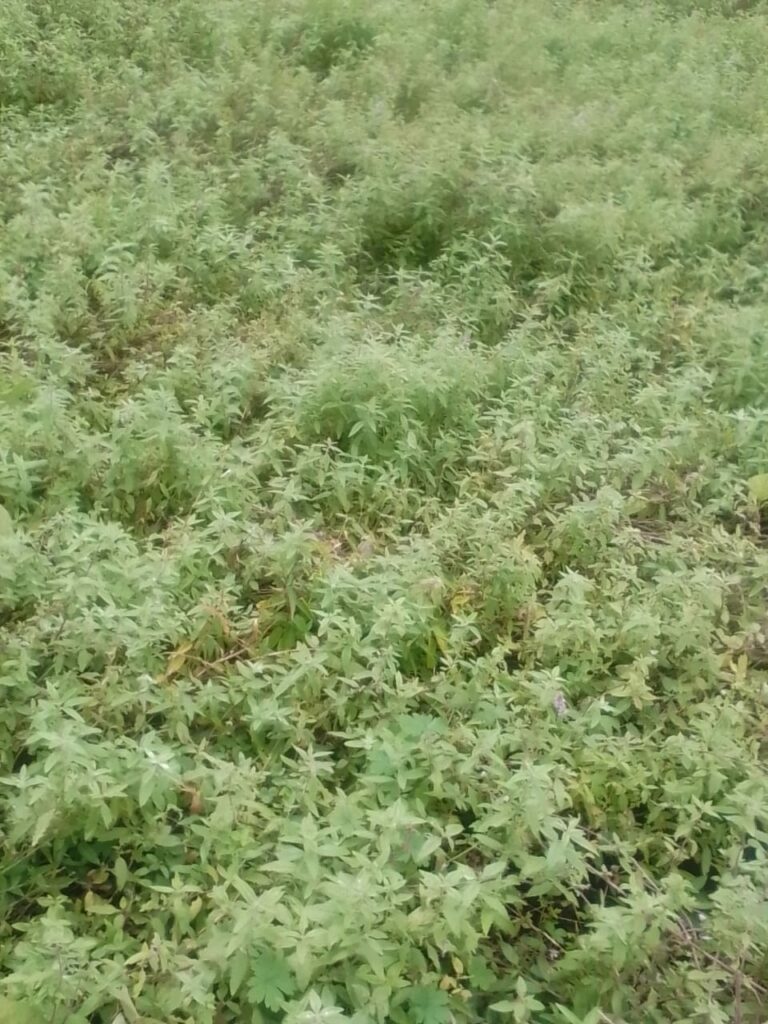 Leaves and flower heads of jangli-pudina are edible and used both raw and dried in various culinary preparation. These are also used as a carminative and stimulant in Indian system of medicines. When used in culinary preparation they are generally used as a flavoring agent in salads, jellies, soft drinks as well as in cooked food. Leaves of jangli-pudina are made into chutneys and herbal tea. Their decoction is used to treat cough and cold by inhabitants of Western Himalayas.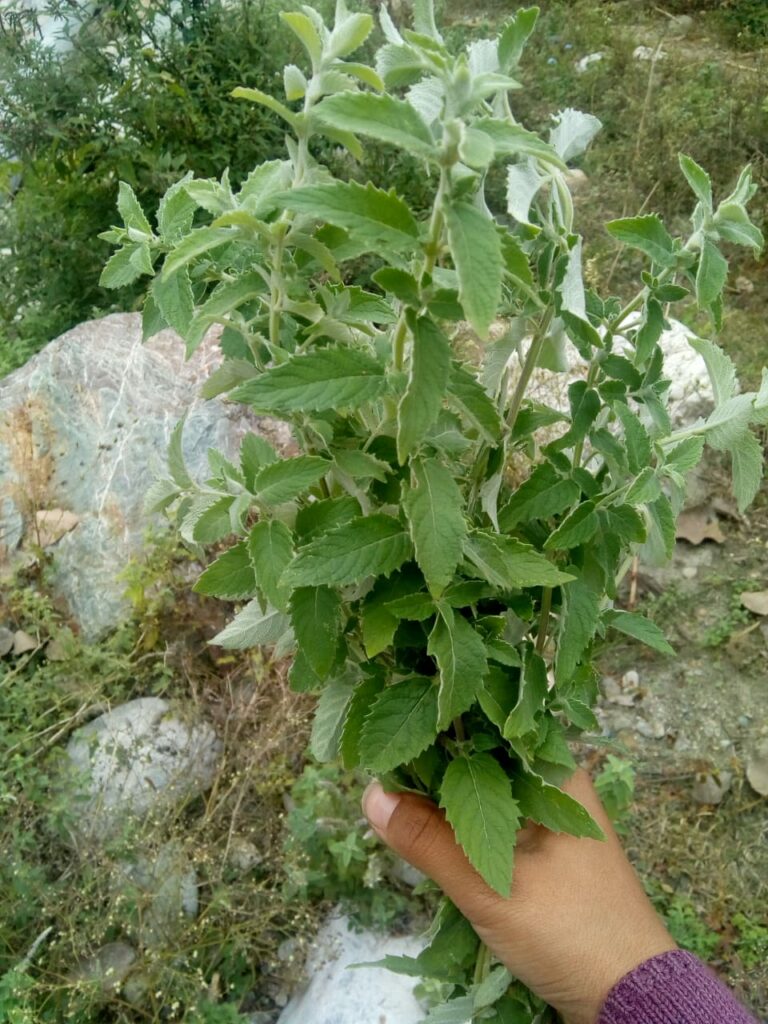 Local people harvest jangli-pudina from wild habitat as source of food and medicine. It is also a source of oil which is used to flavor chewing gum and candy, non-alcoholic beverages, baked goods, gelatin and puddings, ice- creams etc. 1. Local people used dried leaves of jangli pudina to protect and preserve whole seed grain from insects and pests during storage.
Jangli- Pudina Plant:
Plant erect or diffuse strongly aromatic, hoary- tomentose, perennial herbs up to 30- 90 cm high.
Rootstock underground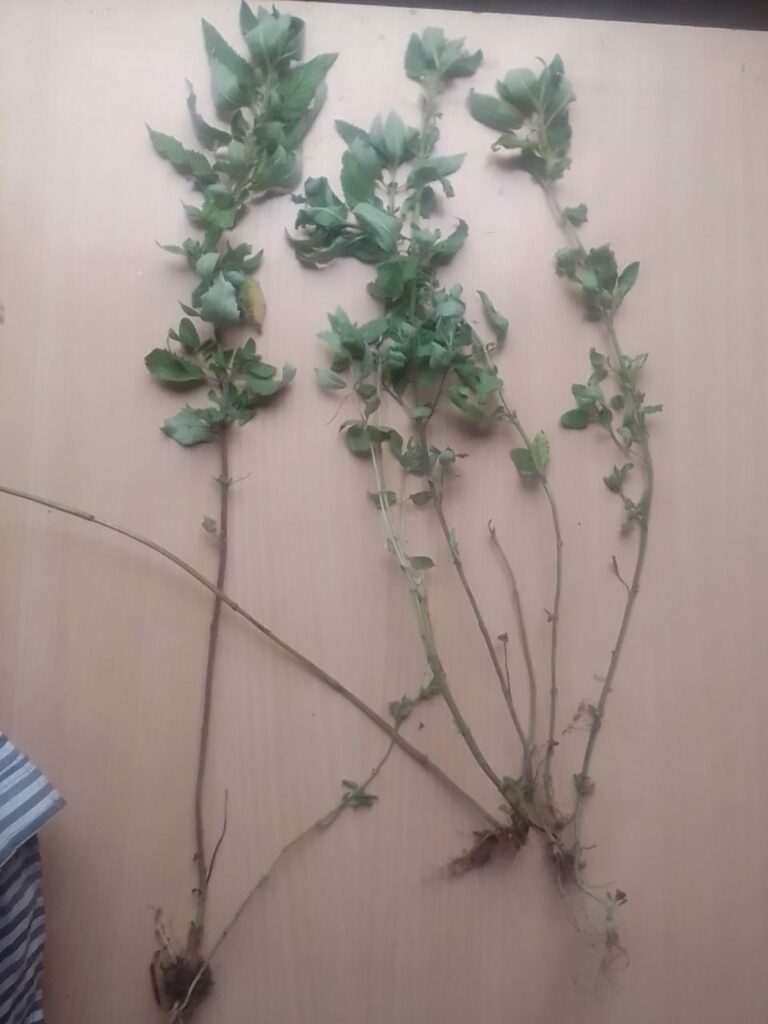 Leaves shortly etiolated, 3-8 cm long, lanceolate or ovate to oblong, acute, sharply toothed, rounded or cordate at the base, hoary- tomentose above, white- tomentose beneath.
Flowers 3 mm across, lilac, in whorls, forming slender, 2.5-8 cm long spikes often interrupted below, borne at the end of the branches and forming a lax, densely hairy inflorescence. Calyx bell- shaped, acutely 5- toothed. Corolla- tube as long as calyx; limb erect, 4- lobed; lobes nearly equal. Stamens 4, exserted.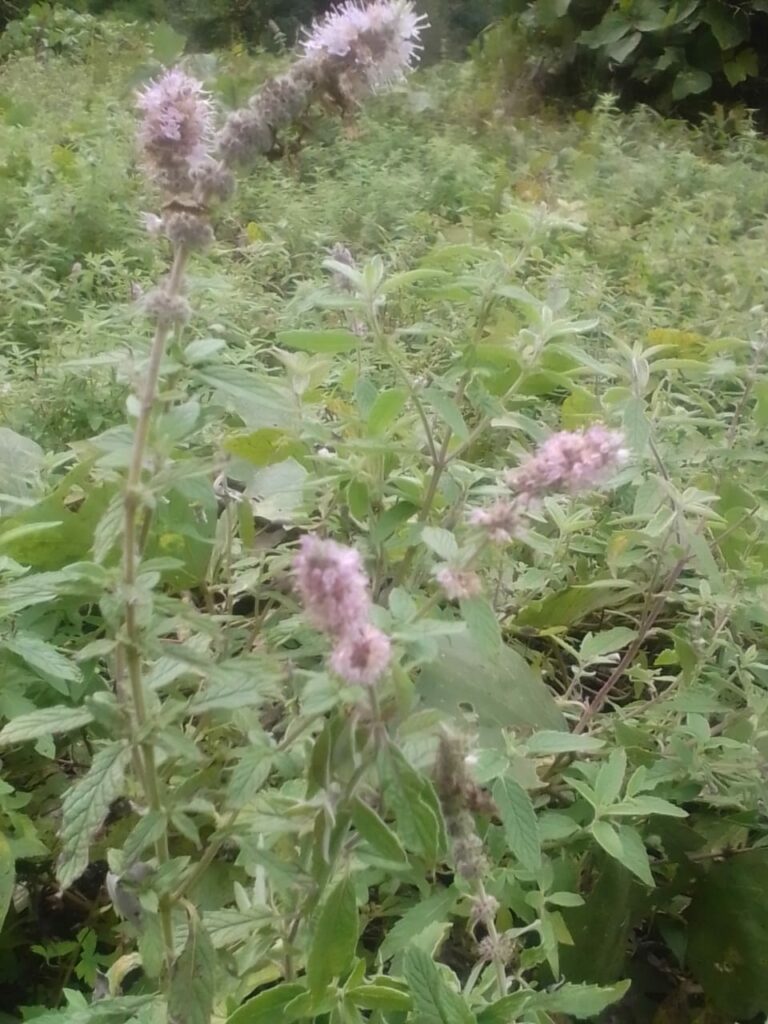 Nutlets reticulate.
Edible leaves of jangli – pudina can be harvested round the year, while flowers between September to November end.To ensure sustainable harvesting remove sensible plant parts in phase manner from different habitat.
Edible Uses:
Whole plant, leaves and flowers of jangali -pudina are useful for various culinary preparation. These are mainly used as a flavoring agent. Leaves of jangli pudina are widely used for making 'Chutney'. Leaves and flowers are used both fresh and dried. Herbal tea called 'Masala Tea' is also prepared from fresh or dried leaves. It is usually taken in winters for harvesting its medicinal and aromatic properties.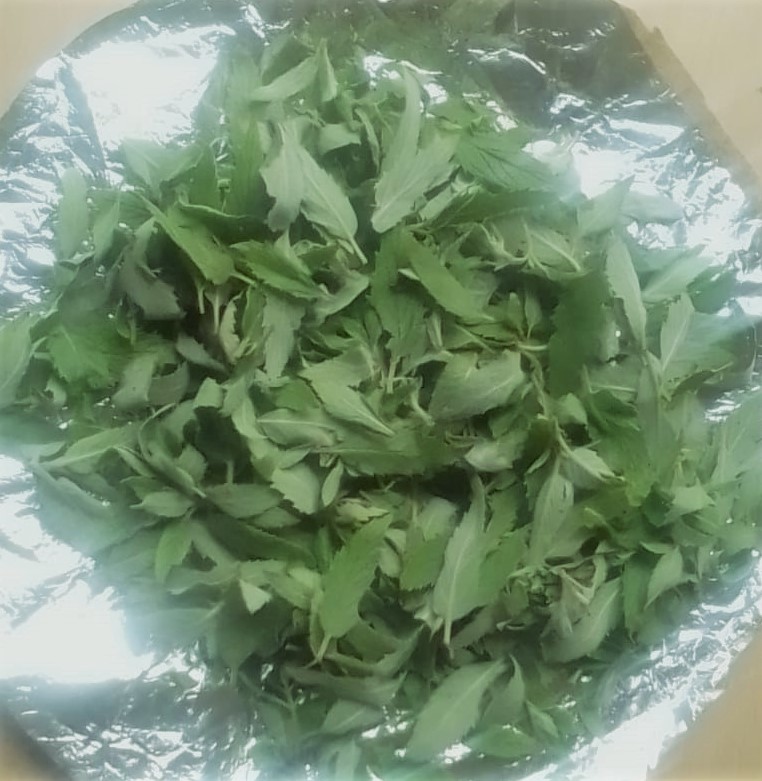 Jangli- Pudina Chutney:
Ingredients:
Fresh or dry jangli pudina leaves, 250 g; anardana, 100 gm; red chillies, 5-8; medium sized chopped onions, 1-2; sugar.1 tea spoon and salt, according to taste.
Method:
Chutney is normally prepared from fresh leaves, but can also be prepared from dried leaves during the off season. For preparing chutney, grind all the ingredients in a mixer except sugar and salt. Take out this mixture in a deep container then add salt and sugar. Now jangli pudina chutney is ready to serve.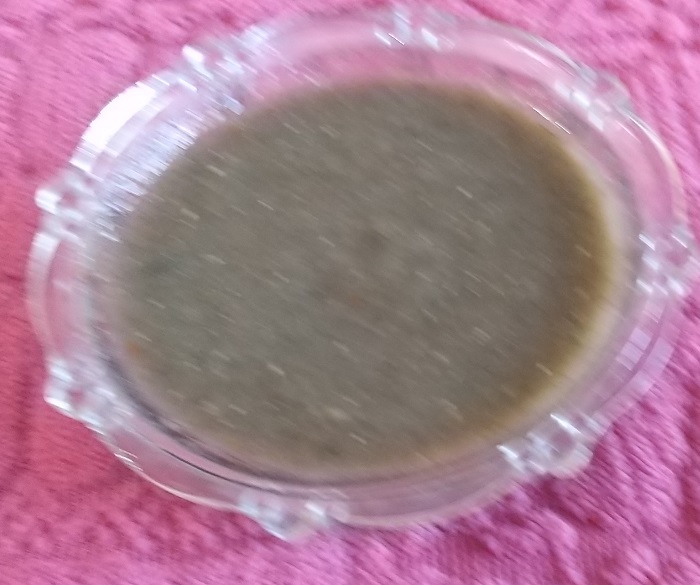 Tea (Masala Tea):
It is one of the most popular hot beverages in Western Himalayas and is a widely accepted social drink for all types of meetings and gatherings. Tea can be prepared with milk or milk powder and tea powders. The key ingredients for milk 'Masala Tea are cardamom, cinnamon, clove and leaves of jangli pudina.
Ingredient:
Milk, 2 cups; ginger piece,1/2″; cardamom,1; clove,1; tea powder (chai patti), 2 teaspoons; water, 1/4 cup; sugar, 3 teaspoons. Cinnamon leave/ bark powder,1/4 teaspoon; jangli pudina leaves, 6-8.
Method:
Boil water in a saucepan. Crush cardamom, ginger and clove using mortar and pestle or grinder to a medium coarse powder. Add this to boiling water, also add meetha patta powder, jangli pudina leaves, sugar and tea powder. Boil it for 3-4 minutes on medium flame. Add milk to it and boil it over medium flame for 6-7 minutes or until bubble starts to rise. strain tea in cups and serve.
Seek advice from a professional before using this plant medicinally.
Medicinal Uses:
Inhabitants use leaf decoction of jangli pudina to treat coughs, colds, asthma and other respiratory ailments like, headaches, fever, indigestion, flatulence etc. Powered plant parts are useful in general eye diseases, half – one g twice a day for 8-10 days 2.The plant is astringent to the bowel, anthelmintic, useful in diseases ofthe heart, bronchitis, loss of appetite, diarrhea and dysentery 4.
Chemical constituents:
Essential oil yields diospherol, piperitenone oxide, diosphenolene, piperitone, limonenea and cineol 3.
Other Uses:
Inhabitants of Western Himalaya use dried leaves of jangli -pudina to protect stored whole grain from insects and pests.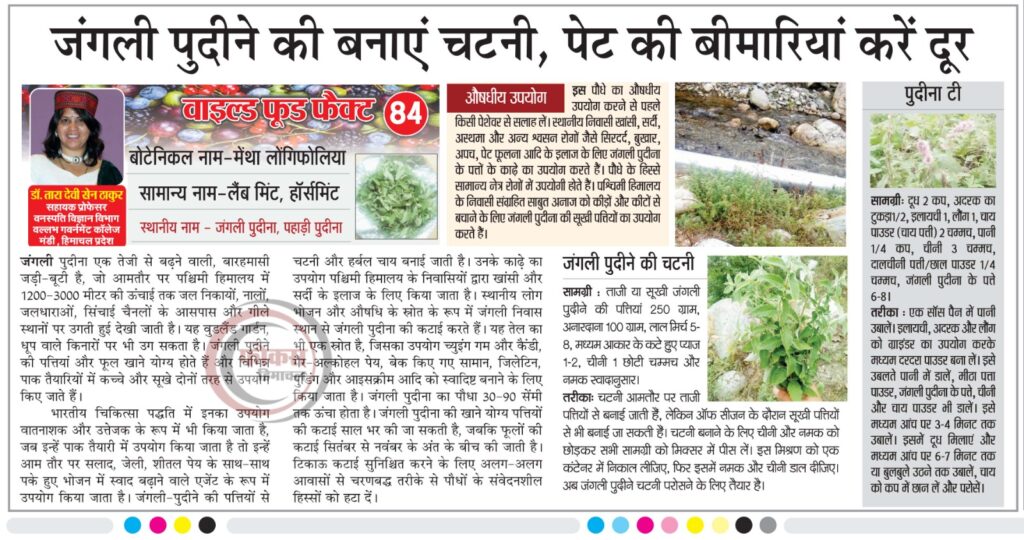 Reference:
1.Purohit SS, Sharma AK, Prajapati ND, Kumar T. 2009;A handbook of medicinal plants: a complete source book. 2:352-3.
2.Sood SK, Thakur S.( 2004): Ethnobotany of Rewalsar Himalaya. Deep Publications.
3.Chopra, J. S., Hurwitz, L. J., & Montgomery, D. A. D. (1969): The pathogenesis of sural nerve changes in diabetes mellitus. Brain, 92(2), 391-418.
4.Kirtikar KR, Basu BD. (1935); Indian Medicinal Plants, Vol. 1-4. Lalit Mohan Basu, Allahabad.