Family: Lythraceae
Synonym: Punica grandiflora.Punica nana, Punica spinosa,Rhoea punica, Punica florida.
Common Name: Pomegranate
Local Name: Daadu(दाडू),Anardana, Dadim, Dadima,
Daadu is a deciduous spiny, shrub or small tree of Western Himalayas. It is a deep-rooted and slow-growing plant having an open canopy and branched crown. Daadu is commonly seen growing around stony slopes, hills, roadsides, edges of agricultural fields and in scrub forest, upto an altitude of 2500 m in Western Himalaya. Plant grows well in sunny, fertile and well-drained habitat.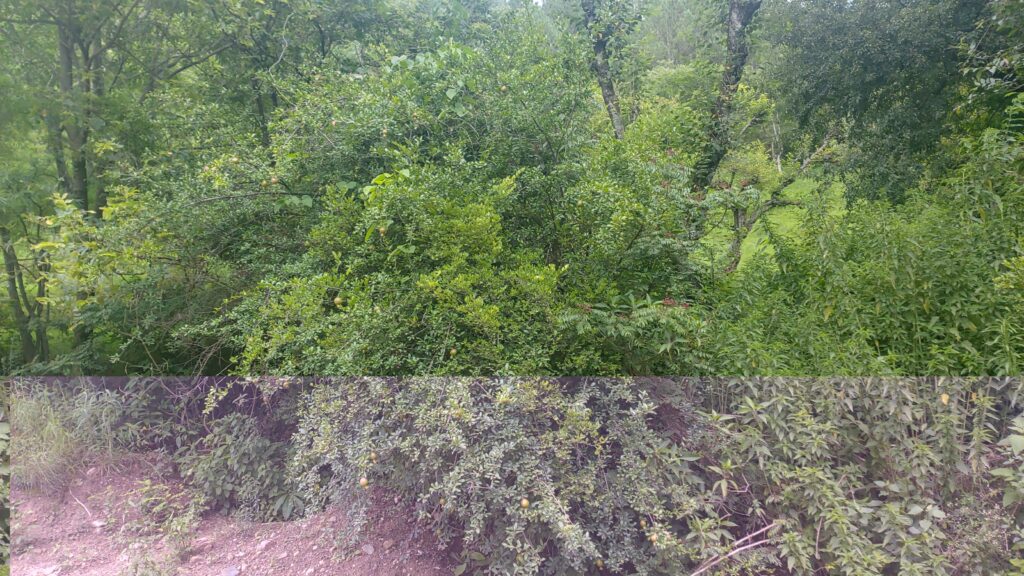 Fruits of daadu are edible both raw and cooked. Their dried seeds are source of "Anardana", which is used for making chutney and as souring agents in various traditional preparations. Bark and rind of daadu fruits yields vegetable tannin which is useful in Indian systems of medicine against diarrhea, dysentery, worms etc 1.
People of Western Himalaya harvest daadu from wild habitat as a source of food and medicine. Plant is also cultivated sometimes for its edible fruits. It is usually grown as a live fences because along with a excellent source of anardana, spine present in daadu are helpful to exclude cattle from agricultural land. Plant is considered sacred and worshipped during marriage ceremonies.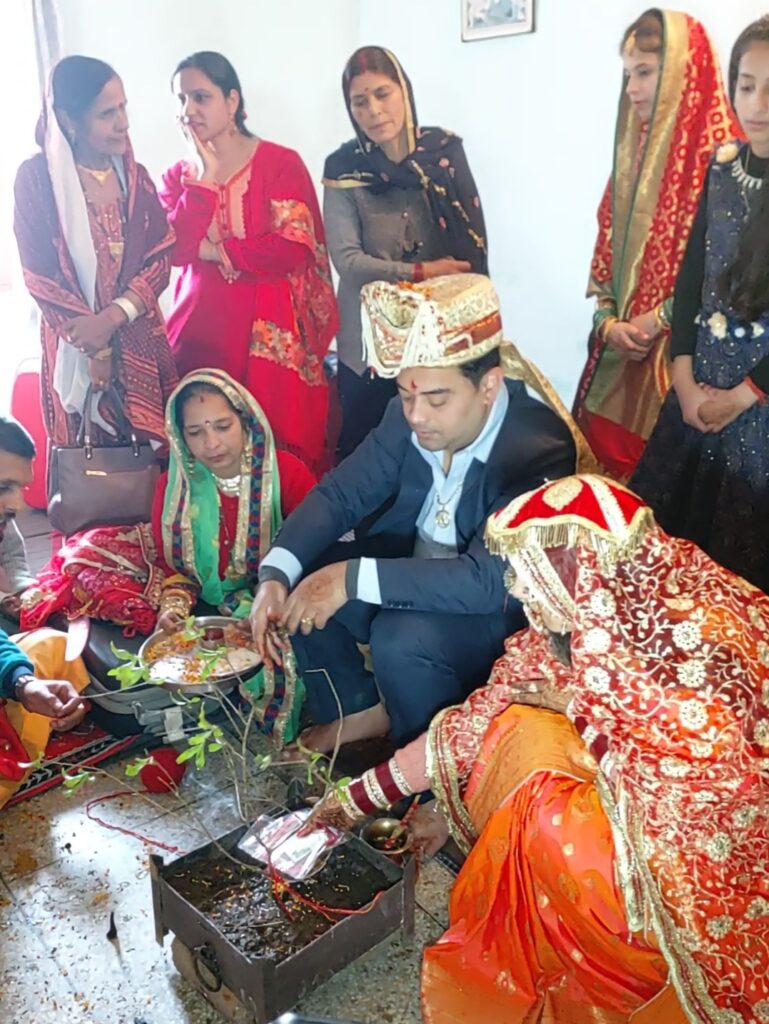 Daadu Plant:
Plant is deciduous shrubs or small trees, slow-growing, deep-rooted with an open canopy and branched crown. 4-10 m tall.
Twigs and branches smooth, often ending in spine.
Leaves opposite, oblong, obovate or oblanceolate, 2-8 cm long, glabrous, entire, shining.
Flowers bright red or vermilion red, 3.5-4.5 cm long, terminal, solitary or 2-3 together. Calyx scarlet, 2-3.5 cm long, tubular. Petals 5-7, scarlet, obovate, wrinkled. Stamens numerous.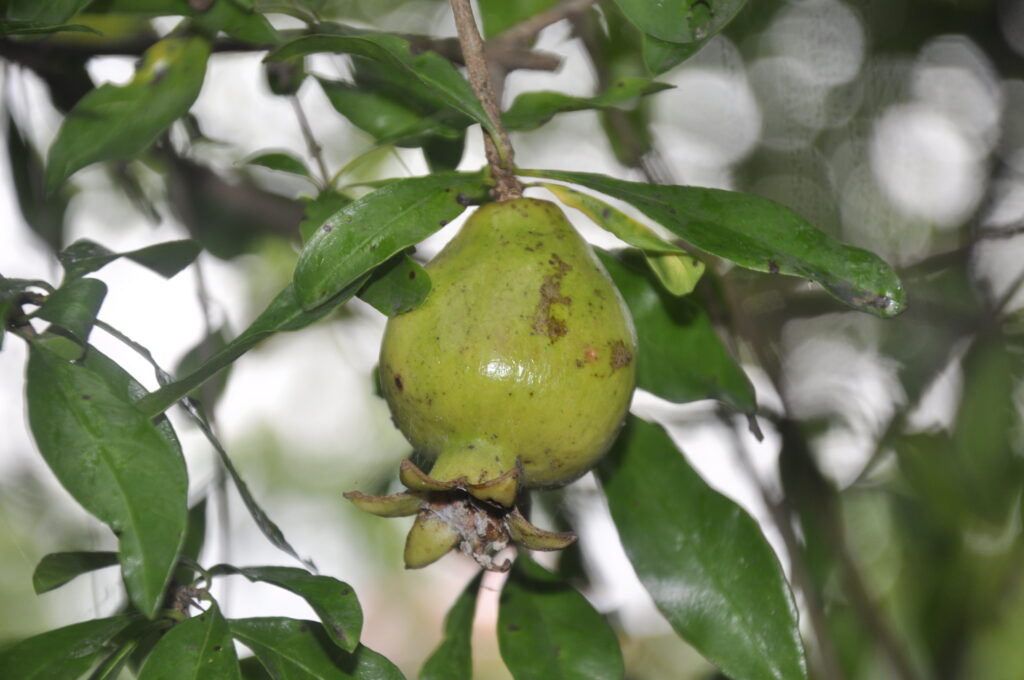 Fruits 4-8 cm across, reddish- brown, globose.
Seeds are angled; aril filled with an acidic or sweet juice.
Daadu can provide edible fruits from rainy season to pre winter season of the year.Its plantation should be encouraged in forests surrounding villages or community land during tree plantation programme to lessen monkeys menace, which is a big threat to agriculture in Western Himalaya.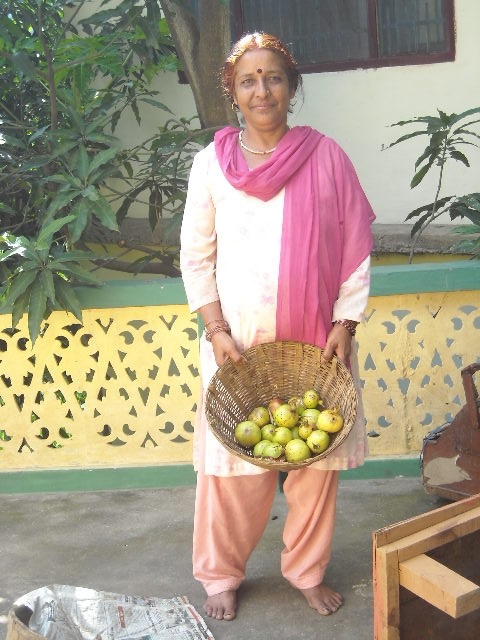 Edible Uses:
Seeds of daadu are edible and eaten both as raw and cooked. The fresh seed of daadu are soft and can be eaten raw. Seeds are also dried and used as anardana . This anardana is used to prepare chutney. This anardana chutney is widely used and admired by locals due to its unique taste and cooling effect on body. Flowers are also used sometime for making chutney.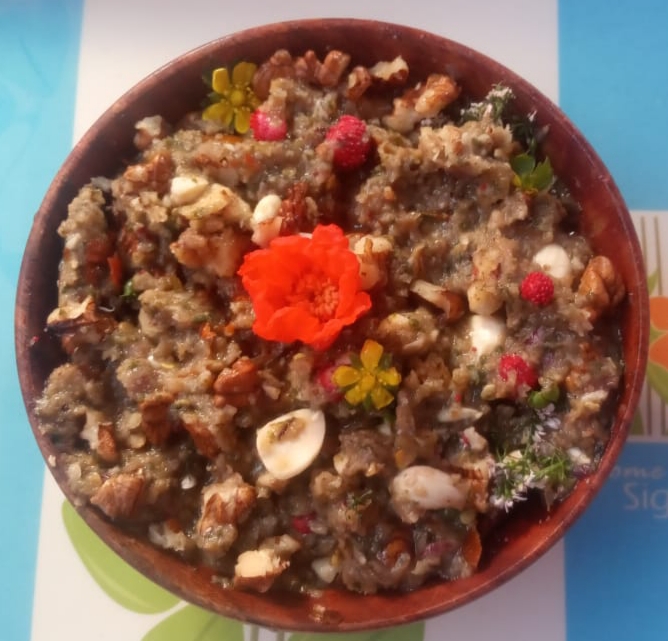 Anardana chutney is also served in Dhava, restaurants etc. Anardana is also used as a souring agent to prepare a large number of traditional dishes like Lassura (Cordia obliqua) vegetable, Aloe veera vegetable and patrodu of colocassia leaves etc. The fruit juice can be used in soups, sauces, jellies, ice cream, cakes etc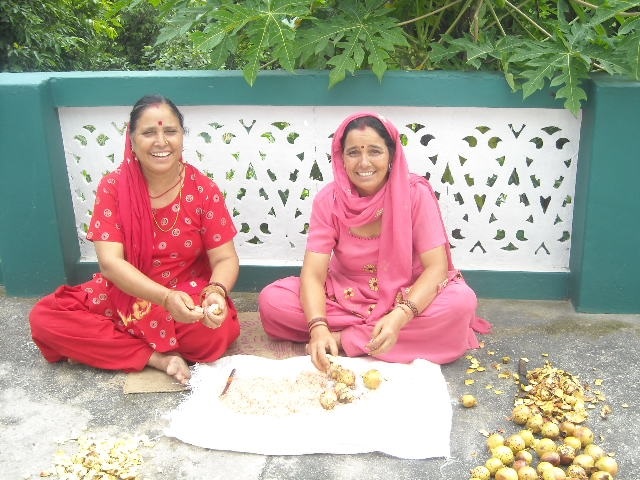 chutney:
Anardana is used as a cooling agent and mainly used in chutney as a souring agent. Here recipe of Burans flowers and anardana chutney is given.
Fresh or dry Burans flowers petals (Rhododendron arboretum) / Koogas leaves (Urtica parviflora or U.dioca) / Dhave flower ( Woodfordia fruticosa) , 250 g; fresh mint (poodina) leaves, 150 gm; anardana, 100 gm; red chillies, 5-8; medium sized chopped onions, 1-2; sugar.1 tea spoon and salt, according to taste.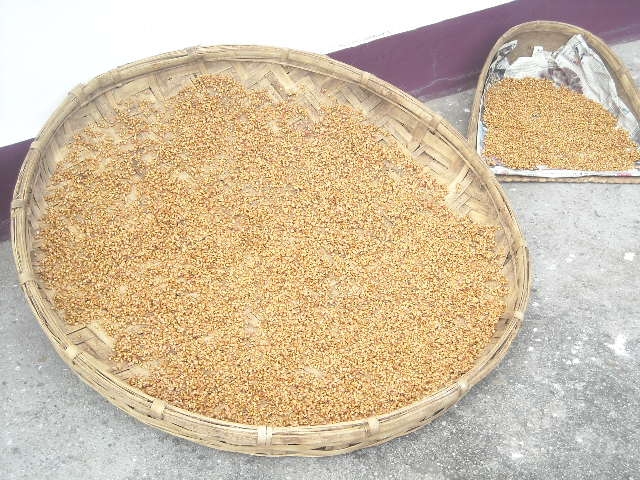 Method:
Chutney is normally prepared from fresh flowers petal known as barah ki chutney in local dialect, but can also be prepared from dried flower petal during the off season.
For preparing chutney, grind all the ingredients in a mixer except sugar and salt. Take out this mixture in a deep container then add salt and sugar. Now chutney is ready to serve.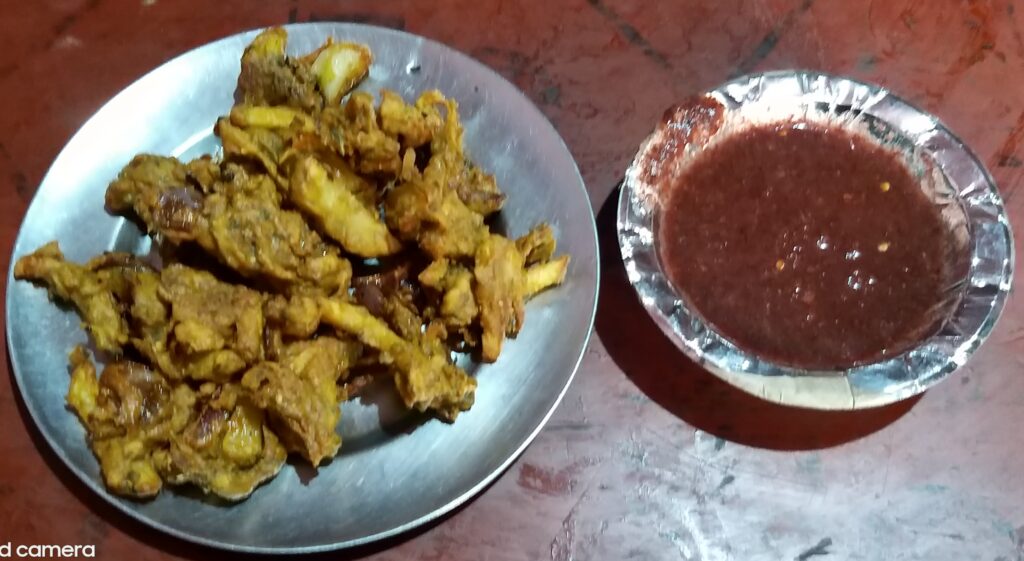 Nutritional value of raw fruits:
Serving Size: 1 Cup, 174 g
Water 135.6 g, Energy 144 Kcal, Protein 2.91 g, Total Fat (lipid)2.04 g, Ash 0.92 g, Carbohydrate 32.54 g, Total dietary Fiber 7 g, Total Sugars 23.79 g, Calcium 17 mg, Iron 0.52 mg, Magnesium21 mg, Phosphorus 63 mg, Potassium 411 mg, Sodium 5 mg, Zinc, Zn 0.61 mg, Copper 0.275 mg, Manganese 0.207 mg, Vitamin B1 (Thiamin) 0.117 mg, Vitamin B2 (Riboflavin) 0.092 mg, Vitamin B3 (Niacin) 0.51 mg, Vitamin B5 (Pantothenic acid) 0.656 mg, Vitamin B6 (Pyridoxine) 0.13 mg, Vitamin B9 (Folate) 66 µg 6.
Seek advice from a professional before using this plant medicinally.
Medicinal Uses:
Local people make paste of fruits rind and apply on food heel to cure cracks. A decoction of the seed is used to treat syphilis2. Juice of the fruits is used to treat jaundice and diarrhea2. The rind of the fruits is ground in waters and drunk every morning by diabetics2. The fruit together with the juice of Cynodon dactylon leaves is used for runny noses and olds2. The juice of the flowers is used to treat nose bleeds2. The fruits pulp and the seed are a stomachic2. The root and the stem bark have astringent and anthelmintic properties 2. Seeds juice considered useful as a cardiac tonic 3. Powdered bark used to expel worms from the body; 1 teaspoon once every morning for 3 days3.
Chemical constituents:
Apigenin glucoside, betulinic acid, callistephin, tannins chrysanthemin, coniine, coumestrol, cyaniding and its diglucoside, cyanin, diadzein, dolphiniin and its glucosides, ellagic acid and its deriative, estrone, freidelin, gallic acid, genistein, lipids, hygrine and norhygrine, luteolin gyycosides, mannitol, pelargonin, pelletierine and its derivative, piperdine derivatives, polyphenols, sedridine, xanthoxylin, estradiol2.
Spiritual Uses:
Daadu is considered a sacred plant in many parts of Western Himalaya. People worship this plant during marriage ceremonies. Marriage is considered complete after worshiping of any one ot three plants (Daadu/Peepal/Banyan tree) by bride and broom. This worship is known as Bharyadi poojan in local dialect
Other Uses:
Daadu is planted by local people of Western Himalaya as a live fences because spine present in daadu are helpful to exclude cattle from agricultural land. A deep rooting tree, it is important in soil erosion control, and is planted along rivers to stabilize banks 4. A drought tolerant tree, it is suitable for arid and semi-arid zone reforestation4.The leaf litter decomposes slowly and is suitable for mulching4.The plant is also used in water purification schemes4.Plants are grown as hedges in Mediterranean climates 5. Their wind firm stature makes them a good wind break4.
Daadu as a source of income:
Dried seeds of daadu anardana is a good source of earning for local. They can earn Rs 400 to 500 /kg by selling anardana.
References:
1. Singh PB. (2018). Flora of Mandi district. Himachal Pradesh: North West Himalaya.
2. Purohit SS, Sharma AK, Prajapati ND, Kumar T. (2009); A handbook of medicinal plants: a complete source book. 2:352-3.
3 Sood SK, Thakur S (2004). Ethnobotany of Rewalsar Himalaya. Deep
4. Publications.http://www.worldagroforestry.org/
5. Huxley. A. (1982); The New RHS Dictionary of Gardening. 1992. MacMillan Press publisher ISBN. 0-333-47494-5
6. https://www.healthbenefitstimes.com/health-benefits-of-pomegranate.