Family: Malvaceae
Synonyms: Malva rhombifolia, Sida alba, Sida compressa,Sida insularis
Common Name: Broom Jute
Local Name: Dridh (दरीढ़)
Dridh is a perennial herb or undershrub. It is with many-branched stem which are more or less herbaceous or woody,. Stem can be erect or prostrate. Plant is very frequent in wastelands, disturbed forests, fallow field, orchards and gardens and generally considered as a weed, Dridh is seen growing up to an altitude of 1200 m in Western Himalayas.
Leaves of dridh are edible and taken as a tea or cooked to prepare vegetable. For preparing tea leaves can be taken fresh or dried for latter use. Inhabitants also use seeds of this plant to prepare puddings, both sweet or spicy. Seed puddings are used as a tonic and sweet pudding generally given to women after delivery to provide strength.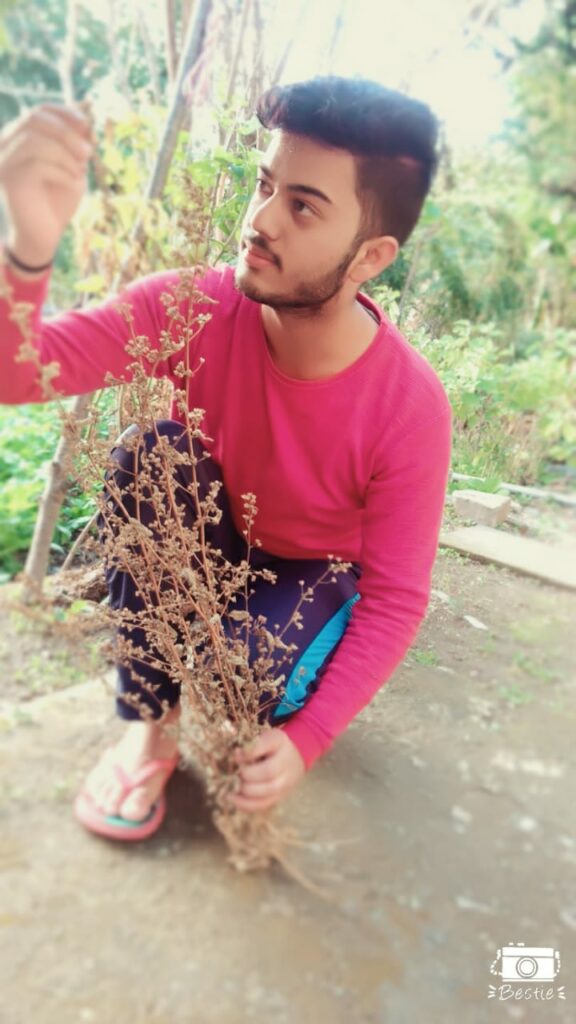 The dridh awned seeds get adhere to clothing and livestock while plant comes across.Leaves and seeds of dridh are harvested from wild as a source of food, fiber and medicine.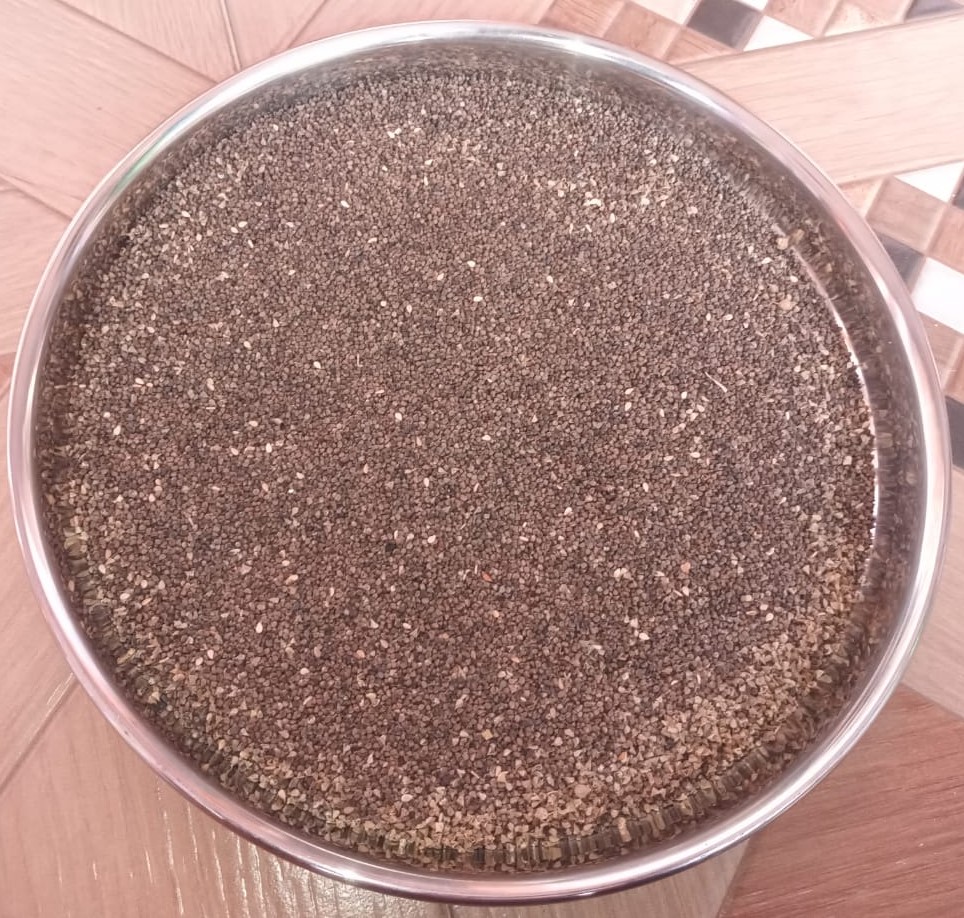 Dridh seeds also have market value and good free source of earning for local people, They are mainly sold in local market.
Dridh Plant:
Plant is erect, much branched, under shrubs, 60-90 cm high.
Leaves rhomboid or sub orbicular, base, wedge- shaped, margins toothed at least in the upper half, lower surface stellate pubescent.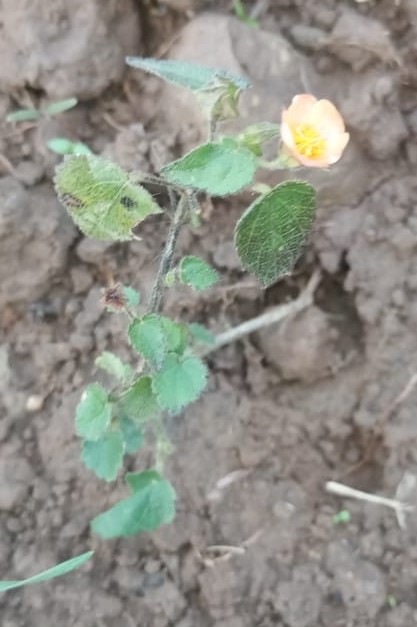 Flowers are pale- orange, axillary or clustered at the end of branches; pedicles are up to 4 cm long, jointed near the middle. Mericarps are 7- 10, muticous or with 2 mucros, occasionally with 2 awns.
Edible Uses:
Leaves and seeds of dridh are edible. Leaves are often used as a tonic tea and vegetable, Seeds are locally prepared as pudding and eaten to enhance strength and vigour. Seeds can be used to prepare LADDU or mixture of SUKHA MEVA (Dry fruits) in DESHI GHEE. Leaves are good source of protein . Dridh leaves contain 7.4% protein 1.
Vegetable:
Ingredients:
Tender leaves of dridh, 1 kg; mustard oil, 2 table spoons; coriander powder 1 table spoon; fenugreek powder, ½ table spoon; cumin seed ¼ table spoon; turmeric powder, 1/4 table spoon; red chillies, 2-3; chopped onions, 2-4; chopped potato, 2-3; garlic, 4-5 cloves; ginger paste ½ table spoon and salt according to taste.
Method:
Boil chopped leaves they become soft.Then mesh manually or in a mixer. Then sauté with hot mustard oil, opped potatoes and the spices listed before in sequence. This sauted saag is then ready and can be served as such or can be mixed with 2 or 3 chopped onion and cooked for another 5 to 10 minutes before serving.
Seeds Recipe (Puddings):
Seeds of dridh are cooked as a whole sweet and spicy puddings locally known as Rehdoo and kheer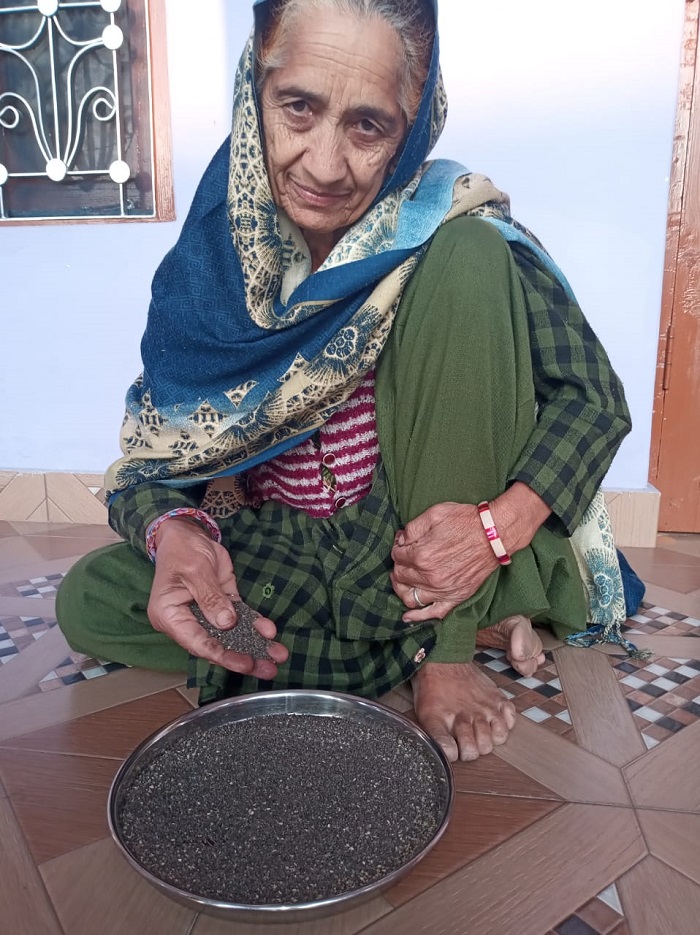 Dridh seeds Halwa
Ingredient:
Powdered Dridh seeds ( flour) 250 g, vegetable oil or clarified butter,250g; sugar, 200; dry coconut powder,50g; raisins and other grated dry fruits,25g.
Method:
Put 250 g ghee (clarified butter) in a pan and roast dridh seeds flour flour well. Add to it water three times more of roasted flour, keep on stirring it and add sugar, cook till water absorb and then add coconut powder and grated dry fruits, Now dridh halwa is ready to serve.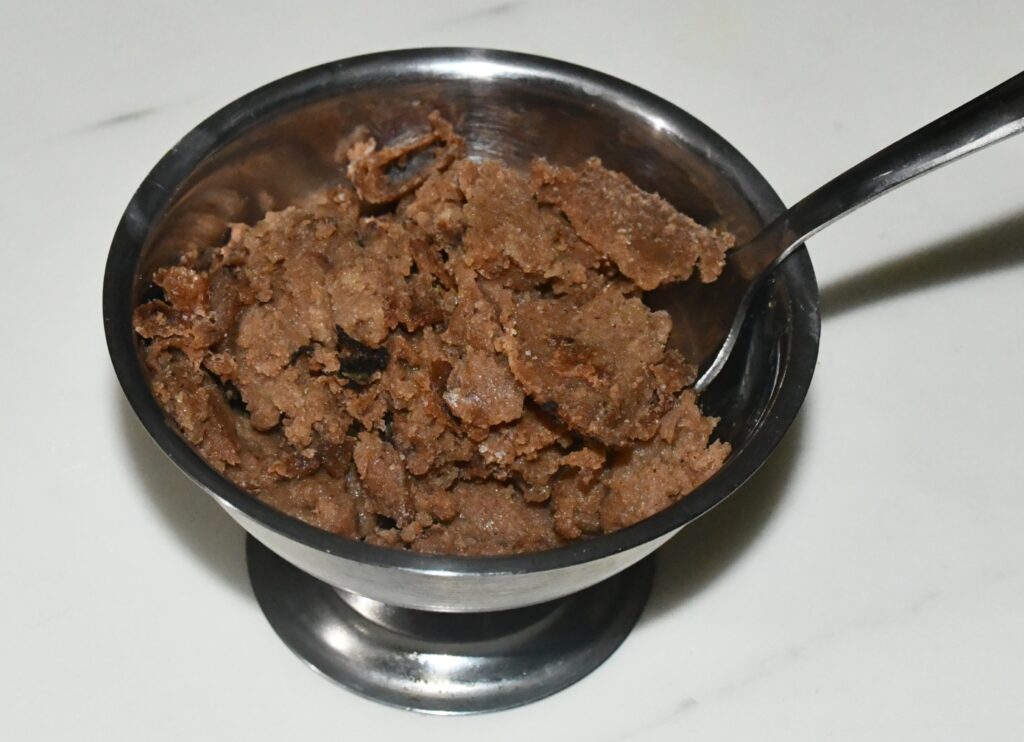 Rehdoo
Ingredients
Dridh seeds, 500 g; butter milk ,1 liter or curd, 500 g; green chillies, 2-3; turmeric powder,1 tea spoon; cumin seeds, 1, tea spoon; chopped coriander leaves,1 cup amount and salt according to taste.
Method:
For preparing rehdoo a local dish seeds are cooked with butter milk after adding turmeric powder, salt and green chillies according to taste. Then cook seeds till they are soft and then serve after garnishing with chopped coriander leaves
Laddu:
Ingredients:
Dridh Seeds, 250 g: mawa, 250 g; rice, 250 g; sugar, 100-200 g; edible gum, 2 table spoon; raisins from seedless grapes, 2 table spoons; grated dry coconut and other dry fruits acc, to taste, 500g.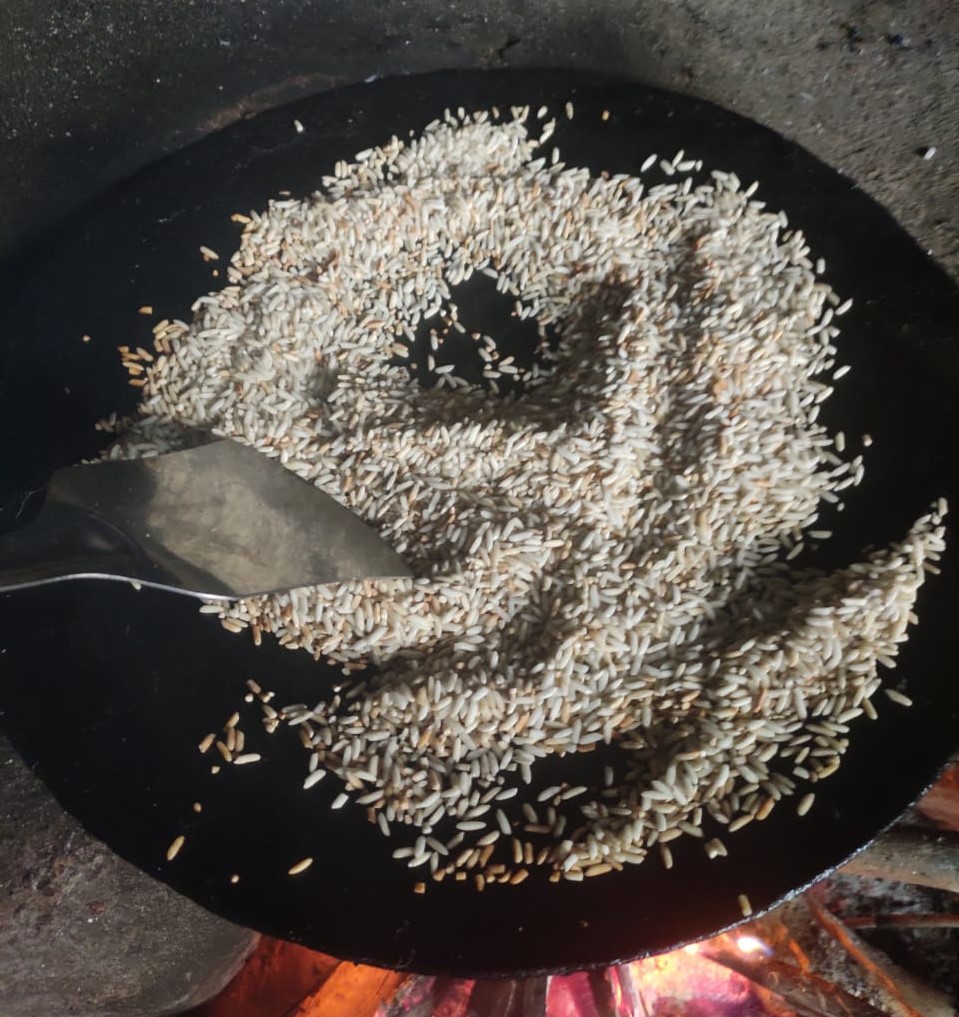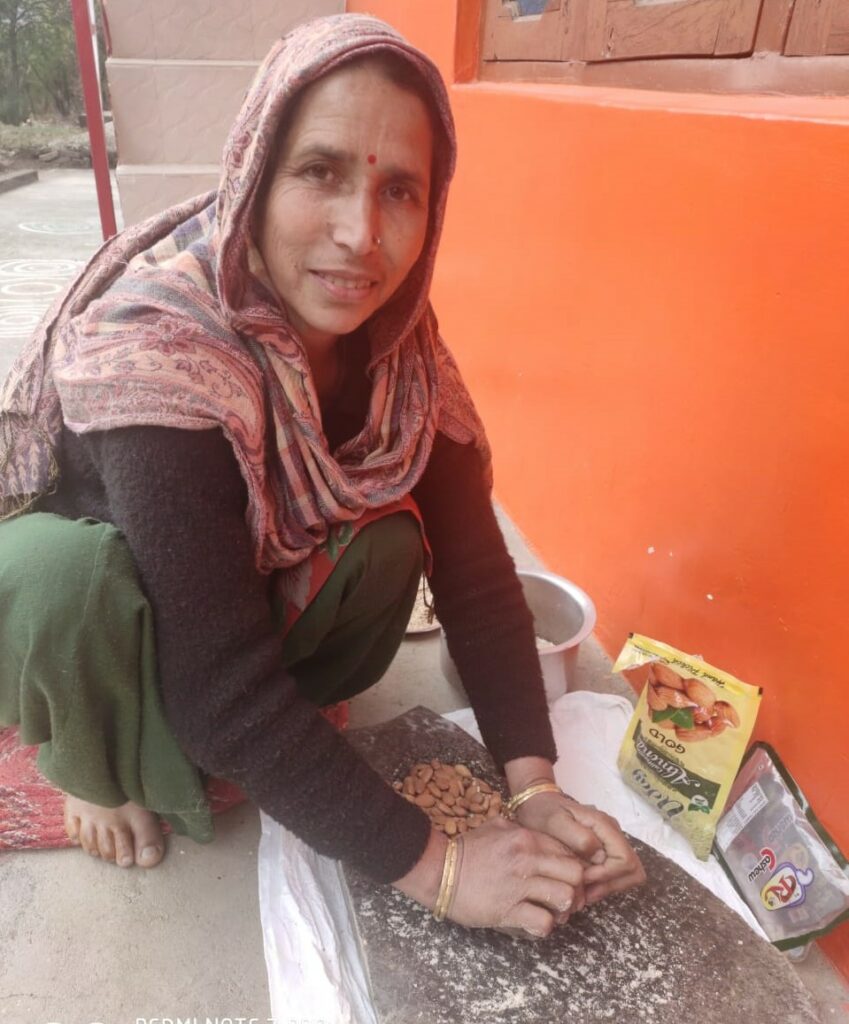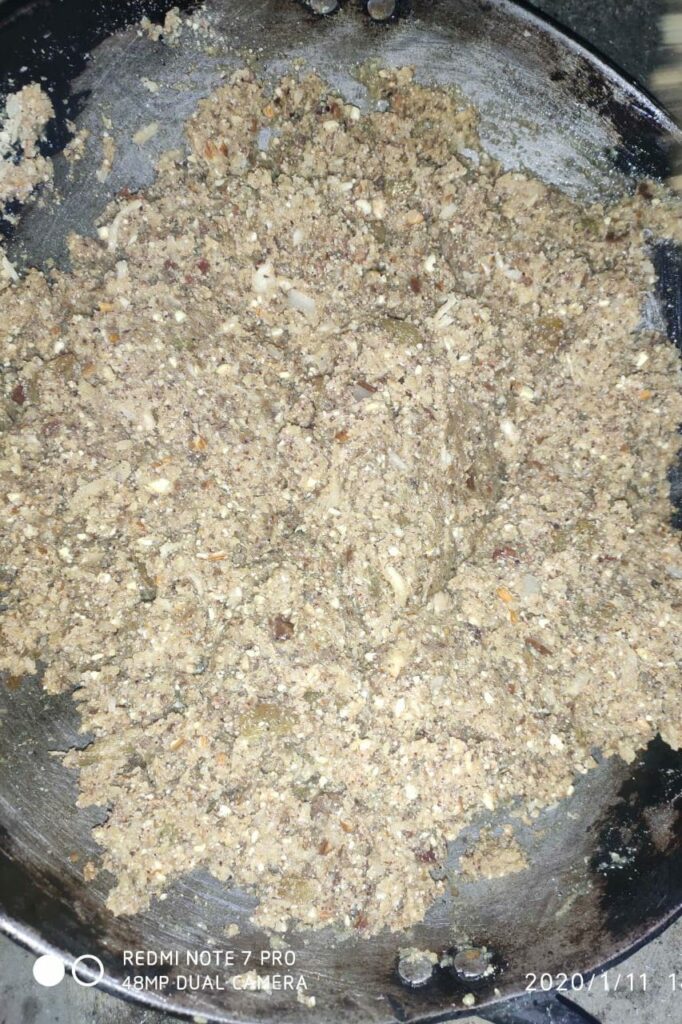 Method:
Roast rice on a hot pan and along with dridh seeds grind on metate (mealing stone) with grinding stone. Mix this ground mixture well along with grated dry fruits and raisin. Now in hot fry pan cook it with mawa, sugar and edible gum for 5 to 10 minutes. Let it be cool down and make small balls from this cooked mixture. Now laddu are ready to serve.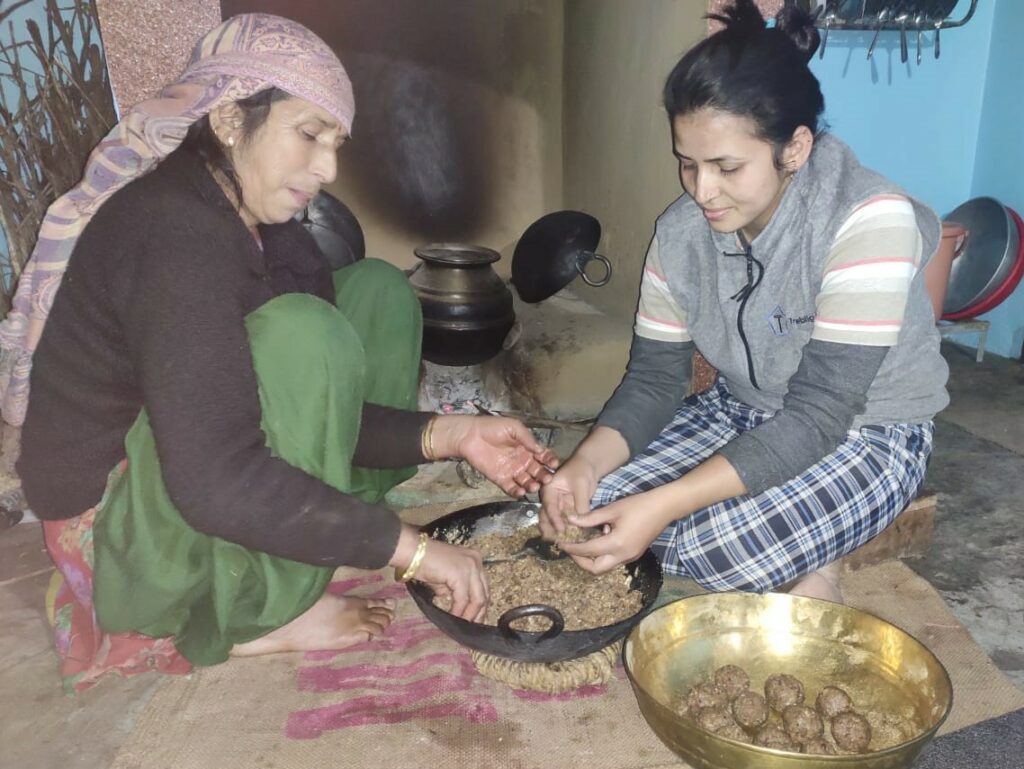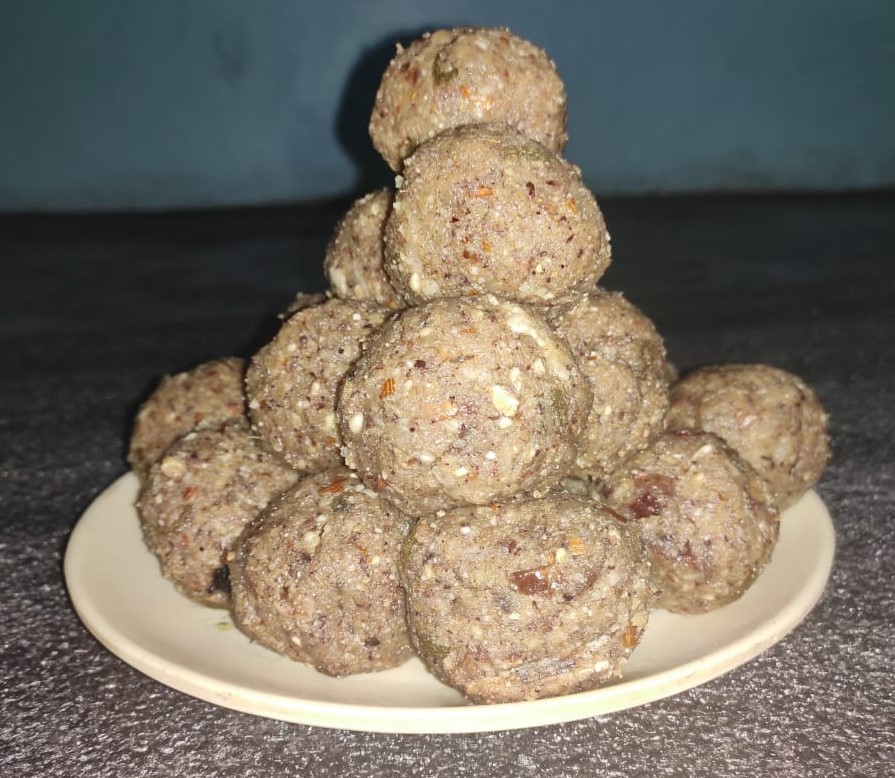 Kheer:
Ingredients:
Dridh seeds, 250 g; milk, 1/2 liter; Sugar, 1/2 kg; fennel, 2 table spoons; raisins from seedless grapes, 2 table spoons; grated dry coconut.
Methods:
For preparing KHEER cook whole seeds with sugar in milk till they are soft then garnish the recipe with grated dry fruits acc.to taste and serve. Recipe can be served during fast also.
Tonic Tea of dridh leaves:
Ingredient:
Milk, 2 cups; cardamom,1; tea powder (chai patti), 2 teaspoons; water, 1/4 cup; sugar, 3 teaspoons. Dridh leaves, 4-10.
Method:
Boil water in a saucepan, crush cardamom and clove using mortar and pestle or grinder to a medium coarse powder, add to this boiling water crushed fresh or dried leaves of dridh, sugar and tea powder in it and boil it for 3-4 minutes on medium flame. Add milk to iand boil it over medium flame for 6-7 minutes or until bubble starts to rise. strain tea in cups.
Medicinal Uses:
Local people use dridh leaves and seed as a tonic by taking asa tea or cooking into vegetable.The roots and leaves are bitter, sweet, emollient, cooling, aphrodisiac, unctuous, and vigour strengthening and promote sexual vigour and vital factor. They are good for rheumatism, flatulence, colic, haemothermia, and emaciation, vitiated conditions of tridosa, seminal weakness, arthritis and diarrhoea.
Chemical constituents:
Ephedrine, cellulose and lignin, quinazolines, beta- phenethyamines, tryptamine derivative, sterculic, malvalic, linoleic acid.
Other Uses
A good quality fiber obtained from the bark is used for making ropes and twine 2. The stems are gathered in the morning, tied into bundles and then used as brooms 3.
Source of income:
Dridh seed are sold in local market at the rate of Rs 250 par 100 g. So people can earn Rs 2500 for 1 kg dridh seeds.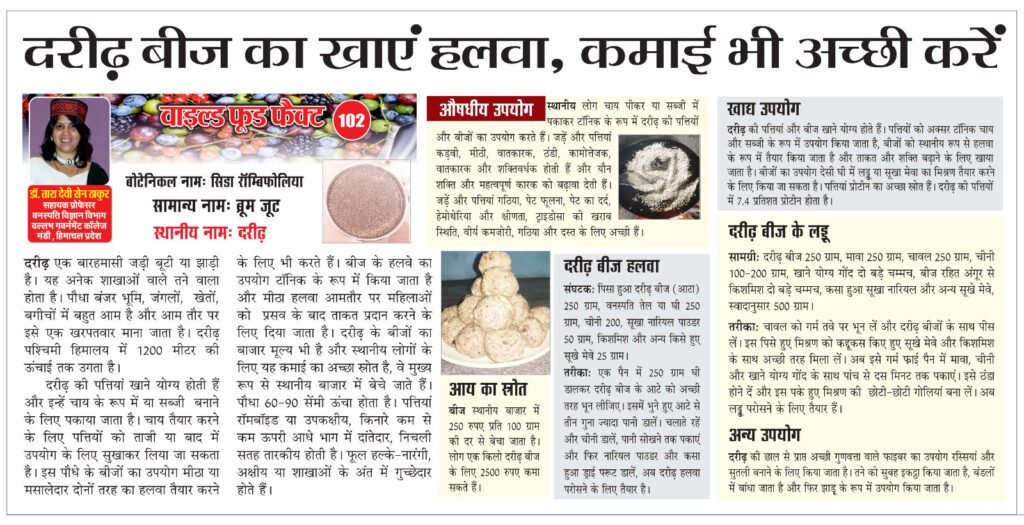 References:
Facciola. S. (1998) Kampong Publications, California. 0-9628087-2-5
Manandhar. N. P. (2002). Timber Press. Oregon.