Family: Combretaceae
Synonyms: Terminalia parviflora,Terminalia tomentella,Terminalia zeylanica
Common Name: Black Myrobalan
Local Name: Harad (हरड़), Haradi, Sans Haritki
Harad is medium to large sized deciduous tree of Western Himalaya, which is very well known for its edible fruits. Tree is frequently seen growing in mixed deciduous forest, along roadsides, pathways and near villages, up to an altitude of 1500 m in Western Himalaya.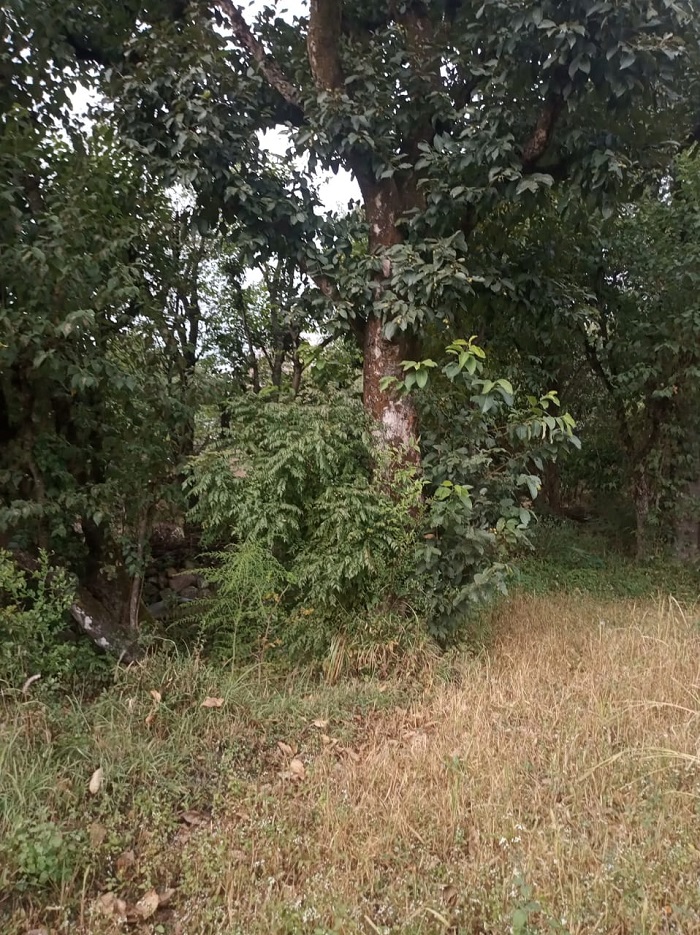 Harad succeed best in well drained habitat. It mostly prefers sunny position, but younger ones can tolerate some shade also.
Harad is a multipurpose tree for the locals of Western Himalayas. It is a good source of food, fuel, fodder and medicine for them. Harad fruits are edible and known to possess a wide range of medicinal and nutritive value. It is a source of good quality wood and tannin. Fruits are laxative and digestive. They are one of important constitute of the 'Triphala churan' of Ayurveda along with ambla (Phyllanthus emblica) and bahera (Terminalia bellirica). Except Triphala churan, local people also exploit harad fruits for preparing pickle and murabba. Fruits of harad are also used to prepare liquor along with jaggery in villages in many parts of Western Himalaya.
Local people harvest this plant from wild habitat for their local use of fuel, fodder, food, medicine and wood. Quite often it is also cultivated for its edible and medicinal uses.
Fruits of harad are dried and sold in local market. People also collect dried fallen fruits of harad and thus they are good source of income for local people.
Harade Plant:
Plant is medium- sized or large, deciduous trees upto,25 meters tall with a rounded crown of spreading branches.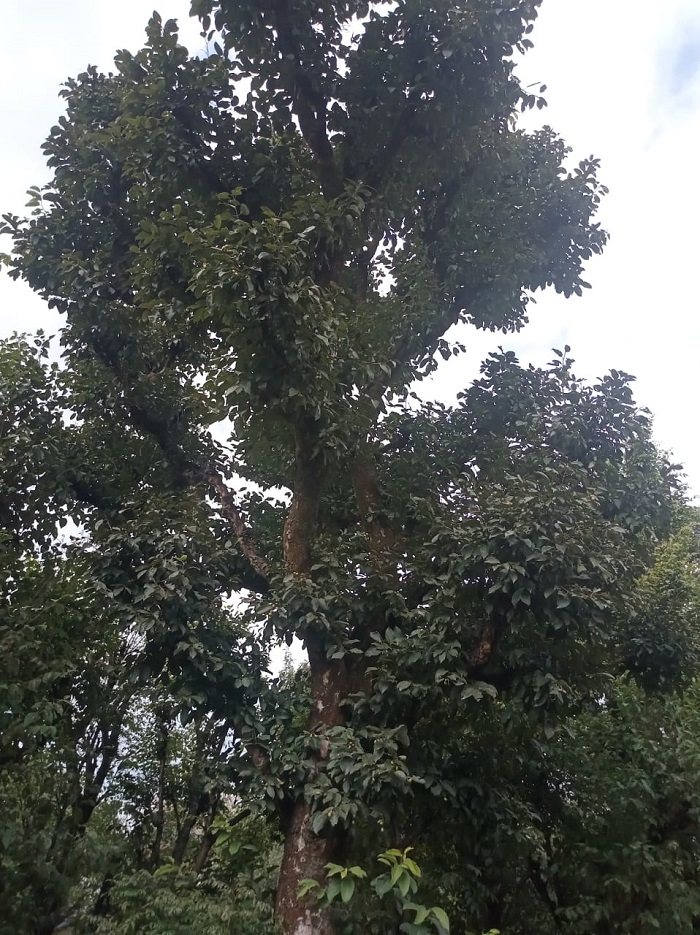 Leaves sub- opposite or alternate, broadly elliptic- oblong or ovate, entire, acute or acuminate, glabrous when mature, often with 2 or more glands on the upper side of the petiole.
Flowers dull- white, scented, sessile, in axillary and terminals, often paniculate spikes.
Fruits obovoid, 2.5-3.5 cm long, ellipsoidal ovoid, glabrous, more or less distinctly ribbed when dry, with a large, thick, elongated stone.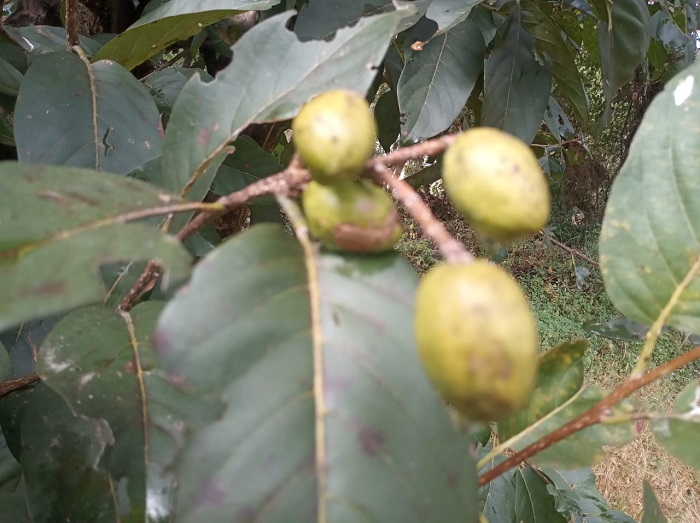 Harad can provide edible fruits from pre autumn to mid winter season.For ensuring sustainable development fruits need to be harvested on rotational bases and a few fruits should be left on parent tree for regeneration.
Edible Uses:
Harade fruits are edible both raw and cooked. Raw fruits are dried and ground into powder to prepare 'Triphala churan' along with fruits of ambla and bahera. They are also pickled and cooked to prepare murabba. These traditional methods of preservation are followed to improve taste and acceptability of wild edible food among younger generation.
Pickle:
Ingredients:
Harad fresh fruits,1 kg; asafetida,1/4 tea spoon, black salt, 1 tea spoon; black pepper, 1, table spoon, fennel, 1 tea spoon; lemon juice, 4-5 table spoon, mustard oil,100 g; black cumin, 1 tea spoon, fenugreek seeds, 2 table spoons; turmeric powder, 2 table spoon; red chilies powder, 2 table spoon; salt, according to taste.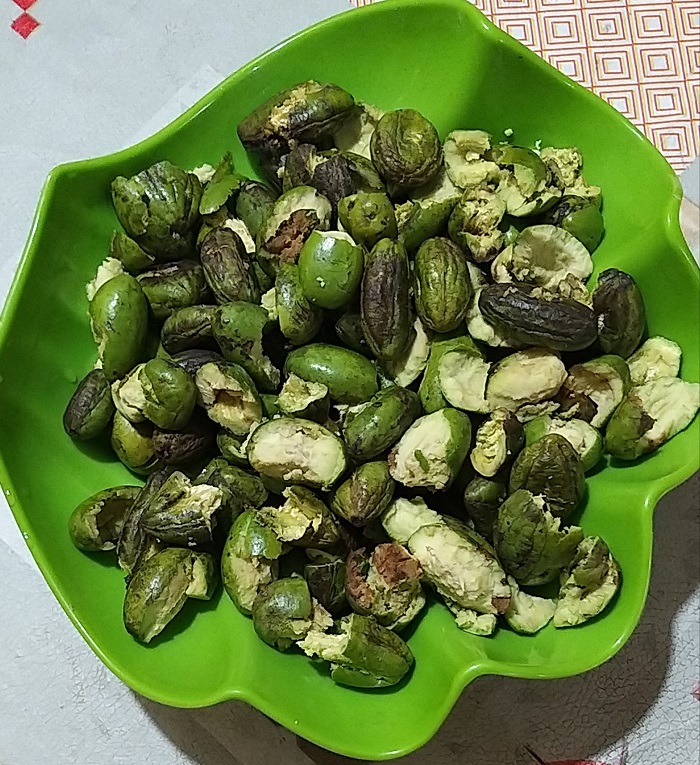 Method:
Pickle is prepared from unripe fruits. For preparing pickle, raw fruits are crushed mixed with oil and ground powdered spices like black pepper, fennel, black cumin, fenugreek seeds and red chillies. Add to it asafetida, black salt, turmeric powder, lemon juice and salt acc.to taste. Mix well, put in ceramic jar and place in full sunlight for 2-3 days. Pickle is ready to eat after 10-15 days.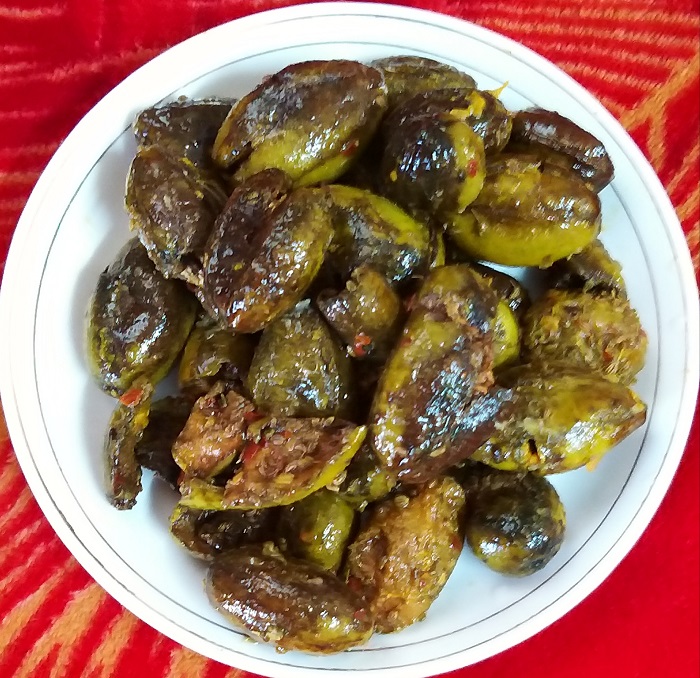 Murabba:
Ingredients:
Ripe fruits of harad, Desi Cow Ghee, 3-4 table spoon; 1/2 kg; sugar, 1 kg; black pepper, 1/ tea spoon black salt, cardamom powder ¼ tea spoon; ½ tea spoon.
Method:
Shallow fry ripe crushed fruits of harade in oil or Desi Cow Ghee. Add to it sugar, black pepper, salt and cardamom powder. Keep stirring for 8-10 minutes. Put this mixture in a ceramic jar when it cooldown and place in full sunlight. After 10-15 days murabba is ready to eat.
Preparing Harad alcoholic Drink:
For preparing harad alcoholic beverage, fruits are crushed in pestle and mortar, mixed with jaggery and yeast and placed inside a airtight container for fermentation. After 7-15 days this fermented product is ready for distillation. Distillation is usually performed in a special setup made up of two container or vessel plus outlet for distillate collection. Bottom vessel is meant for fermented mixture and top vessel or covering for vapors collection. Covering vessel is usually sealed with dough to avoid any leakage. Distillate(alcoholic drink) is collected in glass bottles through outlet. Local people in different parts of Western Himalayas prepare this alcoholic drink for their personal medicinal use.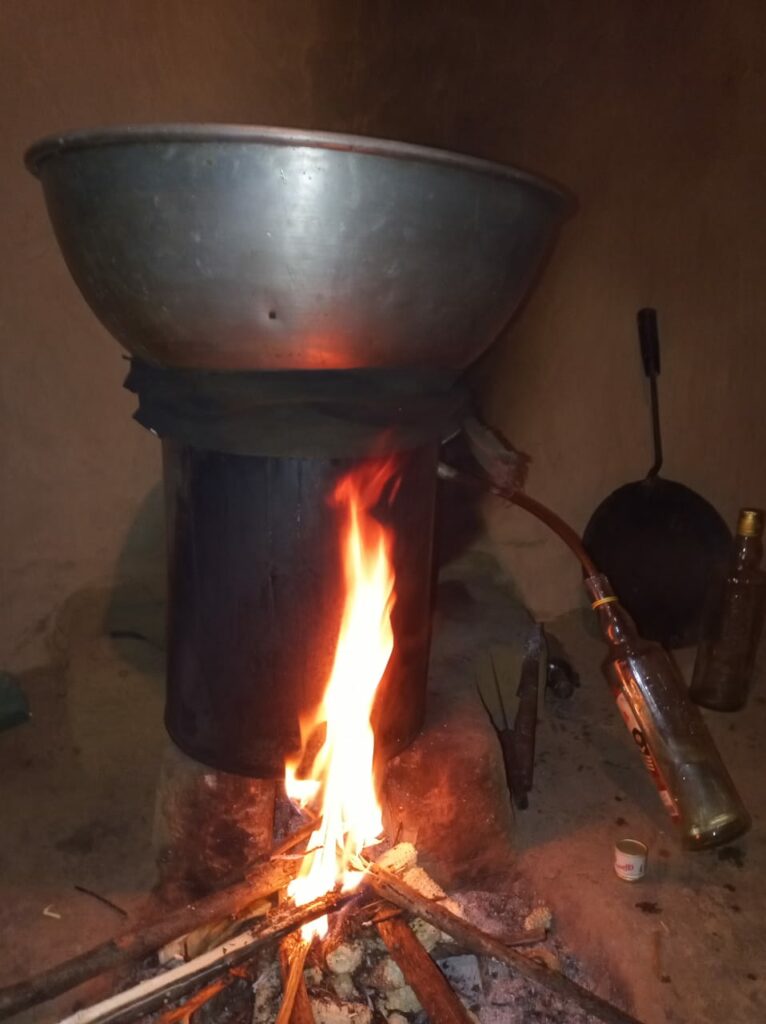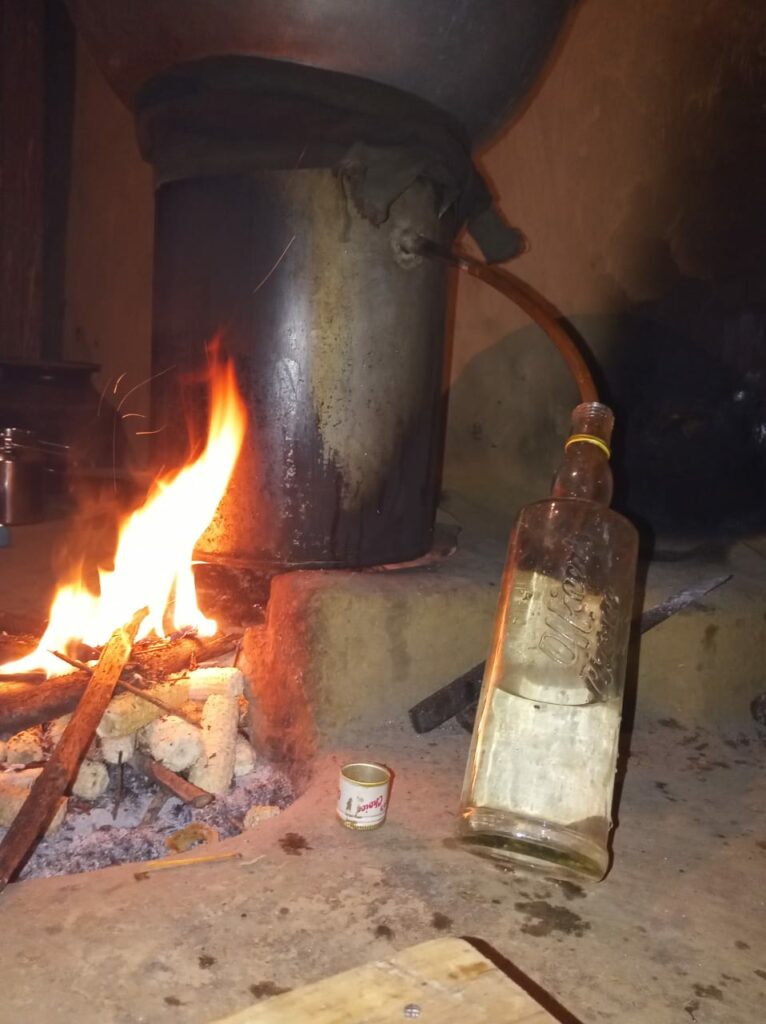 Seek professional advice before using this plant medicinally.
Medicinal Uses:
Fruits are laxative and digestive, and constitute one of the 'Triphala' of Ayurveda1. Fruits are astringent, sweet, acrid, bitter, sour, thermogenic, anodyne, anti- inflammatory, vulnerary, alterant, stomachic, and laxative, purgative, carminative, digestive, anthelmintic, cardiotonic, aphrodisiac, antiseptic, febrifuge, depurative and tonic. They are useful in vitiated conditions of tridosa wounds ulcers, inflammations, gastropathy, anorexia, helminthiasis, flatulence, haemorrhoids, jaundice, hepatopathy, splenopathy, cough, uropathy, versical, renal calculi and cardic disorders2.
Chemical Constituents:
Chebulin from flowers. Palmitic, oleic, linoleic, arachidic stearic and behenic acids from fruit kernels1. Fruits contain about 30% of an astringent substance; astringency is due to the characteristic principle chebulnic acid. Also contain tannic acid 20-40%, Gallic acid, resin etc. and a purgative glycoside of anthraquinone derivative. Chebulin exhibited antispasmodic action on smooth muscle similar to papaverine 1.
Other Uses:
Leaves are harvested as a fodder and branches left after cattle feed are used as a fodder. The dried fruit-pulp has an average tannin content of 30 – 32%, but the content varies considerably with the place of origin. Poor samples may register less than 20% tannin, good ones over 40%. Other parts of the plant such as roots, bark, wood and leaves, also contain tannin, but less than the fruits 3.
Source of income:
Harad fruits are good source of income for local people of Western Himalaya, Fruits are dried and sold in local market alone or as Triphala churan. Dried fruits are sold at the cost of Rs 10 for each 10 g. So people can easily earn Rs 1000 for 1 kg dried harad fruits, For 1 kg Triphala Churan they can earn Rs 500.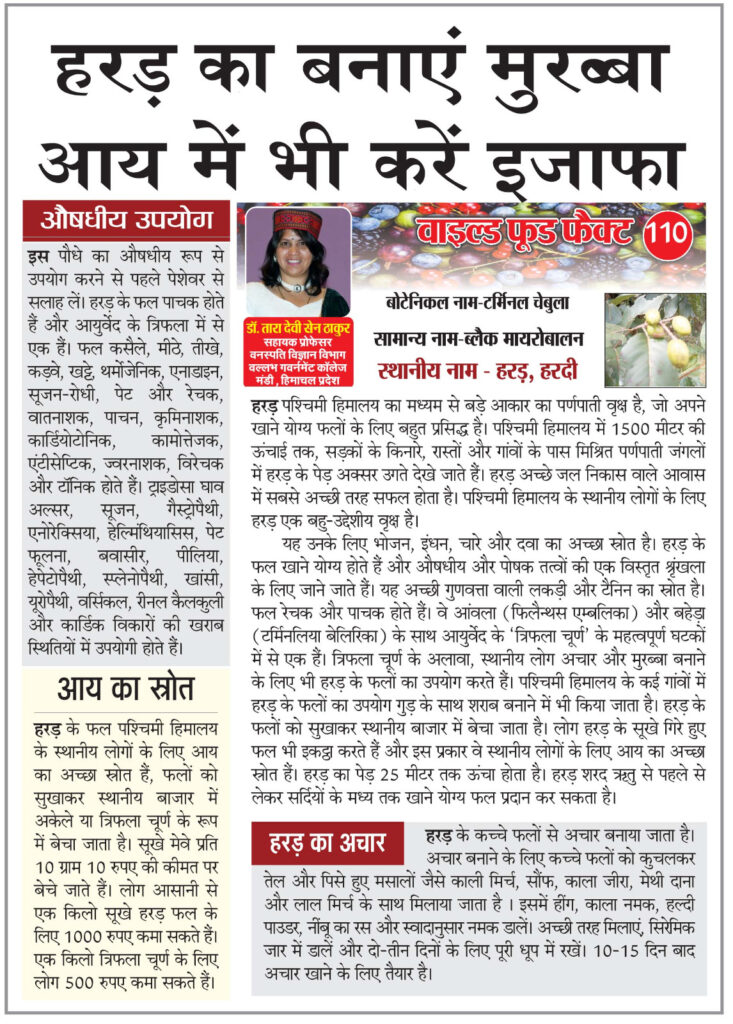 References
Purohit SS, Sharma AK, Prajapati ND, Kumar T. (2009); A handbook of medicinal plants: a complete source book. 2:352-3.
Singh PB. (2018). Flora of Mandi district. Himachal Pradesh: North West Himalaya.
Kasolo, W., Chemining'wa, G., & Temu, A. The African Network for Agriculture, Agroforestry and Natural Resources Education (ANAFE).