Family: Rutaceae
Synonyms: Crataeva marmelos, Feronia pellucida
Common Name: Bael Tree
Local Name: Bill Patri (बिल पत्री), Bel, Sans Bilva,
Bill Patri is a slow-growing deciduous or evergreen , shrub or small tree of Western Himalaya, well known for its sacred leaves. It is seen growing in well drained habitat of dry deciduous forests on hills and plains up to an altitude of 900 m in Western Himalayas. Occasionally it is found near habitations as wild. Plant is frequently cultivated by locals around their home and temple for its religious value. Whole plant is considered a sacred tree by the inhabitants and its leaves are indispensable offerings to the Lord Shiva during famous Shivrati festival of North Western Himalaya.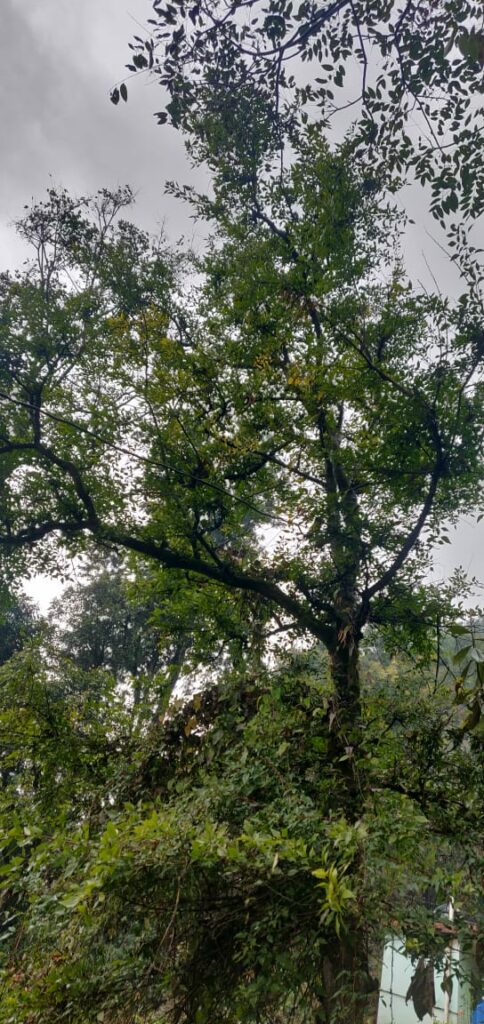 Bill patri fruits are edible and used to make a very refreshing drink. They are eaten raw or cooked to prepare jams,murabba,pickle and jellies. Ripe fruits are laxative and tonic, their pulp is eaten for its rich vitamin C content and are considered good for the heart and brain. Dried young leaves and shoot terminals are used as a condiment to harness its medicinal and nutritive properties. Flowers and tender leaves can also be cooked into KACHRU. Plant is harvested from wild or cultivated habitat as a source of food, fuel, medicine, wood and material.
Root bark and fruits of bill patri are cooling, laxative, digestive and stomachic, used in diarrhea, dysentery and intermittent fever by inhabitants 1. Leaves are dried and powdered and taken as a remedy of diabetes by locals.
Fruits and leaves of bill patri both have market value and sold in local market. Leaves are easy source of earning for women and children. They collect leaves and sell outside the temple in town where bill patri leaves are not available.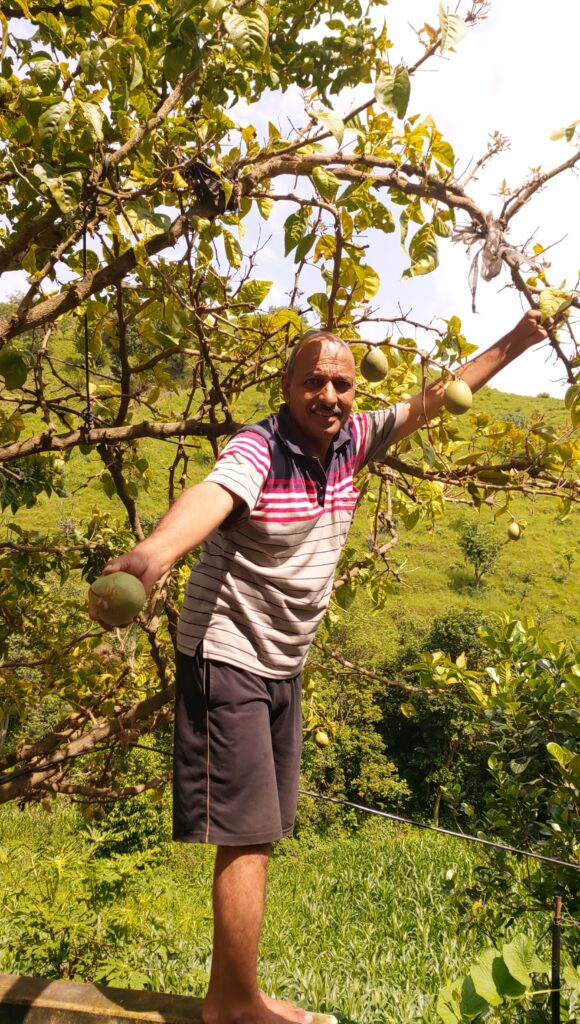 Bill patri Plant:
Bill patri tree is a slow-growing deciduous shrub or small to medium- sized trees, upto 10 – 15 m tall. It is armed with axillary, straight, sharp spines.
Leaves alternate, odd- pinnate; leaflets 3, ovate- lanceolate, crenate, lateral ones opposite, nearly sessile, terminal long stalked.
Flowers greenish- white, 4-5 merous, sweet scented, in short, lateral panicles.
Fruits large, globose, 10- 15 cm. pulp sweet, aromatic.
Seeds numerous, oblong, flat.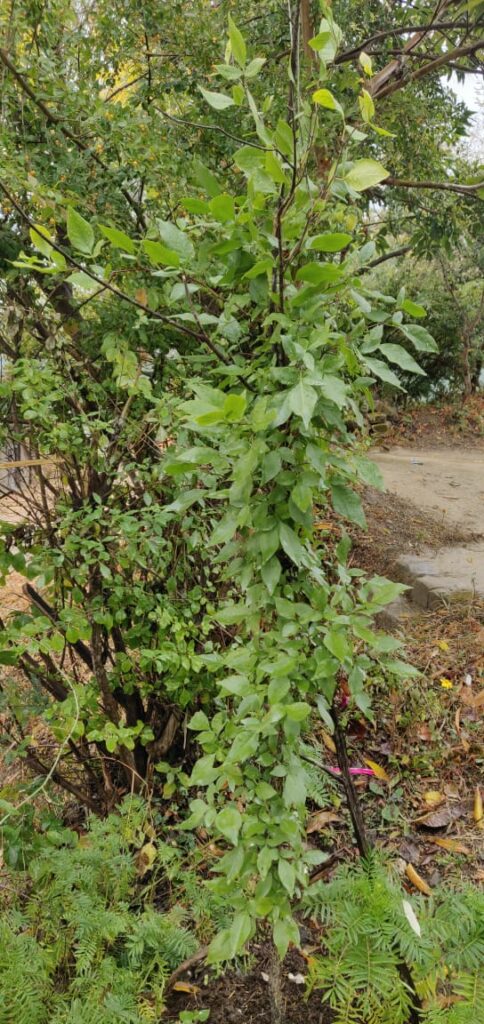 Bill patri can provide edible fruits from winter end to summer. Leaves can be harvested round the year. For sustainability few fruits should be left on parent plant for regeneration.
Edible Uses:
Fruits are used to prepare a summer refreshing drink or sharvat. Ripe fruit are edible and their pulp is pickled and cooked into jam or murabba in following ways.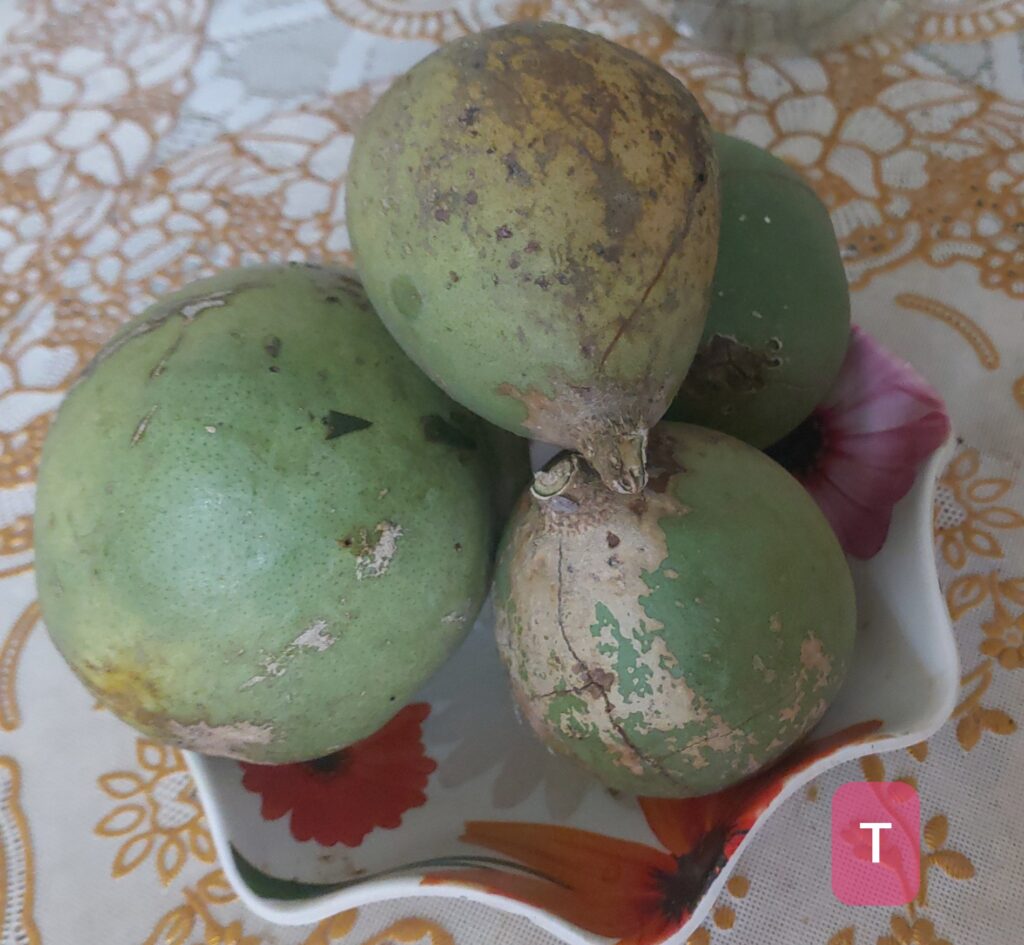 Fruit Jam:
Ingredients:
Ripe fruits pulp ,1 kg; sugar, 500 g; fennel powder, 1tea spoon; cardamom powder,1 tea spoon, honey 4-5 table spoon.
Method:
Boil fruit pulp in water till it got soft and let it cool down. Mesh it in a mixer grinder and transfer into a saucepan, Add to it sugar, fennel powder, cardamom powder and honey. Keep stirring this mixture in slow flame till sugar completely melt and absorb. Stop heating when preparation become viscous. Now let it cool down and put it into a ceramic jar. Jam is ready to serve.
Halwa:
Ingredients:
Fresh chopped ripe bill fruits, 1-2/ Powdered dry ripe fruit pulp powder, 50 g; mawa/sooji, 1- 3 table spoon; sugar, 3-5 table spoon; cardamom powder, 1tea spoon; Desi ghee; 100 g; grated dry fruits, 1 table spoon.
Method:
For preparing fresh fruits halwa separate pulp from skin and add to boiling water. Mesh when it cool down. Now in hot desi ghee fry it well by continuous stirring add to it sugar, mawa and cook for 5 to 8 minutes. Add cardamom powder and grated dry fruits and serve.
Dried fruit pulp powder can be used to make halwa in off season. For this in hot desi ghee fry sooji and dried bill patri fruit pulp well. Add to it water, sugar and cardamom powder. Cook for 8-10 minutes by continuous stirring and then garnish with grated dry fruits. Now halwa is ready to serve
Murabba:
Ingredients:
Fresh ripe bill fruits, 1-2; sugar, 100 g ; cardamom powder, 1tea spoon.
Method: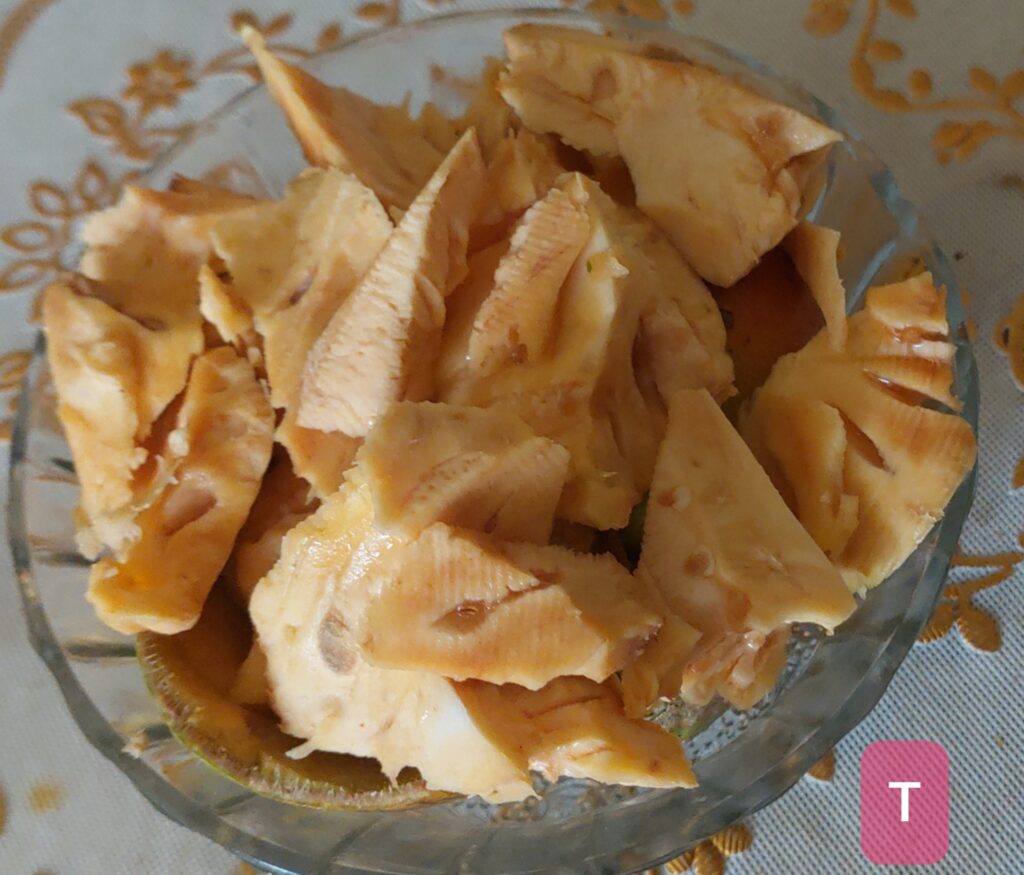 Extract fruit pulp in a bowl, separate seeds and cut into small slices. Boil 1-2 cup amount water in a pan and add to it sugar to prepare 3 tar chashni (Sugar syrup). Add bill fruit slices and cardamom powder to it and cook for 12-15 minutes till they are soft. Let it cool down and store in a ceramic jar.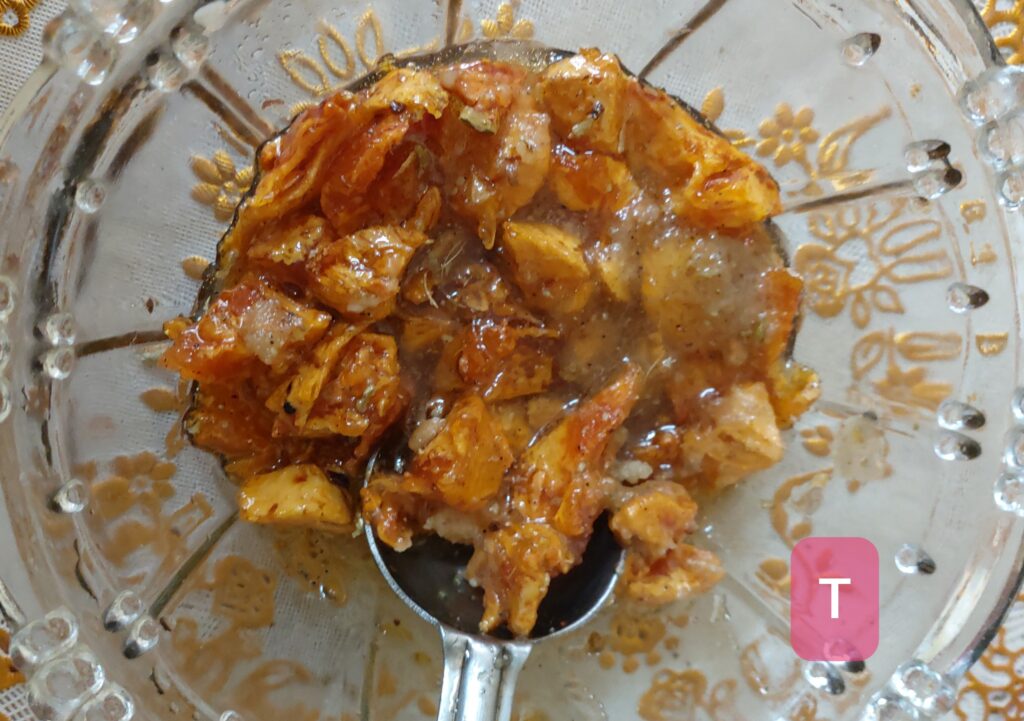 Pickle:
Ingredients:
Fresh bill fruits, 5-10; turmeric powder, 1 table spoon; mustard oil, 1 table spoon. red or green chopped chilies, 5-6 and salt according to taste.
Method:
Scrap fruit pulp with the help of spoon. Mesh pulp and add to it spices listed above and make paste. Mix it well and put inside a ceramic jar. Pickle is ready to serve.
Refreshing Summer Drink/Sharvat :
Ingredients:
Bill patri fruit,1; sweetener like honey or sugar, 1-3 tea spoon; cardamom powder,1/4 tea spoon; lemon juice. 1 tea spoon; black salt according to taste.
For sharvat ripe bill patri fruit, 1; sugar, 2 table spoon; Milk 1 cup amount.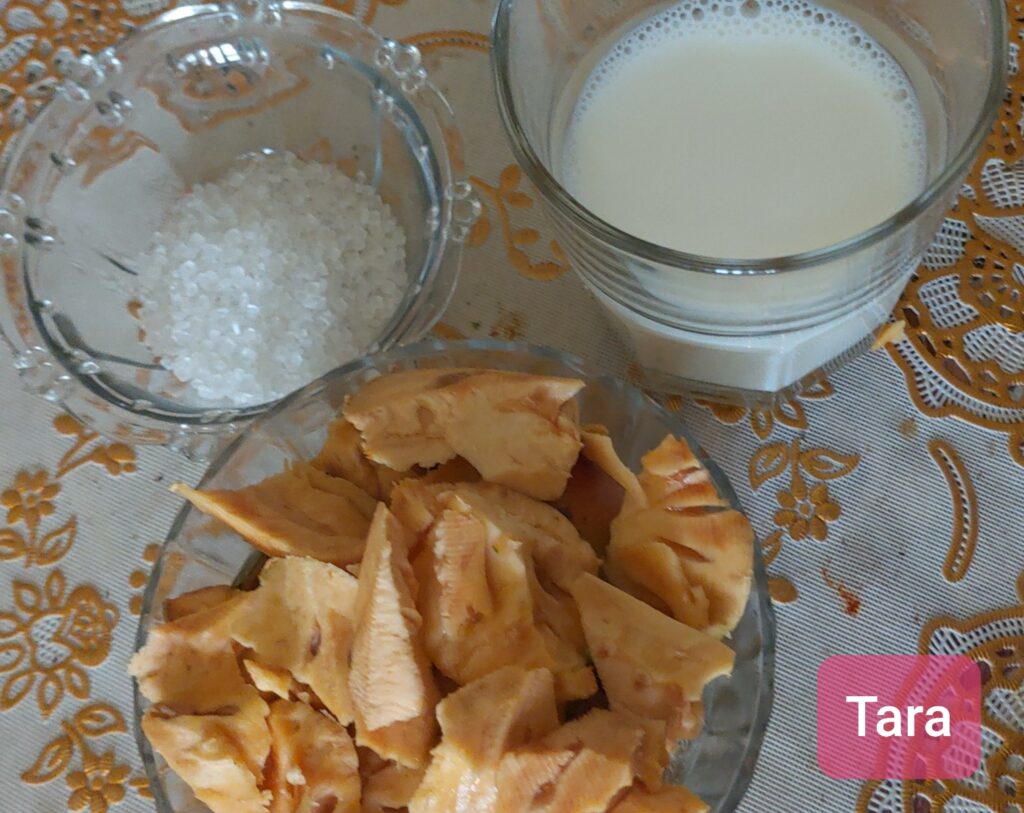 Method:
Extract fruit pulp in a bowl and soak it in hot water to make soft. Mesh manually and strain it to separate seeds and fibers. Add to it honey or sugar and stir well, then add lemon juice, ice, salt and cardamom powder. Mix well and serve. It can be stored for 6 months.
For making sharvat add milk and sugar to the fruit pulp, Mesh manually and segregate seeds from meshed pulp. Drain to serving glass, add ice cube and serve.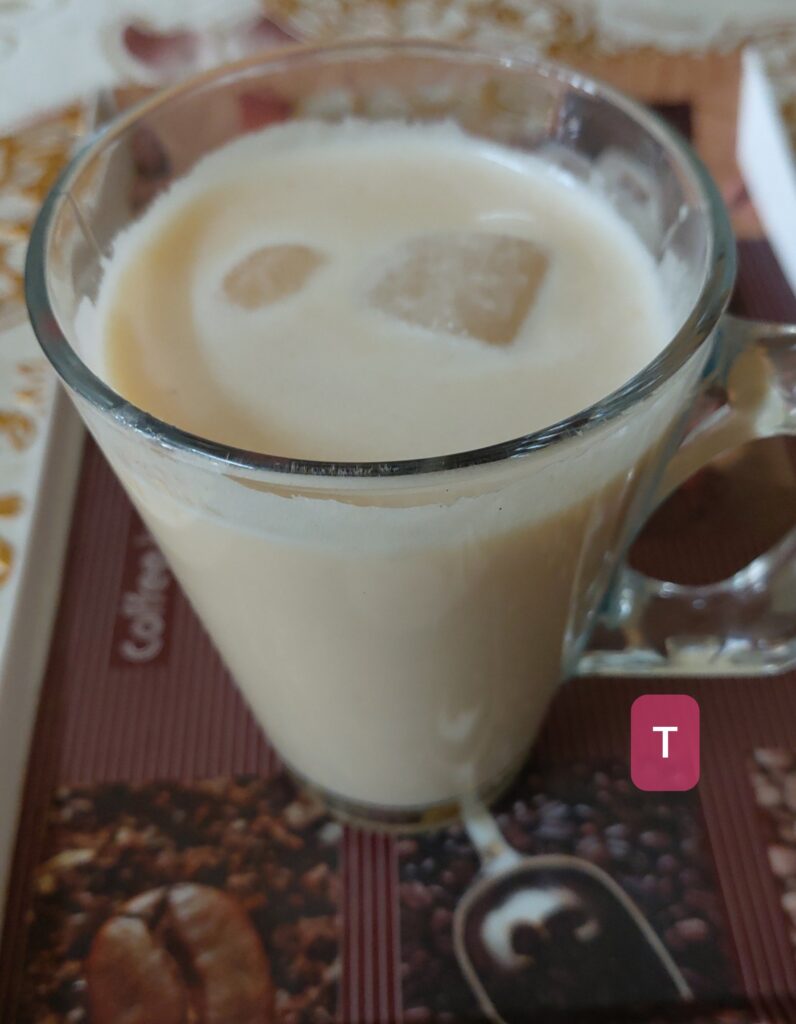 Kachru:
For preparing a kachru, ingredients required are 100 g fresh tender leaves and flowers, 100 g besan (black gram powder) or corn flour. 1 cup amount fresh coriander leaves,1/2 table spoon ajwain, 3-5 green chilies, ½ table spoon turmeric powder, 2-3 chopped onions and salt according to taste.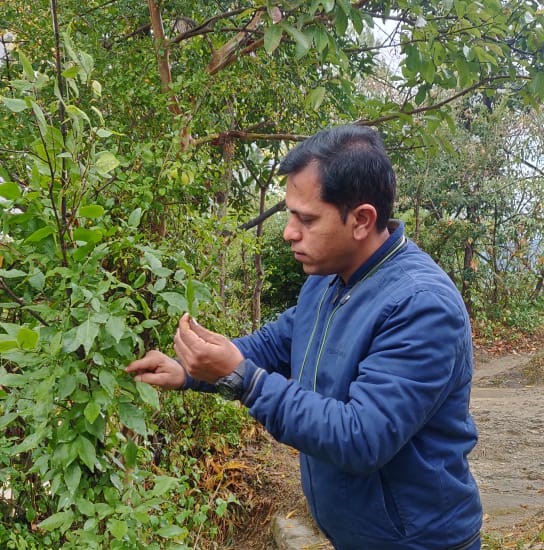 Method:
Make a paste of leaves, flower , besan or corn flour and spices. Heat some oil on a flat heating pan. Put this paste over a pan and cook for 15 to 20 minutes then kachru will be ready. Serve hot with chutney.
Nutritive Value:
100 gram of Aegle Marmelos or bael fruit contains:Energy, 137 cal; Moisture, 61gm; Protein, 2gm; Fat, 0; Mineral, 2gm; Fiber, 3gm; Carbohydrate, 32gm; Calcium: 85mg; Phosphorus, 50 mg; Iron, 1 mg4.
Seek professional advice before treating this plant medicinally.
Medicinal Uses:
The roots are sweet, astringent, bitter and febrifuge. They are useful in diarrhea, dysentery, dyspepsia, stomachalgia, cardiopalmus, and vitiated conditions of vata, seminal weakness, uropathy, vomiting, intermitted fever, swellings and expectorant and are useful in infants3. The leaves are astringent, laxative, febrifuge and expectorant, and are useful in ophthalmic, deafness, inflammations, catarrh, diabetes and asthmatic complaints3. The unripe fruits are bitter, acrid sour, astringent, digestive and stomachic, and are useful in diarrhea, dysentery and stomachalgia. The ripe fruits are astringent, sweet, aromatic, cooling, febrifuge, laxative and tonic, and are good for the heart and brain 2. Local people mainly used this plant medicinally to treat diabetes,
Chemical constituents:
Fruits contain marmalosin, young bark contains coumarin, and unblelliferone; old bark has umbelliferone and coumarin. Leaves are having essential oil, consisting of alpha and beta- phellanderene. Matured bark contains fragrine, umbelliferone marmesin, sterols and triterpenoids. The leaves contain 0.6% essential oil mostly compound of d- limonene 2.
Religious value:
Bill patri is a sacred plant for inhabitants of Western Himalayas.Its leaves and fruits are offered to Lord Shiva during worship. These are specially offered to Lord Shiva in Maha Shivrati festival.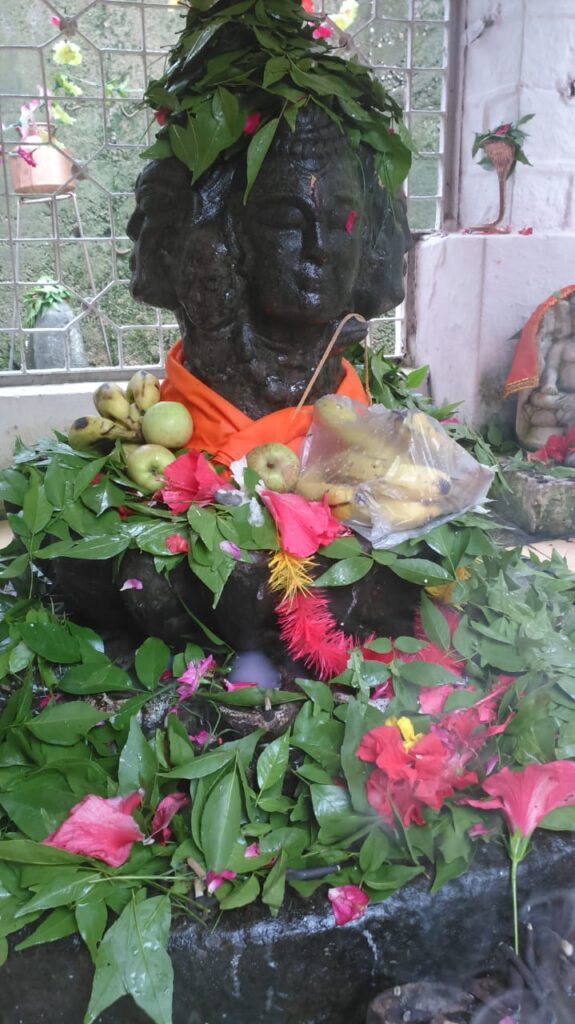 Other Uses:
Plant can be employed as a live fence to demarcate boundary. Wood is used as a fuel or making household items like tool and knife handles, pestles and combs etc. The gum enveloping the seeds is most abundant in wild fruits and especially when they are unripe 3. It is commonly used as household glue and is employed as an adhesive by jewelers3. It is mixed with lime plaster for waterproofing wells and is added to cement when building walls 3.The gum around the seeds is sometimes resorted to as a soap-substitute3. The fruit pulp has detergent action and has been used for washing clothes3.
Source of income:
Fruits and leaves of bill patri are sold in local market. Leaves are in heavy demand during Shivratri festival and usually sold outside the temple. Fruits are sold fresh or can be dried, and powdered for selling.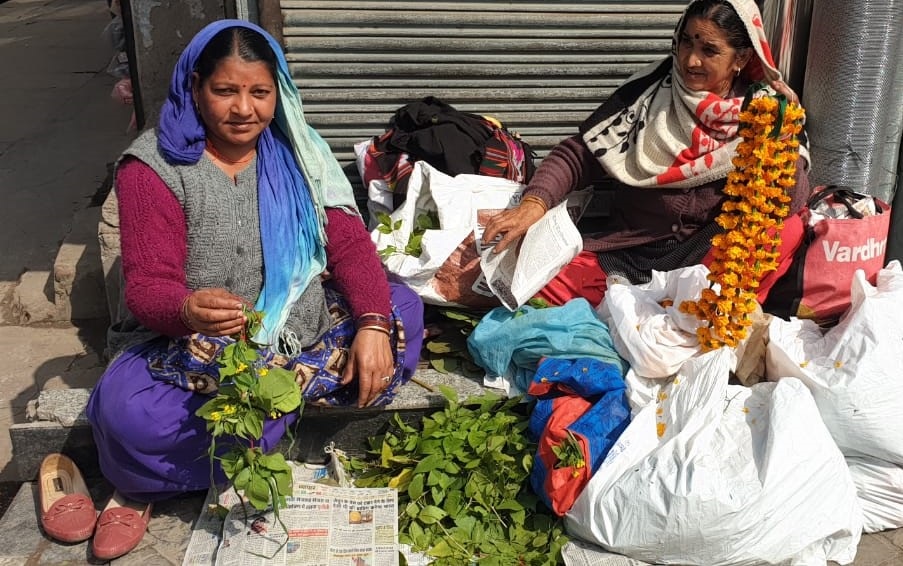 References:
1.Singh PB. (2018). Flora of Mandi district. Himachal Pradesh: North West Himalaya.
2.Purohit SS, Sharma AK, Prajapati ND, Kumar T. (2009); A handbook of medicinal plants: a complete source book. 2:352-3.
3.http://www.worldagroforestry.org/
4. https://www.epainassist.com/diet-and-nutrition/.