Family:  Asparagaceae
Synonyms: Asparagus qinghaiensis, Protasparagus filicinus.
Common Name: Fern Asparagus
Local Name: Sansarbuti (संसरबूटी)
Sansarbuti is a perennial herb of Western Himalaya. It is commonly seen growing in forests, thickets, roadsides, pathways and hill slopes, in  shady and moist places from 2200 m to 3000 m elevation in Western Himalyas.
Young shoot, green cladodes and roots of sansarbuti are edible. Only young asparagus shoots should be selected for cooking as once the buds start to open, these quickly turn woody Shoots are cooked as vegetable and sometimes also pickled, tubers are dried and powdered to be used as tonic. Root powder of sansarbuti is considered best to enhance fertility in women. Starch extracted from tubers also used as thickener in soups. Sansarbuti is harvested from the wild habitat for local use as a food and medicine. Sometimes it is also grown as an ornamental plant in gardens.
Sansarbuti Plant: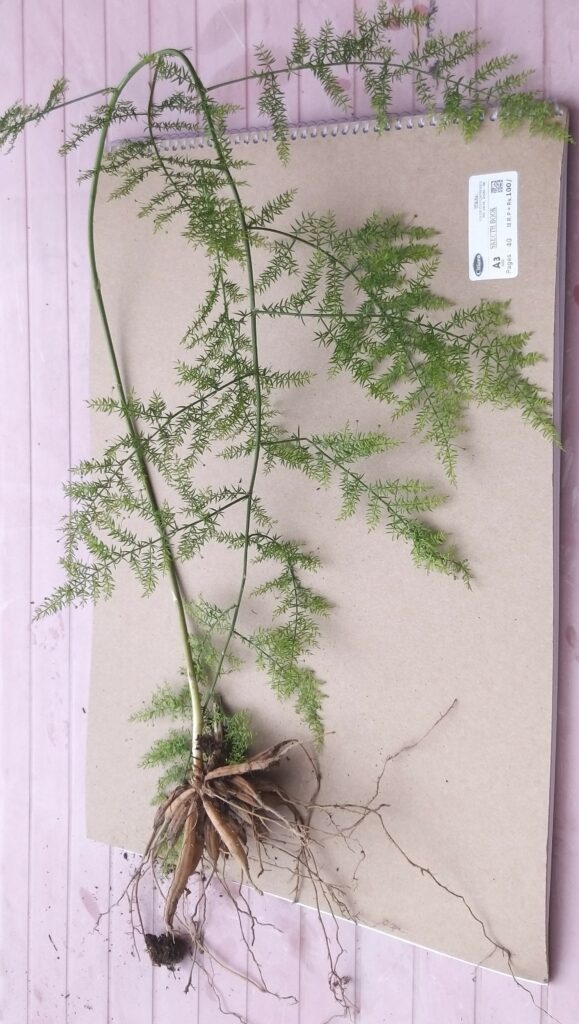 Plant is perennial tall, erect, unarmed herbs, producing erect hollow stems 50 – 70cm long from a rhizomatous, tuberous rootstock.
Cladodes flat, curved, in tufts of 2-5, 4-8 mm long. Flowers white, solitary or in pairs, on slender, axillary stalks. Perianth campanulate, 6- parted. Stamens 6. Ovary 3- celled.
Berries globose, 5-6 m across, black.
Started in forests of mountain zone 2200-3000 m.
Sansarbuti can provide edible green cladodes and roots throughout the year and young shoots during spring to rainy season. Sustainable harvesting should be encouraged for harvesting of root tuber and further plantation need to be done for its promotion as a an important wild edible food.
Edible Uses
Young shoots are pickled and cooked as a vegetable. Green cladodes are used to make Kachru a local traditional dish of hills. Roots are dried and powdered. This root powder is used as tonic to provide strength and vitality to men and women both.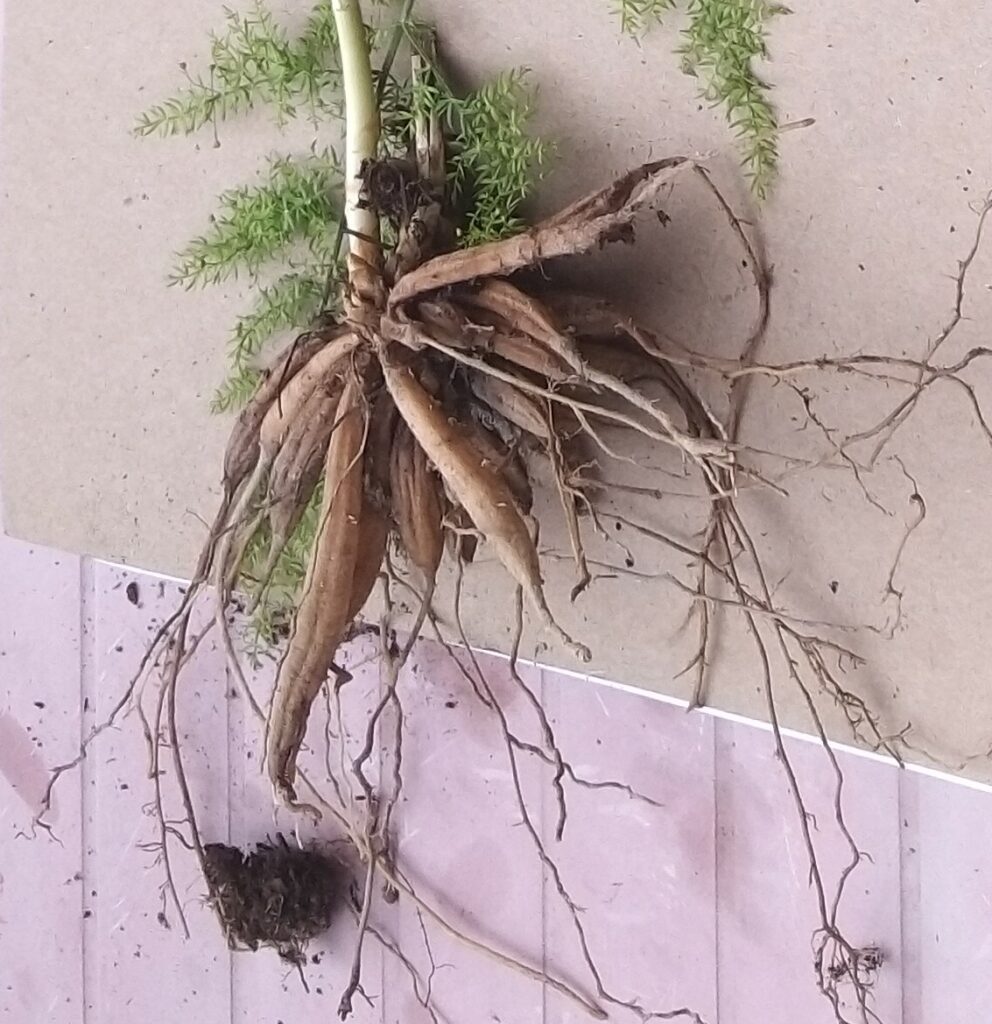 Kachru of Sansarbuti cladodes:
Ingredient:
Cladodes of sansarbuti, 1/2kg; besan (black gram powder) or corn flour., 250g; fresh coriander leaves,1 cup amount ajwain, 1/2 table spoon; green chillies, 3-5, ½ table spoon turmeric powder, 2-3 chopped onions and salt according to taste.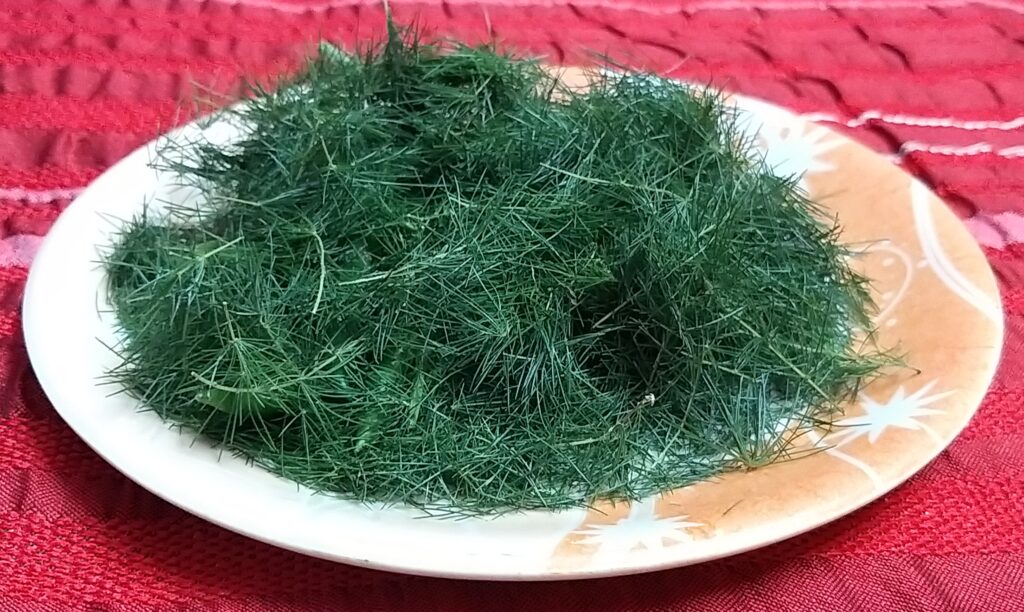 Method:
Make a paste of green cladodes, besan or corn flour and spices. Heat some oil on a flat heating pan. Put this paste over a pan and cook for 15 to 20 minutes then kachru will be ready to serve.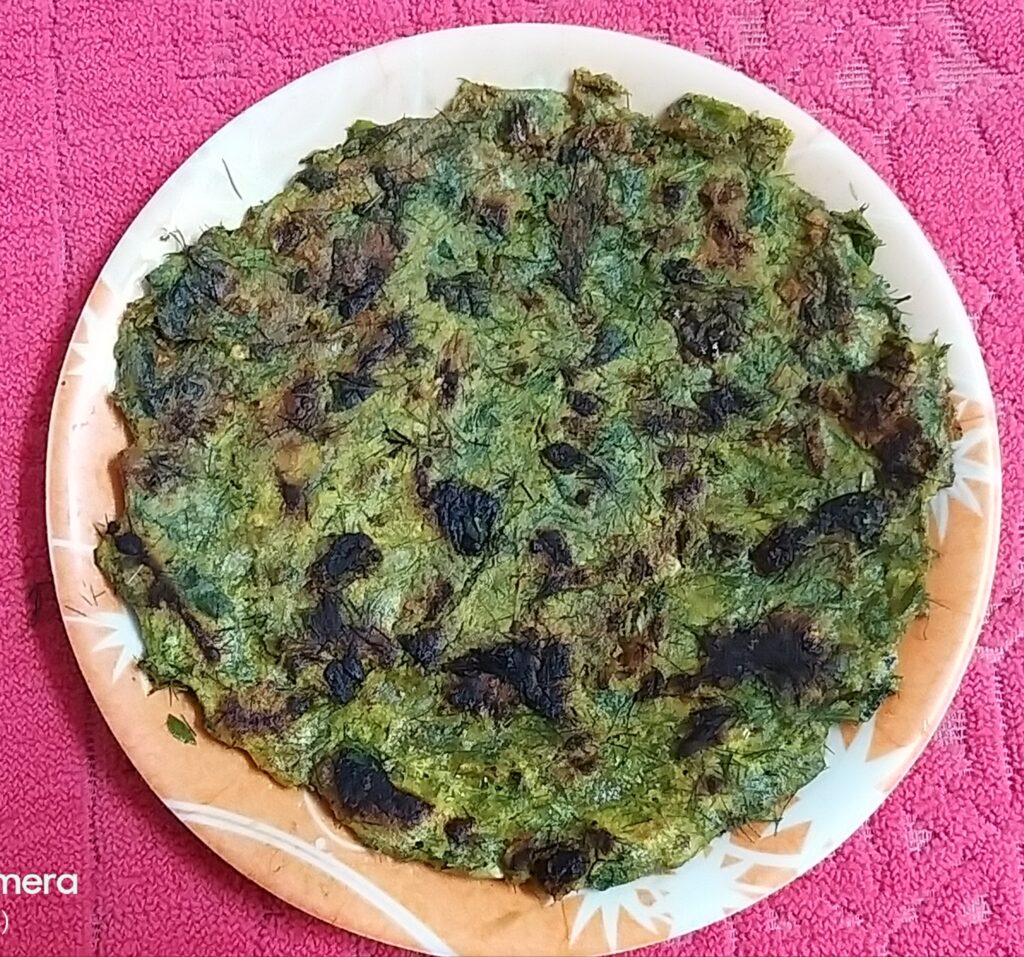 Sansarbuti vegetable:
Ingredient:
Chopped young shoot buds of sansarbutit/ cladodes, 1/2 kg; chopped potatoes in cubical shape, 1 kg: mustard oil, 3-4 table spoons; coriander powder, 1 table spoon; fenugreek powder, ½ table spoon; cumin seed, 1 tea spoon; turmeric powder, 1 table spoon; red chilies , 2-3; chopped medium sized onions 2-4; garlic, 4-5 cloves; ginger paste ½ table spoon; meshed tomatoes, 3-4; milk cream, 2-3 spoon, and salt, according to taste.
Method:
In hot mustard oil saute chopped shoot bud or cladodes and potatoes along with spices listed above in a sequence. Cook till they are soft and garnish with coriander leaves and serve.
Pickle:
Ingredients:
Chopped shoot buds, 1 kg; mustard oil, 7-9 table spoons; fenugreek powder, 2 table spoon; cumin seed, 2 table spoon; turmeric powder, 1; table spoon. red chillies, 8-12. mustard (rai ) powder, 4 table spoon and salt, according to taste. .
Method:
For preparing pickle, peel off skin of shoot bud and cut into small rectangular pieces. Boil them for 5 to 10 minutes and dry in full sunlight for 5-6 hours. In hot mustered oil saute dried pieces of desi ramban with roasted seed powder of fenugreek, cumin. and red chillies, then add to this turmeric powder, mustard (rai ) powder and salt, according to taste. Keep this mixture in a ceramic jar. After 15-20 days the shoot bud pieces will develop a sour taste and will be ready to eat.
Seek professional advice before using this plant medicinally
Medicinal
The dried root of this plant has been reported for its usage as antipyretic, antitussive, diuretic, expectorant, stomachic, nervous stimulant and tonic. Steroidal saponins are generally considered pharmacologically important 1.
References:
1.Reviews on Indian Medicinal Plants; Indian Council of Medical Research, New Delhi, 2004, Vol.3, 214, 227, 233.