Family: Cannabaceae
Synonyms: Cannabis indica, Cannabis ruderalis।
Common Name: Hemp, Indian Hemp
Local Name: Bhang (भांग), Begya
Bhang is an erect, branched and aromatic annual to perennial herbs of Western Himalaya. It is frequently seen growing in wastelands, roadsides, pathways and nearby habitations up to an altitude of 3000 m . Bhang prefers a rich loamy soil with plenty of humus and it normally succeed best in well-drained, moisture retentive habitat.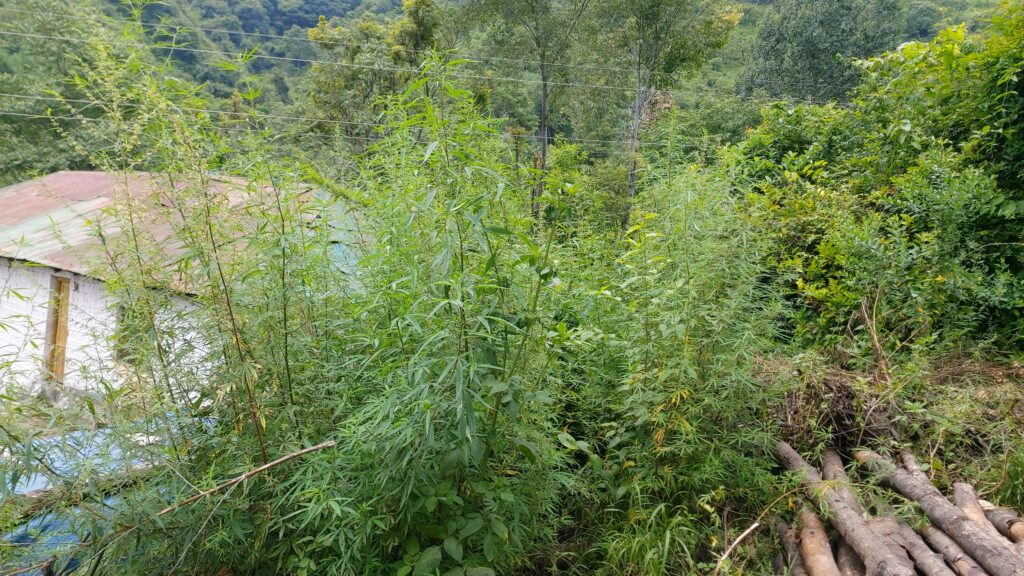 Bhang seeds are edible and known as 'bhangolu' in local dialect. People residing in hills of Western Himalayas eat bhangolu in a variety of ways. They prepare ladoo, modi, ghota and bhang namak (roasted ground seed powder, red chilies and salt). The fiber obtained from the stems is used for making ropes, sacs, decorative items and footwear called as pulla in local dialect. Plant is the source of Bhang, Ganga and Charas1.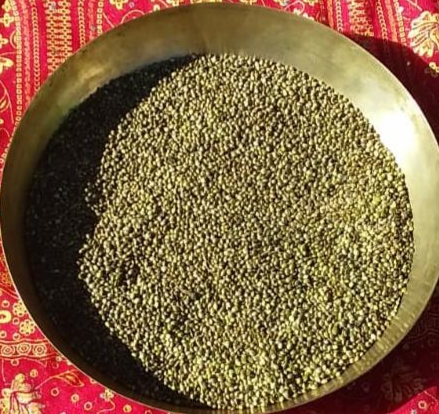 Local people use this herb to cure headache; inflammation, rheumatic pains stomachache and diarrhea. Bhang is harvested from wild habitat for local use of food, fiber, medicine and materials.
Bhangolu are harvested from the female plant, while fiber is obtained from male plant. Bhang is sometime also cultivated for its medicinal use and as a good source of fiber, edible seed and oil in many parts of the Western Himalaya. However, the plant is illegal to grow in many areas and its large-scale cultivation has been banned.
Bhang is a narcotic 2,3. Its action is almost entirely on the higher nerve centers, it can produce an exhilarating intoxication with hallucinations and is a widely used street drug 4. It has been also widely used in the past by mystics and sages wanting to communicate with the high power of nature. The nature of its effect does depend much on the temperament of the individual 4.
Bhang Plant:
Plant is erect, branched, aromatic, annual to perennial herbs upto to 3m tall.
Lowers leaves are 5-11-foliolate or partite; upper ones 1-5- foliolate; leaflets or segments lanceolate- oblong to elliptic, 3-10 cm long, coarsely serrate, thinly glandular hairy above, appressed- pubescent and gland-punctate beneath, all leaves long stalked.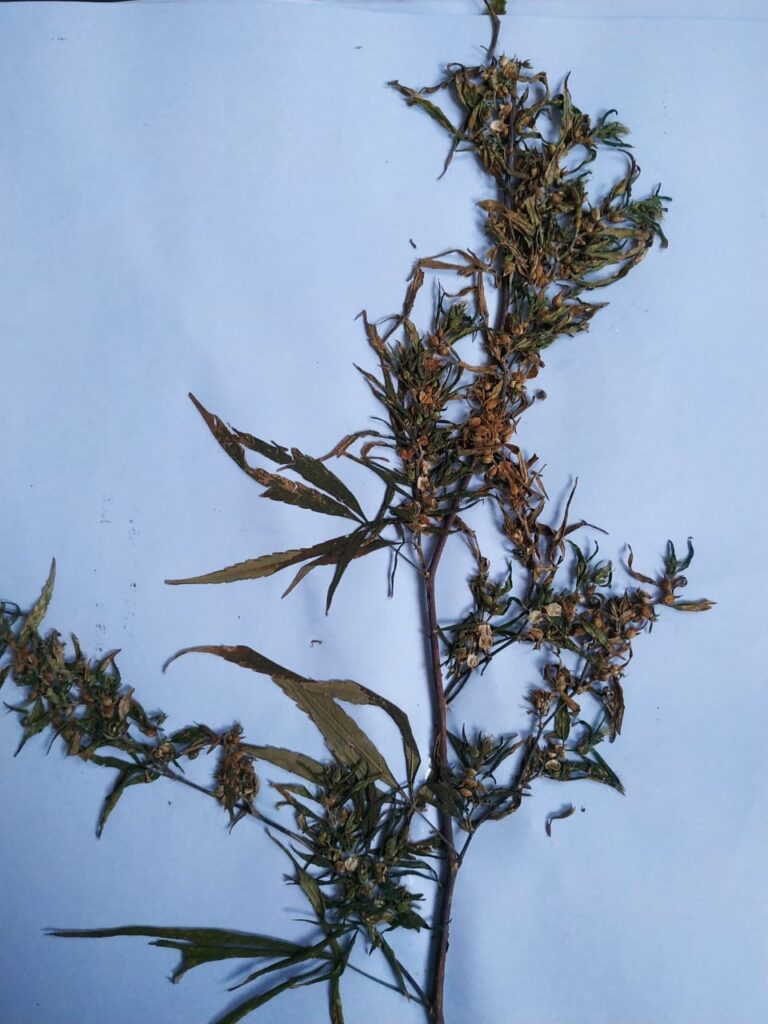 Plants is dioecious. Male flowers in short cymes, combined into terminal panicles. Female flowers solitary, axillary, forming leafy spikes.
Fruits are greyish – brown or yellowish, smooth, enclosed in persistent perianth.
Seeds are smooth, globose or ovoid, 2-4 mm long.
Bhang can best provide edible seeds from pre-autumn to winters and leaves can be collected throughout the year. Its excessive use can cause cough, dyspepsia, impotence, melancholy, dropsy, hyperpyrexia and insanity.
Edible Uses:
Bhangolu are eaten both raw or cooked. Seeds are roasted and ground along with mint leaves and chilies in a mixer. This paste is mixed with salt to prepare 'namak' to be used in salads. Seeds are cooked to make laddu, modi etc. Small and tender leaves of bhang are used to prepare 'Pakoras' and 'ghota'. Ghota is a special drink from bhang leaves, which is prepared and served during famous 'Shivratri' festival of Western Himalaya.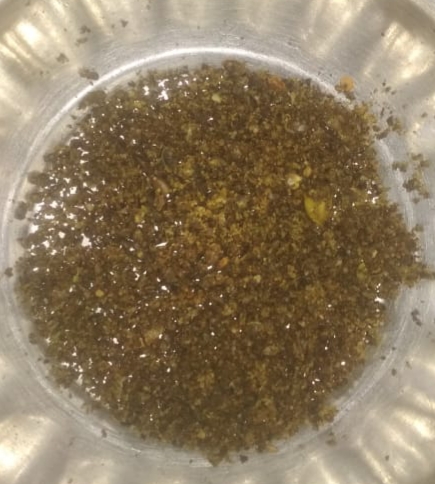 Ladoo:
Ingredients:
Saryara (Seeds of Amaranthus paniculata) ,1/2 kg; seeds of bhang, 100 gm; jaggery, ½ kg; Desi ghee, 3-4 table spoon; peanut 10-12, grated dried coconut, almond, cashew etc according to taste.
Methods:
Roast seeds of saryara and bhang for 5- 7 minutes and let them cool down. Cook roasted seeds in Desi ghee along with jaggery for 10-12 minutes, then add grated dry fruits and peanuts to it. Mix well, let it cool down and into round balls. Now ladoo are ready to eat.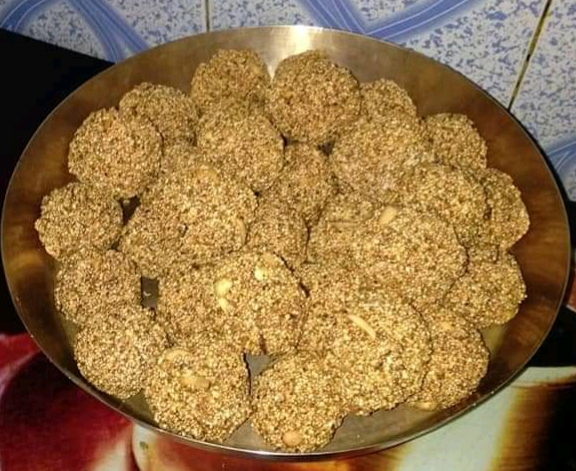 Modi:
Ingredients:
Bhang seeds. 1/2kg; Wheat whole grain. ½ kg; salt according to taste.
Method:
To prepare modi, roast seeds of wheat and bhang and mix well with salt. Now modi is ready to serve.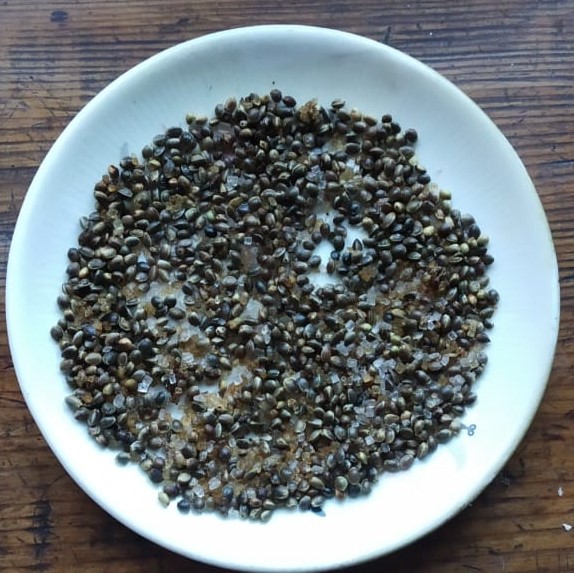 Ghota:
Ingredients:
Milk, 2 liter; bhang leaves, 100 gm; sugar, 200gm; grated dry fruits ( almond and cashew nuts) according to taste.
Method:
Ground bhang leaves in a mixer and boil its paste along with milk, sugar and grated dry fruits. Let it cool down now ghota is ready to drink.
Pakoras:
Ingredients:
Bhang seeds (Bhangolu) and young leaves, 50 g; basen, ½ kg; chopped potatoes, 3-4; mustard oil, ½ liter; coriander powder, ½ table spoon; fenugreek powder,1/4 table spoon; cumin seed, 1 table spoon turmeric powder, 1 table spoon; red chilies, 2-4, chopped onion, 3-4; chopped garlic cloves, 4-5 and salt according to taste;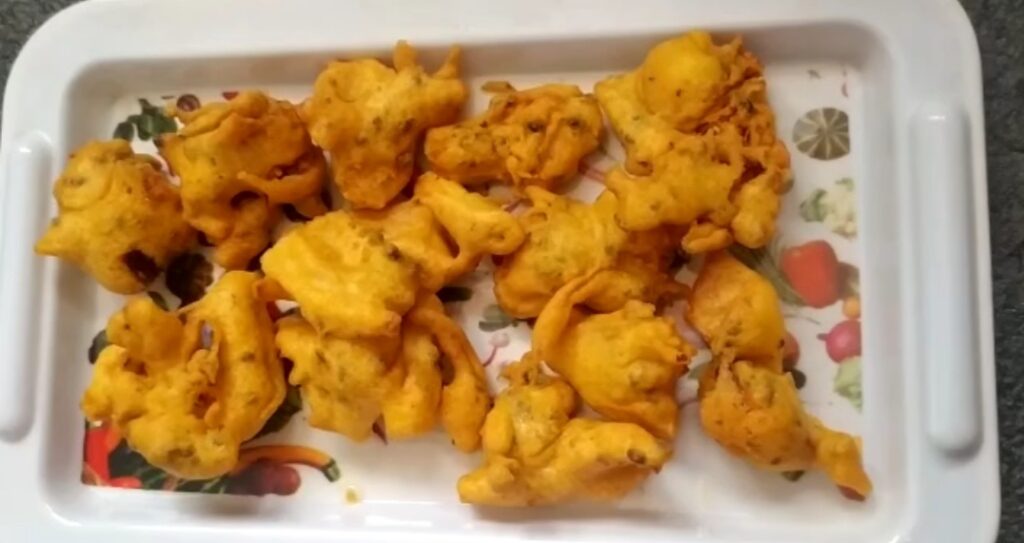 Method:
Mix bhang seeds, chopped leaves, potatoes, basen and spices listed above to make paste. Make small dumple out of this paste and in hot mustard oil give a deep fry. Now pakoras are ready to serve. Serve hot with tomato catch-up or tea.
Nutrient Analysis:
Whole bhang seeds contain (%) Oil, 35.5; Protein, 24.8; Carbohydrates, 27.6; Moisture, 6.5; Ash, 5.6; Energy, (kJ/100 g) 2200 ;Total dietary fiber(%), 27.6; Digestible fiber, 5.4; Non-digestible fiber ,22.2; Vitamin E, 90 ; Thiamine (B1), 0.4; Riboflavin (B2), 0.1; Phosphorous (P); 1160; Potassium (K), 859; Magnesium (Mg), 483; Calcium (Ca), 145; Iron (Fe), 14; Sodium (Na), 12; Manganese (Mn),7; Zinc (Zn), 7; Copper (Cu), 2 (mg / 100 g) 5.
Seek professional advice before treating this plant medicinally.
Medicinal Uses:
Bhang leaves are bitter, astringent, tonic, aphrodisiac, antidiarrhoeic, intoxicating, stomachic, analgesic and abortifacient 6. They are used in convulsions, otalgia, abdominal disorders, diarrhea, stomatalgia and haematorrhoea 6. Its excessive use causes dyspepsia, cough, impotence, melancholy, dropsy, hyperpyrexia and insanity 6. The bark is tonic, and is useful in inflammations, hemorrhoids and hydrocele 6. Seeds are carminative, astringent, aphrodisiac, antiemetic and anti-inflammatory6.
So far known in India bhang is used as an anthelmintic, appetizer, laxative, narcotic, nervine stimulant and sleep- inducing pills, and for bowel complaints, bronchitis, cold, cough, convulsions, cramps, delirium, epilepsy, cuts, dyspepsia, ear complaints, eye disease, gonorrhea, hydrocele, labour pains, paralysis of tongue, piles, skin diseases, skin eruptions, sores and tetanus 7,8. Powered root given to cure headache; half teaspoon twice daily for 3 days. 8. Decoction of leaves with mustard oil applied for relieving inflammation and rheumatic pains8.. Fine paste of leaves with beetle nut and jaggery roasted in 'desi' ghee used to make pills for stomachache and diarrhea 9.
Chemical constituents:
It contains tetrahydrocannabinol, cannabidiol, cannabinol, cannabichromene, cannabicitran, cannabicyclol, cannabielsion, stereo isomers of cannabitriol, cannabinodiol, cannabicumaronone, cannabiglendol and cannabitetrol 6.
Spiritual Value:
Bhang leaves are considered sacred and along with bill patri leaves(Aegle marmelos) used to worship Lord Shiva. Bhang leaves are considered indispensable offerings to the Lord Shiva during famous Shivrati festival of North Western Himalaya.
Other Uses: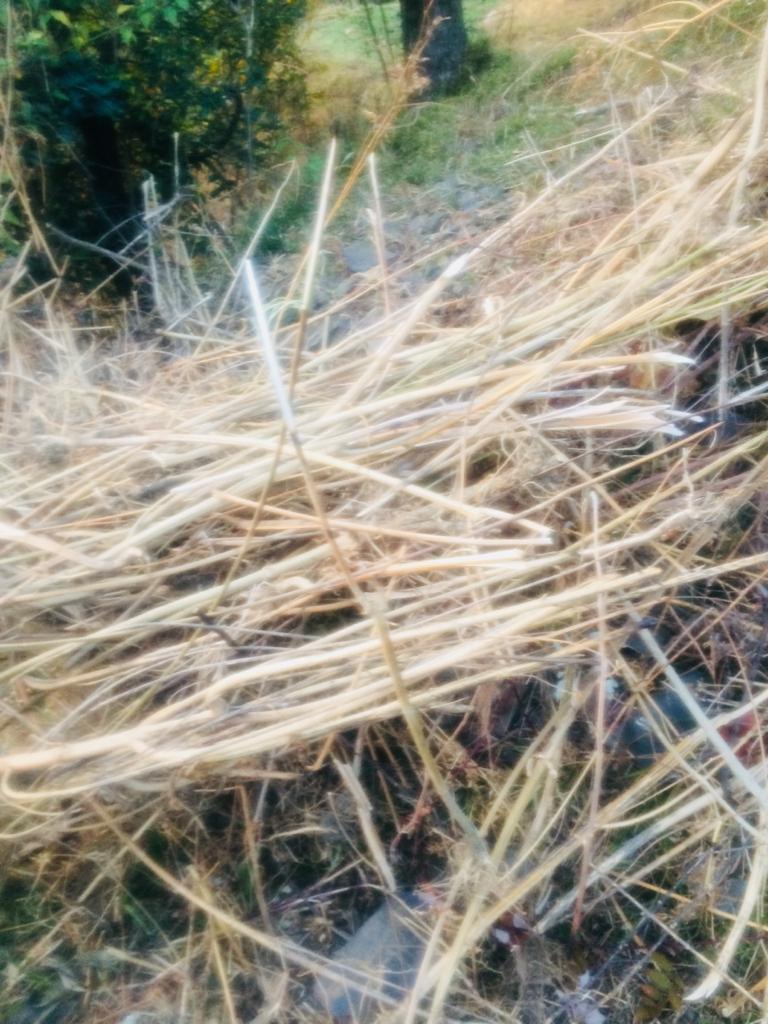 Bhang stem fiber are used to make pulla (footwear), ropes, bags, sacs etc., After removing fibers from the stem rest of stem is used to lit the fire. (banshek). A drying oil is obtained from the seed. It is used for lighting, soap making, paints, varnish etc 4.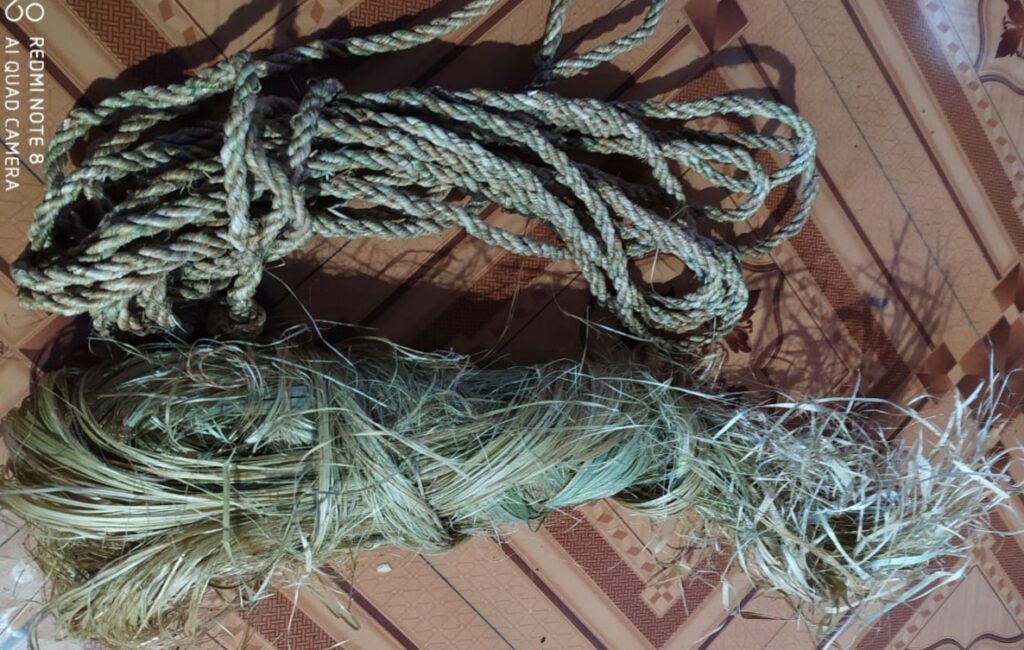 Source of income:
Items prepared from bhang fibers known to have high market value and sold in local market in hills. People can easily earn Rs 150 to 200 for one pair of pulla depending upon quality. Bhang leaves are also sold outside temple along with bill patri leaves (Aegle marmelos) for worshipping Lord 'Shiva'.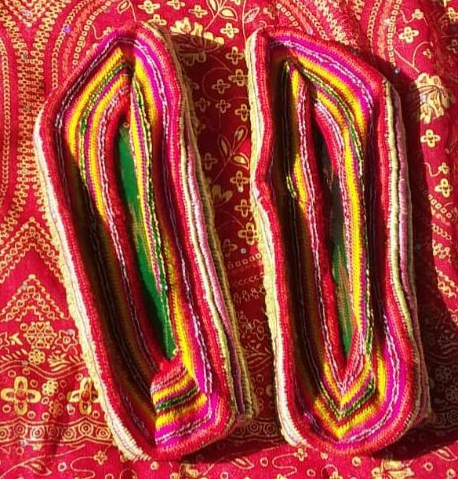 References:
Singh PB. (2018); Flora of Mandi district. Himachal Pradesh: North West Himalaya.
Stary. F. (1984); Poisonous plants. Hamlyn Publication. ISBN;0-600-35666-3
Cooper, M. R., & Johnson, A. W. (1984); Poisonous plants in Britain and their effects on animals and man. HM Stationery Office.
Grieve. (1984); A modern herbal. Penguin publication. ISBN; 0-14-046-440-
Callaway, J.C. (2004); Hempseed as a nutritional resource: An overview. Euphytica 140,65–72 doi:10.1007/s10681-004-4811-6
Purohit SS, Sharma AK. Prajapati ND, Kumar T(2009);A handbook of medicinal plants: a complete source book. 2:352-3.
Chopra, R. N., Nayar, S. L., & Chopra, I. C. (1956). Glossary of Indian medicinal plants (Vol. 1, pp. 138-139). New Delhi: Council of Scientific & Industrial Research.
Jain, S. K. (1991). Dictionary of Indian folk medicine and ethnobotany. Deep publications.r
Sood SK, Thakur S.( 2004): Ethnobotany of Rewalsar Himalaya. Deep Publications.