Family: Myricaceae
Synonymous: Myrica farquhariana, Morella esculenta. Myrica integrifolia, Myrica nagi, Myrica sapida.
Common Name: Bayberry
Local Name: Kaphal (काफल)
Kaphal is a medium to large sized woody evergreen tree, frequently seen growing in pine forests of Western Himalayas. It is found wild in open or mixed forests, on mountain slopes and roadsides at elevations between 1000-1800 m. Plant usually prefers a dry, well-drained habitat.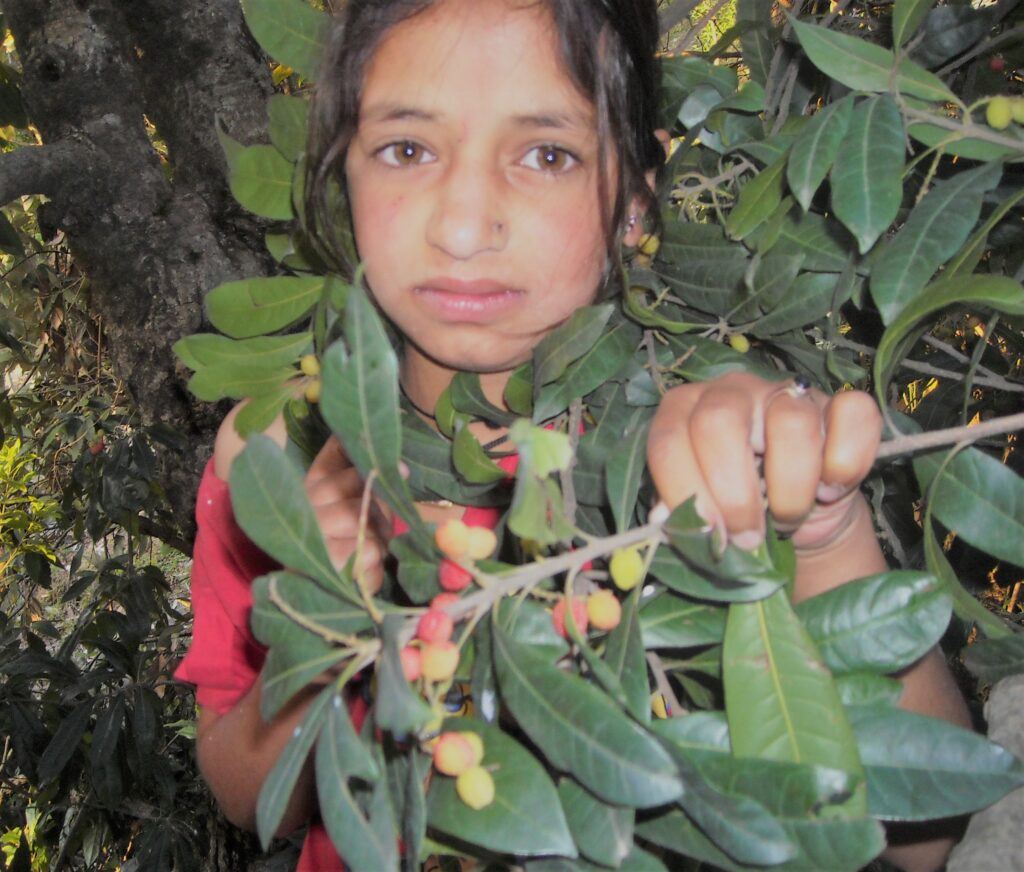 Fruits of Kaphal are edible and eaten raw or cooked to prepare refreshing drinks and desserts. Fruit juice is considered as coolant and preferred in full summers by locals of Western Himalayas. Fruits and roots are also used to prepare Ayurvedic formulations such as Chwayanprash and Brahmarasayan to enhance digestion, memory, intelligence, concentration and physical strength 1. Kaphal fruits are among the tastiest wild fruits of Western Himalayas. These are eagerly collected by inhabitants for their personal use and are also sold at high price in local market, thus they offer a easy source of earning for local people.Leaf paste is used to cure severe headache by locals.
Kaphal is a multipurpose tree for the inhabitants. Local people harvest this plant from wild habitat as a source of food, fuel, fodder, medicine and wood.
Kaphal Plant:
Plant is medium to large sized woody, evergreen decidious tree, 2 – 10 meters tall. Bark is soft and brittle.
Leaves are crowded towards the end of the branches, 7.5- 12.5 cm long, lanceolate, oblanceolate or obovate, obtuse or acute, entire, glabrous, above, pale, or rust- coloured and dotted beneath; petiole is 0.7-1.5 cm long.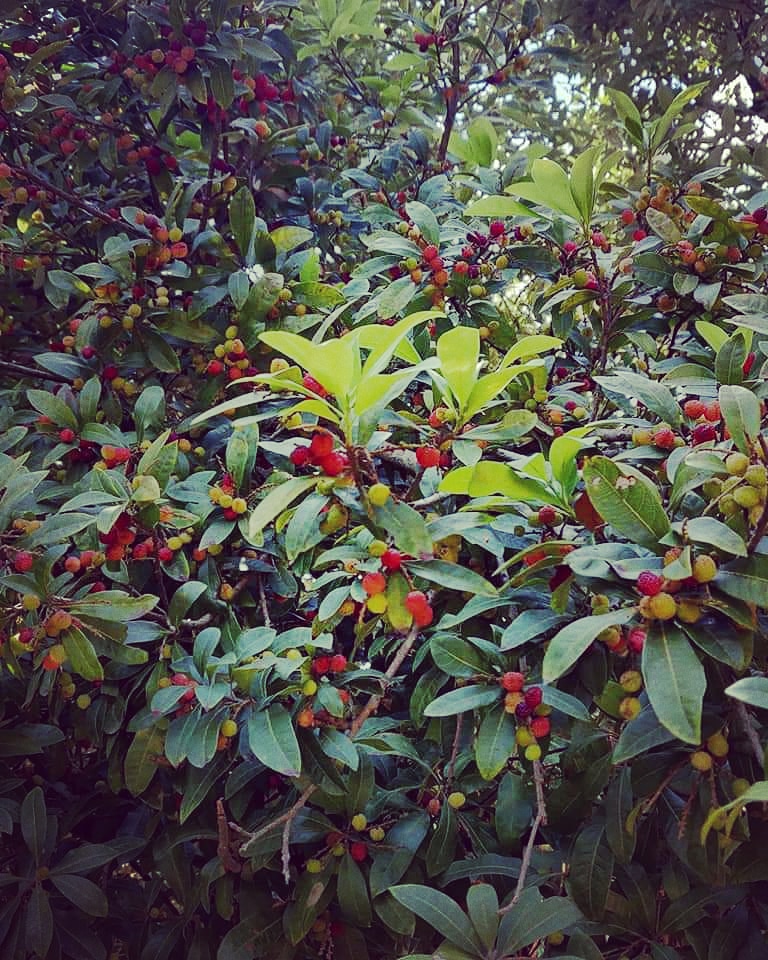 Flowers minute, unisexual. Male spikes usually racemose, on common peduncle, sometimes with female flowers at the top. Female spikes axillary, slender.
Fruits are sessile, ellipsoid or ovoid, 1 cm long, tubercled, fresh red when ripe; stone wrinkled.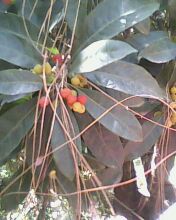 Kaphal can best provide edible fruits in summer season. In spite of being a multipurpose tree, the cultivation of the plant is very limited and fruits are exclusively harvested from wild for both traditional and commercial uses, which significantly reduced its population in natural habitat. Poor regeneration in natural habitat due to high anthropogenic activity is another important factor, which affect its natural population and further necessitates its conservation, regeneration, habitat preservation and sustainable harvesting for ensuring sustainable development.
Edible Uses:
Ripe fruits of kaphal are edible. These are used to prepare refreshing summer drink or desserts in following manner.
Refreshing Summer Drink:
Ingredients:
Kaphal fruits,1/2kg; sweetener like honey or sugar, 1-3 tea spoon; cardamom powder,1/4 tea spoon; lemon juice. 1 tea spoon; black salt according to taste.
Method:
Soak fruits in hot water to make these soft. Mesh manually to extract fruit pulp by separating their seeds. Now strain to separate seeds and juice. Add to this fruit juice honey or sugar and stir well, then add lemon juice, ice, salt and cardamom powder. Mix well and serve. It can be stored for 6 months.
Kaphal fruits desserts:
Ingredients:
Kaphal fruits and other chopped fruits acc. to taste,1/2kg; curd, 1kg; sweetener like honey/ sugar/ condensed milk, 1-3 tea spoon; cardamom powder,1/4 tea spoon; black salt according to taste.
Method:
Take curd in a bowl. Add to it sweetener according to choice and stir well. Add cardamom powder black salt and kaphal fruits and other chopped fruits according to preference. Mix well and serve.
Nutrient Value:
Ash (%) 2.18±0.02; Moisture content (%) 72.33±0.23; Crude fat (%) 4.93±0.06; Crude fibre (%) 5.22±0.08; Crude protein (%) 9.62±0.03; Carbohydrates (%) 78.03±0.14; Energy (Kcal/g) 395.04±0.54; Minerals (mg/g): Calcium 4.63±0.06; Magnesium 8.4±0.20; Potassium 7.75±0.11; Phosphorus 0.24±0.25; Sodium 0.81±0.013; Manganese 0.032±0.0001; Zinc 0.216±0.0016; Iron 0.404±0.0021; Copper 0.004±0.0002 2,3.
Seek professional advice before using this plant medicinally.
Medicinal uses:
Powered seeds and fruits useful against stomach disorders; one teaspoon twice a day for 3-5 days 4. Bark is astringent, stimulant, carminative, tonic and resolvent, used in fever, asthma, diarrhea, chronic bronchitis, dysentery and diuresis 5. The paste of leaves is applied externally by local tribe of HP and Uttranchal to cure headache 6.
Chemical constituents:
Therapeutic properties attributed to myriconol, proanthocyandin, beta- sitoterol, friedelin, taraxerol, mycricdiol, myricetin and myricetin- 3- rhamnoside 7.
Other Uses:
Local people of Western Himalaya use this plant as fuel, fodder and timber. A yellow dye is obtained from the bark 8. It can be used to dye mordant cotton yellowish to brownish shades 9. The bark contains 19 – 34% tannins on a dry weight basis9. The wax-like substance which covers the fruits is sometimes extracted by boiling the fruit in water 9. The wax is used for making candles and soap 9.
Source of Income:
Kaphal fruits are good source of earning for people residing in hills. Fruits are known to have high market value. People can earn easily Rs 200 to 400/ kg depending upon quality of fruits.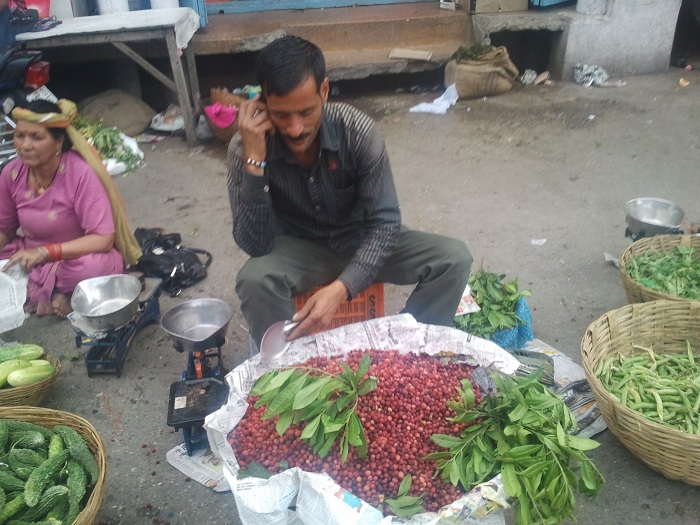 References:
1. Mishra RN. Rasayan (2011); The Ayurvedic Perspective. Res J Pharm Biol Chem Sci; 2:269-82.
2. Seal T. (2011); Nutritional composition of wild edible fruits in Meghalaya state of India and their ethnobotanical Importance. Res J Bot;6:58-67. 53.
3.Chandra S, Saklani S, Mishra AP, Badoni PP. (2012); Nutritional evaluation, antimicrobial activity and phytochemical screening of wild edible fruit of Myrica nagi pulp. Int J Pharm Pharm Sci;4:407-11.
4. Sood SK, Thakur S.( 2004): Ethnobotany of Rewalsar Himalaya. Deep Publications.
5 Singh PB. (2018); Flora of Mandi district. Himachal Pradesh: North West Himalaya.
6. Bhatt UVP, Negi GCS. Ethnomedicinal plant resources of Jaunsari tribe of Garhwal Himalaya. Indian Journal of Traditional Knowledge 2006;5;331-5.
7. Anonymous, 1946-1976. The wealth of India- Raw materials. Vol. 1-11. CSIR, New Delhi.
8. Manandhar. N. P.( 2002); Plants and People of Nepal. Timber Press. Oregon publication. ISBN; 0-88192-527-6.
9, http://proseanet.org/ Plant Resources of Southeast Asia