Fanily: Combretaceae
Synonyms: Myrobalanus bellirica,Myrobalanus laurinioides, Terminalia attenuate,Terminalia moluccana,Terminalia punctata
Common Name: Myrobalan
Local Name: Baheda (बहेड़ा)
Baheda is a large, deciduous, fast-growing, multipurpose tree, well known for its edible fruits. It succeeds best in well-drained soil with a sunny habitat. Plant occasionally found near villages and can be seen scattered in forests, mountains sunny slopes up to an altitude of 1000 m in Western Himalaya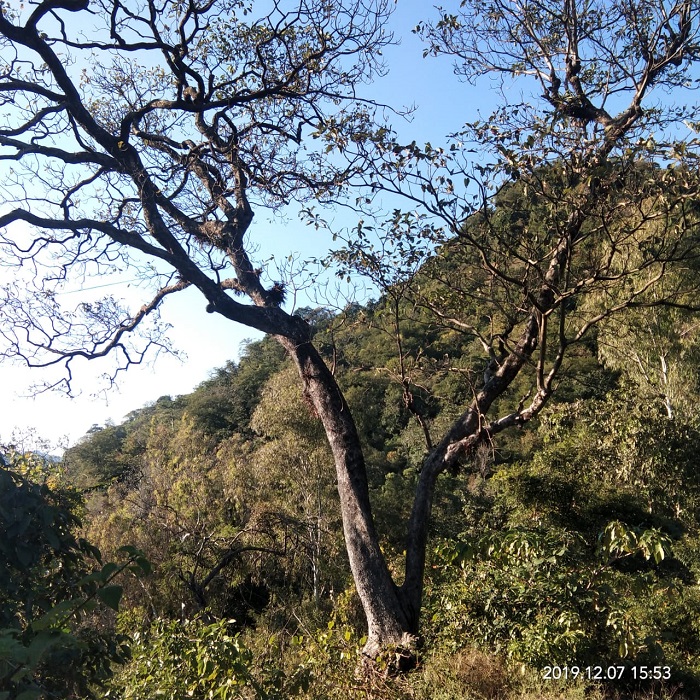 Tree is known for its multifarious uses, It is a good source of food, fuel, fodder, tennin and medicine for locals. Baheda fruits are edible and used as astringent, tonic and laxative. They are important constituent of the 'Triphala Churan' of Ayurveda along with fruits of with ambla (Phyllanthus emblica) and harad(Terminalia chebula). Unripe baheda fruits are also pickled to harness its medicinal value. Wood is not durable, so used for construction of low quality agricultural implements and as a fuel. Local people harvest baheda from wild habitat for their personal use of food, fodder, fuel, medicine and other material. Plant is also cultivated sometimes for its edible fruits.
Baheda fruits are also good source of earning for local people. Women and children collect fallen fruits. Dry them well and sell in local market. Fruits are also harvested in bulk for sale.
Baheda Tree:
Tree is medium- sized or large, deciduous with characteristics bark 12-50 m tall.
Leave are 10-30 to 8-11 cm, broadly elliptic, coriaceous, long- petiolate, crowded towards the end of branches.
Flowers greenish- yellow, sessile, foetid- smelling, in slender, interrupted spikes.
Fruit drupes ovoid or ellipsoid, grey- velvety, 2.5-3.5 cm long, obscurely angled when dry, containing a large stone.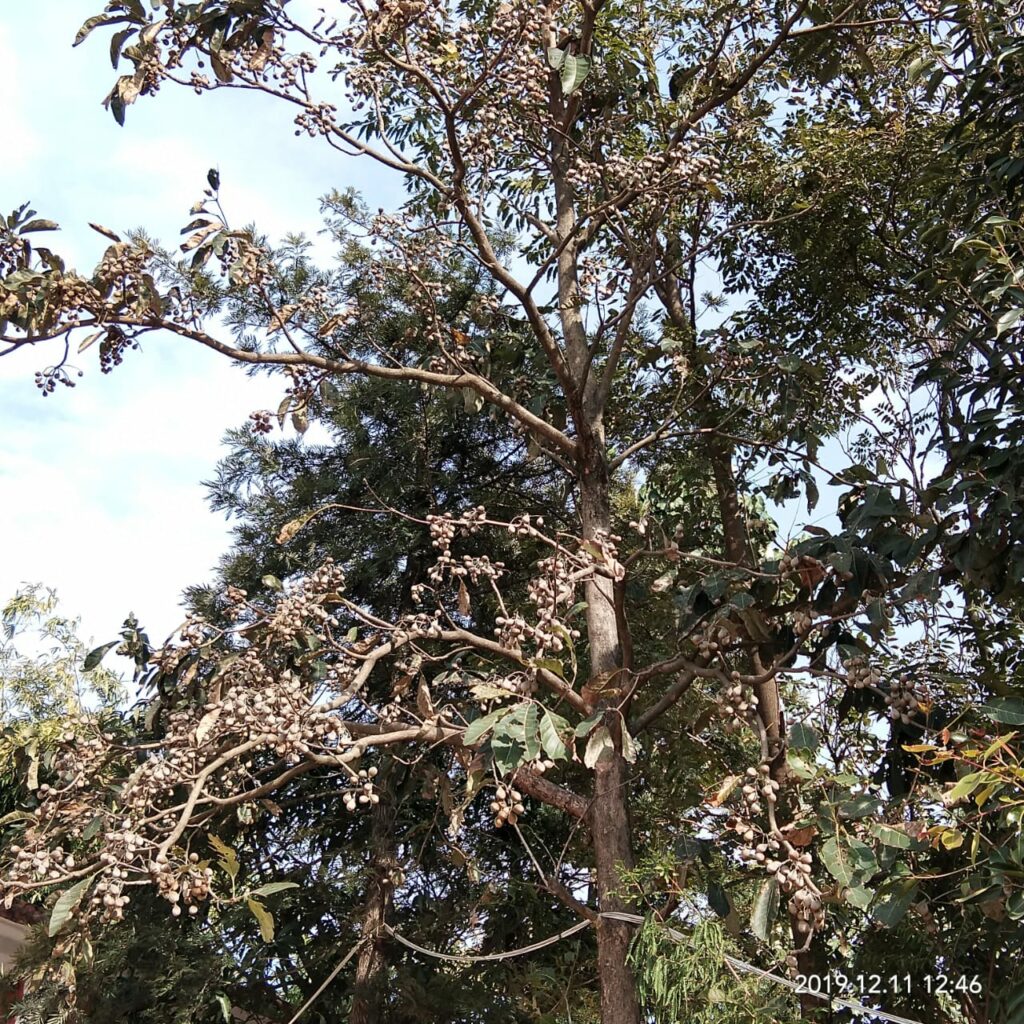 Edible fruits of baheda can best be harvested from Autumn to Winter period of the year. For ensuring sustainable harvesting they need to be harvested on the basis of habitat rotation. Some of fruits should be left on parent tree for regeneration.
Edible Uses:
Baheda fruits are edible both raw and cooked. Raw fruits are dried and ground into powder to prepare 'Triphala churan' along with fruits of ambla and harade. They are also cooked to prepare pickle. These traditional methods of preservation are followed to improve taste and acceptability of wild edible food among younger generation.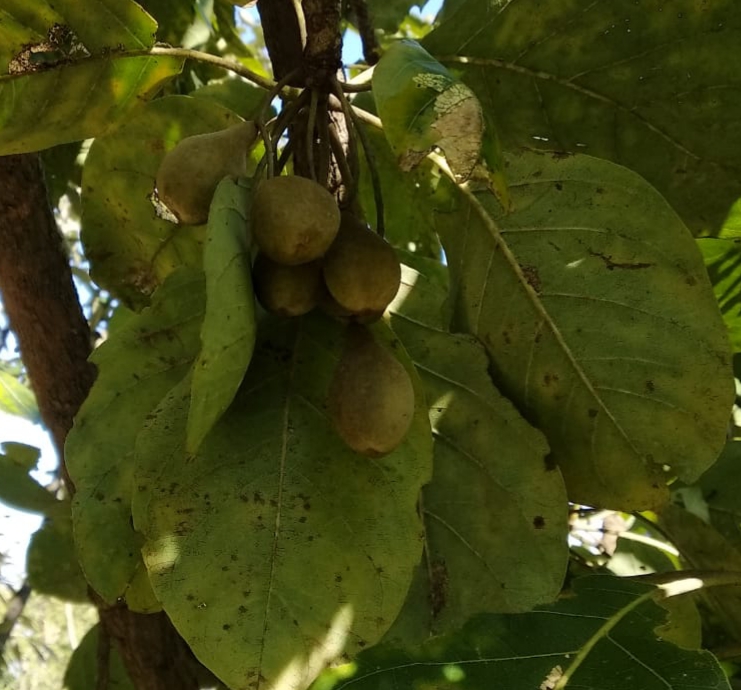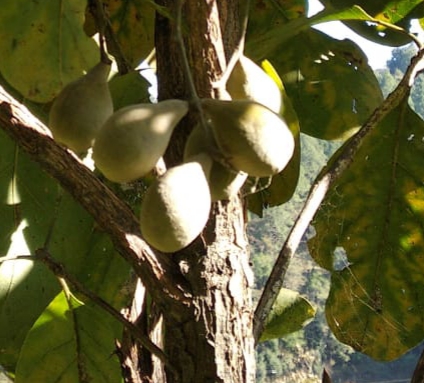 Pickle:
Ingredients:
Baheda fresh fruits,1 kg; asafetida,1/4 tea spoon, black salt, 1 tea spoon; black pepper, 1, table spoon, fennel, 1 tea spoon; Mustard seeds, 4-5 table spoon, mustard oil,300g; black cumin, 1 tea spoon, fenugreek seeds, 2 table spoons; turmeric powder, 2 table spoon; red chilies powder, 2 table spoon; salt, according to taste.
Method:
Pickle is prepared from unripe fruits. For preparing pickle, raw fruits are boiled in water for 5-8 minutes and dried in full sunlight for 2 days. Dried fruits are sauted with oil and ground powdered spices like black pepper, fennel, black cumin, fenugreek seeds and red chillies. Add to it asafetida, black salt, turmeric powder, mustard seeds and salt acc.to taste. Mix well, put in ceramic jar Pickle is ready to eat after 10-15 days.
Seek Professional Advice Before Treating This Plant Medicinally.
Medicinal Uses:
The bark is mildly diuretic and useful in anemia and leucoderma1. The fruits are astringent, acrid sweet, thermogenesis, anti- inflammatory, anodyne, styptic, narcotic, digestive, anthelmintic, and aperient, experctorant, ophthalmic, antipyretic, antiemetic and rejuvenating1. They are useful in vitiated conditions of kapha and vata, cough, bronchitis, pharyngitis, insomnia, dropsy, dyspepsia, flatulence, dipsia, vomiting, haemorrhages, ophthalmopathy, strangury, splenomegaly1. Skin diseases, leprosy, fevers, ulcers and general debility1. The mature and dry fruit is constipating and is useful in diarrhea and dysentery1. The oil obtained from the seeds is trichogenous and is useful in dyspepsia, skin diseases, leucoderma and greyness of hair1.
Chemical Constituents:
Fruits contains about 17% tannin and Beta- sitosterol, Gallic acid, ellagic acid, ethyl galate, galloyl glucose and chebulagic acid1. Heartwood and bark contain ellagic acid and the seed coat of the fruits contains gallic acid1. A new cardiac glycoside- bellericanin. Kernel oil had a purgative action, and fruits extract produced fall in blood pressure and significant increase of bile secretion in experimental animals 1.
Other Uses:
Baheda is a multipurpose tree for local people, except food and medicine people harvest it for fuel and fodder also. The wood is valued for fuel and for making charcoal 2. Its bark is used for making a dye2.The dried fruits contain 20 – 25% tannin 2,3.
The fruits yield a dye that is occasionally used together with iron sulphate for dyeing black cloth and matting, as a cheap substitute for indigo, and for preparation of ink3
The seeds yield about 40% of a clear yellow oil, composed of 12% palmitic acid, 16% stearic acid, 43% oleic acid and 29% linoleic acid3. It is used for hair-oil and in the manufacture of soap3. An excellent soap can be prepared using a mixture of 60% of this oil, 25% coconut oil and 15% groundnut oil3.
Source of income:
Like Harade fruits, baheda fruits are also highly valued for their medicinal value and are good source of income for local people of Western Himalaya, Fruits are dried and sold in local market alone or as Triphala churan. I kg dried fruits are available at the rate of Rs 1000 in local market while Triphala Churan is sold Rs 50/100g.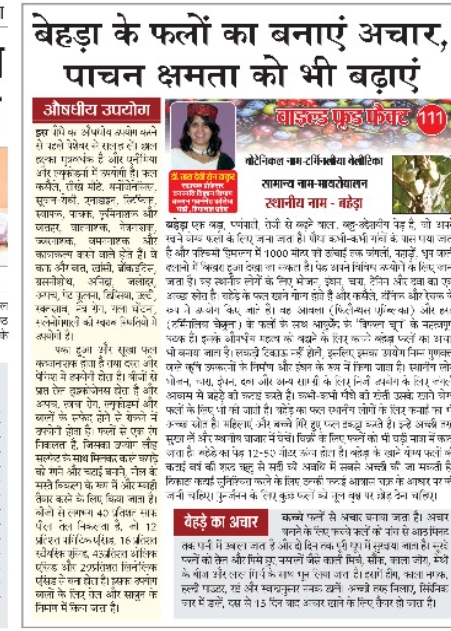 References:
Purohit SS, Sharma AK, Prajapati ND.Kumar T.(2009):a handbook of medicinal plants; A complete source book. 2:352-3.
Manandhar, N. P. (2002). Plants and people of Nepal. Timber press