Family: Cucurbitaceae
Synonyms: Momordica involucrate, Momordica schinzii
Common Name: Balsam Pear, Balsam Apple, African cucumber, Southern balsam pear.
Local Name: Van Krela (वन करेला), Glakdi.
Van Krela is a wild growing tendril-bearing annual vine of Western Himalayas arising from a tuberous perennial rootstock. It is seen growing in sunny and semi-shaded locations with rich organic matter in grassland, savannah, woodland, forest margins, coastal dune forests and in river banks upto an elevation of 1500 m in Western Himalayas. Ripe fruits of Van Krela burst apart upon full maturity, revealing numerous seeds covered with a brilliant scarlet, extremely sticky coating. Due to this balsam-like bursting of the fruits species name balsamina might have assigned.
Tender leaves and green fruits of Van Krela are edible and cooked into a delicious vegetable. Fruits are also pickled for ensuring their availability during off season or eaten raw. Leaves are eaten as spinach or cooked to prepare porridge.
The young leaves are rich source of vitamin C, amino acids, minerals and are considered a good supplement of protein and nutrients for rural community.
Van Krela with tremendous medicinal properties is a miracle herb for locals of Western Himalayas, They harvest this plant from wild habitat for their local use of food and medicine.
Van Krela Plant:
Plant is a monoecious annual vine up to 5 m long with unbranched hairless tendrils arising from arising from a tuberous perennial rootstock.
Stems velvet-hairy to becoming hairless.
Leaves round in outline, 1.5-5.0 cm long and as broad, heart-shaped at base, hairless or sparsely hairy, 3-5-lobed, middle lobes broadly ovate or rhombic-ovate, sinuate-toothed or pointedly lobed. Leaf-stalks are 1-3 cm long, velvet-hairy. Flowers are yellow, 2.5-3.0 cm across, stalked.
Male flowers solitary, on 1.5 cm long flower-cluster-stalk, bearing near the tip a stalkless, broadly ovate-heart-shaped, nearly hairless, toothed bract. Female flowers on 0.5-1.5 cm long basally bracteate or ebracteate flower-cluster-stalks. Calyx tube is 5-6 mm long, velvet-hairy, lobes ovate, tapering, 3-3.5 mm broad.
Flowers slightly zygomorphic, brown at base, petals yellow, obovate, 1.0-1.5 cm long, 0.8-1.0 cm broad.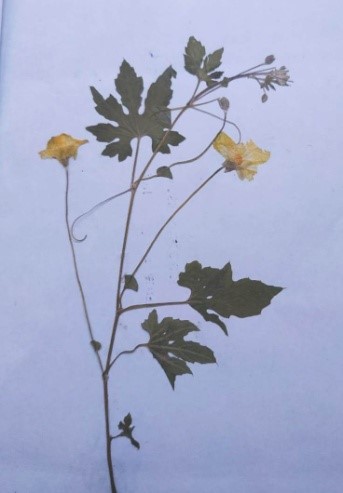 Fruits broadly ovoid, narrowed at ends, 2-7 cm long, 1-2.5 cm broad, orange-red, warty. When ripe, the fruits burst apart, revealing numerous seeds covered with a brilliant scarlet, extremely sticky coating.
Van Krela can best provide edible leaves and fruits from summer end to and pre winter season of the year. Leaves are rich source of protein and minerals, so this wild vegetable should be promoted as a protein supplement for cereal-based diets in poor rural communities.
Edible Uses:
Leaves and fruits of van krela are edible. Fruits are eaten both raw or cooked. Only perquisite is to eat when these are young or immature as mature one may be too bitter and can be poisonous. The fruit can also be pickled for off season or along with leaves used in sauces and soups. Leaves are eaten as spinach and with fruits these are simply mixed with wild oat (Avena fatua) or other cereals for preparing porridge. Leaves can be cooked as 'Kachru' a local traditional dish uses as snack with tea.
Vegetable:
Van krela tender leaves and chopped fruits, 1kg; chopped medium sized potatoes,3-4 mustard oil, 3-4 table spoons; coriander powder, 1 table spoon; fenugreek powder, ½ table spoon; cumin seed, 1 tea spoon; turmeric powder, 1 table spoon; red chilies, 2-3; chopped medium sized onions 2-4; garlic, 4-5 cloves; ginger paste ½ table spoon, chopped tomato, 2-3; and salt, according to taste.
Method:
Put oil in a pan and sauté chopped leaves and fruits with potatoes and spices listed above in sequence. Cook for 15 to 20 minutes and serve with chappatis.
Porridge:
Ingredients:
Van krela tender leaves and chopped fruits, 1/2kg; wild oats or oats. ½ kg, buttermilk, 1liter ; cumin seed ¼ table spoon; turmeric powder, 1/4 table spoon; red chilies, 2-3; chopped medium sized onion and tomato,1 and salt according to taste.
Method:
For preparing porridge boil wild oats with buttermilk, Van krela tender leaves and chopped fruits, cumin seed, turmeric powder. red chilies and salt. Cook till they are soft and garnish with chopped onion, tomato and coriander leaves before serving.
For preparing 1/2 kg leaves Kachru ingredients one will need 250g besan (black gramflour) or corn flour,1 cup fresh coriander leaves (chopped), 3-5 green chilies, ½ table spoon turmeric powder, 1/2 table spoon caraway, 2-3 medium sized chopped onions and salt according to taste.
Method;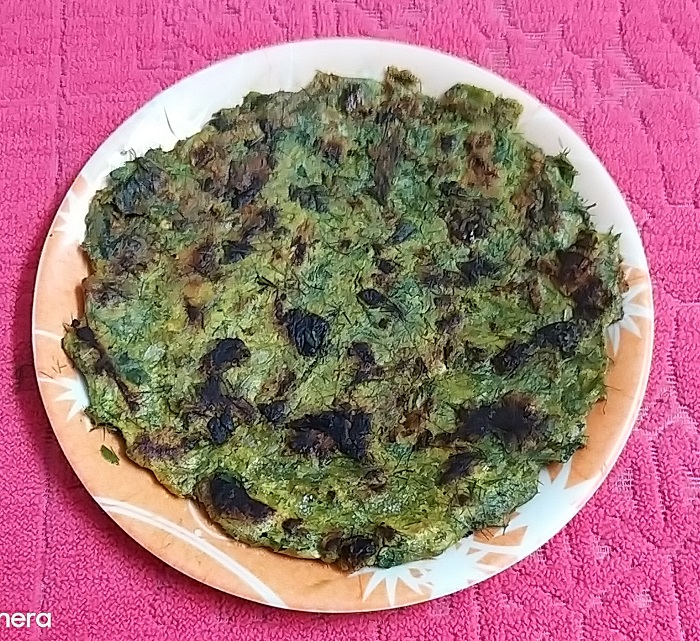 Make a paste of chopped leaveswith besan or corn flour and mixing it with spices. Heat some oil on a flat cooking pan and spread paste on it. Heat for 15-20 minutes occasionally turning it to other side and kachru will be ready. Serve hot with tomato sauce or some other ketchup.
Preparing Pickle:
Pickle is also prepared from green fruits of van krela. For preparing pickle, Fruits are boiled for 2 minutes and dried in sun before sauting in hot mustered oil and spices like fenugreek seed powder, turmeric powder, red chilies powder and salt acc.to taste. Add one to three table spoon mustard seed powder to make pickle sour. Pickle is ready to eat after 10-15 days.
Nutritive Value:
Leaves on dry weight basis contain (%) moisture, 71.00 ± 0.95; ash, 18.00 ± 0.56; crude protein, 11.29 ± 0.07; crude lipid, 2.66 ± 0.13; crude fiber, 29.00 ± 1.23; carbohydrate, 39.05 ± 2.01; calorific value, (kcal /100 g) 189.22; potassium, 1,320.00; sodium, 122.49; calcium, 941; magnesium. 220; phosphorus, 130.46; manganese, 11.6; iron, 60.3; copper 5.44; zinc, 3.18; K/Na, 10.78; Ca/P 7.21 1,
Seek professional advice before treating this plant medicinally.
Medicinal Uses:
The plant contains a bitter principle momordicin 3 . The fruit (minus the seed) are infused in olive or almond oil and used against burns and hemorrhoid's and the mashed fruits are used as a poultice.Plant extract is used to in control hyperglycemia 4. It is one of the traditional medicines that have been used for decades for the management of diabetes 5. The aqueous leaf extract of van krela has also been used in reducing and relieving period pain in young girls 6. The leaves are important source of nutrients having 17 amino acids 1, adequate mineral composition like potassium, magnesium, phosphorus, calcium, sodium, zinc, manganese and iron contributes towards combating the problem of micronutrient deficiencies in soil and high value of protein and fat with low fiber content1,2. High potassium content is a good source for the management of hypertension and other cardiovascular conditions1,2 .
Other Uses:
The fruits are used as a soap substitute 7. The leaf sap is said to be an effective metal cleaner 8. The leaves are used to clean metal objects and to wash the hands and body 9. They form a slightly soapy solution in water 9.
References:
Hassan, L.G. and Umar, K.J. (2006) Nutritional value of balsam apple (Momordica balsamina L.) leaves. Pak. J. Nut., 5(6), 522- 529.
Flyman, M.V. and Anthony, J.A. (2007) Proximate and mineral composition of the leaves of Momordica balsamina L.: an underutilized wild vegetable in Botswana. Int. J. Food Sci. Nutr., 58(6), 419-423.
Watt, J.M. and Breyer-Brandwijk, M.G. (1962) Medicinal and Poisonous Plants of Southern and Eastern Africa. E&S. Livingstone, Ltd., London. [30] Gills, L.S. (1992) Ethnomedical Uses of Plants in Nigeria. Uniben Press: Edo State Nigeria, p. 121.
Otimenyin, O.S.; Uguru, O.M. and Ogbonna, A. (2008) Antimicrobial and hypoglycemic effects of Momordica balsamina. Linn.. J. Nat. Prod., 1, 03-09.
Gills, L.S. (1992) Ethnomedical Uses of Plants in Nigeria. Uniben Press: Edo State Nigeria, p. 121.
Seaforth, C.E.; Adam, C.O. and Sylvester, Y. (1980) A Guide to the Medicinal Plants of Trinidad and Tobago. Commonwealth Secretariat: London, pp. 101-105.