Family: Arecaceae
Synonyms: Elate sylvestris, Elate versicolor
Common Name: Wild Date Plum
Local Name: Khajara (खजरा), Khajoor.
Khajara is a unbranched fast-growing, evergreen palm of Western Himalaya. It is frequently seen growing along river banks, roadsides, pathways, in open forest, grassland and on stretches of low ground. Khajara succeeds best in well drained sunny habitat and is found up to an altitude of 2200 m in Western Himalayas.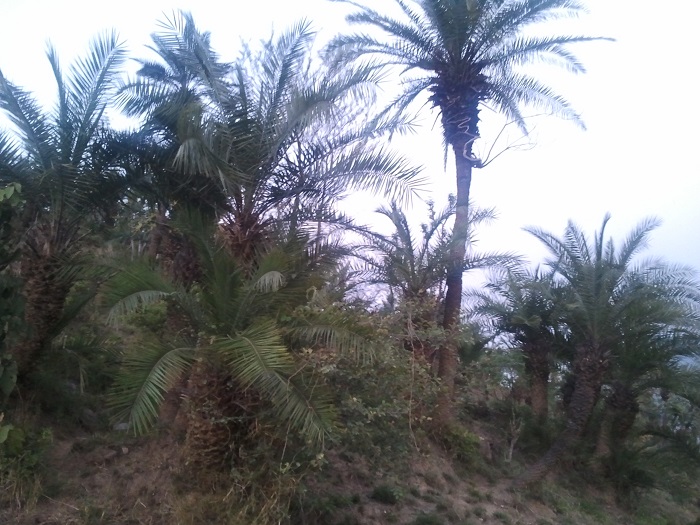 Young roots and stem basal central soft wood of khajara is eaten row. Its sap obtained from the unopened inflorescence is concentrated into a organic syrup or fermented into local alcoholic beverage. Khajara fruits are with sweet flavor and are edible both raw or cooked. Ripe fruits are also added to desserts.
Khajara is a multipurpose tree for the local people due to its multifarious uses of fodder, fuel, food, medicine and other material. Plant is of considerable economic importance for inhabitants as its leaves are used for thatching and making brooms and mats. Khajara broom are in great demand and can be sold round the year, people easily earn Rs 20 to 30 per broom.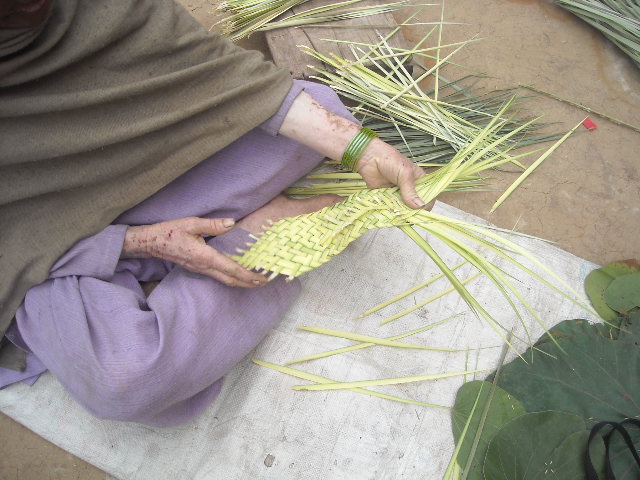 People harvest khajara from wild habitat for their personal use, but it is sometime grown as an ornamental plant in gardens and along the sides of roads.
Khajara Plant:
Plant is evergreen, erect palms, 7-15 m tall.
Stem is covered with persistent leaf bases.
Leaves are 2-4 m long, lower, arching; leaflets 15-45 to 2-3 cm, rigid, uniform, canaliculated, spinous-pointed; petioles compressed towards the apex and bearing a few short spine at the base.
Khajara is dioicous. Male flowers white, fragrant. Female inflorescences drooping.
Fruits are orange to reddish brown, oblong, 15- 20 mm long.
Seeds are grooved on one face.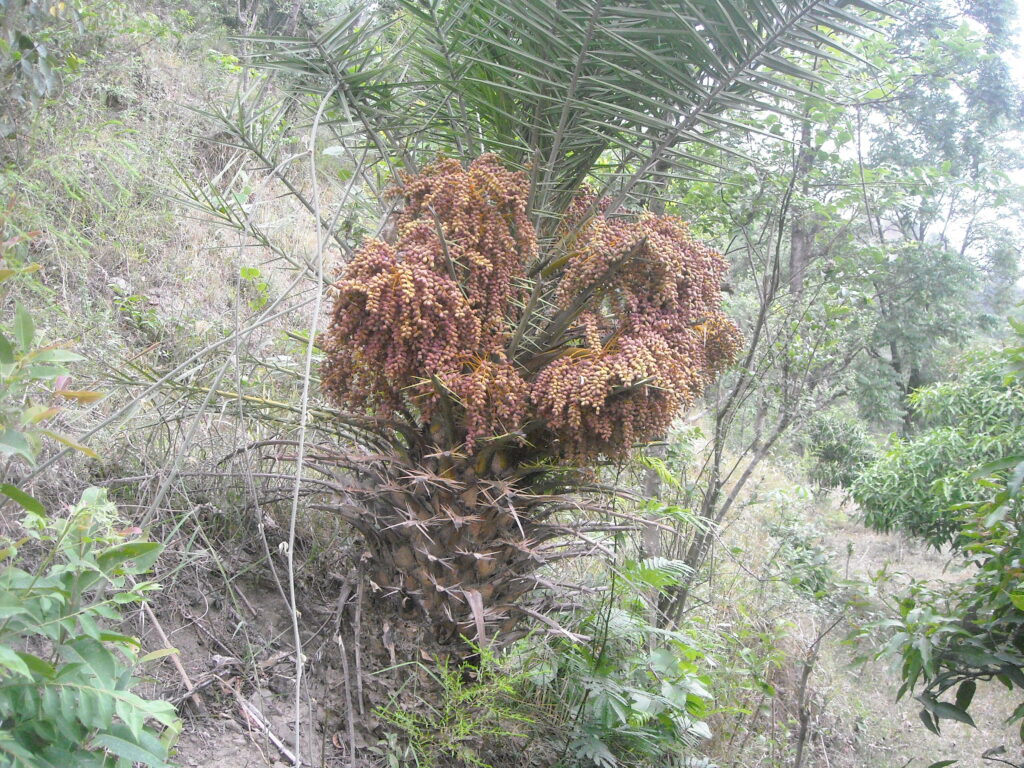 Khajare edible roots and stem can be harvested round the year but it can best provide edible fruits in summers. For sustainable harvesting collection should be done on habitat rotation basis.
Edible Uses:
All the parts of khajara are edible and eaten by local people of Western Himalaya. Young root, stem basal central soft part and ripe fruits are eaten raw. Ripe fruits are also added to desserts or puddings. The sap obtained from the unopened inflorescence is a rich source of sugar, it is concentrated into a syrup for using as a natural sweetener in drinks or sweet dishes. Some time it is fermented into local alcoholic beverage.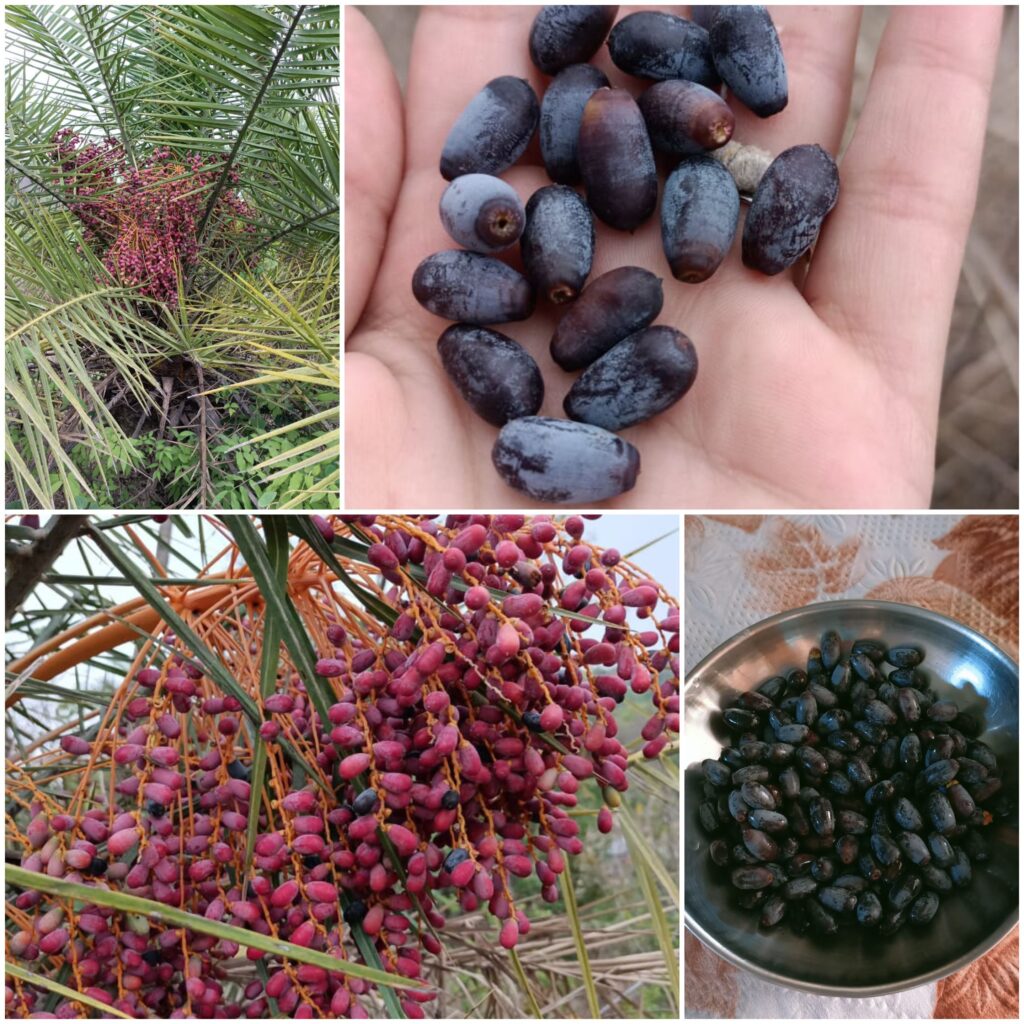 Syrup:
Khajara syrup is natural sweetener to be used in drinks and sweet dishes. Both sap and fruits can be used to prepare this organic syrup.
Ingredients:
Khajara sap, 1 liter/ fruits, 1 kg; Water, 8 to 10 cup amount; Milk, 1 cup amount.
Method:
Boil khajara sap and milk in low flame for 20 to 30 minutes or more depending upon thickening one desire. Now natural syrup is ready to be used in any drink or sweet dish.
Khajara ripe fruits are also employed for making organic syrup. Boil ripe fruits in water and milk for 40 to 45 minutes. After boiling let them cool down mesh and strain. Strained syrup is further condensed if more thickness of syrup is desired.
khajara fruits desserts:
Ingredients:
khajara ripe fruits and other chopped fruits acc. to taste,1/2kg; curd, 1kg; sweetener like honey/ sugar/ condensed milk/ khajara syrup, 1-3 tea spoon; cardamom powder,1/4 tea spoon; black salt according to taste.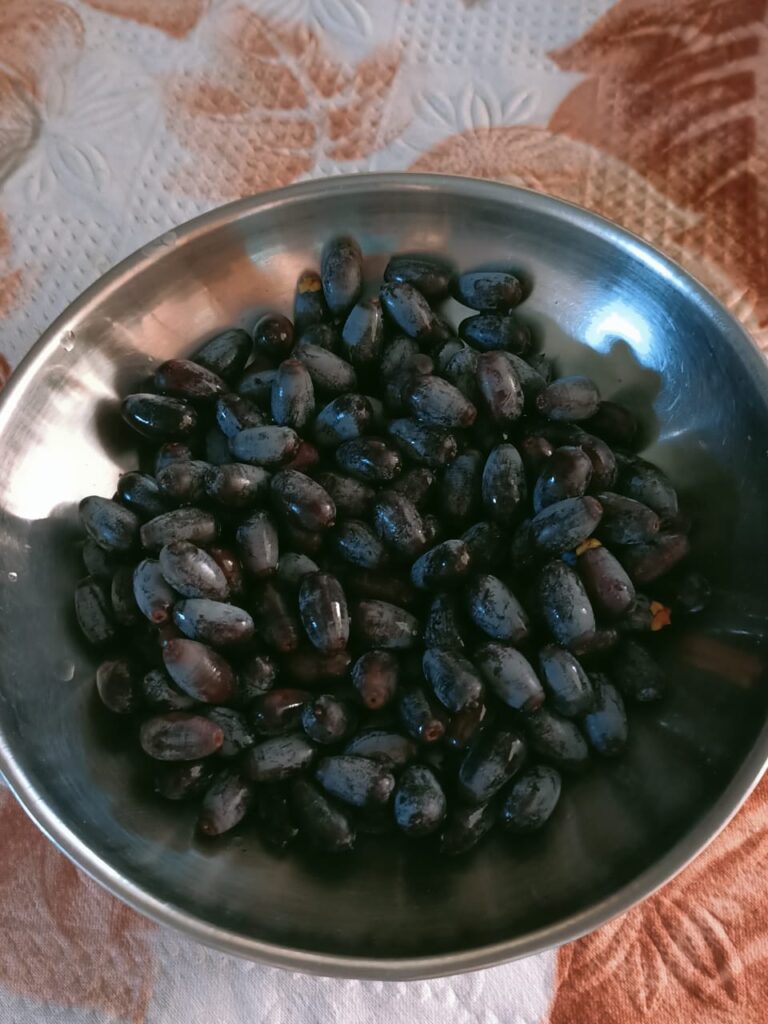 Method:
Take curd in a bowl. Add to it sweetener according to choice and stir well. Add cardamom powder, black salt, khajara fruits and other chopped fruits according to preference. Mix well and serve.
Khajara alcoholic beverage:
For preparing alcoholic beverage, khajara sap is mixed with jaggery and yeast and placed inside a airtight container for fermentation. After 7-15 days this fermented product is ready for distillation. Distillation is usually performed in a special setup made up of two container or vessel plus outlet for distillate collection. Bottom vessel is meant for fermented mixture and top vessel or covering for vapors collection. Covering vessel is usually sealed with dough to avoid any leakage. Distillate (alcoholic drink) is collected in glass bottles through outlet. Local people in different parts of Western Himalayas prepare this alcoholic drink for their personal medicinal use.
Food Value and Chemical Constituents:
Fresh unfermented sap contains protein 0.37, total sugar 11.01, and reducing sugars 0.97, mineral matter 0.54, phosphorus 0.10%, calcium trace, iron 0.04%, nicotinic acid, hydrazide and organic acids 1.
Seek professional advice before treating this plant medicinally.
Medicinal Uses:
Mature roots are used by local people for scouring teeth. Khajara is considered useful in the treatment of diarrhea, dysentery, gonorrhea, gum trouble, toothache, menstrual complaints, venereal disease, and as an edible, tonic and cooling beverages 2.
Religious value:
Khajara is known to have religious value. broom made from its leaves and branches is considered sacred and offered to God Kaal Bharav.
Other Uses
Young khajara branches and leaves are used as fodder, these are generally given to milch cattle and supposed to enhance milk yield. Dried branched left after cattle feeding are used as fuel.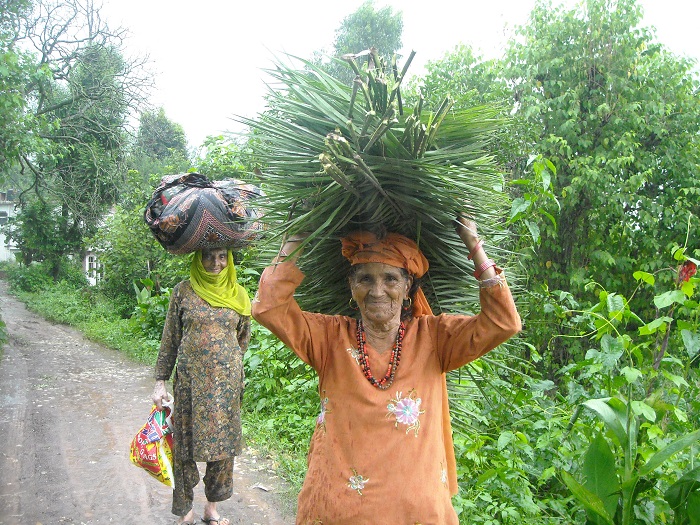 The leaves are also heavily employed for making bags and mats. People uses stems for making local houses and branches used for making broom. Branches also used to prepare decorative items.
Source of income:
Khajara is a easy source of income for local people. Its brooms are in great demand and sold at the cost of Rs 20 to 40 in local market. Mats are also sold at high price ranging from Rs 150 to 300 depending upon size and quality but their demand is significantly decreased due to urbanization and modernization. Decorative items are also prepared from its leaves and branches and sold high at the cost of Rs 200 to 500. Thus, khajara can be exploited as a commercial plant.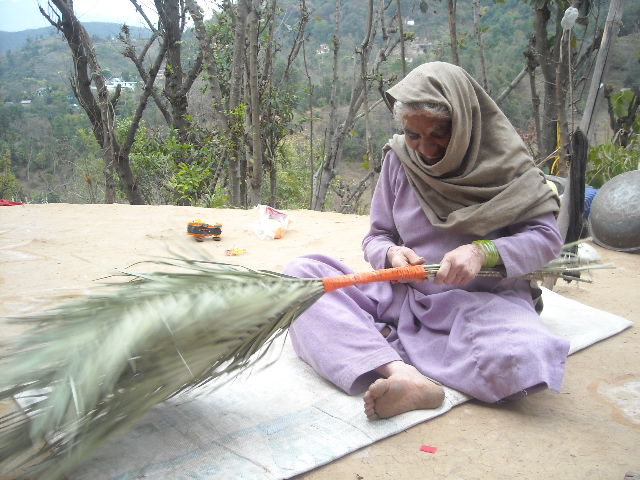 References:
1. Anonymous (1969) : The Wealth of India, Raw Materials,Vol VIII, Publications and Information Directorate, CSIR, New Delhi,
Jain, A. K., & Farrokhnia, F. (1991). Unsupervised texture segmentation using Gabor filters. Pattern recognition, 24(12), 1167-1186.