Family: Rosaceae
Synonyms: Rubus albescens,Rubus boudieri,Rubus distans, Rubus foliolosus, Rubus godongensis, Rubus incanus, Rubus lasiocarpus, Rubus micranthus, Rubus mysorensis, Rubus pinnatus,
Common Name: Ceylon Raspberry
Local Name: Kali – Akhe (काली आखे), Klache
Kali – Akhe is a deciduous prickly, large shrub found in temperate region of Western Himalayas. It is frequently seen growing along roadsides, wastelands and thickets on slopes, sparse forests, montane valleys as well as streamside's between an altitude of 1000-2800 m. Kali – Akhe succeed best in well drained sunny or semi-shady habitat.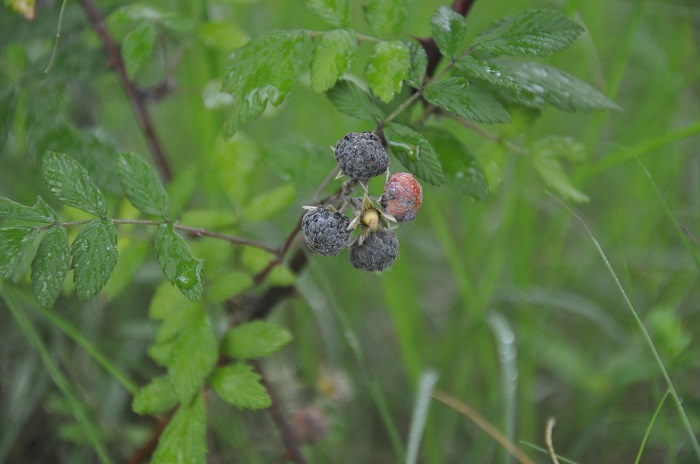 Ripe fruits of kali – Akhe are eaten by the local people. They also use these in preparing smoothie, desserts, puddings, pies etc.
kali – akhe fruits are juicy with a sweet rich black-raspberry flavor 1,2. Of excellent desert quality, the fruit is very soft and needs to be consumed within 24 hours of being picked otherwise it will start to decay 3. Average annual yields from a bush covering 2.5m² in the Himalayas are 657g 3.
Local people harvest kali – akhe from wild habitat for their personal use of food, fuel and medicine. It can be grown as a live fence.
Kali – Akhe Plant:
Plant is large spreading deciduous shrub producing a cluster of erect to arching, prickly biennial stems 1-2.5 m tall.
Branchlets are purple or green, tomentose when young, soon glabrous with whitish blooms and sparse prickles.
Leaves are pinnately compound; leaflets 5-7, the lateral subsessile, ovate- lanceolate, the terminal one rather larger, often lobed or divide, all simply or doubly serrate, glabrous above, white- temontaose beneath.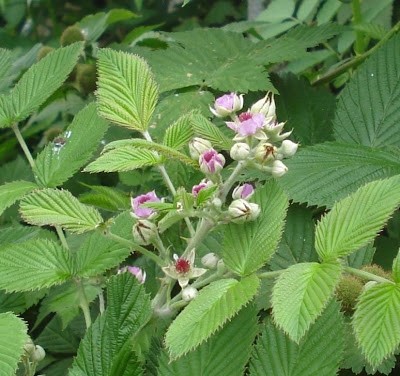 Flowers are pink to red, in axillary and terminal corymbs, rarely short thyrsi. Calyx tomentose, exceeding the petals.
Fruits are red when immature, black at maturity, semi globose, densely gray tomentose. Pyrenes shallowly rugose.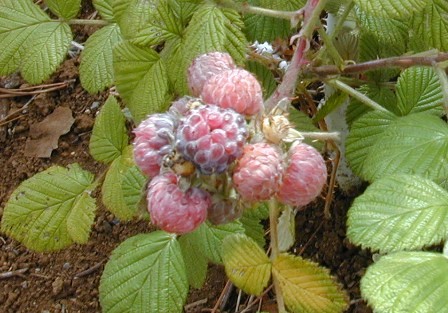 Kali – Akhe best provide edible fruits from early spring to summer end season of the year.
Edible Uses:
Ripe fruits are edible both raw or cooked. They are cooked in pies, desserts, smoothie, puddings and preserves. Fruits are also employed to extract fruit juice.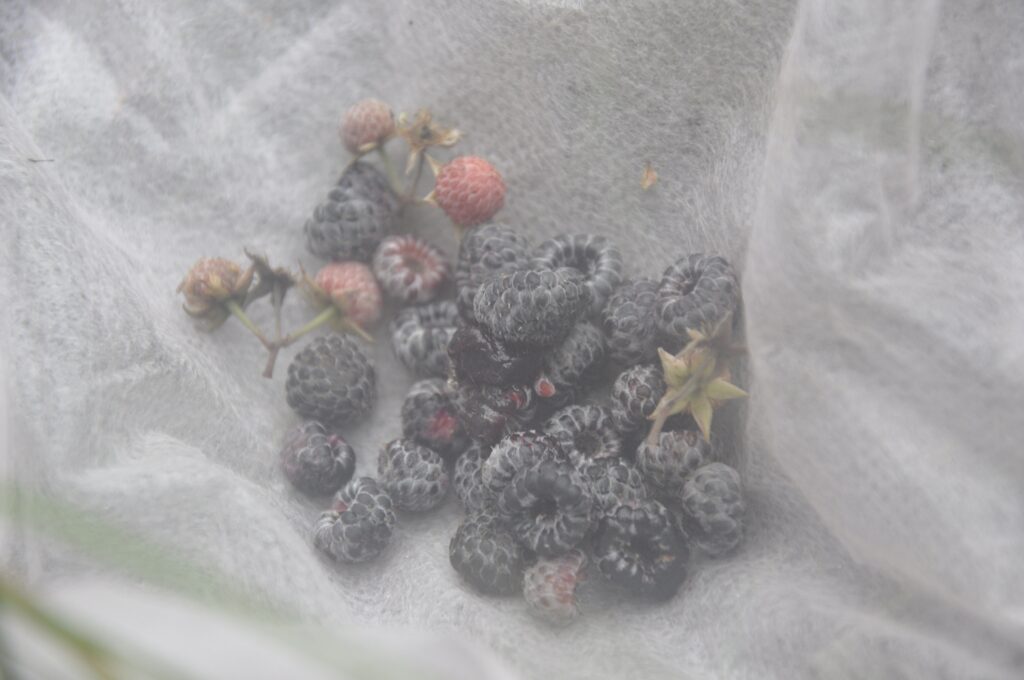 Kali – Akhe smoothie:
Ingredients:
Kali – Akhe ripe fruits, 250 g; Banana, 2, Honey, 2-3 table spoon, Black Salt,1/4 tea spoon.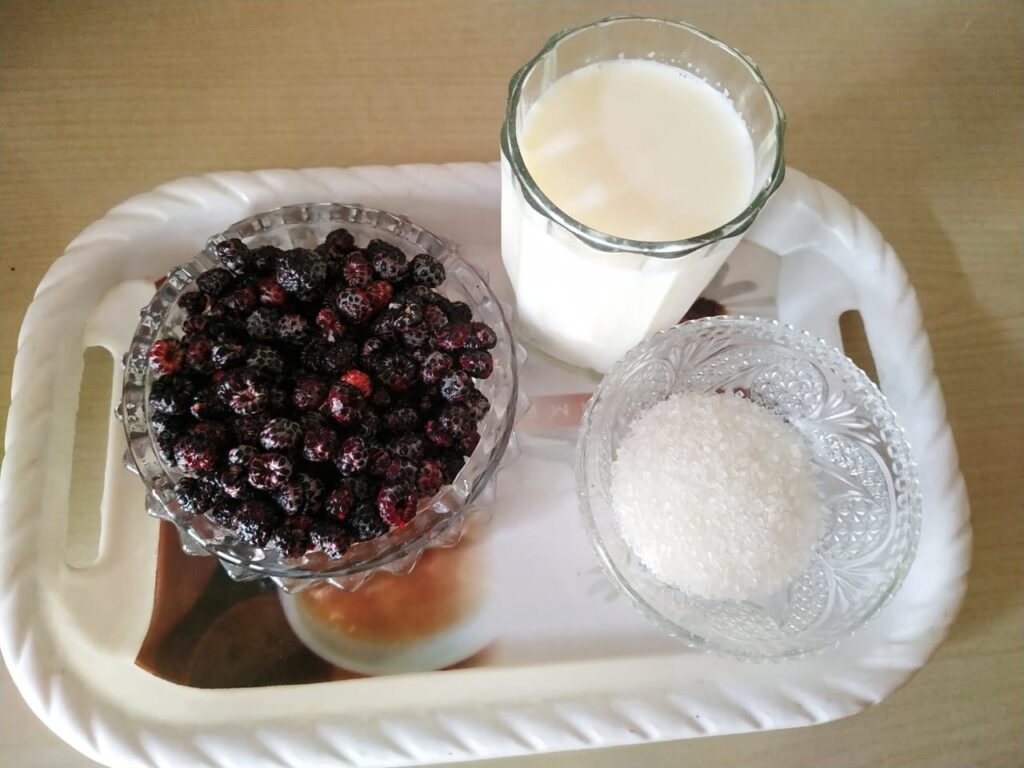 Method:
Blend banana and kali-akhe ripe fruits in a blender or mixer. Add to it honey and salt mix well and serve.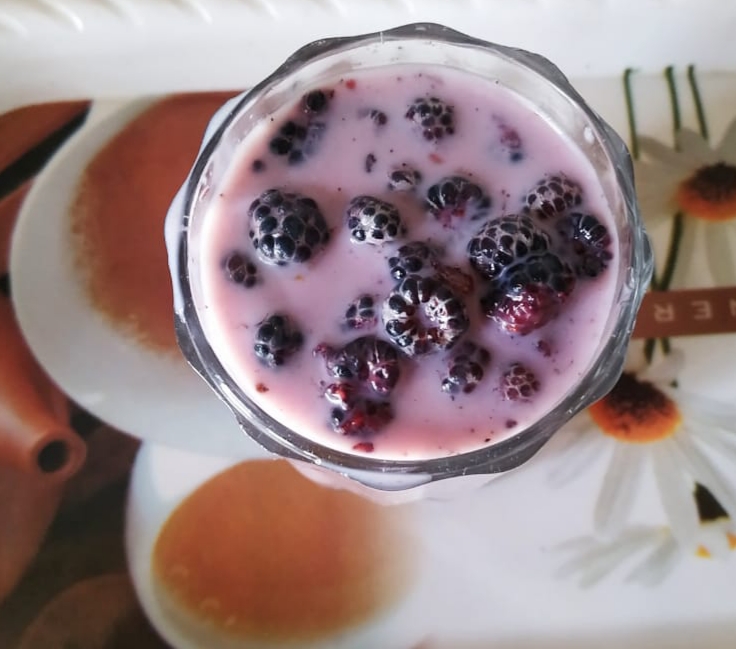 Kali – Akhe fruits desserts:
Ingredients:
Kali-Akhe ripe fruits and other chopped fruits acc.  to taste,1/2kg; curd, 1kg; sweetener like honey/ sugar/ condensed milk, 1-3 tea spoon; cardamom powder,1/4 tea spoon; black salt according to taste.
Method:
Take curd in a bowl. Add to it sweetener according to choice and stir well. Add cardamom powder, black salt, Kali-Akhe fruits and other chopped fruits according to preference. Mix well and serve.
Nutrient Value:
The fruit contains about 7.8% sugars, 0.13% protein, 0.77% ash, mineral elements, viz. phosphorus, potassium, calcium, magnesium and iron are 0.04, 0.237, 0.058, 0.068 and 0.007 per cent respectively 3. Ripe fruits contain 58.5 per cent extractable juice, which is sparkling purple. The fruit juice contains 11.30 per cent total soluble solids, 2.01 per cent acidity, 7.81 per cent total sugars (mostly as reducing sugars), and 3.79 mg of vitamin C per 100 ml of juice 3.
Seek professional advice before treating this plant medicinally.
Medicinal
The leaves are used as a tonic for older people 4. The fruits and the roots are used in the treatment of dysentery 5.
Other Uses
Dried plant is used as a fuel. It can be cultivated as a live fence around boundaries and cultivated land to exclude livestock's A purple to dull blue dye is obtained from the fruit 6.
References:
Gamble. J. S. (1972) ; A Manual of Indian Timbers. Bishen Singh Mahendra Pal Singh, publication.
Facciola. S. (990); Cornucopia – A Source Book of Edible Plants. Kampong Publications.ISBN;0-9628087-0-9.
Parmar. C. and Kaushal. M.K. (1982) Wild Fruits of the Sub-Himalayan Region. Kalyani Publishers. New Delhi.
Patel A.V.; Rojas-Vera J.; Dacke C.G. (2004); Therapeutic Constituents and Actions of Rubus Species. Current Medicinal Chemistry, Publication; Vol 11 Issue 11.
Karuppusamy, S., Muthuraja, G., & Rajasekaran, K. M. (2011). Antioxidant activity of selected lesser known edible fruits from Western Ghats of India.
Grae. I.(1974);Nature's Colors – Dyes from Plants. MacMillan Publishing Co. New York. Publication. ISBN;0-02-544950-8