Family: Primulaceae
Synonyms: Anagallis arabica, Anagallis caerulea, Anagallis caerulea, Anagallis carnea, Anagallis coerulea, Anagallis foemina, Anagallis hadidii, Anagallis indica, Anagallis jacquemontii, Anagallis latifolia, Anagallis mas, Anagallis micrantha, Anagallis monellin, Anagallis orientalis, Anagallis parviflora, Anagallis parviflora, Anagallis phoenicea, Anagallis pulchella, Anagallis punctifolia, Anagallis repens, Anagallis verticillate, Lysimachia arvensis, Lysimachia foemina.
Common Name: Scarlet Pimpernel
Local Name: Chandni (चाँदनी), Neela gha
Chandni is erect or decumbent, glabrous herb of Western Himalaya seen growing along roadsides and cultivated land up to an altitude of 2000 m. It is very common weed of crop fields and waste places.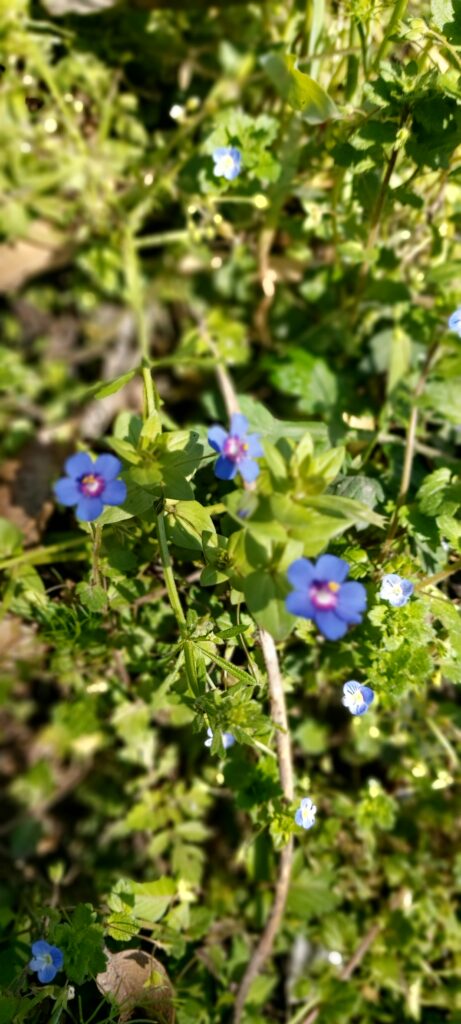 Leaves of chandni are edible and eaten both raw or cooked. These are also used in salads The tender shoots are usually cooked as a vegetable alone or along with other winter available wild greens.
It is harvested from wild habitat as a source of food, fodder, medicine and material for local personal use.
Chandni Plant:
Plant is annual to short term perennial glabrous herbs depending upon habitat.
It is erect or documented,15-30 cm tall and produces a number of erect to decumbent or prostrate stems 10 – 30cm long
Branches 4- angled
Leaves are opposite, sessile, broadly ovate, 1-2. 5 cm long, acute, entire, and glabrous.
Flowers are bright blue, solitary, axillary; pedicles slender, longer than the leaves. Calyx 5- lobbed; segments narrowly lanceolate. Corolla rotate, 7-10 mm across, 5- lobed nearly to the base. Stamens 5, filamentous hairy.
Capsules small, globose, opening by a circular fissure round the middle.
Seeds are numerous, trigonous.
Plant is best harvested before flowering and fruiting which takes place from spring to pre-autumn period of the year. Due to luxuriant growth of this plant it is considered as weed to be removed, so it can be collected without any fear of extinction.
Edible Uses:
Chandni young leaves and tender shoots are usually harvested from cultivated beds, where it is considered as a weed to be removed. Leaves are collected along with leaves and terminals of other wild pot herbs like Cardamine hirsuta (Gujjar ghas), Capsella bursa-pastoris (Shershni), Lathyrus aphaca (Sudu), Stellaria media (Padyala), Sonchus asper (Bhursale) etc. and cooked as a saag. Finely chopped leaves can be used as salad.
Chopped leaves of chandni and other potherbs, 1 kg; mustard oil, 2 table spoons; coriander powder 1 table spoon; fenugreek powder, ½ table spoon; cumin seed ¼ table spoon; turmeric powder, 1/4 table spoon; red chilies, 2-3; chopped onions 2-4; garlic, 4-5 cloves; ginger paste ½ table spoon and salt according to taste.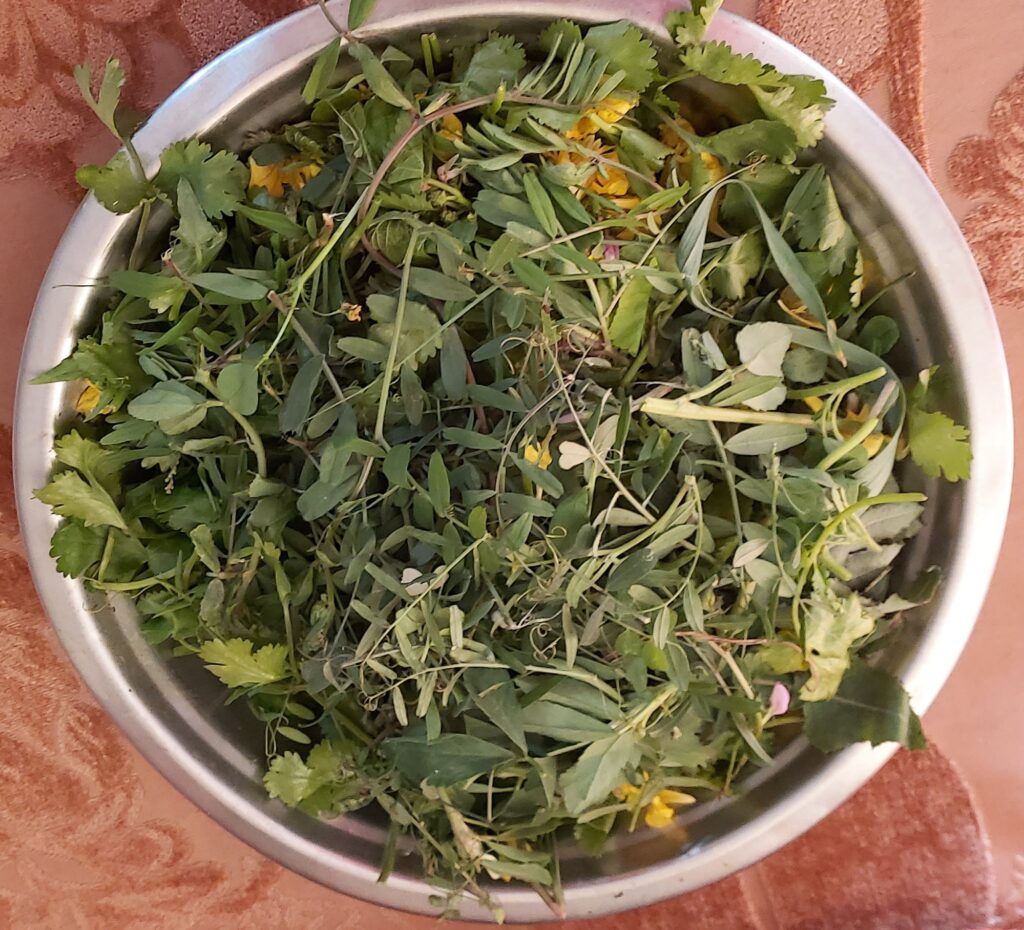 Method:
Boil chopped leaves they become soft. Then mesh manually or in a mixer. Then sauté with hot mustard oil and the spices listed before in sequence. This sauted saag is then ready and can be served as such or can be mixed with 2 or 3 chopped onion or boiled potato and cooked for another 5 to 10 minutes before serving.
Chemical constituents:
Glycosidic saponins and cyclamen2.
Seek professional advice before treating this plant medicinally.
Medicinal Uses:
The Chandni plant is said to be useful in gout, cerebral affections, hydrophobia, leprosy, dropsy and epilepsy 1. An old remedy for hydrophobia and dropsy 2. Diaphoretic, diueretic, for gallstones. Liver cirrhosis. Complaints especially of skin, characterized by great itching and tingling everywhere2. Favours expulsion of splinters. Possesses power of destroying warts2. Headache over supra- orbital ridges2. Cramps in thumbs and fingers. Urethral irritation2. Skin itches with dry bran like eruptions, especially of hands, fingers and palm2. Vesicles in groups2.
Other Uses:
Chandni is used as fodder by inhabitants of Western Himalaya along with Stellaria media. The squeezed plant is used in Nepal for washing and bathing 3. The flowers usually close in the early to midafternoon, and are said to foretell wet weather if they close early 4.
References:
Singh PB. (2018). Flora of Mandi district. Himachal Pradesh: North West Himalaya.
Purohit SS, Sharma AK, Prajapati ND, Kumar T. (2009); A handbook of medicinal plants: a complete source book. 2:352-3.
Manandhar, N. P. (2002). Plants and people of Nepal. Timber press.
Coffey, T. (1993). The history and folklore of North American wildflowers. Facts on File Limited.