Family: Vitaceae
Synonym: Vitis himalayana, Ampelopsis himalayana, Ampelopsis neilgherrensis, Cissus anaimalaiensis, Cissus himalayana, Cissus roylei, Cissus semicordata, Parthenocissus anamalayana , Parthenocissus cuspidifera, Parthenocissus himalayana, Psedera himalayana,Quinaria anamalayana, Quinaria cuspidifera ,Quinaria himalayana,Quinaria neilgherriensis, Quinaria semicordata,Vitis anamalayana,Vitis cuspidifera,Vitis himalayana,Vitis himalayana, ,Vitis macrophylla,Vitis neilgherrensis,Vitis scortechinii ,Vitis semicordata
Common name: Himalayan Woodbine, Wild Grape Bhambti
Local Name: Mandrau (मंदरौ), Phlankur.
Mandrau is a large deciduous climbing vine of Western Himalaya, commonly found in in moist places in evergreen forests, shrub jungles and in hillsides. Plant is usually seen growing over tree in coniferous forests upto an altitude of Rs 1600-3000 meters.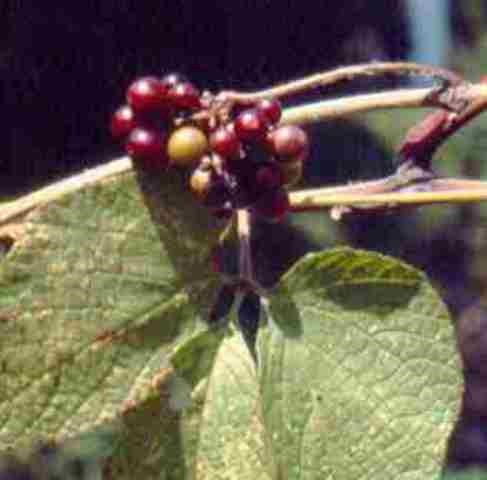 Mandrau requires a well-drained moisture retentive fertile semi-shade to sunny habitat. The fruit of this species is very late ripening and the plant has potential in breeding programs with Vitis vinifera in the Himalayas, where this trait could be useful 1 Mandrau is a native plant of the Himalaya.
The fruits of mandrau are edible. They are sweet to acidic in flavor and taste. Ripe fruits are fondly eaten by all. These are eaten raw and are used in preparing desserts and smoothie. Birds and monkeys cause heavy damage to the fruits and plant during the fruiting season.
The tuberous root of mandrau attain almost the size of a large bottle gourd1. These are known to have cooling effect, so tubers are cut into small pieces and fed to milch cattle for their cooling effect on the animals1. It is not a heavy-yielding grape and the average yield is about 750 g per vine 1. Mandrau is harvested from the wild habitat for local personal use as a source of food, fodder and source of materials.
Mandrau Plant:
Mandrau is large, deciduous climbers,5 to 8 meters tall. Young branches hispid pubescent. Tendrils branched, leaf opposed.
Leaves are digitately compound; trifoliate palmate; shortly stalked, ovate toothed, long pointed, upper surface dull green, lower pale; lateral leaflets unequal- sided, subcordate.
Inflorescence is compound umbel, containing 73 to 205 flowers per cluster; flowers are yellowish- green, calyx, small, lobed, green; corolla, with 4 to 5 petals, a light red to green, actinomorphic; androecium, polyandrous, stamens having a short filament, circular yellow anther lobes; gynoecium, single-styled, small, having a terminal stigma.
Fruits are globose, black.
Seeds are 4 to 5 mm long, 2 to 3 mm broad; weight, 243 mg; volume, 265 microliter; 2 to 4 seeds per berry.
Mandrau fruits are best harvested from the middle of October and up to the middle of November. For ensuring sustainable development fruits should be harvested on habitat rotation basis and few fruits should be left on parent plant for regeneration.
Edible Uses:
Mandrau fruits are edible and eaten both raw or cooked. They are used in making desserts, smoothie etc.
Desserts:
Ingredients:
Ripe fruits of mandrau and other chopped fruits acc. to taste,1/2kg; curd, 1kg; sweetener like honey/ sugar/ condensed milk, 1-3 tea spoon; cardamom powder,1/4 tea spoon; black salt according to taste.
Method:
Take curd in a bowl. Add to it sweetener according to choice and stir well. Add cardamom powder, black salt, ache fruits and other chopped fruits according to preference. Mix well and serve.
Smoothie:
Ingredients:
Mandrau ripe fruits, 250 g; Banana, 2, Honey, 2-3 table spoon, Black Salt,1/4 tea spoon.
Method:
Blend banana and mandrau ripe fruits in a blender or mixer. Add to it honey and salt mix well and serve.
Nutrient value:
These fruits contain 49.8 per cent extractable juice. The moisture content of the fruit is 75.7 per cent. The total soluble solids and acidity in the fruit juice are 18 and 1.27 per cent respectively. The juice contains 8.60 per cent total sugars, 6.69 per cent reducing sugars and 1.82 per cent non-reducing sugars. The vitamin C content of the fruit is good, being 12.19 mg per 100 ml of juice. The total mineral content of the fruit, as represented by its ash, is 1.437 per cent. The protein content of the fruit is 2.86 per cent. The content of some of the important mineral elements of the fruit, viz. phosphorus, potassium, calcium, magnesium and iron is 0.071, 0.413, 0.122, 0.099 and 0.007 per cent respectively1.
Seek Professional advice before treating this plant medicinally.
Medicinal Uses:
A poultice of the roots is used to help set dislocated bones 2.
Other Uses:
Mandrau green foliage is harvested as fodder. Root tubers of this wild grape are chopped into pieces and fed to cattle. Local people believe that these have a cooling effect on cattle.One of the important characteristics of this species is its very late fruit-ripening, these should be used in hybridization for evolving varieties which might ripen after the monsoon1.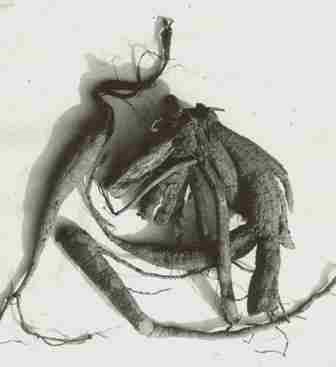 References:
Parmar. C. and Kaushal. M.K. (1982) Wild Fruits of the Sub-Himalayan Region. Kalyani Publishers. New Delhi.
Manandhar. N. P.(2002); Plants and People of Nepal. Publication; Timber Press. Oregon.ISBN; 0-88192-527-6.