Family: Brassicaceae
Synonyms: Thlaspi collinum, Crucifera thlaspi, Thlaspidium arvense
Common Name: Pennycress
Local Name: Chopda ghaa (चोपड़ा घा)
Chopda ghaa is an annual herbaceous plant of family Brassicaceae showing very close resemblance with another wild growing member of this family shershni (Botanically Capsella bursa-pastoris and commonly called Shepherd's Purse}. But it can be easily identified with the help of round flat pods unlike shershni which have triangular, flat, glabrous pods.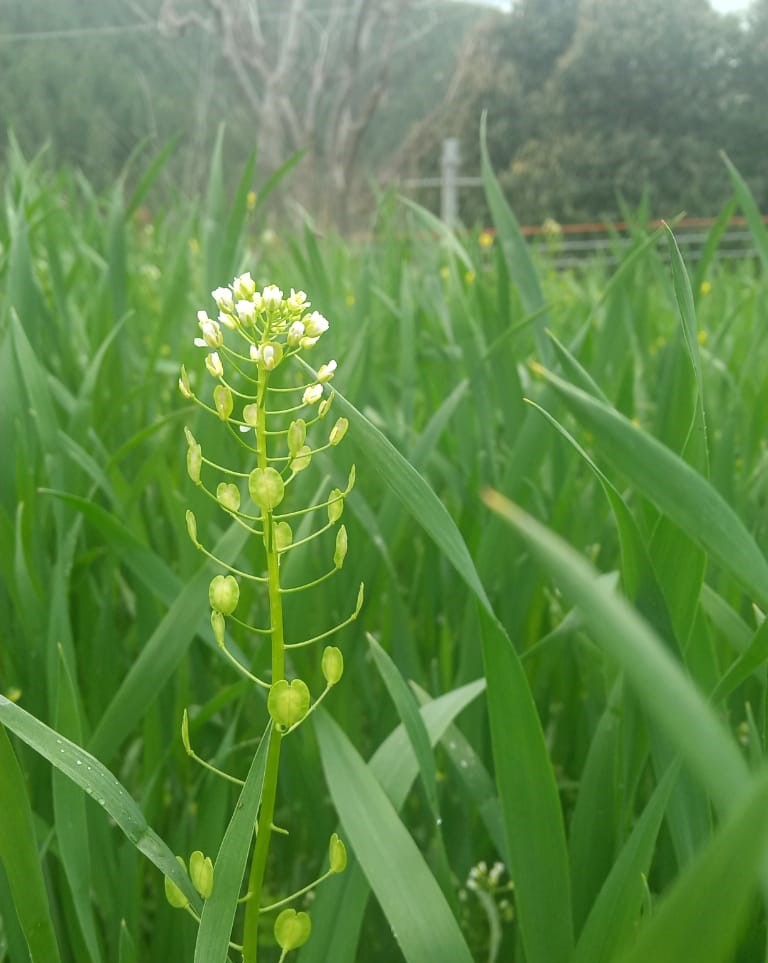 Chopda ghaa is very common in waste places and is a noxious weed of cultivated fields. It is seen growing up to an altitude of 1000 to 4500 m in Western Himalayas. Chopda ghaa is easily propagated by seeds and its plant succeeds well in moist sunny habitat.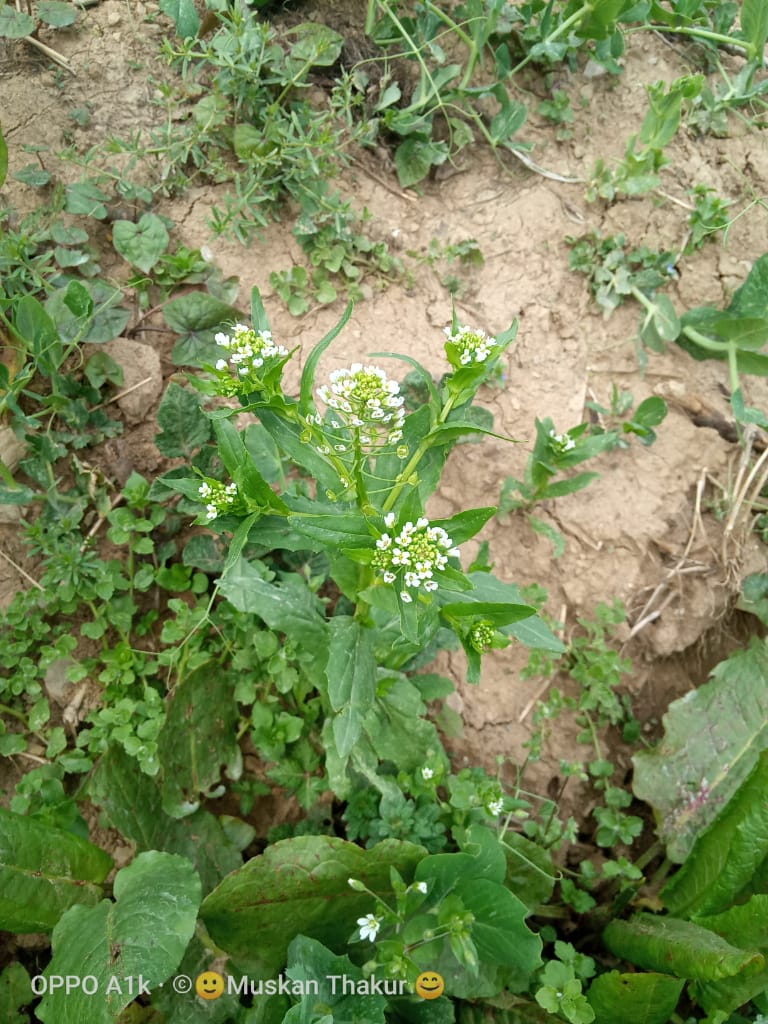 Chopda ghaa young leaves are edible. These are harvested before flowering starts and eaten as a potherb along with other greens. Leaves are bitter in taste but are rich source of protein. So, local people used to add only few of chopda ghaa leaves with other available green leaves to cook a leafy vegetable saag.

Seeds of this plant are used as Brassica seed substitute and locally used to prepare a delicious salt which is considered highly medicinal.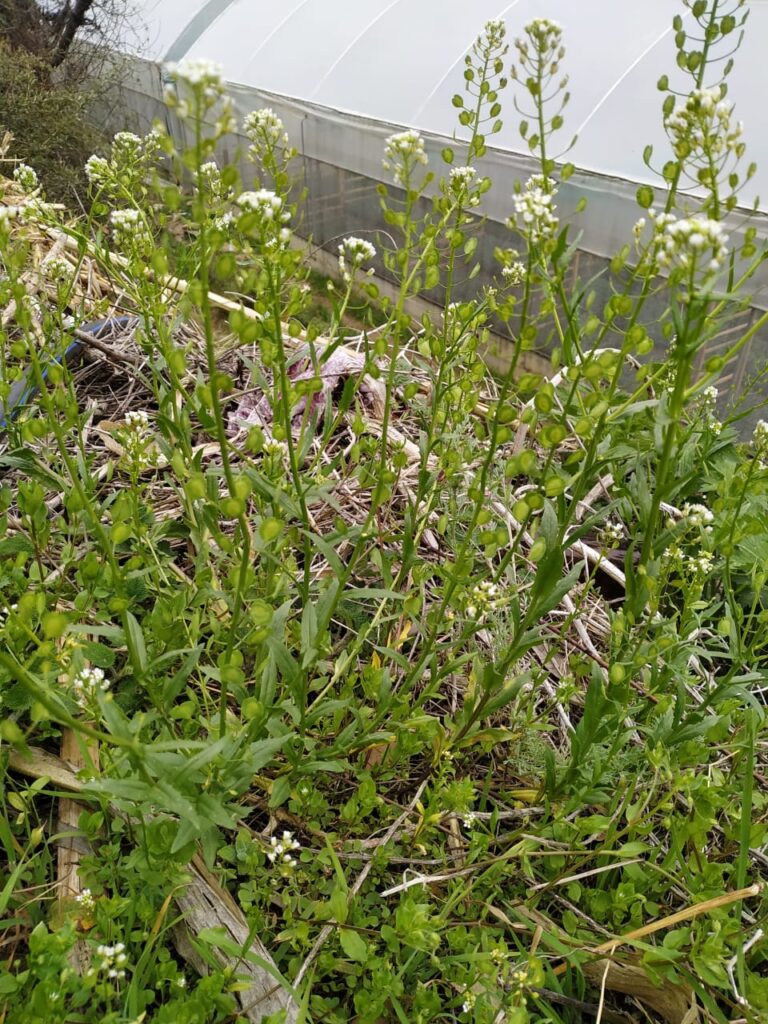 Local people of this region harvest chopda ghaa from wild habitat as a source of food, fodder, medicine and material for their local personal use only.
Chopda ghaa Plant:
Plant is annual, erect, branched herbs, up to 50 cm tall.
Older plant develops a central stem and several side stems. These stems are hairless, ribbed, and winged along some of the ribs.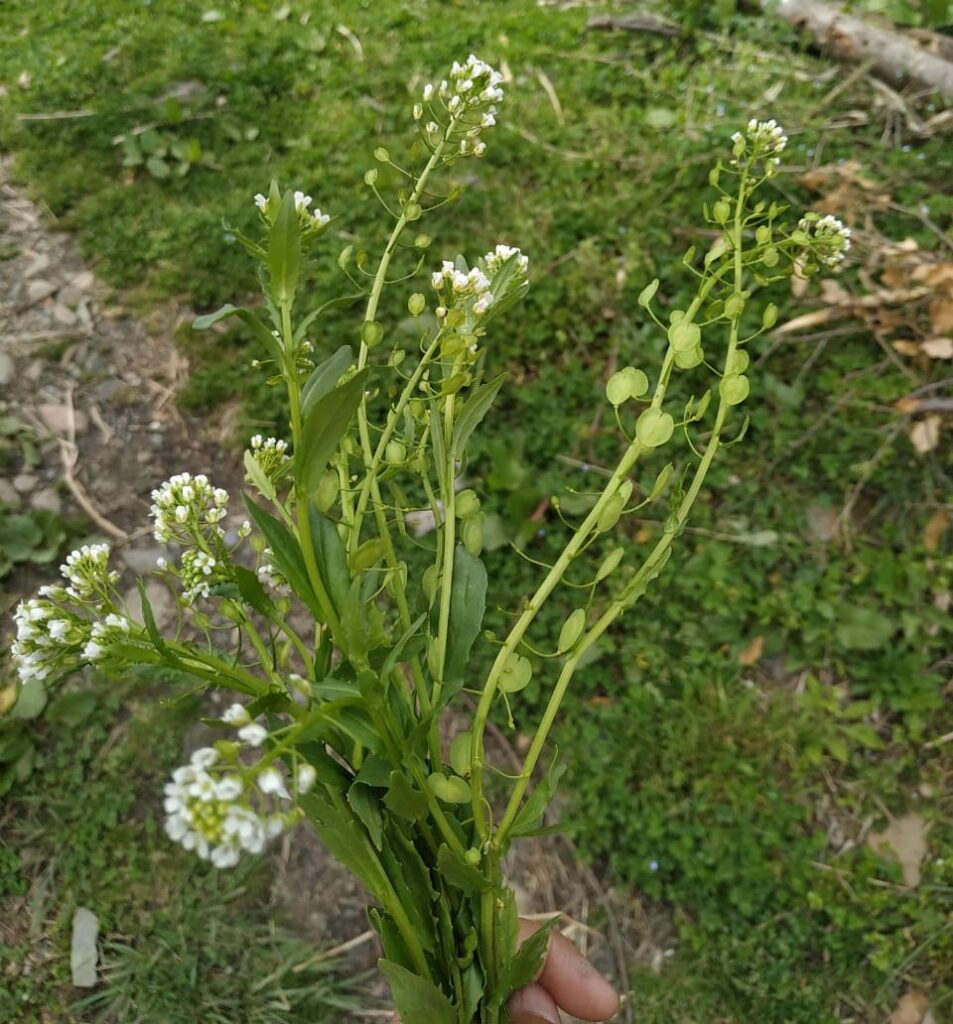 The hairless alternate leaves are up to 4 inches long and 1 inch across. They are lanceolate, oblanceolate, or narrowly ovate, and have slightly wavy margins with a few blunt teeth. Basal leaves oblanceolate, petiolate, toothed; upper ones lanceolate- oblong, sessile, auricled at base, denote to subentire.
Flowers are white, 70 flowered racemes in 25- flowered recemes.
Fruits almost orbicular deeply notched at the apex, with prominent wings.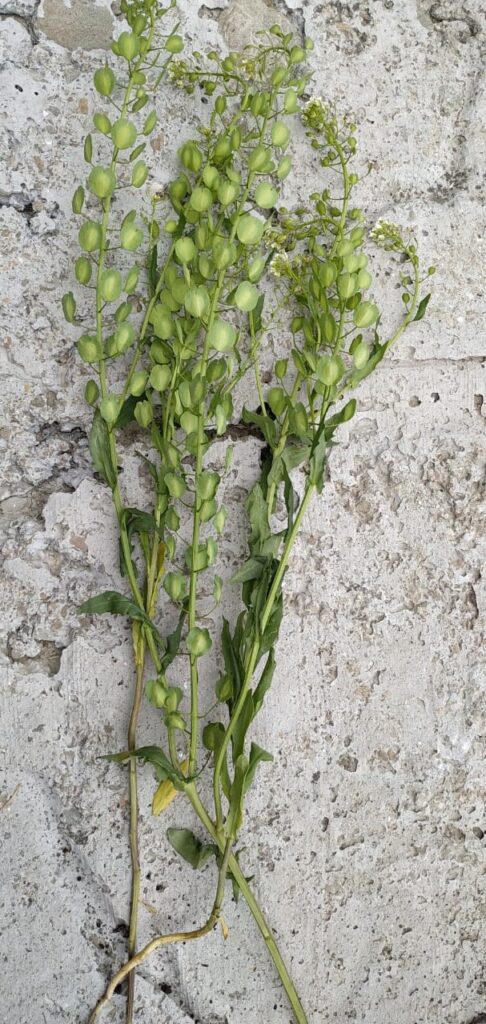 Seeds ellipsoid, dark brown.
Chopda ghaa leaves can be best harvested from late winter to spring end. While seeds are best harvested from summer to autumn season of the year.
Edible Uses:
Young leaves of chopda ghaa are edible and eaten cooked. Leaves are rich source of protein and vitamin. Plant is highly medicinal and usually eaten to harness its medicinal value. Its seeds are ground into powder and mixed with salt to make medicinal delicious salt.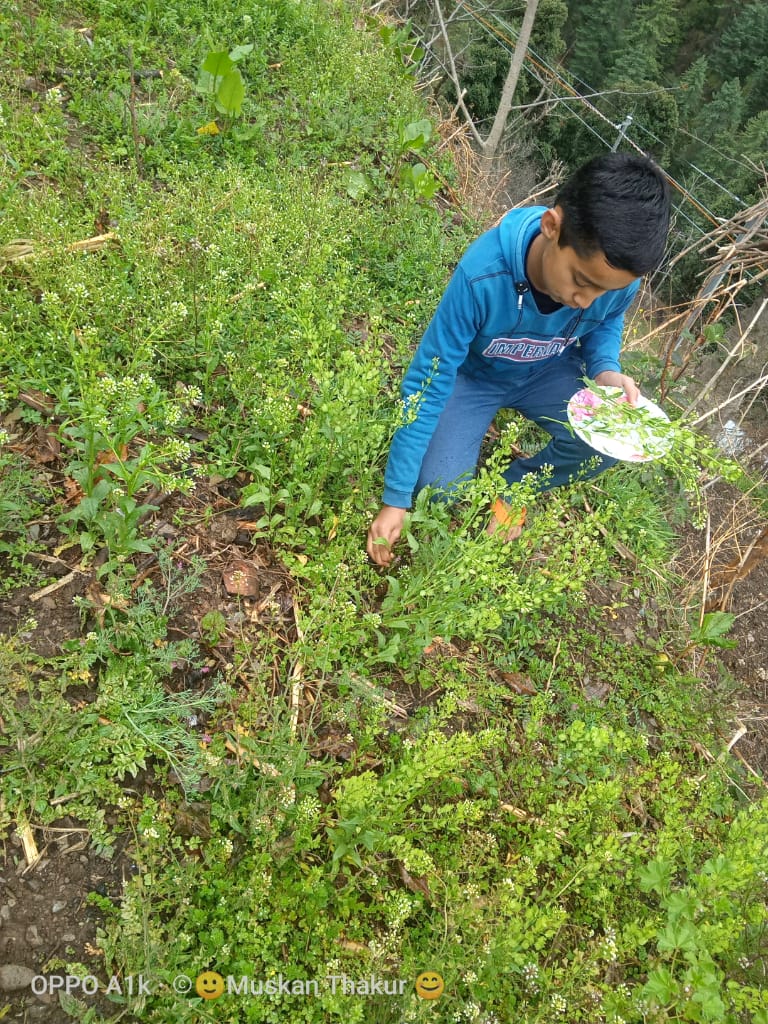 Vegetable (Saag):
Ingredients:
Tender shoot tips and leaves of chopda ghaa and other available better tasting herbs like khokhna(Medicago polymorphia) Roadi (Vicia sativa) Shershni (Capsella bursa-pastoris), Mil-malori (Rumex acetosa), Gujjar ghas(Cardamine hirsuta), Matar- phali (Lathyrus aphaca) etc. 1 kg; mustard oil, 2 table spoons; coriander powder 1 table spoon; fenugreek powder, ½ table spoon; cumin seed ¼ table spoon; turmeric powder, 1/4 table spoon; red chilies, 2-3; chopped onions 2-4; garlic, 4-5 cloves; ginger paste ½ table spoon and salt according to taste.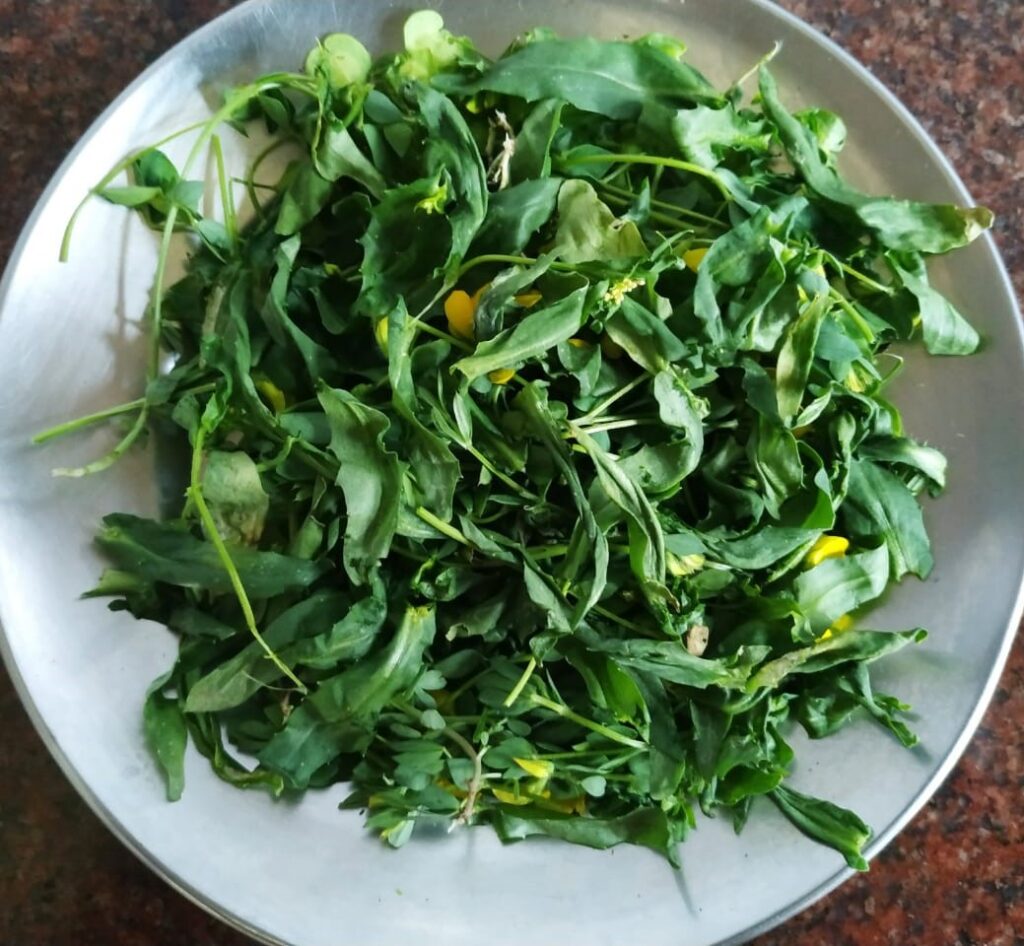 Method:
Boil chopped leaves till they become soft. Then mesh manually or in a mixer. Then sauté with hot mustard oil and the spices listed before in sequence. This saluted saag is then ready and can be served as such or can be mixed with 2 or 3 chopped onion and cooked for another 5 to 10 minutes before serving.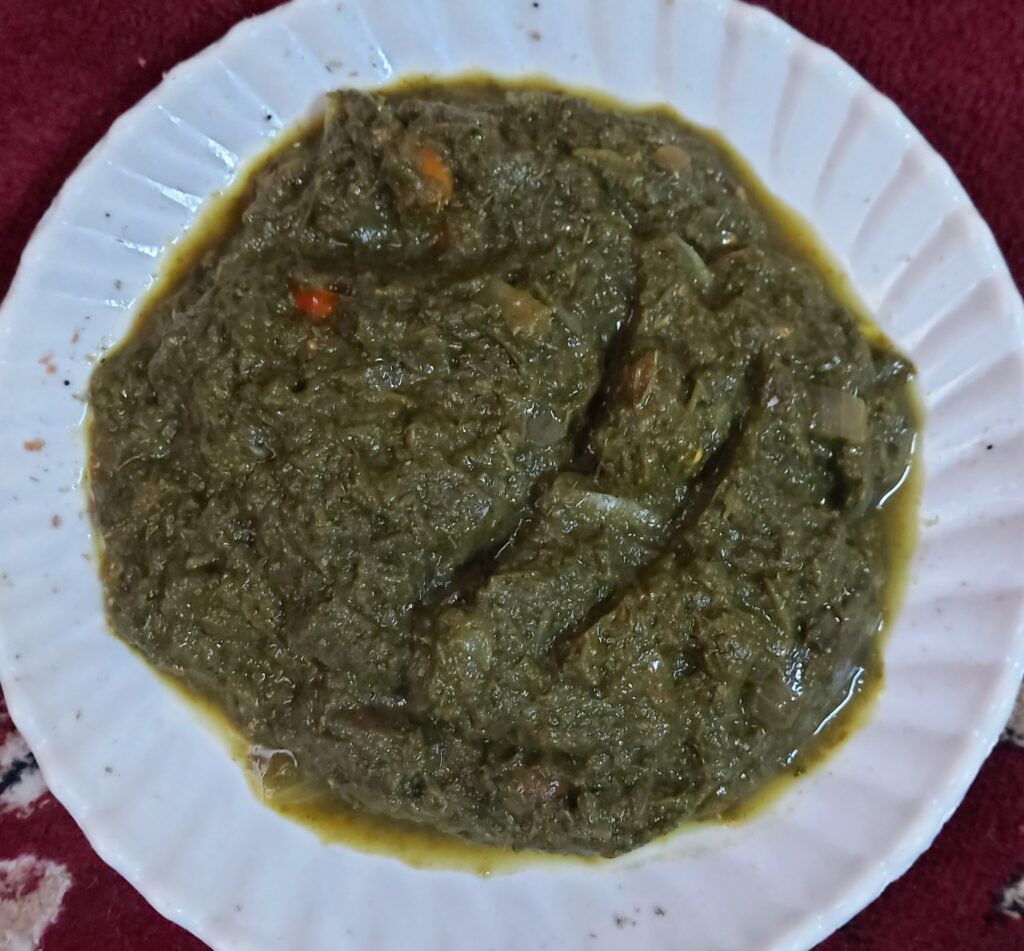 Salt:
Ingredients:
Chopda ghaa seeds. 250 g; mint leaves.50 g; chillies, 2-4. Salt, ½ kg.
Method:
Roast seeds of chopda ghaa and ground these roasted seeds along with mint leaves and chilies into powder. Mix this powder with salt. Use this salt it in salads.
Food Value:
100g of dry leaves contains: Protein: 54.2g; Carbohydrate: 33.1g; Vitamins C: 1900 mg 1.
Seek professional advice before treating this plant medicinally.
Medicinal Value:
Antirheumatic, diuretic 2,3. The seed is a tonic1. Both the seed and the young shoots are said to be good for the eyes1. The entire plant is antidote, anti-inflammatory, blood tonic, depurative, diaphoretic, expectorant, febrifuge and hepatic1,4. It is used in the treatment of carbuncles, acute appendicitis, intestinal abscess, post-partum pain, dysmenorrhea and endometriosis4. Use with caution since large doses can cause a decrease in white blood cells, nausea and dizziness 4. The plant has a broad antibacterial activity 1, effective against the growth of Staphylococci and streptoco4.
Other Uses:
The seed contains 20 – 30% of a semi-drying oil, it is used for lighting 5.
References:
Duke. J. A. and Ayensu. E. S. (1985); Medicinal Plants of China reference Publications, Inc. ISBN 0-917256-20-4
Uphof. J. C. Th (1959); Dictionary of Economic Plants. Weinheim, publication.
Usher, G. (1974). A dictionary of plants used by man. Constable and Company Ltd.
Yeung, H. C. (1995). Handbook of Chinese herbs and formulas. Institute of Chinese Medicine.
Komarov, V. L. E. (1936). Flora of the USSR. Flora of the USSR., (6).