Family: Alliaceae
Synonyms: Allium adscendens, Allium albescens, Allium ascendens, Allium bertolonii, Allium byzantinum, Allium duriaeanum, Allium durieuanum, Allium firmotunicatum album, Allium gasparrinii, Allium helleri, Allium holmense, Allium laetum, Allium leucanthum, Allium lineare,Allium multiflorum, Allium pardoi, Allium polyanthum, Allium porraceum, Allium pylium, Allium rotundum multiflorum, Allium rotundum polyanthum, Allium scopulicola, Allium spectabile, Allium syriacum, Allium thessalum, Porrum amethystinum, Porrum ampeloprasum, Porrum commune.
Common Name: Wild Leek Elephant Garlic, Levant garlic
Local Name: Luhan (लुहन)
Luhan is large, perennial herb of Western Himalaya resembling ordinary garlic in fragrance and appearance. Its cloves are larger and milder than of regular garlic. Plant is often seen growing in woodland, garden, sunny edges, in dappled shady places, in hedgerow, sandy and rocky places, in disturbed areas such as old fields and hedge banks, slopes, alongside paths and in drainage ditches from 1500 to 3000 m. Plant can easily propagate through seeds or bulbils, as bulbils grow where they fall. Luhan grows best in well drained sunny habitat.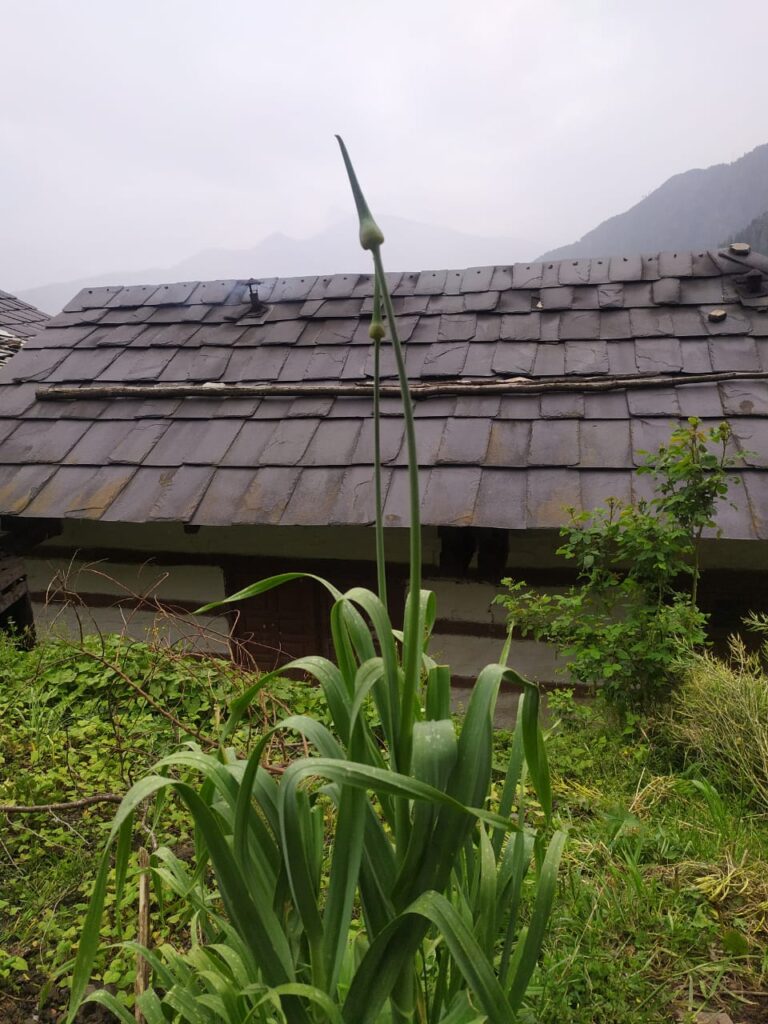 Luhan leaves, flowers, bulb and bulbils all are edible and eaten both raw or cooked. Flowers and finely chopped leaves are an excellent addition to various food items like soups, rayata, chutneys, Kachru, parantha as a garnishing and flavoring agent. Leaves are cooked in vegetable and added to other greens for making saag. Bulbs are also eaten raw in salad, used in chutney along with leaves and cooked or pickled to preserve for later use.
Like garlic Luhan is also used to treat a wide range of ailments. So, it is frequently used in various food preparation. It can be used in almost every culinary items as a condiment to harness its rich nutritive and medicinal value. Its cloves are milder in comparisons to garlic, so often eaten raw by many people.
Luhan is harvested from wild habitat as a source of food and medicine for local personal uses. Sometime it is also cultivated as a food plant or ornamental plant near to habitation.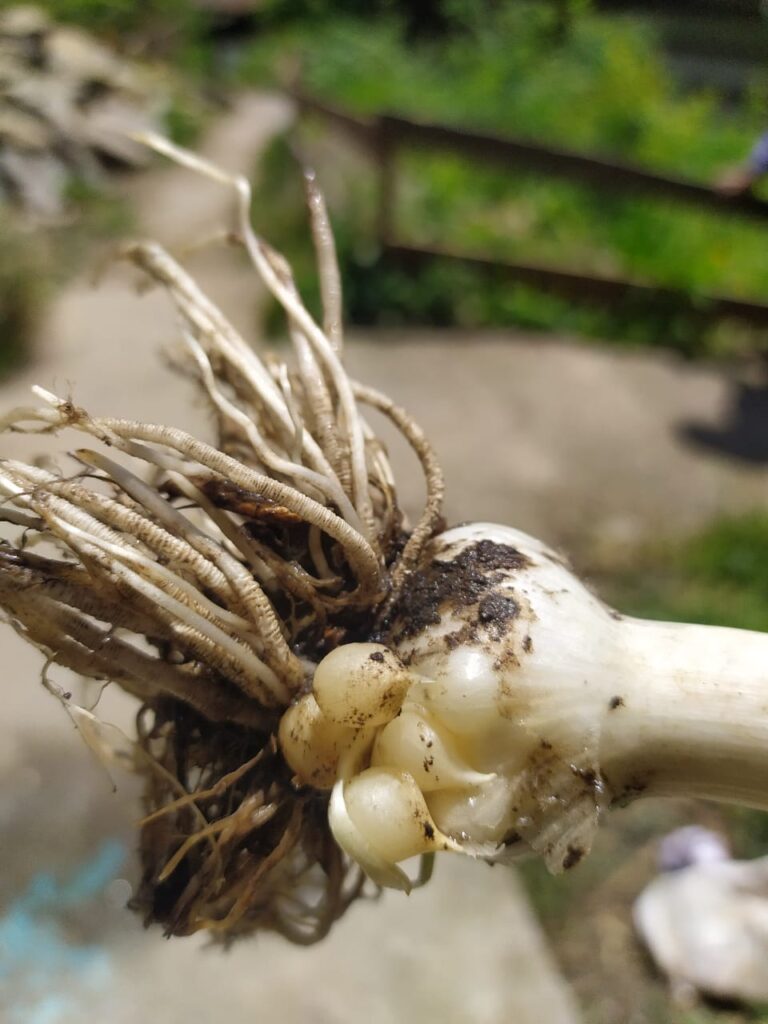 Luhan Plant:
Plant is a large, perennial herb arising from underground bulb consisting of very large, garlic-like cloves.
Stems is about 1 m tall having solid, flowering stalk with broad flat leaves and large pink flower-heads,
Leaves looks like garlic leaves but are broad and flat than garlic. These also smell like garlic.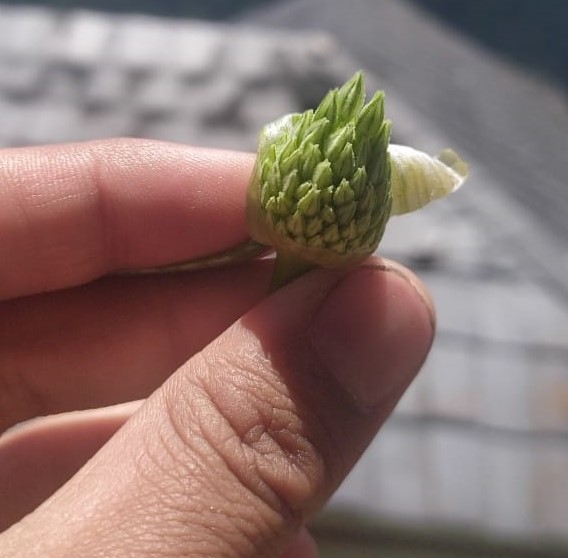 Floral heads consist of a ball of bulbils, each capable of growing where it falls.
Small pink flowers open around flower-heads.
Luhan edible leaves are best harvested from late autumn to the rainy season of the year. It is in bloom in rainy season. Bulb though available round the year but should be harvested after flowering is over. Luhan is already categorized in IUCN Red List of Threatened Species 3, so its bulb and flowers need to be sustainably harvested by rotating habitat for ensuring sustainable development. For optimum and easy utilization of Luhan it need to be cultivated and bring into domestication.
Edible Uses:
Luhan is with pleasant mild to strong garlic flavor, so all the important plant parts viz bulb, leaves, bulbils and flowers all are either eaten raw or cooked. These are mainly used in flavoring various culinary preparations and are an excellent addition to many traditional and current tableware like chutneys, rayata, Kachru, parantha, pakoras, poha, kachouri, bhale, Kachru, soups, siddu etc.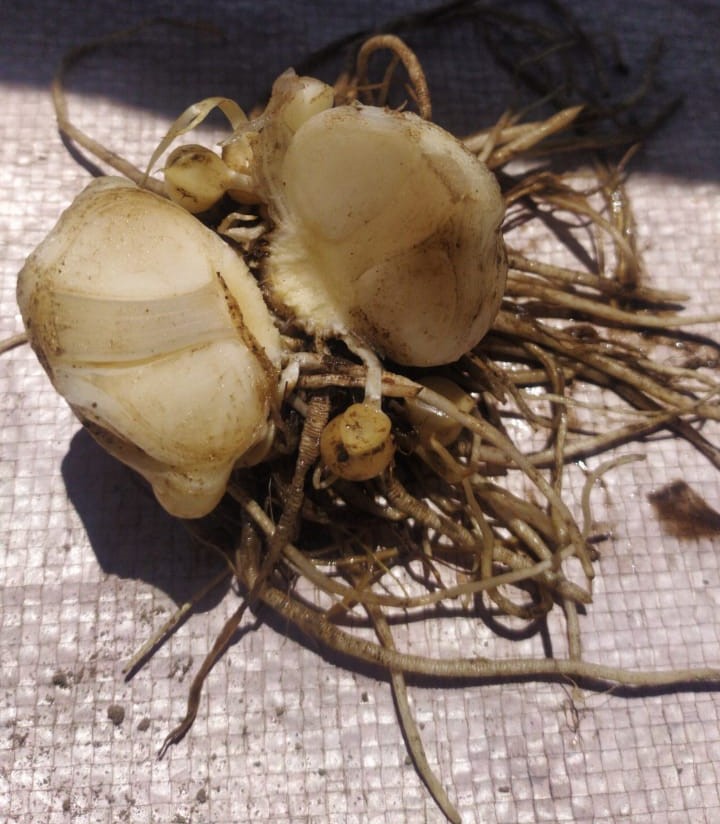 Green leaves of luhan are either eaten raw or cooked. These are more used as garnishing and flavoring agent. To cook these as a vegetable leaves are mixed with other available greens and are cooked as other potherbs. Bulb are eaten raw in salad. Its cloves are used like spice in almost all vegetable preparation and also pickled as regular garlic. Luhan flowers and bulbils are used to flavor and garnish cooked food items.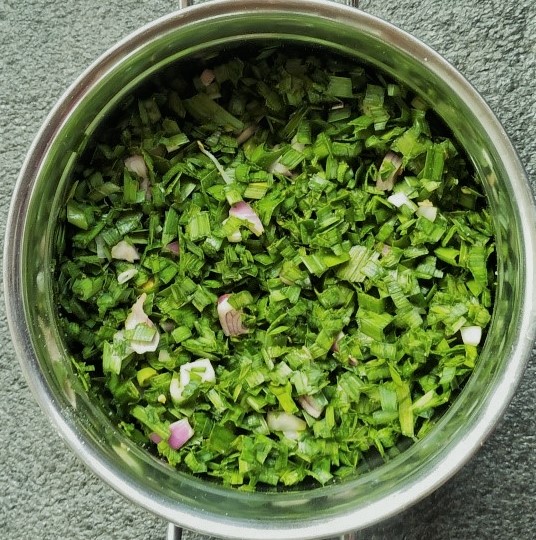 Chutney:
Ingredients:
To prepare chutney, take 100 gm luhan leaves, 50 g, luhan cloves; 100 gm chopped mint leaves, 50 gm anardana (Driedpomegranate seeds) or amchoor (Dried mango powder), 5-6 green chillies, 20 gm coriander leaves/ curry leaves, 2-3 onion, 1table spoon amount ginger.
Method:
Grind well all above ingredients in a mixer grinder and add salt according to taste. Now chutney is ready to serve. Serve with siddu/ kachuri/ parantha/Kachru/ pakoras etc.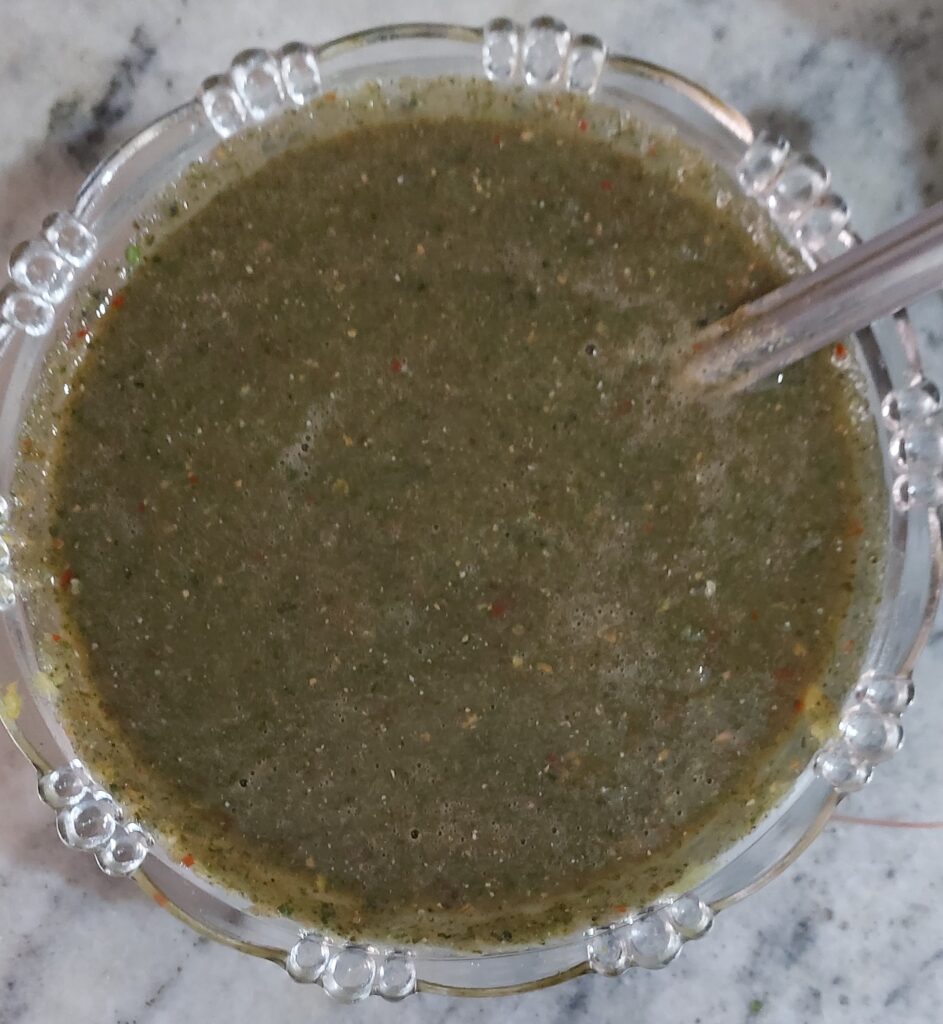 Vegetable:
Ingredients:
Luhan young leaves and other wild potherbs, 1 kg; mustard oil, 2 table spoons; coriander powder 1 table spoon; fenugreek powder, ½ table spoon; cumin seed ¼ table spoon; turmeric powder, 1/4 table spoon; red chilies, 2-3; chopped onions 2-4; luhan, 5-10 cloves; ginger paste ½ table spoon and salt according to taste.
Method:
Boil chopped plant parts they become soft. Then mesh manually or in a mixer. Then sauté with hot mustard oil and the spices listed before in sequence. This sauted saag is then ready and can be served as such or can be mixed with 2 or 3 chopped onion and cooked for another 5 to 10 minutes before serving.
Luhan Pickle:
Ingredient:
Cleaned luhan cloves, 250 g; mustard seeds, 2 table spoons; fennel seed,1 teas poon; fenugreek, 1 tea spoon; nigella seeds.1/2 tea soon; ajwain, 1 table spoon; asfoetida powder,1 table spoon; vinegar, 2 table spoon; red chilies, 7-8; turmeric powder, 1 tea spoon; mustard oil, 4-5 table spoon. black and white salt according to taste.
Method:
Roast spices for 1 minute and grind all except nigella. Put ground spices inside a mixing bowl. Add to it chopped luhan cloves, vinegar/amchoor (Dried mango powder), nigella seeds and salt. Add to it mustard oil, mix well and place in a ceramic jar. Now place this ceramic jar in full sunlight for 10-15 days. Now it is ready to eat. Pickle prepared in this way can be preserved for 3 years.
SIDDU:
SIDDU is a healthy delicious steam cooked dish of upper region of Western Himalayas
Ingredient:
Wheat flour, 3 cup amount; walnut seed, ½ cup amount; yeast ½ tea spoon; medium sized onion, 1; coriander powder, 1table spoon; boiled potatoes, 4-5; red or green chilies, 4-5; chopped green luhan and coriander leaves, 4 cup amount and salt according to taste.
Method:
Dip yeast in half cup of water for 3-5 minutes. Add it to wheat flour along with one cup of warm water and then make its dough. Keep this dough for 3-4 hour and if weather is cool then cover dough with warm cloth. Dip walnut seed in water for 3 hour and grind dipped seed along with onion, chopped luhan, coriander leaves and chilies. Mix it with mashed potatoes into a paste used for stuffing SIDDU.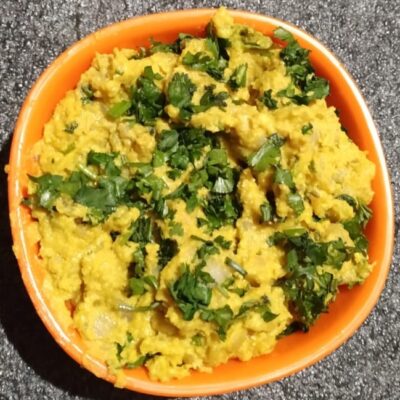 Make a thick chapatti of dough and stuff it with paste already prepared. Now fold this chapatti and twist from sides to prepare SIDDU. Place all SIDDU prepared like this in a plate and apply thin film of oil over them. Now place water inside SIDDU maker and let it boil. Now place SIDDU in all the partition of SIDDU maker. Keep a cotton cloth or Bergenia ciliata leaves over uppermost partition of SIDDU maker to avoid steam drops on the SIDDU. Steam all the SIDDU inside SIDDU maker for 20 to 25 minutes. Now SIDDU are ready to serve. They can be served with Tomato catchup, chutney or Desi ghee.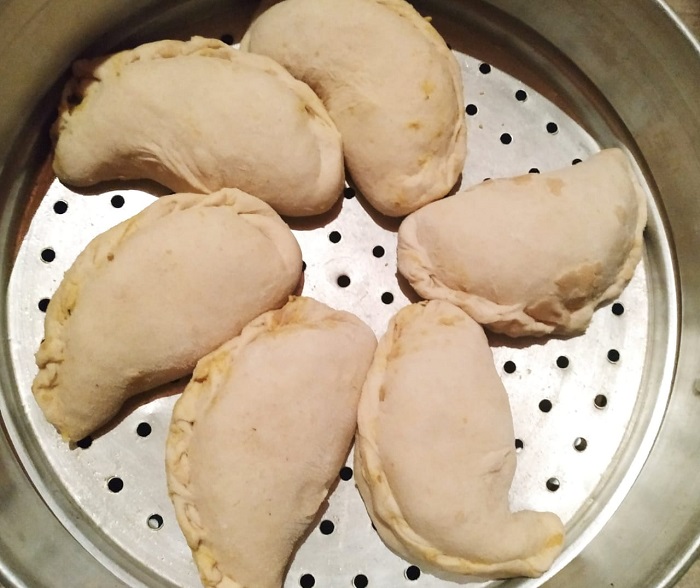 Nutrient Value:
100 g of luhan contain; Water 78.3 g, Energy 85 Kcal, Protein 1.67 g, Total Fat (lipid) 0.34 g, Ash 0.79 g, Carbohydrate 16.6 g, Total dietary Fiber 4.23 g, Calcium 75.6 mg, Iron 0.54 mg, Magnesium 17.1 mg, Potassium 455 mg, Sodium 32.7 mg, Zinc 0.752 mg, Copper 0.11 mg, Manganese 0.11 mg, Vitamin B9 (Folate) 145 µg, Vitamin C (Ascorbic acid) 3.44 mg, Vitamin C (Dehydroascorbic acid) 2.14 mg, Vitamin E (alpha-tocopherol) 0.03 mg, Oxalic acid 50.3 mg, Glutamic acid 21.7 mg, Malic acid 70.9 mg, Citric acid 24.4 mg, Fumaric acid 0.85 mg, Succinic acid 2.14 mg 4.
Seek advice from a professional before using this plant medicinally.
Medicinal Uses:
This species has the same medicinal virtues as garlic, but in a much milder and less effective form1. Iron found in luhan helps to boost oxygen distribution in the body, increases energy levels, and supports healthy immune function 4. Iron is particularly important for premenopausal women, who experience iron loss during their menstrual cycles4. Folate (which is an essential B vitamin) present in luhan keeps homocysteine of our bodies in check 4. Homocysteine is a protein found in the blood that contributes to atherosclerosis when it is in high amounts. benefit the heart and circulatory system 4. Kaempferol in luhan protects the blood vessels against damage, while also supporting the liver with elimination of cholesterol 4. Reduce low density lipoprotein (LDL) cholesterol and total cholesterol, which is very important for preventing heart disease and atherosclerosis 4.
Luhan is helpful to fight or prevent cancer due to its high antioxidant content 4. Choline, which is a used as a chemical messenger in the brain (neurotransmitter) support proper cognitive function and facilitate learning in adults and children 4.
Other Uses:
The juice of the plant is used as a moth repellent 2. The whole plant is said to repel insects and moles 2.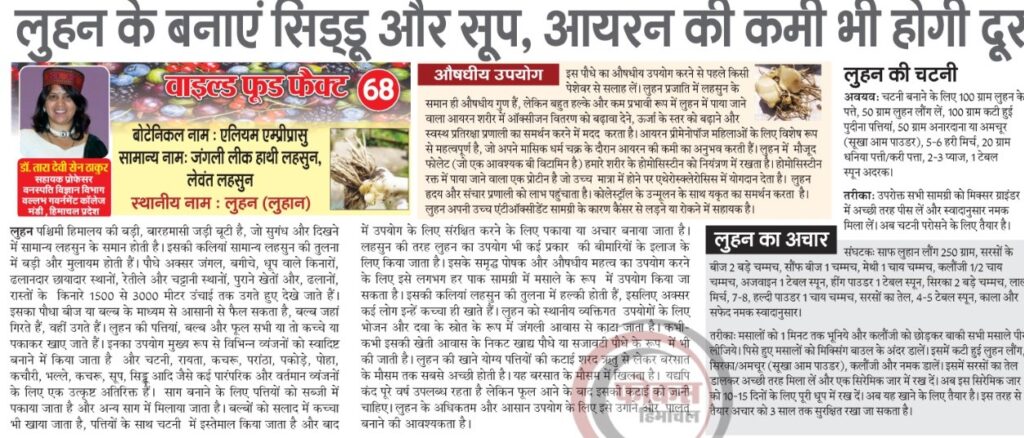 References:
Bown, D. (1995). The Royal Horticultural Society encyclopedia of herbs & their uses. Dorling Kindersley Limited.
C Riotte. L. (1978). Garden Way, Vermont, USA. ompanion Planting for Successful Gardening.
4.https://www.healthbenefitstimes.com/wild-leek.