Family: Amaranthaceae
Synonyms: Achyranthes paludosa, Achyranthes philoxeroides, Alternanthera philoxerina, Bucholzia philoxeroides, Celosia amphibia, Mogiphanes philorexoides, Telanthera philoxeroides.
Common Name: Alligator weed, alligator grass, mukuna-menna, pannankarni, pig weed.
Local. Name: Magaru ghaa (मगरू घा)
Magaru ghaa is an herbaceous, perennial plant of Western Himalaya, commonly seen growing in aquatic and semiaquatic or terrestrial habitats up to an altitude of 900 m. Most preferred habitat of magaru ghaa are roadside's ponds, ditches, stagnant or slow-moving water in pools and on waste lands.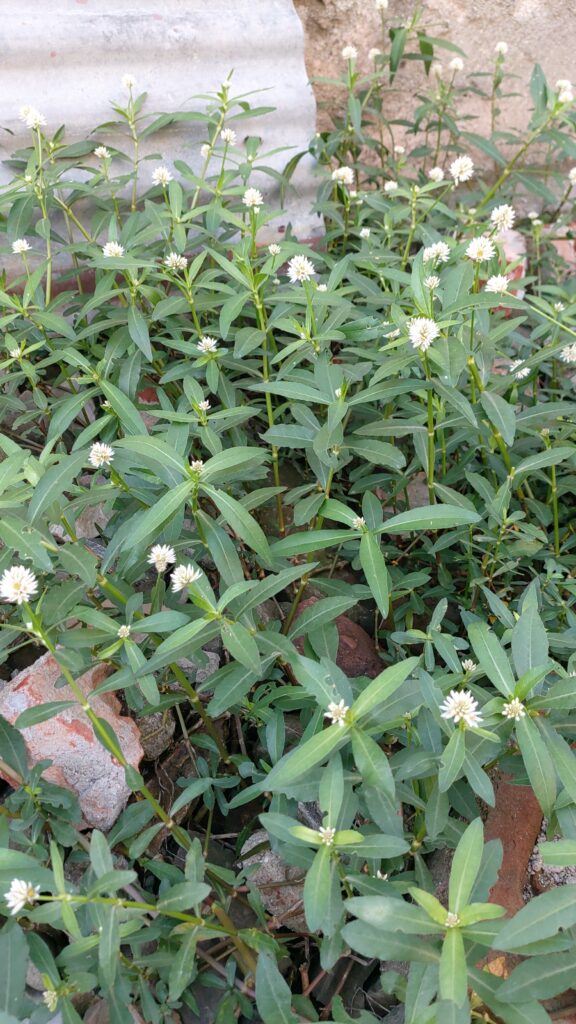 It usually grows best in aquatic sites but may grow as a terrestrial species on irrigated lands, on land with sufficient moisture or in wet and poor pastures. That's the reason provably it is given its common name Alligator weed and local name magaru ghaa.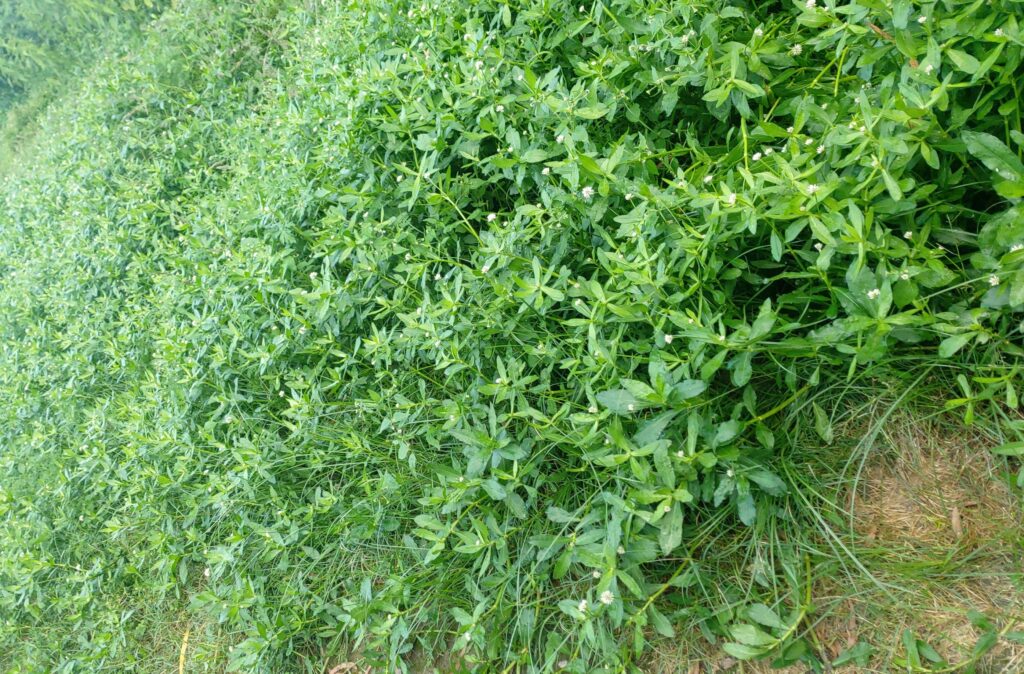 Magaru ghaa canpropagate by seeds and stem. It easily propagate vegetatively by stem fragments and shows luxuriant growth in shady moist habitats, so quite often considered as a weed to be removed.
  Young leaves and shoot terminals of magaru ghaa are edible and eaten both raw or cooked. These are cooked into leafy vegetable exclusively or along with other greens. As raw leaves can be a good addition to 'rayata' or salad.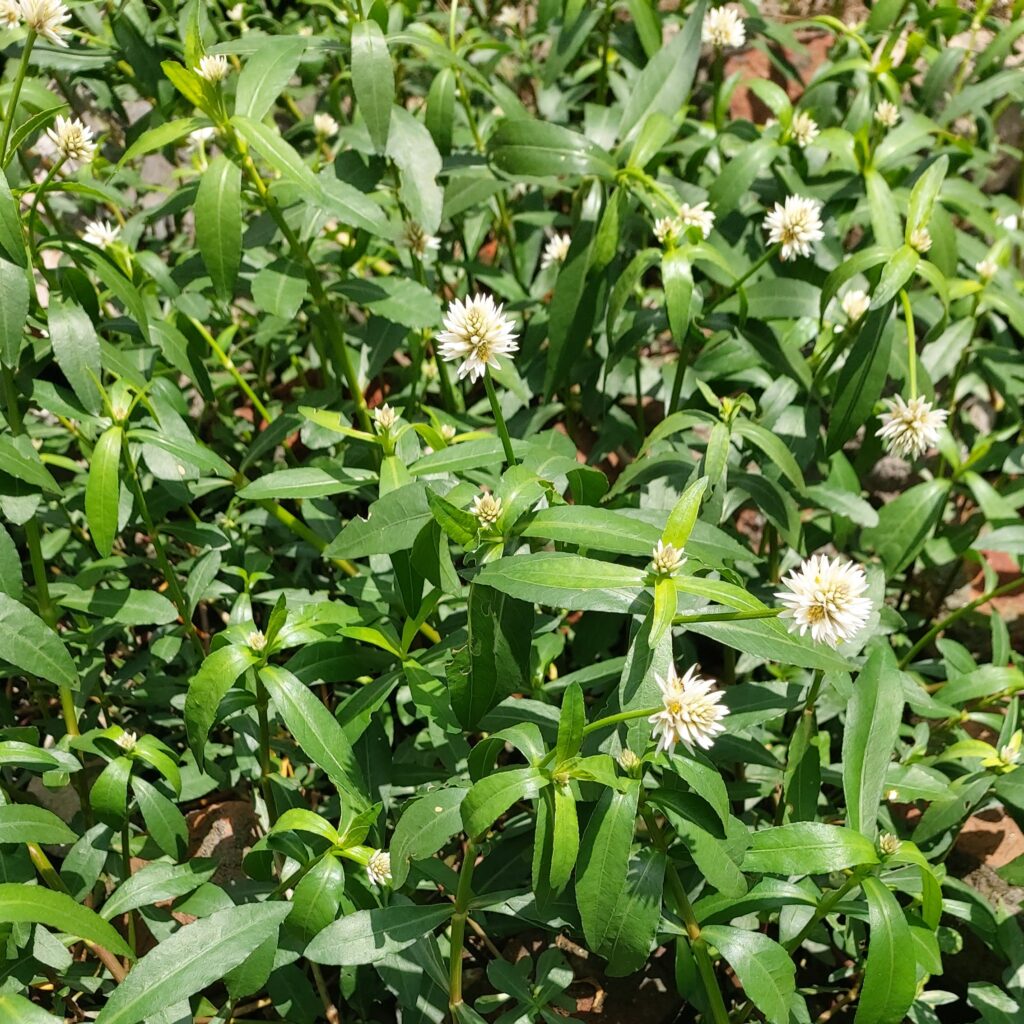 Although the plant parts are rich in nutraceuticals like phenolics and antioxidants, but one need to be very selective while collecting it from natural wild habitat as massive roots of this plant are effective in the bioconcentrating Fe, Mn, Zn, Pb and Cd 1. Therefore, low income community prefers to consume it as vegetable1. For this reason, it is also known as poor man vegetable. Magaru ghaa can accumulates iron (Fe), manganese (Mn), cadmium (Cd), lead (Pb) and zinc (Zn) in roots and leaves whose concentrations varied from one location to another1.
Magaru ghaa can be harvested from wild habitat as a source of food, fodder and medicine for local personal use by the inhabitants of Western Himalaya.
Sometime local people collect it from waste land and sell in local market so, plant is a good source of earning also.
Magaru ghaa plant:
Plant is perennial, aquatic or semiaquatic herbs, forming dense mats over the water. Stems ca 1.5 cm thick, rooting at nodes; internodes ca 10 cm long.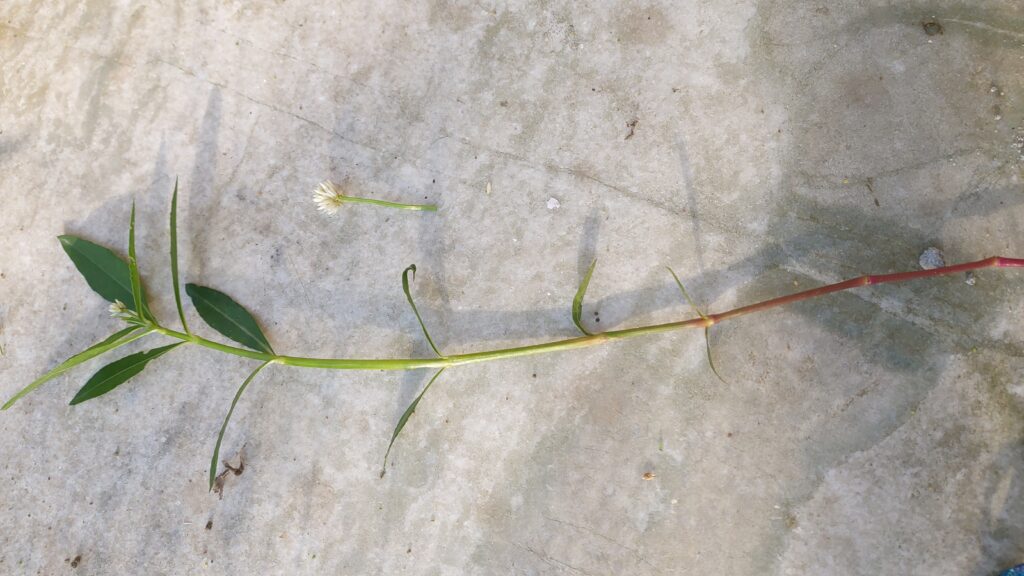 Leaves are sessile, variable, obovate- spathulate or linear- lanceolate to oblong, up to 10 – 2 cm, acute at apex, narrowed at base.
Flowers arise in axillary, globose, pedunculate heads, ca 1.5 cm across, ultimate apical head sessile, smaller; peduncles 2-5 cm long. Bracts scarious, white, deltoid ovate, 4-6 mm long; bracteoles 5-6 mm long, persistent. Tepals white, elliptic, equal 6-7 mm long, acuminate. Stamens 5.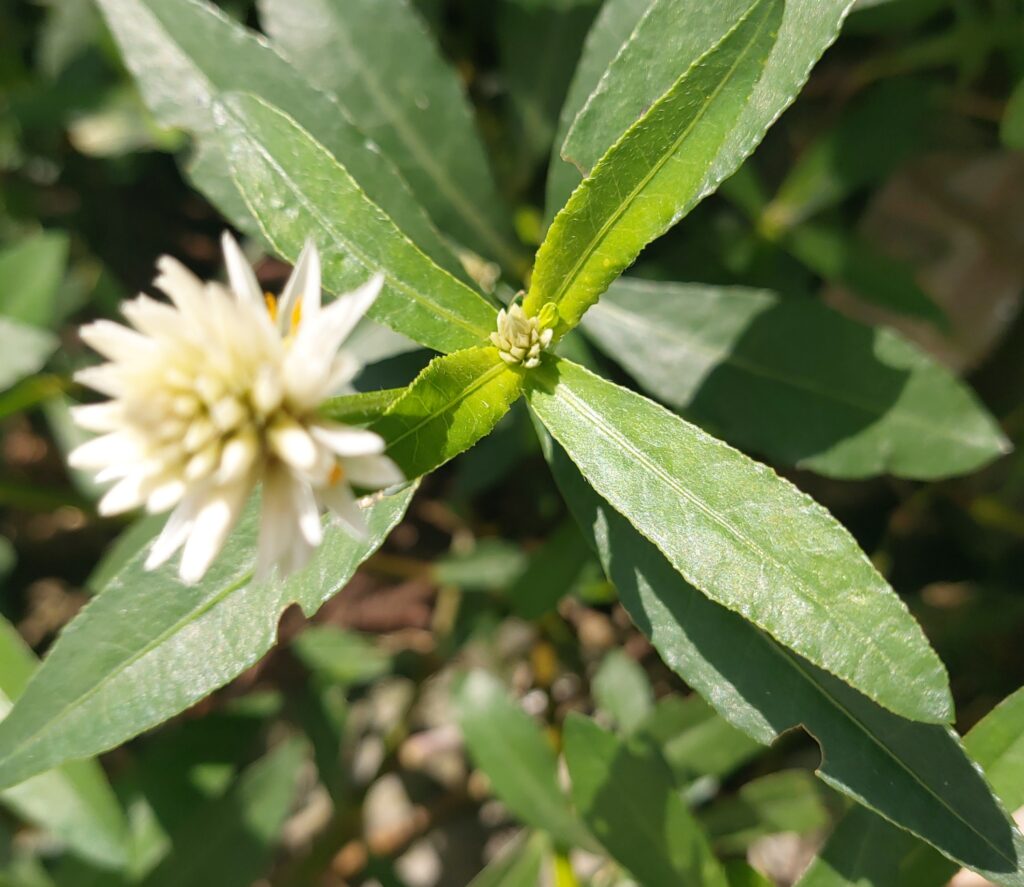 Utricles obcordate, 3-3.5 mm long, with thick margins.
Seeds are discoid, 1.5- 2 mm across brown.
Magaru ghaa is in flowering from spring to autumn period of the year. Its edible leaves can be collected round the year.
Edible Uses:
Leaves and young terminals of magaru ghaa are eaten cooked as saag or vegetable and added to rayata or salad as raw. Leaves can be cooked in soup, oats and in poha.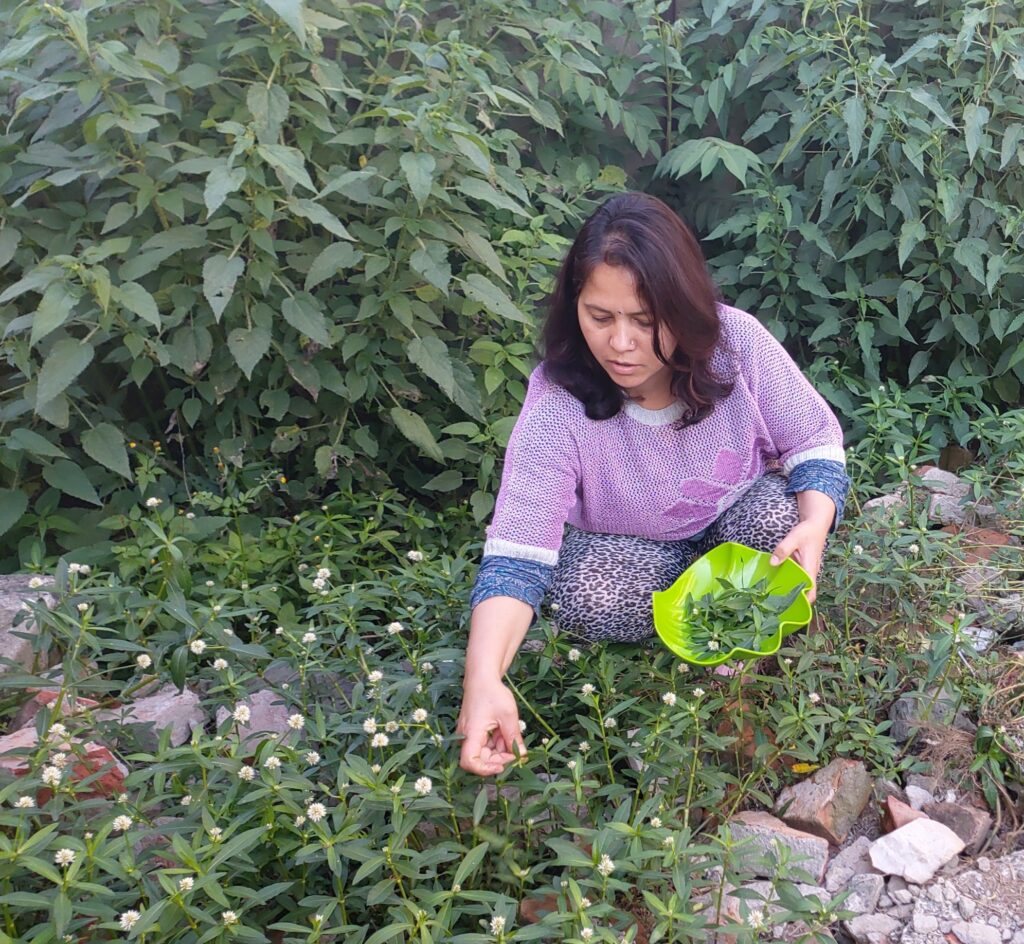 Vegetable / Saag:
Ingredients:
Young leaves and shoot of magaru ghaa, and other wild potherbs, 1 kg; medium sized potatoes. 3-5; mustard oil, 2 table spoons; coriander powder 1 table spoon; fenugreek powder, ½ table spoon; cumin seed ¼ table spoon; turmeric powder, 1/4 table spoon; red chilies, 2-3; chopped onions 2-4; garlic, 4-5 cloves; ginger paste ½ table spoon and salt according to taste.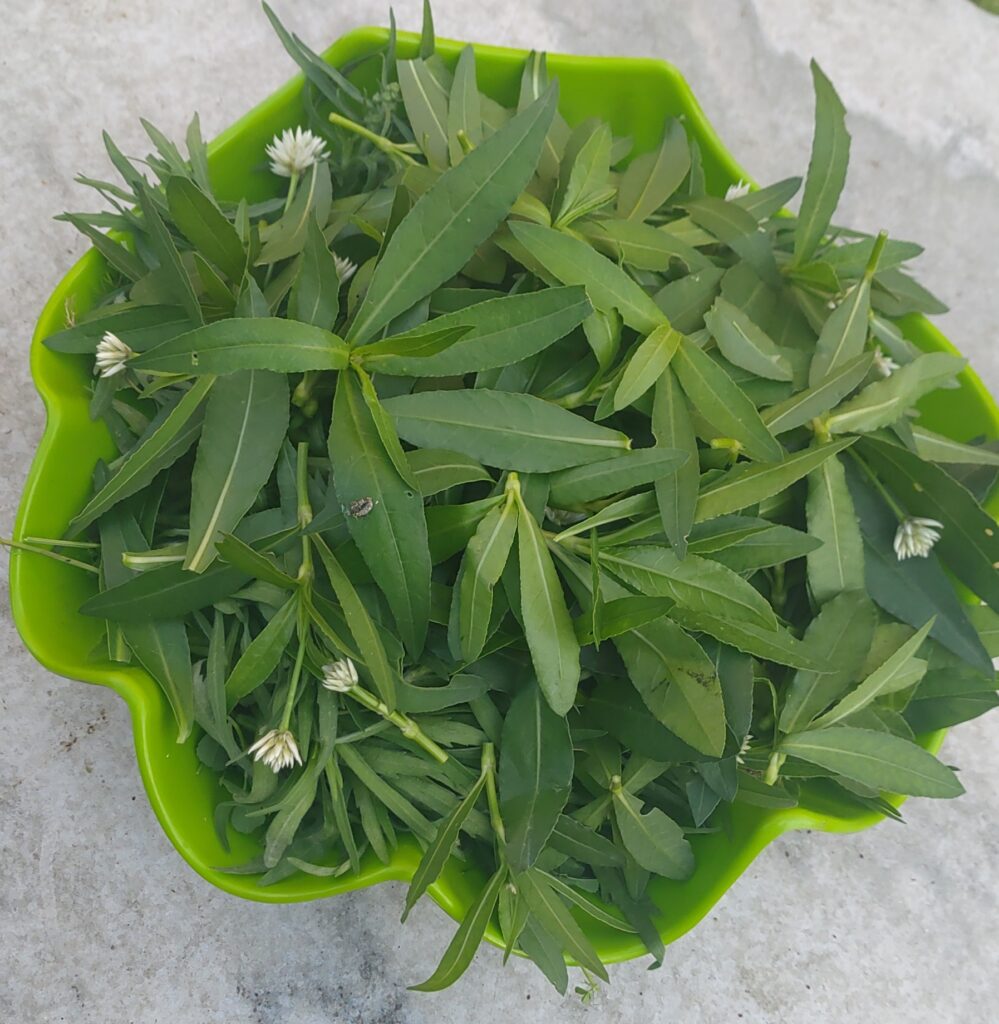 Method:
Boil chopped plant parts till they become soft. Then mesh manually or in a mixer. Then sauté with hot mustard oil and the spices listed before in sequence.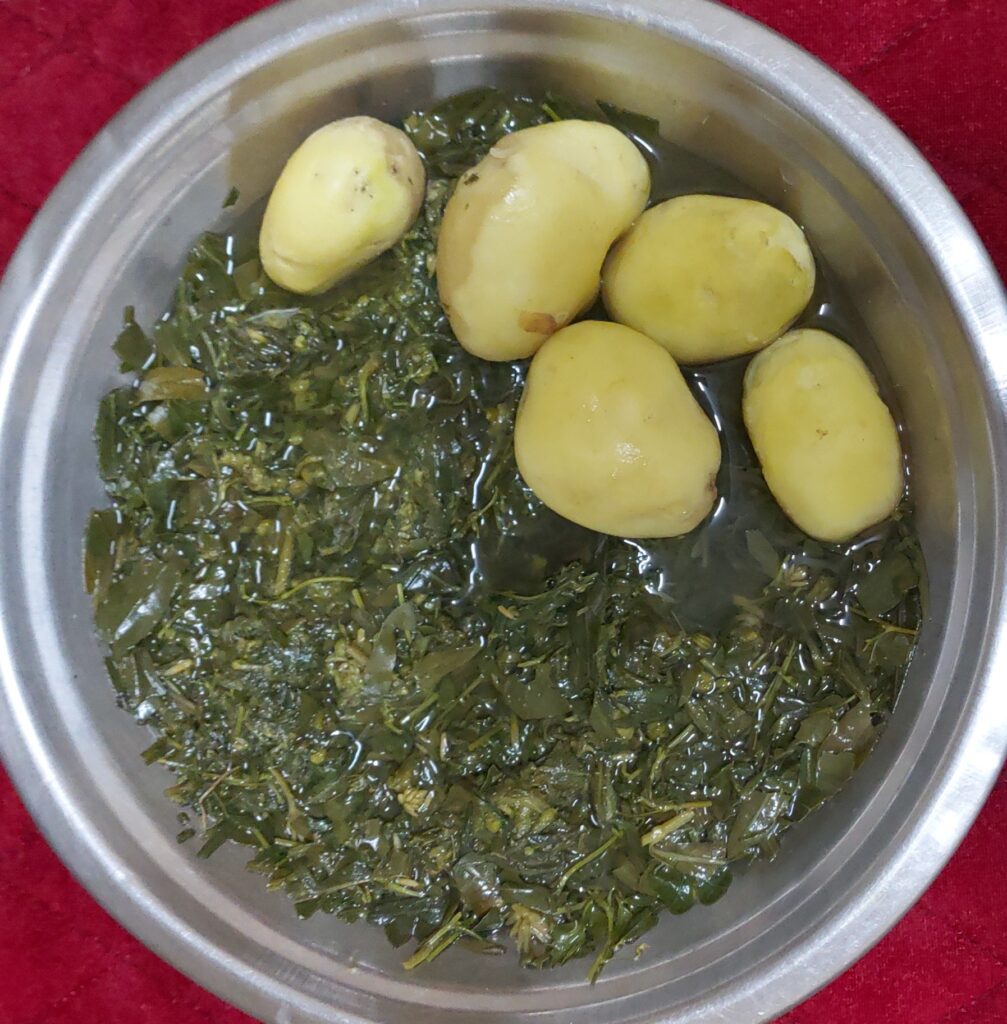 This sauted saag is then ready and can be served as such or can be mixed with 2 or 3 chopped onion and cooked for another 5 to 10 minutes before serving. Serve with rice or chapattis.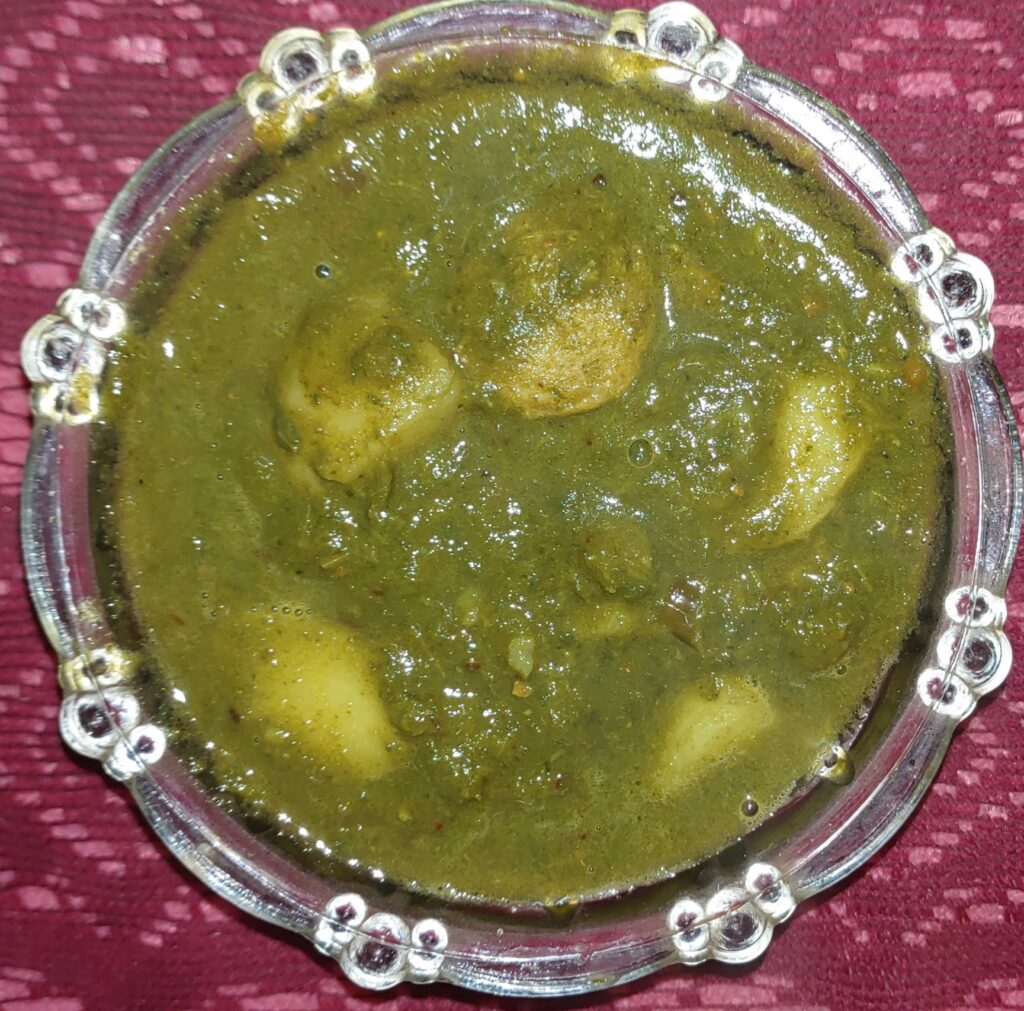 Masala oats:
Masala oats is a quick morning breakfast cooked with oats, spices with or without curd.
Ingredients:
Finely chopped leaves of magaru ghaa, 250 g; oats, 3 cup amount; curd/ butter milk, 3 cup amount; chopped medium sized onion, 2, red or green chilies, 3-4, ajwain( carom seeds), ¼ tea spoon, turmeric powder, 1/4 table spoon; black pepper, ¼ tea spoon, mint and coriander leaves,1/2 cup amount; salt according to taste.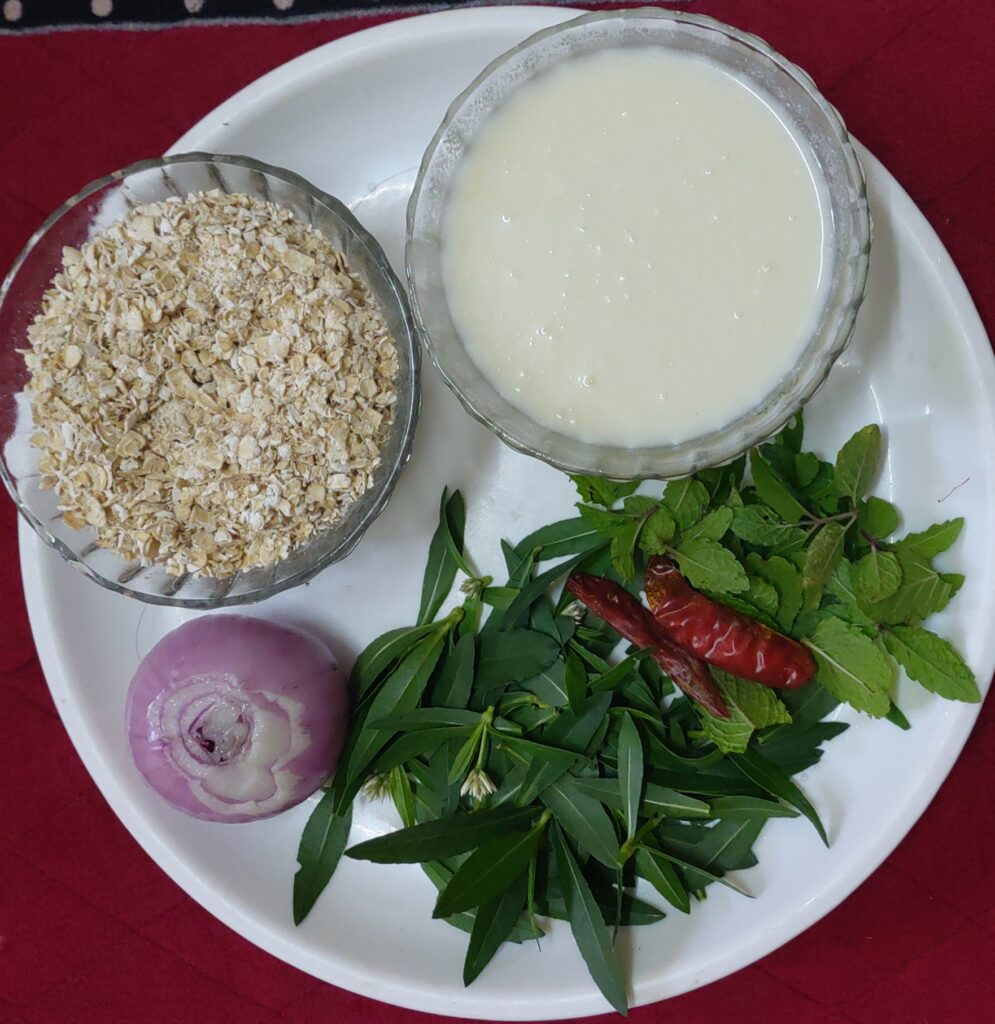 Method:
Cook oats with butter milk/ curd or water by adding finely chopped magaru ghaa leaves, spices and salt according to taste. Cook till oats are soft and then serve after garnishing with chopped coriander leaves.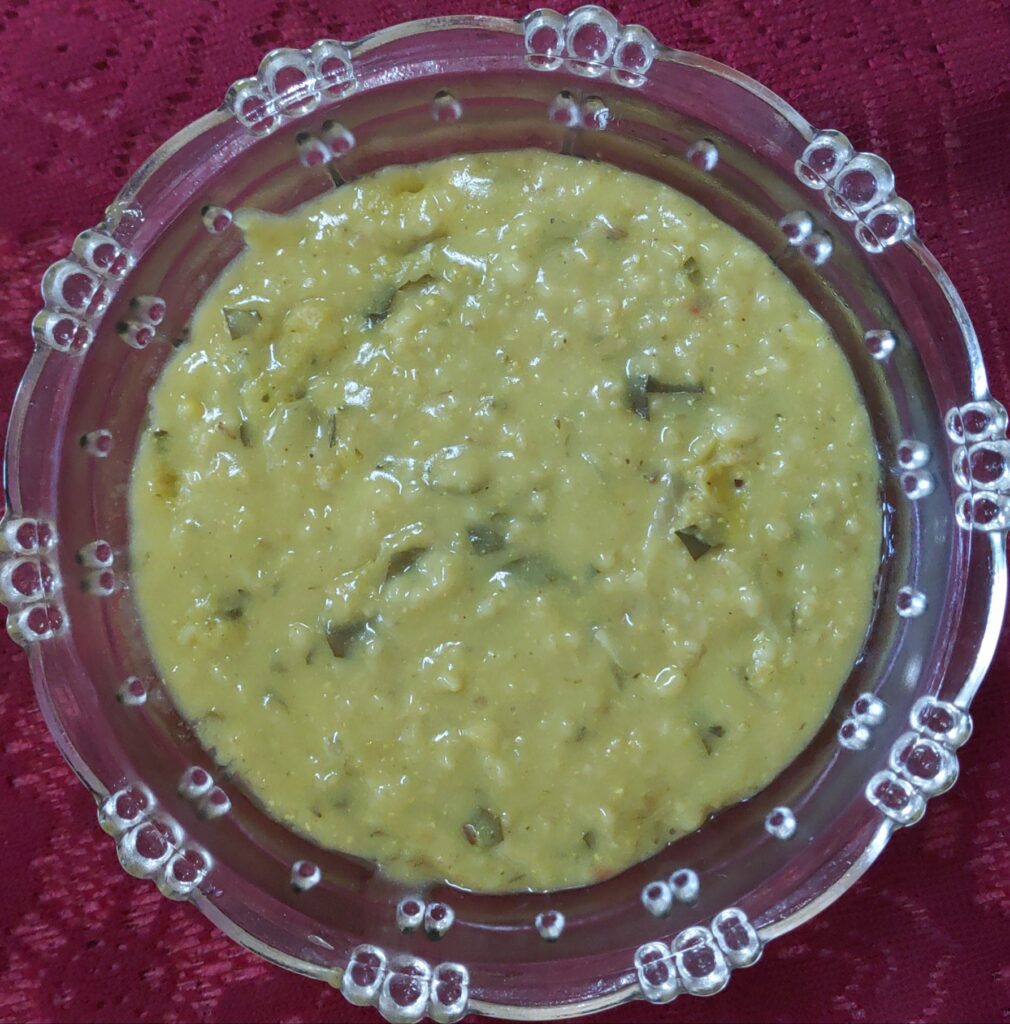 'Rayata':
Ingredients:
Finely chopped leaves of magaru ghaa,1/2kg; curd, 1kg; Chopped medium sized onion, 3-4, red or green chilies, 3-4, black pepper, ¼ tea spoon, black salt according to taste.
Method:
Take curd in a bowl. Add to all above in sequence. Mix well and serve.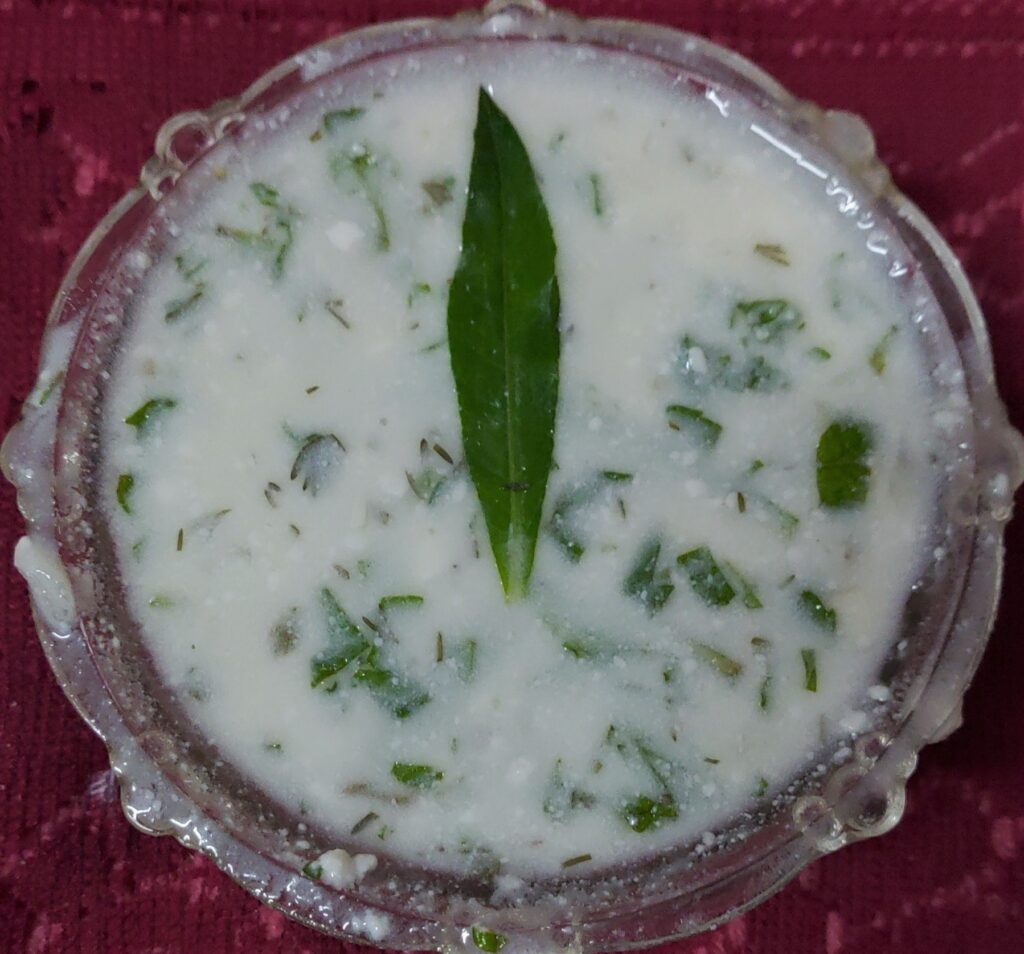 Seek professional advice before treating this plant medicinally.
Medicinal Uses:
Anti-viral, antibacterial, and hepatic-protective. Bitter, sweet, cold. Clearing heat and cooling blood, detoxicating and disinhibiting urine. Coughing up blood, hematuria, cold and pyrexia, measles, encephalitis B, stranguria with turbid urine, eczema, anthracia and furunculosis, venomous snake bite. Oral administration: decocting, 30-60g, fresh products double in amount; or smashed to extract juice. External application: appropriate amount, smashed for application; or smashed to extract juice2. An extract of the plant is used medicinally in India to treat 'female diseases3.
Chemical constituents:
Whole plant contains 7α-L-rhamnosyl-6-methoxy-luteolin, oleanolic acid, Coupling glucose, ribose and saponinscomponents of rhamnose. Stem leaves contain alternanthin, β-sitosterol, β-sitosterol, stearicacid and oleanolic acid-3-O-β-D-glucoside2
Other Uses:
Green foliage of magaru ghaa are given as a fodder to domestic cattle. Due to its ability of bioconcentrating it is considered as a soil pollution indicator. The plant can be used as a tertiary filtration system for domestic sewage3. The plant is sometimes cultivated as a source of biomass for compost-making 3.
Source of Income:
Young leaves and shoot terminals of magaru ghaa are sold in local market and this plant is a good source of earning for local people of Western Himalaya.
References:
Suthari, S., Kiran, B. R., & Prasad, M. N. V. (2017). Health risks of leafy vegetable Alternanthera philoxeroides (Alligator weed) rich in phytochemicals and minerals. The EuroBiotech Journal, 1(4), 293-302.
http://proseanet.org/ Plant Resources of Southeas
https://keyserver.lucidcentral.org/weeds/data/.