Family: Brassicaceae
Synonym: Cardamon sativum, Lepidium hortense, Lepidium sativum var. crispum, Lepidium hortense. Lepidium spinescens, Nasturtium crispum, Nasturtium spinescens, Thlaspi sativum, Thlaspidium sativum.
Common Name: Garden cress
Local Name: Halae (हले), helium.
Halae is a profusely-branched, erect, annual herb commonly seen growing as a weed in waste places and cultivated lands up to an altitude of 800-2000 m in Western Himalayas.
It is an easily grown plant, propagated by seeds and succeeds in most soils, but grows best in shady moist habitat.
Almost all the parts of halae are edible. Young leaves are eaten raw in small amount as a salad or make an excellent addition to 'rayata'. Leaves and tender shoot terminals are cooked into leafy vegetable exclusively or in combination with other greens. Fresh leaves can be mixed with mashed potatoes or basen and cooked as parnatha or kachru (chilla). Fresh or dried roots and seed pods are used as a condiment for pungent seasoning of various food items. Seed pounded or boiled are taken in various drinks like with milk, butter milk and soup for harnessing their rich medicinal values. Seed oil of halae is used in various food preparation like mustard oil.
Halae is harvested by the locals of Western Himalaya from wild as a source of food, fodder, medicine and material for their local personal use only.
Halae Plant:
Plant is erect, glabrous, branched, annul herbs upto15-50 cm tall.
Radical leaves are divided; cauline leaves are often entire.
Flowers are white, small, in short racemes. Sepals ovate. Petals spathulate, longer than sepals.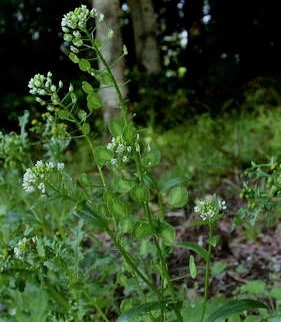 Fruits broadly elliptic to suborbicular, winged, notched, 2- seeded.
Edible plant parts can be collected from late winter to summer end.
Edible Uses:
Young leaves, roots, seeds and seed pods of halae are edible and used to prepare a variety of dishes like vegetable, rayata, 'Kachru', 'parantha', poha, soups etc. Pounded root and seeds are used condiments.
Vegetable:
Ingredients:
Young leaves, flowers of halae and other greens, 1 kg; mustard oil, 3-4 table spoons; coriander powder, 1 table spoon; fenugreek powder, ½ table spoon; cumin seed, 1 tea spoon; turmeric powder, 1 table spoon; red chilies, 2-3; chopped medium sized onions 2-4; garlic, 4-5 cloves; ginger paste ½ table spoon; boiled potatoes and salt, according to taste.
Method:
Boil halae leaves and other available greens till they are soft.  Then mesh manually or in a mixer. Then sauté with hot mustard oil and the spices listed before in sequence. This sauted saag is then ready and can be served as such or can be mixed with 2 or 3 chopped onions or boiled potatoes and cooked for another 5 to 10 minutes before serving.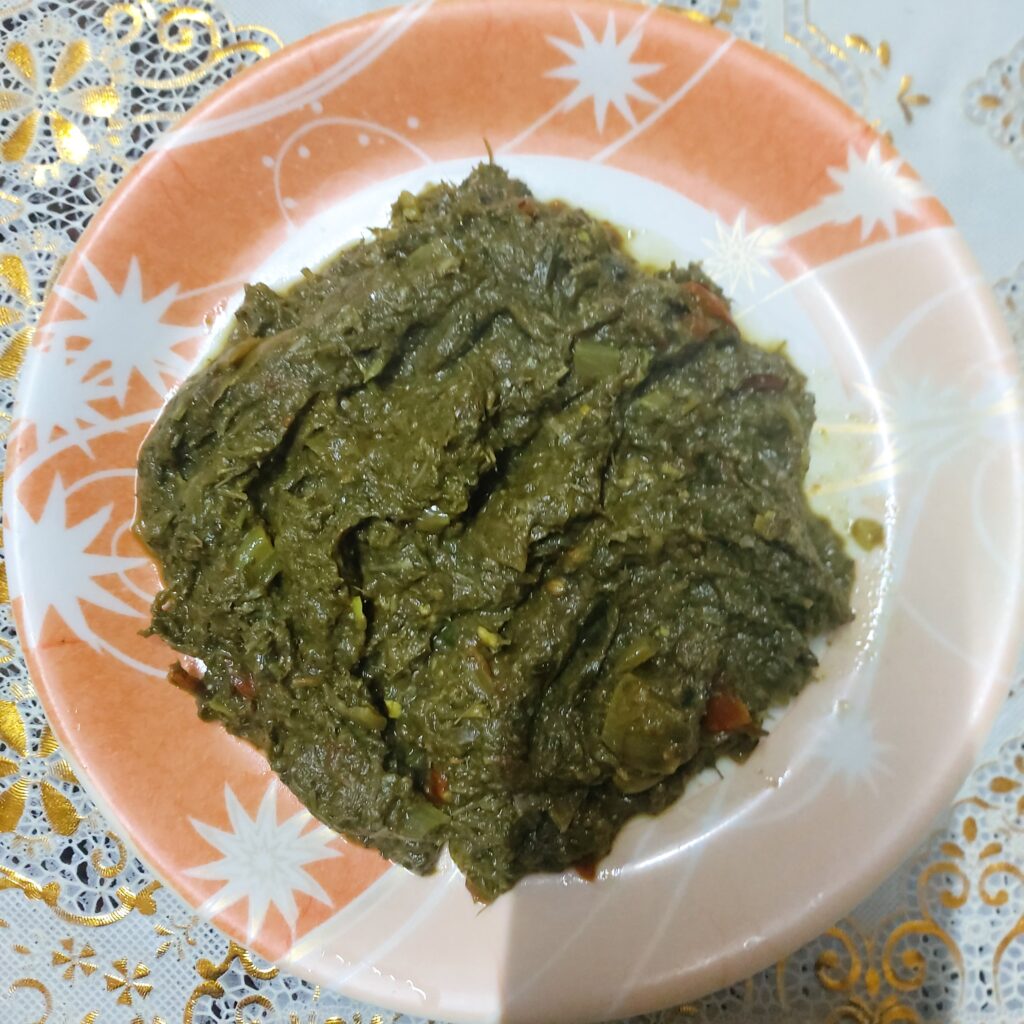 Poha:
Poha is a quick morning breakfast or evening snack prepared from beaten or flat rice flakes, spices, onion, potatoes, peanuts/groundnuts and veggies according to choice
Ingredients:
Beaten rice flakes, 3 cup amount; young leaves and seed pods of halae, 250 kg; groundnuts,1/2 cup amount; veggies (Peas. carrot etc) , 1 cup amount; boiled potato,1-2; mustard oil, 2 table spoons; coriander powder, 1 table spoon; fenugreek powder, ½ table spoon; cumin seed ¼ table spoon; turmeric powder, 1/4 table spoon; curry leaves,1/2 cup amount;  red chilies, 2-3; chopped onions 2-4; garlic, 4-5 cloves; ginger paste ½ table spoon and salt according to taste.
Method:
Take flakes in a strainer, pour water over them and rinse quickly. Drain water completely, rinse once more and set aside to soften. Heat oil in a pan and fry peanuts/groundnuts. Remove these and set aside in a plate. Now sauté spices in hot mustard oil in same pan and add halae seed pods, cubed potatoes and veggies according to choice. Sauté for a minute. Cook till these are soft. Add poha mix well and cook on a very low flame until turn hot. Squeeze lemon juice. Garnish poha with roasted groundnuts or peanuts and serve with chutney.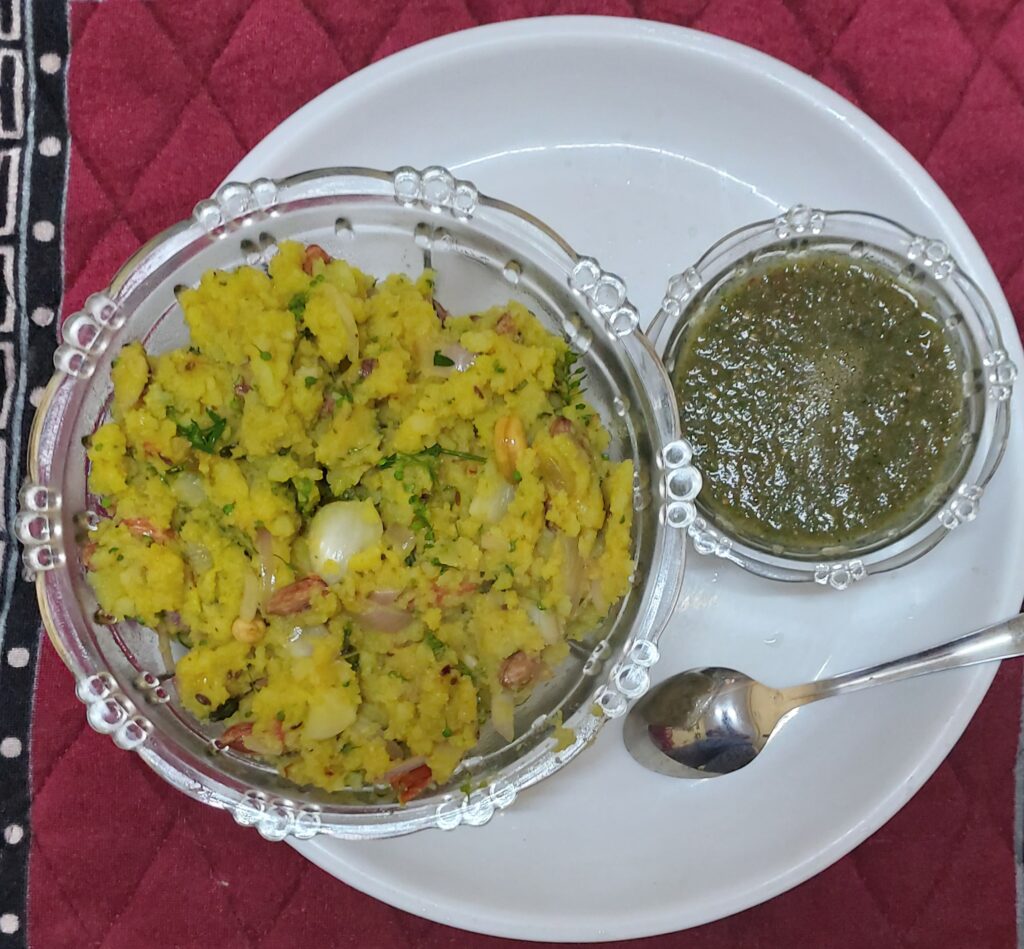 Soup:
Ingredients:
Locally available vegetable (chopped) of summers, leaves and green pods of halae,1/2 kg; mint leaves,10-15 (chopped); corn flour, 1 spoon; black pepper powder,1/4 tea spoon, salt acc.to taste.
Method:
Boil leaves, green pods of halae and vegetable in one liter water till they are soft, mesh these manually and sieve the extract in a container. Add to it mint leaves, corn flour, black pepper and salt, then boil for 5-10 minutes. Now soup is ready to serve.
'Rayata':
Ingredients:
Flowers, green pods and finely chopped leaves of halae,1/2kg; curd, 1kg; Chopped medium sized onion, 3-4, red or green chilies, 3-4, black pepper, ¼ tea spoon, black salt according to taste.
Method:
Take curd in a bowl. Add to all above in sequence. Mix well and serve.
Nutritional value:
Serving Size: 1 Cup, 50 g
Water, 44.7 g; Energy, 16 Kcal; Protein, 1.3; Total Fat (lipid), 0.35 g; Ash, 0.9 g; Carbohydrate, 2.75 g; Total dietary Fiber, 0.6 g; Total Sugars, 2.2 g; Minerals Ca, 40 mg; Fe, 0.65 mg; Mg. 19 mg; P, 38 mg, K, 303 mg, Na, 7 mg, Z, 0.12 mg, Cu, 0.085 mg, Mn, 0.276 mg; Seleniu, 0.4 µg;Vitamin B1, (Thiamin) 0.04 mg; Vitamin B2 (Riboflavin), 0.13 mg; Vitamin B3 (Niacin), 0.5 mg; Vitamin B5 (Pantothenic acid), 0.121 mg; Vitamin B6 (Pyridoxine), 0.124 mg; Vitamin B9 (Folate),40 µg; Choline, 9.8 mg; Vitamin C (Ascorbic acid), 34.5 mg; Vitamin E, 0.35 mg; Vitamin K, 271 µg 4.
Seek professional advice before treating this plant medicinally.
Medicinal Uses:
The roots are bitter and acrid, and are useful in secondary syphilis (sexually transmitted bacterial infection) and tenesmus (A painfully urgent but ineffectual attempt to urinate) 1. The leaves are stimulant, diuretic and antibacterial and are useful in scurvy treatment and hepatopathy1. The seeds are bitter, thermogenic, depurative (purifying), rubefacient (redness of the skin), galactagogue(promotes lactation), emmenagogue (stimulate menstruation & blood flow), tonic, aphrodisiac (stimulates sexual desire), ophthalmic and diuretic1. They are useful as poultices for sprains and in leprosy, headache, skin diseases, dysentery, diarrhea, splenomegaly (enlargement of the spleen.), dyspepsia (Indigestion), lumbago (Low back pain ), ophthalmopathy, leucorrhoea, scurvy, seminal weakness, asthma, cough, hiccough, hemorrhoids and vitiated conditions of vata1. It can be administered (boil with milk or chew in large quantities) to cause abortion1,2,5.
Chemical Constituents:
Possesses glucotropoelin, 4 methoxyglucobrassic in, sinapine, sinapic acid, beta- sitosterol, benzylcyanide, calmodulin, sinapoyglucose, ester of caffeic, p- coumaric, ferulic and quinic acids (plant); and lepidine, N, N'- dibenzyl urea, N- N'- dibenzylthiourea, sinapic acid and its choline ester, arachidic, behenic and lignoceric acids (seed) 3.
The oil possesses anti-oxidant properties; the optimum stabilizing concentration when used as an additive for linseed oil is 10%1.
Other Uses:
The seed yields up to 58% of an edible oil that can also be used for lighting and making soap5 . The seeds yield about 25% of a yellowish-brown, semi-drying oil with a peculiar, disagreeable odor 5. The seeds are applied externally as an insect repellent5. Lepidium sativum is extensively used as a test organism in plant physiological studies, as an indicator organism to examine toxicity levels of environmental pollutants, and in experimental studies assessing diverse pathogens5.
References:
Purohit SS, Sharma AK, Prajapati ND, Kumar T. (2009); A handbook of medicinal plants: a complete source book. 2:352-3.
Chopra, R. N., Nayar, S. L., & Chopra, I. C. (1956). Glossary of Indian medicinal plants (Vol. 1, pp. 138-139). New Delhi: Council of Scientific & Industrial Research.
Chatterjee, A., & Pakrashi, S. C. (1997). The Treaties On Indian medicinal plants, volume-3. National Institute of Science Communication (CSIR), New Delhi, 16.
https://www.healthbenefitstimes.com/Garden-cress.
http://www.prota.org