Family: Brassicaceae
Synonyms: Carara didyma, Coronopus didymus, Senebiera didyma,Senebiera incisa,Senebiera pinnatifida,
Common Name: Swine Wartcress, Bitter Cress, Lesser Swinecress, Wart cress
Local Name: Jangli halon (जंगली हालोन)
Jangli halon is a small herbaceous annual plant growing in rosette on ground.  Initially it is with prostate stem which become ascending with growth.
Jangli halon is considered as a noxious weed to be removed due to its cosmopolitan occurrence in cultivated land. It is commonly seen growing in pasture, wastelands and along roadsides between an altitude of 700- 3000 m in Western Himalaya.
All the parts of this plant give off a strong and offensive smell when crushed.  Jangli halon propagate by seeds which are easily disseminated by wind.
Leaves of Jangli halon are edible and eaten both raw or cooked. Leaves are cooked as a leafy vegetable saag. Young leaves can also be a good addition as a green to various other food preparation like rayata,poha,pakors, prantha etc.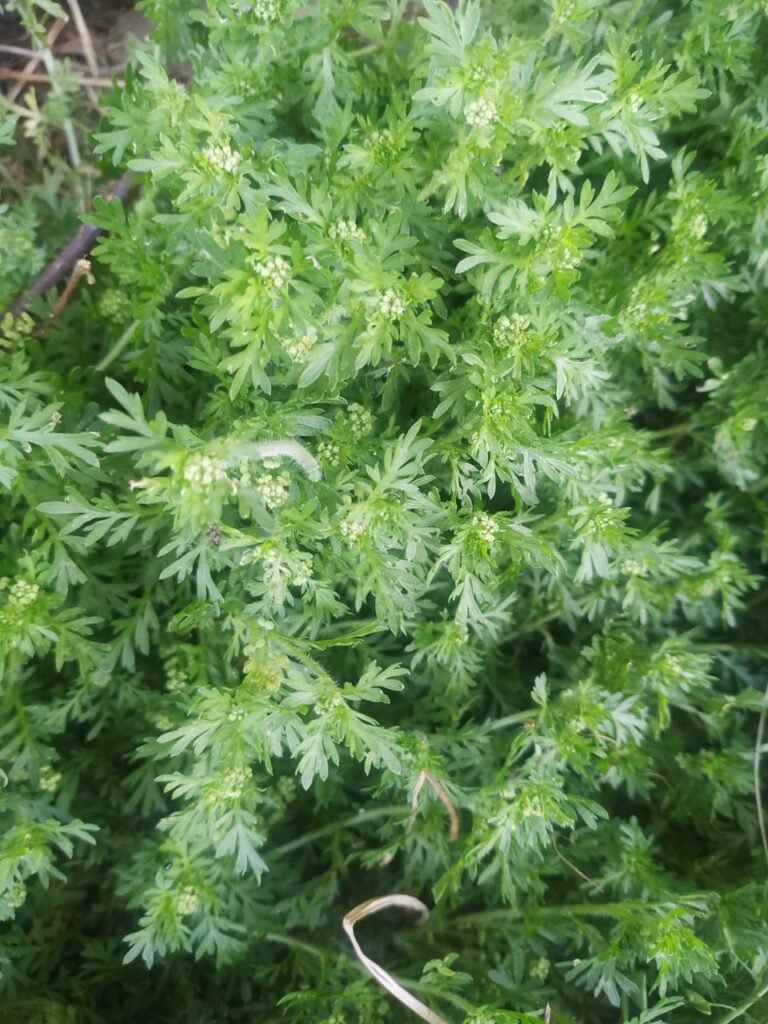 Jangli halon is harvested from wild as a source of food and medicine for local personal use.
Jangli halon Plant:
Plant isprostate or ascending herbs, 15- 30 cm long.
Stems is few to several from base, branched distally.
Leaves are pinnatifid or pinnatipartite, lobes spreading, almost entire. Flowers are small pale green, ca 1-2 mm across, in elongated, lateral racemes. Sepals ovate, sub- erect. Petal very short or none. Stamens 2. Fruits 1.5 to 2.5 mm, bilobed; valves globose, reticulately rugose, glabrous.
Seeds falcate, finely netted, and brown.
Young leaves can be best harvested in spring season at lower altitude while in higher altitude these can be harvested from early Summers to rainy season of the year,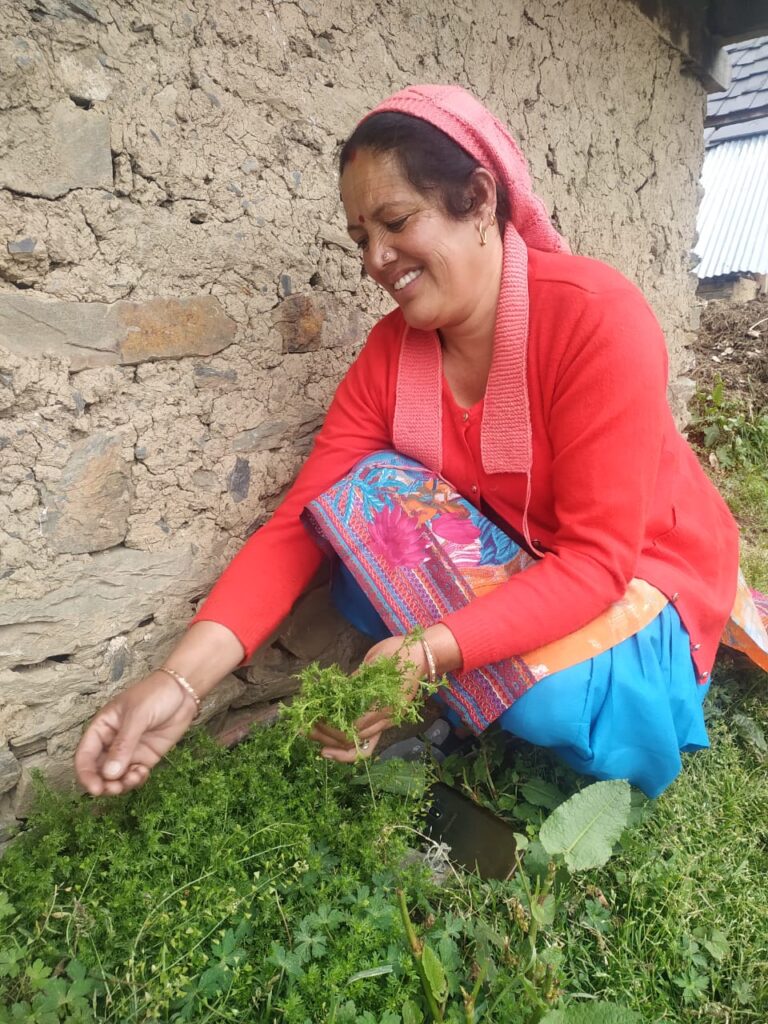 Edible Uses:
Jangli halon is used as a potherb. Its leaves can be a good be added as a green in many food preparations like basen chilla, poha, rayata, pakoras etc.
Saag:
Ingredients:
Jangli halon leaves, 1 kg; mustard oil, 2 table spoons; coriander powder 1 table spoon; fenugreek powder, ½ table spoon; cumin seed ¼ table spoon; turmeric powder, 1/4 table spoon; red chilies, 2-3; chopped onions 2-4; garlic, 4-5 cloves; ginger paste ½ table spoon and salt according to taste.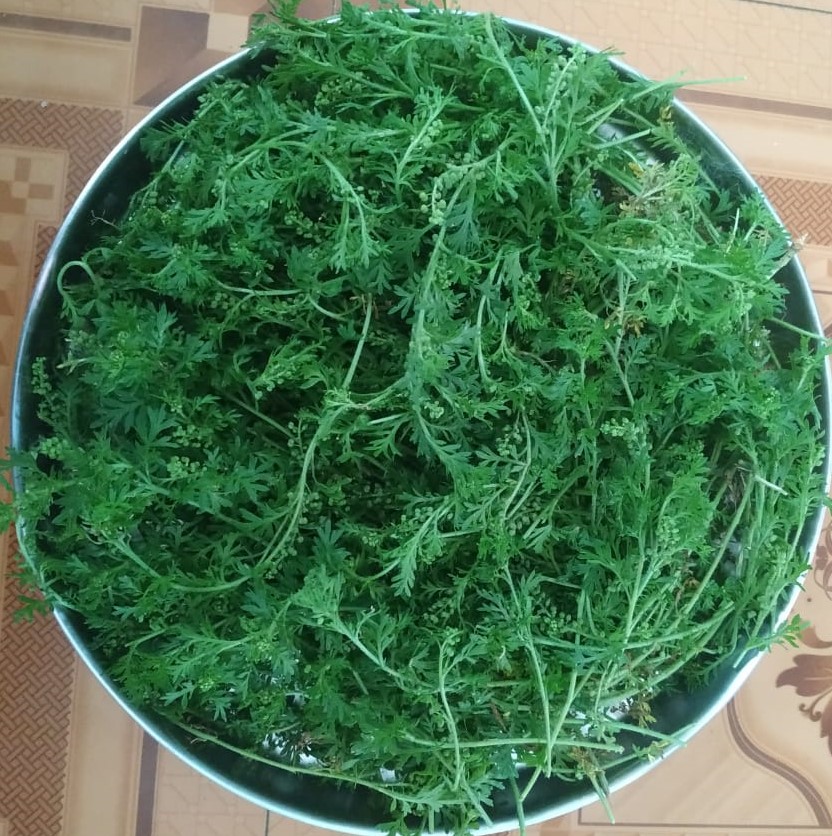 Method:
Boil chopped Jangli halon leaves till they become soft. Then mesh manually or in a mixer. Then sauté with hot mustard oil and the spices listed before in sequence. This sauted saag is then ready and can be served as such or can be mixed with 2 or 3 chopped onion and cooked for another 5 to 10 minutes before serving.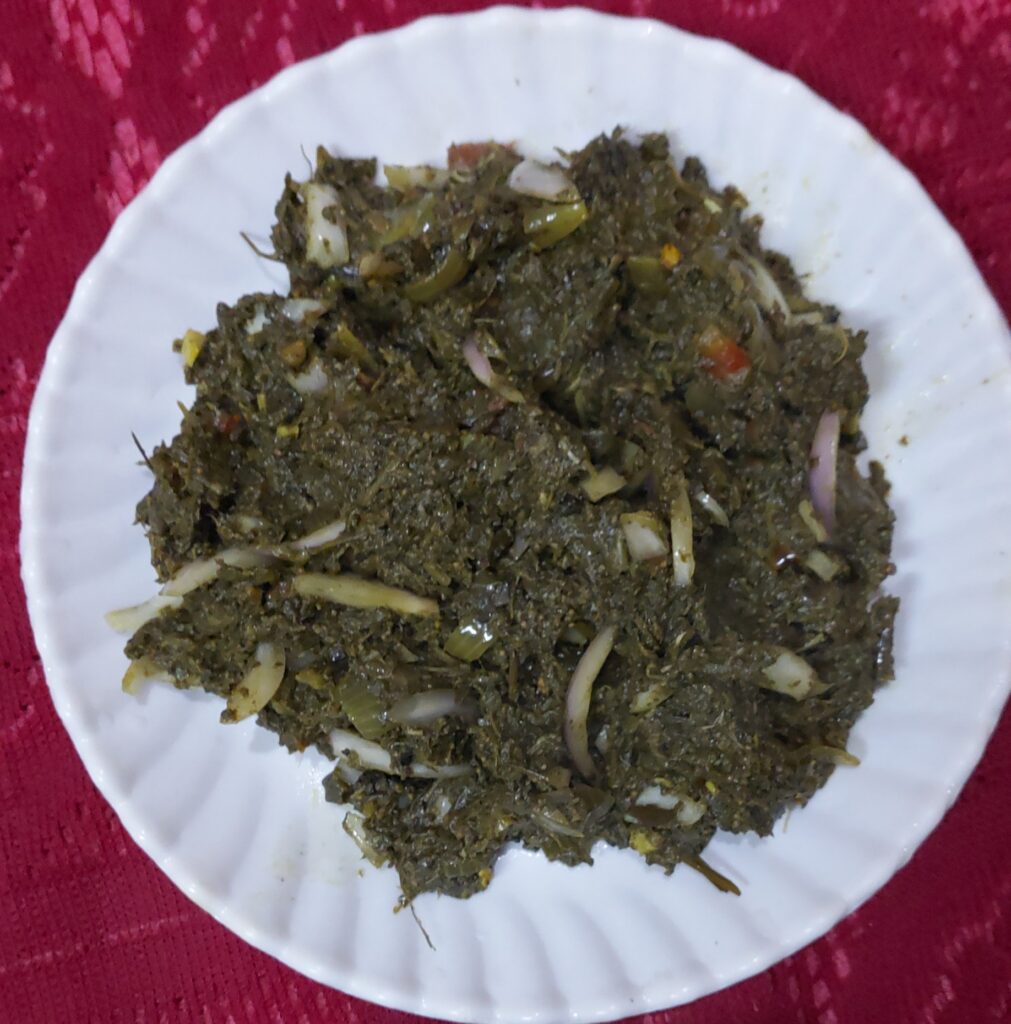 Seek professional advice before treating this plant medicinally.
Medicinal Uses:
Jangli halon is rich in secondary metabolites like cardiac glycosides, phlobatannins, tannins, steroids, flavonoids, saponins, terpenoids, proteins and carbohydrates 1. These compounds have free radical-scavenging and antioxidant properties 2 so, this plant is employed in to treat cancer, gangrene, haemorrhoids, allergies and wounds2. Leaves are used for the treatment of  skin disease and diabetes 1. 
 The plant is credited with antiscorbutic, digestive, expectorant, febrifuge, stimulant and tonic properties 2. A decoction of the whole plant is drunk to treat headache and fevers 2. Leaf poultice is applied externally to treat headache2. Tests in India have shown wound-healing, anti-inflammatory, antiallergic, antipyretic, hypoglycaemic and hepatoprotective activities of the plant2.
Other Uses:
Plant is known very well for the production of a variety of natural products that are biologically active. These products include flavonoid, coumarins, phlobatannins and terpenoids etc 3.
References:
1.Akhtar, N., Ali, S. S., Ahmed, S., Samin, J., Khan, M. A., & Khan, M. S. (2017). Phytochemical analysis oF lepidium didymum. Pakistan Journal of Weed Science Research, 23(2).
3. Kashani, M. M., Crewe, A. J., & Alexander, N. A. (2012). Durability considerations in performance-based seismic assessment of deteriorated RC bridges. In Proceedings of 15th Wor ld Conference of Earthquake Engineering, Lisbon, Portugal.