Family: Anacardiaceae
Synonyms: Mangifera amba, Mangifera domestica Mangifera gladiate,Mangifera racemose,Mangifera rubra.
Common Name: Mango
Local Name: Aam (आम), Amra
Aam is a well-known large, evergreen tree very famous for its delicious fruits which are fondly eaten and liked by all. Being one of the most popular fruits in the world, it is often called as "king of the fruits".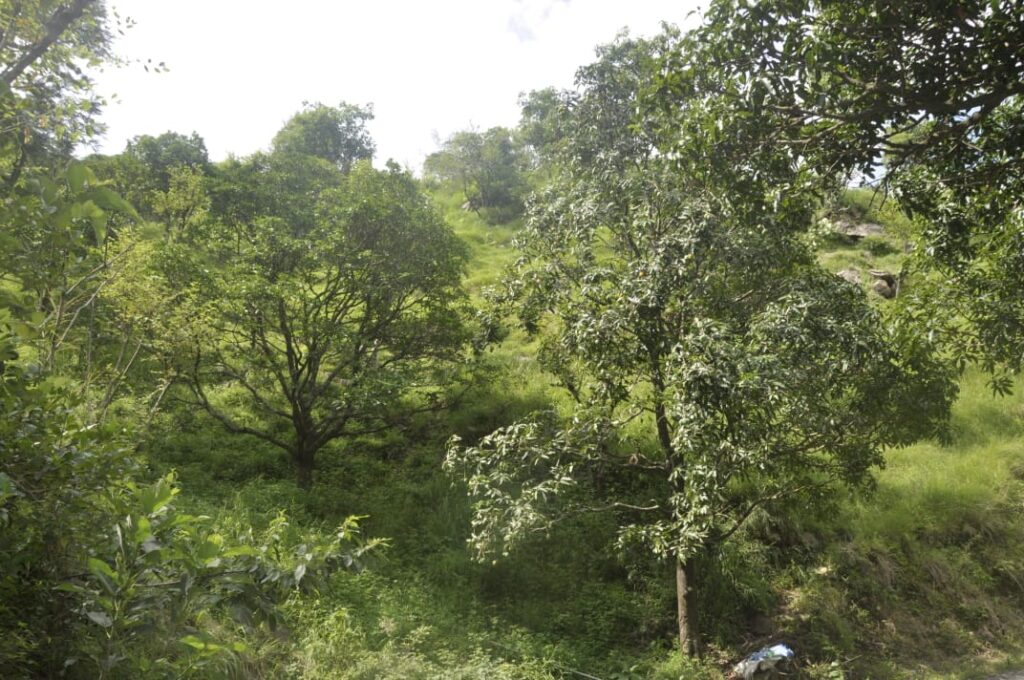 Aam is frequent on roadsides, pathways, boundaries of cultivated land and near to habitation, up to an altitude of 1000 to 1200 m in Western Himalaya. It grows best in moderately dry well-drained sunny habitat and easily propagate through mature seeds.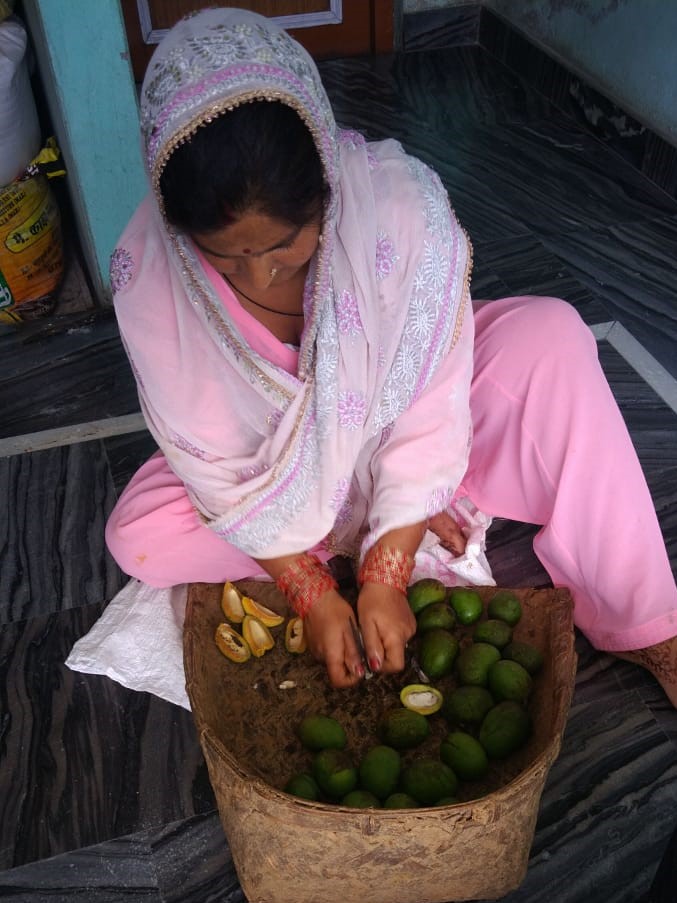 Aam fruits are eaten both raw or cooked. Raw fruits are sliced and dried to make "mukadiyan" (Dried mango slices) traditionally which are used as souring agent in 'chutneys' and other traditionally used sour recipes. Dried "mukadiyan" are further powdered to make 'aamchoor' (Dried mango powder) for same purpose.
Both of these mukadiyan & aamchoor can be preserved for off season and are also sold in local market. Fruits are eaten raw, pickled, juiced and can also be prepared in a variety of ways such as in chutneys, jams, aambuaa (mango curry) etc.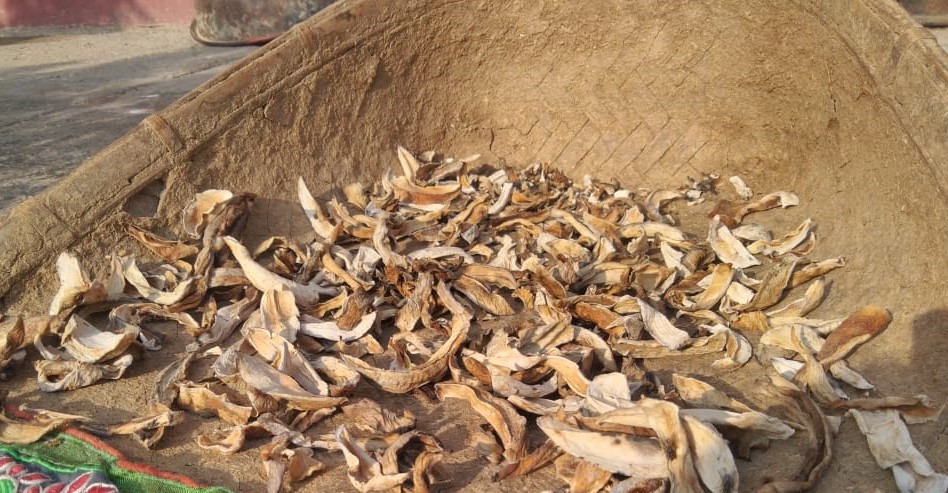 Aam is considered a sacred plant by local people. They use aam leaves in almost all the religious ceremonies like marriage, birthday adoration, udyapan, yagya and in death ceremonies. Wood is used in 'Havana'.
Aam wood is also used as a fuel and in construction of low-cost furniture. Aam is cultivated on large scale for edible uses and cultivar varieties are with large sized fruits.
For making pickle, amchoor, mukadiya & jam local people harvest aam fruits from wild varieties growing in natural habitat. They harvest aam as a source of food, fuel, medicine and material from wild for both personal and commercial purpose.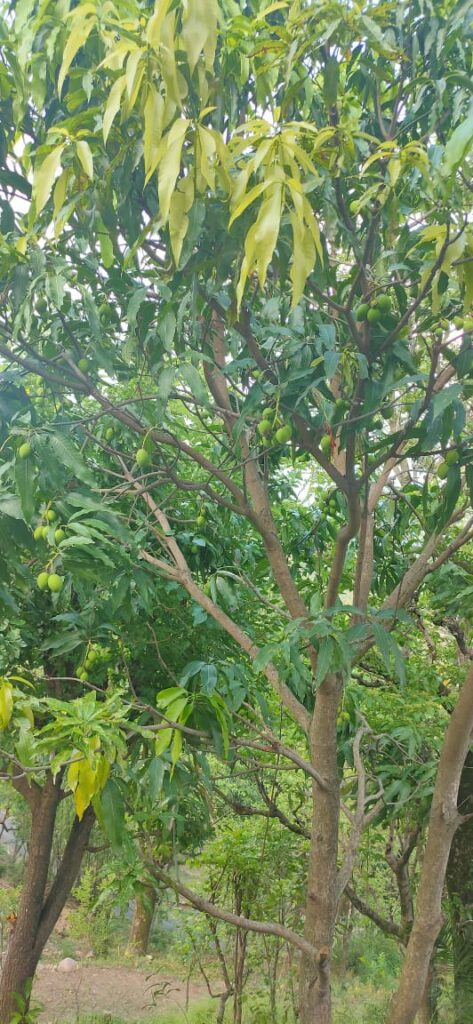 Aam is an excellent source of earning for local people living plain areas of Western Himalaya and sold raw fruits for pickle making, ripe for eating, preserved aam fruits in the form of pickle, mukadiyan and aamchoor through various Self-help groups.
As aam grow luxuriantly in many parts of Western Himalaya specially in Mandi District of Himachal Pradesh so, it is a easy source of income for local people.
Aam plant:
Plant is large, evergreen trees, glabrous expect the inflorescence. Leaves are simple, oblong- lanceolate or oblong, entire.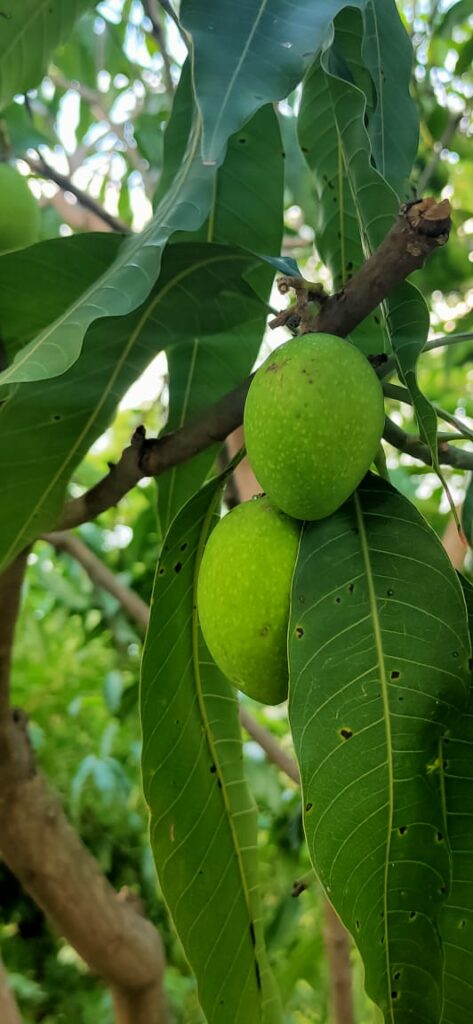 Flowers are yellowish- green, polygamous, in terminal panicles.
Drupes ovoid, greenish, yellowish or reddish, 5- 15 cm long.
Aam fruits are best harvested from summer end to end of rainy season.
Edible Uses:
Aam raw fruits are used in chutneys, jam, pickle etc. Immature or partially ripe fruits are used to prepare a local dish ambua (mango curry). It is quite often also served in small local social gathering (dham). Raw dried fruits in the form of mukadiyan and aamchoor (slices & powder) are used in almost all the sour recipes prepared round the year.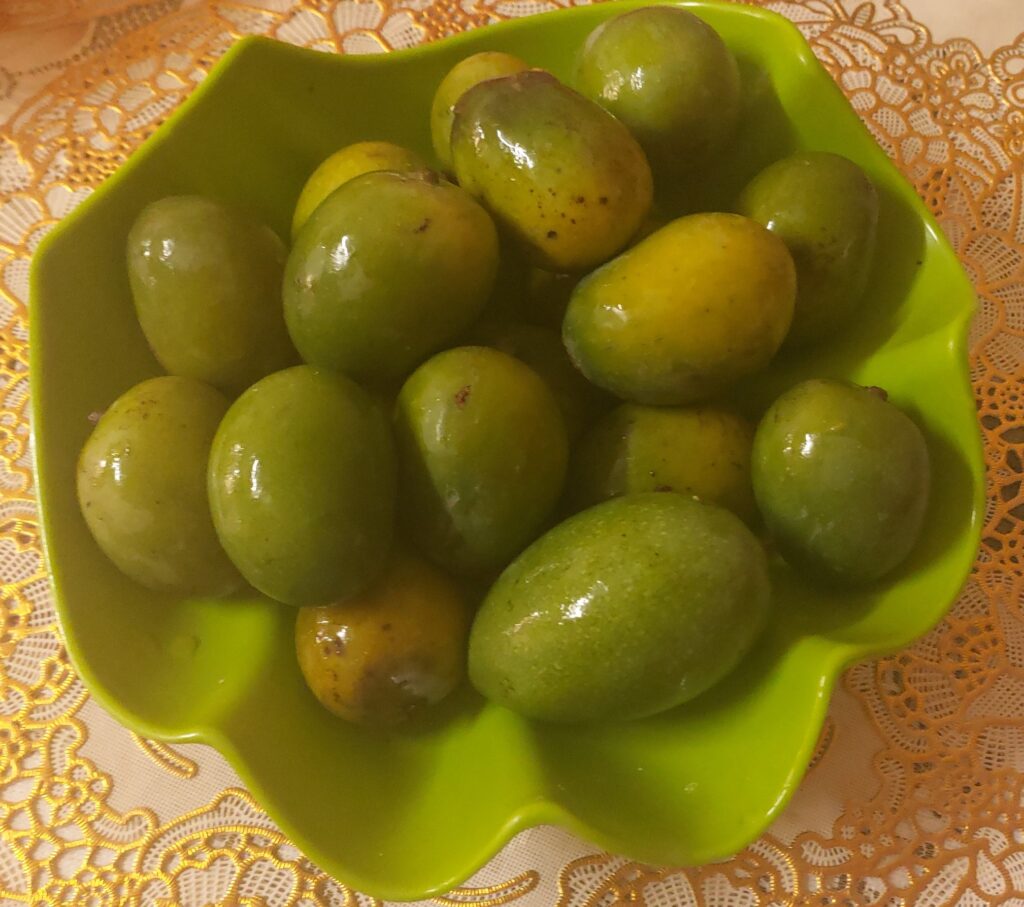 Aambuaa (mango vegetable curry):
Ingredients:
Immature or partially ripe aam, 250 g; mustard oil, 3-4 table spoons; coriander powder, 1 table spoon; fenugreek seed powder, ½ table spoon; cumin seeds, 1 tea spoon; turmeric powder, 1 table spoon; red chilies, 2-3; chopped onion, 1; chopped garlic, 4-6 cloves; ginger paste, ½ table spoon, curd or buttermilk, 1 cup amount.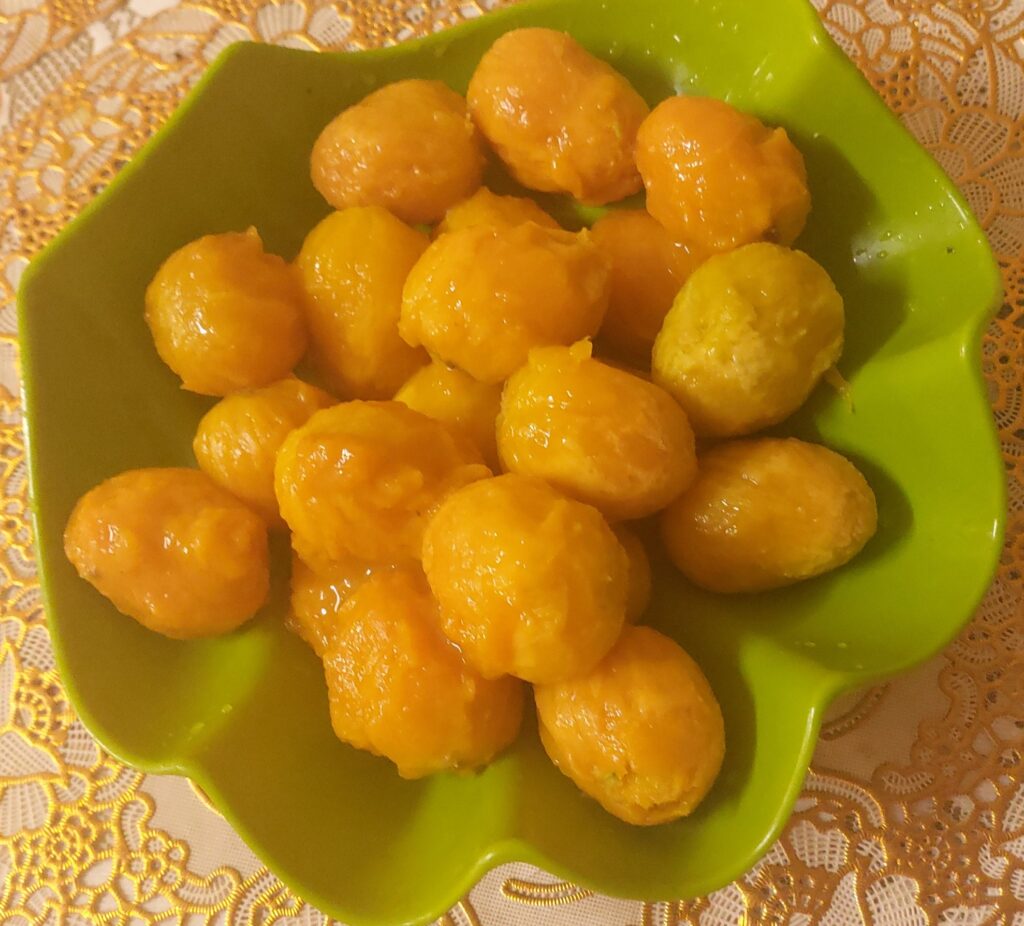 Method:
Peel off aam and sauté in hot mustard oil along with spices listed above in same sequence. Add to it water/ butter milk and cook for 8-10 minutes. Now add to it garam masala and garnish with mint or coriander leaves. Ambuaa is now ready to serve, You can serve it with rice or chapattis.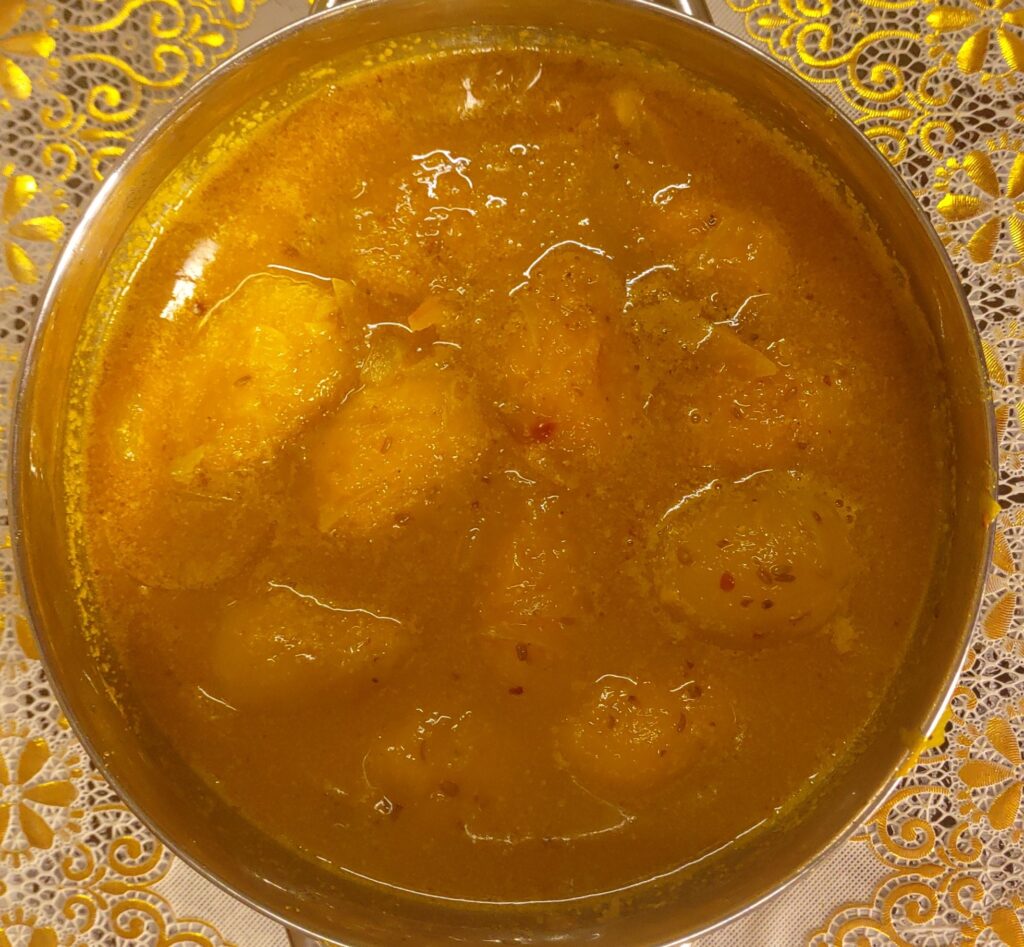 Ingredients:
To prepare chutney, take 100 gm chopped mint leaves, 50 gm amchoor or 3-5 raw green aam, 5-6 green chillies, 20 gm coriander leaves/ curry leaves, 2-3 onion, 1table spoon amount ginger.
Method:
Grind well all above ingredients in a mixer grinder and add salt according to taste. Now chutney is ready to serve.
Pickle:
Ingredients:
Chopped raw green mature aam, 1 kg; mustard oil, ½ liter; fenugreek powder, 2 table spoons; cumin seed, 2 table spoons; turmeric powder, 1; table spoon. red chillies, 8-12. mustard (rai ) powder, 4 table spoon and salt, according to taste. .
Method:
For preparing pickle, marinate aam chopped pieces with salt and turmeric powder. Now sundry marinate aam pieces in full sunlight for 3-4 hours. Sauté in hot mustered oil add roasted seed powder of fenugreek, cumin and red chillies. Add to it aam sundried chopped pieces Then add to this turmeric powder, and salt, according to taste. Keep this mixture in a ceramic jar for one month. and place in a ceramic jar for one month. During this period, aam become soft and will be ready to eat.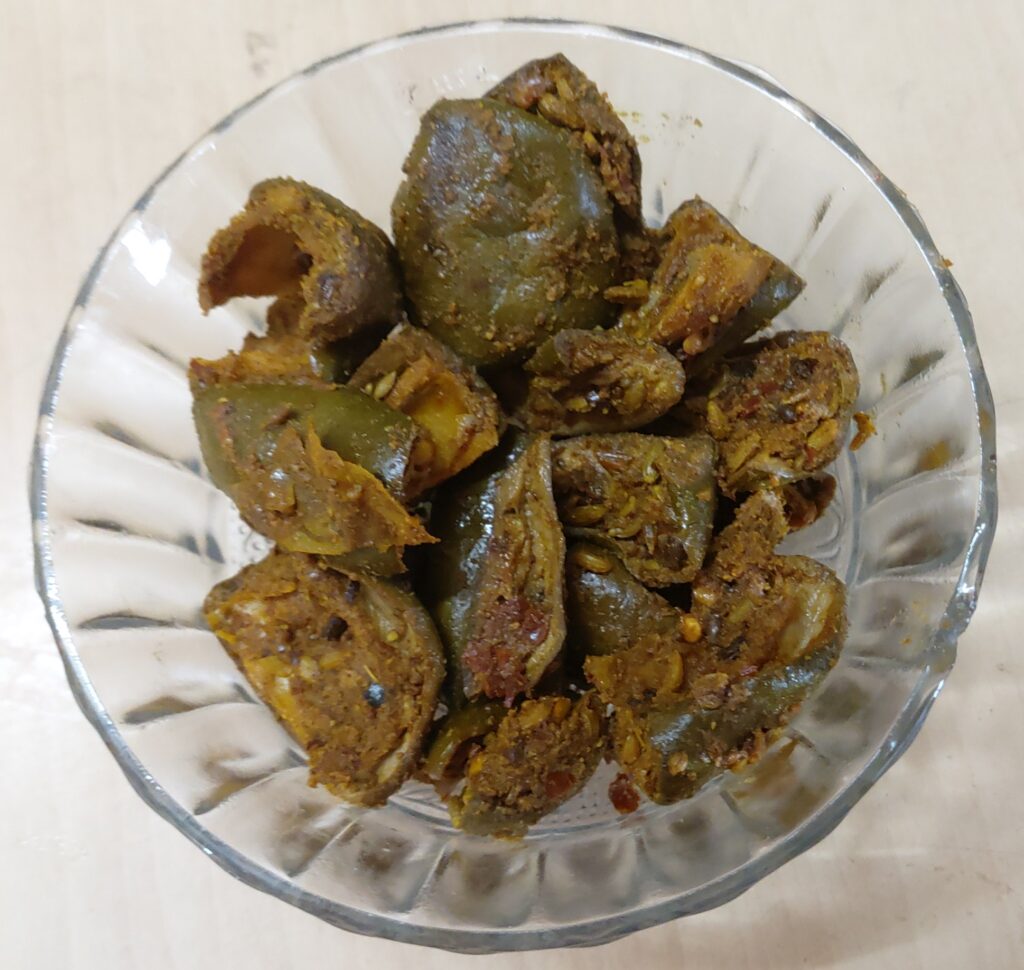 Jam:
Ingredients:
Mature raw aam,1 kg; sugar, 500 g; lemon juice, 4-5 tea spoon.
Method:
Peel off the aam skin and discard the seeds. Put deseeded fruits in pan, boil till they are soft and let them cool down. Mesh boiled fruit pulp manually or in a mixer. Place meshed pulp in a pan, add sugar to it and cook in low flame with constant stirring till sugar dissolve completely and jam become dense. Now mix it well with lemon juice and let it cool down. Jam is now ready to serve. Jam should be used fresh and can be preserved for two months.
Refreshing summer drink;
Ingredients:
Raw fruits pulp, 250g; cold water, 2 glass; mint leaves, 5-8; sugar/honey/natural sweetener according to taste.
Method:
Take raw fruits pulpand mint leaves in a blender and add to it two small size water glass, mix it well and pour in a container. Dilute the extract with water and then add sugar/honey/natural sweetener acc. to taste, stir well and serve.
Nutrient Value:
Energy 60 Kcal, Carbohydrates 14.98 g, Protein 0.82 g, Fat 0.38 g, Fiber 1.6 g, Vitamin C 36.4 mg, Vitamin E 1.12 mg, Vitamin A 1082 IU, Niacin (vit B3) 669 µg, Pantothenic acid (vit B5) 160 µg, Pyridoxine (vit B6) 119 µg, Riboflavin (vit B2) 38 µg, Thiamin (vit B1) 28 µg, Folates 43 µg, Vitamin K 4.2 µg, Potassium 168 mg, Phosphorus 14 mg, Calcium 11 mg, Magnesium 10 mg, Sodium 1 mg, Copper 110 µg, Iron 160 µg, Manganese 27 µg, Zinc 90 µg, β−Carotene 445 µg, α−Carotene 17 µg 1.
Seed:
Apart from their wonderful taste, mango seed is a good source of nutrients, vitamins and minerals. 100 gram of aam seed offers 13 g of Total Fat, 32.24 g of Carbohydrate, 0.19 mg of Vitamin B6, 6.36 g of Protein, 1.3 mg of Vitamin E, 2.02 g of Total dietary Fiber, 22.34 mg of Magnesium and 0.12 µg of Vitamin B-12. Moreover many Amino acids 8.4 g of Leucine, 3.23 g of Isoleucine, 2.31 g of Histidine, 3.8 g of Valine, 2.04 g of Threonine and 3.13 g of Lysine 1.
Spiritual value:
Aam is a scared plant for Local people. It is used in decoration on festivals and newly build houses. People use aam leaves during worship performed in almost every religious ceremony of this region. Its wood is used in making abode of God and branches are used in 'Hawana'.
Seek professional advice before treating this plant medicinally.
Medicinal Uses:
Aam seeds, which are often discarded after consumption of the fleshy part, are actually loaded with huge beneficial nutrients. Once these seeds are totally dry, they are powdered for use in a variety of ways as a cure for Dandruff hair-loss, greying and alopecia problem, Moderate consumption of mango seed can help reduce the risk of heart-related problems, hypertension, cholesterol, dental problem diabetes, anemia, scurvy, diarrhea, obesity etc.
The roots and bark are astringent, acrid, refrigerant, styptic, antisyphilitic, vulnerary, antiemetic, anti- inflammatory and constipating. They are useful in vitiated conditions of pitta, metrorrhagia, colonorrhagia, pneumorrhagia, lucorrhoea, syphilis, wounds, ulcers, vomiting, uteritis, diarrhoea, dysentery, diphtheria and rheumatism. The leaves are astringent, refrigerant, styptic, vulnerary and constipating. They are useful in conditions of kappa and pitta hiccough, hyperdipsia, burning sensation, haemorrhages, haemoptysis, haemorrhoides, wounds, ulcers, diarrhoea, dysentery, pharyngopath and somatopathy. The ash of burnt leaves is useful in burns and scalds. The flowers are astringent, refrigerant, styptic, vulnerary constipating and haematinic. They are useful in vitiated conditions of pitta, haemorrhages, haemoptysis, wounds,ulcers, anorexia, dyspepsia 1.2,3.