Family: Menispermaceae
Synonym: Cissampelos acuminata,Cissampelos acuminata, Cissampelos argentea, Cissampelos auriculata, Cissampelos australis, Cissampelos benthamiana, Cissampelos boivinii, Cissampelos bojeriana, Cissampelos caapeba, Cissampelos caapeba, Cissampelos canescens, Cissampelos cocculus, Cissampelos consociata, Cissampelos convolvulacea, Cissampelos cordata, Cissampelos cordifolia, Cissampelos cumingiana, Cissampelos delicatula, Cissampelos diffusa, Cissampelos discolor, Cissampelos discolor, Cissampelos diversa, Cissampelos elata,Cissampelos ellenbeckii, Cissampelos eriocarpa, Cissampelos glaucescens,Cissampelos gracilis,Cissampelos grallatoria,Cissampelos guayaquilensis,Cissampelos haenkeana,Cissampelos hederacea, Cissampelos hernandifolia, Cissampelos heterophylla,Cissampelos hirsuta,
Cissampelos hirsutissima, Cissampelos kohautiana, Cissampelos limbata, Cissampelos littoralis, Cissampelos longipes MiCissampelos madagascariensis, Cissampelos mauritiana,Cissampelos microcarpa, Cissampelos monoica, Cissampelos nephrophylla, Cissampelos obtecta, Cissampelos orbiculata, Cissampelos orinocensis, Cissampelos pannosa, Cissampelos piolanei, Cissampelos salzmanni, Cissampelos subpeltata, Cissampelos subreniformis. Cissampelos tamoides, Cissampelos testudinaria, Cissampelos testudinum, Cissampelos tetrandra, Cissampelos tomentosa, Cissampelos tomentosa, Cissampelos violifolia, Cocculus orbiculatus,Cocculus villosus, Dissopetalum mauritianum.
Common Name: Velvet leaf,False pareira Brava, Ice vine.
Local Name: Bhatindu (भटिण्डू)
Bhatindu is a twining shrub of Western Himalayas, commonly seen growing in hedges and shrubberies. It is found creeping on ground or twining over trees and shrubs, upto an altitude of 2000 m.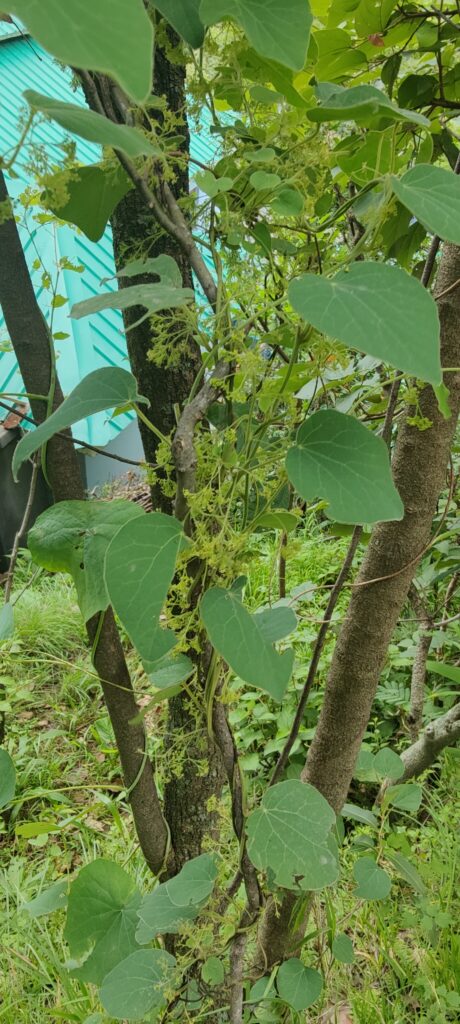 Bhatindu is propogated through seeds. Being a dioecious species, both male and female plants need to be grown if its fruit and seed are required. Bhatindu is a medicinally important plant and employed to treat a wide range of health aliments. Traditionally it is mainly used for digestion related problems like diarrhea, dysentery, colic, upset stomach, and stomachache. So, this plant is often taken as supplementary food. For this purpose leaves, are mainly employed. Powdered leaves are taken as a tonic with milk and fresh leaf juice as a refreshing agent in local drinks. Bhatindu leaves crushed in water, give a jelly which is used as refreshment.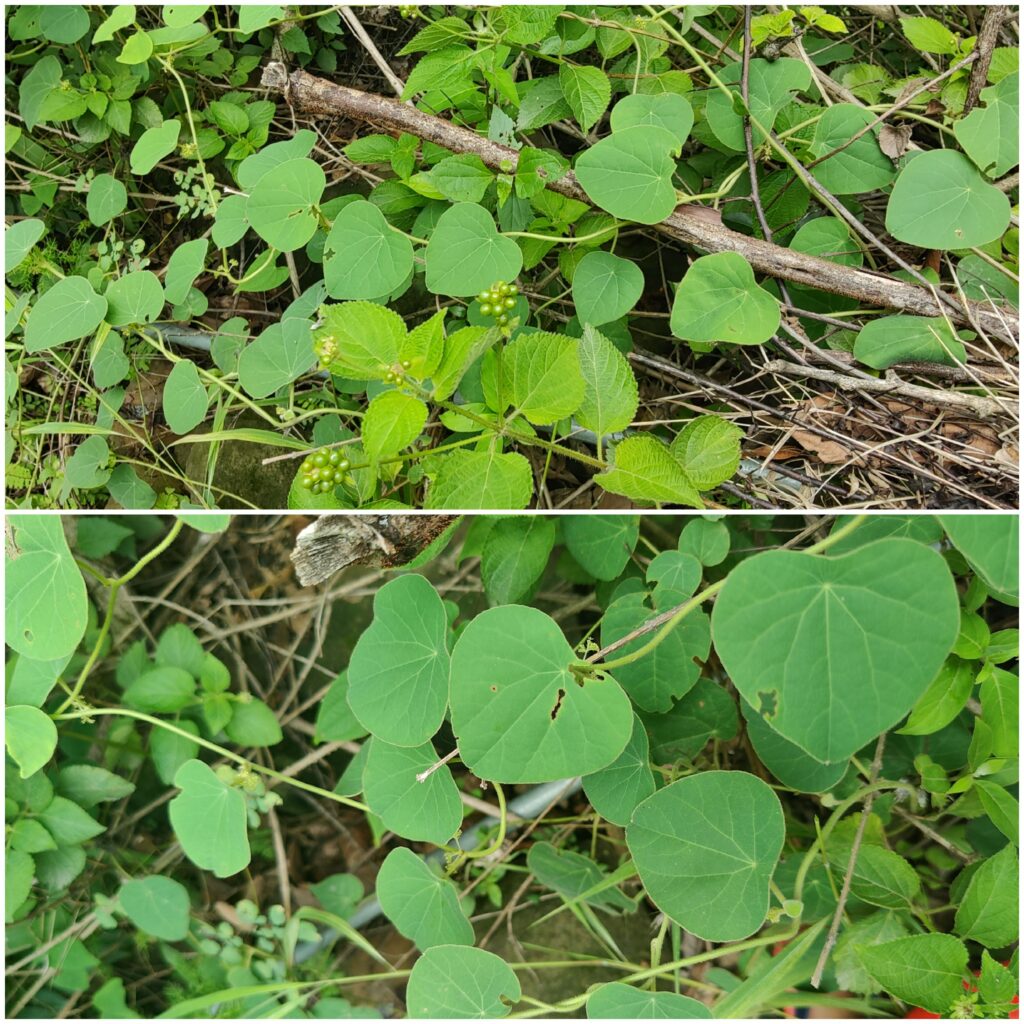 Whole bhatindu plant is used in AYUSH medicines for the treatment of dyspepsia, diarrhoea, cough and urinary troubles 1.
It is also used as a fodder and ornamental plant for its green heart shape foliage and reddish fruits. Sometimes a thin rope is made from the bhatindu rhizomes. Bhatindu is collected from wild as a source of medicine, fodder, food supplement and material for local personal use.
Bhatindu Plant:
Plant is softly pubescent or tomentose, twining shrubs.
Leaves are broadly ovate or orbicular, 2.5-10 cm across, peltate or cordate, palmately 5-7 nerved; petioles to 8cm long.
Flowers are minute, greenish- yellow. Male flowers in axillary, branched cymes; sepals4, hairy, ovate, spreading; petals4, connate; stamens4, filaments united in a very short column, top dilated, peltate. Female flowers clustered in the axils of orbicular, hoary, imbricate bracts, arranged in long, axillary racemes ; sepals, similar but smaller, lobed; ovary hairy.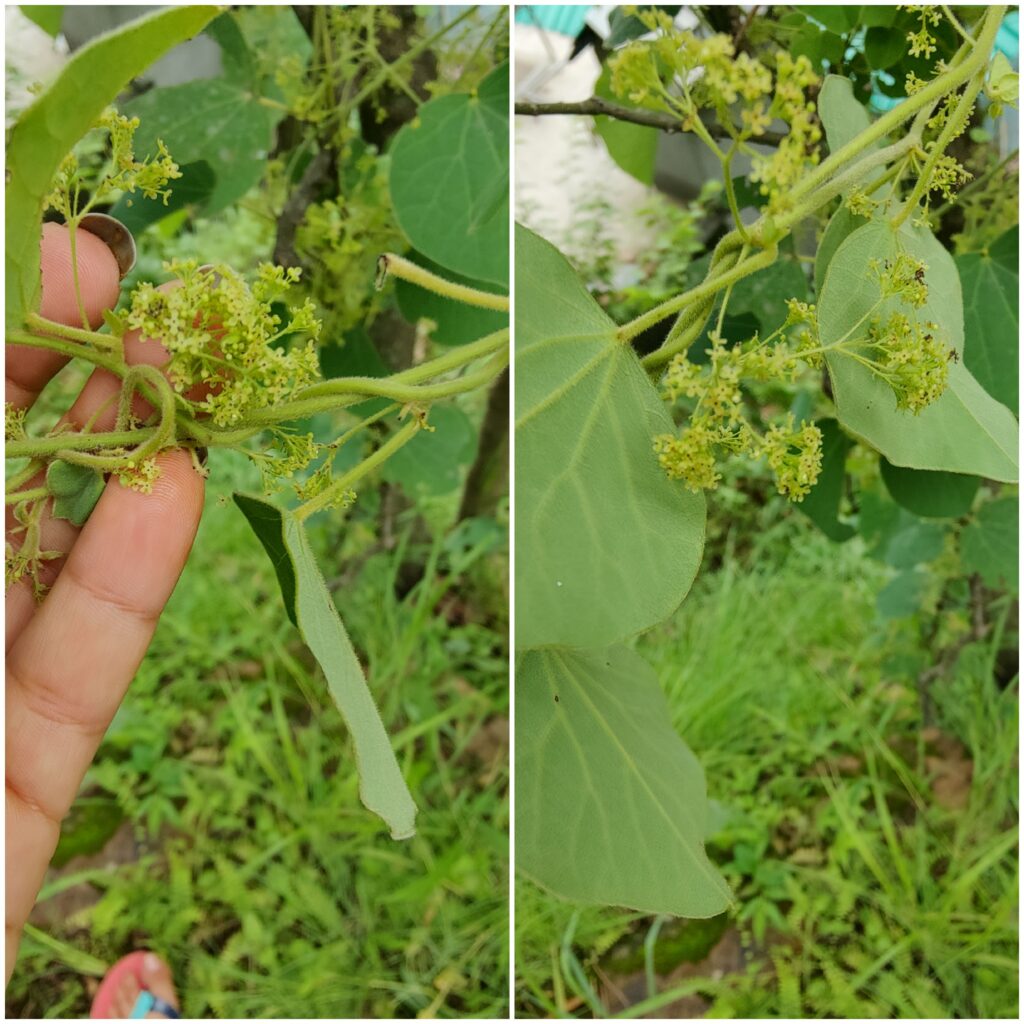 Fruit is Drupe. Drupes sub-globose, compressed, red when ripe; endocarp curved.
Leaves can be collected round the year.
Edible Uses:
Bhatindu is mainly used as a herbal health supplement for its rich medicinal value. Dried leaf powder is taken as tonic and fresh leaf juice is taken as local refreshing drink.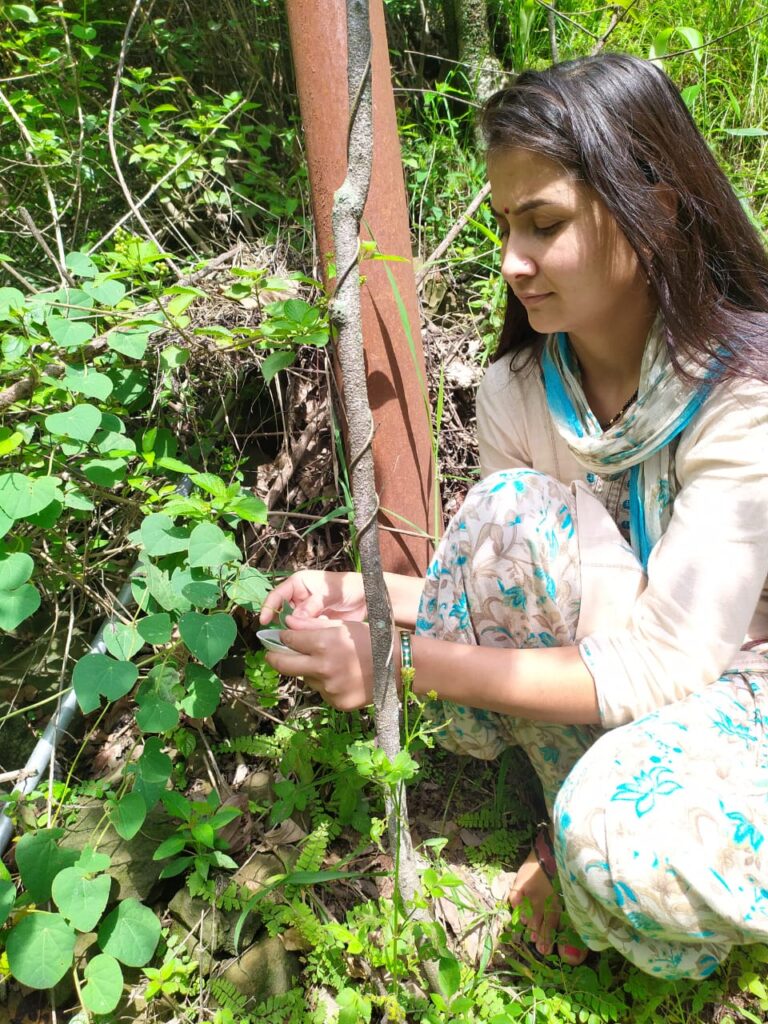 Local Drink:
Ingredients:
Fresh leaves, 10-15; Jaggery/ honey,  2 table spoon; lemon juice, 1 tea spoon ; Water, 2 cup amount; a pinch of sugar and salt.
Methods:
Blend green fresh leaves in a blender or mixer. Add to it  jaggery or honey and a pinch of sugar and salt. Mix well with lemon juice. Sieve into serving glasses and serve. Leaves crushed in water gives  a jelly refreshment.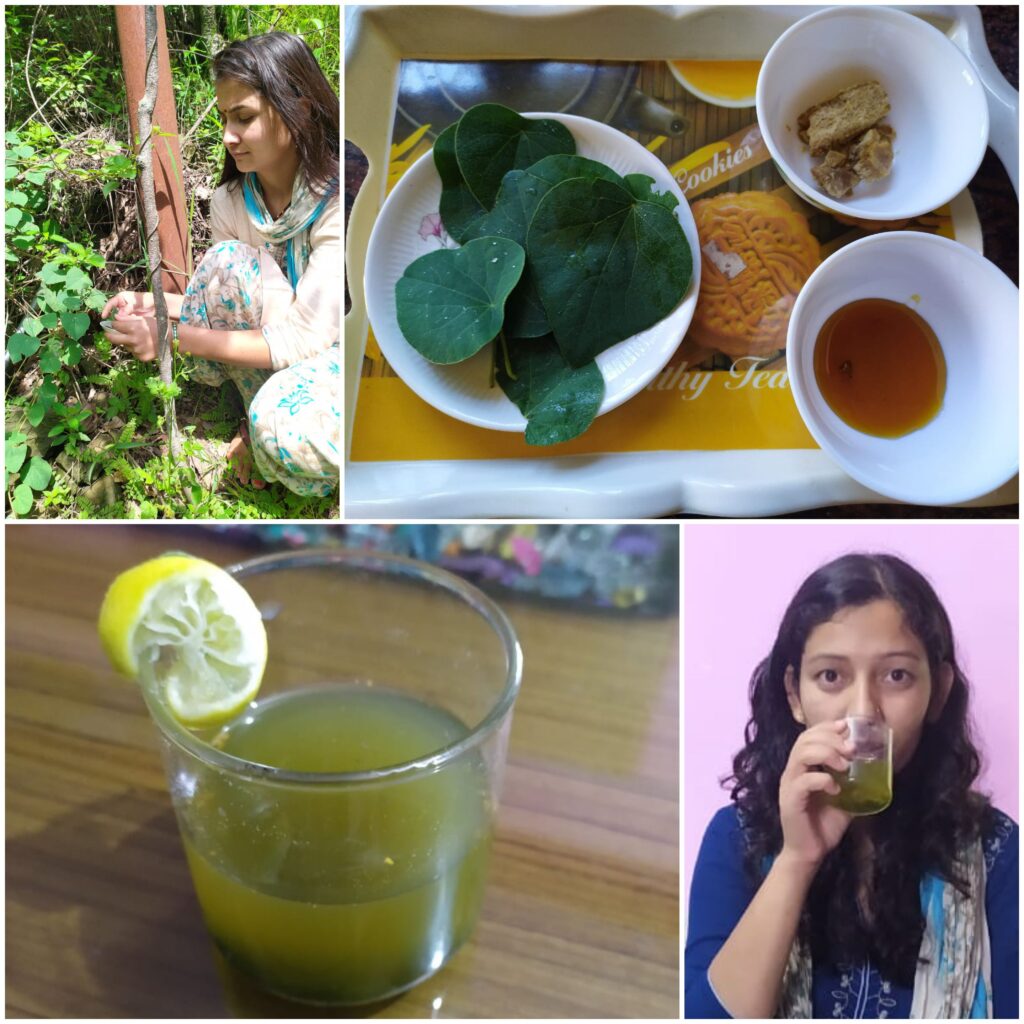 Seek professional advice before treating this plant medicinally.
Medicinal Uses:
Locally leaf juice taken as drink to cure chronic dysentery. Fresh leaves mixed with wheat dough are fed to livestock for stomach disorders. IN the simplest cases leaves were good as an antiseptic against inflammation and can be put on wounds in order to heal sores 2In Assam, India was some discussion about family planning with C. pareira. It is applied together with other indigenous plants 3 .Recent studies show its anti-diarrhoeal, antileukemic ,anti-inflammatory ,memory enhancing ,antihyperglycemic ,cardioprotective effect,anti-tumour and anti-oxidant activity 4It is widly known for its effectiveness against abscess, antifertility, bodyache, boils, bronchitis, burns, caqrbuncle, catarrhal infection of bladder, child birth, cold , colic, cough, cystitis, diarrhoea, dysentery, dyspepsia, epilepsy, eye complaints, fever, gastric complaints, headache, heart burn, indigestion, inflammation, itching, jaundice, leukoderma, leprosy, loose motions, malaria, piles, pimples, scabies, scorpion- bite, sores, spleen enlargement, stomach ulcer, ulcer, urinary complaints, venereal complaints, wounds, and for fermentations, and as diuretics, stomachic, tonic and local drinks. Symbolic wearing of pieces of stem around neck cures headache 5,6,7.
Chemical constituents: hayatine, 1-curine, thymol(roots); 11 quaternary alkaloids including meismnine, cis-samine, pareirine, d- isochodrodendrine, 1-bebeerine, hayatine and hayatinine(root-bark); cycleanine, 1-bebeerine, hayatidine and d-quercitol(leaves); cissampareine, dl-curine dimethiodide(plant) have been isolated 7.
Biological activity: Root ext. hypoglycarmic and CNS depressant; whole plant anticancer and muscle relaxant7.
Other Uses:
Green foliage is given as fodder to livestocks. A thin rope can be made from the rhizomes.
References:
Singh PB. (2018). Flora of Mandi district. Himachal Pradesh: North West Himalaya.
Neuwinger HD. African Ethnobotany: Chemistry, pharmacology, toxicology Chapman and Hill London 1994
Tshibangu JN, Chifundera K, Kaminsky R, Wright AD, Konig GM Screening of African medicinal plants for antimicrobial and enzyme inhibitory activity. J Ethnopharmacol 2002; 80(1): 25-35
Arora, M., Sharma, T., Devi, A., Bainsal, N., & Siddiqui, A. A. (2012). An inside review of Cissampelos pareira Linn: a potential medicinal plant of India. International Research Journal of Pharmacy, 3(12), 38-41.
Jain, S. K. (1991). Dictionary of Indian folk medicine and ethnobotany. Deep publications.
Uphof.J.C.Th. (1968); Dictionary of Economic Plants. H.R. Englemann (U.Cramer), Weinheim
Sood SK, Thakur S. (2004): Ethnobotany of Rewalsar Himalaya. Deep Publications.