Family: Ranunculaceae
Synonyms: Aconitum atees, Aconitum cordatum, Aconitum kashmiricum, Aconitum ovatum, Aconitum petiolare.
English Name: Atis roots, Indian Atis, Hin, Atis.
Local Name: Atis (अतीस), Patish
Atis is a perennial herbaceous medicinal wild edible plant of Western Himalayas found growing upto an altitude of 2,300 -2,900 metres. Stem is eract that can be branched or unbranched and can grow 15 – 90 cm to 200 cm. tall from a biennial tuberous root.
Atis is found growing from alpine to sub-alpine open slopes, where it commonly seen on grassy meadows, upper oak/coniferous forest; in glacial riverine, rocky moist areas, alpine dry scrub, open grass and shady moist alpine slopes. It generally prefers open, sunny sites, and abundant air and soil moisture during summer months and grows best in humus-rich soils. Seeds, tuber segments or young leafy stems of Atis can be used as propagules for further propagation. Seeds can be sown in spring or in autumn season of the year.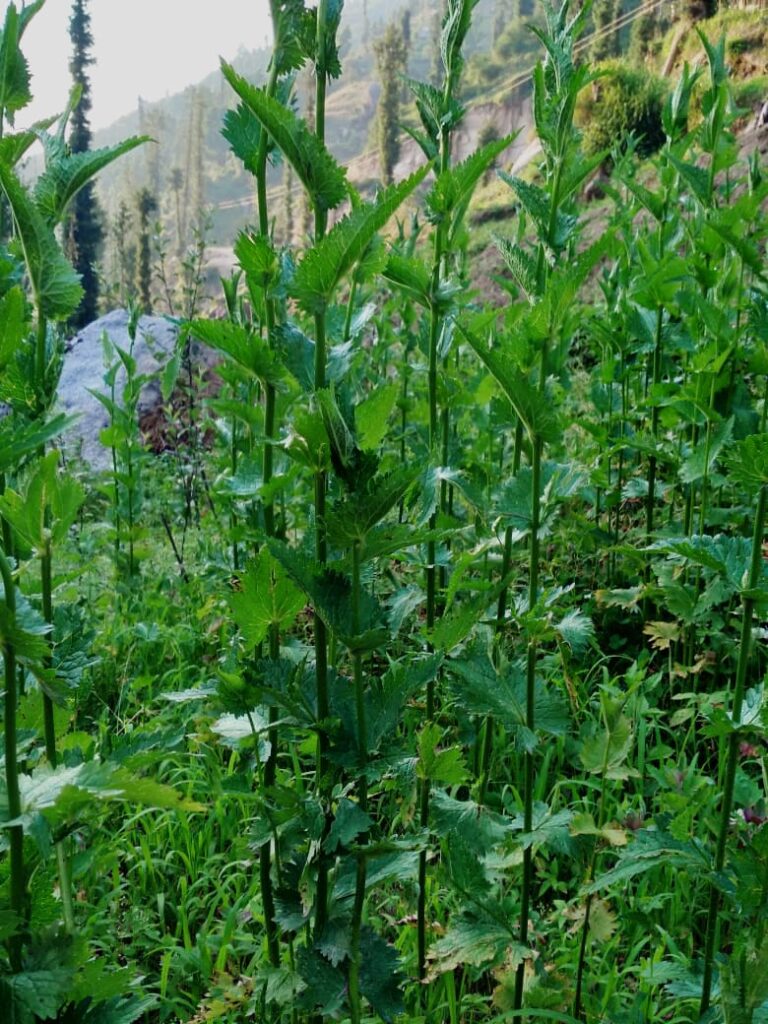 Atis is well known for its medicinal uses. Its root are febrifuge, stomachic, bitter tonic and antiperiodic. These are widely employed in AYUSH medicines for the treatment of fevers, dysentery, diarrhoea, dyspepsia and cough. Locally a pinch of powdered roots are given in stomach disorders and to cure fevers, especially in children. For medicinal purposes it is excessively exploitated for trade; and is considered thretned and classified as 'Endangered' in the IUCN Red List of Threatened Species (2013)1,2.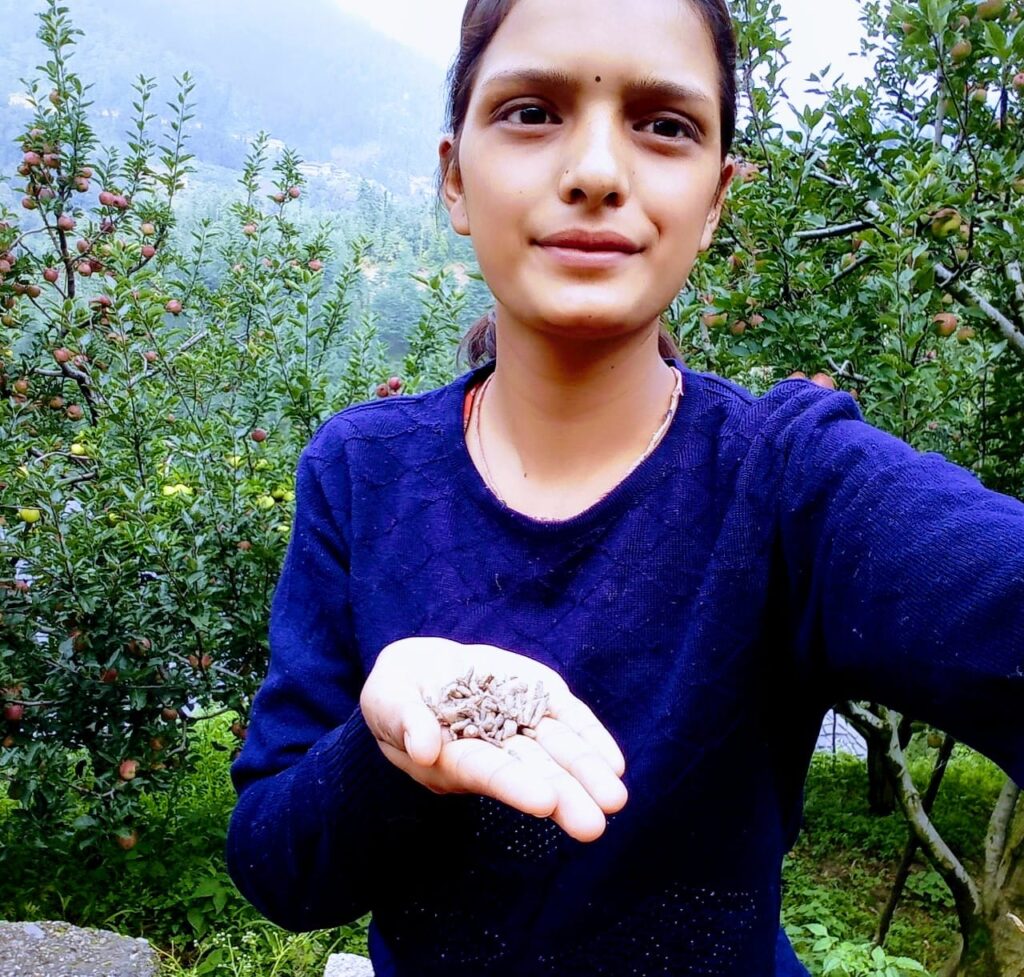 Atis is uprooted as a whole plant during its collection. It is harvested from wild habitat as a source of food and medicine, however due to significant decline of its natural population people gas started cultivating this plant for personal and commercial uses.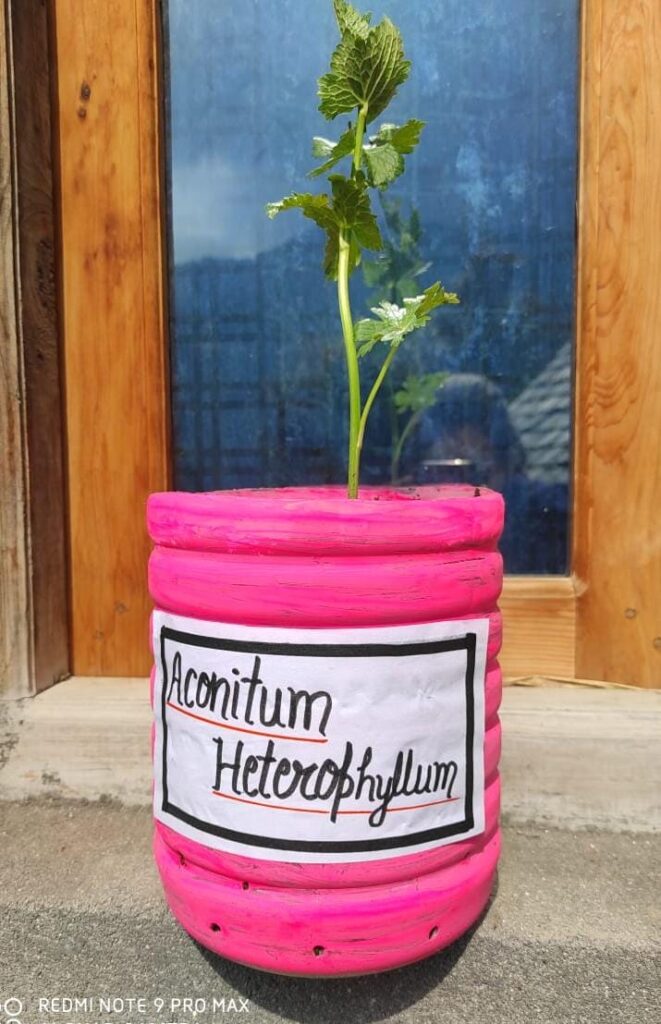 Atis Plant:
Atis is erect, perenniall herbs, 30-100 cm tall.
Roots paired, tuberous or fusiform.
Stem simple or branched, glabrous below, pubescent on the upper part.
Basal leaves long-petioled, orbicular-cordate or ovate- cordate, 5-partite up to middle, with crenate lobes; upper leaves sessile, stem- clasping, lanceolate, entire, sharply toothed.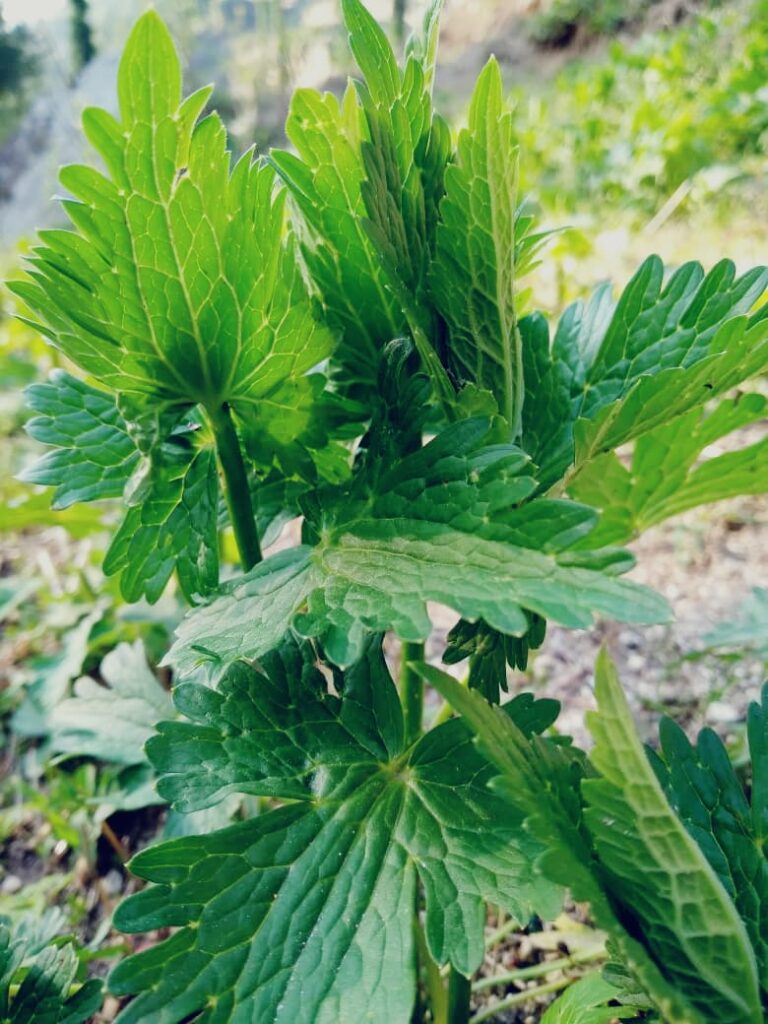 Flowers 2.5-3cm long, greenish-blue, with purple veins, usually in lax spike- like cluster with very variable bracts. Sepals petaloid; uppermost sepal helmet-shaped; lateral sepals as long as the helmet.
Follicles 5, 16-18mm long, shortly hairy.
Edible leaves can be best harvested from spring to rainy season of the year, while its medicinally important roots are collected after flowering and fruiting is over in autumn period to winter season. Plant needed to be sustainably harvested by habitat rotation and not collecting all the tubers from same habitat. .
Edible Uses:
Cooked leaves and roots both can be used for edible purposes. Leaves are taken as a food supplement in small quantity as these are bitter in taste. These can be added to pakoras, kachru etc for their medicinal uses. Boiled roots and potatoes with spices it are stuffing material for traditional dishes like paranthas, kachouri, siddu etc.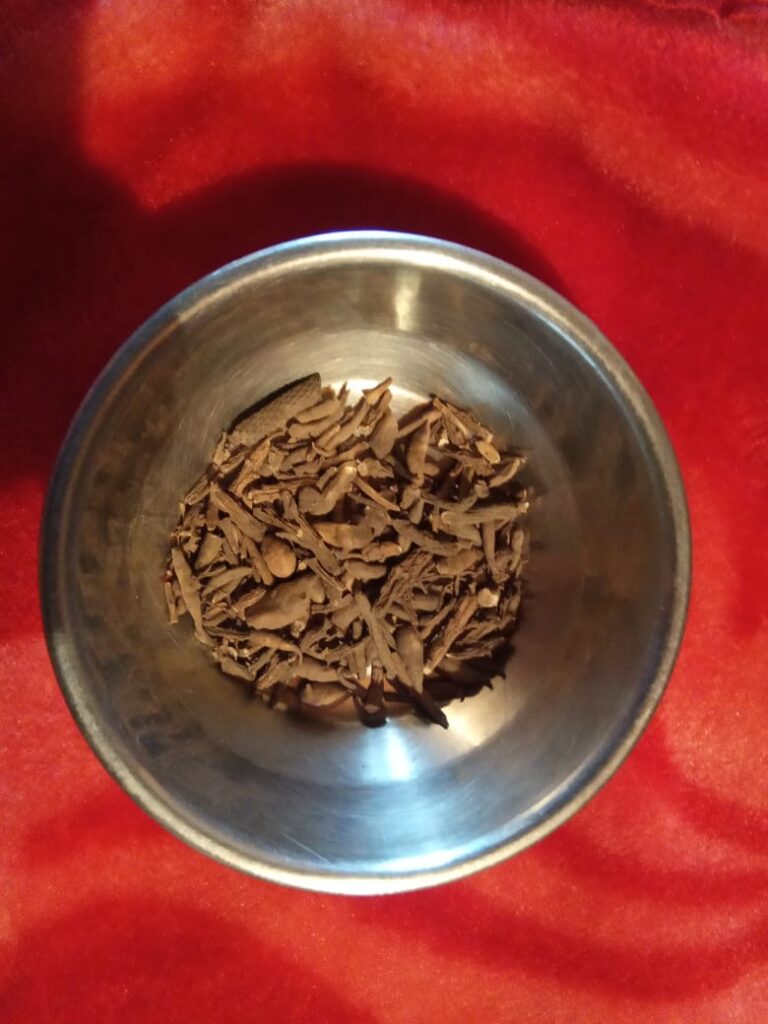 Parantha is a morning breakfast prepared served with curd/butter/pickle/chutney etc. It can be cooked with any greens/boiled potatoes/cheese or some wild boiled fruits like fig spp.
Ingredients:
Finely chopped leaves of Atis fresh or dried, 100 g; boiled Atis tubers, 1-3; boiled medium sized potato/ fig fruits; 4-5, Oil or ghee. 8-10 table spoon; wheat flour, 4 cup amount; chopped medium sized onion, 2-3, red or green chilies, 3-4, black pepper, ¼ tea spoon, black salt according to taste.
Method:
Mesh boiled Atis tubers and potato/ fruits. Add to it chopped Atis leaves and spices listed above. Mix well to make Fine paste. Now parantha dough is prepared by mixing wheat flour and water. Knead dough till it is soft, let it rest for sometime. Make small round balls of dough, stuff paste inside balls and roll to thin layered flat breads, Now in hot tawa smear some oil and place flatbread over it. Cook both sides by applying oil. Now parantha is ready to serve. Serve it hot with chutney/ tomato ketchup/ pickle / butter/ curd according to choice.
Kachru is a traditional dish of Werstern Himalaya cooked as chilla with spices and basen or corn flour. It is served as a evening snack with tea/ chutney/tomato ketch-up.
Ingredients:
For preparing a kachru, ingredients required are 250 g fresh or dried Atis leaves, 1/2 kg besan (black gram powder) or corn flour. 1 cup amount fresh coriander leaves,1/2 table spoon ajwain, 3-5 green chillies, ½ table spoon turmeric powder, 2-3 chopped onions and salt according to taste
Method:
Make a paste of leaves, besan or corn flour and spices. Heat some oil on a flat heating pan. Put this paste over a pan and cook for 15 to 20 minutes then kachru will be ready to serve.
Pakoras:
Ingredients:
Fresh Atis leaves ,250 g; besan (black gram flour) or corn flour,1/2 kg ;mustard oil, 10-12 table spoon; 1 cup fresh coriander plus curry and mint leaves (chopped), 5-6 green chilies, ½ table spoon turmeric powder, 2-3 medium sized chopped onions, 2-3 medium sized finely chopped potato and salt according to taste.
Method:
Make a paste ofAtis leaves, chopped potatoes, basen and spices listed above. Mix well and and make small ball of this paste. Put mustard oil in a fry pan and give these balls a deep fry.Repeat this process till whole paste is over. Pakoras are now ready to serve. Serve these hot with chutney or tomato-ketchup.
Medicinal Uses:
Root are acrid, bitter, themogenic, expectorant, alexiteric, stomachic, digestive, antiperiodic, febrifuge, stomachic, bitter tonic and antiperiodic; used in AYUSH medicines for the treatment of They are useful in dysentery, diarrhoea, stomach disorders, fever, malarial fever, vomiting, helminthiasis, haemorrhoids, haemorrhages, internal inflammatory conditions, general debility and cough. Locally highly recommended for in stomach disorders and fevers, especially in children 1,2
Chemical constituents:
Diterpenoid alkaloid atisine is the main constituent of the root. Others nclude atidine, histidine, hetidine, heterophyllisine, heterlophylline, isoatisine, dihydroatisine, hetisinone and benzoyl heteratisine3.
Source of Income:
Atis is a good source of income for local people. Its dried roots are in high demand in local, national or international market. Peple easily earn Rs 2000 to 4000/kg by selling Atis dried roots.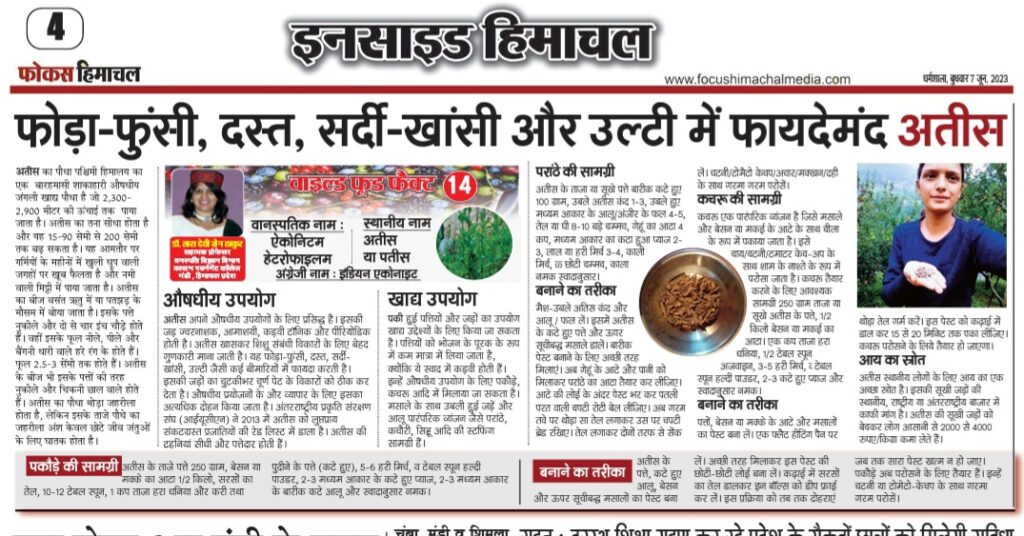 References:
1. Badola, H. K., & Pal, M. (2003). Threatened medicinal plants and their conservation in Himachal Himalayas. Indian forester, 129(1), 55-6
Purohit SS, Sharma AK, Prajapati ND, Kumar T. (2009); A handbook of medicinal plants: a complete source book. 2:352-3.
Singh PB. (2018). Flora of Mandi district. Himachal Pradesh: North West Himalaya.