Family: Tiliaceae
Synonyms: Grewia arborea, Grewia rotunda, Grewia inaequalis
Common Name: Dhaman
Local  Name: Pharsu (फारसू)  Dhaman.
Pharsu is a medium to large sized deciduous tree of Western Himalayas found growing in margins of field, roadsides, open woodlands, shrublands, grasslands and hills at an altitude of 1800 m. It grows well in bright sunny तो light shady well drained habitat and propagate both by seeds and vegetative (cutting) means.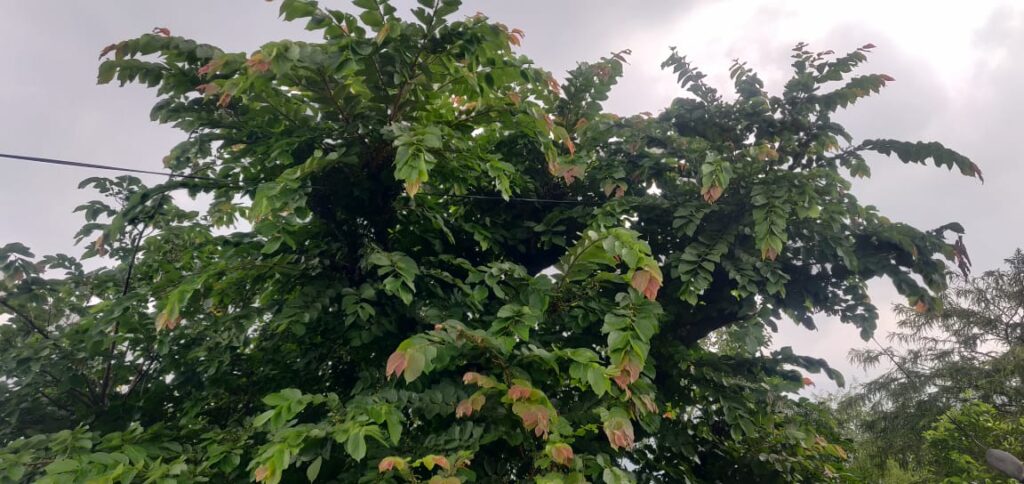 Pharsu fruits are edible. Raw fruits are with agreeable, acid flavour, but edible portion in fruits is small due to their small size and presence of lot of seeds and little or less pulp. But raw unripe fruits are good source of micronutrients such as anthocyanins, phenols, flavonoids and vitamin C. As fruits are rich in vitamin C, they have a moderate antioxidant activity and make an excellent, healthful addition to the diet 1. Both unripe as well as ripe fruits of Pharsu are eaten raw or cooked. Being rich in Vitamin C raw fruits are extremely acidulant in taste and are an excellent addition to chutney, sauces and other acidulated traditional dishes of Western Himalayas. Raw fruits are sometime also pickled to preserve for off season. Leaves are considered useful to cure stone by local people, so taken raw or added in small quantity to traditional dishes of Western Himalayas like pakoras, kachru etc which are cooked with basen or spices and taken as a snack with chutney/tea/tomato ketchup etc.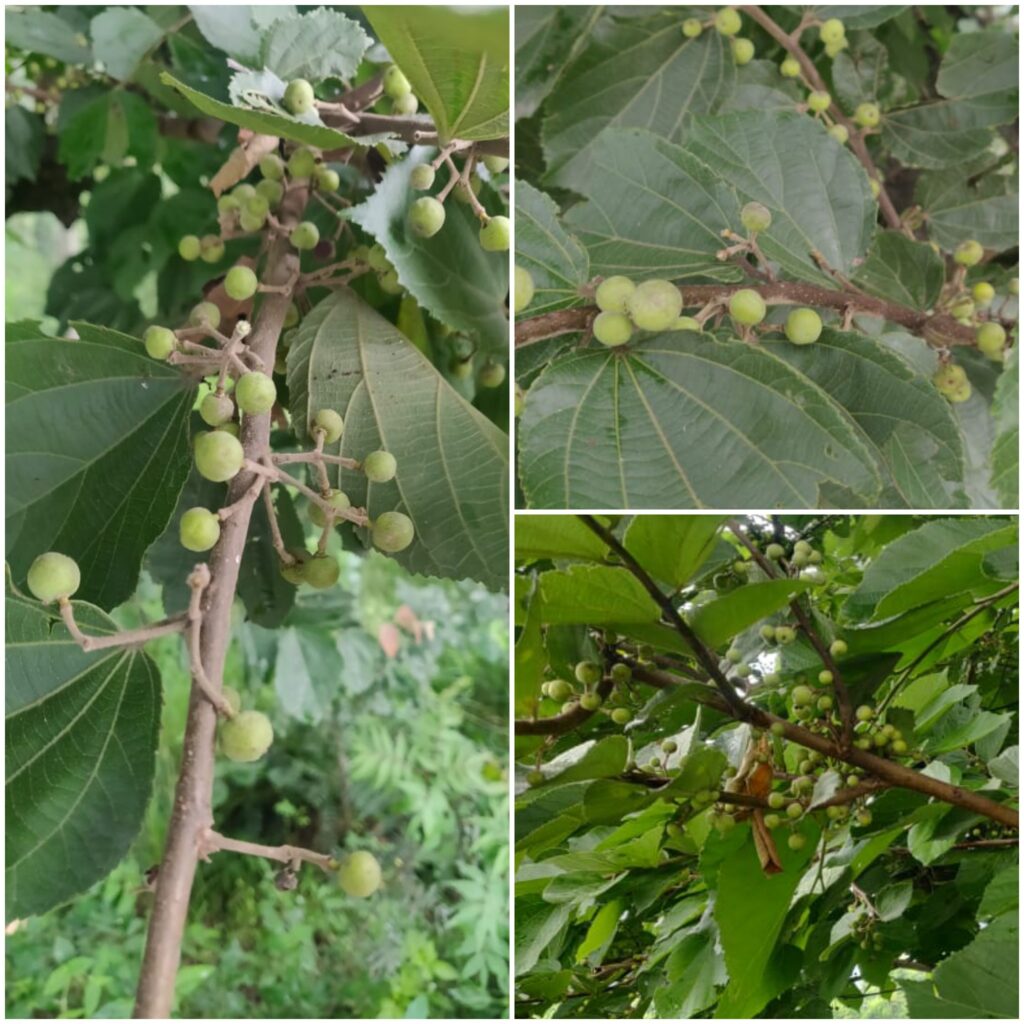 Pharsu is harvested from wild as source of food, fuel, fodder, medicine and material for local personal use
Khasra Plant:
Pharsu is a medium sized deciduous tree with pale brown bark, young parts densely pubescent.
Leaves are ovate, acuminate with tendency to become lobate at the apex, crenate- dentate, upper surface is stellately hairy, lower surface is hoary-tomentose, petioled.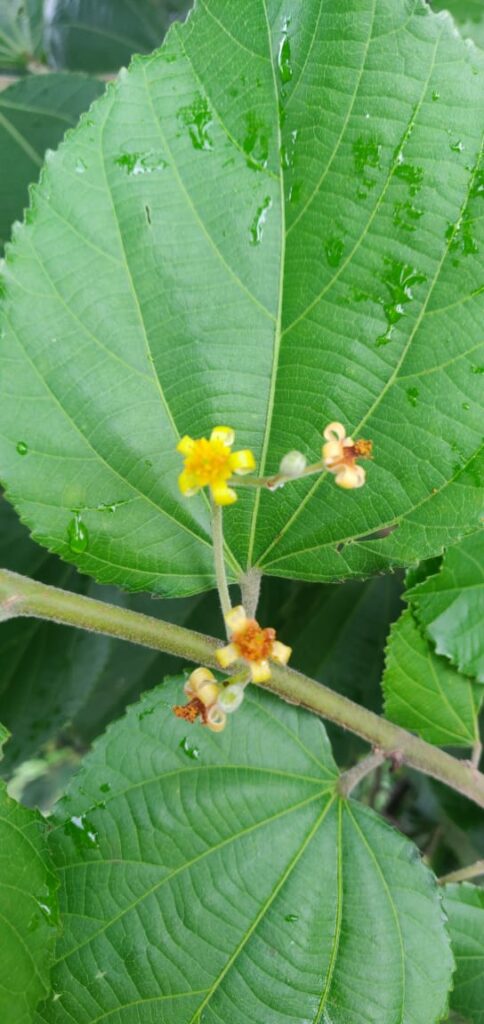 Flowers are small, umbellate; sepals are oblong, subacute, pubescent inside and galabrous outside; petals are half the length of sepals, oblong or spathulate, entire or notched, gland about one third of petal.
Fruit is drupe. Drupe is of the size of pea, black and globose. Stones are 1-2 celled.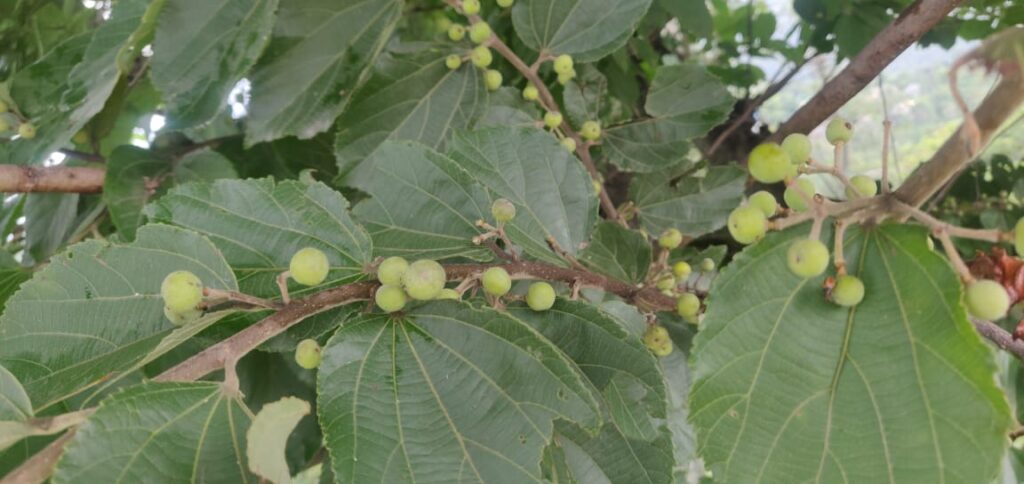 Edible fruits of Pharsu are available from summer to autumn season of the year. Fruits need to be sustainably harvested by habitat rotation to ensure sustainable development. It has been observed that due to Westernization and urbanist ion natural population of Pharsu has declined seriously from natural habitat, so plant need to be domesticated and and further propagated either through seeds or cuttings in natural habitat for sustainable development and utilization.
Edible Uses:
Raw Pharsu fruits are utilized in chutney, juice and other acidulant traditional dishes as a souring agent while ripe fruits are excellent addition to desserts, jam, sauces etc. Tender leaves are added to kachru. pakoras etc. to harness rich medicinal value of this plant.
Chutney :
Chopped mint leaves, 100 gm; unripe Pharsu fruits 250 gm; walnut seed, 20-50 g; 5-6 green chilies, 20 gm coriander leaves, onion, 2-3; ginger, 1 table spoon amount and salt according to taste.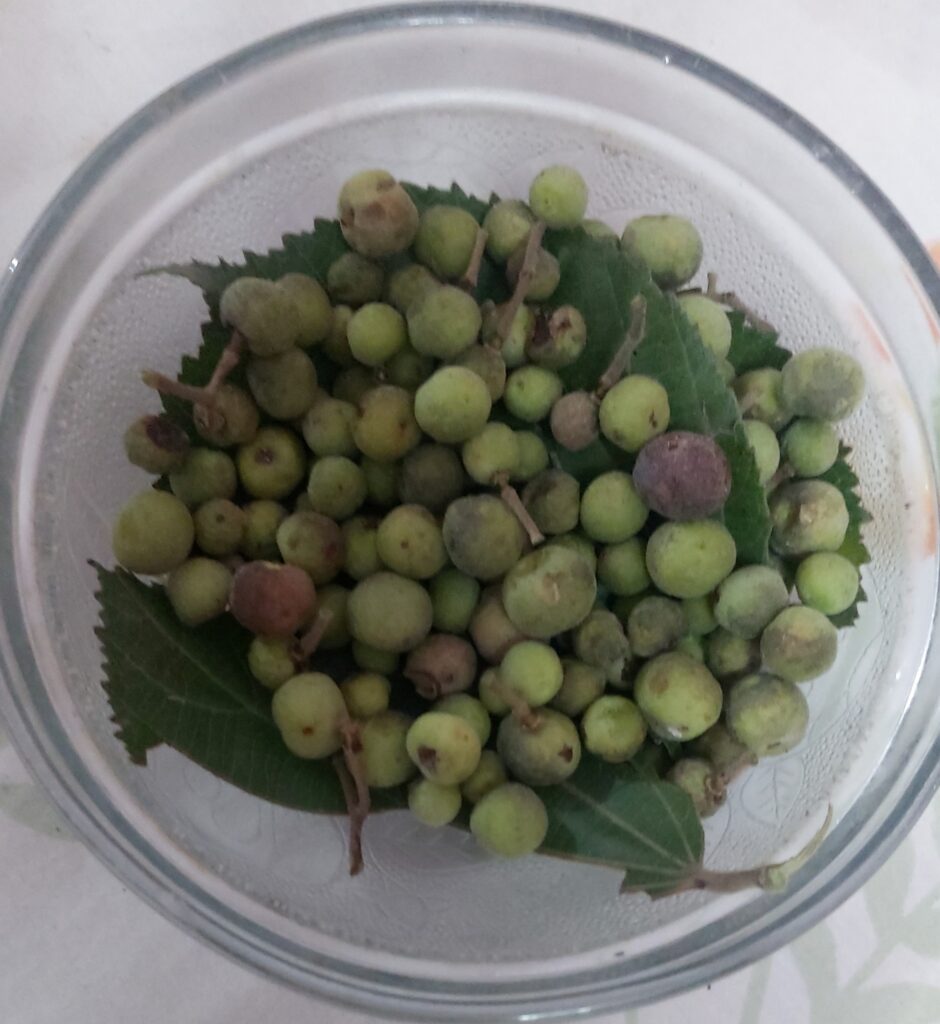 Method:
To prepare chutney, grind all the ingredient well in a mixer and add salt according to taste. Now chutney is ready to serve.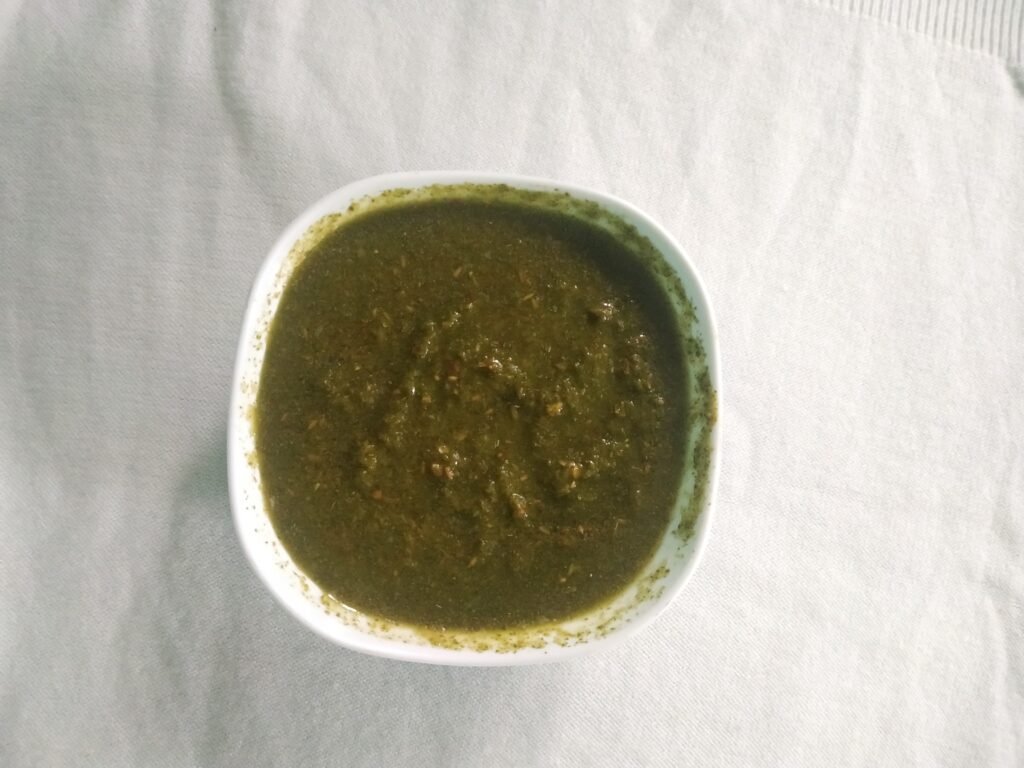 Pickle:
Raw unripe Pharsu fruits are pickled to ensure their availability round the year.
Ingredients:
Raw unripe Pharsu fruits; 1kg; 1 kg; mustard oil, 7-9 table spoons; fenugreek powder, 2 table spoons; cumin seed, 2 table spoons; turmeric powder, 1; table spoon. red chilies, 8-12. mustard (rai) powder, 4 table spoon/ 1 cup amount citrus juice and salt, according to taste.
Method:
For preparing pickle, raw fruits are freezed for 8-10 hour and desseded. Fruit pulp is sun dried for 2 hour and sauted in hot mustard oil with spices like fenugreek seed powder, turmeric powder, red chillies powder and salt acc.to taste. Let pickle cool down/ Tansfer it to ceramic jar add rest of mustard oil and place jar in bright sun for 10 to 15 days Pickle is ready to eat after 25-30 days.
Refreshing Summer Drink:
Ingredients:
Half ripe fruits, 250g; sweetener like honey or sugar, 1-3 tea spoon; cardamom powder,1/4 tea spoon; black salt according to taste.
Method:
Extract fruit pulp by freezing fruits for 5 to 8 hours. Transfer fruits in a bowl and soak in hot water to make them soft. Now mesh manually and strain to separate seeds and fibre. One can grind in a mixer grinder along with seeds to harness medicinal value of this plant. Add to it honey or sugar stir well, Add ice, salt and cardamom powder. Mix well and serve. I
Desserts:
Ingredients:
Ripe Pharsu fruits and other chopped fruits acc. to taste,1/2kg; curd, 1kg; sweetener like honey/ sugar/ condensed milk, 1-3 tea spoon; cardamom powder,1/4 tea spoon; black salt according to taste.
Method:
Take curd in a bowl. Add to it sweetner according to choice and stir well. Add cardamom powder, black salt, ache fruits and other chopped fruits according to preference. Mix well and serve.
Kachru:
For preparing a kachru, ingredients required are 100 g fresh tender leaves and flowers, 100 g besan (black gram powder) or corn flour. 1 cup amount fresh coriander leaves,1/2 table spoon ajwain, 3-5 green chilies, ½ table spoon turmeric powder, 2-3 chopped onions and salt according to taste.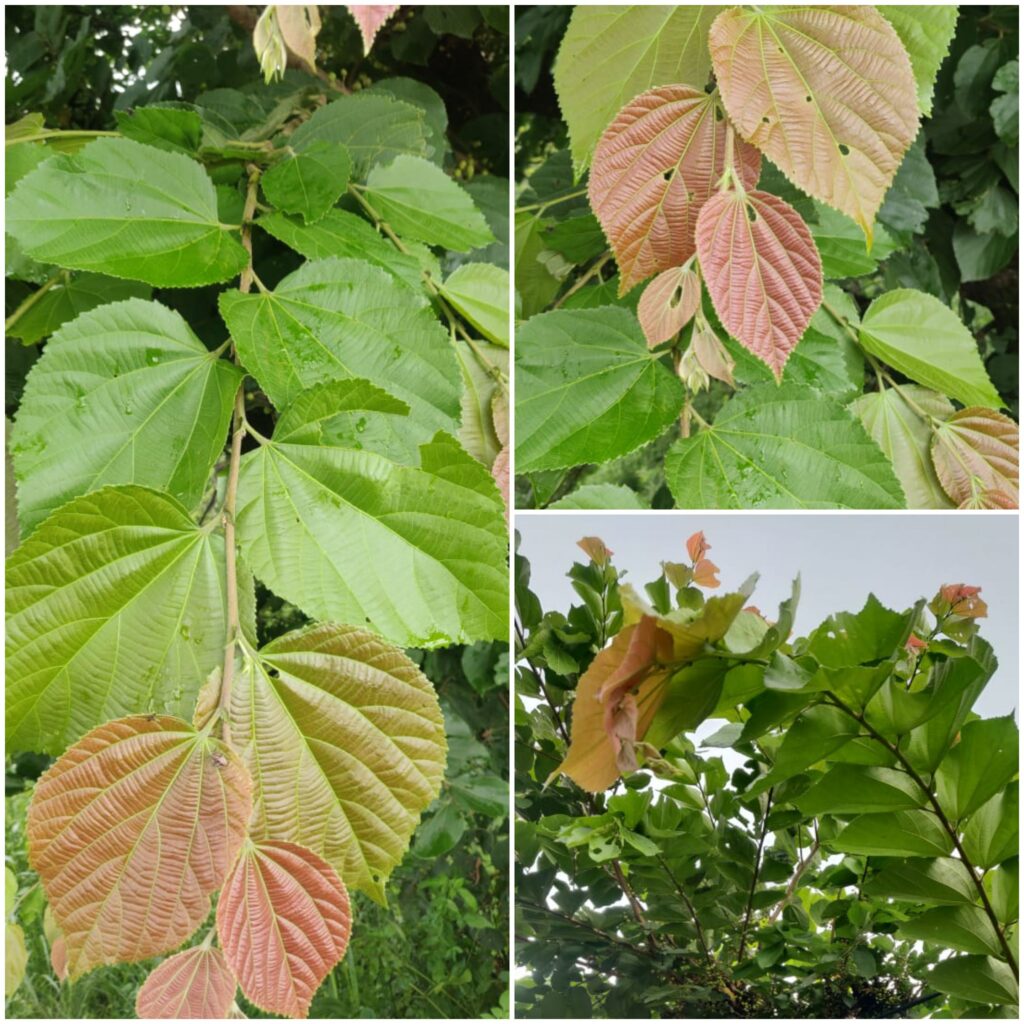 Method:
Make a paste of leaves, flower , besan or corn flour and spices. Heat some oil on a flat heating pan. Put this paste over a pan and cook for 15 to 20 minutes then kachru will be ready. Serve hot with chutney.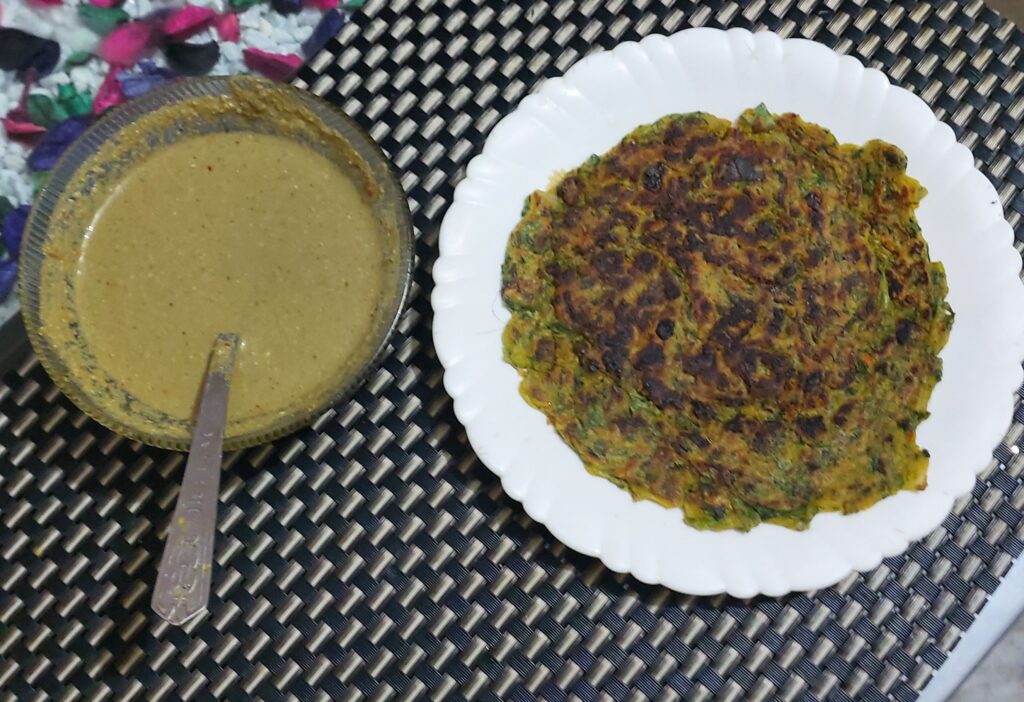 Food Value:
Fruits 100 g consisted of dry matter (94.50%), ash (7.93%), nitrogen (2.20%), crude protein (13.76%), fat (3.32%), crude fibre (29.30%), carbohydrates (40.10%), cellulose (24.40%) and gross energy (245kcal) 2
Seek professional advice before treating this plant medicinally.
Medicinal Uses:
Traditionally both fruits and bark are considered useful to treat a variety of aliments. Tender fresh leaves are chewed in morning to cure stone. These are considered useful in vitiated conditions of pitta and kapha. also used in burning sensation, hyperdipsia, stone problems, ulcers, skin diseases, haematemesis, and general debility The stem bark is used to treat dysentery. Bark of Pharsu is astringent, sweet, acrid, refrigerant, oleaginous, expectorant, antipruritic, vulnerary, constipation, emetic, styptic, aphrodisiac and tonic. It is useful in vitiated conditions of pitta and kapha, burning sensation, hyperdipsia, rhinopathy, pharyngopathy, cough, skin diseases, pruritus, wounds, ulcers, diarrhoea, haematemesis, epistaxis, haemorrhages, seminal weakness and general debility. The fruits are sweet, sour, cooling and edible and are useful in vitiated conditions of vata and kapha. 3,4,5.
Other Uses
Green foliage ( Twigs and branches) of this plant is used as fodder and considered good to enhance milk yield in milch cattle. Branches left after cattle feed are dried and stored to be used as fuel. A fibre from the inner bark is used to make ropes. Wood of Pharsu is used in making agricultural tools and household items. The crushed bark of this plant is used for washing the hairs to prevent the hair fall 6
References:
Karuppusamy, S., Muthuraja, G., & Rajasekaran, K. M. (2011). Antioxidant activity of selected lesser known edible fruits from Western Ghats of India.
Pundlik, S. P. P. (2021). The Study On Proximate Composition Of Different Species Of Genus Grewia From Western Maharashtra. European Journal of Molecular & Clinical Medicine, 7(10), 3919-3924.
Haridas, R., Sumathi, P., & Thomas, B. (2017). PHYTOCHEMICAL INVESTIGATION BY USING TENDER LEAF PART OF GREWIA TILIIFOLIA VAHL. Kongunadu Research Journal, 4(3), 68-70.
Purohit SS, Sharma AK, Prajapati ND, Kumar T. (2009); A handbook of medicinal plants: a complete source book. 2:352-3.
Dharmasoth Rama and Ganga Rao. Phytochemical and Pharmacological review of Grewia tiliaefolia (Vahl). Int. Res. J. Pharm. 2019;10(9):39-42
Yesodharan K, Sujana KA. Wild edible plants traditionally used by the tribes in the Parambikulam Wildlife Sanctuary, Kerala, India. India. Natural Product Radiance 2007; 6(1): 74-80.