Family: Commelinaceae
Common name: Crested Dew-Grass
Synonyms: Cyanotis cristata, Commelina cristata, Cyanotis cavaleriei, Cyanotis huegelii,Cyanotis imbricata,Cyanotis racemosa, Ephemerum cristatum,Siphostigma cristata,Tonningia cristata, Tradescantia imbricata ; Tradescantia cristata, Zygomenes cristata.
Local name: kana ghaa (काना घा )
kana ghaa is a prostrate herbaceous annual to perennial succulent plant of Western Himalayas. It can have erect or ascending branches reaching up to 15-30 cm long. Leaves are fleshy and hairy along margins. Their colour changes from green to reddish when exposed to strong sun or severe water scarcity.. kana ghaa is very common wild growing species from Commelinaceae during the rainy season.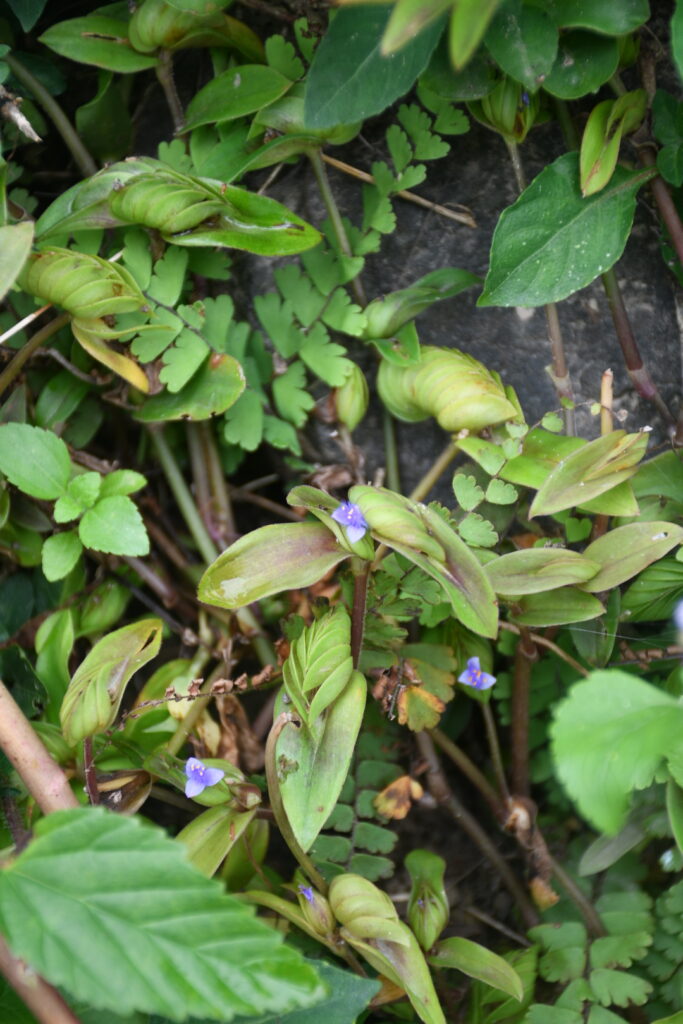 .It can grow in variety of habitats like marshy, grassy spots, damp and shaded places, well-drained but poorly Infertile soils like rockery, desert gardens, walls and other sandy habitats. kana ghaa is commonly seen growing in moist shady places, up to an altitude of 1200m in Western Himalayas. Plant can easily spread and propagate further by seeds. It can also be grown by stem cuttings.
Green foliage or young shoot terminals of this plant is eaten cooked as vegetable, usually a leafy vegetable saag is prepared along with other available wild or cultivated greens of rainy season. kana ghaa leaves possess antioxidant properties 1 its phytochemical analysis also shows the presence of flavonoids and tannins 2,3. Literature studies revels that flavonoids and tannins too have wound healing property 4. To harness these medicinal values young leaves of this plant can be added to other traditional dishes or dishes prepared with some modern twist like poha, pakoras,kachru, parantha, soup etc.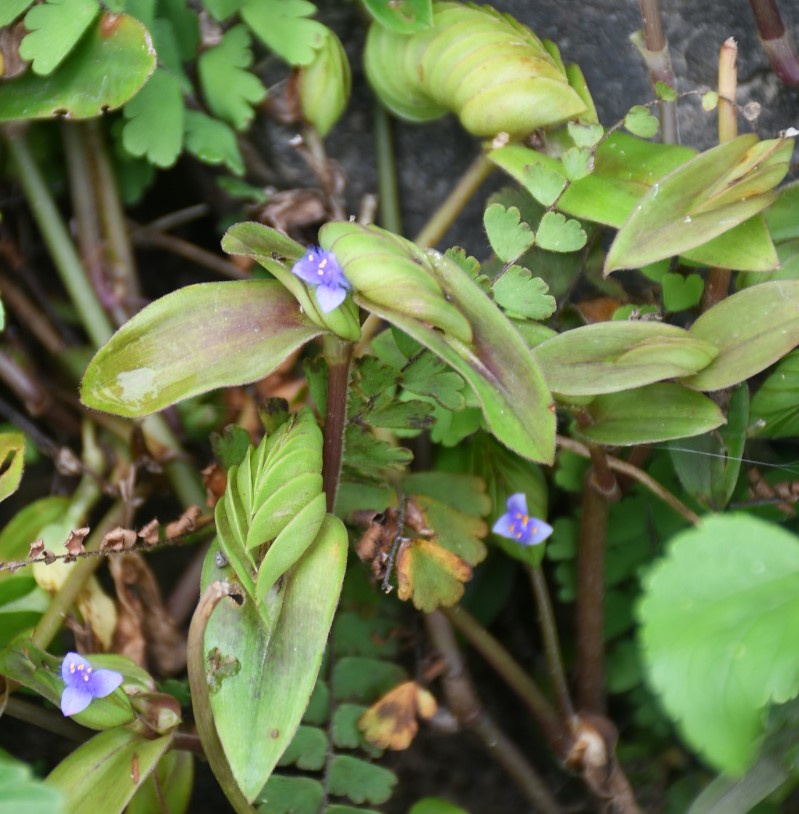 kana ghaa is harvested from natural habitat as a source of food, medicine and fodder for local personal uses. It can alsoebe grown as an ornamental plant in rockery and gardens for its green to red foliage and beautiful blue flowers.
kana ghaa Plant:
kana ghaa is erect, slender, branched, annual herbs.
Branches are ascending, glabrous, 15-45 cm long, often rooting at basal nodes.
Leaves are ovate-oblong or oblong- lanceolate, 3.5-8cm long, glabrous or sparsely hairy; sheaths short, hairy.
Flowers are blue, in scorpioid, recurved cymes, longer than the bracteoles; bracts leaf like; bracteoles more or less 1 cm long, glabrous or ciliate. Sepals 3, lanceolate, acuminate. Corolla tube nearly as long as sepals; lobes ovate. Stamens 6, perfect.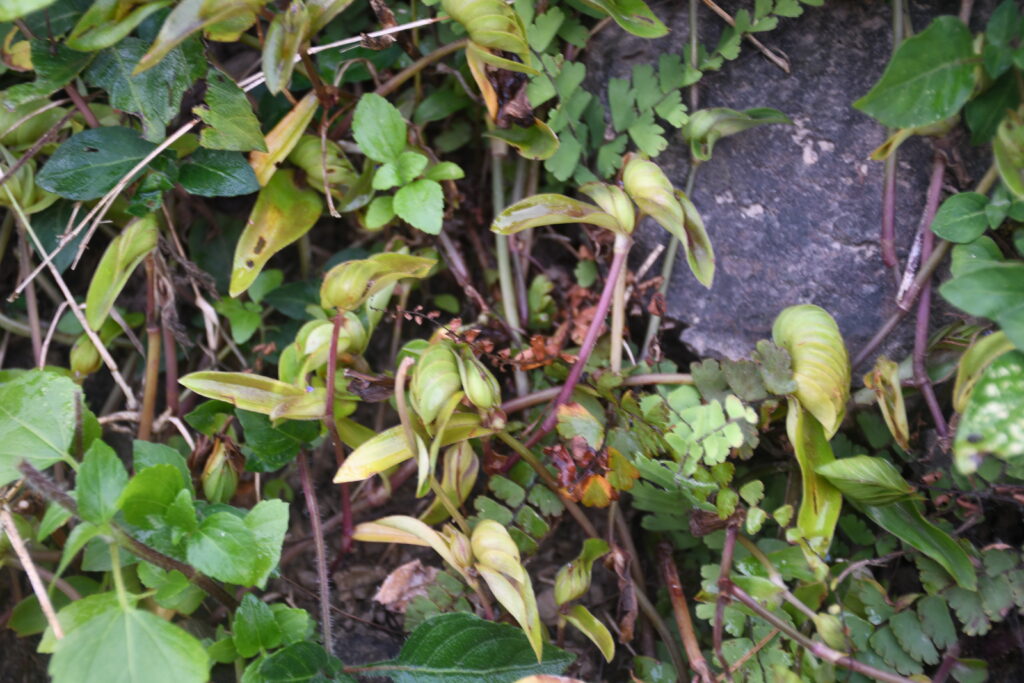 Capsules is oblong and trigonous.
Seeds are black, striate and pitted.
kana ghaa is in flowering and fruiting from July to September.Young edible leaves of this plant can be harvested for cooking from spring to rainy sesaon of the year.
Edible uses:
Young leaves of kana ghaa are eaten cooked as vegetable. These can also be added to other dishes to add variety and harness rich medicinal value of this plant.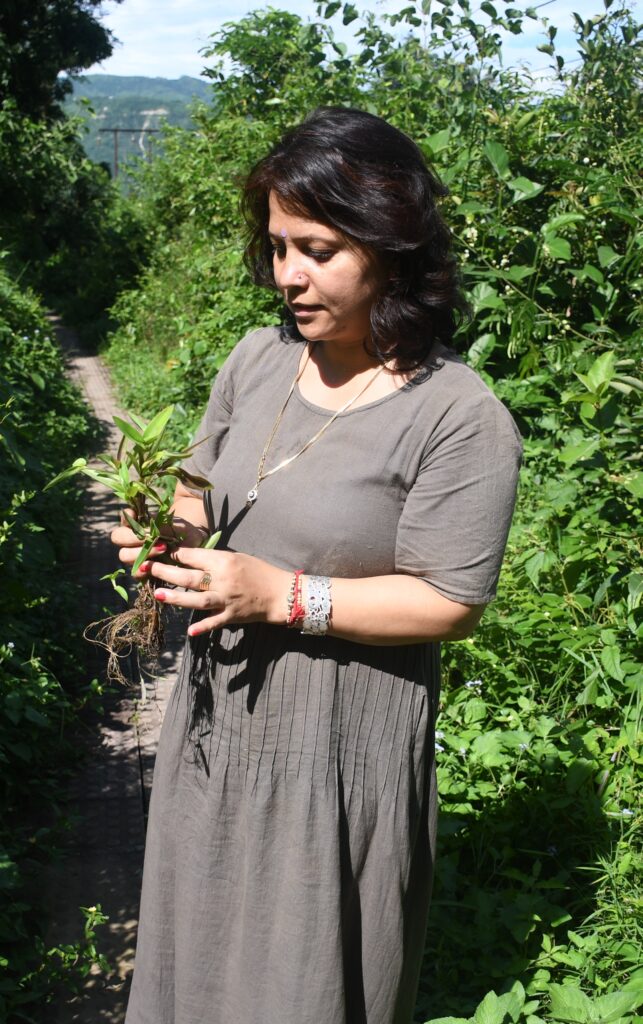 Vegetable/ Saag:
Ingredients:
Young leaves and shoot terminals of kana ghaa with other wild potherbs, 1 kg; mustard oil, 2 table spoons; coriander powder 1 table spoon; fenugreek powder, ½ table spoon; cumin seed ¼ table spoon; turmeric powder, 1/4 table spoon; red chilies, 2-3; chopped onions 2-4; garlic, 4-5 cloves; ginger paste ½ table spoon and salt according to taste.
Method:
For making saag boil chopped plant parts till they become soft. Let them cool down and mesh manually or in a mixer. Then sauté with hot mustard oil and the spices listed before in sequence. This sauted saag is then ready to eat and can be served as such or can be mixed with 2 or 3 chopped onion and cooked for another 5 to 10 minutes before serving.
Poha:
Poha is a quick morning breakfast or evening snack prepared from beaten or flat rice flakes, wild immunity booster greens like kana ghaa. spices, onion, potatoes, peanuts/groundnuts and veggies according to choose.
Ingredients:
Beaten rice flakes, 3 cup amount; finely chopped young kana ghaa leaves, 250 kg; groundnuts,1/2 cup amount; veggies (Peas. carrot etc) , 1 cup amount; boiled potato,1-2; mustard oil, 2 table spoons; coriander powder, 1 table spoon; fenugreek powder, ½ table spoon; cumin seed ¼ table spoon; turmeric powder, 1/4 table spoon; curry leaves,1/2 cup amount; red chilies, 2-3; chopped onions 2-4; garlic, 4-5 cloves; ginger paste ½ table spoon and salt according to taste.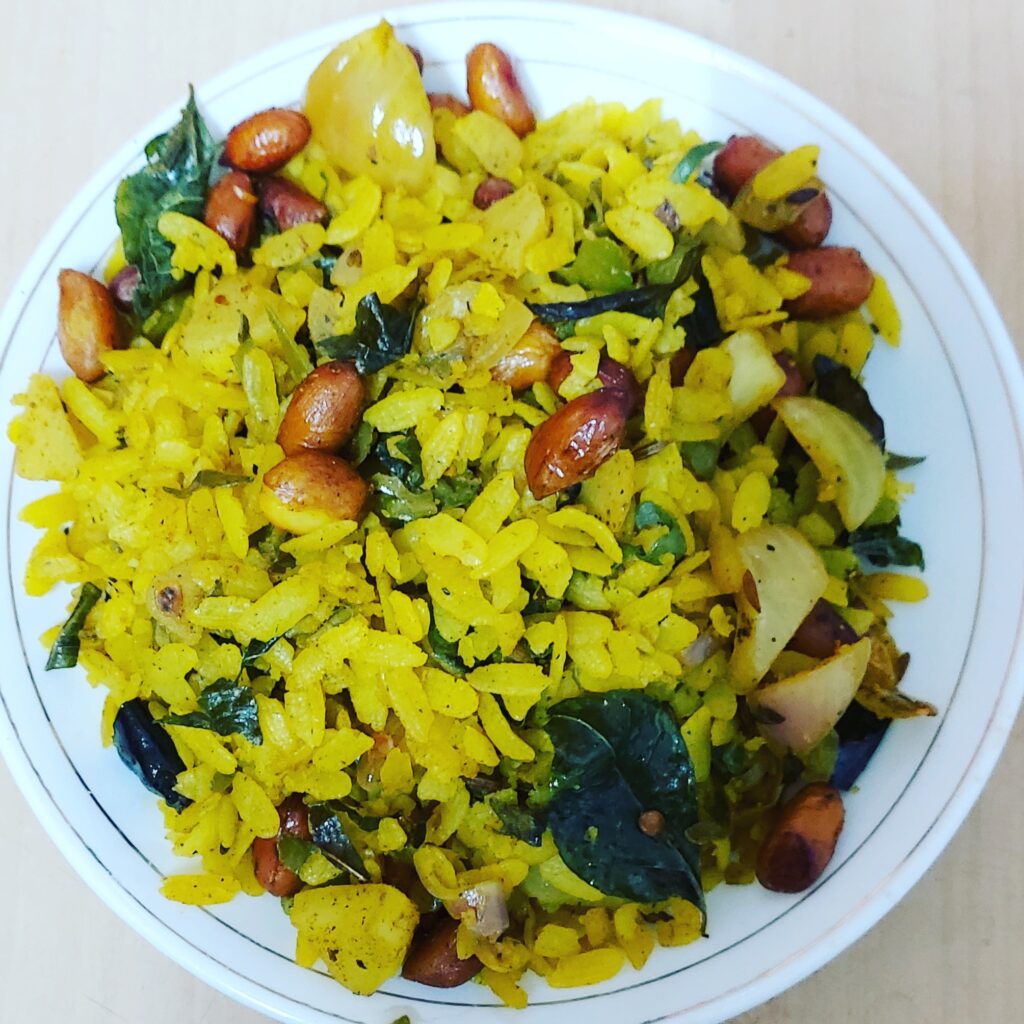 Method:
Take flakes in a strainer, pour water over them and rinse quickly. Drain water completely, rinse once more and set aside to soften. Heat oil in a pan and fry peanuts/groundnuts. Remove these and set aside in a plate. Now sauté spices in hot mustard oil in same pan and add halae seed pods, cubed potatoes and veggies according to choice. Sauté for a minute. Cook till these are soft. Add poha mix well and cook on a very low flame until turn hot. Squeeze lemon juice. Garnish poha with roasted groundnuts or peanuts and serve with chutney.
Medicinal Uses:
kana ghaa leaves are rich in antioxidant 1. So consumed as a immunity booster. These are also known to have wond healing properties 1, 2,3.
Other Uses:
kana ghaa foliage is fodder for cattle and it can be grown as ornamental flowers or ornamental foliage in garden.
References:
Pathak, A., Shenoy, S., Kiran, S., Arivazahan, A., Nayak, D., Kumar, N., … & Shetty, M. (2017). Effect of ethanolic extract of Cyanotis cristata leaves applied topically on wound healing in wistar rats. Asian J Pharm Clin Res, 10(12), 63-67.
Prabhune AM, Jadhav SN, Kadam DA, Nandikar MD, Aparadh VT. Free radical scavenging (DPPH) and ferric reducing ability (FRAP) of some Commelinaceae members. Int J Biol Pharm Allied Sci 2013;2(5):1128-34.
Kharade AS, Jadhav SS, Jadhav SN, Thite SV, Aparadh VT. Phytochemical investigation in Commelinea bengalensis & Cyanotis cristata. Int Res J Pharm Appl Sci 2013;3(1):46-8
Choudary JP. Wound healing activity of the ethanolic extract of Terminalia chebularetz. Int J Pharm Bio 2011;2(1):48-52.