Family: Ehretiaceae
Synonyms: Cordia thyrsiflora, Ehretia argyi, Ehretia kantonensis. Ehretia polyantha, Ehretia serrata, Ehretia taiwaniana, Ehretia thyrsiflora.
Common Name: Kodowood
Local Name: Punyan (पून्या)
Punyan is small to medium-sized, deciduous tree of Western Himalayas ranging from 3 to 15 m in height. It is with a dense canopy bearing dense sprays of delicately scented, white flowers. In spring Punyan is in full bloom. It is then followed by large clusters of edible, sweet tasting, yellow-orange fruits in autumn.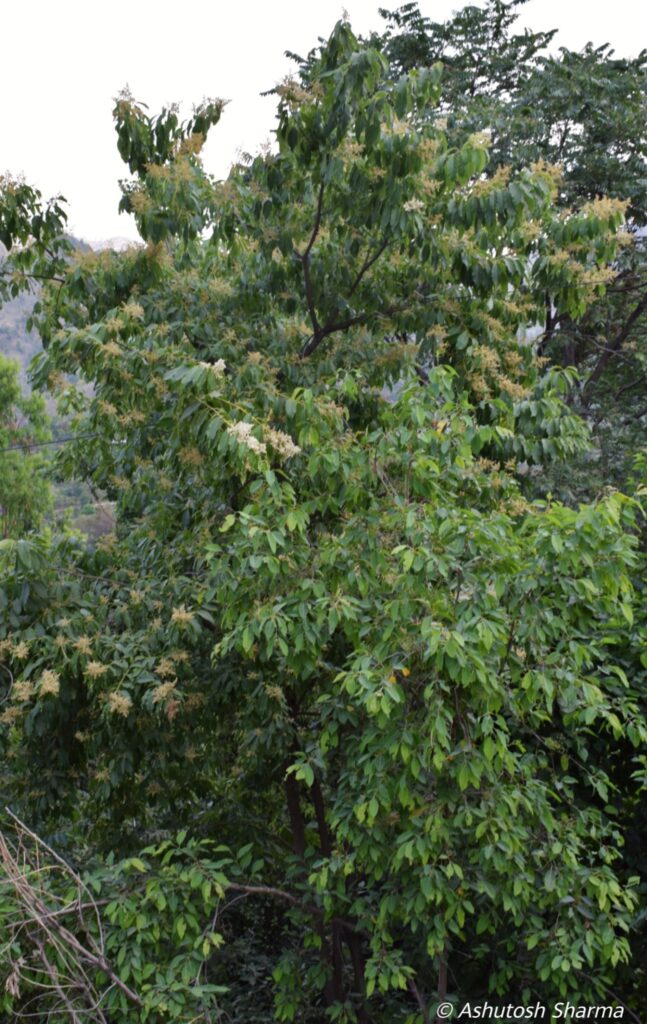 Ripe fruits are edible. These are loved and eaten by birds too. Punyan is found growing along roadside, hills, open forests and thickets on slopes upto an altitude of 1800 m. It is a fast growing tree that succeeds well in any well-drained soil rich in organic matter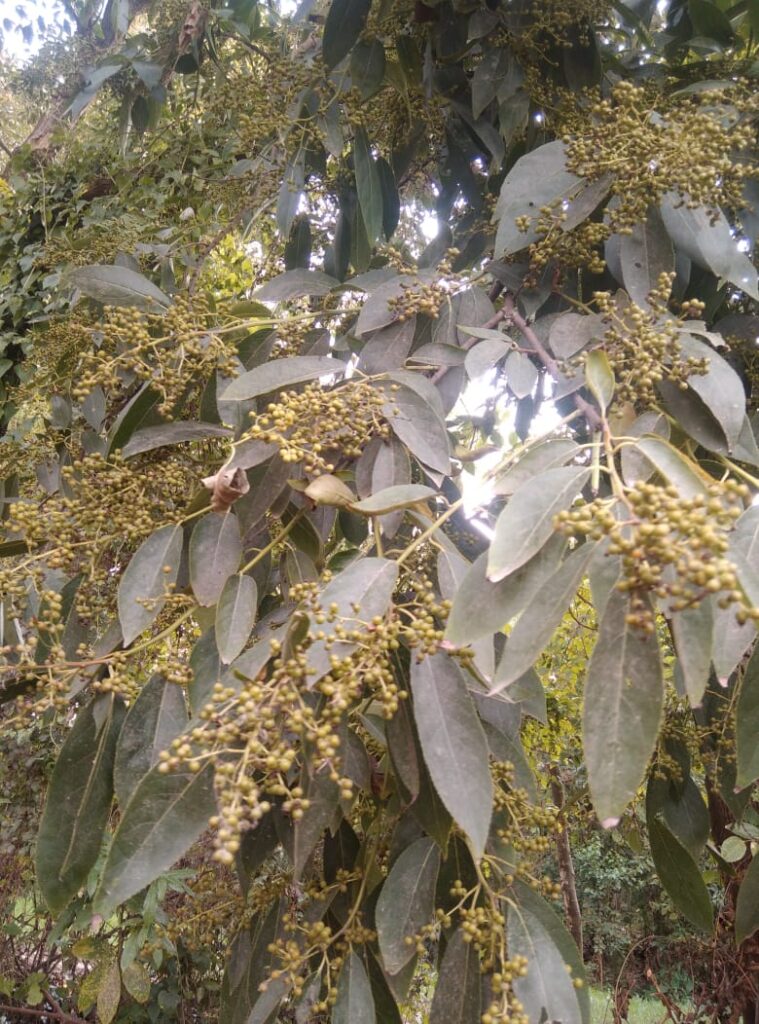 Berries of Punyan are edible and sweet tasting so, either eaten raw or make an excellent addition to desserts, rayata etc. Unripe fruits are also pickled to preserve for off season. Young Punyan leaves are taken as tea for their sedative action..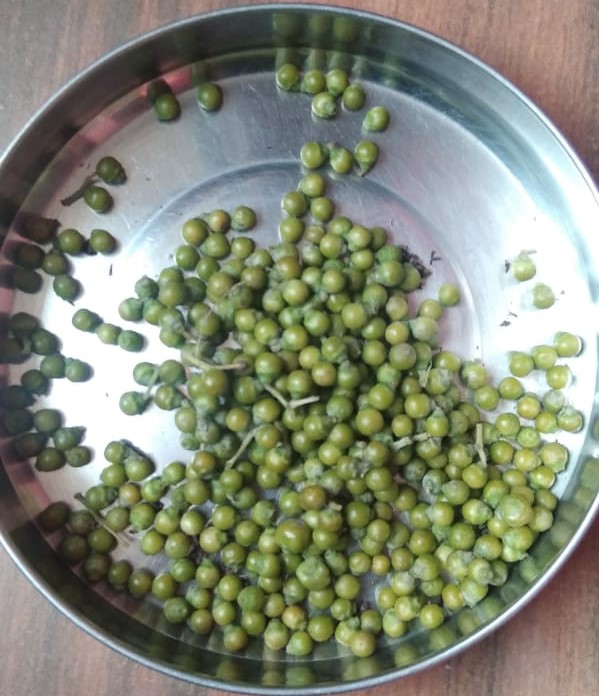 Punyan is harvested from the wild habitat as a source of food, medicine and timber. The tree can be grown as a roadside planting material. It is also a great shade and bird attracting tree for parks and home gardens.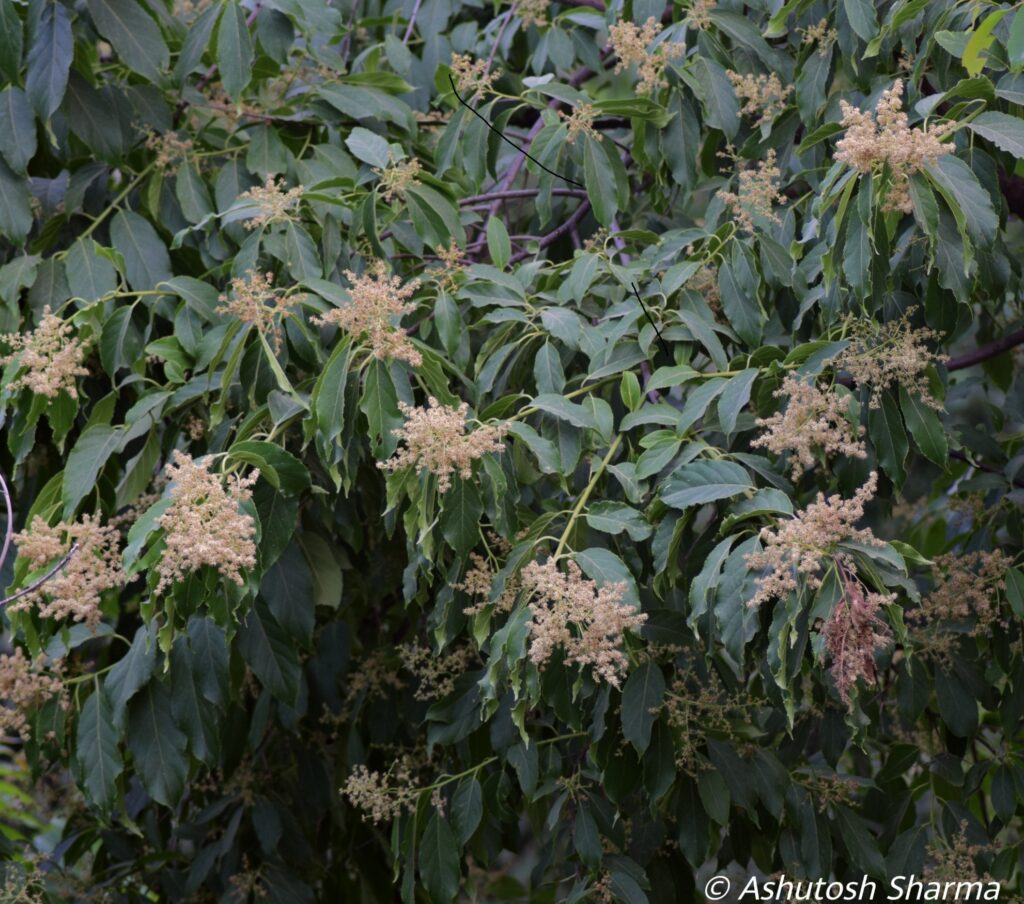 Punyan Plant:
Punyan is medium-sized, deciduous trees.
Leaves are alternate, 6-16*2.5-6cm, elliptic-oblong, acuminate, serrate; petioles 1-2.5cm long.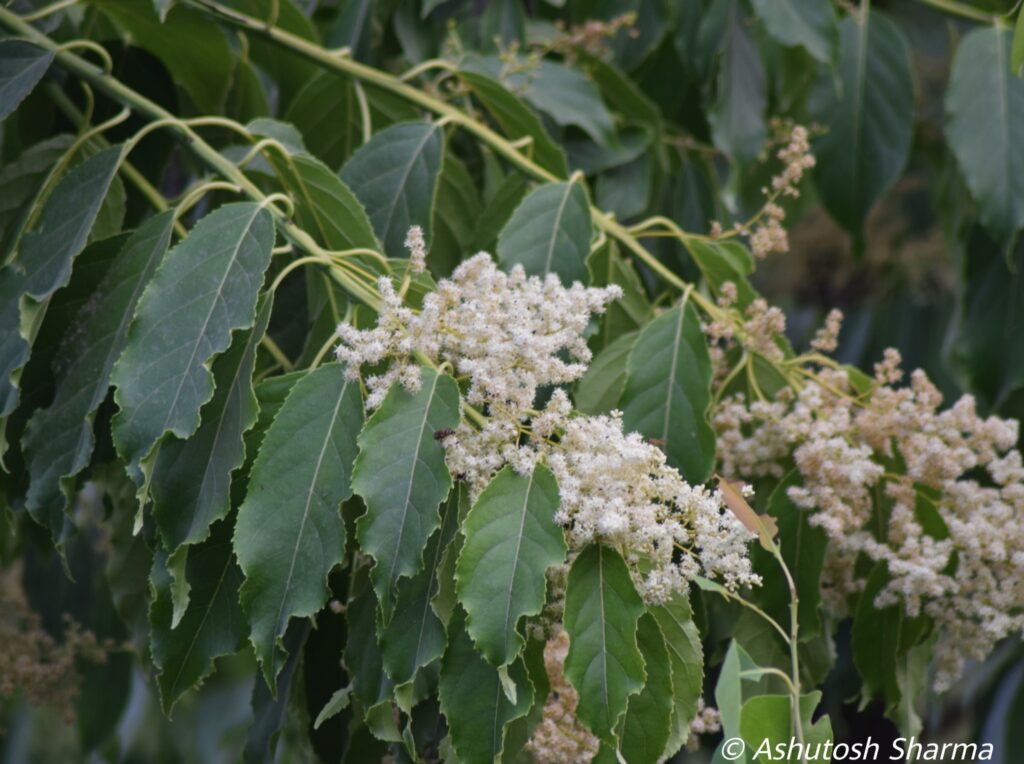 Flowers are white, fragrant, 5-6mm across, sessile, in fascicles, forming large, dense, terminal panicles. Calyx 5-lobed. Corolla is twice as long as the calyx; tube short, lobes reflexed. Stamens 5.
Drupes are globose, 6*5mm, orange colored, turning to black, with two 2- seeded pyrenes.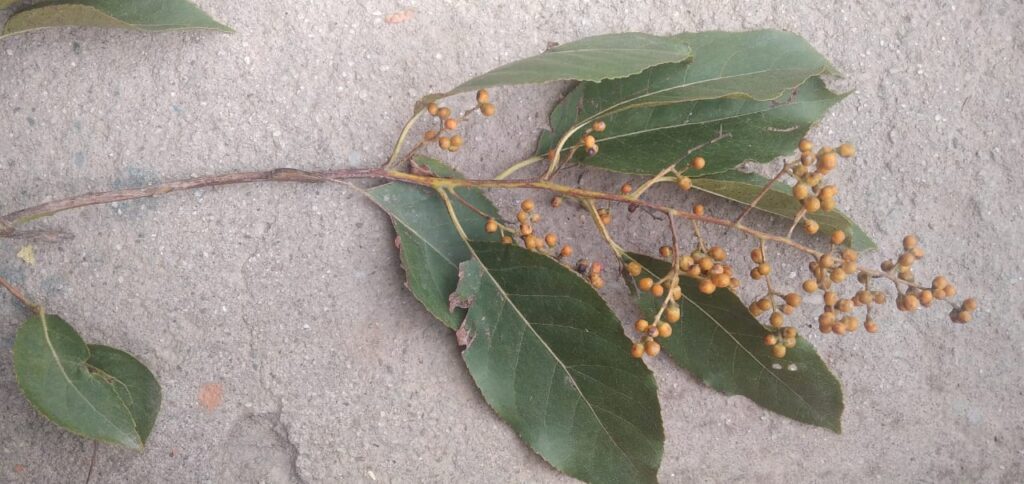 Punyan is in flowering and fruiting from April to July. Ripe fruits are usually harvested from autumn to winter season of the year. As seeds are means of future regeneration so fruits need to be sustainably harvested by rotating habitat or keeping some fruits on parent plant.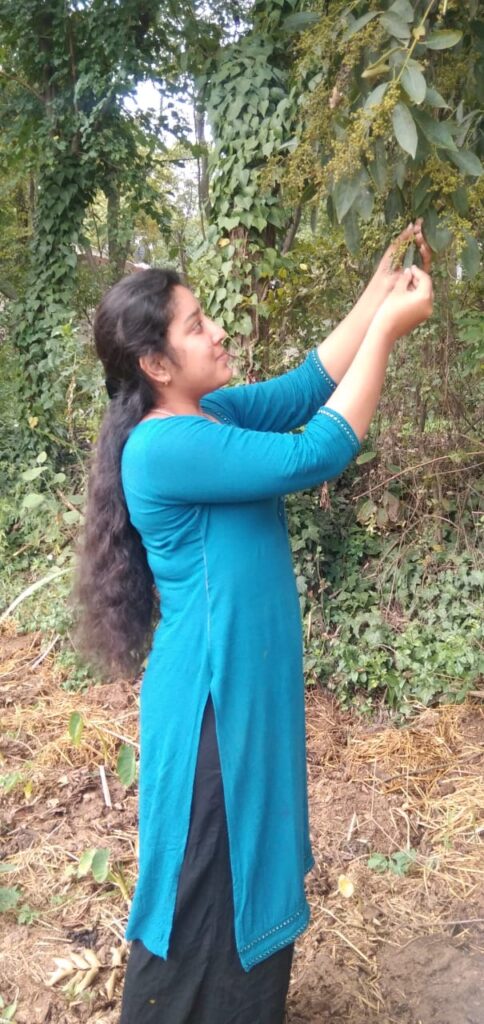 Edible Uses :
Desserts:
Ingredients:
Ripe fruits of Punyan and other chopped fruits acc. to taste,1/2kg; curd, 1kg; sweetener like honey/ sugar/ condensed milk, 1-3 tea spoon; cardamom powder,1/4 tea spoon; black salt according to taste.
Method:
Take curd in a bowl. Add to it sweetener according to choice and stir well. Add cardamom powder, black salt, Punyan fruits and other chopped fruits according to preference. Mix well and serve.
Pickle:
Ingredients:
Unripe Punyan fruits, 1 kg; mustard oil, 7-9 table spoons; fenugreek powder, 2 table spoon; cumin seed, 2 table spoon; turmeric powder, 1; table spoon. red chillies, 8-12. mustard (rai ) powder, 4 table spoon and salt, according to taste. .
Method:
For preparing pickle, boil fruits for 5 to 8 minutes and dehydrate in full sunlight for 3 to 4 hours. Now in hot mustered oil saute fruits with roasted seed powder of fenugreek, cumin and red chillies. Add turmeric powder, mustard (rai ) and salt, according to taste. Keep this mixture in a ceramic jar for one month. During this period, the pickle will develop a sour taste and will be ready to eat.
Tea:
Ingredients:
Young Punyan leaves, 5 t; water, 2 cup amount; sugar, 2 table spoons; lemon juice, 2 tea spoons.
Method:
Dice leaves and boil with water. Add sugar to it and simmer in low flame for 10 minutes. Strain into tea cups. Add lemon juice to each and serve hot.
Medicinal:
The juice of the bark is used to cure fevers. Acc. To work done by Shukla, et al (2021) leaves of Punyan could be a potential natural source of antidiabetic drug and could have greater importance as therapeutic agent in preventing or slowing oxidative stress, related disorders. It can also be a potential antimicrobial agents to preserve food.
Other Uses:
Wood – light, tough, soft and easily worked. Used for carrying poles.Timber from this plant is used locally as a furniture, building, flooring and cabinet making
References:
Shukla, A, Kaur, A & Shukla, R et al (2021); EVALUATION OF DIFFERENT BIOLOGICAL ACTIVITIES OF LEAVES OF EHRETIA ACUMINATA R. BR.INDIAN DRUGS 58 (04) APRIL 2021