Family: Piperaceae
Synonyms: Micropiper pellucidum; Peperomia concinna; Peperomia ephemera; Peperomia translucens; Piper concinnum; Piper pellucidum, Peperomia exigua,
Common name: Shiny Bush, Slate pencil plant, pepper elder, rat's ear, Silverbush
Local Name: Poori patta (पूरी पत्ता)

Poori patta is a slender herbaceous annual to perennial succulent of Western Himalayas. It is commonly seen growing on old walls, moist or wet thickets or mixed forest and along roadsides or waysides upto an elevation of 1200 m. Ouite often, it is found as a weed of waste land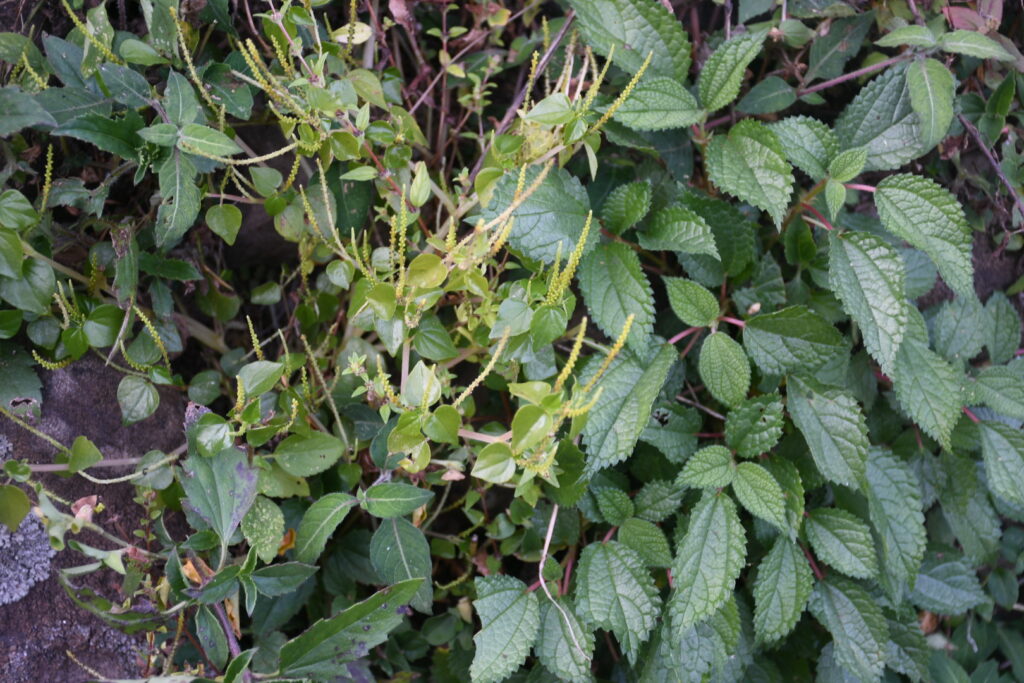 Plant shows an erect or ascending habit, sometimes shows procumbent habit. Poori patta is with very succulent and brittle stems that root at the nodes.It usually prefers a well-drained, humus-rich soil and succeed well in shady positions. Poori patta propogate through seeds. Plant sets seed abundantly, so inspite of an introduced or non native ( Native to South American) species it has become naturalized as a weed in many parts of Western Himalayas. It is also a common and widespread weed in gardens and cultivated areas that are damp and lightly shaded.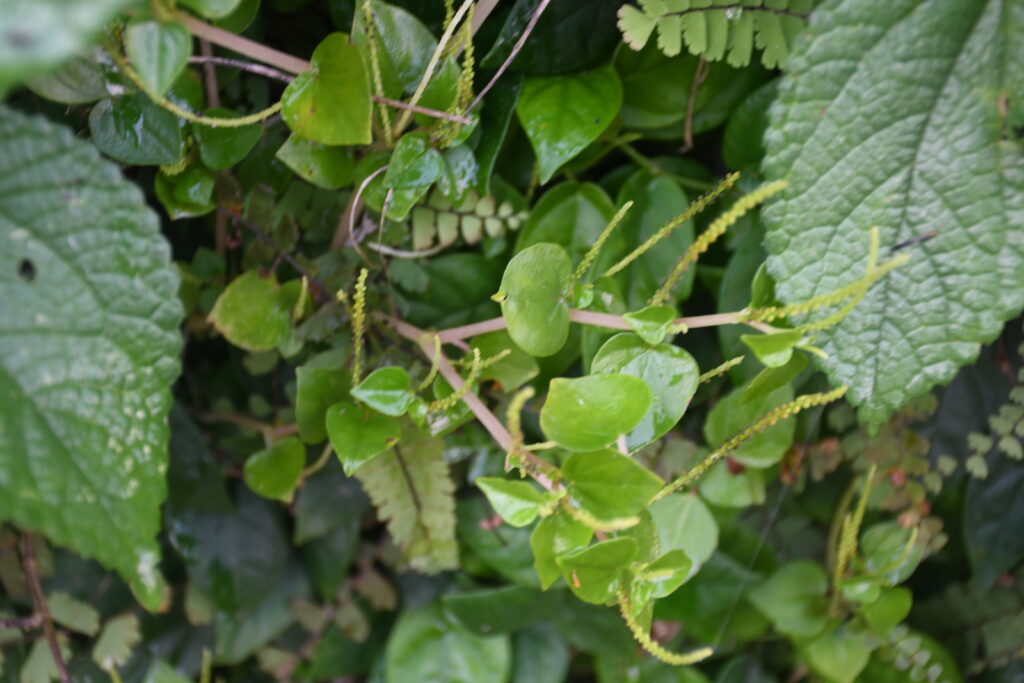 Young leaves of this plant are eaten both raw and cooked. Raw these are added to salad and are excellent addition to the soups and other dishes as a garnish . As cooked these can be either taken as a tea or eaten as potherbs, pakoras, sambhar, pasta, parantha, kachru and many other traditional or modern dishes of this region.
Poori patta leaves are harvested from the natural habitat as a souces of food ,medicine, fodder and material for local personal uses. It is sometime grown as ornamental plant for its beautiful dark green foliage.
Poori patta plant:
Plant is slender, much branched, glabrous and succulent, annual herbs, 25cm tall.
Leaves alternate, petiolate, broadly ovate, 1-3 * 1-2.5 cm, tip acute, 5-7 nerved; petioles decurrent, 0-2 cm long.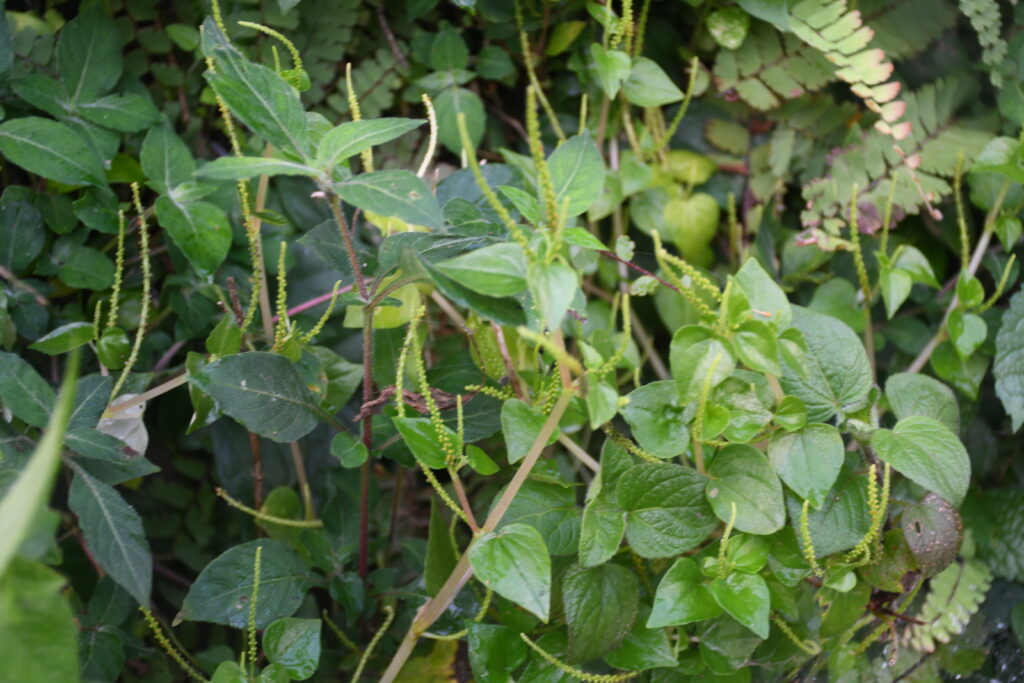 Flowers minute, green in axillary, terminal and leaf- opposed, 1-8 cm long, slender spikes; bracts ovate- rounded. Perianth absent. Stamens 2. Ovary unilocular, 1-ovuled.
Fruits sessile, ovoid, beaked.
Plant is in flowering and fruiting from August to November. Its edible leaves can be harvested from spring to autumn season of the years.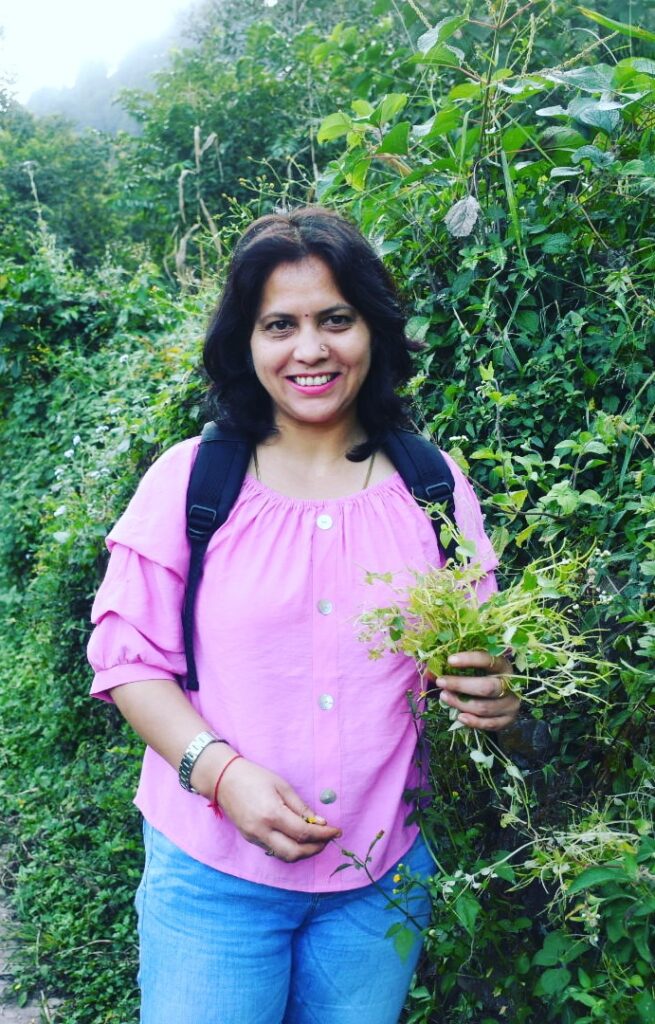 Edible Uses:
Leaves and young shoots  of this plant are eaten both raw or cooked. As raw these are excellent addition to salads. Plant is cooked as a potherb. The leaves are succulent, with a spicy flavour so added to a variety of traditional and contemporary dishes with modern twist like pasta, poha, Maggi, burger, pakoras, kachru, parantha, kachpuri soups etc. It has an aromatic taste and usually eaten  to stimulates the appetite and digestion. Young leaves can also be taken as tea.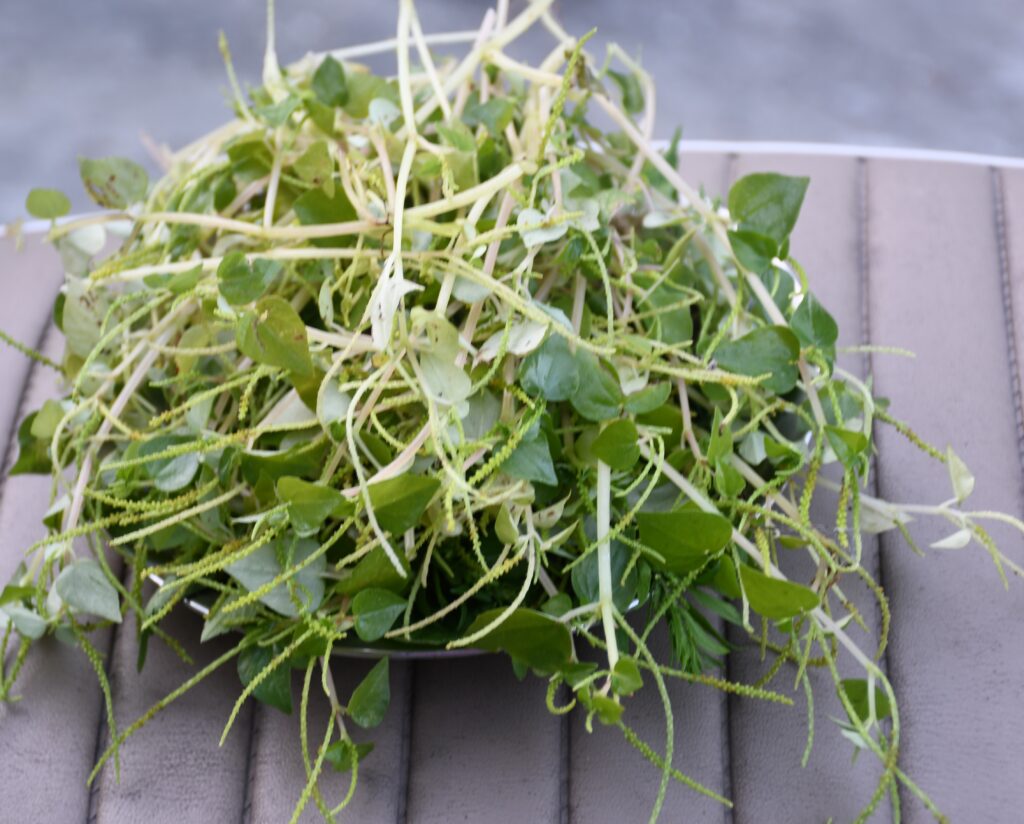 Vegetable/ Saag:
Ingredients:
Young leaves and shoot terminals of Poori patta exclusively or with other wild potherbs, 1 kg; mustard oil, 2 table spoons; coriander powder 1 table spoon; fenugreek powder, ½ table spoon; cumin seed ¼ table spoon; turmeric powder, 1/4 table spoon; red chilies, 2-3; chopped onions 2-4; garlic, 4-5 cloves; ginger paste ½ table spoon and salt according to taste.
Method:
For making saag boil chopped plant parts they become soft. Mesh boiled leaves manually or in a mixer. Then sauté with hot mustard oil and the spices listed before in sequence. This sauted saag is then ready and can be served as such or can be mixed with 2 or 3 chopped onion and cooked for another 5 to 10 minutes before serving.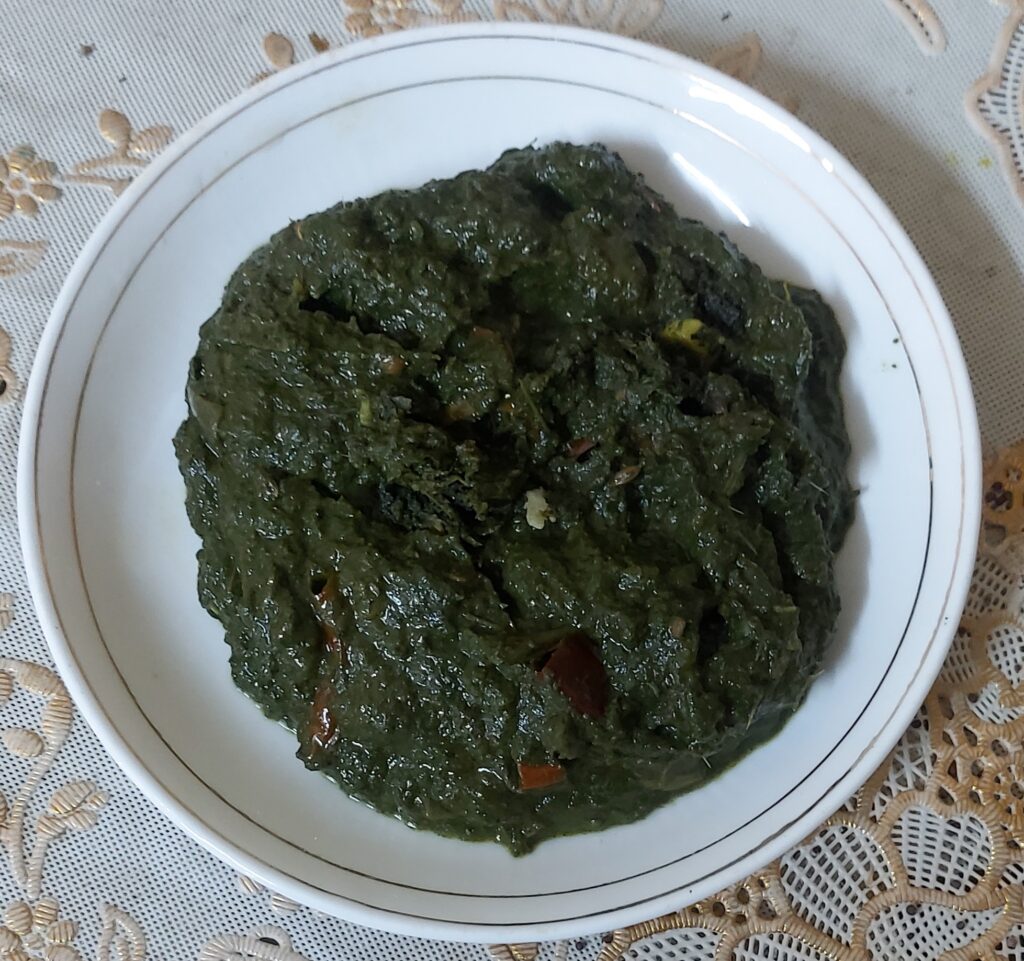 Pasta
Ingredients:
Pasta, 1- 2 cup amount; chopped Poori patta green, 50 -100g; finely chopped vegetable acc to taste; 1-2 cup amount;Butter or any vegetable oil; 2 table spoon, grated or meshed tomato; 3-4, medium sized finelly chopped onion; 2; garlic & ginger paste 1/2 tea spoon, white sauce, salt, coriander, black pepper acc. to taste. .
Methods
Pour 3-4 cups of water to a large pot and add ¼ teaspoon salt.Bring the water to a rapid and add pasta, cook on a medium high flame till pasta become soft. Drain to a colander. Set the cooked pasta aside. Pour oil or butter to a pan. Add coriander, meshed tomato, grated onion, garlic, mixed vegetables, white sauce, salt one by one. Saute them on a medium high heat until slightly tender yet crunchy. Now add pasta to it, Stirr well. Garnish with green coriander leaves & black pepper Serve it immediately as it cools down.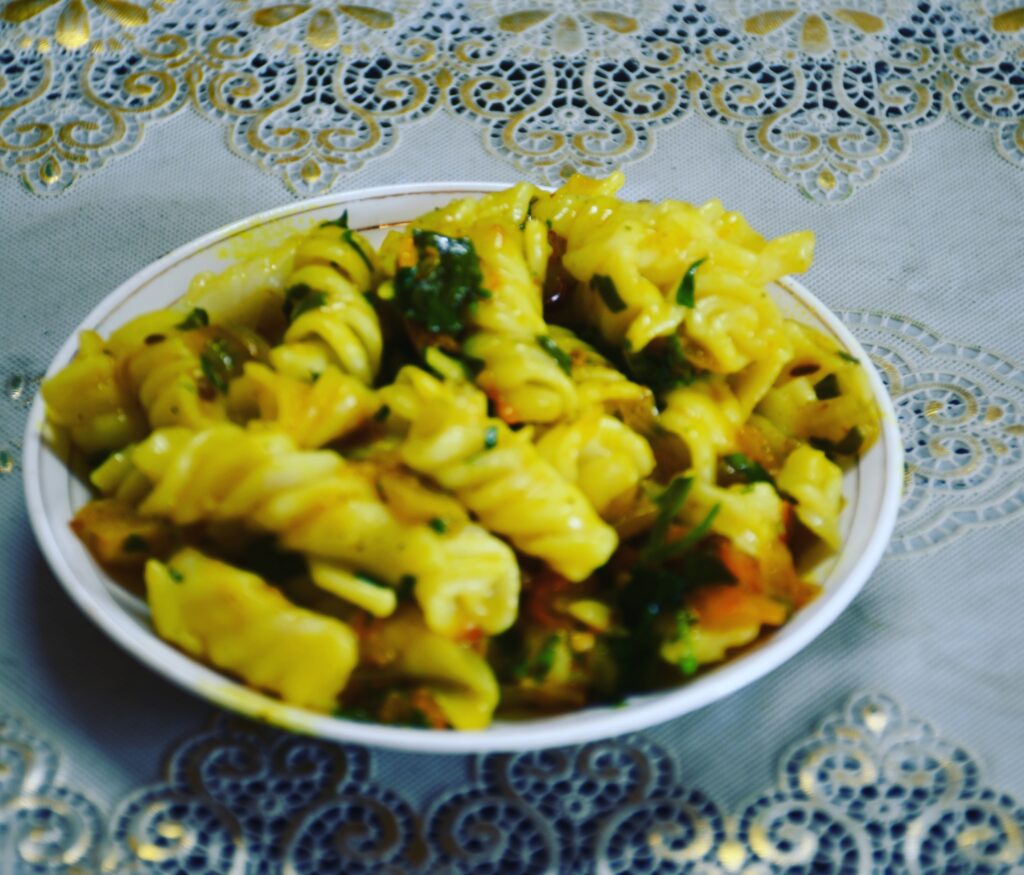 Kachru is a traditional dish of Werstern Himalaya cooked as chilla with spices and basen or corn flour. It is served as a evening snack with tea/ chutney/tomato ketch-up.
Ingredients:
For preparing a kachru, ingredients required are 1kg fresh Poori patta leaves, 1/2 kg besan (black gram powder) or corn flour. 1 cup amount fresh coriander leaves,1/2 table spoon ajwain, 3-5 green chillies, ½ table spoon turmeric powder, 2-3 chopped onions and salt according to taste
Method:
Make a paste of Poori patta leaves, besan or corn flour and spices. Heat some oil on a flat heating pan. Put this paste over a pan and cook for 15 to 20 minutes then kachru will be ready to serve.
Tea:
Ingredients:
Poori patta leaves, 10 g; water, 2 cup amount; sugar, 2 table spoons; lemon juice, 2 tea spoons.
Method:
Dice leaves and boil with water. Add sugar to it and simmer in low flame for 10 minutes. Strain into tea cups. Add lemon juice to each and serve hot.
Nutritional analysis:
Moisture- 8.33 ±0.33g, Protein- 10.63±0.07g, Lipid-3.24±0.28g, Carbohydrate-46.58±2.74g, Total Ash- 31.22±2.06g, Caloric value (kcal/ kJ)- 258/1080; Minerals, Potassium- 6977±4.24mg, Calcium-483±97.02mg, Iron- 119.3±20.33mg, Sodium-53.92±0.37mg, Zinc- 12.59±0.25mg, Copper-3.10±0.33mg 1
Seek professional advice before treating this plant medicinally
Medicinal Uses:
Poori patta is used as medicine for treating various ailments or disorders such as asthma, rheumatism, wound, fever, stomach problems, kidney infection, hemorrhoid pain, joint pain, hypertension, diarrhea, snake bite and measles 2.The leaves and stems are analgesic, anticancer, antifungal, anti-inflammatory, cholagogue, diuretic and refrigerant 3. They are used in the treatment of bronchitis and asthma; gout and arthritis; headache; rheumatic pain; impotence, abdominal pain, kidney problems, lower cholesterol levels etc 5,7 . For treating arthritis, the leaves and stems of the fresh plant may be eaten as a salad, or made into an infusion. For the infusion, put a 20cm plant in 2 glasses of boiling water; and 1/2 cup of this infusion is taken morning and evening7. Externally, the leaves and stems are used as a facial rinse for treating complexion problems7. The pounded whole plant is used as warm poultice for treating ulcers, boils, pustules, pimples and wounds 3,5,7. The sap is used as eye drops to treat cataracts, infections etc 3.The plant is source of phytochemical groups such as alkaloids, flavonoids, saponins, terpenoids, steroids and glycosides. Compounds such as dillapiole, phytol, stigmasterol, sitosterol, secolignans, tetrahydrofuran lignans, highly methoxylated dihydronaphthalenone, peperomins, sesamin and isoswertisin have been identified in the plant. Recent studies have shown that the plant exhibited several pharmacological activities such as antimicrobial, antioxidant, anti-angiogenic, anti-inflammatory, analgesic, antipyretic, neuropharmacological, antisickling, anticancer, enzyme inhibitory, antiulcer, hypotensive, immunostimulatory, fracture healing and antidiabetic activities which support the traditional use of the plant. Purified chemicals from the plant have also shown to exhibit certain pharmacological activities such as antiulcer, anticancer and antimicrobial activity 2 Research has shown the presence of a number of medically active compounds 6. These include an essential oil with apiole as the main ingredient; several flavonoids; and five new bioactive compounds: two secolignans, two tetrahydrofuran lignans, and one highly methoxylated dihydronaphthalenone 6,7.
Oil Composition:
Plant shows a total of fifty constituents, representing 94.3–97.9% of the total oil composition. Major constituents of the oil of whole herb are carotol (26.6–32.0%), dill apiole (25.1–30.2%), pygmaein (5.5–10.5%), (E)-caryophyllene (5.6–8.3%), germacrene D (3.1–4.7%), β-elemene (3.0–4.2%), camphor (< 0.05–2.8%), daucene (0.8–2.7%), apiole (1.5–2.5%), β-bisabolene (0.2–2.2%) and bicyclogermacrene (1.6–2.1%). Root oil contained higher amount of apioles (dill apiole 63.9% and apiole 9.2%) compared with the aerial parts (dill apiole 20.7% and apiole 1.1%) 4.
Other Uses:
Plant is sources of essential oil.The essential oil from the whole plant showed fungicidal activity at a minimum inhibitory concentration of 2,000 ppm, with a wide range of toxicity and quick killing activity 6. It was thermo-stable, remained toxic for at least 150 days, was non-phytotoxic and non-systemic6. The oil is antagonistic to the growth of Helminthosporium oryzae (brown spot) in rice6.An extract of the aerial parts of the plant has shown anti-inflammatory and analgesic activities7.
It is also grown as a an ornamental plant for its dark green foliage.
References:
Ooi, D. J., Iqbal, S., & Ismail, M. (2012). Proximate composition, nutritional attributes and mineral composition of Peperomia pellucida L.(Ketumpangan Air) grown in Malaysia. Molecules, 17(9), 11139-11145.)
Raghavendra, H. L., & TR, P. K. (2018). Ethnobotanical uses, phytochemistry and pharmacological activities of Peperomia pellucida (L.) Kunth (piperaceae)-a review. International Journal of Pharmacy and Pharmaceutical Sciences, 1-8.
Defilipps, R. A. (1994). Medicinal plants of the Guianas. Reference Publ..
Biswas, S. M., Chakraborty, N., & Patra, S. R. (2017). A New Phenol Glycoside from Root Exudates of Peperomia pellucida L. HBK. and its Role. Annals of Tropical Research, 392, 13-24.)
http://www.prota.org Plant Resources of Tropical Africa.
http://proseanet.org/ Plant Resources of Southeast Asia
http://www.stuartxchange.org/CompleteList.html Philippine Medicinal Plants