Family: Rubiaceae
Synonym: Dioscorea verticillata, Galium cordifolium, Rubia alata, Rubia clematifolia, Rubia conotricha, Rubia cordata, Rubia javana, Rubia lanceolata, Rubia longipetiolata, Rubia mitis, Rubia pratensis, Rubia pubescens, Rubia purpurea, Rubia scandens, Rubia secunda, Rubia sylvatica.
Common Name: Indian Madder
Local Name: Majeet (मंजीत ), Pagalpathi, Usba.
Majeet is a climbing or creeping herbaceous perennial of Western Himalayas identified with 4-angled stem and branches with prickles on the angles. It support itself upon other plants by means of its recurved prickles. Majeet commonly found growing over hedges and shrubs, on forest boundaries and waysides, from 800 to 2500m in Western Himalayas.It grows best in shady moist habitat, when present in cultivated landt it shows luxuriant growth, so quite often considered a troublesome weed to be eradicated. Majeet tolerates dry habitat but quickly becomes scorched when exposed to full sun. It propogate further through seeds.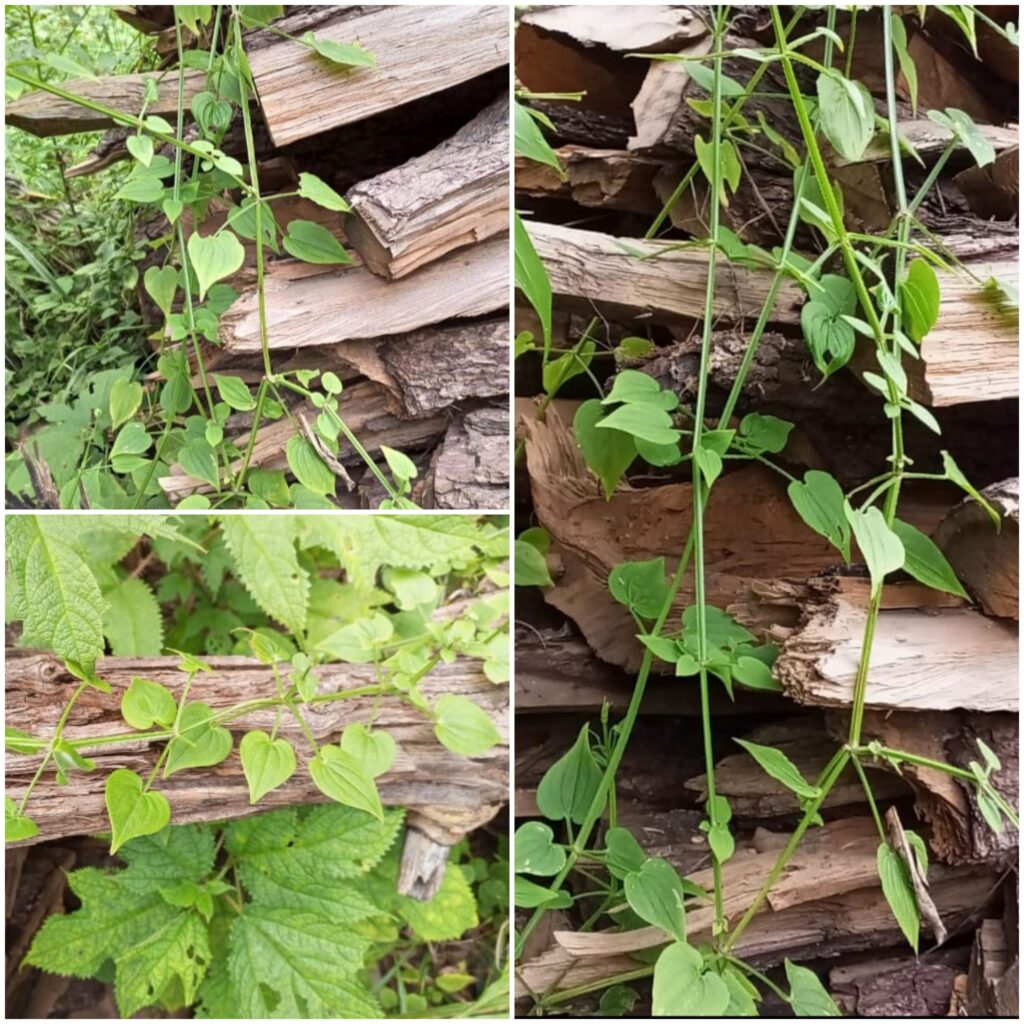 Young leaves and ripe fruits of Majeet are edible.Acc. to Devi and Siril, 20141 Majeet is an ethnic plant and all the parts of this plant have been medicated. Their phytochemicals and
pharmacological studies reveals that antioxidant and free radical scavenging activities of phyto- components isolated from this plant give an impression that Majeet might be the future drug to boost immunity and for diversified panel of tumors and cancers. So its very important to include plant like Majeet in our food plate to boost our immunity and health to face ongoing and future challanges of pandemic COVID-19 or other diseases. Leaves of Majeet are eaten cooked in addition to other wild or cultivated greens to harness their medicinal value. Ripe fruits are eaten raw or added to desserts rayata etc. Locally roots of this plant is taken as tonic. These can be dried , powdered and taken with milk to boost strength and vitality.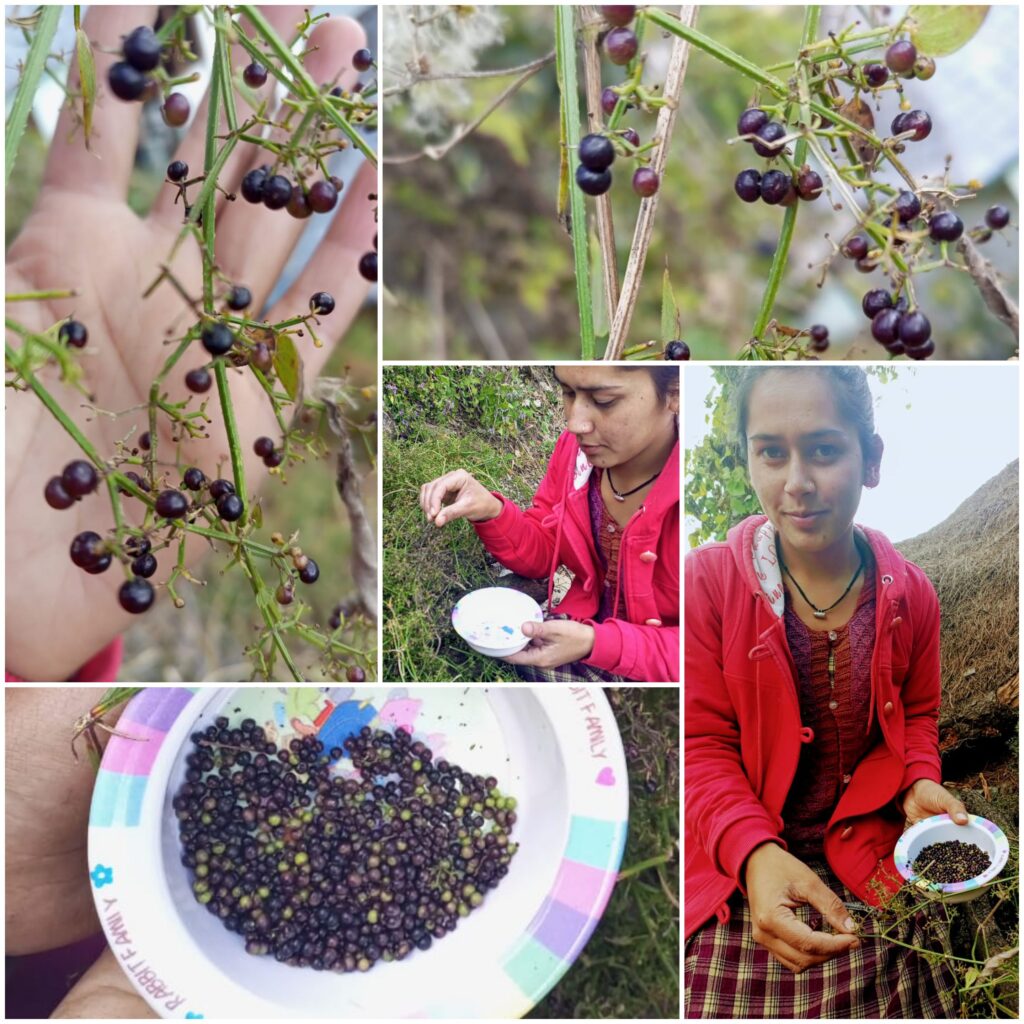 Ink from roots and fruits of this plant is used by childern as a nail police in their play. The plant is mainly gathered from the natural habitat as a source of food, fodder, medicine and material for local personal use. It can also be grown as ornamental plant or live fence to demarcate boundaries.
Majeet Plant
Perennial, prickly, climbing herbs.
Leaves in whorls of 4, ovate or ovate-oblong to lanceolate with a cordate rounded base, acute or acuminate apex and short-bristly margins, surface smooth or scabrid or hairy or strigose.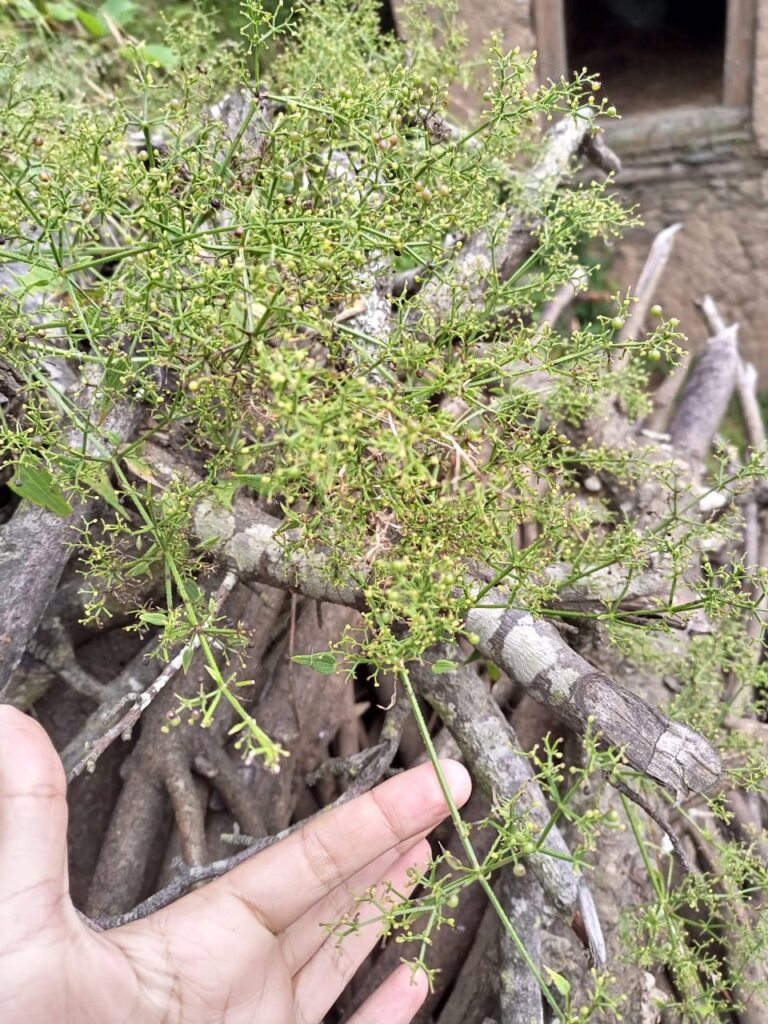 Flowers dark-red or pinkish-brown, in numerous, small cymes, forming large, bracteate panicles. Corolla rotate; lobes 5, tip incurved.
Fruits succulent, globose, black when ripe.
Seeds 2, small.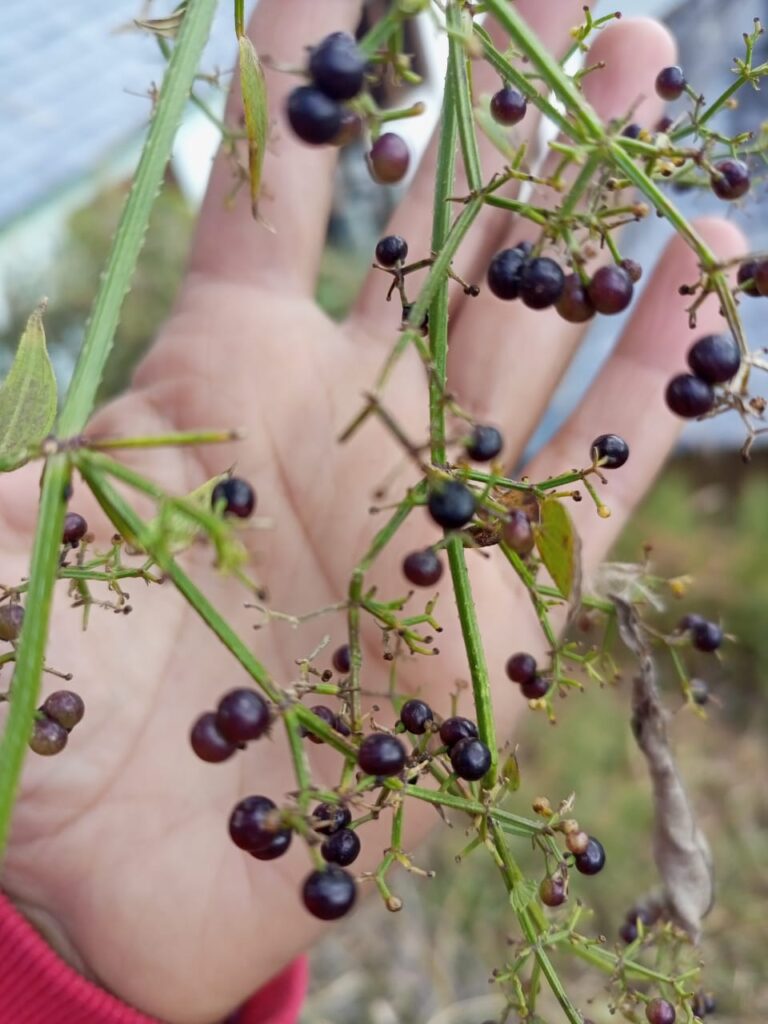 Majeet is in flowering and fruiting from summers to autumn season of the year. Fruits should be sustainability harvested either by habitat rotation or keeping some fruits on parent plant.
Edible Uses:
All plants of this plant are edible and taken for their wide range of medicinal uses. Dried root powder is taken as tonic with milk. Leaves or young shoot terminals are cooked as leafy vegetable saag these can be added to any traditional or modern dishes like parantha, poha, pasta, kachru, sambhar, pakoras etc as a wild green. Ripe fruits are either eaten raw or used an addition to rayata and desserts.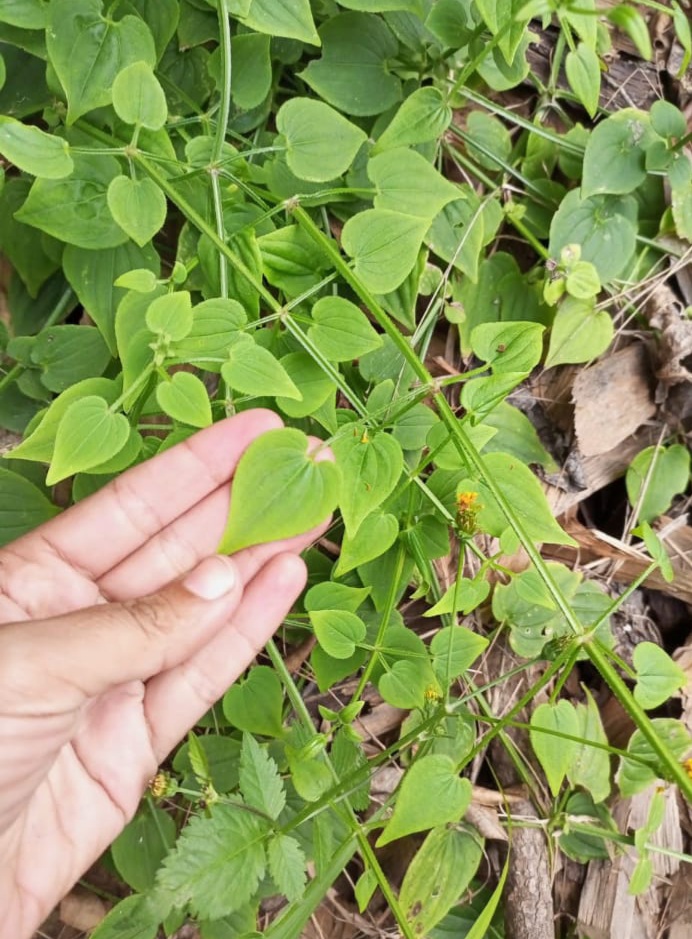 Vegetable/ Saag:
Ingredients:
Young leaves and shoot terminals of Majeet with other wild potherbs, 1 kg; mustard oil, 2 table spoons; coriander powder 1 table spoon; fenugreek powder, ½ table spoon; cumin seed ¼ table spoon; turmeric powder, 1/4 table spoon; red chilies, 2-3; chopped onions 2-4; garlic, 4-5 cloves; ginger paste ½ table spoon and salt according to taste.
Method:
For making saag boil chopped plant parts they become soft. Then mesh manually or in a mixer and sauté with hot mustard oil and the spices listed before in sequence. This sauted saag is then ready and can be served as such or can be mixed with 2 or 3 chopped onion and cooked for another 5 to 10 minutes before serving.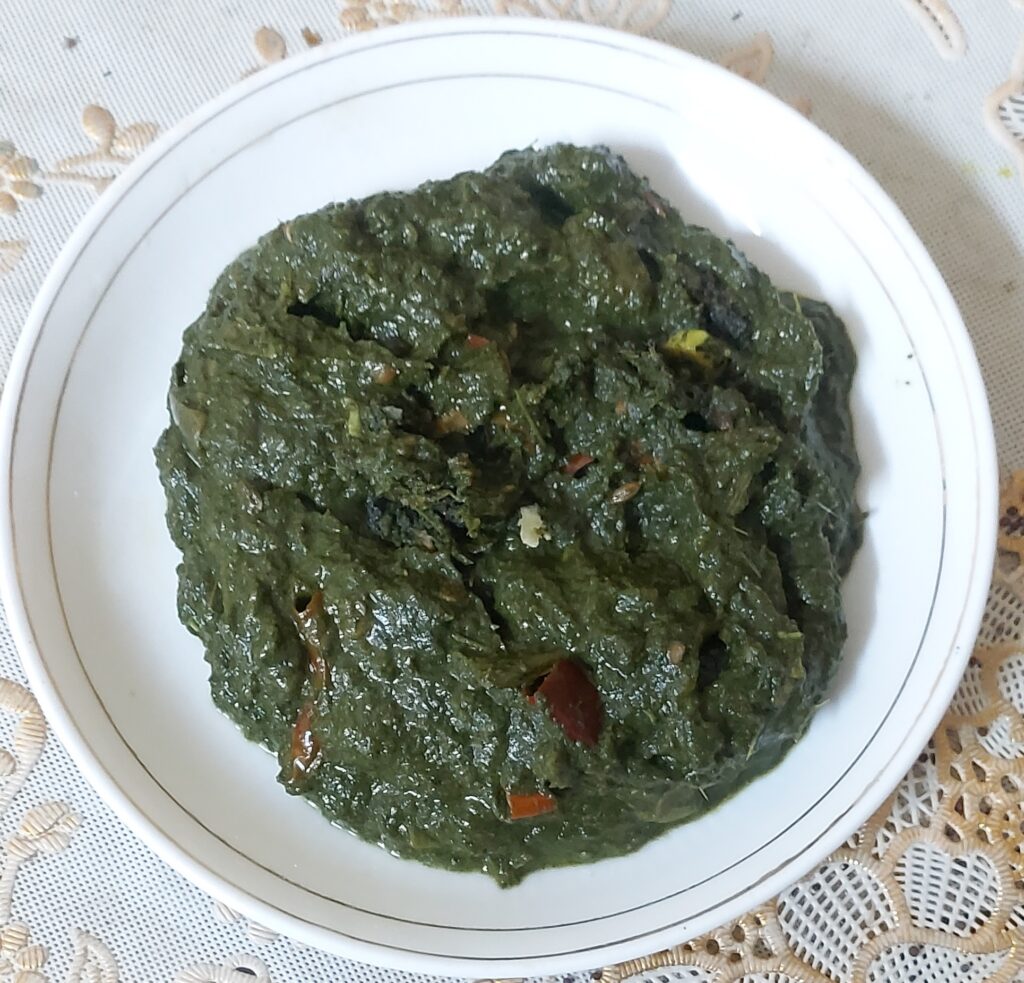 Kachru is a traditional dish of Werstern Himalaya cooked as chilla with spices and basen or corn flour. It is served as a evening snack with tea/ chutney/tomato ketch-up.
Ingredients:
For preparing a kachru, ingredients required are 300g fresh leaves, 4 cup amount besan (black gram powder) or corn flour. 1 cup amount fresh coriander leaves,1/2 table spoon ajwain, 3-5 green chillies, ½ table spoon turmeric powder, 2-3 chopped onions and salt according to taste
Method:
Make a paste of leaves, besan or corn flour and spices. Heat some oil on a flat heating pan. Put this paste over a pan and cook for 15 to 20 minutes then kachru will be ready to serve.
Desserts:
Ingredients:
Ripe fruits of Majeet and other chopped fruits acc. to taste,1/2kg; curd, 1kg; sweetener like honey/ sugar/ condensed milk, 1-3 tea spoon; cardamom powder,1/4 tea spoon; black salt according to taste.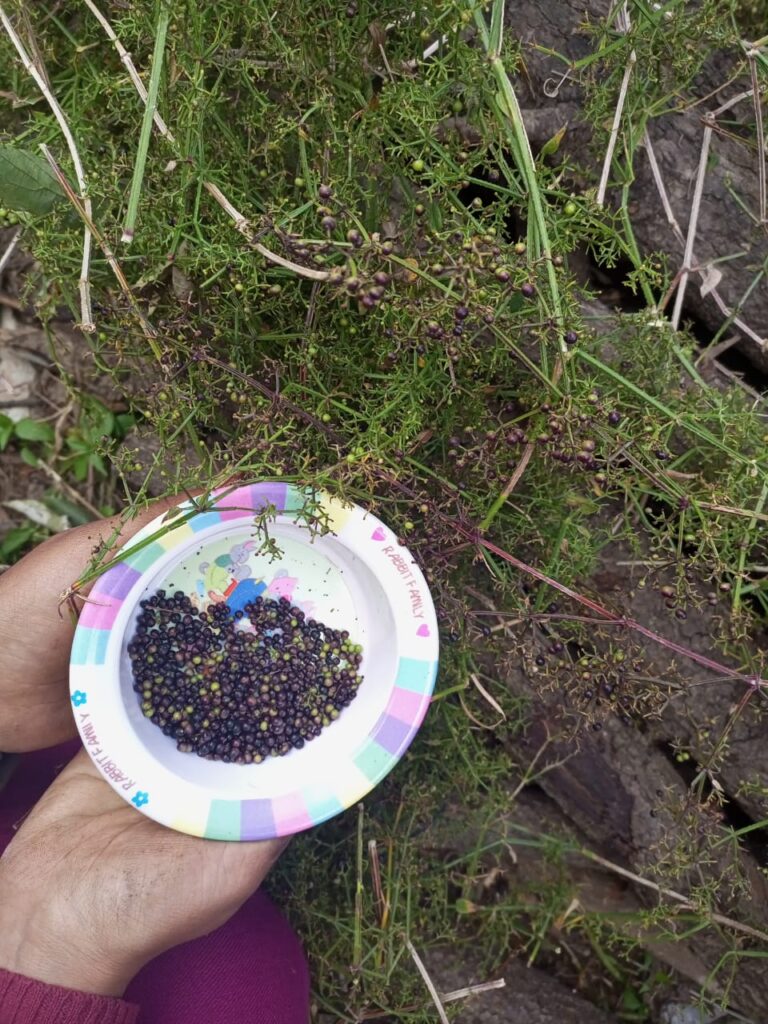 Method:
Take curd in a bowl. Add to it sweetener according to choice and stir well. Add cardamom powder, black salt, ache fruits and other chopped fruits according to preference. Mix well and serve.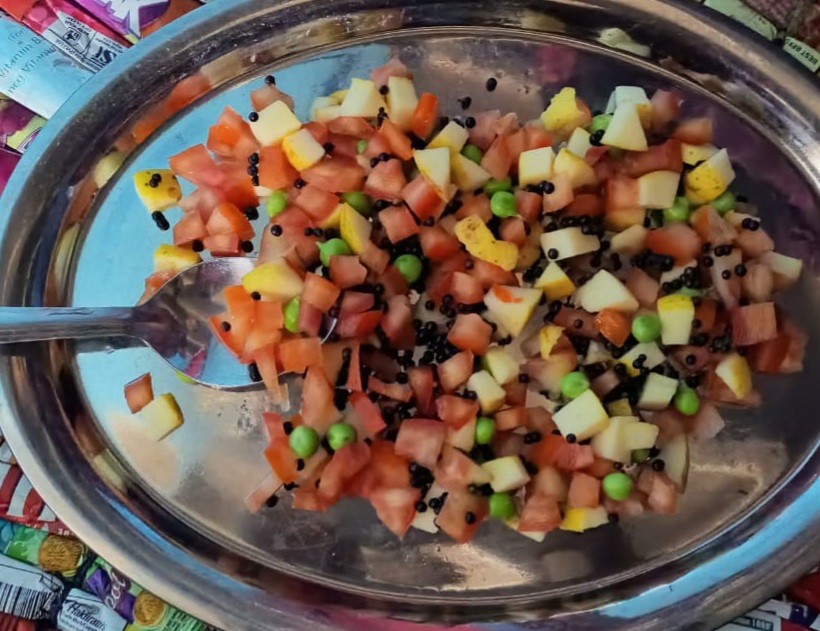 'Rayata':
Ingredients:
Ripe fruits and finely chopped leaves of Majeet, 300 kg; curd, 1kg; Chopped medium sized onion, 3-4, red or green chilies, 3-4, black pepper, ¼ tea spoon, black salt according to taste.
Method:
Take curd in a bowl. Add to all above in sequence. Mix well and serve.
Seek professional advice before treating this plant medicinally.
Medicinal Uses::
Locally Infusion of leaves, stem or roots is taken as a tonic. Decoction of  its roots is  prescribed for menstrual disorders and leucorrhoea in women  Roots and stems are used as astringent, alternative, in fever, urinary disorders and skin diseases 2. Plant is reputed as an efficient blood purifier and hence is extensively used against blood, skin and urinary diseases 3 The root is sweet, bitter, acrid, astringent, thermogenic, antidysenteric, anti-inflammatory, antipyretic, analgesic, anodyne, anthelmintic, antiseptic, constipating, diuretic, galacto-purifier, febrifuge, rejuvenating and tonic. It is useful in vitiated conditions of kapha, the body fluid principles relates to mucus and pitta, an energy principle which uses bile to direct digestion. In modern pharmacopoeia, the plant has been used to treat variety of ailments4,5,6.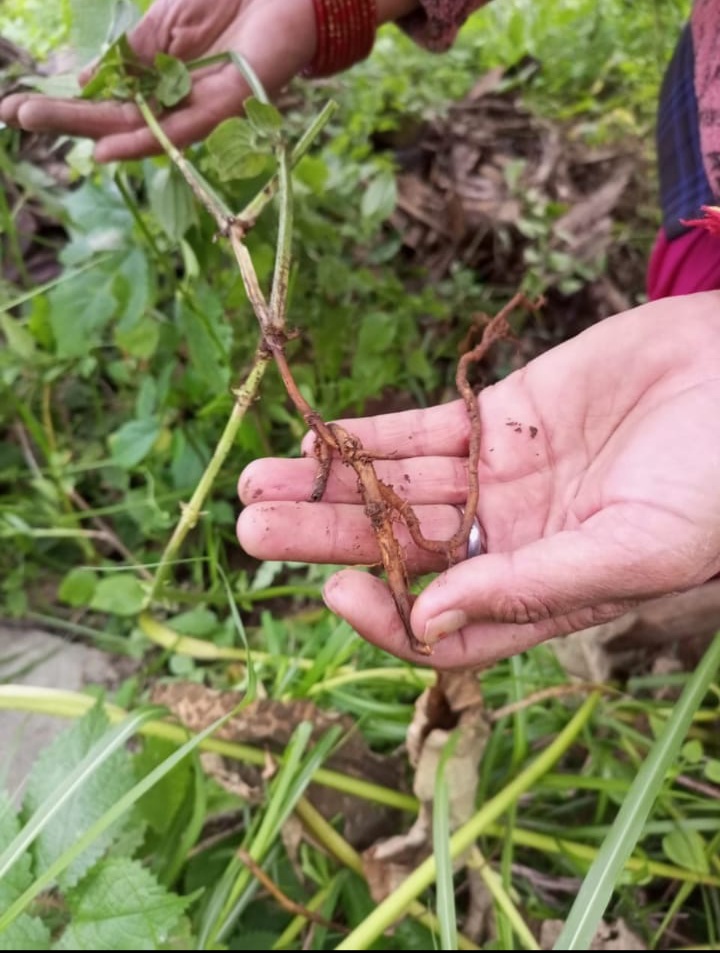 The root extract has wide range of pharmacological properties thus used against ailments such as arthralgia, arthritis, cephalalgia, cough, diabetes, discolouration of the skin, dysmenorrhoea, emmenagogue, general debility, hemorrhoids, hepatopathy, intermittent fevers, jaundice, leucorrhoea, neuralgia, pectoral diseases, pharyngitis, ophthalmopathy, otopathy, splenopathy, strangury, slow healing of broken bones, tubercular conditions of the skin and mucous tissue, tuberculosis and urethrorrhoea7. Besides, the roots are used for laxative, analgesic, rheumatism, dropsy, paralysis and intestinal ulcers. The dried stem is used in blood, skin and urinogenital disorders, dysentery, piles, ulcers, inflammation serysipelas, skin diseases and rheumatism8 .The plant is also used in curing some of the heart problems9,10 .The roots were used in Ayurvedic (traditional Indian system of medicine) medicine as a coloring agent in medicated oils1.
Chemical constituents: Therapeutic properties of the plant attributed to rubicoumaric acid and rubifolic acid. Colouring action of the root due to purpurin and munjistin 11
Other Uses
Plant is grown as a multipurpose plant around home, gardens and private land as a live fence and a source of food,medicine,fodder and materials to demarcate boundaries. A red dye is obtained from the stems and the root, Root derived powder has been used in many Asian countries as a natural dye, for imparting shades of red, scarlet, brown and mauve to cotton and other fabrics 1,12. The roots are an important ingredient in recipes of red inks that may also contain other red dye-plants such as the roots of Impatiens tinctoria and the bark of Osyris quadripartita 13.The juice of crushed fruits is bottled and used as green to bluish ink 13. .
References:
Devi Priya, M., & Siril, E. A. (2014). Traditional and modern use of indian madder (Rubia cordifolia L.): an overview. Int J Pharm Sci Rev Res, 25(1), 154-164.
Singh PB. (2018). Flora of Mandi district. Himachal Pradesh: North West Himalaya.
Sivarajan VV & Balachandran I, (1994): Ayurvedic Drugs and their Plant sources, Oxford & IBH Publishing Co. Pvt. Ltd., New Delhi, 292-293.
.Devi Priya, M., & Siril, E. A. (2008) Studies on phytochemical properties of Rubia cordifolia L.: A medicinally valuable dye yielding plant from hilly tracts of South India, The proceedings of National Symposium, Department of Botany, University of Kerala, Thiruvananthapuram, 26-28 .
Devi Priya, M., & Siril, E. A.(2010); Pharmacognostic studies on Rubia cordifolia L. The proceedings of International Conference, Pachaiyappa's College, Chennai, 4-6March 2010a, 165.
Devi Priya, M., & Siril, E. A.(2012); Pharmacognostic studies on Indian Madder (Rubia cordifolia L.). J. Pharmacog. Phytochem., 1, , 113-120
.Prajapathi ND & Kumar U, (2003): Dictionary of Medicinal Plants, Agrobios, Jodhpur, 294.
.Khare CP,(2004)Encyclopedia of Indian Medicinal Plants, Springer, Germany, 405-406.
Prakasha HM, Krishnappa M, (2006) People's knowledge on medicinal plants in Sringeri taluk, Karnataka, Indian J. Tradit. Know., 5, 353-357.
Bhatt P & Kushwah AS, (2013b); Rubia cordifolia Overview: A New Approach to Treat Cardiac Disorders, Int. J. Drug Dev. Res., 5, 2013b, 47-54.
Sood SK, Thakur S. (2004): Ethnobotany of Rewalsar Himalaya. Deep Publications.
Uphof. J. C. Th (1959); Dictionary of Economic Plants. Weinheim, publication