Family: Polygonaceae
Synonym: Fagopyrum cereal, Fagopyrum dryandri, Fagopyrum emarginatum, Fagopyrum esculentum, Fagopyrum sagittatum, Fagopyrum sarracenicum, Fagopyrum subdentatum, Fagopyrum vulgare, Fagopyrum zuogongense, Helxine Fagopyrum,Kunokale carneum, Phegopyrum emarginatum, Phegopyrum esculentum, Polygonum cereal,Polygonum dioicum,Polygonum elegans,Polygonum emarginatum, Polygonum gracile, Polygonum macropterum, Polygonum nepalense, Polygonum pyramidatum.
Common Name: Buckwheat
Local Name: Phaphra (फाफरा)
Phaphra is an annual herbaceous plant found growing upto an altitude of 2000- 3000 m in Western Himalaya. It is a escape plant in crop fields and waste places. Phaphra is easily propagated by seeds and can grow in most of soil.
Leaves and grains of phaphra are edible. The leaves are cooked as vegetable alone or along with other greens. Its dried grains made into flour and are often eaten in place of wheat flour. Seeds & leaves are dried and stored for later use also. Phaphra is rich in rutin, which is strongly antioxidant and strengthens the inner lining of blood vessels 1. So, it is considered best for lowering blood pressure and mainly eaten for this purpose. Phaphra is bitter but pleasant tasting herb.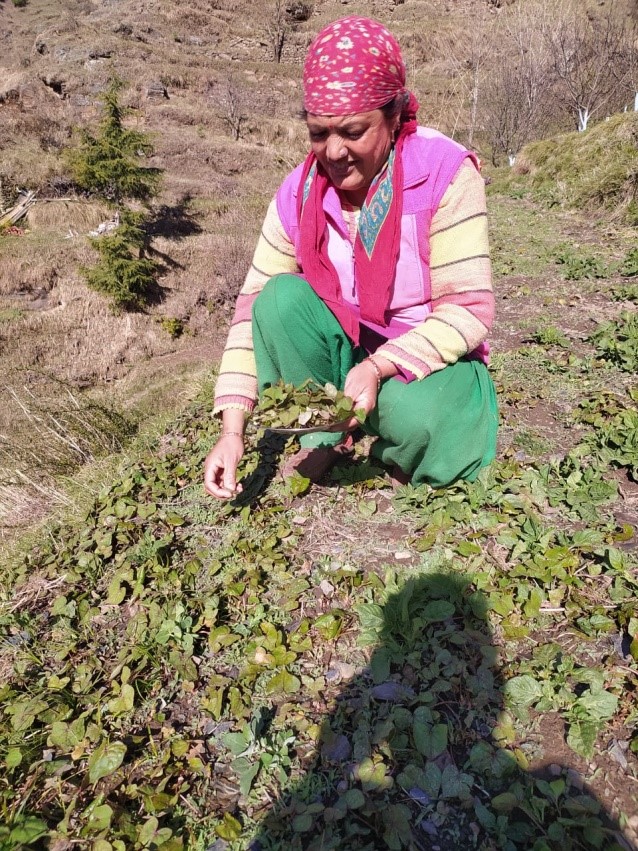 Phaphra is harvested from the wild for local use as a food, fodder, medicine and source of materials by the inhabitants of the hills. Sometime people also grow it for its edible leaves and grains.
Phaphra leaves are sold in local or surrounding market. It is a easy source of earning for local people, specially children and women.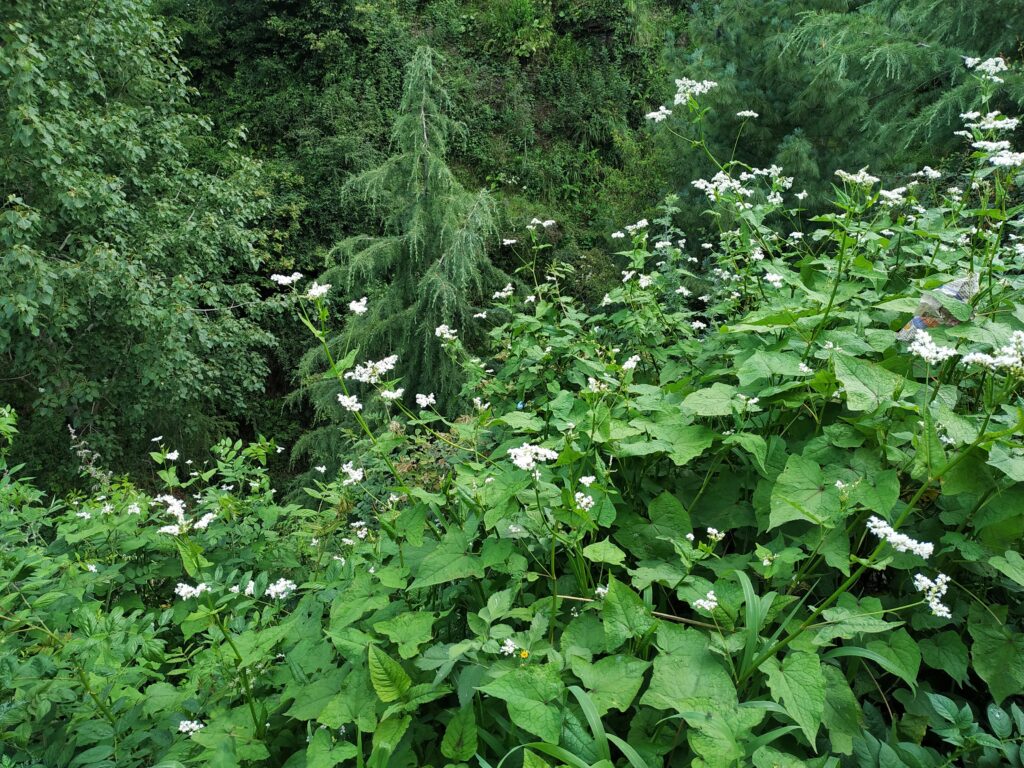 Phaphra Plant:
Plant is erect, glabrous, annual herbs up to 1.50 meters tall.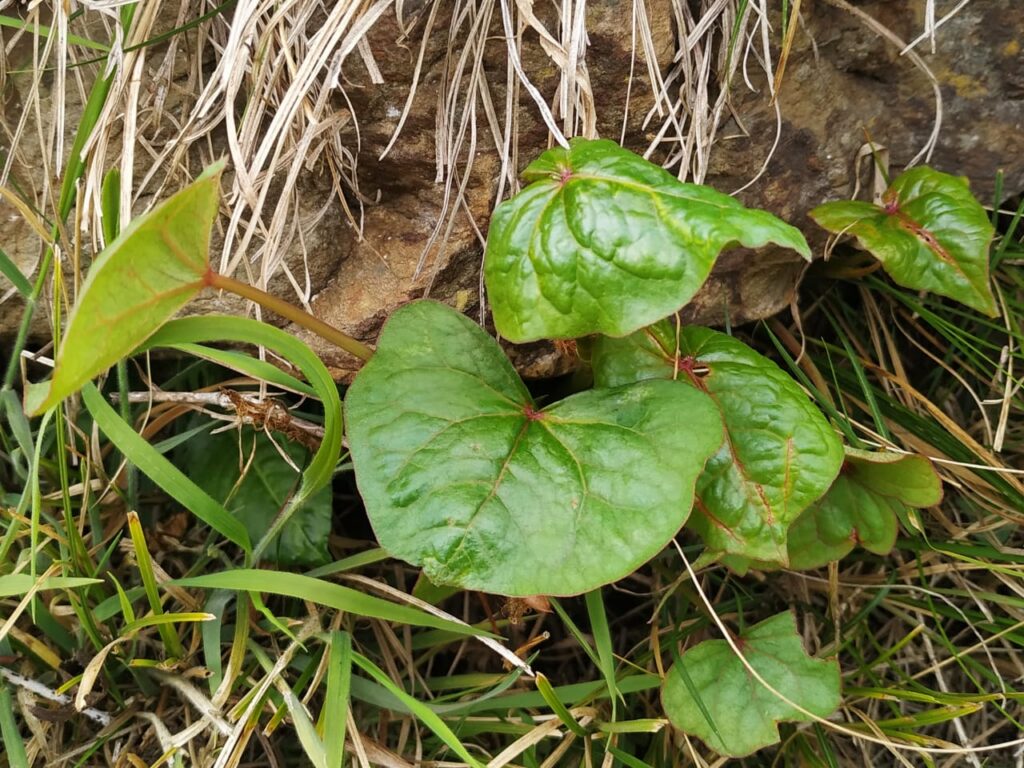 Stems unbranched, often tinged red at maturity, to 60 cm long.
Leaves are ovate- triangular or cordate- hastate with acute or rounded basal lobes, 2-7 cm long, apex acute or acuminate.
Flowers pinkish- white or pink, in axillary and terminal. Peduncled, sub- capitate, many flowered cymes; pedicles not jointed. Perianth 4-5 mm across; segments 5 obovate. Stamens 8.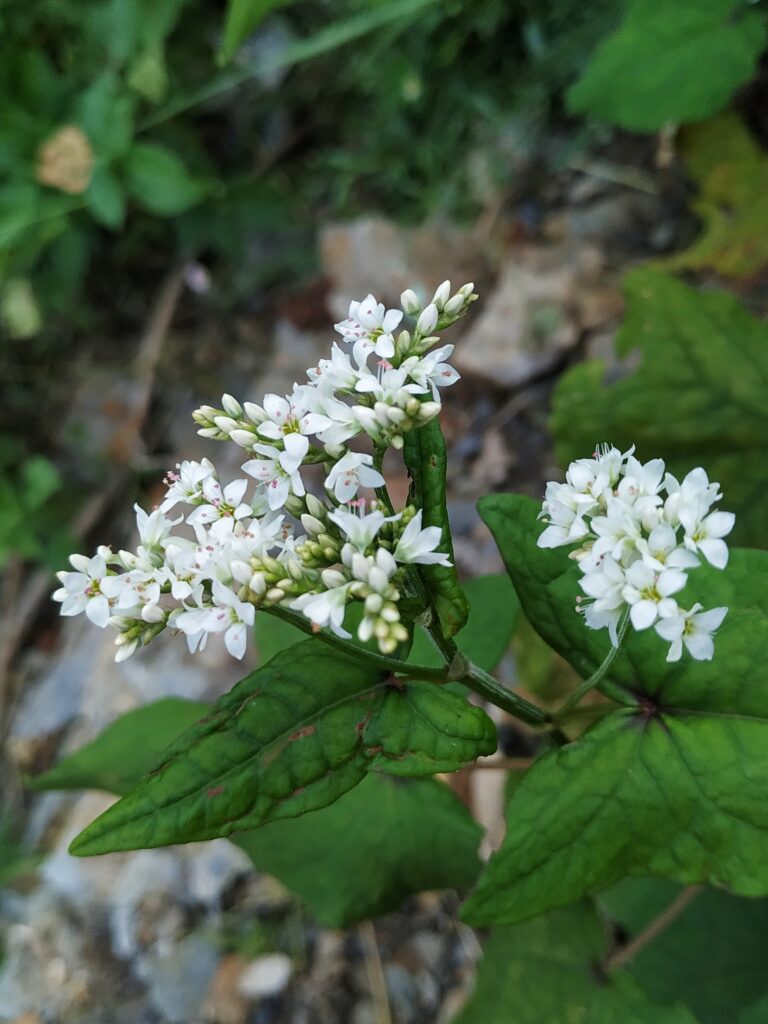 Nuts 3- gonous acute, smooth.
Phaphra leaves are best harvested in spring to summer end. Edible grains are collected from rainy to autumn season of the year. For ensuring sustainable harvesting plant need to be cultivated on large scale or seeds need to be collected from different habitat.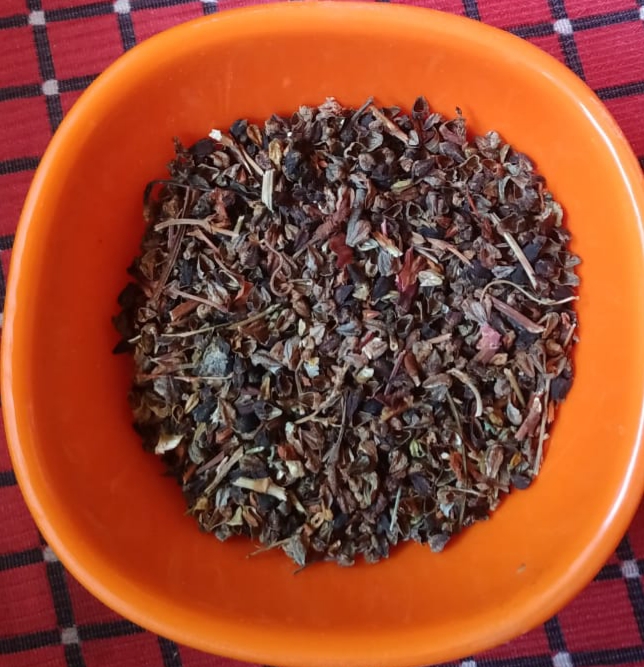 Edible Uses:
Young leaves and dried grains of phaphra are eaten both raw or cooked. Leaves are used as a potherb like spinach and can be cooked as a vegetable alone or with other greens. Seeds are eaten raw in salad after making sprouts. Dried seeds are ground into flour and used same as other cereals. Seed flour is also used to make Kachru along with young phaphra leaves. It is used as thickening agent in soups. Along with wheat flour it is cooked into other traditional dishes like 'babru'. A herbal tea is also made from fresh or dried leaves along with lemon juice.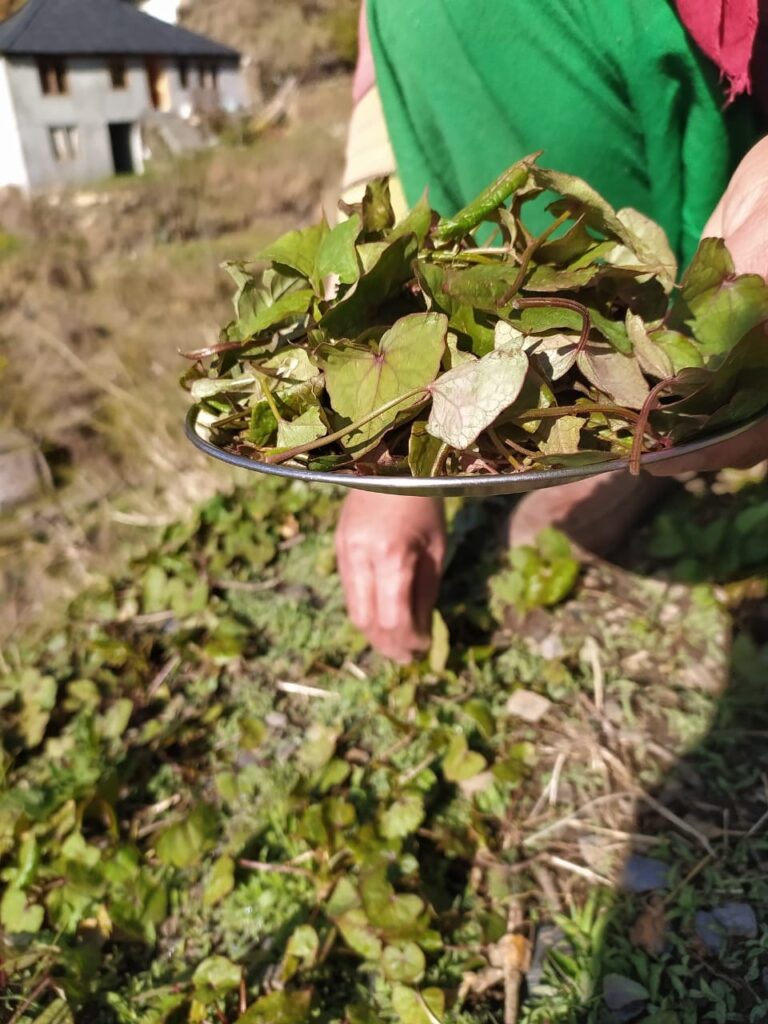 Vegetable:
For making vegetable phaphra leaves can be used alone or mixed with other greens like khokhna (Medicago polymorphia), Roadi (Vicia sativa), Shershni (Capsella bursa-pastoris), Mil-malori (Rumex acetosa), Gujjar ghas (Cardamine hirsuta), Matar- phali (Lathyrus aphaca) etc., and cooked as saag or vegetable with potato.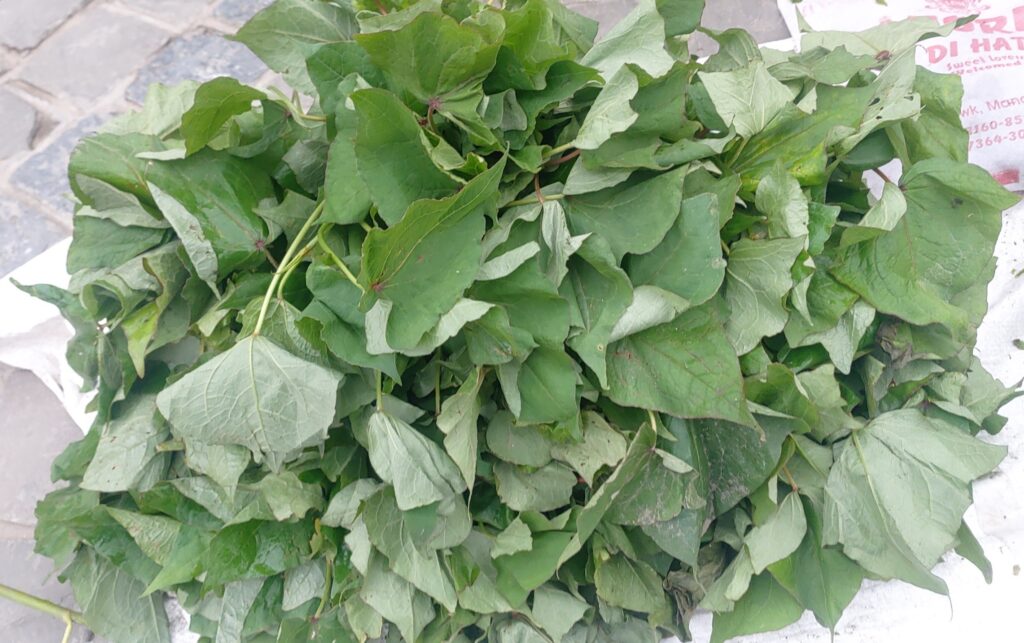 Ingredients:
Phaphra leaves, 1 kg; mustard oil, 3-4 table spoons; coriander powder, 1 table spoon; fenugreek powder, ½ table spoon; cumin seed, 1 tea spoon; turmeric powder, 1 table spoon; red chilies, 2-3; chopped medium sized potato, 2-4; garlic, 4-5 cloves; ginger paste ½ table spoon and salt, according to taste.
Method:
Saute chopped phaphra leaves in hot mustard oil along with chopped potato and spices listed above. Cook till these are soft and serve with chapatis. For making saag boil leaves till these are soft. Now mesh these manually or in a mixer grinder then saute with spices in hot mustard oil. Cook for some time and then serve.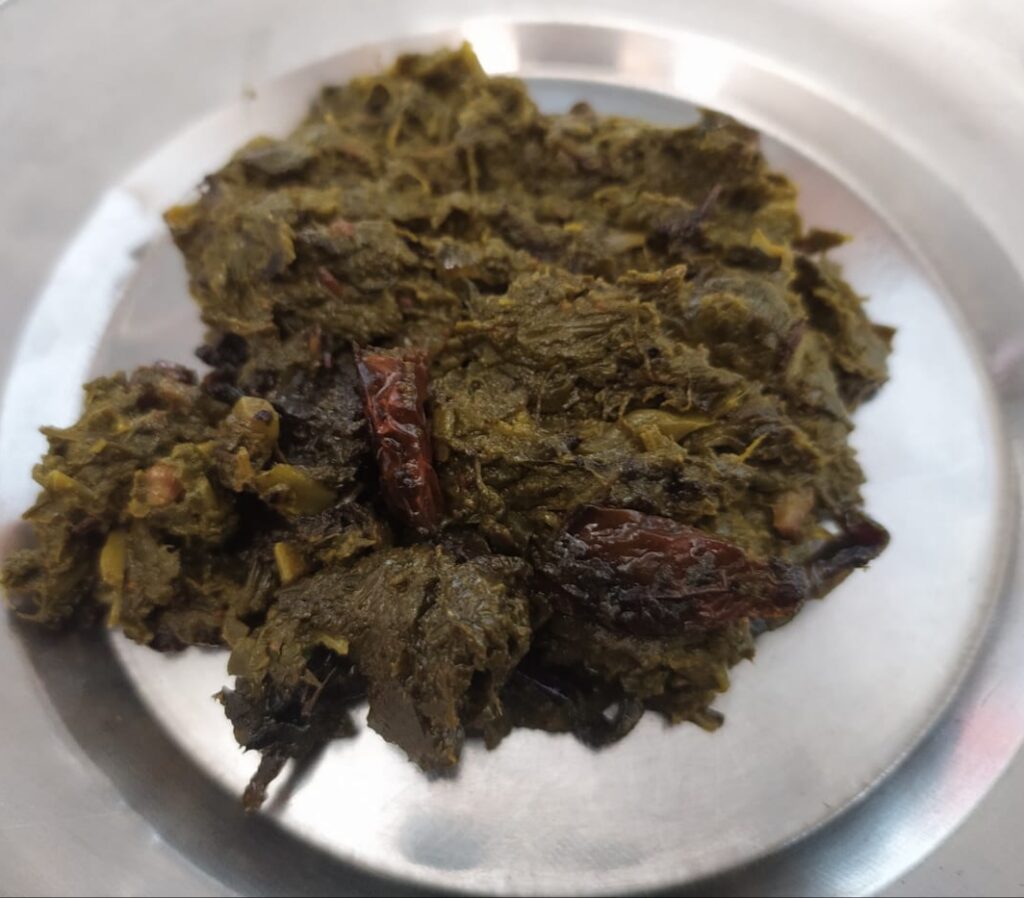 Kachru:
For preparing a kachru, ingredients required are 1/2kg fresh leaves of phaphra , 1/2 kg phaphra seed flour. 1 cup amount fresh coriander leaves,1/2 table spoon ajwain, 3-5 green chilies, ½ table spoon turmeric powder, 2-3 chopped onions and salt according to taste
Method:
Make a paste of leaves, seed flour and spices. Heat some oil on a flat heating pan. Put this paste over a pan and cook for 15 to 20 minutes then kachru will be ready to serve.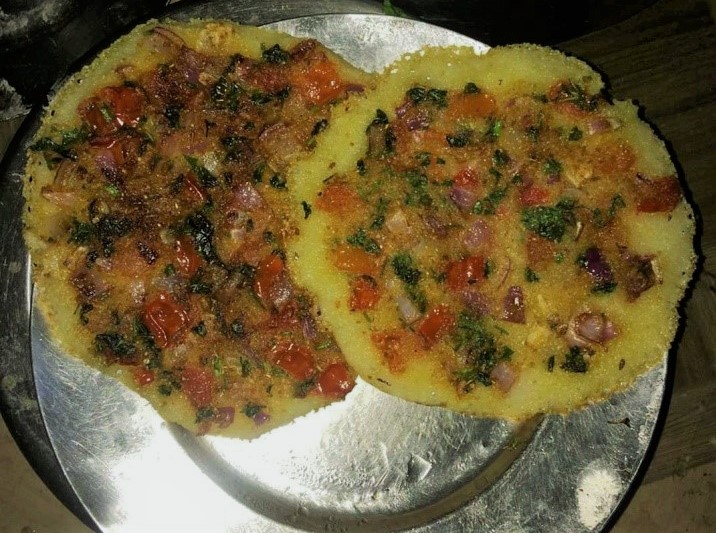 Chutney:
Ingredients:
Phaphra and Mil-malori leaves , 300 g; mint leaves, 100 g; Rhododenderon flowers,20-50 g; medium sized onion, 2; green chilies, 6-8 and salt and sugar according to taste.
Method:
For preparing chutney grind all the ingredients in a mixer grinder and add to it salt and sugar according to taste. Now chutney is ready to serve.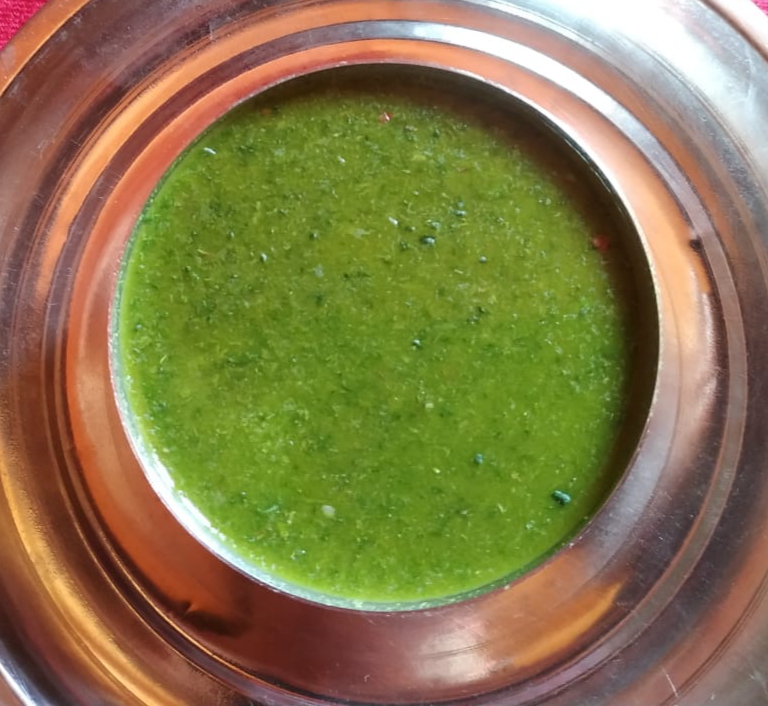 Babru or gulgule:
Ingredients:
Mixture of wheat and phaphra seed flour, ½ kg; Sugar/ jaggery, 250g.Foeniculum, 5g; grated dry fruits,10 -15g, baking soda/yeast, 1 tea spoon; mustard oil, ½ liter.
Method:
Mix sugar/ jaggery in water and stir well. Add to it and wheat flour and phaphraseed flour and mix well. Add to it foeniculum powder, baking soda/yeast and grated dry fruits, mix well into dense batter. Make small circular babru and deep fry in hot mustard oil and serve.
Tea:
Ingredients:
Dried or fresh leaves of phaphra , 5-15 g; lemon juice, 1 tea spoon; Sugar/honey. 1-2 table spoon, Water, 2 cup amount.
Method:
Boil phaphra leaves in water for 3 to 5 min. Add to it sugar/honey and stir well. Add lemon juice and strain in cups.
Nutritional value per 100 g grains:
Energy 343 Kcal, Carbohydrates,71.50 g; Protein ,13.25; total Fat, 3.40 g; Dietary Fiber, 10 g ; Vitamins Folates (B9),30 µg; Niacin (B3), 7.020 mg; Pantothenic acid,1.233 mg ;Riboflavin (B2), 0.425 mg; Thiamin (B1), 0.101 mg; Sodium, 1 mg; Potassium,460 mg; Minerals Calcium, 18 mg; Copper, 1.100 mg; Iron, 2.20 mg; Magnesium, 231 mg; Manganese,1.300 mg; Phosphorus ,347 mg; Selenium, 8.3µg; Zinc ,2.40 mg; Lysine, 672 mg; Methionine,172 mg; Tryptophan, 192 mg 6.
Seek professional advice before treating this plant medicinally.
Medicinal Uses:
Used for a wide range of circulatory problems, phaphra is best taken as a tea or tablet, accompanied by vitamin C or lemon juice to aid absorption 1. It is used particularly to treat fragile capillaries, but also helps strengthen varicose veins and heal1. Often combined with lime flowers, Phaphra is a specific treatment for haemorrhage into the retina1. Phaphra is also commonly taken in combination with other herbs for high blood pressure1.The leaves and shoots of flowering plants are acrid, astringent and vasodilator 2. It is used internally in the treatment of high blood pressure, gout, varicose veins, chilblains, radiation damage etc 2. A poultice made from the seeds has been used for restoring the flow of milk in nursing mothers 2 . An infusion of the herb has been used in the treatment of erysipelas (an acute infectious skin disease) 2 . A homeopathic remedy has been made from the leaves 3. It is used in the treatment of eczema and liver disorders3.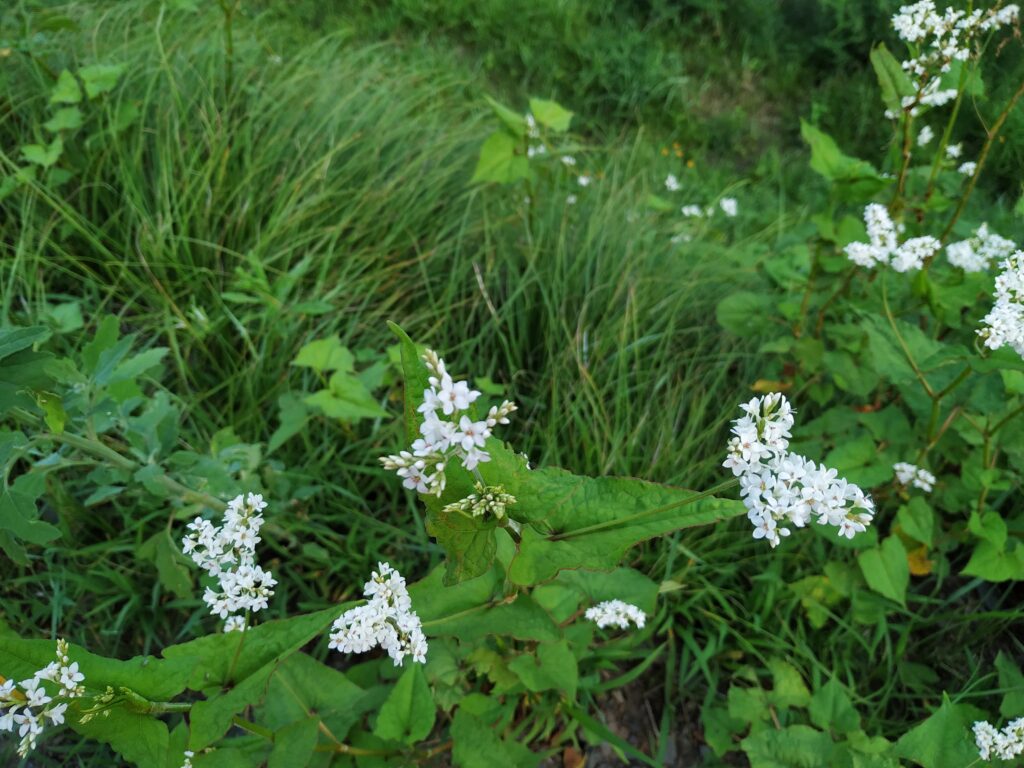 Chemical constituents:
Phaphra contains bioflavonoids, especially rutin, which is strongly antioxidant. Rutin strengthens the inner lining of blood vessels1.
Other Uses:
Phaphra is locally used as fodder and given to milch yielding cattle. A very good green manure plant, it can be used to reclaim badly degraded soils and subsoils 4. A blue dye is obtained from the stems 5. A brown dye is obtained from the flowers 2.
Source of income:
Local people collect phaphra young leaves from wild just before flowering begins and sell in local market. They make a bunch of few leaves and sell each bunch for Rs 20 to 30. Women and children sell these phaphra bunch to visitors and tourists by siting on roadsides.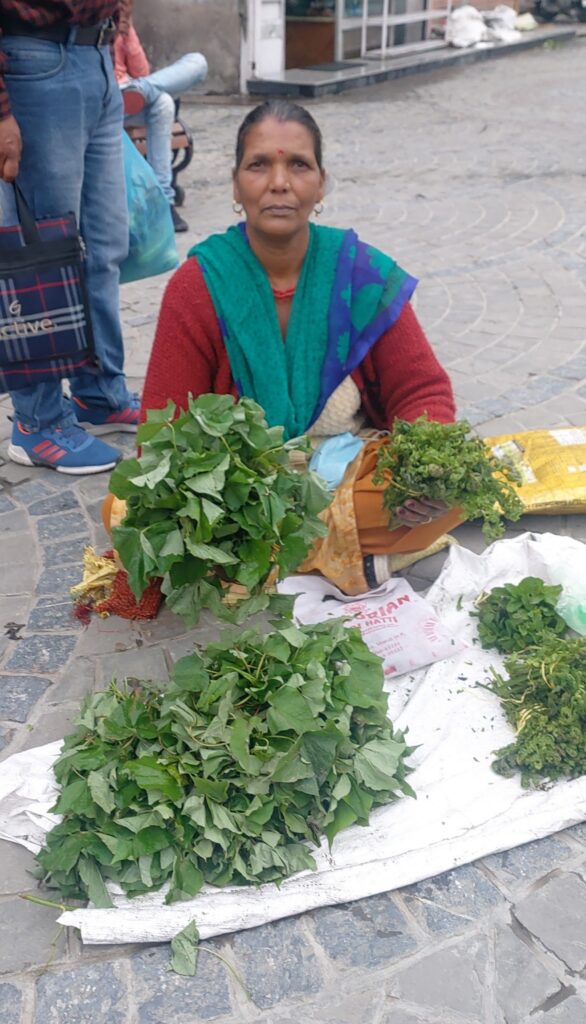 References:
Purohit SS, Sharma AK, Prajapati ND, Kumar T. (2009); A handbook of medicinal plants: a complete source book. 2:352-3.
Grieve, M. (1984). Tansy. A Modern Herbal. Penguin Books Ltd, Middlesex, Great Britain, 789-790.
Sajid, S. M., Zubair, M., Waqas, M., Nawaz, M., & Ahmad, Z. (2015). A review on quince (Cydonia oblonga): a useful medicinal plant. Global Vetenaria, 14, 517-524. 9
Coon, N. (1974). The dictionary of useful plants. Rodale Press/Book Division. 106
Riotte L. (1978); Companion planting for successful gardening. Vermont (USA), 20
https://www.nutrition-and-you.com/buckwheat.html.