Family– Asparagaceae
Synonym: Convallaria cirrhifolia
Common Name: Coiling leaf Solomon seal, Coiling leaf Polygonatum
Local Name: Salam mishri (सालम मिश्री)
Salam mishri is a suberect to erect perennial herb of Western Himalayas commonly found growing as a forest undergrowth between an altitudinal range pf 1800-3200m. It usually prefers a fertile humus rich soil in moisture retentive, well-drained cool shady or semi-shady habitat. Salam mishri grows in forests at margins of woods, clearings and shady rocky places. It can propagate vegetatively or through seeds.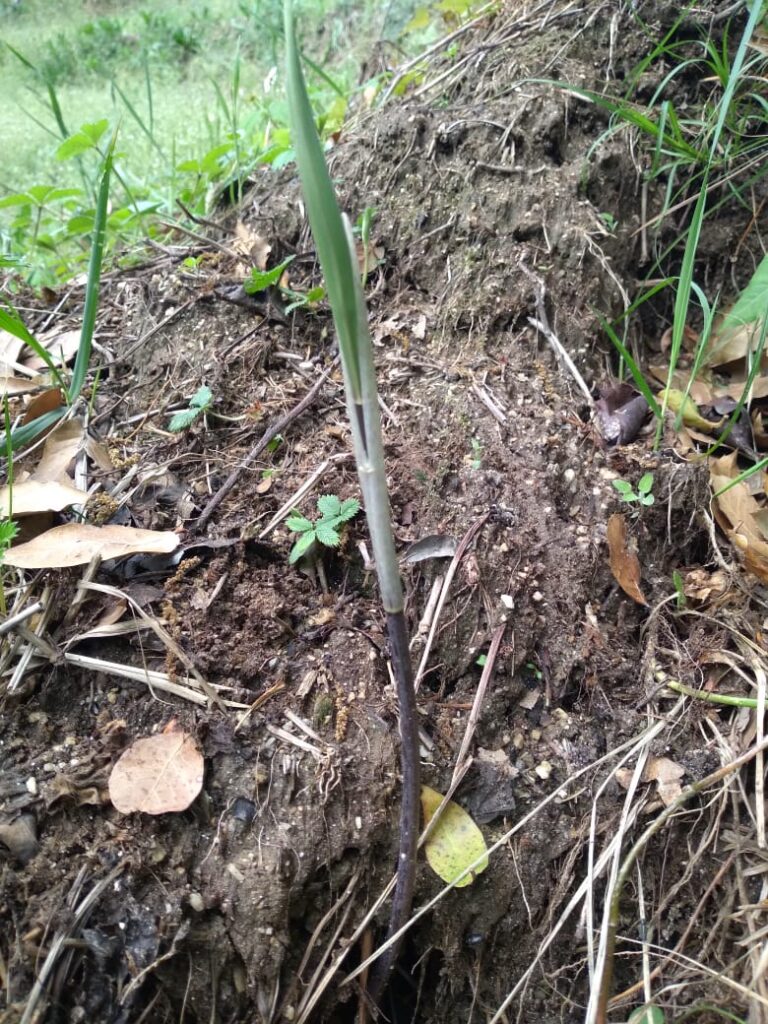 Tender leaves, shoots and ginger like root of this plant are edible and eaten cooked. Powdered root is excellent addition to soup as thickening agent. It is also taken with milk as a tonic.
Whole plant is rich in medicinal value and mainly taken as a tonic and immunity booster. The ginger like roots of this taxon are used as one of the eight ingredients of Astavarga of Ayurveda 1. For this it is also sold in local, national and International market and is an excellent source of earning for local people.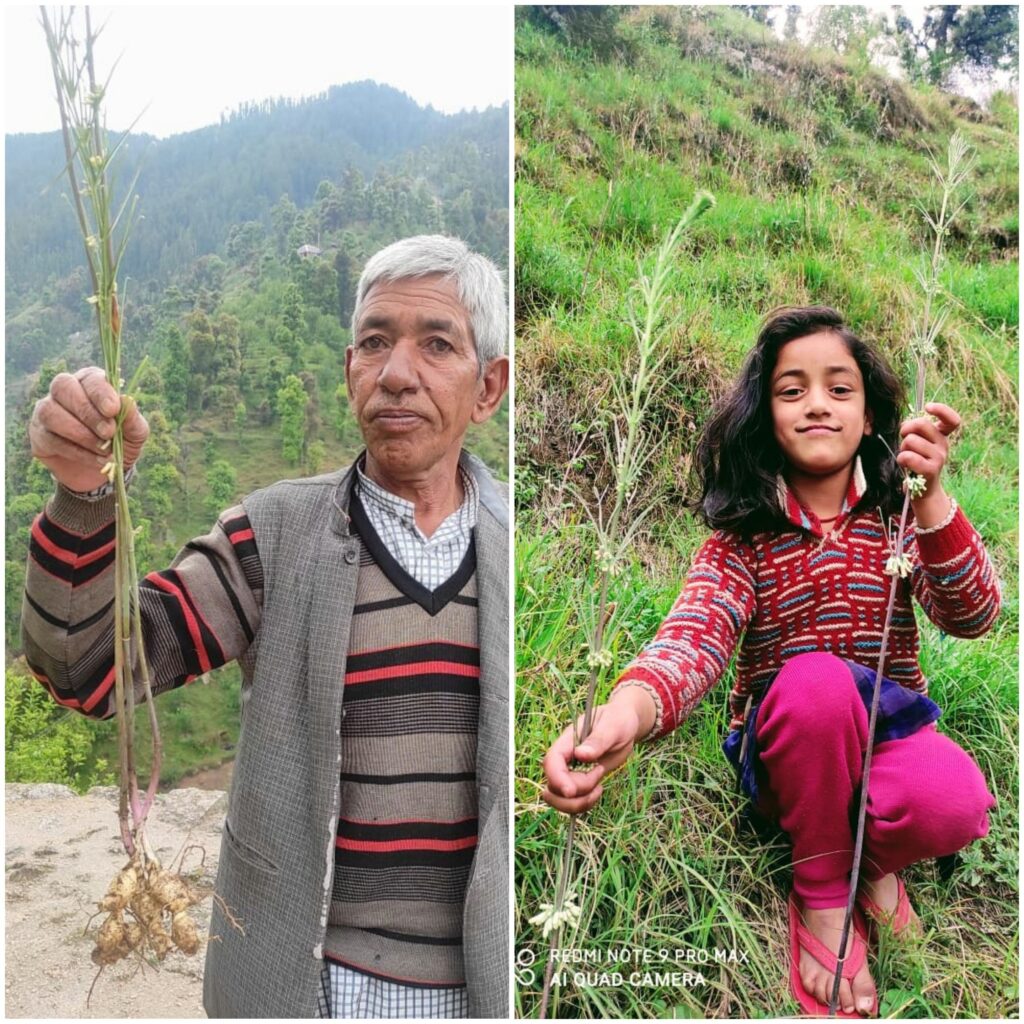 Salam mishri Plant:
Plant is erect or suberect herbs upto 60-120cm tall.
Stem is angled and grooved.
Rootstock are thick, creeping.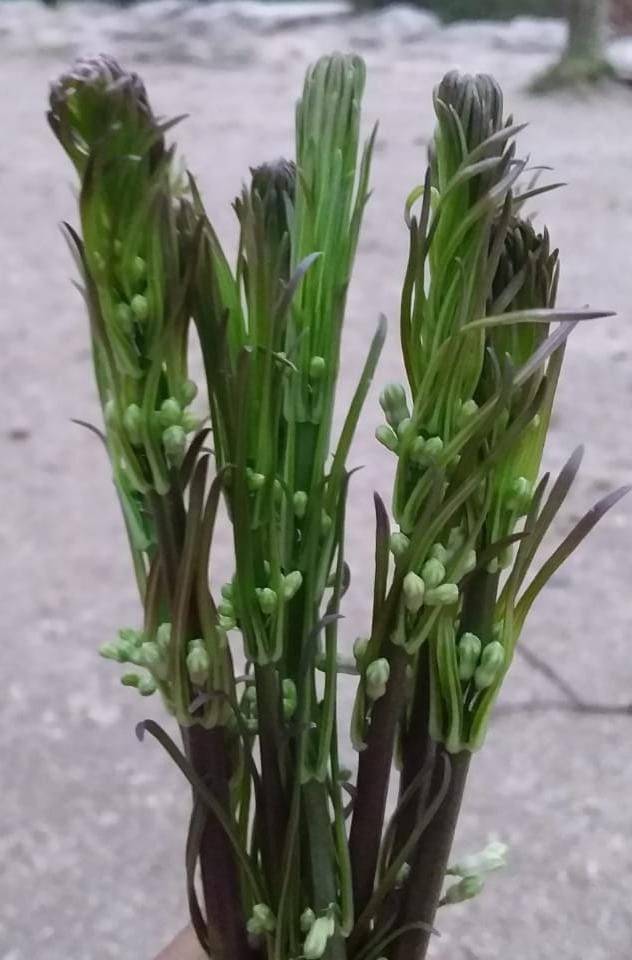 Leaves are sessile, in whorls of 4-8, linear or linear-lanceolate,8-20cm long, tip acute to acuminate, lower surface glaucous.
Flowers are greenish- white,8-12mm long, in axillary whorls; peduncle 2-3 flowered. Perianth 6-parted; segments spreading.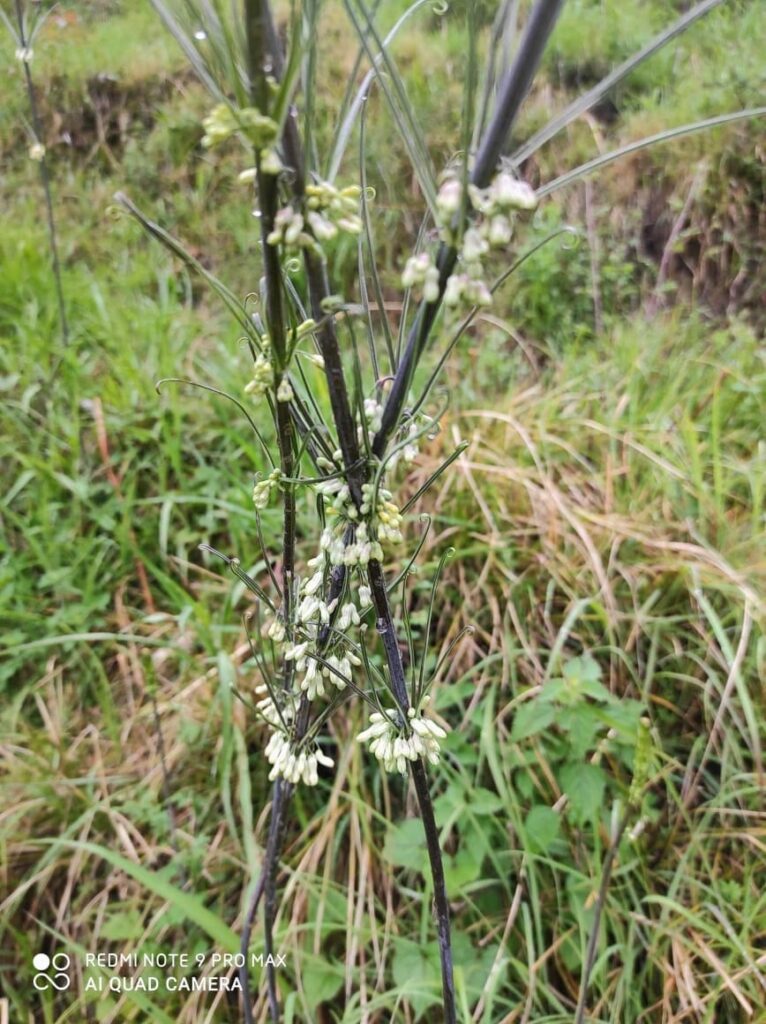 Fruit berry. Berries globose, 6-8mm across, bright red, becoming dark purple when ripe.
Edible leaves and roots can be collected round the year but for ensuring sustainable development, roots are best to harvest in winters after flowering and fruiting is over that usually occur from summers to autumn season of the year.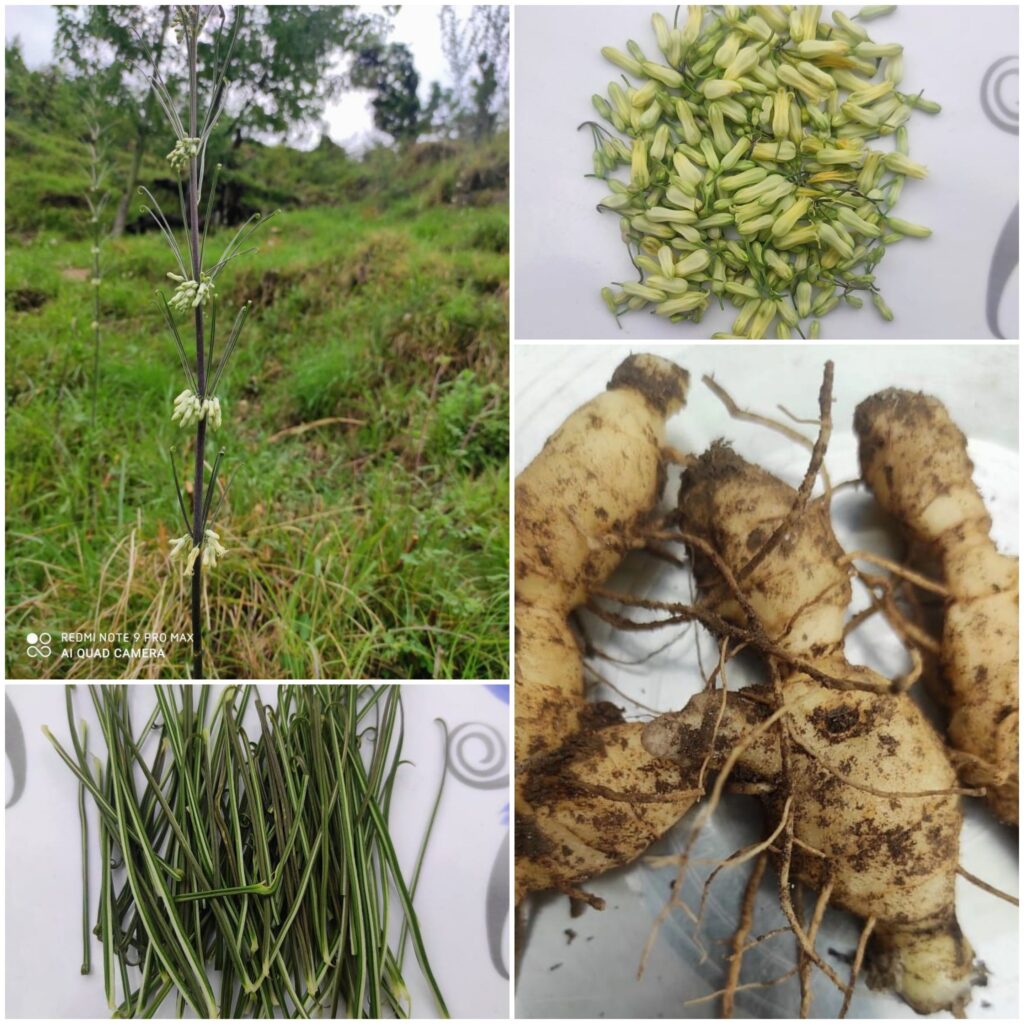 Edible uses:
Young leaves and tender shoot are eaten cooked in addition to other greens or potatoes . These can be excellent addition as a green to local traditional dishes like parantha, kachru, pakoras,sambar etc.
Roots are eaten roasted in some parts of Western Himalayas. Dried and powdered roots are used as thickening agent in soup and as a tonicwith milk. Salam mishri is mainly eaten to harness rich medicinal value of the plant.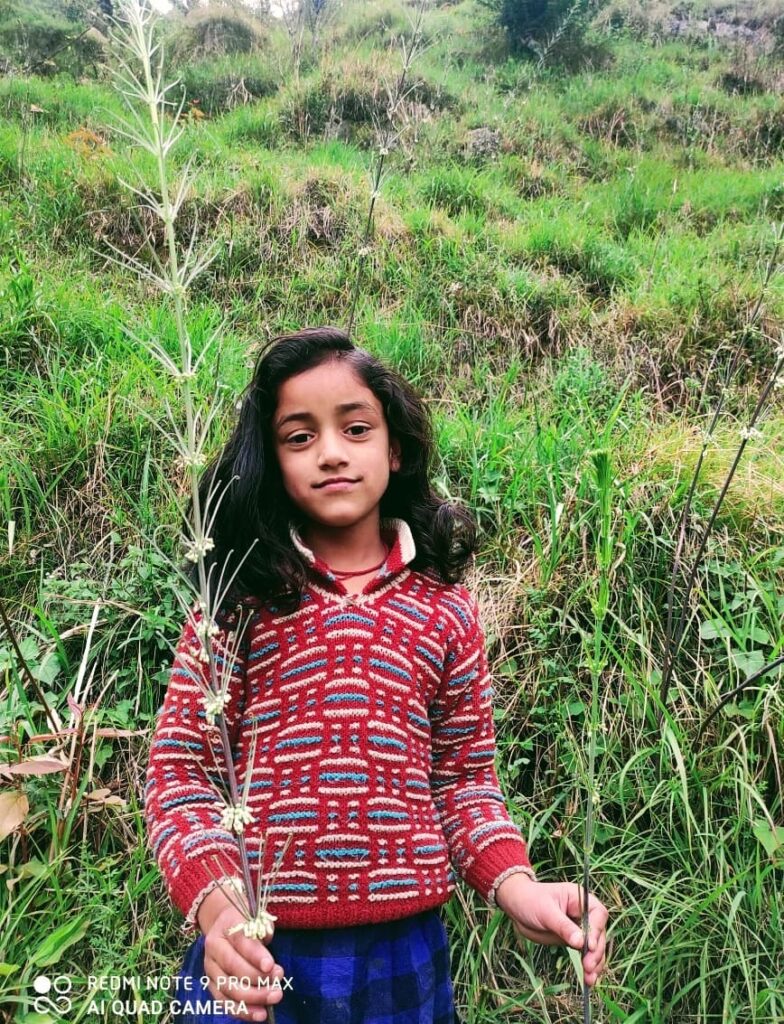 Saag:
Ingredients:
Young leaves and shoot tips of salam mishri and other wild potherbs, 1 kg; mustard oil, 2 table spoons; coriander powder 1 table spoon; fenugreek powder, ½ table spoon; cumin seed ¼ table spoon; turmeric powder, 1/4 table spoon; red chilies, 2-3; chopped onions 2-4; garlic, 4-5 cloves; ginger paste ½ table spoon and salt according to taste.
Method:
Boil chopped plant parts till they are soft. Now mesh manually or in a mixer. Then sauté with hot mustard oil and the spices listed before in sequence. This sauted saag is then ready and can be served as such or can be mixed with 2 or 3 chopped onion and cooked for another 5 to 10 minutes before serving.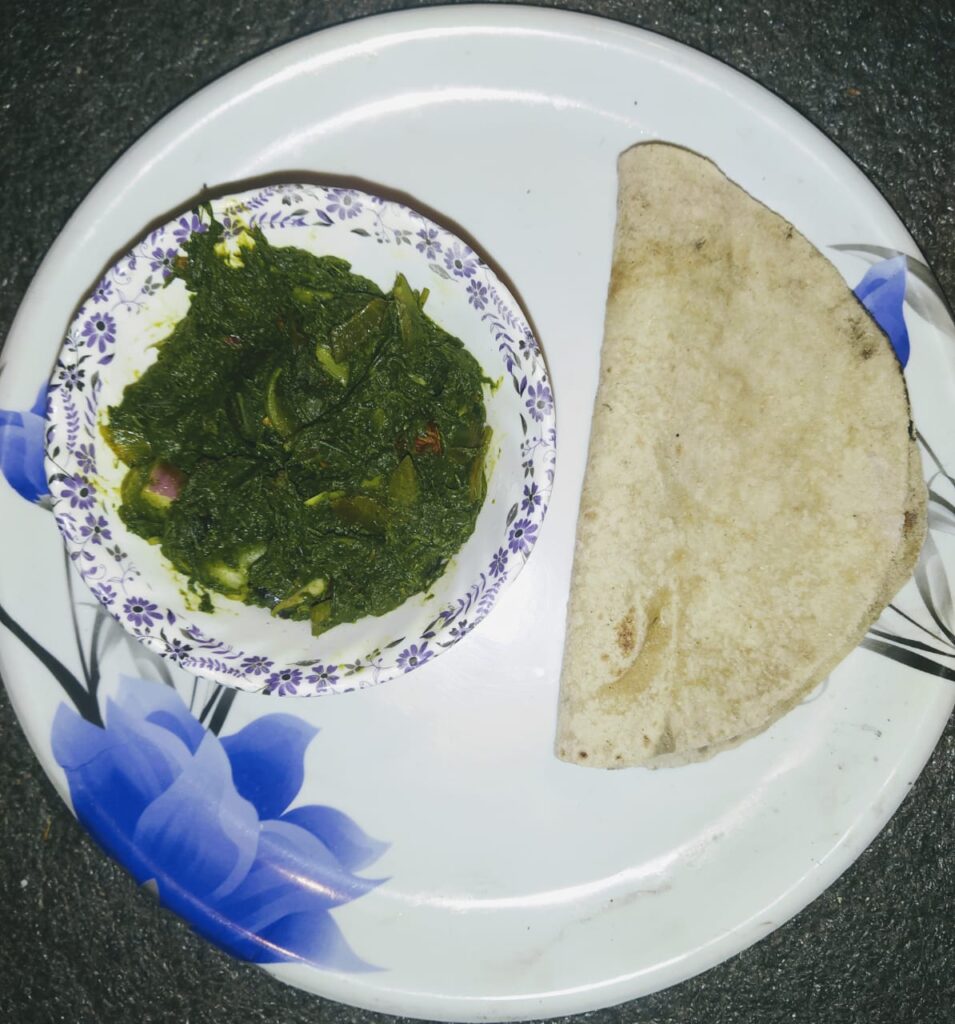 Kachru from leaves:
Ingredient:
For preparing a kachru, ingredients required are fresh tender leaves of salam mishri , 1/2kg; powdered dry or grated fresh roots of salam mishri, 50g; 250g besan (black gram powder) or corn flour. 1 cup amount fresh coriander leaves,1/2 table spoon ajwain, 3-5 green chillies, ½ table spoon turmeric powder, 2-3 chopped onions and salt according to taste.
Method:
Make a paste of green leaves, besan or corn flour and spices. Heat some oil on a flat heating pan. Put this paste over a pan and cook for 15 to 20 minutes then kachru will be ready to serve. Serve with chutney or tomato-catchup.
Soup:
Ingredients:
Locally available vegetable (chopped) of summers, tender leaves and stem of salam mishri,1/2 kg; mint leaves,10-15; dried powdered root of salam mishri , 3-5 table spoon; black pepper powder,1/4 tea spoon, salt acc.to taste.
Method:
Boil leaves and stem of salam mishri with other vegetables of winters in one litre water till they are soft, mesh these manually and sieve the extract in a container. Add to it mint leaves, salam mishri root powder, black pepper and salt, then boil in low flame for 5-10 minutes. Now soup is ready to serve
Nutrient Value:
1oog of salam mishri contains: Moisture,84.53 ±4.69; Proteins, 20 ±1.61g; Fat, 0.46 ±0.06 g; Fibre, 12.33 ±0.57g: Carbohydrates, 17.07 ±0.0g; Ash; 7.45 ±0.79; Energy,108.23 ±9.73Kcal/100g.Mineral content is P, 100±0 13mg; K, 33 ±0.39mg; Na, 37.82 ±2.19mg; Ca, 1338.3 ±3.83mg Mg,90.1 ±0.80mg; Fe, 23.64 ±0.88mg; Cu, 0.21 ±0.01mg;Mn, 28.64 ±0.3 mg 2.
Seek professional advice before treating this plant medicinally.
Medicinal Uses:
The root stock is sweet, cooling, emollient, diuretic, aphrodisiac, galactagogue, appetizing and tonic. It is useful in vitiated conditions of Pitta and vata, burning sensation, fever, strangury, seminal weakness, anorexia and general debility3.
Salam mishri is one of a group of eight plants, known collectively as 'Astavarga' in India, whose roots are seen in Ayurveda as general tonics that can strengthen the vital force in the body, improve cell regeneration capacity and boost the immune system. They can each be used on their own, and they are also used in the preparation of different types of rejuvenating tonics in traditional Ayurvedic medicine. One of the most important of these is 'Chyavanprash', a polyherbal formulation comprising more than 50 different plant ingredients, which is widely used in India as a general tonic, energy booster, immune system strengthener and aphrodisiac 1,4.have been found potent for improving liver conditions, curing diverse health troubles viz., headache and eye disease, gastric troubles, throat pain, high blood pressure and epilepsy5.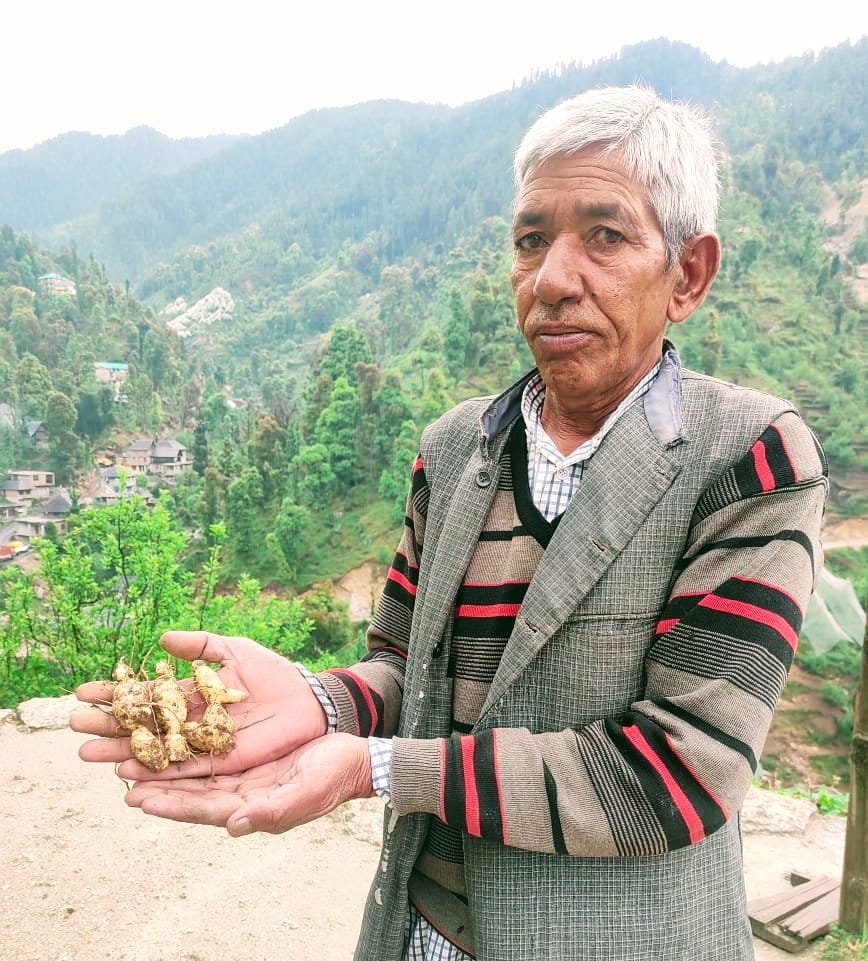 Chemical constituents:
β-sitosterol, santonin, 2-hydroxybenzoicacid, diosgenin and quinine bestows it with different pharmaceutical properties viz., analgesic, antipyretic, antimalarial, diuretic, sex stimulant and energizer etc 5,6,7,8.
Resource of Income:
Dried root of this plant are excellent source of income for local for people and sold at the rate of 500 to 600 Rs/kg at local market and 17,000 to 19,000/kg at national or international market..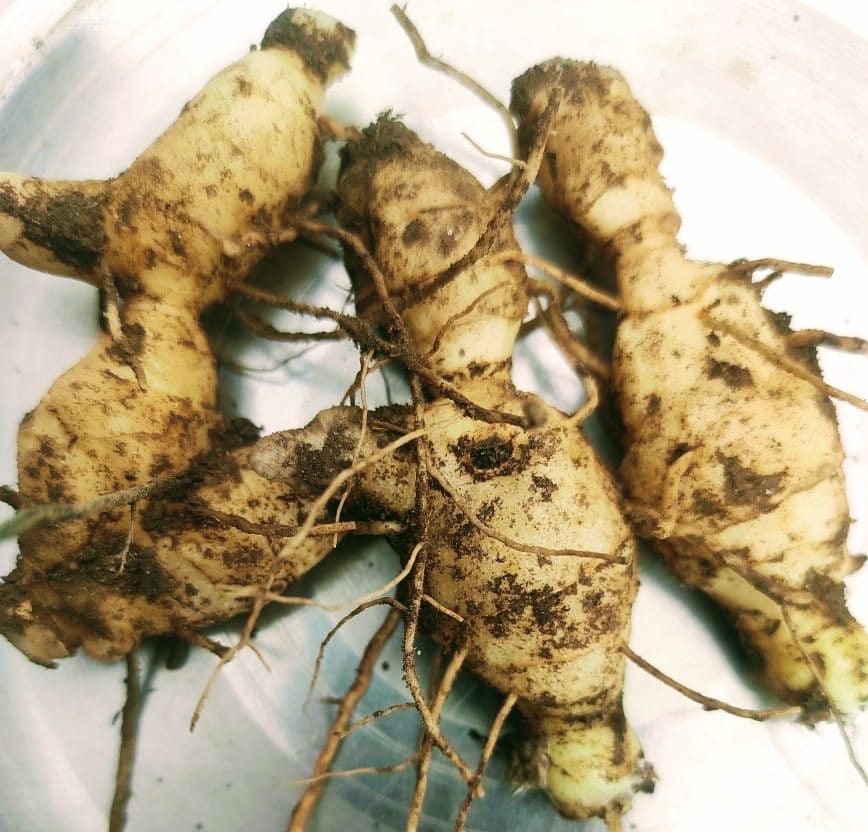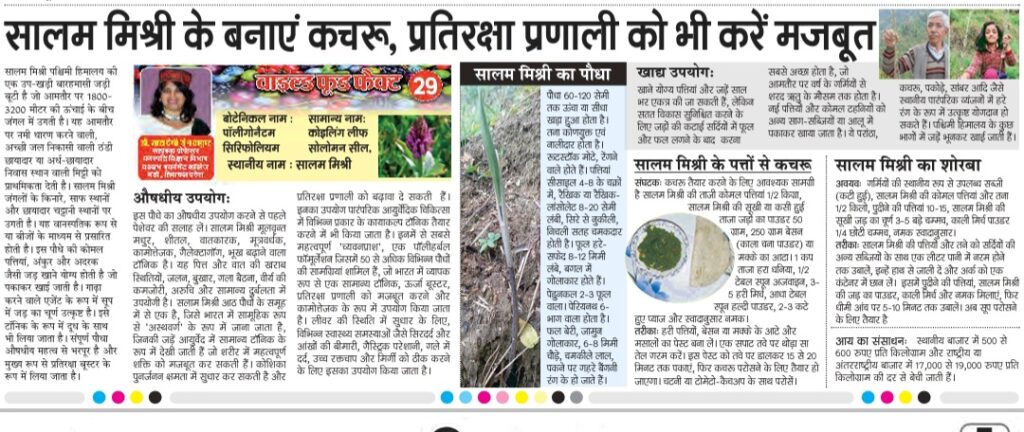 Reference:
Singh PB. (2018). Flora of Mandi district. Himachal Pradesh: North West Himalaya.
Khan, H.,Saeed, M., Muhammad, N., Khan, F., Ibrar, M., Hassan, S. and Shah, W. A., (2012): "Comprehensive nutrients analysis of rhizomes of Polygonatum verticillatum", Pak. J. Pharm. Sci., 25 (4), pp. 871-874.
Purohit SS, Sharma AK, Prajapati ND, Kumar T. (2009); A handbook of medicinal plants: a complete source book. 2:352-3.
Sandeep Rawat, Harish Andola, Lalit Giri, Praveen Dhyani, Ar (2014); Assessment of Nutritional and Antioxidant Potential of Selected Vitality Strengthening Himalayan Medicinal Plants. International Journal of Food Properties, ISBN;1094-2912.17:703-712.
Motohashi, N., Zhang, G. W., & Shirataki, Y. (2003). Functional bioactivity of Polygonatum species. Oriental Pharmacy and Experimental Medicine, 3(4), 163-179.
Khan, H., Saeed, M., Khan, M. A., Dar, A., & Khan, I. (2010). The antinociceptive activity of Polygonatum verticillatum rhizomes in pain models. Journal of ethnopharmacology, 127(2), 521-527.
Tariq, A., Mussarat, S., & Adnan, M. (2015). Review on ethnomedicinal, phytochemical and pharmacological evidence of Himalayan anticancer plants. Journal of ethnopharmacology, 164, 96-119..
Virk, J. K., Kumar, S., Singh, R., Tripathi, A. C., Saraf, S. K., Gupta, V., & Bansal, P. (2016). Isolation and characterization of quinine from Polygonatum verticillatum: A new marker approach to identify substitution and adulteration. Journal of advanced pharmaceutical technology & research, 7(4), 153.