Family: Anacardiaceae
Synonyms: Mangifera pinnata, Poupartia pinnata, Spondias acuminata; Spondias amara; Spondias mangifera;Tetrastigma megalocarpum.
Common Name: AmbraLocal Name: Ambuara (अबुआडा), Ambade.Ambara
Ambuara is a Medium sized, mild deciduous tree that can grow up to 25 to 40 metres tall. Ithas been part of the human diet since time immemorial. Its fruits are widely consumed both raw and cooked by locals throughout the middle altitudinal zone of Western Himalaya. Ambuara is a plant ofhot or warm places. It mostly prefers a well-drained soil and succeeds well in full sun as well as in partial shade. Its trees occasionally found growing in open spaces, hill slopes, roadsides and in scrub jungles, up to an altitude of 1000m in Western Himalayas. Ambuara can be cultivated by both vegetative and sexual means either by cuttings or by seeds.
Every part of Ambuara is considered medicinal and rated high in traditional medicine. To harness the rich medicinal value of this plant, edible plant parts (fruits, leaves and flowers ) are eaten both raw or cooked. Powdered leaves and fruit of Ambuara are used as acidulant in various sour traditional dishes of Western Himalayas. Its flowers are either taken raw as a garnishing agent in salads or cooked into kachru with basen/ maize flour and spices. It is a famous traditional dish of Western Himalayas cooked like chilla and taken as a snack with chutney/tea/ tomato ketchup. Ripe Ambuara fruits are widely eaten raw and pickled to preserve for off season. Ambuara pickle is most common preparation from young fruits, however sometimes they are cooked into vegetables.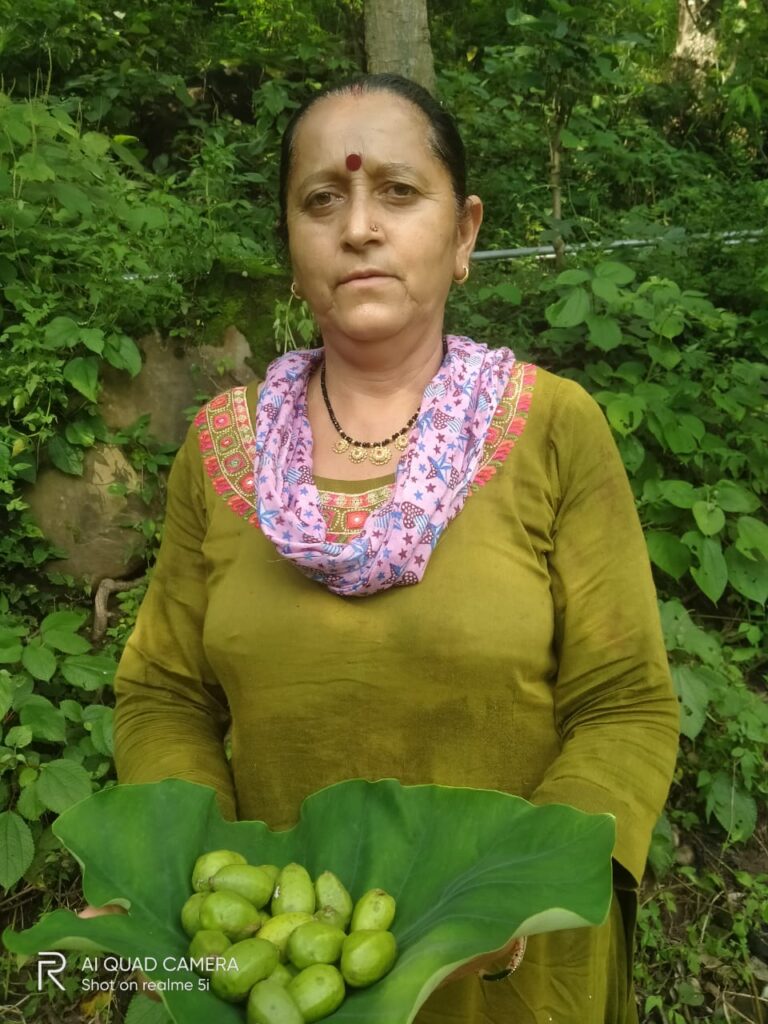 Ambuara is a source of food, fodder, fuel, medicine and material for the local people. It is usually harvested from the wild habitat and sometimes cultivated near to habitation for its edible fruits, leaves and flowers. From the last few years there is a significant decline in use and cultivation of medicinal wild food plants like Ambuara. So, it is need of hour to domesticate and use plants like Ambuara in our day to day life which areidentified among high priority bioresources due to their outstanding economic and ecological value.
Ambuara Plant:
Description: Medium sized, deciduous trees.
Bark smooth, white grey.
Leaves imparipinnate;leaflets 9-11, elliptic, oblong, acuminate, entire.
Flowers small, greenish-white,polygamous, inpanicles, appearing before leaves.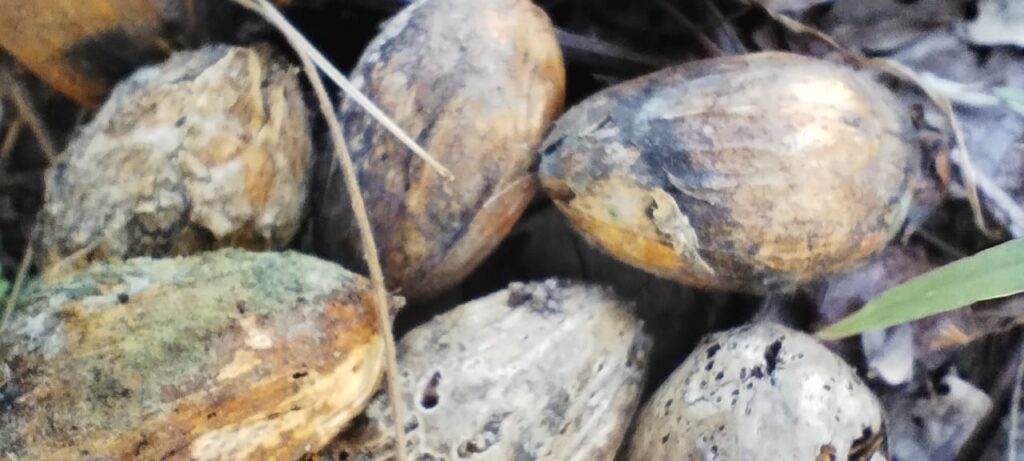 Fruits: Drupes fleshy, ovoid or oblong, yellow when ripe; mesocarp
fibrous.
Stone with 2-5 seeds, usually only 1 viable.
Ambuara is in flowering and fruiting from March to December. Fruits can be harvested from pre-summers to the beginning of winters. As edible parts are reproductive fruits and flowers, they need to be harvested sustainably either by habitat rotation or by keeping some reproductive parts on the parent plant.
Edible Uses:
Ambuara leaves being acidulant are dried and powdered to used for flavouring various native sour dishes of western Himalayas. They make an excellent addition to rayata, chutneys and sauces. Young leaves and flowers are used as garnishing material in salads and various other local dishes. Most commonly they are made into a local dish kachru or stuffed into paranthas. Fruit eaten both raw and cooked as vegetables. Sour partial ripe fruits make an excellent addition to fruit chaat. Fruits can also be made into chutneys, pickles and jams etc. Most common preparation from fruits is pickles.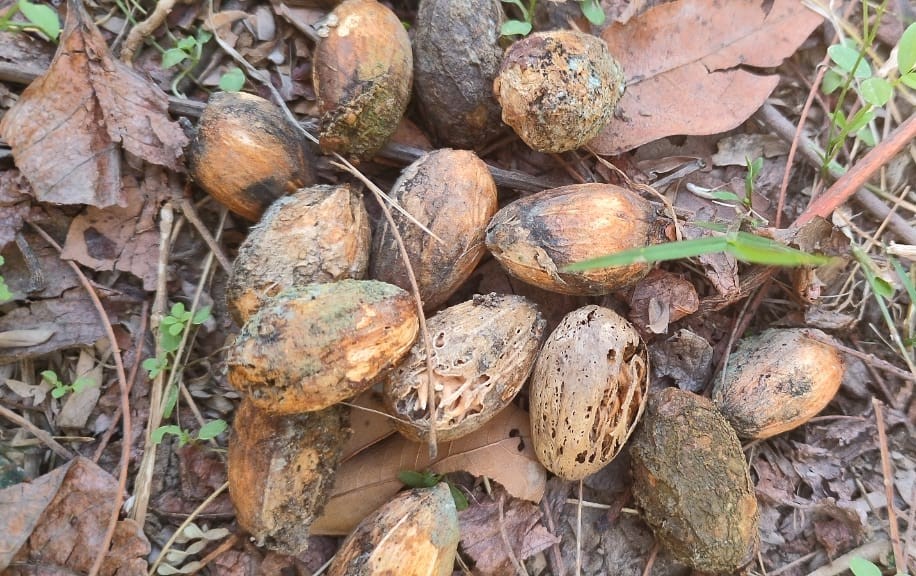 Preparing vegetable:
Ingredients required:
Chopped Ambuara fruits, 1 kg; mustard oil, 2 tablespoons; coriander powder, ½ table spoon; fenugreek powder,1/4 tablespoon; cumin seed, 1 tablespoon turmeric powder, 1 tablespoon; red chillies, 2-4, chopped onion, 1; chopped garlic cloves, 4-5; tomato puree half cup, salt according to taste.
Method:
Fruits are sauteed in hot oil along with whole spices like coriander, cumin seeds, chillies, turmeric, onion, garlic and tomato puree etc in sequence. Then cook for 20 to 30 minutes till it becomes soft. Now it is ready to serve.
Ambuara pickle:
Ingredients:
Chopped young fruits, 1 kg; mustard oil, 7-9 tablespoons; fenugreek powder, 2 tablespoons; cumin seed, 2 tablespoons; turmeric powder, 1 tablespoon. red chillies, 8-12 and salt, according to taste. .
Method:
For preparing pickles, wash and cut young fruits into small rectangular pieces. Now In hot mustard oil saute with roasted seed powder of fenugreek, cumin. and red chillies, then add to this turmeric powder and salt, according to taste. Cook for 5 to 8 minutes. Keep this mixture in a ceramic jar. After 15-20 days pickles will be ready to eat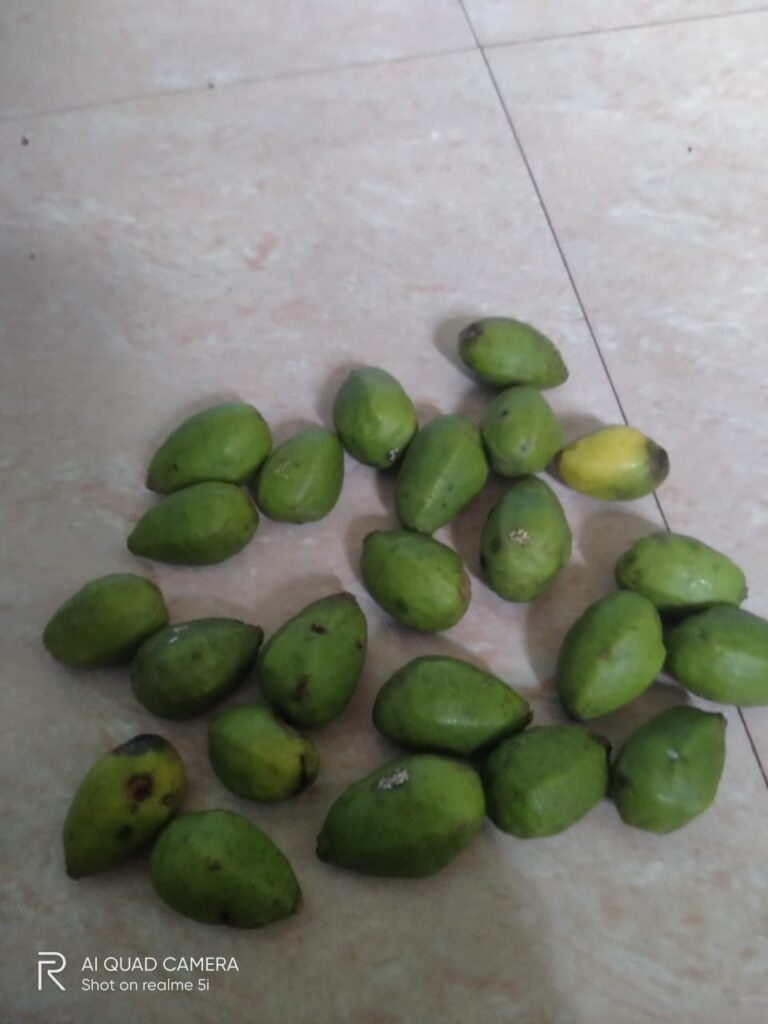 Ambuara Chaat:
Ingredients:
Ambuara fruits, 100g; other fruits according to preference, like papaya, banana, persimmon etc, 250g; pepper, chaat masala, ¼ tsp ½ tsp ; salt, ¼ tsp; cumin powder, ¼ tsp and pudina leaves,5.
Method:
Chop all the fruits and take in a large mixing bowl. Add ¼ tsp pepper, ½ tsp chaat masala, ¼ tsp salt, ¼ tsp cumin powder and 5 leaves pudina. Mix all well without mashing fruits and serve.
Kachru or sosaru:
Kachru is a traditional dish cooked as chilla with spices and basen or corn flour. It is served as a evening snack with tea/chutney/tomato ketch-up.
Ingredients:
For preparing a kachru, ingredients required are 1kg fresh flowers/ leaves (Bauhinia variegata / Woodfordia fruticosa / Rhododendron arboreum / Reinwardtia indica Berberis spp.) or leaves (Morus alba, Centella asiatica, Mentha piperita, Murraya koenigii etc.), 1/2 kg besan (black gram powder) or corn flour. 1 cup amount of fresh coriander leaves,1/2 tablespoon ajwain, 3-5 green chillies, ½ table spoon turmeric powder, 2-3 chopped onions and salt according to taste.
Method:
Make a paste of leaves/ flowers, besan or corn flour and spices. Heat some oil on a flat heating pan. Put this paste over a pan and spread it like chilla. Cook both sides of it for 15 to 20 minutes then kachru will be ready to serve.
Nutritional Value:
The edible portion of fruit contains: moisture,
90.3; protein, 0.7; fat, 3.0; fibre, 1.0; carbohydrates, 4.5; and mineral matter , 0.5%; calcium, 36.0; phosphorous, 11.0; iron, 3.9; thiamine, 0.02; riboflavin, 0.02; nicotinic acid, 0.3 and Vitamin C, 21.0 mg./100g; Vitamin A value, 450 I.U./100g 12. A sample fruit contained sucrose (2.9%), glucose (1.7%), and fructose (1.8%). Iodine (0.45-0.61 mg./kg., dry wt.) 1
Seek professional advice before treating this plant medicinally.
Medicinal Uses
Locally Ambuara is rated high among medicinal wild edible plants of Western Himalayas and is widely consumed both raw and pickled to prevent a wide spectrum of diseases. Root powder specially taken with milk to treat gynecological disorders. Fruit being astringent, sour, thermo genic diabetes, appetizer, analgesic and aphrodisiac considered good to enrich the blood for treatment of rheumatism, sore throat, bronchitis, dysentery, diarrhoea, skin disease etc 2,3. Its root is considered useful in regulating menstruation 4. Its bark is also useful in treating dysentery, ulcer, diarrhoea and also prevents vomiting. The leaves are astringent, aromatic and acidic. As a food supplement it is helpful to treat dysentery, gonorrhoea, diarrhoea, dysentery,obesity, hemorrhagic, antiemetic, dyspepsia etc 3,,5,6
Other Uses:
Ambuara wood is used as fuel and branches lopped as fodder. Wood also used to make low quality household items.
Source of income:
Ambuara fruits are sold at a high rate both raw or pickled. Raw fruits are sold at the rate of Rs 100 to 150 and pickles at the rate of 300 to 500 Rs/kg. Pickle is a source of income for various members of SHGs round the year.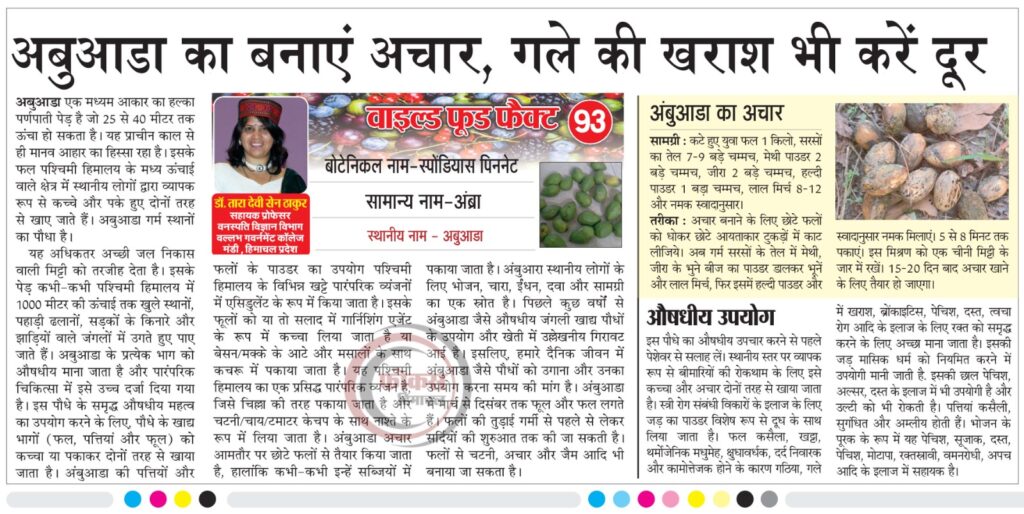 References:
1. Anonymous, The Wealth of India- A Dictionary of Indian Raw Materials, Publications and Information Directorate, CSIR, Vol. X: Sp-W, 1992: 21.
2. Muhammad A, Rahman MS, Kabir ANMH and Hussain MK: Antibacterial and cytotoxic activities of Spondias pinnta (Linn. f.) Kurz fruit extract. Indian Journal of Natural Products and Resources 2011; 2(2): 265-267.
3. Bora NS, Kakoti BB, Gogoi B and Goswami AK: Ethno-medicinal claims, phytochemistry and pharmacology of Spondias pinnata: A Review. Int J Pharm Sci Res 2014; 5(4): 1138-45.doi: 10.13040/IJPSR.0975-8232.5(4).1138-45.
4 Acharya S, Dash GK, Mondal S and Dash SK: Studies on Hypoglycaemic Activity of the Different Extracts of Spondias mangifera willd. root. Journal of Pharmaceutical Science and Technology 2010; 2(3): 184-190.
5. BK, Patro VJ, Mishra US and Panigrahi BK: Comparative study of anthelmintic activity between acetone and ethanolic stem bark extracts of Spondias pinnta (Linn.F) Kurz. International Journal of Research in Ayurveda and Pharmacy 2011; 2(4): 1383-1385.
6. Baruah A: Less known local fruits of NE India: – A digest with emphasis to ethno-medico-botany and chemical constituents. Ethnomedicinal Plants of India, AavishkarPublishers and Distributors, Jaipur, 2007: 127.