Family: Melanthiaceae
Synonyms: Daiswa birmanica, Daiswa bockiana,Daiswa chinensis,Daiswa lancifolia,Daiswa polyphylla,Daiswa yunnanensis,Paris aprica,Paris arisanensis,Paris atrata,Paris biondii,Paris bockiana,Paris brachysepala,Paris cavaleriei,Paris chinensis,Paris christii,Paris daiswus,Paris debeauxii, Paris formosana,Paris franchetiana, Paris gigas,Paris hamifer,Paris kwantungensis, Paris lancifolia, Paris marchandii,Paris mercieri, Paris pinfaensis, Paris taitungensis,Paris yunnanensis.Common Name: Herb Paris
Local Name: Nag Chattri (नाग छत्री)
Acc to local people of Western Himalaya (Mandi, Himachal Pradesh. India) two plants of family Melanthiaceae the Paris polyphylla and  Trillium  govanianum are known by same  local name the 'Nag Chattri'. It might be due to some of their similar phenotypic characters and their similar folk medicinal uses to cure stomach disorders. Both of these plants have unbranched stems, creeping rootstock and presence of solitary flower. Like Trillium govanianum, Paris polyphylla is also a much sought plant, making it an endangered species of Western Himalayas.  Roots of both of these plants are over-exploited for both personal and commercial purposes. However, Trillium  govanianum is more common and well known as compared to Paris polyphylla. Plant being discussed here with the local name Nag Chattri is Paris polyphylla.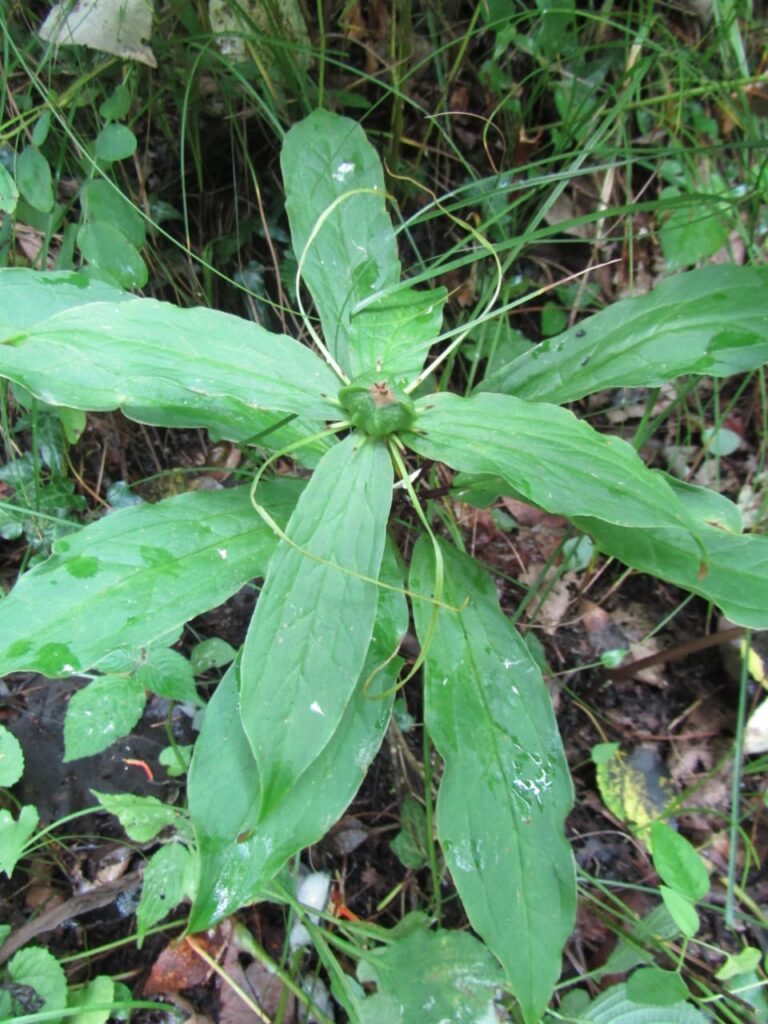 Nag Chattri is annual to short perennial plant of Western Himalayas, occasionally found growing in damp, shady moist places in forests of montane zone upto an altitude of 2000-3000m. It grows from a thick, creeping rhizomatous rootstock. Its solitary flower is long-lived, and can last for up to 3 months. The genus name Paris of Nag Chattri is derived from word 'pars' which refers to the symmetry of this plant. And the species name polyphylla is given on the basis of many leaves of this plant. It is made of two words poly meaning many and phyla meaning leaves, hence the species name is polyphylla.  Nag Chattri can grow easily in moist humus-rich soil. It succeeds best in shady humus rich habitat, so we can easily found it growing in woodland. Nag Chattri prefers a light sandy loam and can grow well in both full to partial shady habitat. It can be propagated both by sexual and vegetative means, either by seeds or root cut section. However, seeds are very slow to germinate. They show best results if sown as soon as they ripe in late summer and shown in light shade.
Locally, the leaves of Nag Chattri are edible and eaten cooked to harness the rich medicinal value of this plant. There are reports of edibility of its seeds too 1,2,3. They are considered to have a sweet flavour, but mawkish properties. However, seeds are not eaten by inhabitants of Himachal Pradesh. They can be taken in small quantities as a food supplement in dishes like puddings, curries (locally known as Jhol) etc. Leaves are usually cooked as leafy vegetable saag exclusively or in addition to other edible greens. Leaves can also be cooked into a traditional chilla like dish called kachru . They can be an excellent addition to pakoras, omelette, parantha etc.
Nag Chattri is harvested from wild habitat as a source of food and medicine for personal and commercial uses. There is dire need of sustainable harvesting as well as cultivation of this plant to ensure sustainability.
Nag Chattri Plant:
Annual, erect, glabrous, unbranched herbs, with thick, creeping rootstock.
Stem 30-70 cm high.
Leaves 4-9, stalked, whorled in the upper half of the stem, elliptic, 10-15 cm long, acuminate.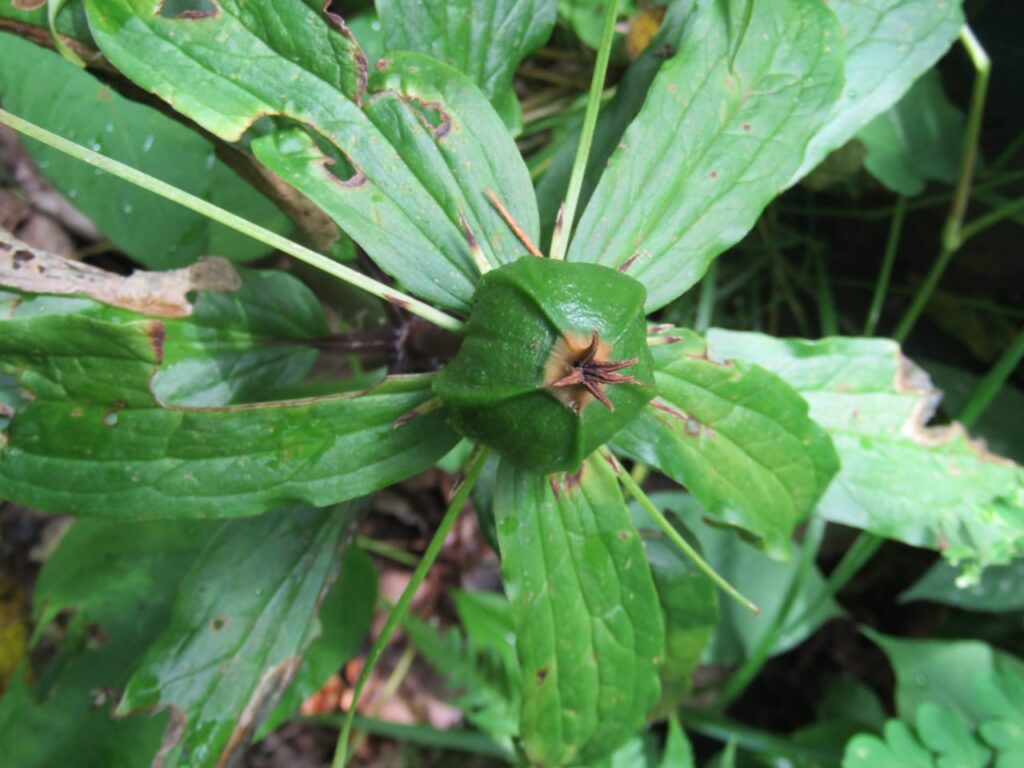 Flower solitary, terminal, shortly stalked, greenish. Perianth- segments 8-12, persistent, 2-seriate; the outer ones green, leaf-like, oblong-lanceolate, 2-5-10cm long; inner ones filiform, yellow or purple, as long or shorter than the outer. Stamens 10-12.
Capsules globular, 2-2.5cm across, loculicidal, yellow-green when ripe.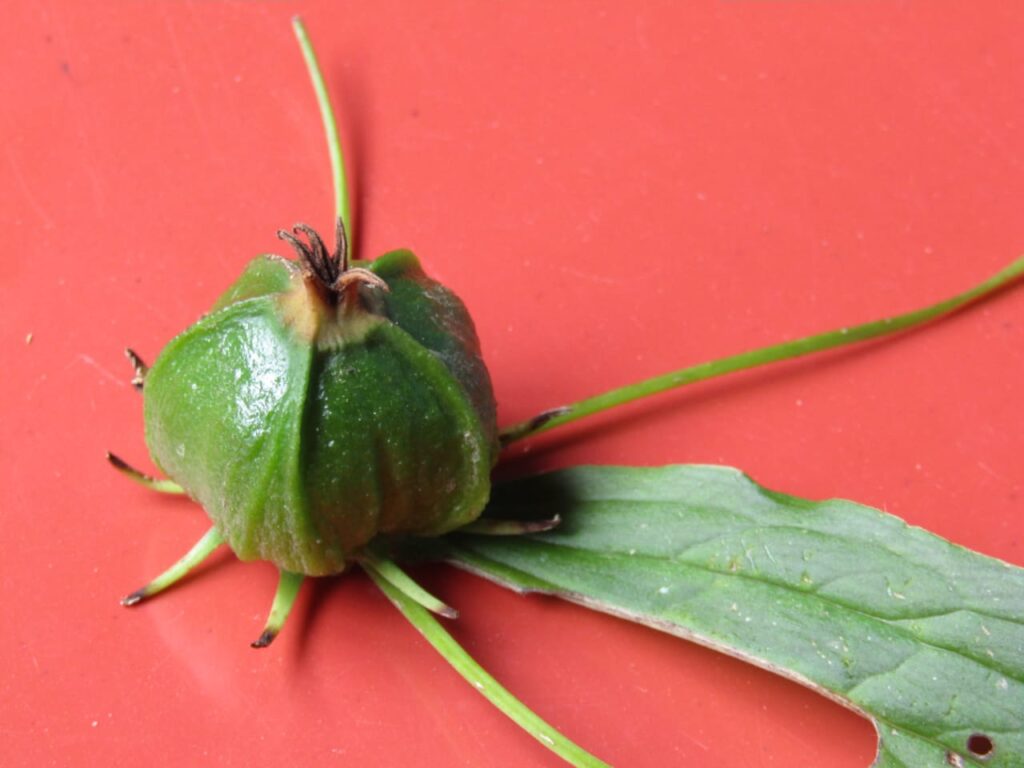 Seeds many, ovoid, scarlet.
Nag Chatri  is in flowering and fruiting from  May to September. Edible seeds can be collected during the autumn season of the year. Edible leaves can be collected round the year. Roots of Nag Chattri are usually harvested for the pharma industry, Both  medicinal roots and  edible seeds need to be harvested sustainably either by habitat rotation or keeping some parts on the parent plant.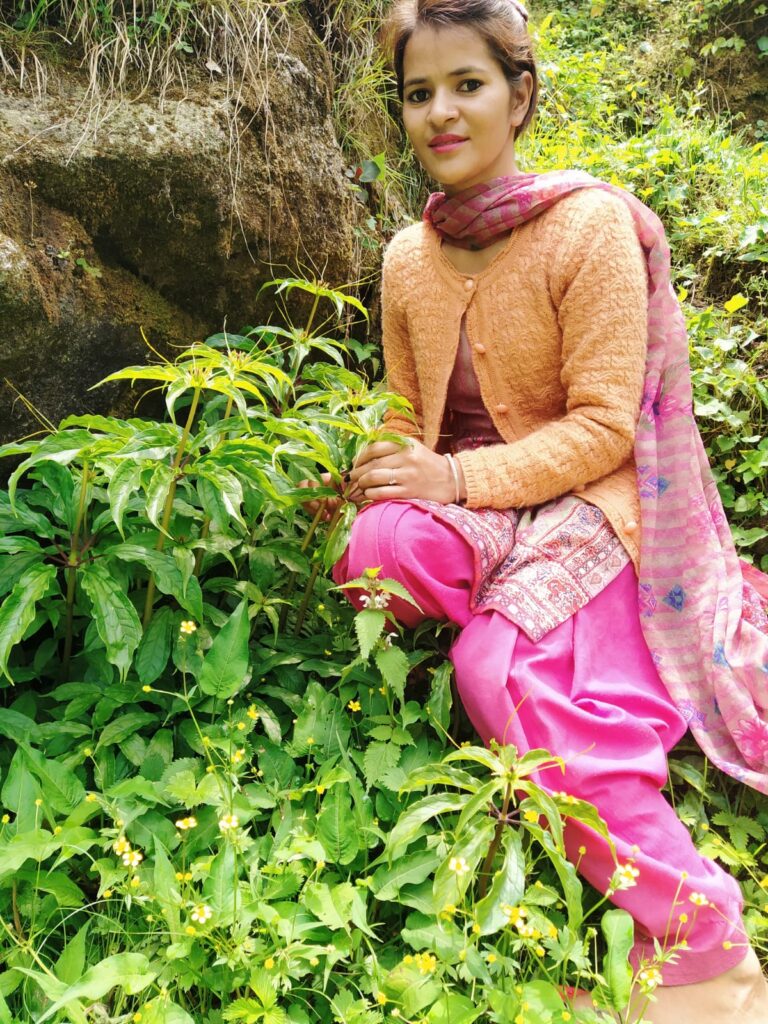 Edible Uses.
Both leaves and seeds of Nag Chattri are edible and eaten as a medicinal food to harness its rich medicinal value. Seeds can be an addition to puddings and curries. Leaves can be cooked with other edible leaves as a leafy vegetable saag. These can also be an addition like a green in various day to day food items as follow:
Saag:
Ingredients:
Above ground parts of Nag Chattri, and other wild potherbs, 1 kg; mustard oil, 2 tablespoons; coriander powder 1 tablespoon; fenugreek powder, ½ table spoon; cumin seed ¼ tablespoon; turmeric powder, 1/4 tablespoon; red chilies, 2-3; chopped onions 2-4; garlic, 4-5 cloves; ginger paste ½ table spoon and salt according to taste.
Method:
Boil chopped plant parts and they become soft. Then mesh manually or in a mixer. Then sauté with hot mustard oil and the spices listed before in sequence. This sauted saag is then ready and can be served as such or can be mixed with 2 or 3 chopped onions and cooked for another 5 to 10 minutes before serving.
Omelette:
Ingredients:
Finely chopped leaves of Nag chattri, 12-15; eggs, 2; chopped medium sized onion, 1, Oil/ghee/butter. 1 table spoon; red or green chilies, 1-2, black pepper, ¼ tea spoon, black salt according to taste.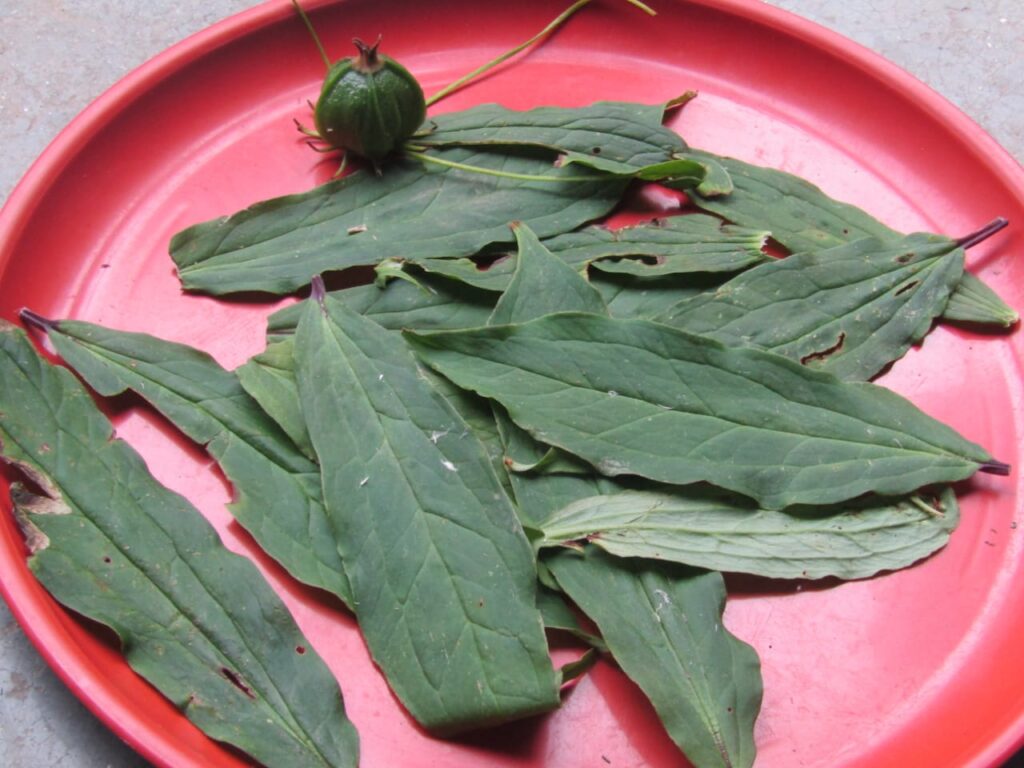 Method:
Break the eggs in a bowl and add all the ingredients listed above. Beat until frothy. Heat oil on a flat heating pan. Pour the egg mixture over the pan and cook on medium heat till the base is set. Now turn it and cook until done completely.  Now, Nag chattri, omelette is ready to serve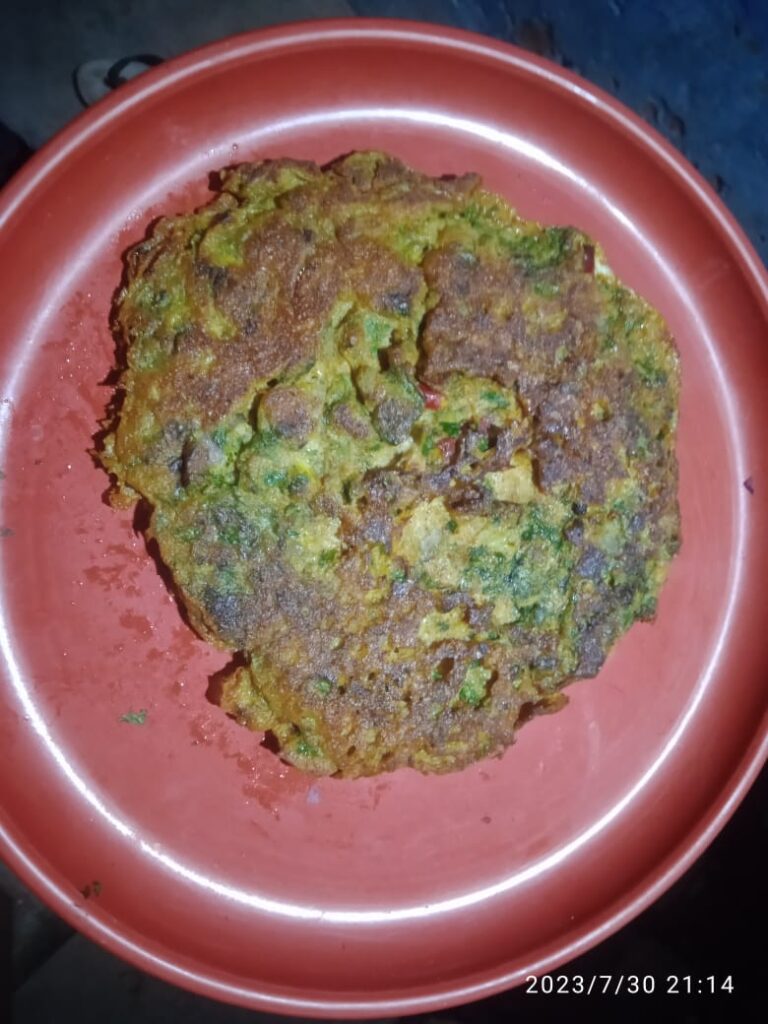 Parantha:
Parantha is a morning breakfast prepared served with curd/butter/pickle/chutney etc. It can be cooked with any greens/boiled potatoes/cheese or some wild boiled fruits like fig spp.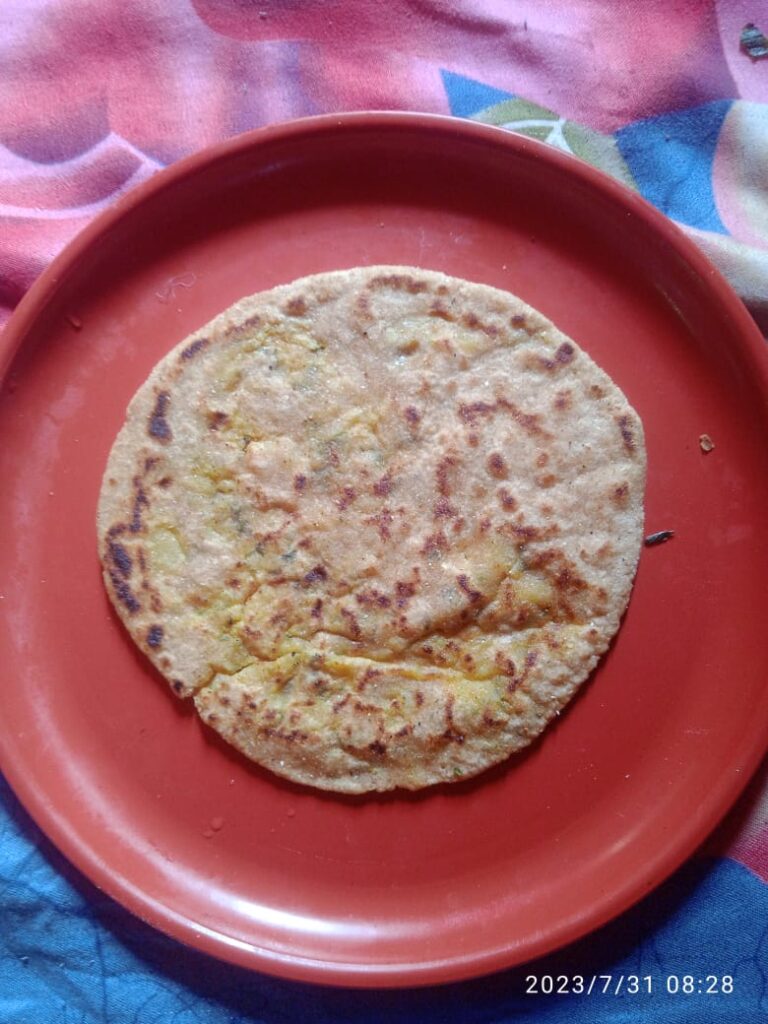 Ingredients:
Finely chopped leaves of Nag chattri, 250-300 g; boiled medium sized potato/ fig fruits; 4-5, Oil or ghee. 8-10 table spoon; wheat flour, 4 cup amount; chopped medium sized onion, 2-3, red or green chilies, 3-4, black pepper, ¼ tea spoon, black salt according to taste.
Method:
Mesh boiled potato/ fruits. Add to it chopped Nag chattri, leaves and spices listed above. Mix well to make Fine paste. Now parantha dough is prepared by mixing wheat flour and water. Knead dough till it is soft, let it rest for some time. Make small round balls of dough, stuff paste inside balls and roll to thin layered flat breads, now in hot tawa, smear some oil and place flatbread over it. Cook both sides by applying oil. Now parantha is ready to serve. Serve it hot with chutney/ tomato ketchup/ pickle / butter/ curd according to choice.
Kachru or sosaru:
Kachru is a traditional dish of Western Himalayas cooked as chilla with spices, greens and basen or corn flour. It is served as an evening snack with tea/ chutney/tomato ketch-up.
Ingredients:
For preparing a kachru, ingredients required are 200 to 300g fresh leaves of Nag chattri, 1/2 kg besan (black grampowder) or corn flour. 1 cup amount fresh coriander leaves,1/2 tablespoon ajwain, 3-5 green chillies, ½ table spoon turmeric powder, 2-3 chopped onions and salt according to taste
Method:
Make a paste of finely chopped Nag chattri, leaves, besan or corn flour and spices. Heat some oil on a flat heating pan. Put this paste over a pan and cook for 15 to 20 minutes then kachru will be ready to serve.
Seek professional advice before treating this plant medicinally.
Medicinal Uses:
Nag Chattri isan important folk medicinal plant that is frequently used in the traditional healthcare system. Locally it is considered very effective against stomach disorders, diarrhea, fever and menstrual disorders. It is reported to possess steroidal saponins, flavonoid glycosides, sterols, triterpenoid saponins that contribute to its various biological activities, including anticancer properties and treatment of abnormal uterine bleeding, dysfunctional uterine bleeding, and menorrhagia 4. The powdered roots of this plant are used as ethnopediatrics for diarrhoea in Garhwal Himalaya, Uttarakhand, India5 . It has been used to treat traumatic bleeding, inflammation, microbial infection and over the past decade, cancer 6. The whole plant is used as a febrifuge and the root possess healing properties like analgesic, antiphlogistic, antispasmodic, antitussive, depurative and narcotic. A decoction of root is used in the treatment of poisonous snake bites, boils, ulcers, etc.7.
The plant has its ethno-veterinary use for fever, stomach disorders and shoulder wounds of oxen 8.
References:
1. Nakao, S. (Ed.). (1974). Tanaka's Cyclopedia of Edible Plants of the World. Keigaku Publishing.
2. HEDRICK, U. P. E. (1972). Sturtevant's edible plants of the world.
3. Raven, R. H., Hong, D. Y., Wu, Z. Y., Raven, R. H., & Hong, D. Y. (2013). History of the Flora of China. Flora of China, 1, 1-21
4. Rawat, J. M., Pandey, S., Rawat, B., Rai, N., Preeti, P., Thakur, A., … & Bachheti, R. K. (2023). Traditional Uses, Active Ingredients, and Biological Activities of Paris polyphylla Smith: A Comprehensive Review of an Important Himalayan Medicinal Plant. Journal of Chemistry, 2023.
5. . Tiwari, J.K., Ballabha, R., Tiwari, P.: New York ScienceJournal, 3(4): 123-126 (2010).
6. Anonymous.: Newsfinder, 1-4 (2002).
7. .Xiao, X., Bai, P., Nguyen, T.M.B., Xiao, J., Yang, G.,Hu, L., Chen, X., Zhang, X., Liu, J., Wang, H.: MolCancer Ther, 8(5): 1179-1188 (2009).
8. . Pande, P.C., Tiwari, L., Pande, H.C.: Indian Journal ofTraditional Knowledge, 6(3): 444-458 (2007).