.
Family: Solanaceae
Synonyms: Solanum alatum, Solanum asperum, Solanum canescens, Solanum flavum, Solanum flavum, Solanum hildebrandtii , Solanum humile, Solanum incanumm Solanum kitaibelii, Solanum luteovirescensm Solanum luteum, Solanum miniatum, Solanum minutiflorum,Solanum morella luteum, Solanum nigrum alatum, Solanum nigrum alatum, Solanum nigrum humile, Solanum nigrum luteovirescens, Solanum nigrum luteum, Solanum nigrum luteum, Solanum nigrum miniatum, Solanum nigrum puniceum, Solanum nigrum rubrum, Solanum nigrum villosum, Solanum nigrum villosum, Solanum nigrum villosum, Solanum nigrum villosum, Solanum nilagiricum, Solanum ochroleucum, Solanum olivaceum, Solanum paludosum, Solanum patens, Solanum plebeium, Solanum pseudovillosum, Solanum puniceum, Solanum roxburghii, Solanum rubrum, Solanum transcaucasicum, Solanum villosum, Solanum villosum, Solanum vulgatum luteum, Solanum woronowii, Solanum zelenetzkii .
Common Name: Hairy nightshade, Red nightshade, Woolly nightshade
Local Name: Jangli Tamatar ( जंगली टमाटर)
Jangli Tamatar is a much-branched annual to short-lived perennial plant of Western Himalayas found growing up to an altitude of 2400 m. It bears fruits which are yellow to red in color, so it is commonly called as red-fruit nightshade. Jangli Tamatar usually found growing as a weed along the edges of agricultural fields. slopes, valleys, near roads, pathways, habitation and other shady places,
It can grow on a wide range of soils, but mostly prefers the soils that are rich in organic matter usually in land covered with ash of recently burnt vegetation or forest fire. It continues flowering even when it has started a fruit set, resulting in plants bearing mature fruits on the lower branches, young ones in the middle and flowers in the top part Jangli Tamatar shows luxuriant growth during the rainy season. It can be propagated by both seeds and stem cuttings.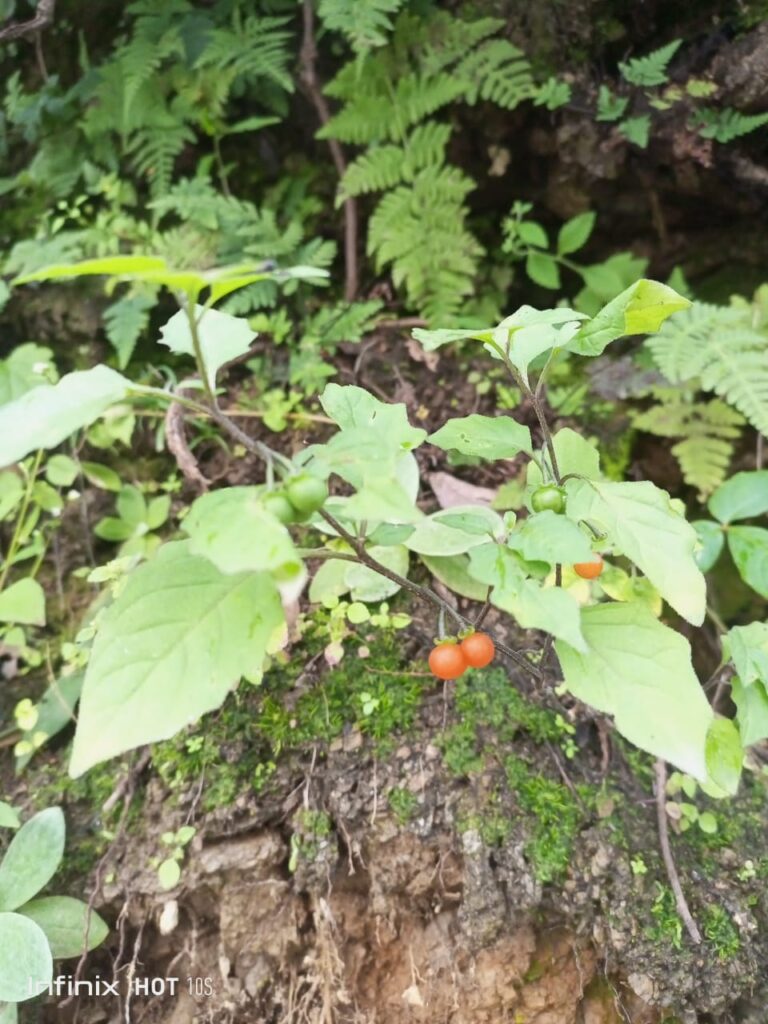 Jangli Tamatar is a traditionally important plant for the locals of Western Himalayas. It is characterized by its relatively less bitter taste of the leaves as compared to other leaves of this genus when used as vegetables and is considered as a traditional vegetable. It is highly valued for its ability to treat leucorrhoea. Leaves, tender shoots and fruits of Jangli Tamatar are edible. Leaves are eaten cooked while ripe fruits are eaten both raw and cooked, Jangli Tamatar is believed to have a high nutritional value and its leaves are frequently eaten as vegetables in most parts of the world 1,2,3. . The leaves are even sold as a food in countries like Africa. Where Jangli Tamatar is sometimes also cultivated for selling 4 .Locally this plant is used as a leafy vegetable saag and is valued as a wild edible supplement diet. It is a rich source of nutrients and phytochemicals 5,6 . So, it is helpful in overcoming the deficiency of nutritional constituents and boosting up the immunity of the body. Leaves are usually eaten fresh but they can be dried and powdered to preserve for off season. Ripe fruits of this plant are usually eaten by small children during their play. But the use of traditional food plants like Jangli Tamatar has declined significantly due to Modernization, Urbanization and Westernization. At present children are also limited to indoor games. So rarely they are exposed to nature. All this has largely lessened the immunity of our younger generation. So, the need of the hour is to revive the traditional recipes with some modern twist and include these plants in our day to day life as a food or food supplement.
Jangli Tamatar is harvested from the wild for local personal use as a food, fodder and medicine by locals of hilly areas .
Jangli Tamatar Plant:
It is an unarmed, branched annual to short-lived perennial herb; 50-60cm tall. Slightly to densely hairy.
The leaf blade is ovate, up to 8 cm long, 3–6 cm wide, entire or shallowly lobed, and petioles to 4.5 cm long.
Inflorescence with 3-8 flowers in clusters.
Berries, globular 5–9 mm. light red to orange-yellow in color.
The seeds are 1.7–2.3 mm long and pale yellow.
Jangli Tamatar is in flowering and fruiting from late summer to autumn. Its edible leaves can be best collected from spring to rainy season of the year while berries from late rainy to autumn period. Berries need to be harvested sustainably either by keeping some of them in the parent plant or by collecting from different habitats.
Edible Uses:
Jangli Tamatar ripe fruits can be taken fresh or made into jam or sauce. Leaves being bitter in taste can be taken as a leafy saag along with other better tasting edible leaves. These can be an addition to parantha, chilla, pakoras, omelette etc.
Leaves Vegetable:
Leaves, young shoots and tender inflorescence are cooked with potato. as a leafy vegetable.
Ingredients:
Chopped leave and young shoots of Jangli Tamatar and cultivated edible leaves, 1 kg; chopped medium sized potatoes,3-4 mustard oil, 3-4 tablespoons; coriander powder, 1 tablespoon; fenugreek powder, ½ table spoon; cumin seed, 1 teaspoon; turmeric powder, 1 tablespoon; red chillies, 2-3; chopped medium sized onions 2-4; garlic, 4-5 cloves and salt, according to taste.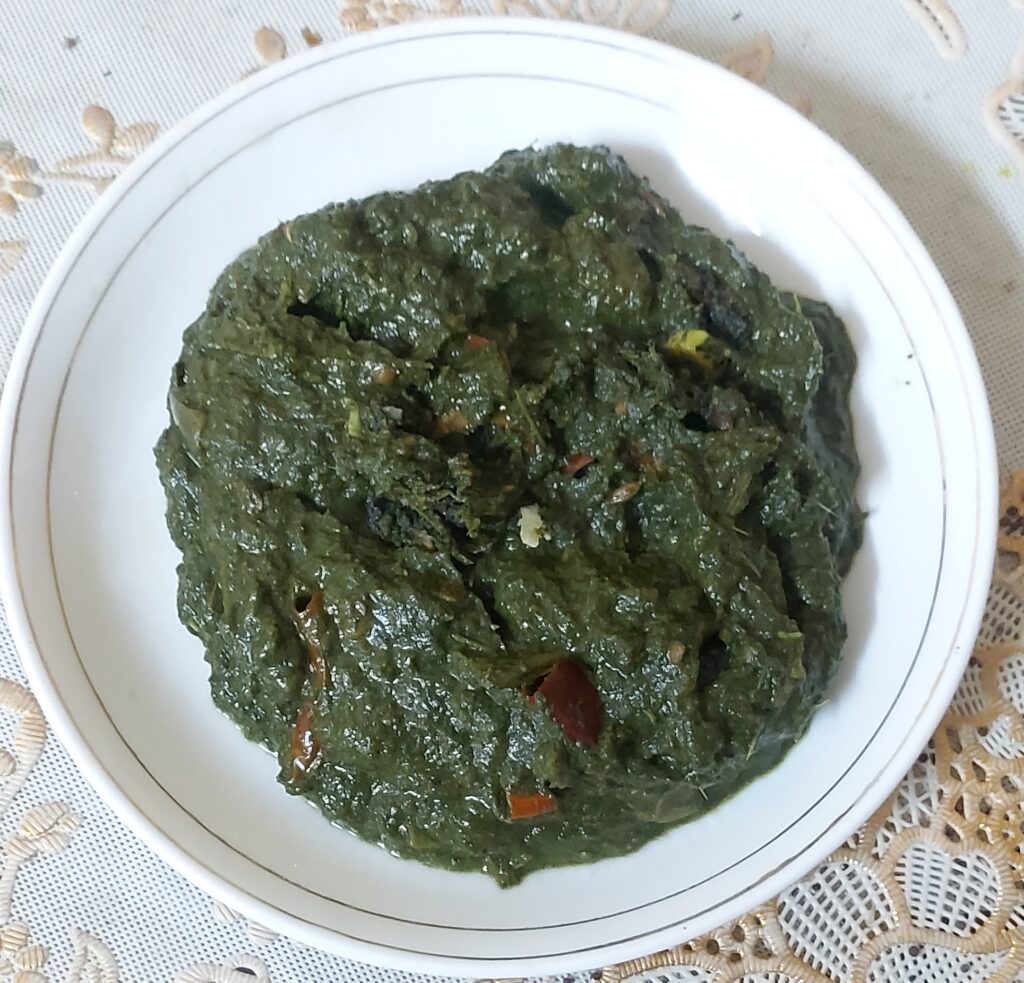 Method:
To prepare saag bove \boil leaves till they are soft, mess well and saute in hot oil with spices listed above in a sequence, Cook for 5 to 10 minutes and serve.
Jangli Tamatar Sauce:
Ingredients
Ripe Jangli Tamatar, 1/kg; well ripened tomatoes,1/2; chopped garlic,20-30g; red chillies,3-4; oil, 2 tablespoon; black pepper powder, 1-2g;Cinnamum tamala leaf powder,10g; vinegar,3-4 tablespoon; black salt and sugar acc. to taste.
Method:
Blanch the Jangli Tamatar and tomatoes in enough water. Boil for 3 minutes or till the skin of Jangli Tamatar and tomatoes starts to separate. Separate skin and let them cool down . Now transfer them to the blender or mixer. Add red chilles, chopped garlic, and Cinnamomum leaf to it. Puree the the Jangli Tamatar and tomatoes with other ingredients without adding any water. Take oil in a hot pan and transfer the puree to it. Add salt and sugar to taste. Stir and mix well.Boil the mixture well, make sure to stir occasionally, to prevent from burning. Continue to boil for 10 minutes. Add keep stirring till the tomato puree thickens. Add vinegar and cook the mixture till the water has evaporated completely and turns thick.
Now the sauce is ready to serve. Source can be stored for six month if kept in an air tight container and refrigerated.
Food Value:
The leaves of Jangli Tamatar contain high levels of vitamins especially A, B and C, mineral fibres such as iron, calcium and phosphorus, carbohydrates and proteins. They also contain phenolics and alkaloids such as quinine which is known for their medicinal attributes 6.
Phytochemicals:
Ethanolic extract of Jangli Tamatar leaves reported to contain alkaloids (1.62%), flavonoids (0.891%), saponins (0.25), steroids (0.05), phenols (13.17), tannins (0.19), carbohydrates (53.51), glycosides (0.038%) and proteins (24.90). The primary and secondary metabolites like carbohydrates, amino acids, proteins and alkaloids, flavonoids, terpenoids, tannins and glycosides are most commonly present in all the types of extracts.6,11,12.
Seek professional advice before treating this plant medicinally.
Medicinal uses:
Locally this plant is considered good to treat liver diseases and leucorrhoea. Literature review shows that the species have multiple medicinal uses and thus is an Ayurveda herb, used for sore eye, nappy rash, wounds, liver diseases, cold sore as well as an ointment for abscess 7,8,9 . Traditionally it is used as an analgesic, antispasmodic, antiseptic, antidysenteric, antinarcotic, emollient, diuretic, tonic, soporific, laxative, anticancer, antiulcer and for disorders of neuro-vegetative system1. The leaves are cooked and used as spinach by cardiac patients 10. The roots are boiled in milk and given to children as a tonic 4.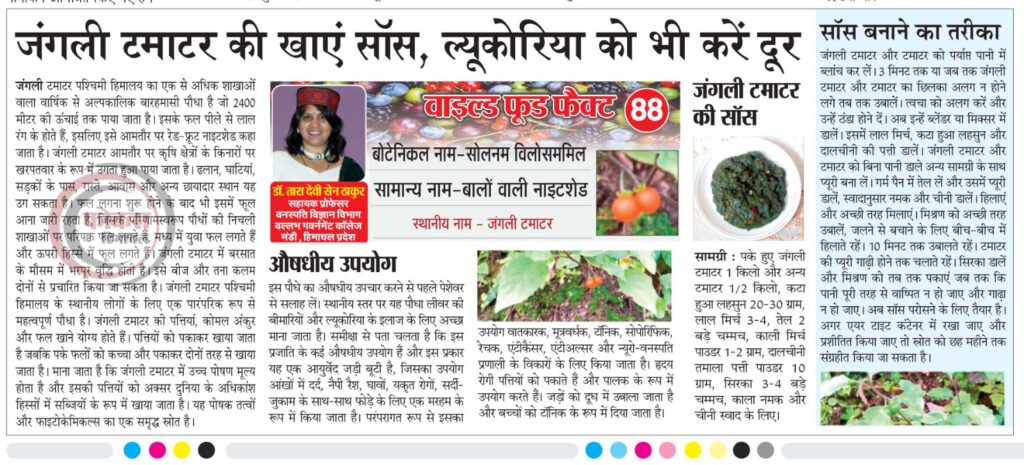 References:
Ramachandran, V. S., Joseph, S., & Aruna, R. (2009). Ethnobotanical Studies from Amaravathy Range of Indira Gandhi Wildlife Sanctuary, Western Ghats, Coimbatore District, Southern India. Ethnobotanical Leaflets, 2009(9),
EDMONDS, J. M. (1977). Taxonomic studies on Solanum section Solanum (Maurella). Botanical Journal of the Linnean Society, 75(2), 141-178.
Matasyoh, L. G., & Mwaura, M. H. (2014). The Solanum nigrum complex in western Kenya. International Journal of Plant, Animal and environmental sciences, 4(2).
Venkatesh, R., Kalaivani, K., & Vidya, R. (2014). Analysis of phytochemicals and free radical scavenging activity of Solanum villosum (Mill). A traditional medicinal plant in Southern India. World J Pharm Pharm Sci, 3, 741-55.
Sakthivadivel, M., & Daniel, T. (2008). Evaluation of certain insecticidal plants for the control of vector mosquitoes viz. Culex quinquefasciatus, Anopheles stephensi and Aedes aegypti. Applied Entomology and Zoology, 43(1), 57-63.
Begum, A. S., & Goyal, M. (2007). Phcog Mag.: Review Article Research and Medicinal Potential of the genus Cestrum (Solanaceae)–A Review. Pharmacognosy Reviews, 1(2).
Chowdhury, N., Bhattacharjee, I., Laskar, S., & Chandra, G. (2007). Efficacy of Solanum villosum Mill.(Solanaceae: Solanales) as a biocontrol agent against fourth instar larvae of Culex quinquefasciatus Say. Turkish Journal of Zoology, 31(4), 365-370.
Qureshi, R., Ain, Q., Ilyas, M., Rahim, G., Ahmad, W., Shaheen, H., & Ullah, K. (2012). Ethnobotanical study of bhera, district sargodha, pakistan. Archives Des Sciences, 65(11), 690-707.
Ahmed, E., Arshad, M., Saboor, A., Qureshi, R., Mustafa, G., Sadiq, S., & Chaudhari, S. K. (2013). Ethnobotanical appraisal and medicinal use of plants in Patriata, New Murree, evidence from Pakistan. Journal of Ethnobiology and Ethnomedicine, 9(1), 1-10.
Chowdhury, N., Ghosh, A., & Chandra, G. (2008). Mosquito larvicidal activities of Solanum villosum berry extract against the dengue vector Stegomyia aegypti. BMC Complementary and Alternative Medicine, 8(1), 1-8.
Singh, G., Marimuthu, P., de Heluani, C. S., & Catalan, C. (2005). Chemical constituents and antimicrobial and antioxidant potentials of essential oil and acetone extract of Nigella sativa seeds. Journal of the Science of Food and Agriculture, 85(13), 2297-2306.