Family: Fabaceae
Synonyms: Indigofera cavaleriei.
Common Name: Deep-Purple Indigo
Local Name: Kathi (काथी)
Shrubs of kathi can be seen growing from 300 to 1900 metres above mean sea level. This plant grows as scrub, mostly on mountains, sparse forests, grasslands near trail sides or streams. The growth of this plant is the best when it is in sunny locations. Though it can succeed even on drier and poorer soils, yet the best performance is on well drained moist soils.
Kathi has quite attractive flowers and landscape architects often suggest it to be used for landscaping. But still its cultivation has not been started yet. Only sample plants can be seen in botanical collections.
It flowers during the months of August and September depending upon elevation. It is the flowers of kathi which are used as food. The flowers are brought from wild plants only.
Besides food, kathi flowers are also used in traditional medicine.
Kathi Plant:
Shrubs or small trees, 1.5-5 m tall; stems brown, terete, with round lenticels; young branches green, angular, with ap­pressed white or brown medifixed symmetrically.


Stipules lanceolate-subulate, 3-5 mm, caduceus; leaves ca. 2.4 cm, (7-)11-19(or 21)-foliolate; petiole and ra­chis with appressed white and brown medifixed trichomes; peti­oles 2.5-3.5 cm; rachis flattened or adaxially slightly grooved; stipels subulate, as long as petiolules; petiolules 1.5-2.5 mm; leaflet blades opposite, ovate to elliptic, 1.5-6.5(-8) × 1-2.5 cm, membranous, both surfaces with appressed medifixed tri­chomes or adaxially glabrous, midvein abaxially prominent and adaxially impressed, secondary veins 8-10 on each side of mid­vein, base broadly cuneate to rounded, apex obtuse, emarginate, or acute and mucronate. Racemes 8-15(-28) cm; peduncle and rachis with sparse appressed medifixed trichomes; peduncle 1.5-2.5 cm; bracts ovate to ovate-lanceolate, 2.5-3.5(-5) mm, abaxially with appressed brown trichomes.


Pedicel ca. 1.5 mm; calyx ca. 2.5 mm, with dense appressed grayish brown medi­fixed trichomes; teeth triangular, ca. 0.5 mm; corolla dark pur­ple, standard elliptic, 7-8.5 × 4.5-5.5 mm, glabrous; wings 7-8 mm, margin apically ciliate; keel 7.5-8.5 mm, outside apically hairy, margin ciliate; stamens 6-7 mm; anthers globose, base with a few trichomes; Ovary glabrous, with 6-9 ovules.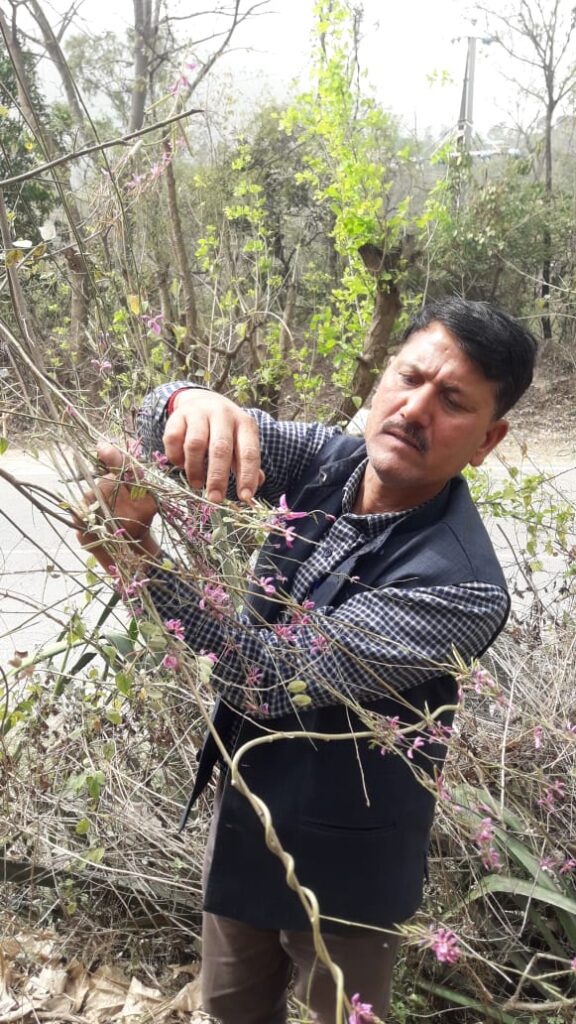 Leg­ume cylindric, 2.5-5 cm, with sparse appressed trichomes when young, glabrescent when mature, sutures thickened; endo­carp not blotched.
Seeds 6-9 per legume, rufous brown, cubic, ca. 1.8 × 1.5 mm.
Kathi plant can provide flowers from early spring to early summers.
Edible Uses:
Only flowers of kathi are eaten. These are made into kachru (कचरु) or bhalle (भल्ले), local preparations usually eaten as a snack.These can be prepared as under:
Ingredients:
Fresh flowers, 1kg; besan (black gram flour) or corn flour, 1/2 kg; fresh coriander leaves (chopped), 1 cup amount; caraway (अजवायन), 1/2 table spoon; green chillies, 2-3; turmeric powder, ½ table spoon; chopped medium sized onions, 2-3 and salt according to taste.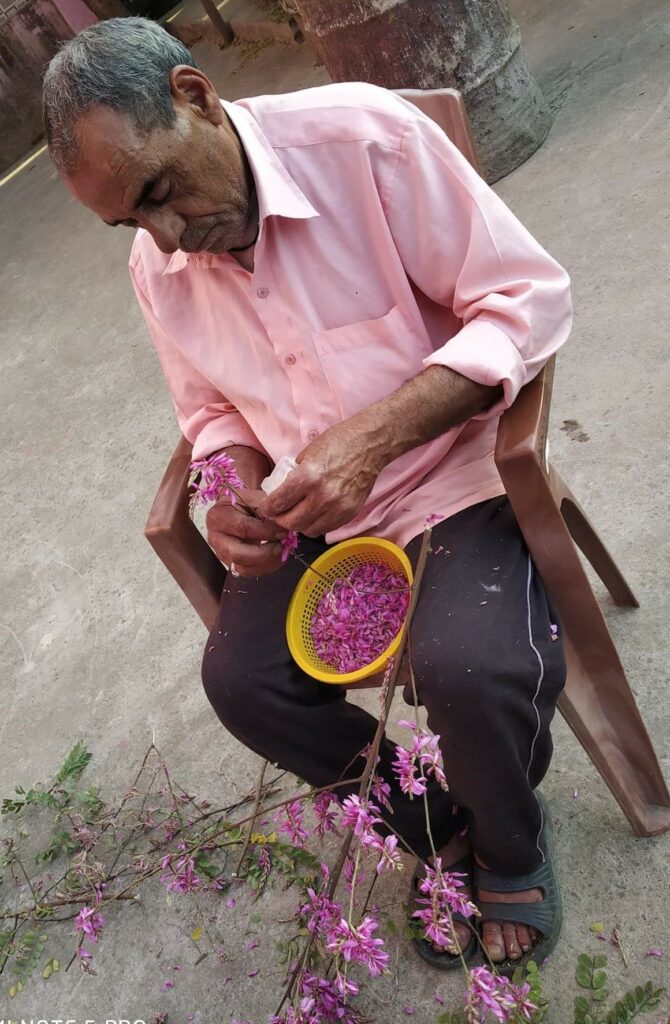 Method:
Make a paste of flower petals, besan or corn flour and spices. Heat some oil on a flat heating pan. Put some paste over a pan and make it flat by pressing with fingers. Cook for 15 to 20 minutes. Kachru will be ready to serve. Repeat this process for rest of the paste.
Seek advice from a professional before using this plant medicinally.
Medicinal uses:
It is also used as medicine. Kathi flowers are boiled in water until reduced to half the volume and this liquid is given as a treatment for diarhoea and dysentery.
Other uses:
Kathi plant is reported to have symbiotic relationship with certain types of soil bacteria. These bacteria form nodules on the roots and fix atmospheric nitrogen. Some of this nitrogen is utilized by the growing plant but some can also be used by other plants growing nearby. Kathi plant is also a good source of fodder.
Kathi twigs are strong and durable. So these are used extensively for making baskets and similar containers.