Family: Asteraceae/Composite
Common Names: Creeping Thistle, Canada thistle. field thistle.
Synonyms: Carduus arvensis, Carduus arvensis, Cirsium incanum, Cirsium setosum,Serratula arvensis.
Local Name: Chiuli (च्युली).
Chiuli is a rhizomatous very fast-growing perennial plant that is in bloom from March to August. It grows in a variety of habitats like open mesophytic areas, meadows, cultivated beds, roadsides, ditch spoil banks, gopher mounds, wastelands and overgrazed pastures. Chiuli is found up to an altitude of 1500 in Western Himalayas.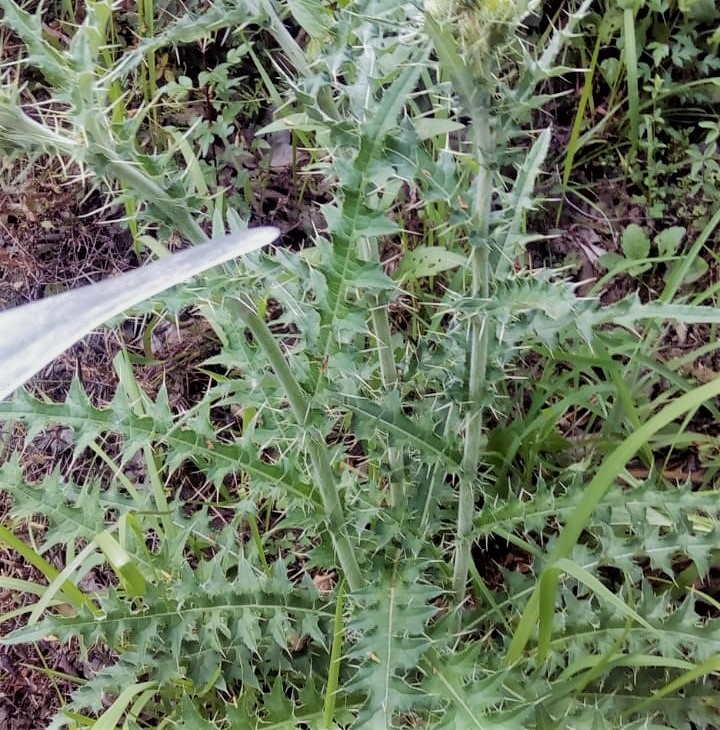 This plant is a common pernicious weed of cultivated lands and gardens. It spreads freely from its aggressive root system and quickly forms dense clumps of growth. Chiuli can succeed in any ordinary garden or arable land and need not to be introduced. It generally prefers sunny, moist and loamy soil.\
All parts of the Chiuli i.e. leave, stem and roots are edible, but stalks are mostly used for preparing vegetable by local people. Prickles present on chiuli makes harvesting of edible leaf and stalk not only a difficult task, but also leave very little edible parts for cooking. So, best way to ease this tough task is rinsing of above ground plant parts 2 to 3 times under a stream of water.
This process tends to debilitate the prickles to a significant extent, further putting these plant parts in boiling water for some time fully debilitate the prickles. This makes their handling more comfortable.
Chuli plant is heavily exploited for its medicinal uses.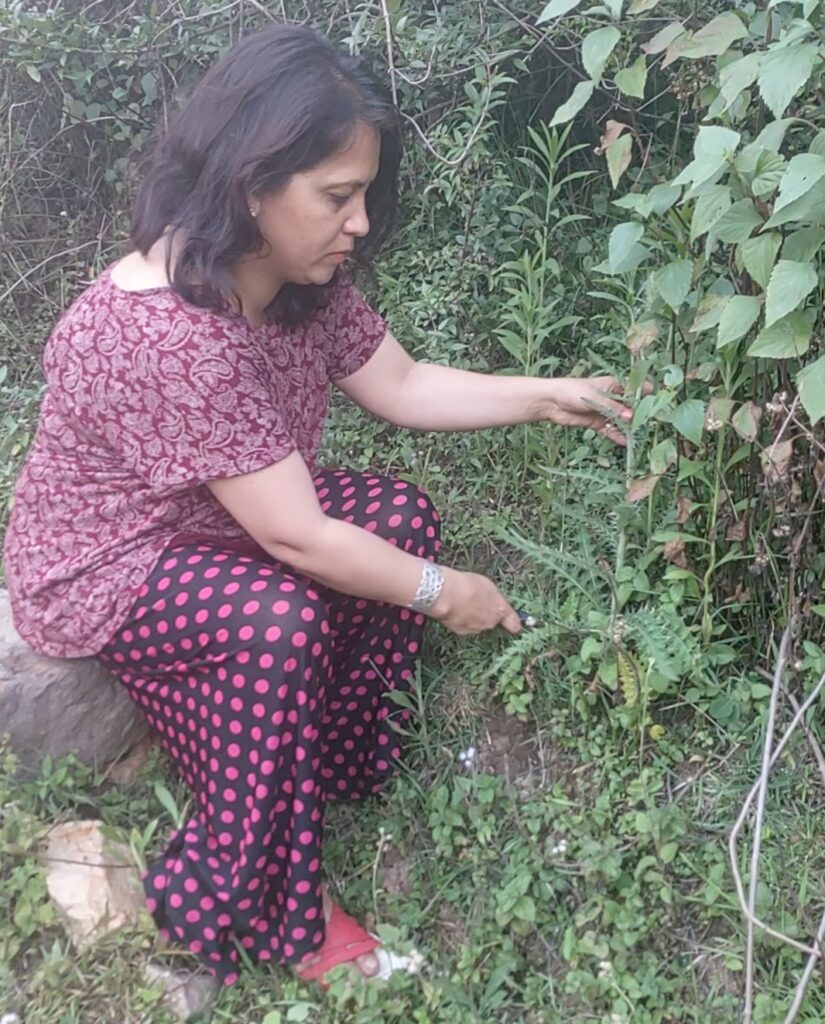 Plant is a tall herbaceous polygamo-dioecious perennial, growing 30 cm-1.5 m tall.
Roots grow deep into the ground.
Leaves prickly, dark green and lanceolate or oblong-lanceolate, sessile, but can be slightly clasping up to 15–20 cm long and 2–3 cm broad, glabrous above, but their undersides have short, white hairs.
Female inflorescences flask-shaped, 1-1.5 cm in diameter, and 1-2 cm tall. Female flowers fragrant, less globose and larger then male flowers.
Flower-heads 1-2.2 cm in diameter, usually purple in colour, but can be pink or white, with all the florets of similar form (no division into disc and ray florets).
Seeds 4–5 mm long, with a feathery pappus assisting in wind dispersal.
The fruits (achenes) tiny, 2-3 mm (0.1 in.) long and about 1 mm (0.04 in.) in diameter, with white to light brown pappus attached.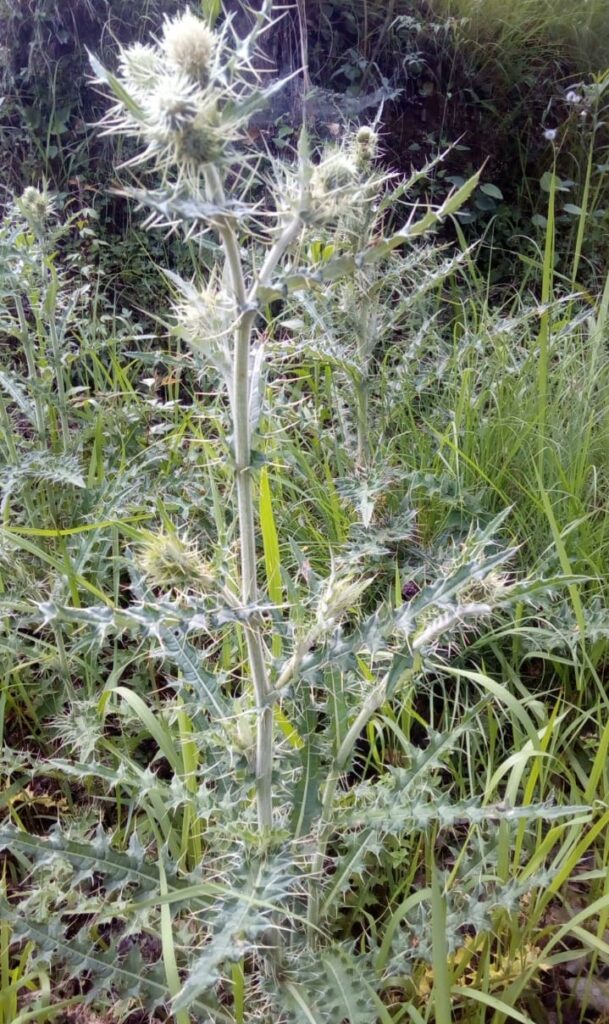 Chiuli plant can provide edible stem, leaves and roots throughout the year. Chiuli is facing a serious danger of extinction as roots of this plant are badly harvested by inhabitants of Western Himalaya as a medicine. To ensure its sustainable harvesting plant should be harvested from different location on rotation basis and should not remove its reproductive parts.
Edible Uses:
Stem, leaves and roots of chiuli are used for cooking but to collect these plant parts is a fiddly task.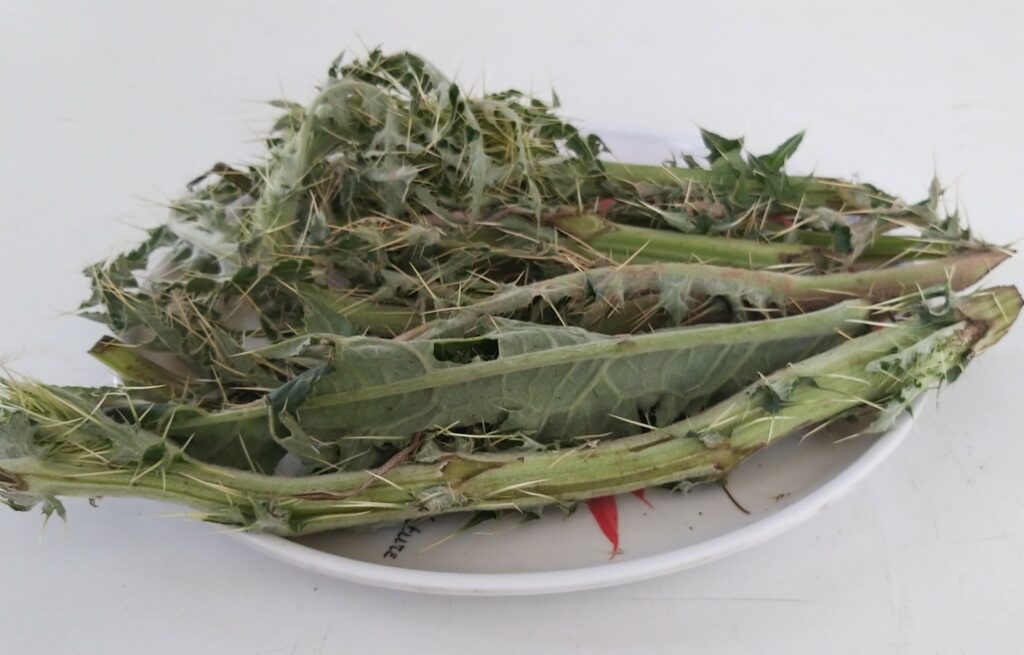 Stem are hollow inside and after peeling off very less amount is left for preparing vegetable. So one needs to harvest in larger amounts. Leaves are eaten raw or cooked after removing prickles. The roots are also edible, though used rarely for food rather than used medicinally.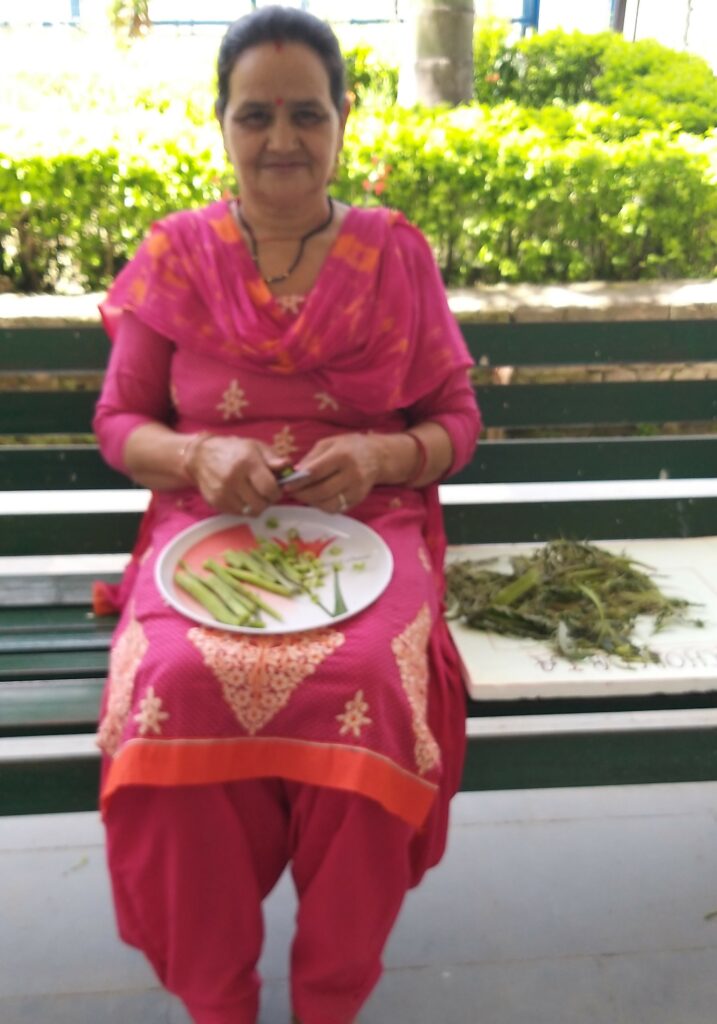 Ingredients:
Peeled off, chopped hollow stem, 1 kg; mustard oil, 3-4 table spoons; coriander powder 1 table spoon; fenugreek powder, ½ table spoon; cumin seed, 1 tea spoon; turmeric powder, 1/2 table spoon; red chillies; 2-3 medium sized chopped onions, 2-4; garlic, 4-5 cloves; ginger paste, ½ table spoon; 4 cup amount curd or butter milk; garam masala, ½ tea spoon;1 cup amount chopped green coriander leaves and salt according to taste.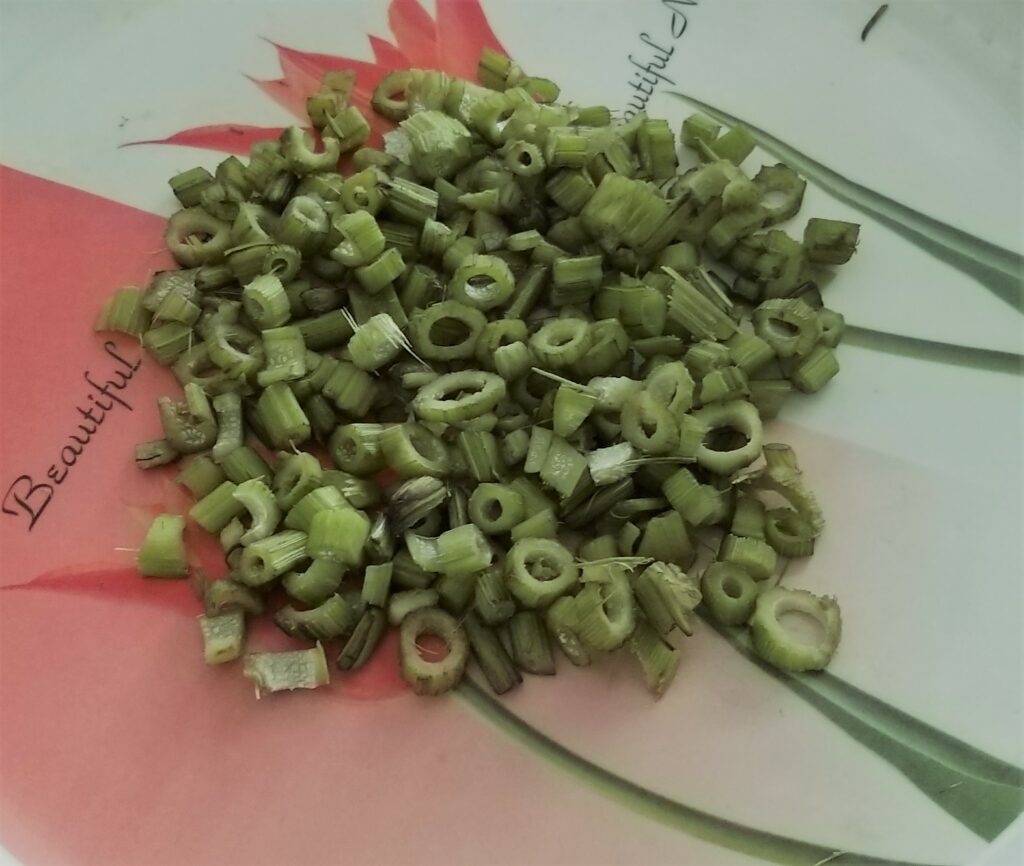 For preparing vegetable, chopped stem is sauted in hot oil along with spice listed before in sequence, cook for 5-10 minutes, garnish the recipe with chopped coriander leaves and garam masala then serve with chapatis. The preparation tastes very good.
If it is to be taken with rice, then add 4 cups of curd or butter milk and cook for another 5-10 minutes, add garam masala then serve.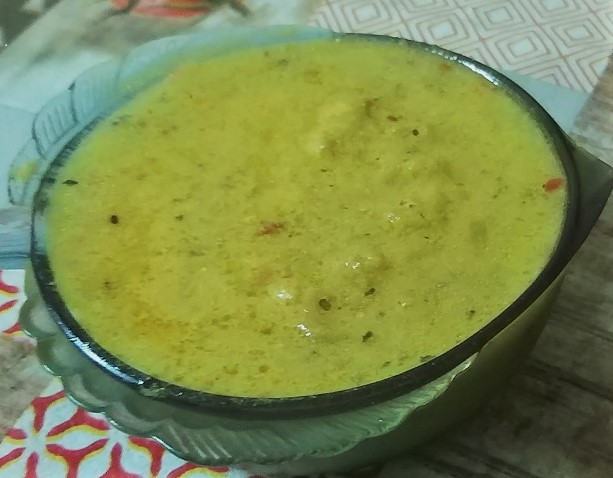 Seek advice from a professional before using this plant medicinally.
Medicinal Uses:
Root of chuli plant is frequently harvested by locals for its medicinal value. Unplanned exploitation of chiuli root have significantly reduced plant number in many parts of western Himalayas. It is tonic, diuretic, astringent, antiphlogistic and hepatic. Root juice has cooling effect on body and very effective remedy against nose bleeding, Root is often chewed as a remedy for toothache. Root poultice is used to relieve headache.
Other Uses:
Other Uses:
Seeds of plant are a good source of oil, containing about 22% oil. Leaves used to coagulate milk (Maheshwari et al.,1981).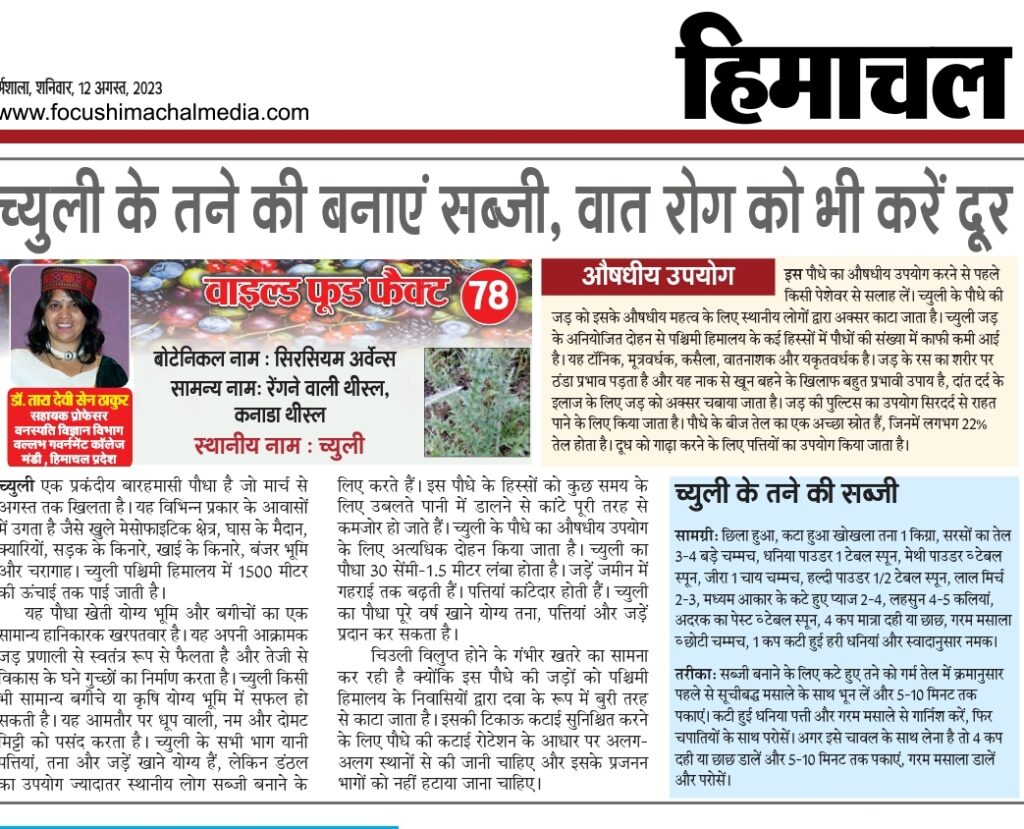 Reference:
1. Maheshwari, J.K.,Singh.K.K.& Saha,S.1981. The Ethnobotany of Tharus of Kheri district,U.P. India. Nat.Bot.Res.Inst.Lachnow.
2. "Cirsium arvense." Plants for a Future: http://www.pfaf.org/database/plants.php?Cirsium+arvense. June 8, 2009